You're not new to selling online. You've got a website your customers love, a growing fan-base and enough clout in your industry to know you're doing many things right.
But adverts and SEO experts are draining your bank dry and you want a more sustainable way to bring customers to your online store.

The good news is, you can drive relevant, motivated traffic to your website using content marketing. The difficult part is working out how and where to start.
So, in this post, we're going to discuss everything you need to know to get started with eCommerce content marketing. In it, we'll cover the basics, all the way through to putting pen to paper… or voice to podcast… face to video?
Let's get started!
What is content marketing?
Content marketing is the process of using content to attract, engage, inform and convert prospects. That strategic marketing approach focuses on creating and distributing relevant and valuable content for a clearly defined and understood target audience.
For the jargon-intolerant among us, let's unpack that…
By 'content' we mean anything we express through some medium (broad right?). In content marketing, we're generally talking about written, audio, video or graphic content.
By 'process' we mean creating and distributing content both online and offline – although, mostly online in today's marketplace.
By 'prospects' we mean people with an interest in your business, NGO, social enterprise, etc.
Sounds simple enough, right? Yet it's easy to confuse content marketing with other terms marketers use. So let's compare the big ones.
Content marketing vs content strategy vs inbound marketing
As we mentioned earlier, content marketing is a process – which means that 'content strategy' is the planning of that process. And by 'planning' we don't just mean something you do at the start to prepare for content marketing. We also mean the ongoing planning, analysing and adjusting of your content marketing process.
The terms 'content marketing' and 'inbound marketing' are often used interchangeably, but content marketing is just one part of inbound marketing. It just so happens that many brands now rely exclusively on content marketing over other inbound methods.
As an eCommerce pro, your inbound marketing strategy might include content marketing, plus other lead generation efforts and PR, such as ad campaigns and field marketing events.
So, let's say your brand sells ethical gym-wear. You could create a range of content around exercise, what makes your gym-wear ethical and why people should care about it.
When you create and distribute that content, you're involved in content marketing and when you plan how, where and when to create and distribute it, that's your content strategy.
In this context, inbound marketing is everything that attracts customers to your online ethical gym-wear store that isn't content – like running a pop-up stall or a PPC campaign.
Types of content in content marketing
When people talk about content marketing they mean written, audio, video or graphic content. But most brands pick one format and run with it, while others do a bit of all four.
Within those formats sit a range of online and offline marketing mediums.
Mediums used both online and offline in content marketing:
Blogs and articles
Podcasts
Vlogs and video streaming
Quizzes
Gamified content
E-books and guides
Leaflets
Whitepapers
Webinars
User-generated content (UGC)
Cheatsheets
Checklists
GIFs and animated content
Slide decks
Swipe files
Case studies
Interviews
Infographics
And a lot more!
It's this huge range of options that makes getting started with content marketing so overwhelming. But before we get into how you can simplify the process, let's talk about why you should bother.
What can content marketing do for your online store?
Like any form of marketing and advertising, content marketing can
a) get your eCommerce business seen and,
b) generate sales.
But, the reason your eCommerce store needs content marketing is that:
Content marketing is often more effective over the long-term than other marketing and advertising methods.
In particular, an effective content marketing campaign can drive a hell-load of traffic to your online store, lower your cost of acquisition and improve customer lifetime value. Let's take a closer look at each.
1. Drive more traffic to your website
At the top of the sales funnel, content marketing is unlike advertising in that it doesn't directly 'sell' your products. Rather, it solves problems for your target audience. So, people who aren't in the mind to buy now – and so wouldn't respond to adverts – but share a problem your product solves, can be made aware of your brand and nurtured towards a purchase.
This makes content marketing a broader brush than direct selling and a great way to expand your audience and grab a whole load of extra traffic.
2. Lower your cost of acquisition
No doubt you already track your cost of acquisition. It's one of the most fundamental eCommerce metrics and gives you insight into how much you're paying, on average, to bring customers to your online store.
When done well, content marketing can lower this metric by getting more people, more consistently to your website. It does this by:
Being useful: good content helps its audience, solving their problems and helping them achieve their goals
Bypassing consumer's distrust and dislike of advertising: consumer trust in advertising continues to hit new lows. But content marketing doesn't feel like advertising. So people more readily consume content than they do ads and are more likely to convert.
3. Improve customer lifetime value
Customer lifetime value measures how valuable a customer is to your eCommerce business over the lifetime of their relationship with your brand. So, it takes into account how many times they purchase from you, how much those orders are worth and over how much time they make their purchases.
When done well, eCommerce content marketing increases customer lifetime value by building strong customer relationships. And since it costs 5x less to retain a customer than to find a new one, that's a big win for your bottom line.
Think of it like this! Let's say you buy your kid's toys from multiple online stores. Some don't keep in touch at all, whereas one sends you emails with tips like 'inventive games to play with musical toys' or 'how to help your children share their toys'… which of these businesses will stick in your mind?
I'll go out on a limb and say it's the one that offers you helpful, relevant tips.
Now, we don't open every marketing email we get from brands we like. But you only need one or two good videos, podcasts or articles to 'hit a chord' with a customer and make a valuable connection that keeps them coming back to your store.
What type of eCommerce business can content marketing help?

There is a misconception that only large eCommerce brands need content marketing – this is not the case!
Content marketing helps brands find and nurture their ideal customer, so it will benefit all eCommerce businesses no matter how large or small.
However, there is some truth in the idea that content marketing is more effective for brands with a niche market.
This is because success in niche markets is built on repeat custom and, as we discussed earlier, content marketing helps brands stay connected with their fans. So, it can be particularly helpful for those eCommerce businesses that have a smaller potential market.

Does your eCommerce business need content marketing?
To recap, eCommerce content marketing is for you if you want to:
Reach a wider audience
Pay less to get them to your store
Keep them returning for more
Make more money overall
Now, I know what you're thinking… "that sounds great, but getting started with content marketing is about as appealing as doing my taxes" – well… we're here to reassure you that it doesn't have to be.
By following some basic steps and using a few helpful tools, you can start posting impactful, customer-centric content in no time.
3 ways to create eCommerce content
How you choose to create content for your eCommerce business will depend on two things:
Your budget
How busy you are
If you have some spare time and a low budget, expect to create a lot of your eCommerce content yourself. But if you have money to burn, it's usually worth bringing in the experts – and this is especially true if you are busy doing other things.
1. Create it yourself
At the risk of stating the obvious, most eCommerce brands start content marketing by creating content themselves.
You know your brand and products better than anyone else. And often it can be as time-consuming and labour-intensive to communicate your value proposition, brand personality and purpose to others as it is to create your own content.
And if the idea of writing a 1500+ word blog every day makes you want to crawl under the bed and cry, don't worry.
Content is more than writing and there isn't one type of content that works for every brand. You can start with the format and medium you like best.
2. Pay others to create it
If you have a well-thought-out brand guide, you can outsource the creation of your eCommerce content. You could find a freelancer, work with an agency or hire in-house staff. Each has its benefits and drawbacks.
Finding the right creators can be a painstaking process – whichever route you choose. A little trial and error will get you a long way but can be expensive.
As to how much eCommerce content costs… there's really no upper or lower limit. But you should expect creators on the lower end to be less experienced and less likely to grasp your brand concept than one who charges more.
Paying others to create your content can remove some of the barriers to getting started with eCommerce content. But remember, you'll still have to drive the process at the start. You'll need to take the lead on content strategy or at least ensure your content marketing efforts align with the rest of your inbound strategy.
3. Encourage user-generated content
If your eCommerce brand has plenty of reviews and a few followers on social media, you could make use of user-generated content (UGC).
UCG includes any content your customers create about your brand and its products. Let's say your site sells doggy dress-up gear and your customers frequently tag your business in social posts alongside images and videos of their pooches wearing your outfits.
With permission, you could repost this content to your own social profiles and even create blogs and other content to round-up the best UGC.
UGC can be a great source of free content. But to get it, you first need to build an engaged community online – and that can be tricky for new eCommerce brands.
You can encourage UGC by running competitions and giveaways or just creating a really compelling campaign like Share-a-Coke or the Ice Bucket Challenge.
But remember, successful eCommerce brands tend to do a bit of all three. Don't try to create all of your content yourself all of the time because setting unrealistic expectations leads to low motivation and burnout.
Better to start small, uncomplicated and realistic, then build on your success over time. Which brings us to…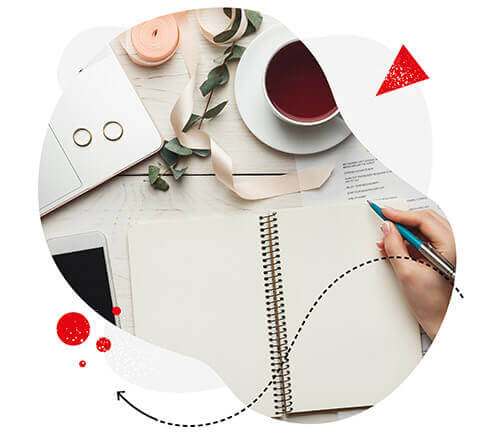 Overwhelmed with the number of posts you have to publish?
Try our Publisher tool! Schedule content across multiple social media profiles and networks, with an all-in-one platform and an easy-to-use calendar.
Try NapoleonCat free for 14 days. No credit card required.
How to get started with eCommerce content marketing
Now we've covered the 'what' and 'why', let's move on to 'how'.
As we mentioned before, getting started with eCommerce content doesn't need to be a chore. All good content strategies are born out of the same 8 steps.
1. Listen to your audience
Rule one of pretty much everything in eCommerce is 'listen to your audience' and that's also true of creating content.
Content marketing is all about communicating the value of your products without being 'salesy'. To do that, you need to understand your audiences' problems and define how your products help solve them.
So, let's say you sell flavoured coffee beans. You need to know why someone buys flavoured beans over regular. To find out, you can plug the keywords people use to find your products into different discovery tools to understand the content your ideal customer is already consuming.
There are a couple of easy ways to do this when you first start out…
Use a content-scraping tool
Simply type in your keyword and these tools will throw up the top content related to it. Most will tell you how many views and social media shares a piece of content has, which means you can see what your audience cares about, what content performs well and which social platforms your people use.
Use Google
A simple Google search will give you the current best-ranking content for your product keywords, but if you're using a content-scraping tool, this is just a less detailed form of the same information. But what Google also does is tell you what other content people who have read that content are interested in through the 'People also asked' box. This box identifies topics and questions people who have used that keyword also search for. You can use this information to build a more detailed picture of your audience's interests, needs and habits.
So, to find out how to position my flavoured coffee bean content strategy, the first thing I need to do is google my most valuable keyword. In this case "flavoured coffee beans". That throws up quite a lot of ads for flavoured coffee beans right at the top of the SERPs. But scroll past and you'll hit the 'People also ask' box…

Here, I have four potential blog titles or other content ideas. I can now punch these questions into my content-scraping tool and find the current top-ranking content.
This is a great way to start, but you need to dig a bit deeper to position your eCommerce content strategy. For example, you could:
Scrape customer reviews
Check out your competitor's content
Run a survey
You'll be using this research to make decisions in the following steps.
2. Choose your medium
Once you have a feel for the type of content your audience consumes and the topics that interest them, you need to decide how you're going to communicate your big ideas.

In this context, 'medium' means the type of content you create, e.g. text, visual, audio and more. Most eCommerce brands use a range of different mediums but it can be overwhelming to start with that expectation. So, it's best to focus on one or two at the beginning and add more as you gain confidence and experience.
3. Choose your platform
If your audience is diverse and spread across different media and platforms, start creating content on the one you know best. Because when the time comes to sit down and write, record or photograph your content, a bit of confidence will go a long way.
On the other hand, if 90% of the people you want to reach are on Instagram, you'll want to start there, even if you don't have any experience of the platform.
4. Structure a calendar
Using your research from step 1, you now need to put together a content calendar. A content calendar – otherwise known as a publishing or editorial calendar – is a schedule or master plan of what content you're going to publish, where and when.
A content calendar is incredibly helpful if you're posting to one platform and essential if your posting to multiple. You can create a calendar in a spreadsheet but, ideally, you'd have more functionality than that.
For example, with NapoleonCat's post scheduler you can plan and manage your content and automatically post it to Facebook, Twitter, LinkedIn, Instagram, and Google My Business. As you can imagine, this saves a lot of time logging in to each platform and repeatedly creating the same post.
It also comes in handy if you're working with a freelancer, agency or in-house team because you can invite people to collaborate on the calendar or individual pieces of content. No more confusing email back-and-forths or lengthy team video calls to get simple tasks done.
5. Collaborate with others
Here, we're not talking about freelancers, agencies or in-house teams. We're talking about influencers and other businesses in your niche.
One of the key difficulties in getting started with eCommerce content marketing is getting your content seen, read or heard. A new blog will struggle to rank in the SERPs (search engine results pages) and it takes time to build momentum on any social platform.
So, to give your eCommerce content a kick start, you need to reach out to others for help. This might mean paying an influencer to interact with or share your content, or sending your content to sites in your niche asking whether they'd republish or share it.
All of the above will drive traffic to your content, give it a boost in the SERPs and help you reach a wider audience.
6. Build an email list
A lot of new content publishers skip this step, but it's a mistake. As soon as you start putting your content out there you should be actively building your list.
Every person who views your videos is a potential long-term consumer of your content. And since people are more likely to buy from brands they know, it pays to build that relationship early on.
Building a list is as simple as including a subscribe call to action (CTA) with every piece of content you produce. Once someone is subscribed, you can directly send them your latest content and, hopefully, nurture them to purchase.
7. Learn from the data
Technology has moved on a lot since spreadsheets and there are many things you can't do if you choose to manage your eCommerce content strategy this way. For example, without complicated formulas and a lot of manual data input, you won't be able to see how content is performing across platforms and make decisions about how to improve.
But, when you use a post scheduler like NapoleonCat's, in depth analytics are just part of the deal. When you post to social with NapoleonCat, you can:
Add predefined Google Analytics UTM tags to all published links
Track conversations (comments and messages) about your content from each channel in one place
Determine how each post, Tweet, etc. performs
Find the best days and times to post
Easily see which content types are working best for your eCommerce brands
Track reach and engagement across multiple platforms
The best part? All of the above happen automatically and you can make tweaks to the system to ensure it works perfectly for you.
8. Recreate your top-performing content
Give it a few months and you'll have enough data to refine your content strategy. By doing so, you'll boost engagement and reach, but also save yourself a lot of time. When you know what works, you can't get content scheduled quickly and easily outsource creation to third parties.
Using the data provided by a social media tool like NapoleonCat, you can:
Make more of the content that works
Focus on the platforms that get you results
Boost reach and engagement by easily interacting with comments and likes across different platforms from a single Social Inbox
All you need to do from here is run steps 7 and 8 on a rinse and repeat – adjust your strategy depending on the data and keep producing the content your audience loves. When you do, you'll easily build an email list full of your top fans and nudge more people into the bottom of your funnel.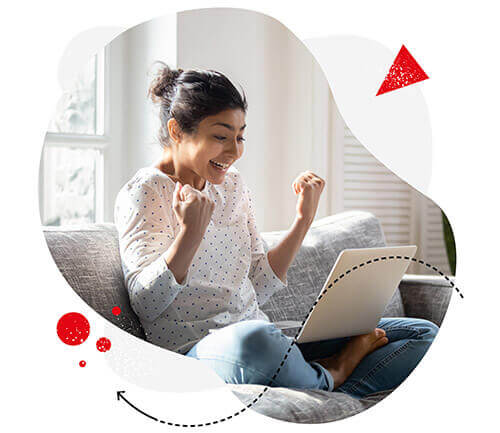 Conquer the world of social media
Take your social media marketing to new heights by using actionable analytics and automated customer service solutions. Try it for free:
Try NapoleonCat free for 14 days. No credit card required.
4 eCommerce brands doing content marketing well
Now we've covered everything you need to know to get started with eCommerce content marketing, let's take a look at some brands that already do it well. We've chosen these four eCommerce pros for their great reach, high engagement and committed fanbases.
1. Anthropologie
This bohemian lifestyle brand sells designer products ranging from fashion to homeware and beauty.
Their blog and social profiles are full of visual content and tips for fashionistas who like to team inspiring design with creative DIY makes.
Their blog and social platforms are a masterclass in how to build a community around your brand without actually talking much about your products.
Anthropologie is all about unique and inspiring bohemian design, so they give a lot of limelight to their makers and designers. This resonates with the Anthropologie audience, who prefer that human connection in the products they buy and are often creatives themselves.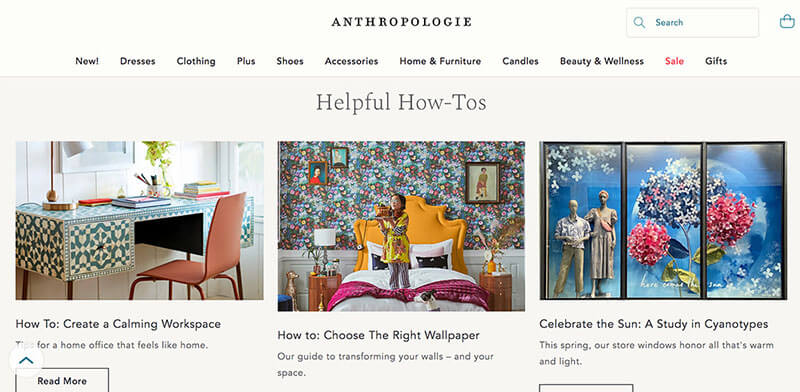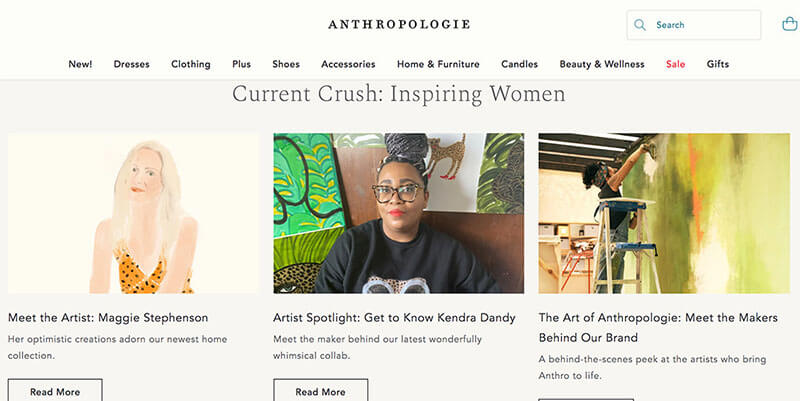 What they do well
Build an involved community
Communicate their brand values
Stay true to their brand personality
Avoid a salesy vibe by only indirectly talking about their products
Best inspiration for…
Businesses with a strong brand personality and a broad range of products
2. TOMS
The guys at TOMS have made a big name for themselves selling stylish plimsolls. Their shoes are instantly recognisable and come in a huge variety of colours and designs. But it's not just the funky styles that make TOMS shoes a success, it's also the purpose behind the brand.
The original goal of TOMS was to supply one pair of shoes for a person in need for every pair that was bought elsewhere. And though TOMS have since shifted that premise to investing one third of their profits into grassroots good (like campaigns, actions and community groups), 'purpose' is still front and centre of their brand.
TOMS are a highly visual brand with a presence across Instagram, YouTube, Facebook and Twitter and their content marketing is split between their shoes and the projects their profits support.
Every year, TOMS creates a report that summarises the impact their partners have made and how TOMS has supported them to do it. This level of transparency appeals to their target audience, who are generally disillusioned by traditional business models and unethical fashion.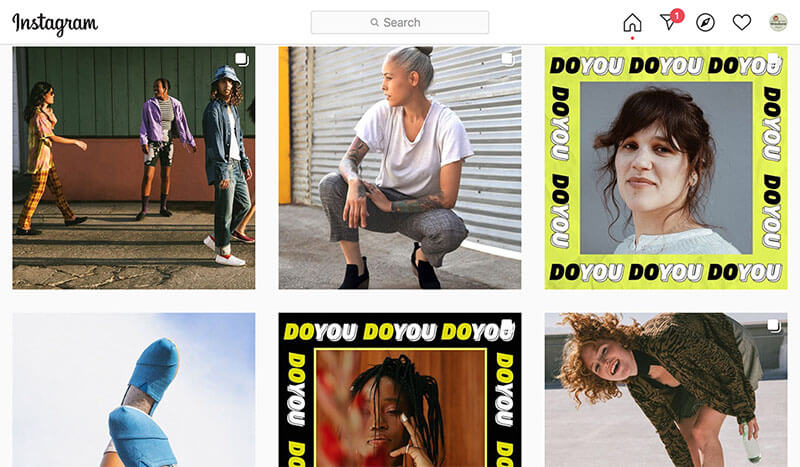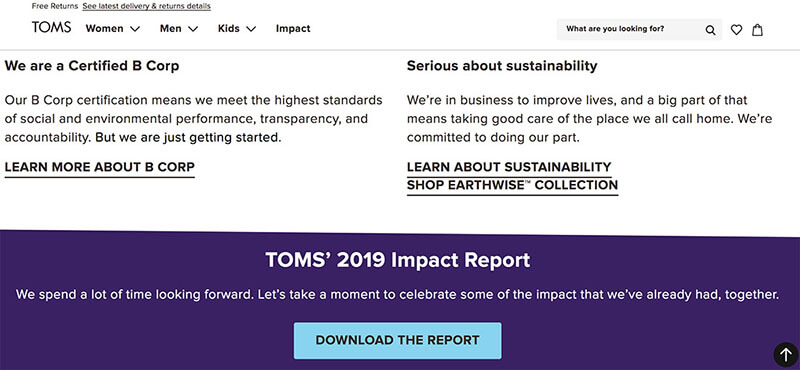 What they do well
Put their products front and centre
Communicate their purpose
Build an involved community
Use content marketing to enhance transparency
Best inspiration for…
Purpose-driven brands with a single product focus.
3. Riverford Organics
Riverford Organics are one of the largest organic food producers and distributors in the UK. They're all about seasonal, sustainable and high-quality produce. Their customer's primary concern is creating healthy, home-cooked meals, which is why Riverford Organics' content is all about how to make great food.
They talk recipes, what's in season and how to reduce food waste. It really is that simple! And when a brand has a very well-defined content niche, they attract an interested crowd and inspire high levels of engagement.
This strategy works well because social media platform algorithms prioritise accounts with high engagement. So sticking to your niche can dramatically improve your visibility and reach.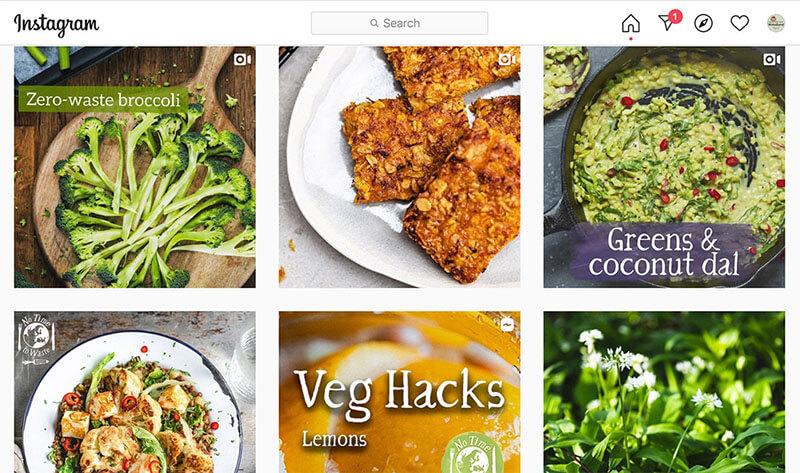 What they do well
Put their products front and centre
Communicate their value proposition
Offer the education their customers want
Keep content simple yet effective
Best inspiration for…
Product-led brands with a well-defined, uncomplicated niche.
4. Drop Bottle
The immensely popular Drop Bottle sky-rocketted to success after launching its single product. Drop Bottle is an environmentally-friendly glass water bottle with a built-in infuser filter. It's a simple product with a simple mission: to make staying hydrated healthier and more exciting.
Just like Riverford Foods, Drop Bottle keeps it's content marketing focused and simple, with a blog dedicated to recipes, plus visual-first social channels like Instagram and Pinterest.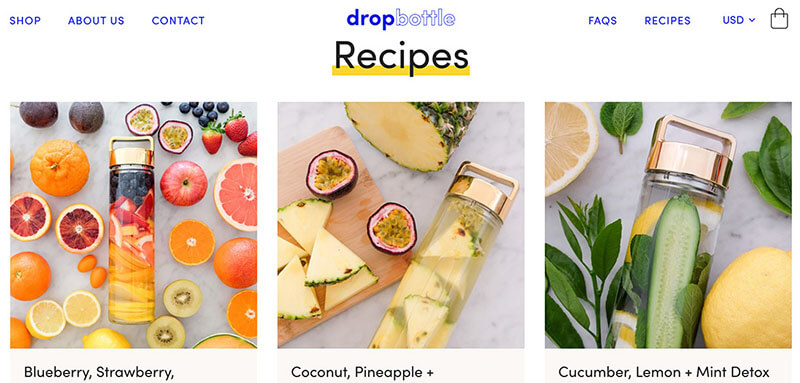 Even Drop Bottle's Instagram Stories Highlights are kept simple…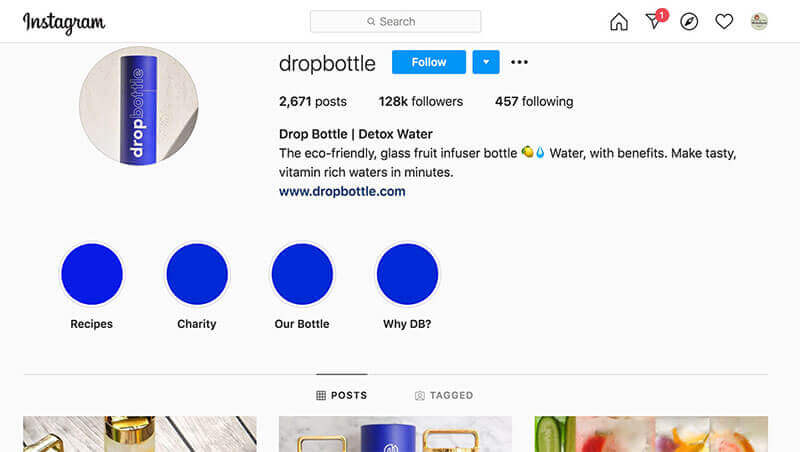 As we discussed earlier, this uncomplicated form of content marketing is great for building a highly engaged community. But it's also the right kind of content marketing for one-product brands. However, a narrow focus makes it harder to reach your crowd organically.
One of the ways Drop Bottle overcame this hurdle was to invest in influencer marketing. The founder, Gretta van Riel, reached out to micro-influencers who aligned with the brand's vision and personality early on. Eventually, this humble bottle could claim Oprah Whinfrey among its fans.
What they do well
Engage a niche market
Collaborate with influencers
Communicate their value proposition
Keep content simple yet effective
Best inspiration for…
Single product brands with a clear value proposition and well-defined niche.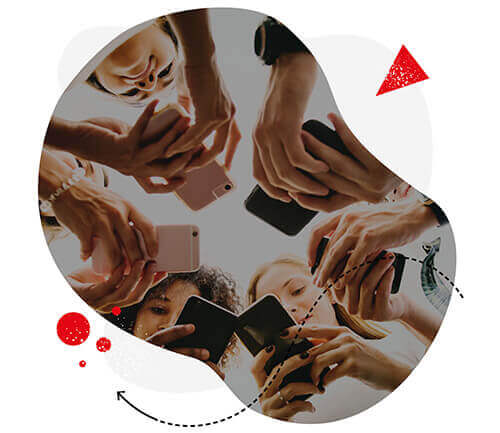 Instagram marketing made easier
Analyze, generate reports, schedule posts, automate comment moderation. Save time and boost your results. Try it for free:
Try NapoleonCat free for 14 days. No credit card required.
That's all folks!
In this post we've gone from the bare basics to laser-focused eCommerce content marketer in a few simple steps. And while there's no formula that's guaranteed to work for all eCommerce brands, when you get the simple things right, it's easy to build on that success.
Just remember, you don't have to create your content empire alone. Use tools like NapoleonCat's post scheduler and Social Inbox to save yourself money and time.