Reporting on your social media marketing efforts and your competitors' performance is one of the most basic activities each marketer faces. And it's very important to know where your competitors are and what they do. Their social channels are very precious source of information – about their development plans, priorities and business strategy. You can also find there a lot of information on your target group needs, opinions, suggestions. So that, your competitors' profiles can inspire you and even make you improve your product or service. In one of our latest blog posts, you can find more details on how to track your competitors on Facebook.
Both analyzing and reporting on your competitors' performance take a lot of time. But NapoleonCat automates it, saving you hours of precious time every month so you can concentrate on strategic tasks.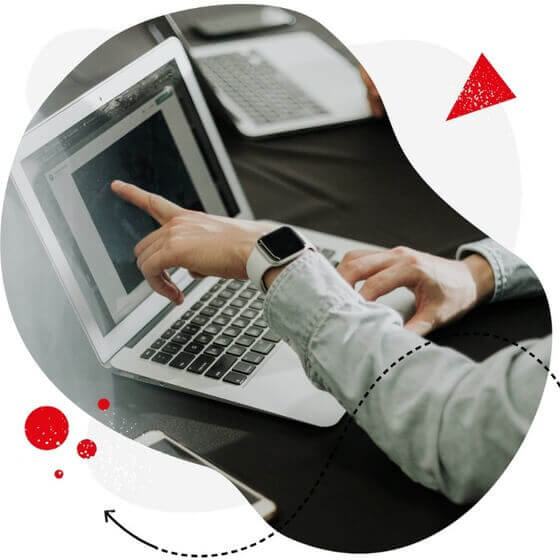 In-depth Facebook reports
Analyze your Facebook marketing results. Generate detailed reports in seconds and improve your strategy on social media. Try it for free:
Try NapoleonCat free for 14 days. No credit card required.
The new comparative reporting features includes data as follows:
number of fans and fans change,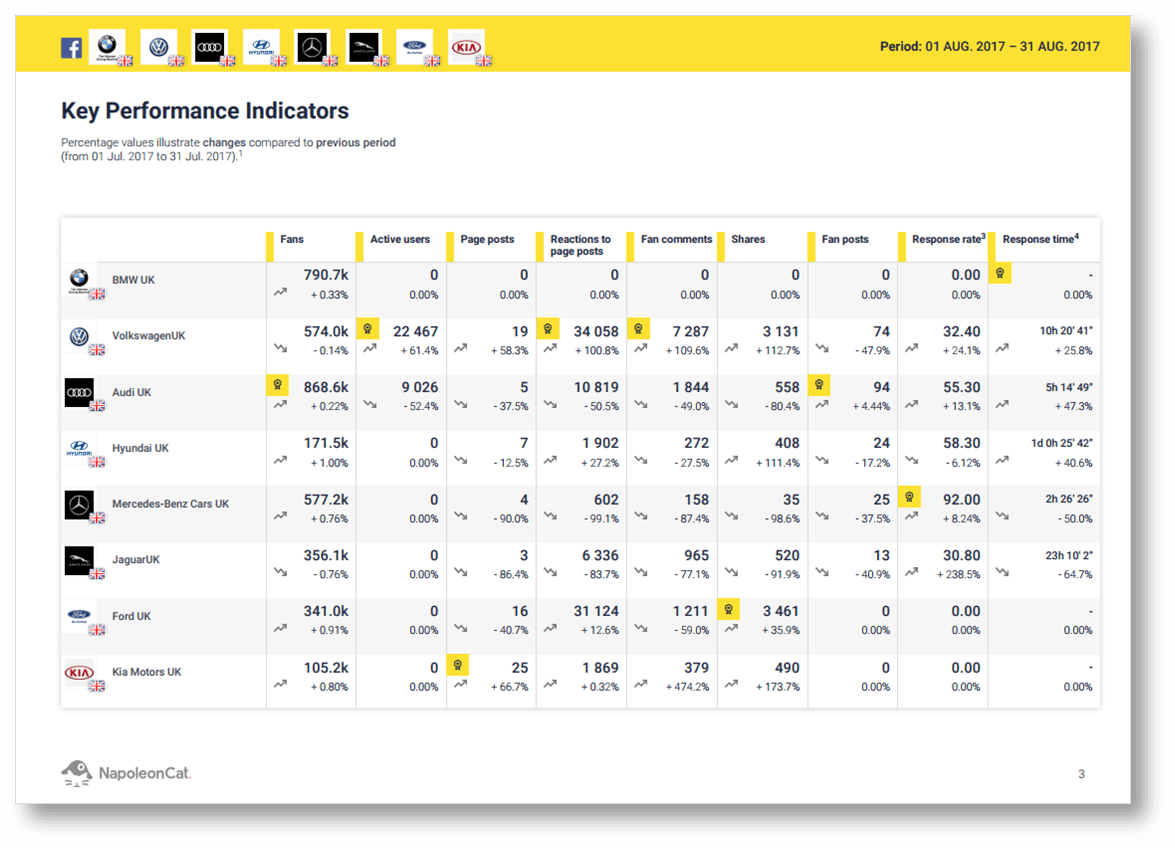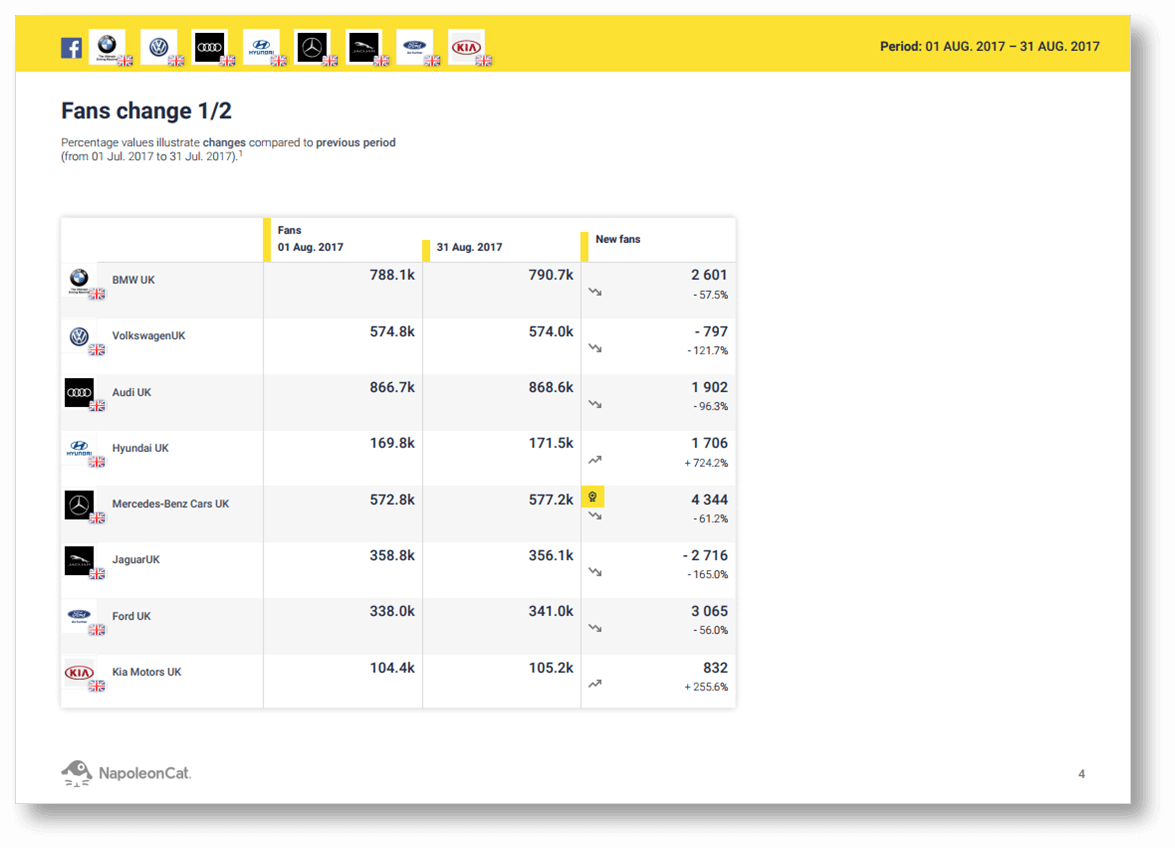 number of people who talk about a specific brand,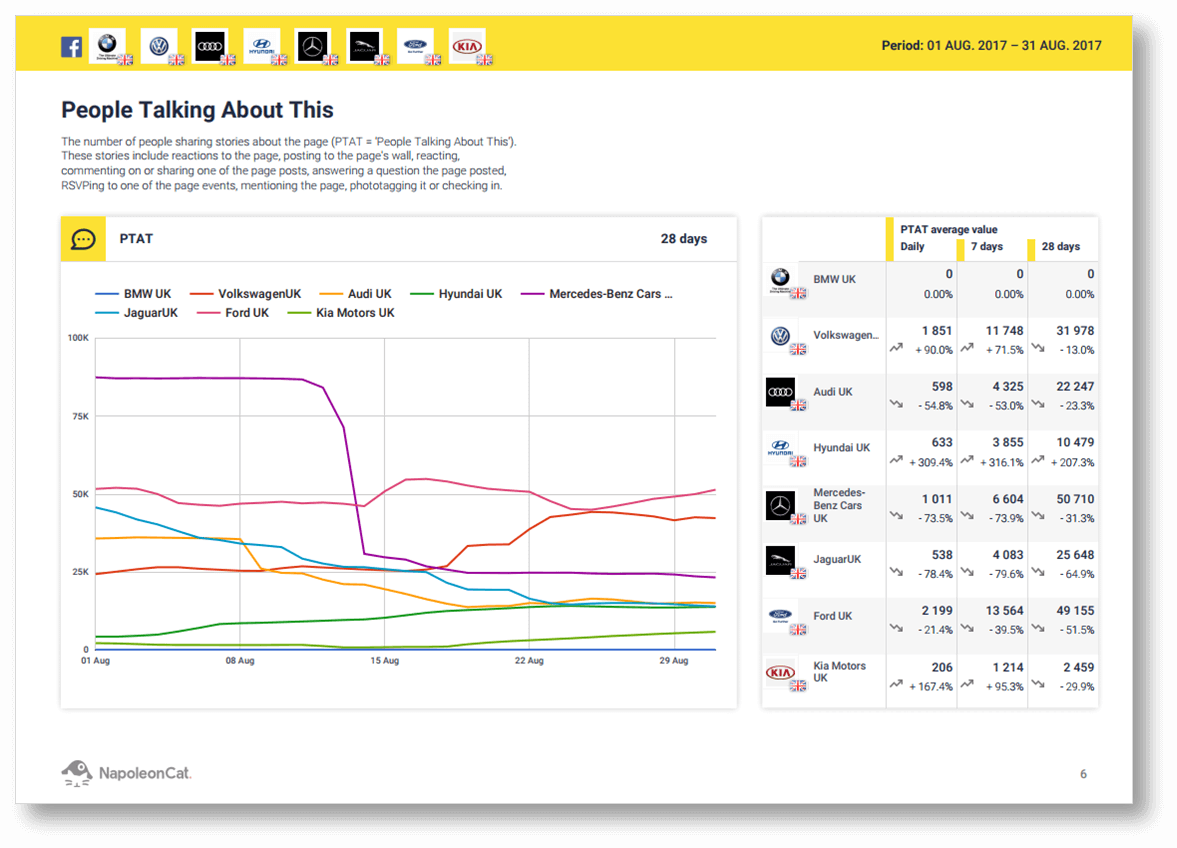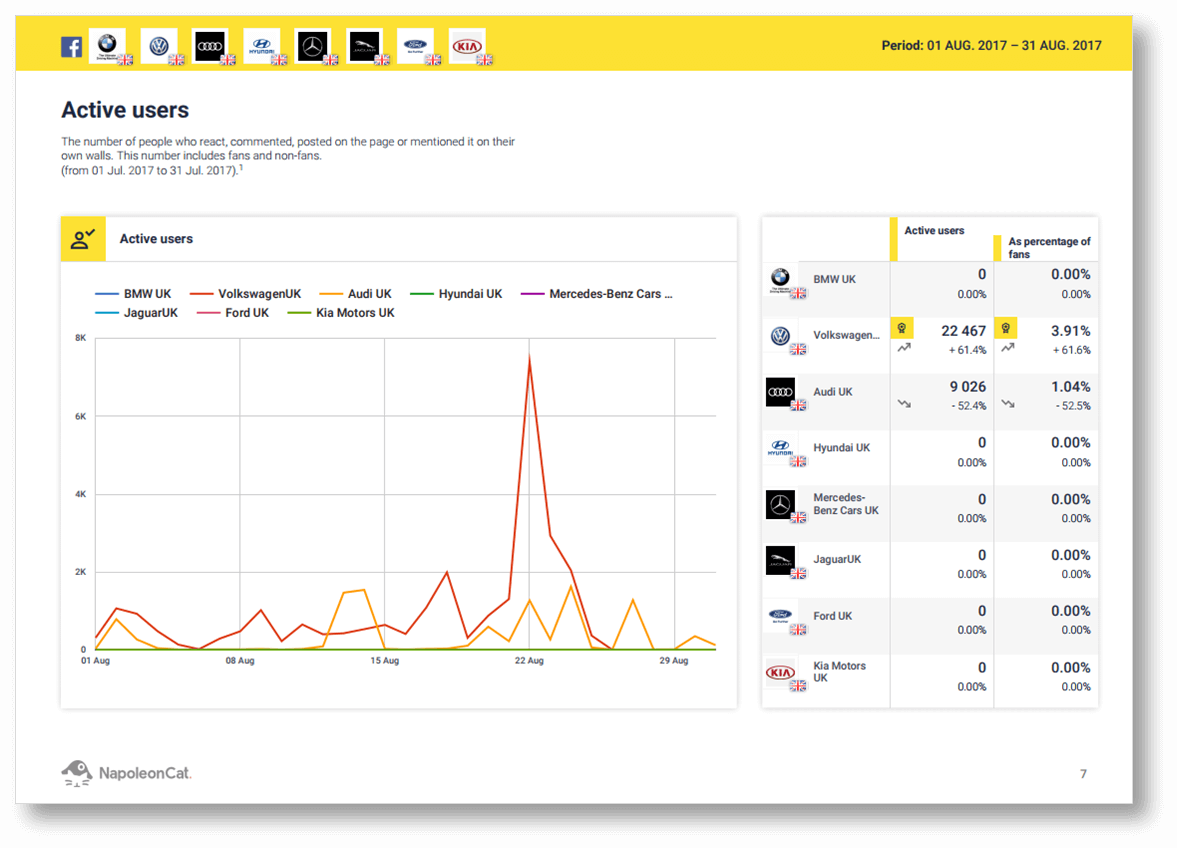 engagement indicates: Engagement Rate and Social Interaction Index,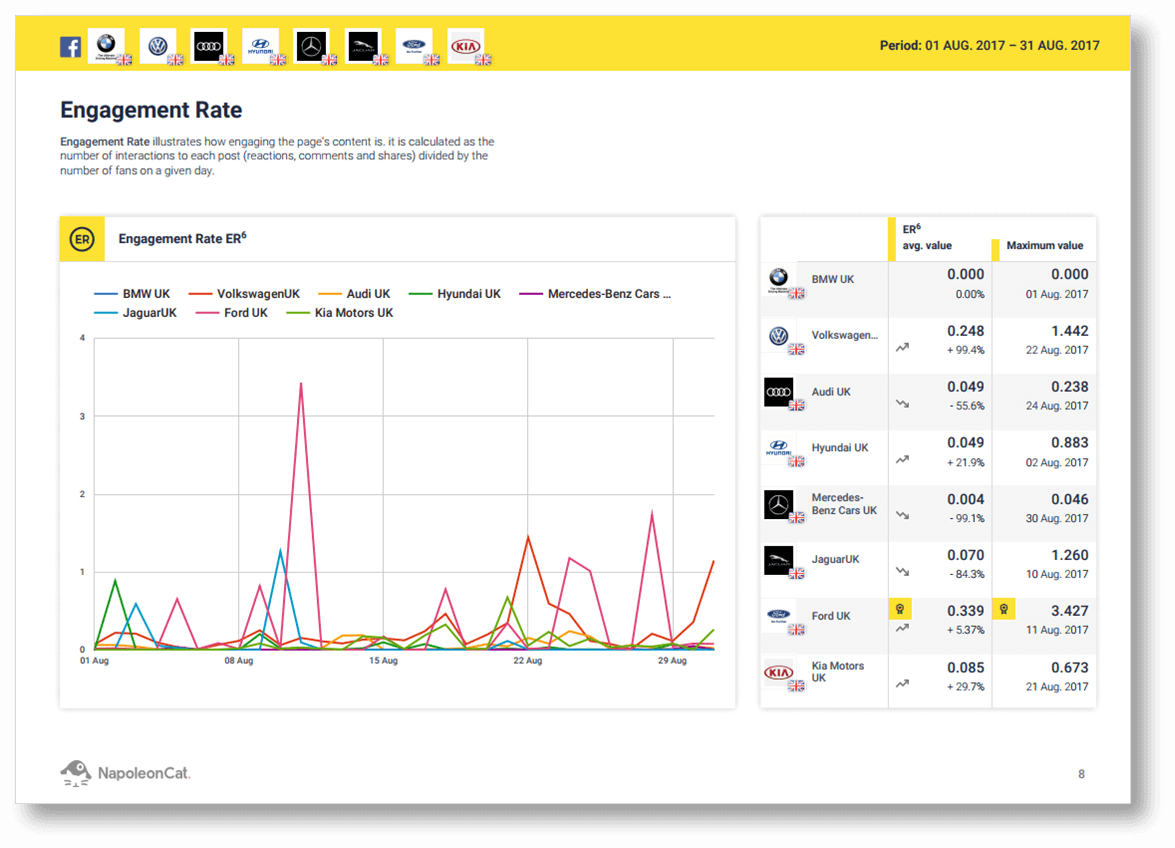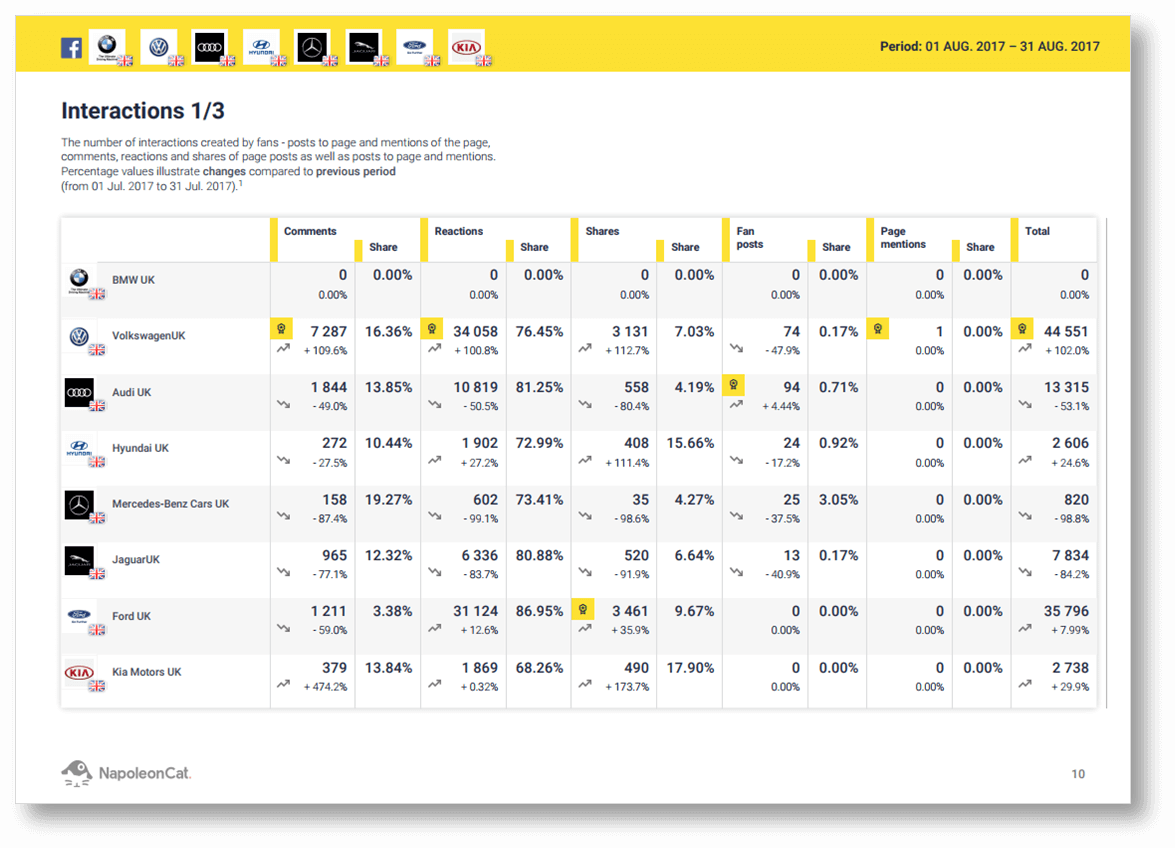 reactions divided by types,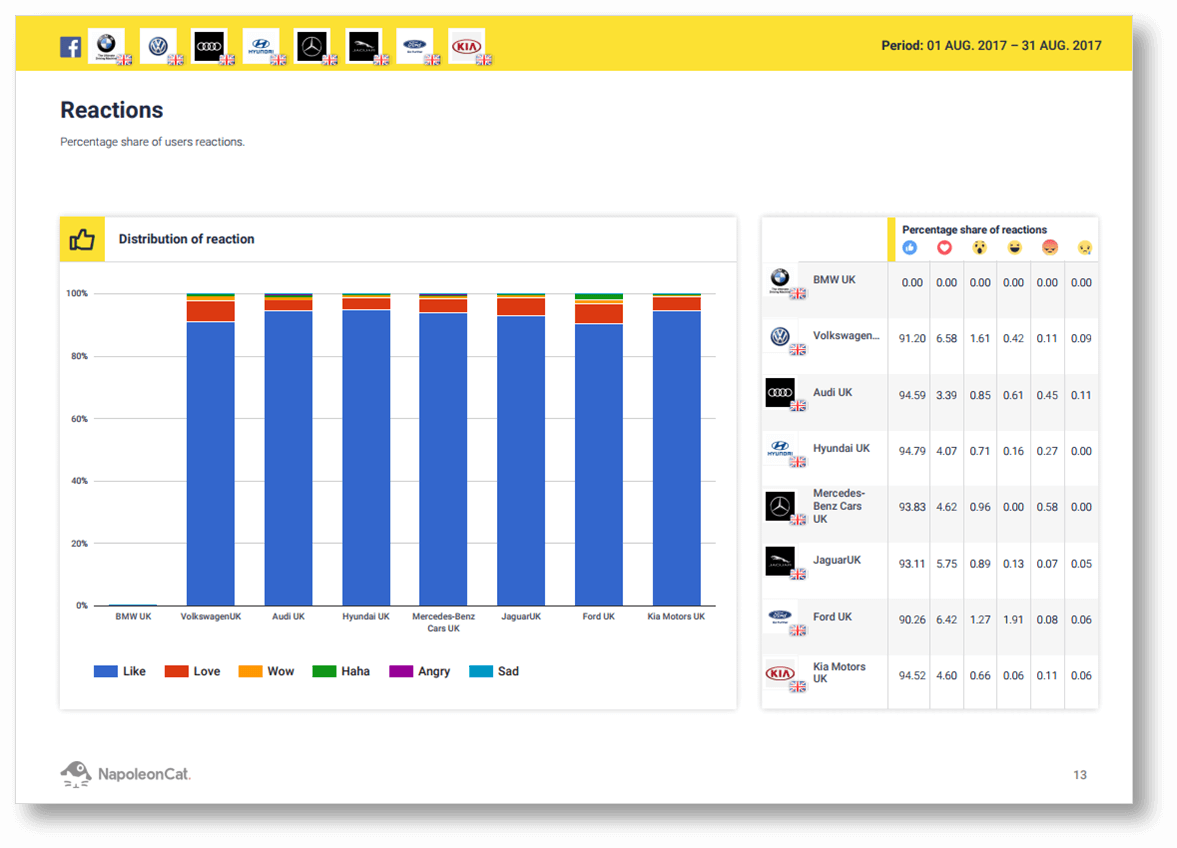 page administrators activities,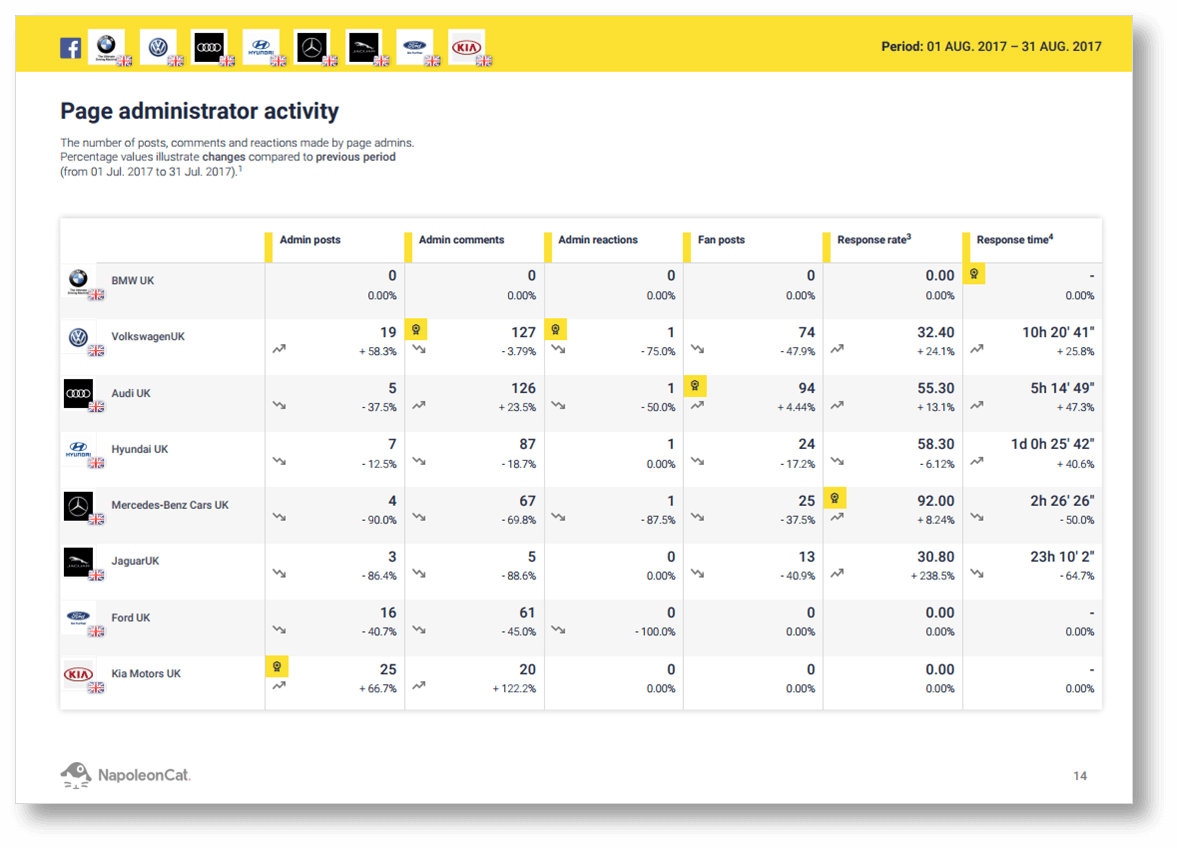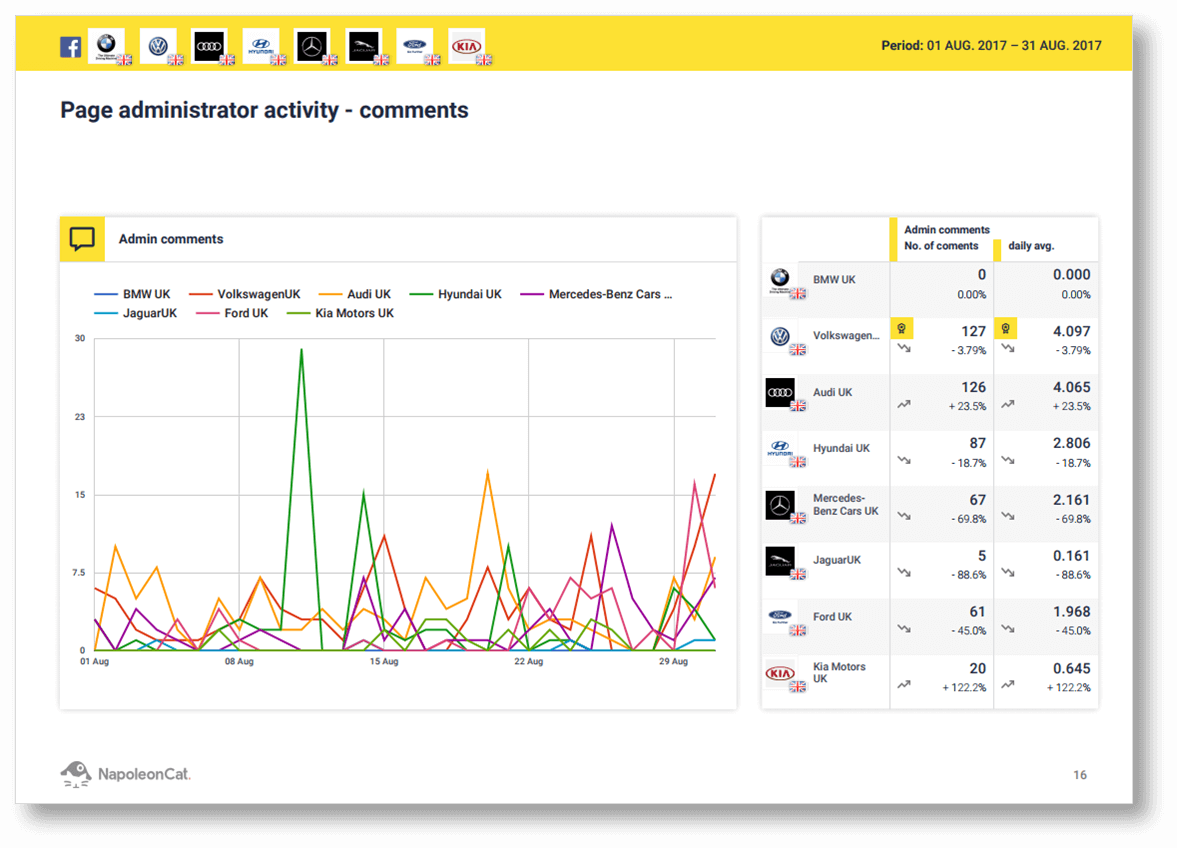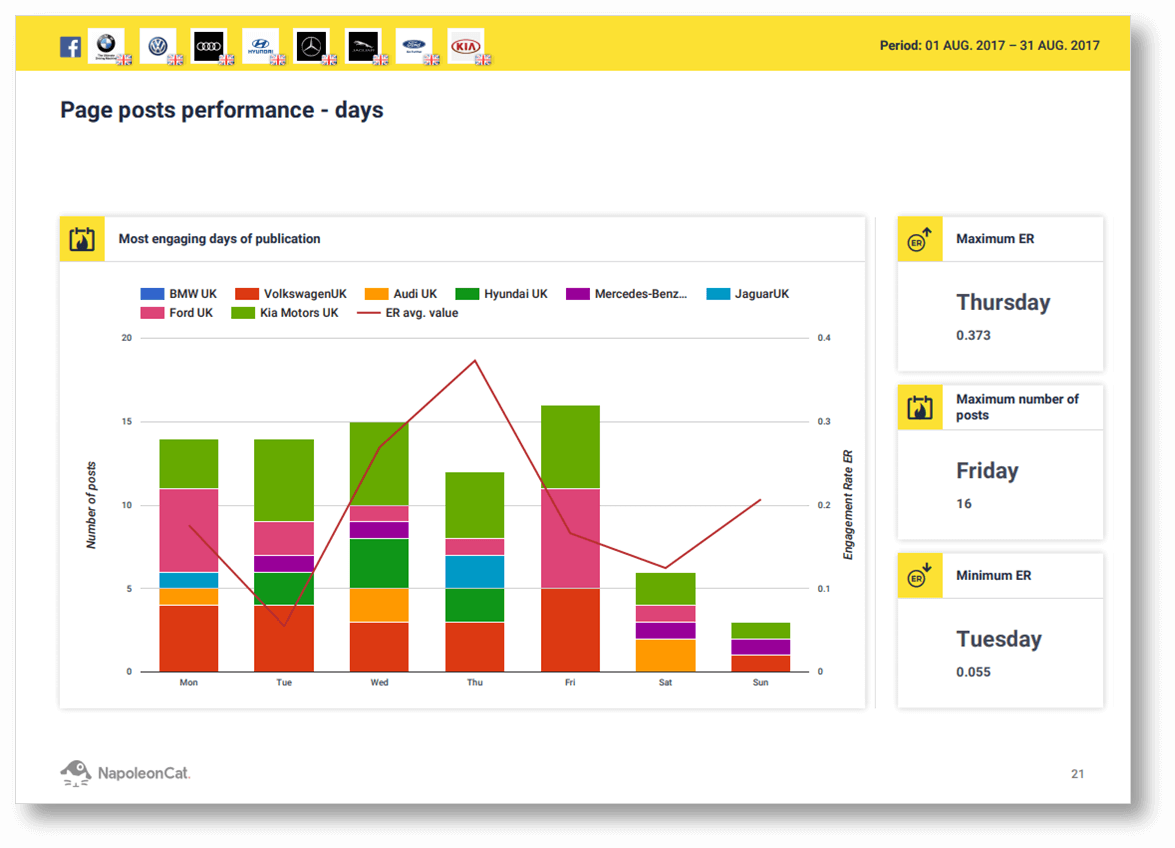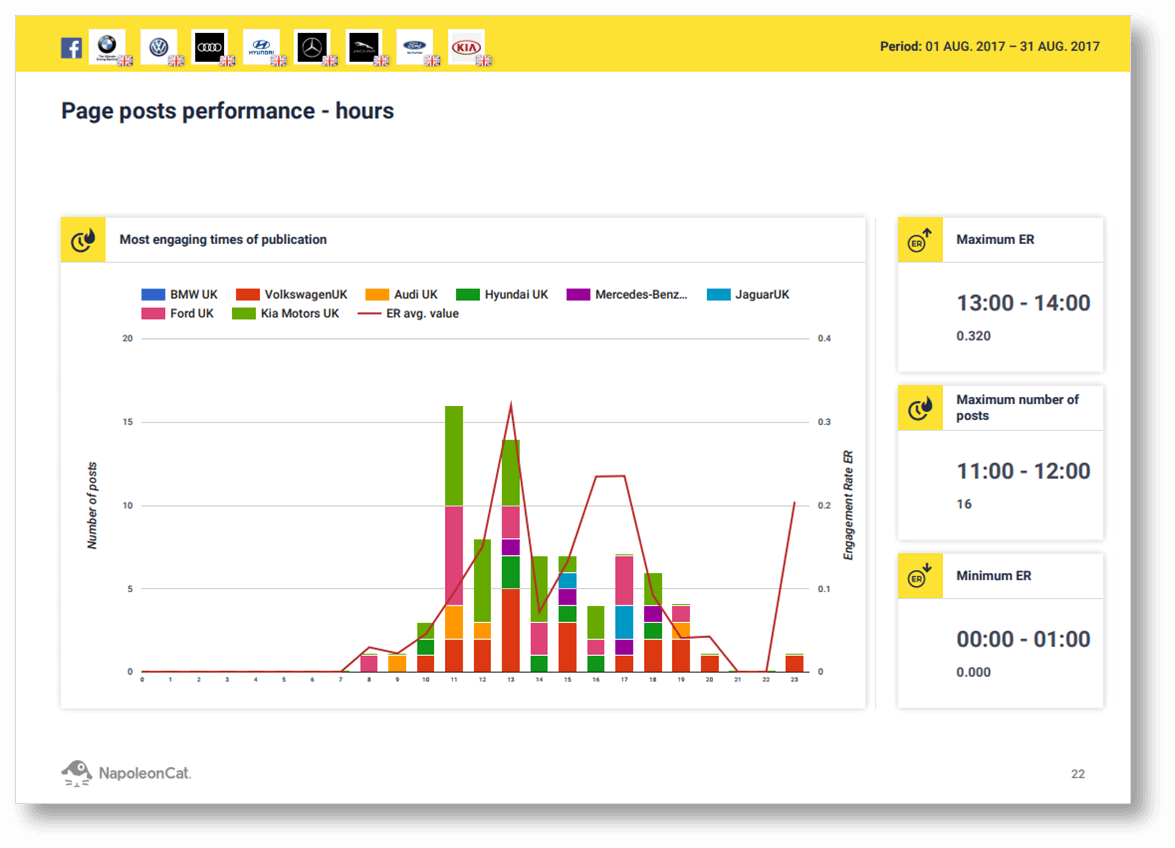 top posts for each analyzed brand.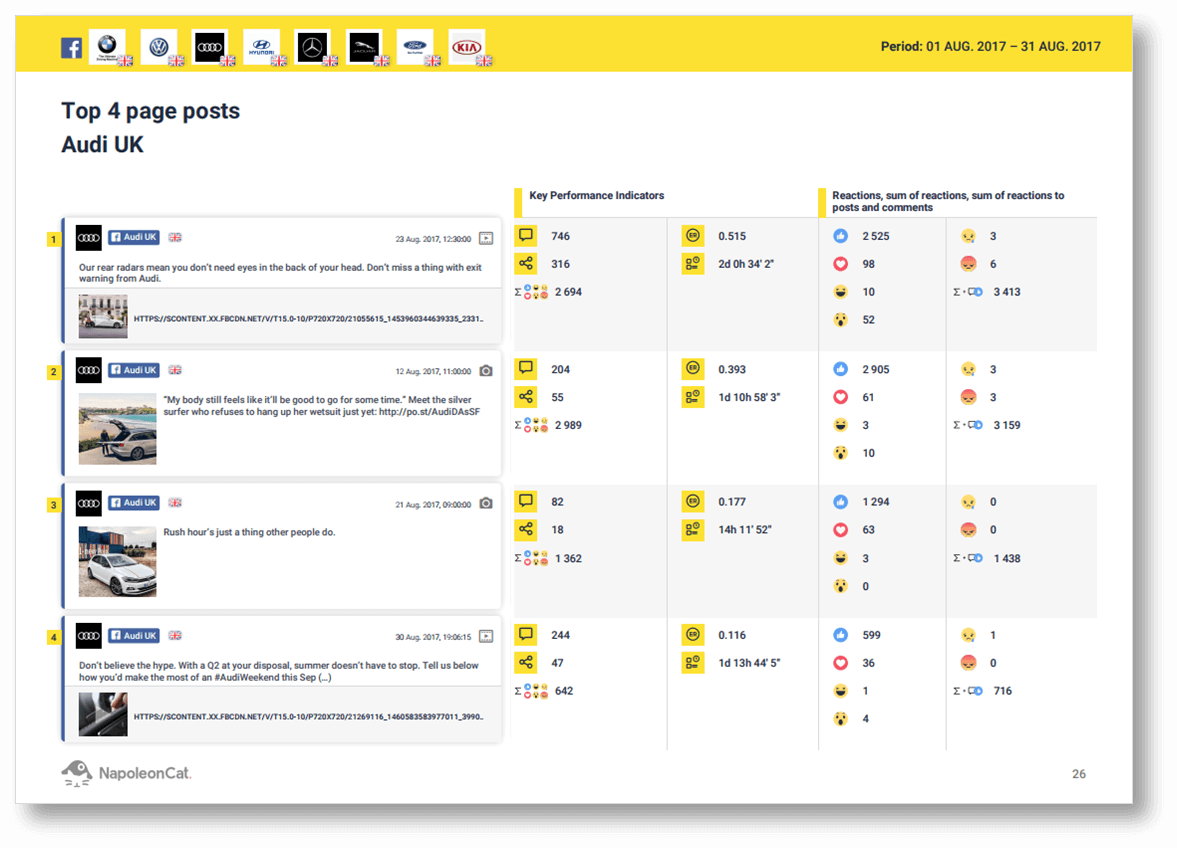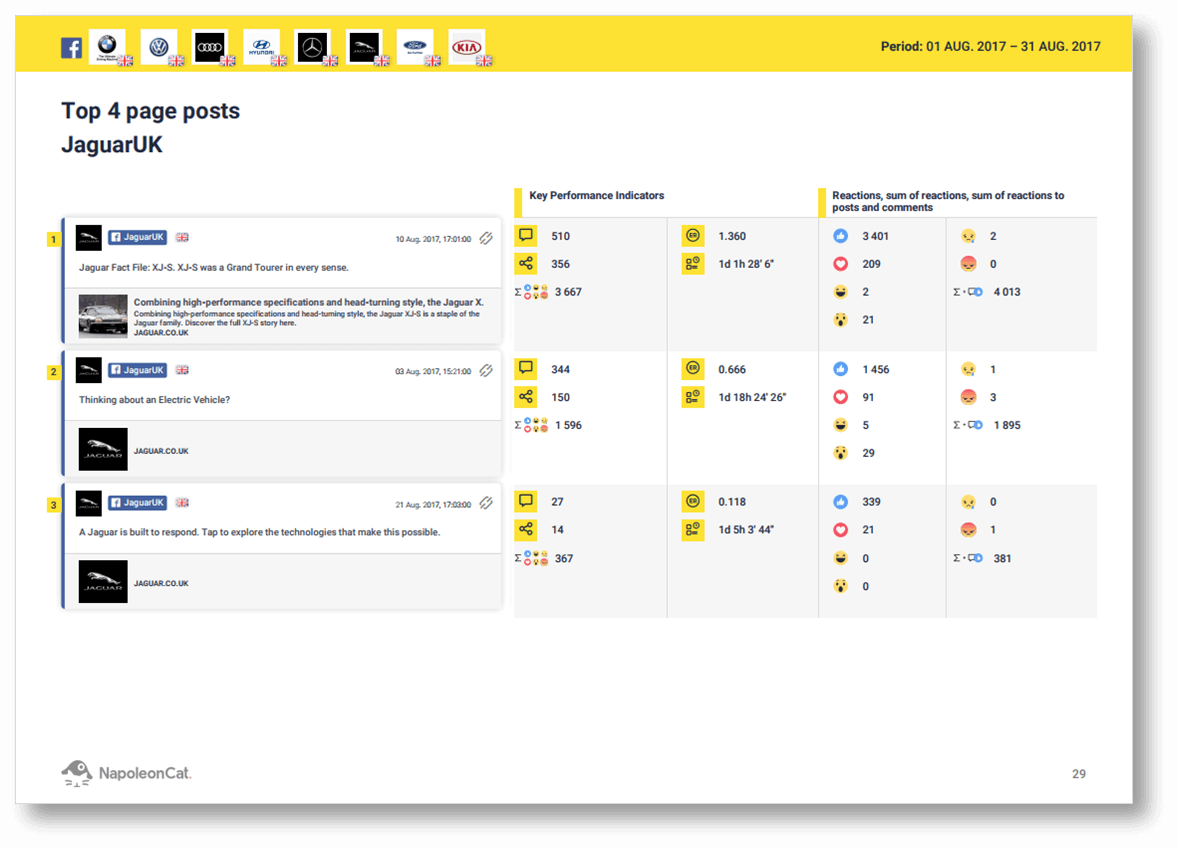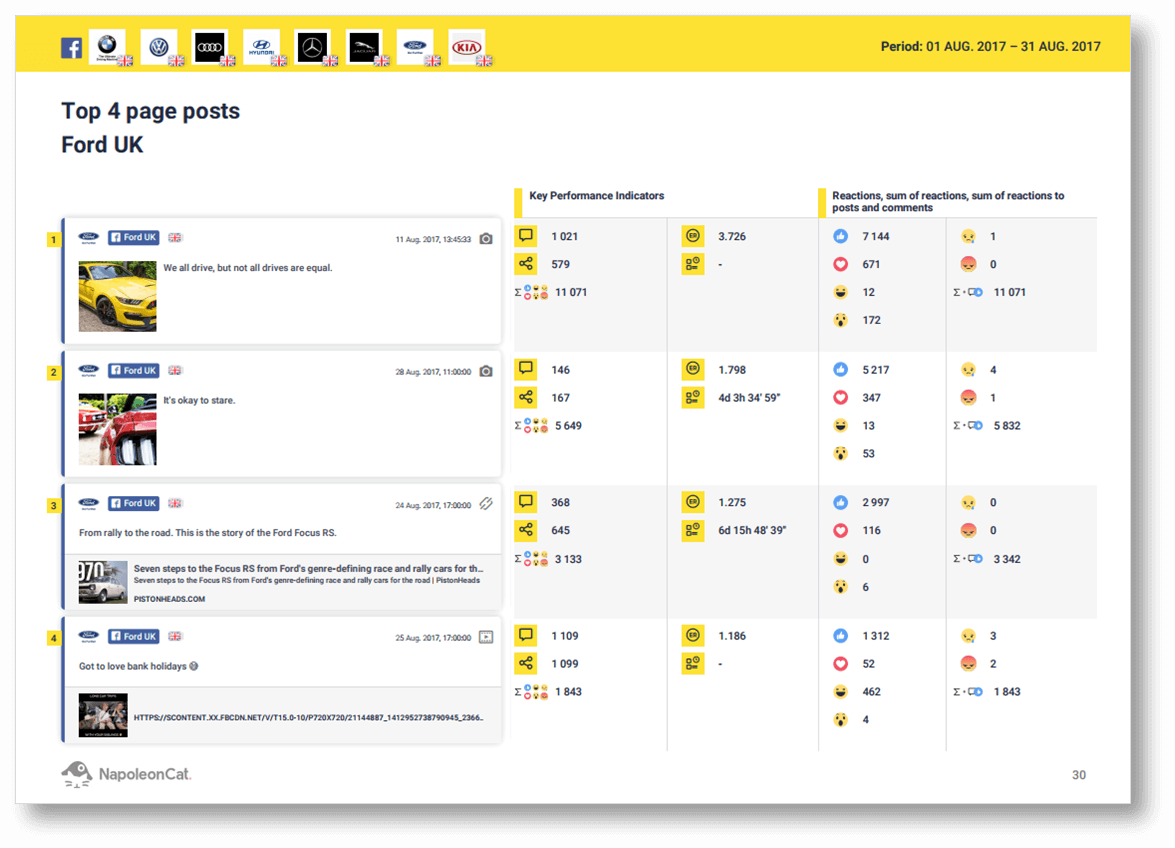 How to generate a comparative report?
To generate a report simply hit the Reports BETA button on the left side of NapoleonCat's panel. Then click the Create new report button.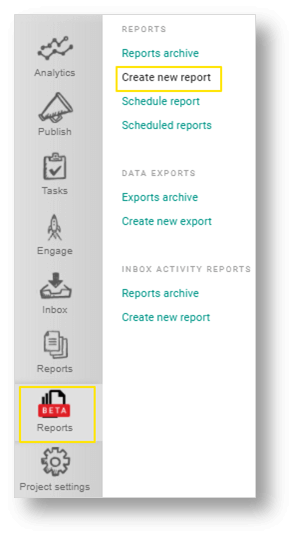 In the next step pick the analysis period. You can choose between default options (last 7 days, last month etc) and custom dates in the calendar. Also, you can pick the language of the report (English or Polish).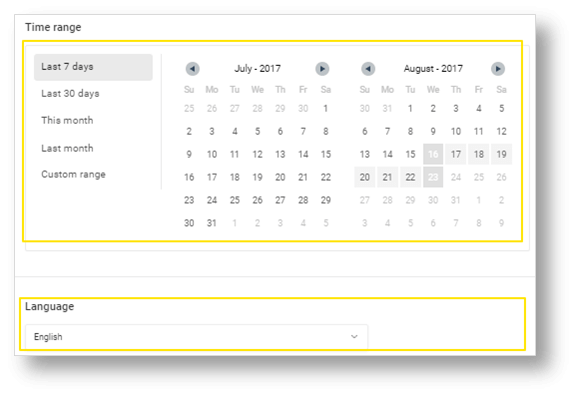 Next choose the profiles you would like to include in the report. You can select either single profile or multiple profiles (not more than 8), if you want to generate a comparative report. To add a profile click the "+" icon next to its name. You can also remove previously chosen profiles by clicking the Remove button.

You are almost there! Review the metrics you want to have in the report and hit the Generate button. By default, all metrics are selected.

You'll see your report being generated in the Reports archive section.
How to automatically generate similar reports?
That's not all! If you would like to generate a similar report to one of the previously generated documents, it's possible with only few clicks. Use the button marked below to create such report. You can change the date range afterwards.

What is more, you can schedule the reports so you don't have to prepare them manually every week or month. To schedule a report, please hit the Schedule report button in the Reports BETA menu.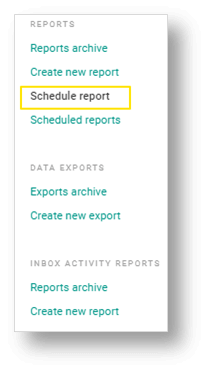 Click here to download a sample Facebook pdf report.
We hope this makes your work more effective. Let us know what you think!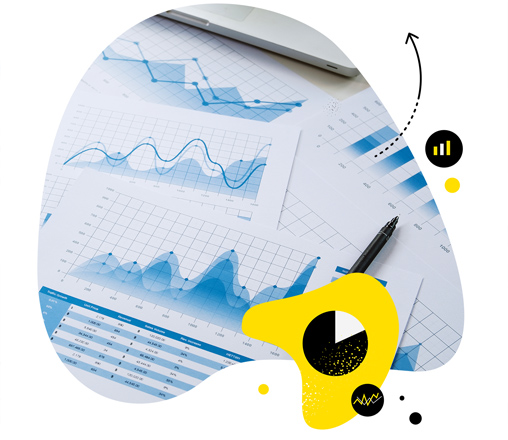 Facebook Analytics & Reports
Analyze your Facebook marketing results. Schedule automatic weekly, monthly, or quarterly reports. Try it for free:
Try NapoleonCat free for 14 days. No credit card required.