Ever since Facebook introduced EdgeRank algorithm, which is responsible for filtering content on users' news feeds, cracking it became marketers' and analysts' quest. To large extend it is a matter of succeeding or failing in achieving high unpaid reach. Edge Rank evolves. Sometimes Facebook itself informs about changes it made. More often than not however, only in-depth analysis of large quantities of data reveals its rules. And those secret tricks can, at least for some time, give you an upper edge over your competitors. Here's one of them.
A few years ago Facebook acquired Instagram for one billion dollars. Since then they've been working to build more synergy between both services. For the users and for the owners. The latter's primary goal is to grow Instagram's user base fast. Perhaps the easiest way to do it is to drive traffic from Facebook to Instagram. This may be the reason of the discovery we made during our recent routine analysis of posts published on Facebook by NapoleonCat users.
We analyzed over seven thousand posts published on Facebook between January 01 and July 15 that contained links to external websites. We only considered posts that were not boosted, i.e. no money was spent to increase their reach. It turned out that posts containing links to Instagram had almost twice higher organic reach than posts containing links to other websites.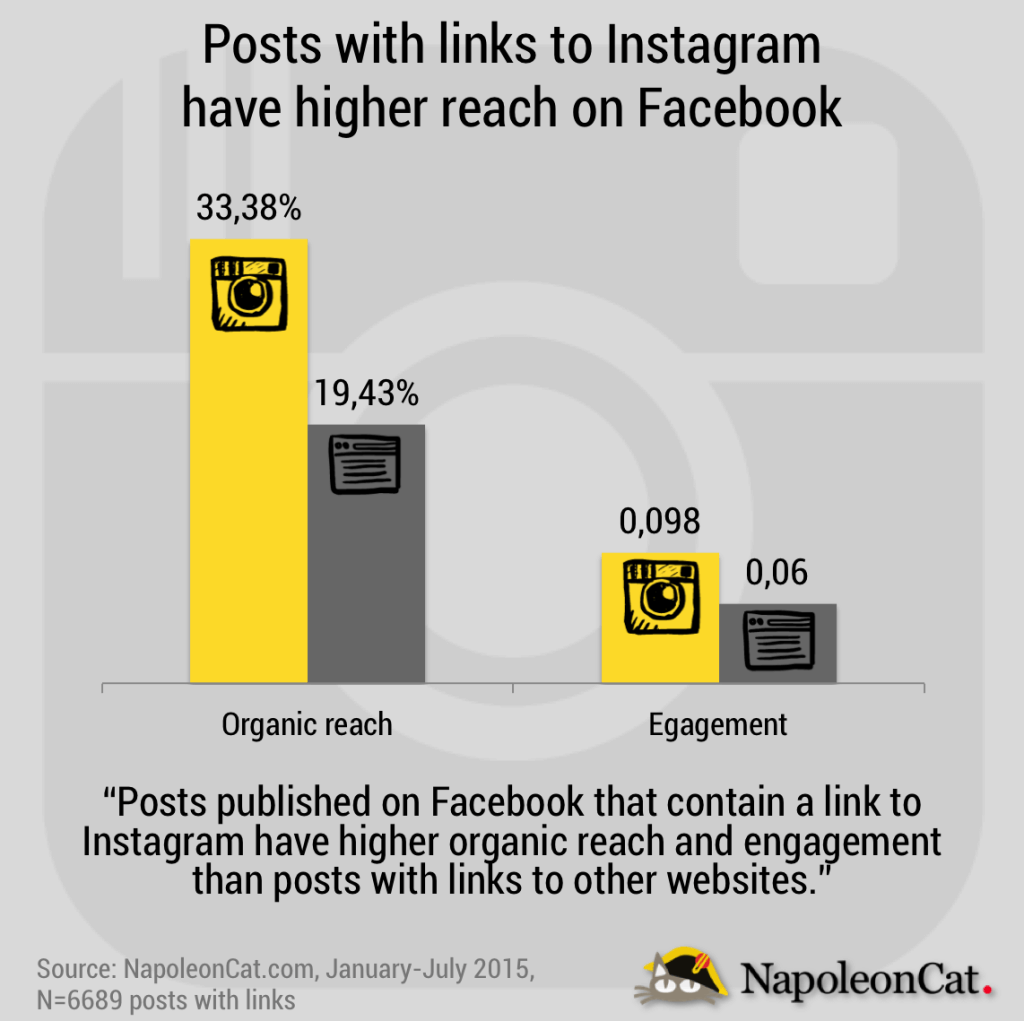 The same was true for their engagement rates, i.e. the number of interactions, such as likes, comments and shares, to the number of fans of the particular page. While average Engagement Rate for posts with links to Instagram was 0,1, for posts with other links it was only 0,069.
It might be that, on average, content published on Instagram is much more engaging than on other websites and organic reach is boosted by interactions, not the other way round. However, it might also be true that Facebook is encouraging its users to visit Instagram more often by favouring Instagram links. Either way, [Tweet "If your brand is on #Facebook you should also consider #Instagram. #GrowthHacking"]
We'd like to remind you that NapoleonCat offers analytics and moderation for both Facebook and Instagram. If you still haven't done so, set up your FREE trial account now.
PS. Please share this post if you find it useful. I'm sure your friends will be grateful 😉