If you want to make the most out of the platform's engagement potential, you must reply to Instagram Direct Messages (or DMs) promptly and professionally.

Why? Because the best types of engagement happen privately. Whether it's settling customer disputes, explaining a product's features and benefits, or building a potential partnership with other brands, responding to Instagram DMs is a great way to build brand trust, improve customer loyalty, and build your brand's reputation.
If you have little to no experience with Instagram, you're probably worried about the herculean task of managing DMs. Well, look no further.
In this article, we cover:
Let's dive right in!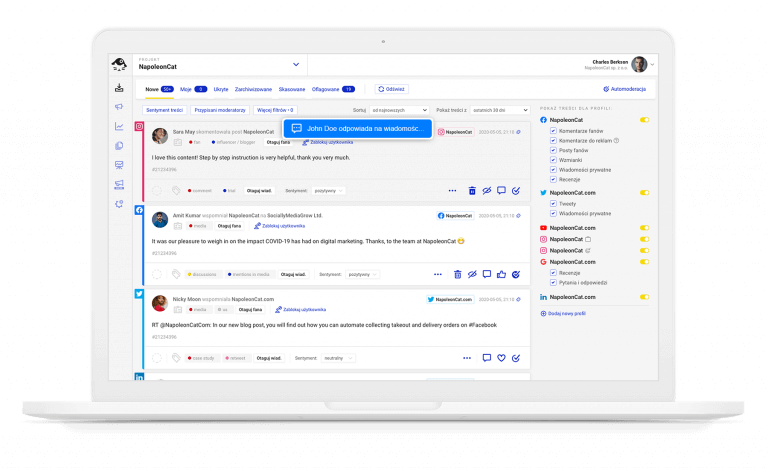 Manage (and automate) Instagram DMs for multiple accounts – from one place
Manage all social media conversations, including Instagram DMs, using a single Inbox in NapoleonCat. No more logging back and forth across different accounts. Designed for teams. Try it for free:
Try NapoleonCat free for 14 days. No credit card required.
How to reply to a message on Instagram on Android
The best way to respond to your Instagram DMs on a mobile device is through the official Instagram app. Here are the steps to replying to Instagram DMs on a mobile device.
Launch the official Instagram app and log in with your email address/user name and password.
Click on the Instagram Direct icon in the upper right corner of your screen (the paper plane icon on the right side of the Instagram Story section).
Open an individual conversation by selecting the person who sent you a message.
Tap and hold the message you want to respond to and click on the "Reply" button on the bottom left. The message will then be quoted.
Type your message and click "Send."
Above the chatbox, you'll see a message that says, "You replied."
And you're done!
How to reply to a message on Instagram on a desktop
Instagram's options on the desktop may look a bit different from the mobile version, but the steps are essentially the same. To reply to a specific Instagram message on a desktop, follow these steps:
Go to Instagram.com using any browser of your choice.
If you're using Instagram on a browser for the first time, enter your login credentials. If you already have a Facebook account, you can log in faster by using the "Login with Facebook" feature.
Tap the Instagram Direct messaging icon on the top right-hand corner of your screen. Or you can go there directly via instagram.com/direct/inbox.
Go to a chat conversation by clicking on the individual who sent a message you want to respond to (Instagram highlights each new message with a blue dot). This brings up the chat conversation on the right-hand side of the screen.
Hover over the message you want to respond to. This brings up three options. Click on the reply button (the back arrow icon between the three dots and the emoji option). This, again, will show the recipient's message in quotes.
Type in your message in the message input box, and hit enter or click the "Send" button.
See the message "You replied" above your message?
And that's it.
How to reply to a message on Instagram faster with Quick Replies
Now that you know how to reply to a specific Instagram message both on a mobile device and a PC, it's time to learn how to respond to Instagram DMs faster. After all, as someone who's promoting a brand (or multiple brands) on social media, you're going to respond to a lot of DMs.
If you want to bring up engagement and get your brand on your audience's radar, you need to be efficient in how you manage your Instagram DMs.
Responding to each Instagram DM the traditional way won't help you pull that off.
Using Instagram's Quick Replies feature does.
What is Instagram's Quick Replies feature?
Managing and responding to Instagram DMs can get tedious and time-consuming. Especially if you're receiving the same questions and messages over and over again. Imagine how easy your life would be if you can set up an automatic response for each time you're asked how much your product costs.
Here's how Instagram Quick Replies works.
With Instagram's Quick Replies feature, you can create responses to frequently asked questions and inquiries in advance. That means you don't have to compose one message each time you're asked how much your product costs or how your return refund policy works.
How to create Quick Replies in Instagram DM
To access the Quick Replies feature, you need to switch to an Instagram business account.
To switch to a business account, go to your profile and click Settings. Then scroll down and tap 'Switch to business account.' Click 'Continue' and you're all set!
With that done, you can set up pre-saved messages by doing the following:
Go to your profile and head over to your account's menu bar.
Click on Settings.
Scroll down to Business Settings and tap the Quick Replies tool. This will bring up more options.
Click the 'plus' sign to set up your first pre-saved reply.
Create a shortcut for the pre-saved reply. For example, if you want to send an automated message giving an itemized breakdown of your price for every pricing inquiry received, you can set up "price" as a shortcut.
After creating your first quick reply, you'll see it added to the list of quick replies you've saved.
To add more quick replies, click on the plus sign again and repeat the above procedures. You don't have to add them all in one sitting. You can always add more as you continue to identify common questions and inquiries while receiving more incoming messages on Instagram DM.
An Easier Way to Reply to Instagram Messages
Make no mistake: Instagram's Quick Replies is a huge time saver when you're responding to Instagram DMs.
But the more your business grows, the more incoming messages you have to keep up with. It's a good problem to have, sure, but leaving Instagram DMs unattended for a long time is a bad idea.
Social media customer service has become crucial nowadays. Remember, half of the customers expect brands to respond within an hour, whether in a private message or a group chat where users can ask for support. Make them wait long for a response and it's only a matter of time before the trust and reputation you have built with your audience come tumbling down.
Thankfully, there's an easy way to respond to incoming messages on Instagram even as they continue to pile up.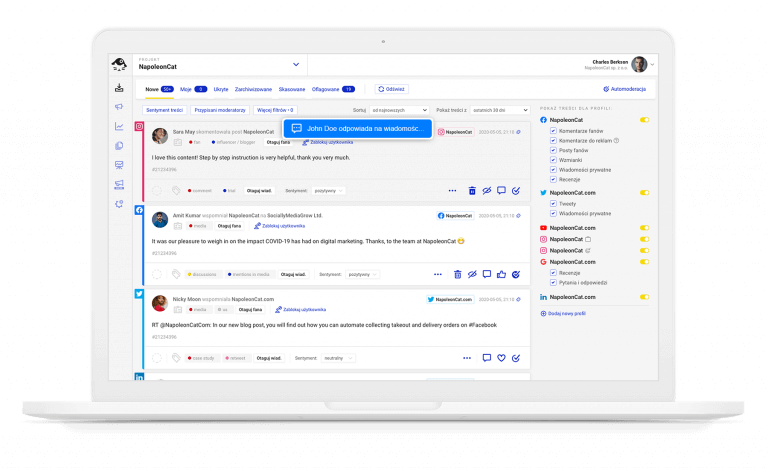 Manage (and automate) Instagram DMs for multiple accounts – all in one place
Manage all social media conversations, including Instagram DMs, using a single Inbox in NapoleonCat. No more logging back and forth across different accounts. Designed for teams. Try it for free:
Try NapoleonCat free for 14 days. No credit card required.
How to reply to Instagram DMs (and comments) faster with NapoleonCat
With the whole suite of Instagram management tools for business in one tool, NapoleonCat offers a much more efficient way to reply to Instagram messages and comments (including comments from Instagram Ads)
With this tool, you can:
Track, manage, and respond to all direct messages and comments (ad comments included) across multiple Instagram accounts using one convenient dashboard (no need to log in to each account and switch tabs)
Set auto-replies for your Instagram DMs, e.g., if you receive repetitive questions
Respond to Instagram DMs in different languages (using NapoleonCat's auto-translation feature).
Automatically hide or delete inappropriate comments and protect your brand reputation online
No need to switch between multiple Instagram accounts
Heads up: Switching between multiple Instagram accounts is killing your productivity, and in turn, the brands you're trying to build up.
Not only because logging off and on repeatedly takes time, but also because of the negative impact it can have on your ability to focus. According to psychologist Gerald Weinberg, context switching (the process of switching from one task to another) can make you lose 20-80% of your overall productivity.
Thankfully, using NapoleonCat helps you eliminate the context switching caused by allowing you to manage multiple Instagram accounts using one dashboard.

So essentially, you can reply to all your Instagram messages from just one view.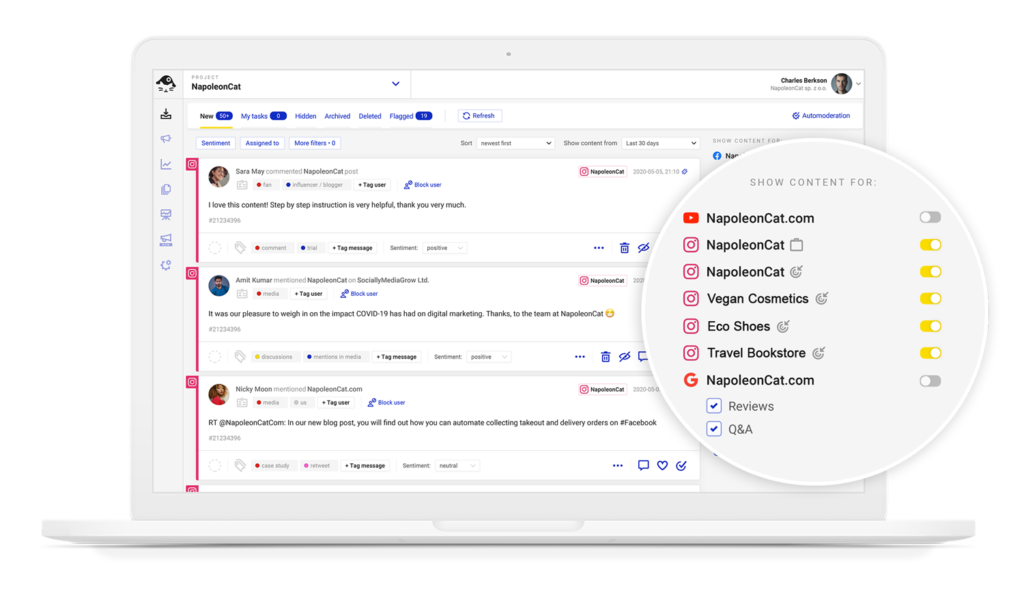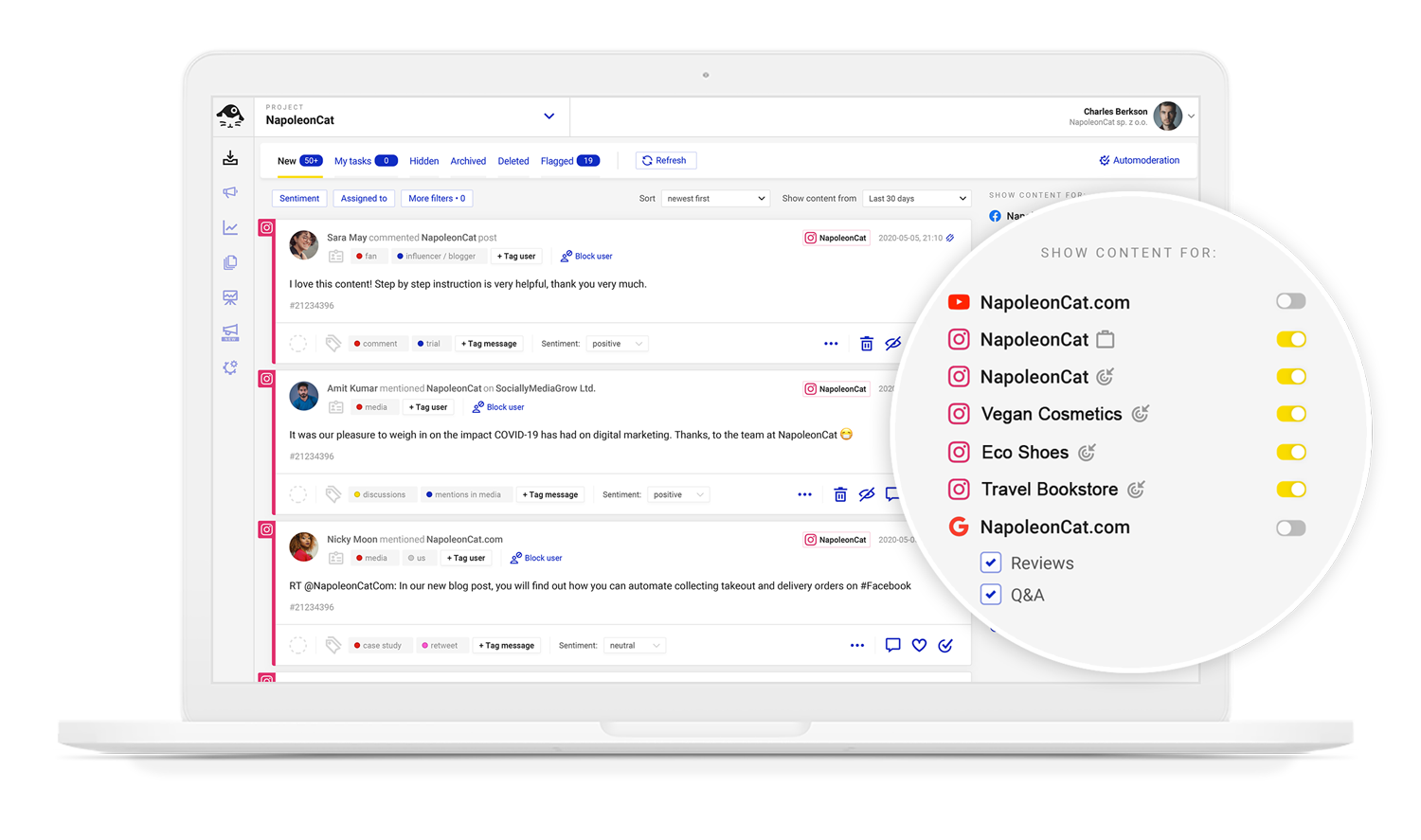 And it's not just on Instagram as NapoleonCat allows you to manage all social media profiles in one place – it works for Facebook, Twitter, YouTube, LinkedIn, and Google reviews.
And it gets better. NapoleonCat's Social Inbox also lets you communicate more effectively via DMs by:
Letting you handle Story replies in DMs
Allowing you to 'Like' a message or see 'likes' given to your messages by other Instagram users
Sending you a notification when an Instagram user mentions your brand in their Stories (and lets you respond accordingly)
Automatically translating received messages and your replies as needed
Providing collaboration tools so you can manage Instagram DMs effectively as a team
How to reply to Instagram DMs in over 100 different languages
Expanding your business to an international market increases your potential for increased revenue and cost savings. But how do you respond when you receive a direct message in a language you don't understand?
Google Translate can help you get past the language barrier. But heading over to the Google Translate page takes time and robs you of your focus (remember context switching?).
Thanks to Social Inbox's Translations feature, you can eliminate the busy work involved in translating and responding to messages in a different language. As you can see below, the tool does all the work for you by translating Instagram DMs along with your reply. The feature is also supported by Google Translate (so you can rest easy it's accurate!).
How to reply to Instagram DMs as a team
As your brand continues to grow a presence on Instagram, there will come a time when you need to use an entire social media team to keep up with all the DMs.
That said, you can't create an effective team for managing Instagram DMs if each member is working in a silo.
With NapoleonCat, you're getting a suite of collaboration tools that can streamline your team members' workflows, which in turn helps them to communicate better, get things done faster, and commit fewer mistakes.
NapoleonCat helps stoke that collaborative team spirit by:
Letting team members exchange feedback and consult each other when responding to comments and DMs via a unified and collaboration-friendly dashboard.
Letting you assign tasks to other members and ensure accountability in meeting objectives.
Everything inside the Inbox is happening in real time, so you can see what other team members are doing to avoid replying to the same comment or message.
How to set auto-replies for your Instagram DMs
You may be wondering if there's a way to automatically reply to messages on Instagram – yes, there is 🙂
With NapoleonCat's Auto-moderation, you can set up smart automatic replies for private messages on Instagram – even for multiple accounts at once.
The auto-replies are most often used for common questions (e.g., those about delivery times, opening hours, pricing, etc.).
Here's how to create an auto-reply for your Instagram DMs in NapoleonCat: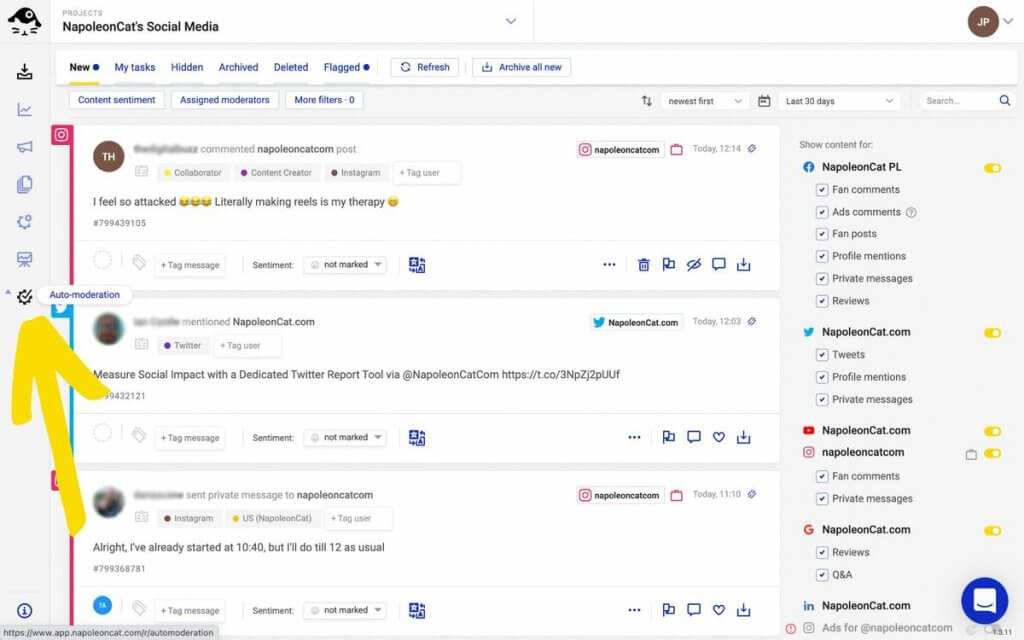 Select Create new rule
Name your rule
Choose the social platform and the account (or multiple accounts) you'd like the rule to work on
Choose Private messages as the message type that will activate your rule
Type in keywords and phrases that will trigger your rule

Choose Reply in a private message as the social media action
Add your replies – you can add an unlimited number of reply variations to randomize your auto-replies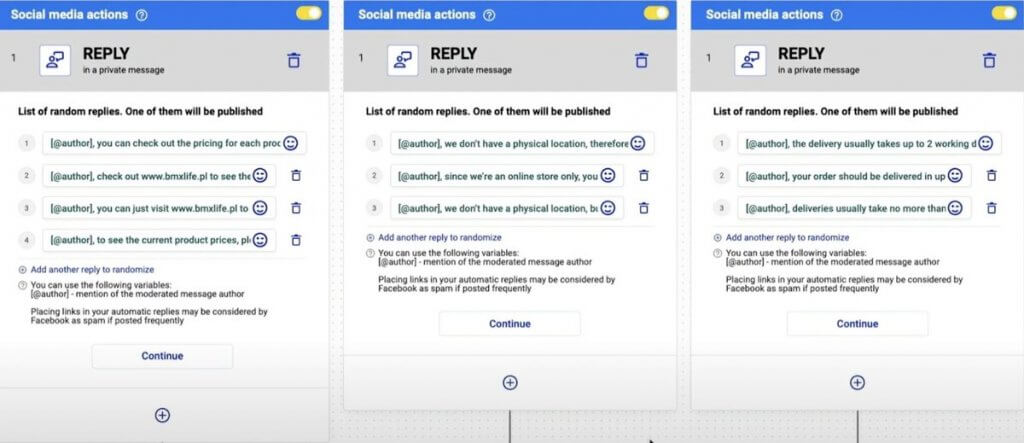 Select internal NapoleonCat actions, e.g., the message can be flagged and assigned to a given team member
Set email notifications for whenever your rule is triggered
Schedule your rule for certain days and hours, or let it work 24/7
That's it! You can also see the video below to see how easily it can be set up for Facebook auto-replies:
Bonus: How to respond to, hide, or delete IG comments based on specific keywords
NapoleonCat's Auto-moderation tool lets you set up automatic replies or reactions based on specific keywords and phrases.
It also lets you automatically hide and delete inappropriate comments (which is a big deal considering how tedious and time-consuming it can be to deal with online trolls on a regular basis).
You can set up automatic actions like:
Deleting a comment
Hiding it
Forwarding sensitive issues to dedicated customer support members
And it also works for Instagram ad comments as well 😉
As you can see, NapoleonCat doesn't just make it easy for you to respond to messages, but it also allows you to manage comments efficiently. This gives you the wiggle room to focus on tasks that will have more impact on your Instagram audience.
Wrap up
Trying to keep up with your Instagram DMs can be overwhelming. But if you can create a system where you can effectively manage your direct messages on the platform, you are presented with great opportunities to create meaningful (and profitable) relationships with your Instagram audience.
If you want to build a loyal following on the platform, don't waste those opportunities and start our free 2-week trial.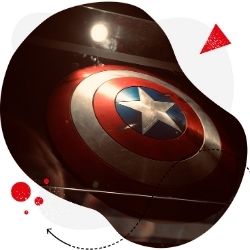 Protect your Instagram from hate & spam
Automatically shield your Instagram content from hate speech, inappropriate language, and spam (Instagram ads included). Try it for free:
Try NapoleonCat free for 14 days. No credit card required.