Instagram messages (DMs) are a powerful way to connect with your audience and boost your social media presence. After all, what better way to nurture customer relationships than engaging them in one-on-one conversations?
But managing Instagram DMs starts to become less fun when you're receiving more incoming messages than you can handle. When responding to DMs becomes a chore, it can put a damper on your social media strategy.
How do you manage your Instagram messages when everything feels so cluttered?
There is an easy way. To help you out, we've created a guide to help you manage Instagram DMs better on your PC.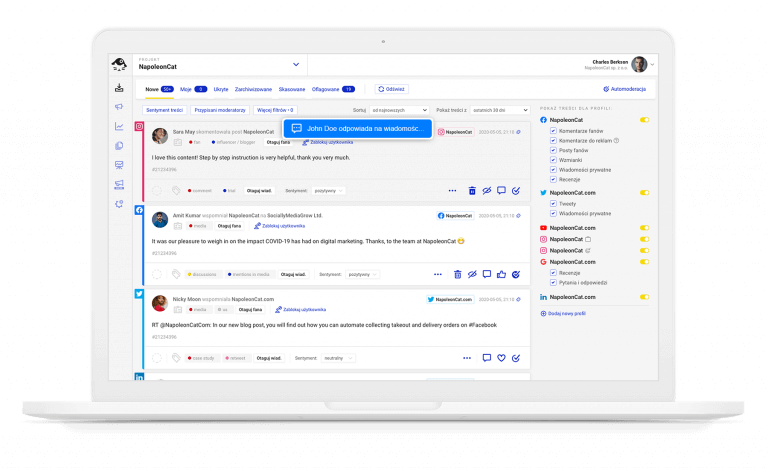 Manage (and automate) Instagram DMs for multiple accounts – all in one place
Manage all social media conversations, including Instagram DMs, using a single Inbox in NapoleonCat. No more logging back and forth across different accounts. Try it for free:
Try NapoleonCat free for 14 days. No credit card required.
Managing Instagram DMs from a PC
It wasn't until April 2020 before Instagram added the ability to send direct messages to its desktop website.
These direct messages take place on Instagram Direct. Using this feature, you can send or receive messages, photos, and videos to one or more people on Instagram. These conversations are private, meaning they don't appear on anyone's Instagram feed.
With that out of the way, let's go over the basics of managing your Instagram DMs.
How to check Instagram messages on PC
Go to instagram.com using any web browser on your PC. Once logged in, tap the DM icon on the left.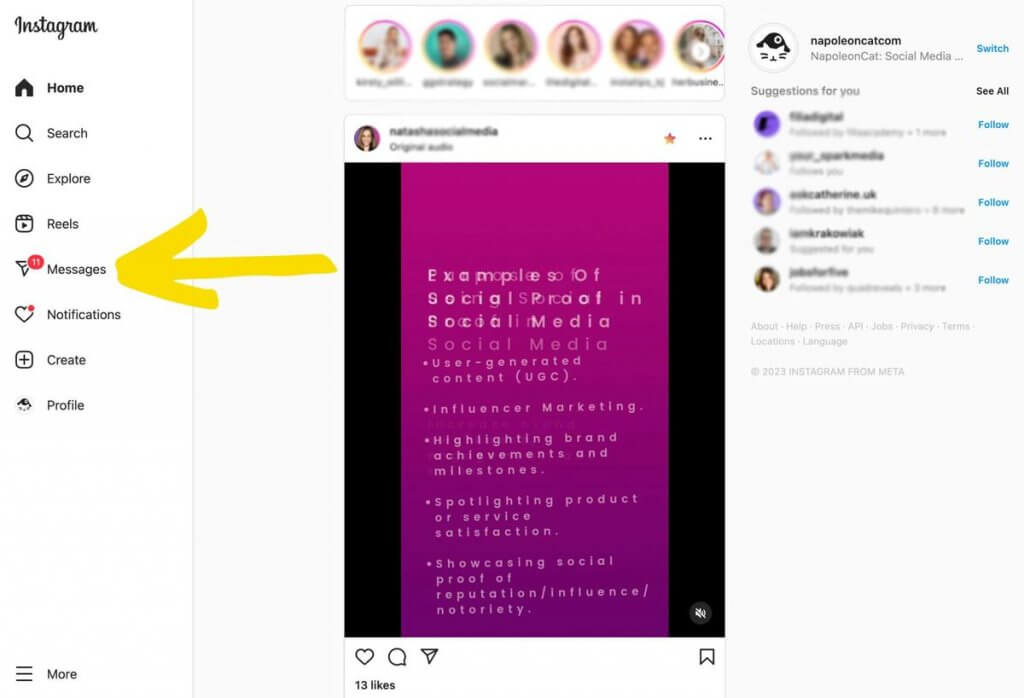 This will bring up your Direct Messages. Once there, you can see all your active conversations. Click on a message you want to view on the left side of the screen to bring up the private conversation on the right side. You can now respond to a message and continue the conversation. You can use emojis, and send a photo (or a heart), just like on Facebook Messenger.
How to slide into Instagram DMs
To initiate a private conversation with someone on Instagram via Direct Messages, tap the DM icon again, and click the pencil-and-paper icon at the bottom of your Instagram handle on the left side.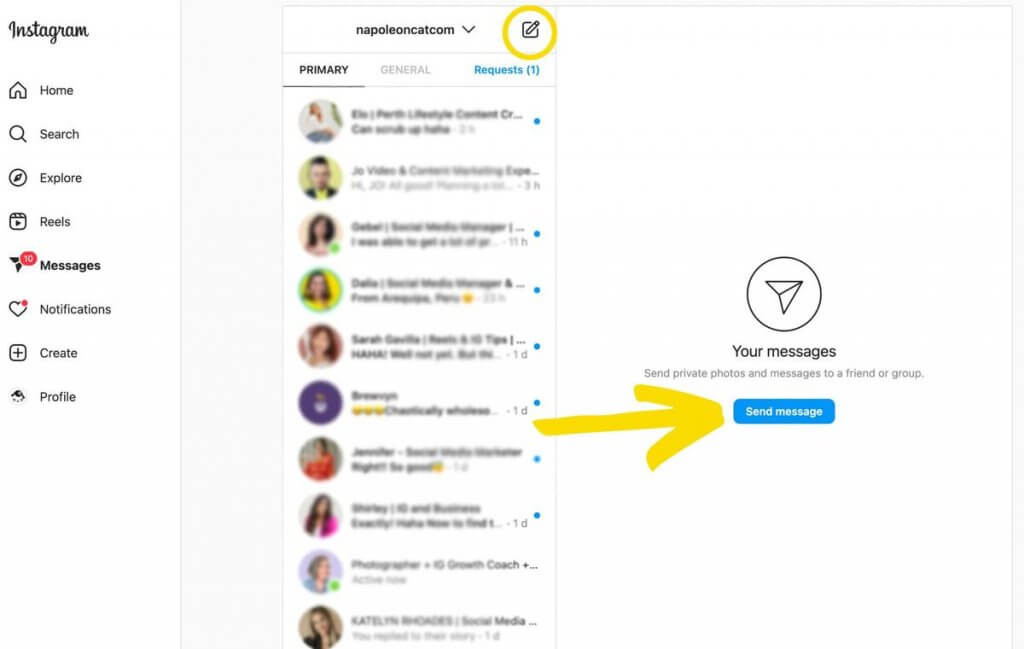 This brings up a pop-up window. To start a new conversation, type in the name or username of the person you want to message, and put a tick mark next to the Instagram profile that matches your search. Click "Next" to bring up a private conversation specific to that account.
How to delete Instagram DMs
Instagram Direct Message allows you to delete entire conversations or individual messages in an existing conversation.
To do this, tap the DM icon, and then select the conversation you want to delete on the left. This brings up the entire conversation on the right side of the screen. Now tap the lowercase "i" icon on the top right.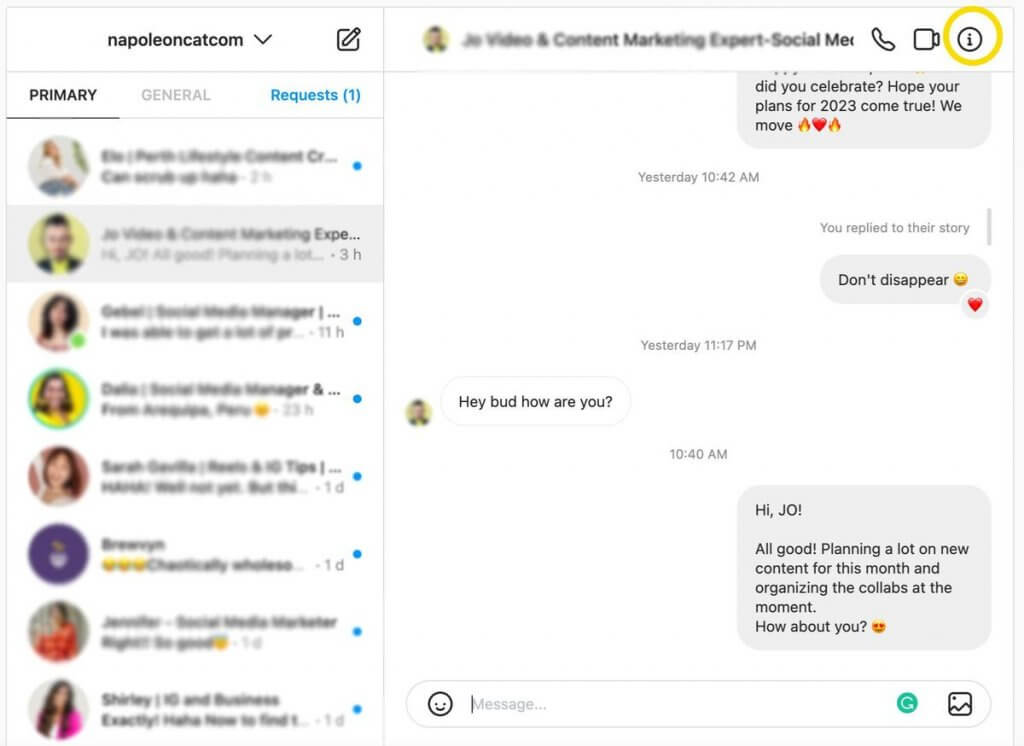 In the menu just below the profile, select "delete chat." After the confirmation pop-up, select "Delete" again.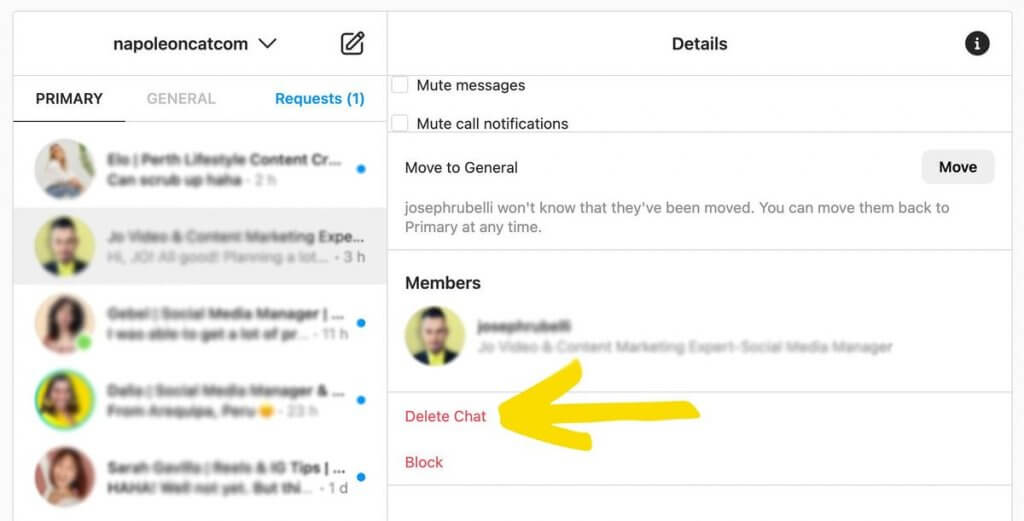 How to unsend Instagram DMs
To delete an individual direct message, go to the entire conversation on the right side of the screen, and then hover your mouse over the individual message you want to delete. Click on the horizontal three dots and select "unsend" to remove the message. This removes the message for everyone (though it's possible the recipient has read it already, oops).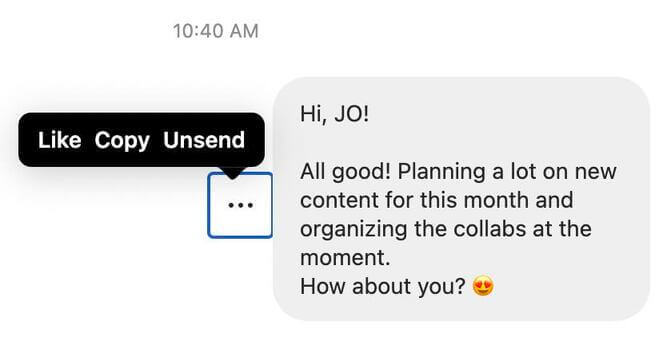 How to turn off DMs on Instagram
Unfortunately, there is no official way to turn off DMs on Instagram. You can, however, disable notifications for Instagram messages.
If you've been receiving spam or inflammatory messages from trolls, you can retreat for a while by turning off DM notifications on Instagram.
Once logged in, tap on More in the bottom-left corner, and click Settings. From the menu on the left, click Push Notifications. Scroll down a bit until you see Messages, then click Off.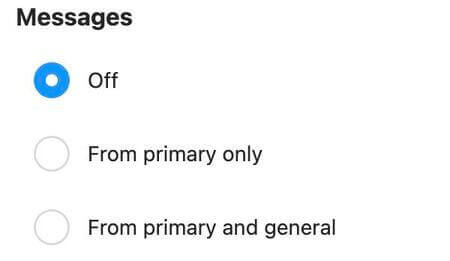 How to see deleted messages on Instagram
If you deleted a message by mistake, can you get it back?
You can try and see deleted Instagram messages by sending a request to download the data from Instagram servers. Take note that it usually takes 48 hours to process.
First, click on More in the bottom-left corner, then click Settings. From the left-hand menu, tap Privacy and Security. You'll see more options on the right. Scroll down for a bit until you see Data Download.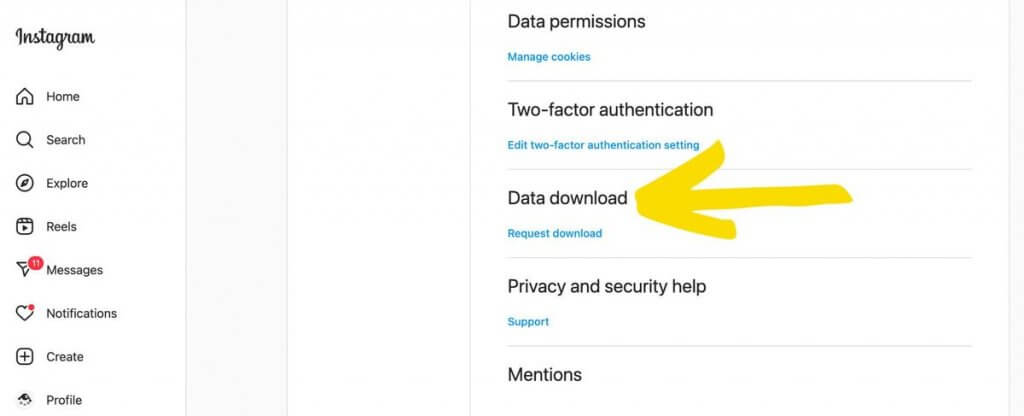 After clicking on Request Download, you'll receive a prompt to get a copy of your information. Confirm the email address where you want to receive the information, then select the information format (HTML or JSON). Click Next. Enter your password for the Instagram account and hit Request Download.
You'll then receive the following prompt: "We've started creating a file of your information and will email a link to <your email address> once it's ready. It may take up to 14 days to collect this information and send it to you."
Don't worry, you don't have to wait that long (14 days). I tried it myself and received my Instagram data in 2 hours.
Can people see when you screenshot Instagram DMs?
There will be times when you need to screenshot Instagram messages for customer service purposes. But you may be wondering: will the other user get notified if I screenshot their DMs?
The answer is: Yes, but only for messages sent using Vanish mode.
Messages sent under Vanish mode are messages that disappear when someone leaves the chat or turns the Vanish mode off. You can't copy, save, or forward disappearing messages. If you take a screenshot of a DM under Vanish mode before it disappears, the other user receives a notification.
Protip: If you need to take a screenshot of an individual DM, it's good business practice to send a private message informing the recipient you're taking a screenshot for customer service purposes.
How to react to messages on Instagram
You can react to DMs on Instagram by double-tapping the messages. By default, this should trigger the heart emoji reaction.
Some users, however, can change their emoji reactions by pressing and holding a message:
How to unread messages on Instagram
*This option is available only for Business and Creator accounts, and only on mobile devices.
If you want to unread a message on Instagram, go to your inbox. Once there, slide your finger from right to left next to the account name. Then, click on 'Unread'.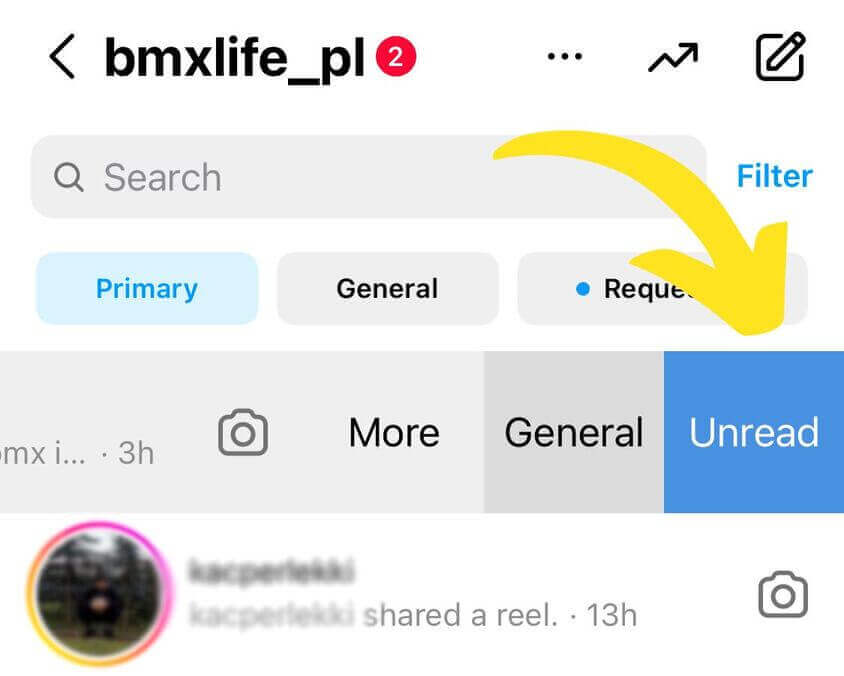 We also made this short video tutorial showing you how easy it is to unread messages on Instagram:
Limitations of Managing Instagram DMs Using a Browser
As you can see, managing Instagram DMs is easy. But it can get overwhelming real fast as you grow your social media presence and gain more followers. When you start receiving a ton of DMs, you find out soon enough that managing Instagram messages on a browser can be limiting, not to mention overwhelming.
Or if you need to manage DMs across multiple Instagram accounts – switching between different tabs and logins doesn't seem so effective.
It's like working as a receptionist when there's a BTS concert. It gets really crowded. So much so it takes you a long while to respond to every DM that comes your way. Other conversations just trail off without resolution.
This can negatively affect brand sentiment, not to mention your relationship with your audience.
Considering that half of all customers (52%) expect companies to respond within an hour, it's a bad idea to make your audience wait.
If you want to meet your customers' high expectations, you need to use a dedicated social customer service tool like NapoleonCat.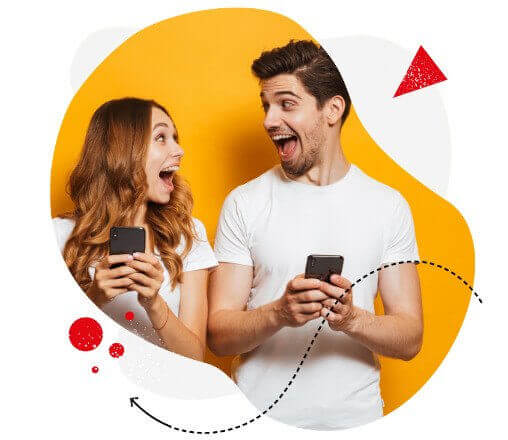 Instagram marketing made easier (especially for teams)
Instagram automation, analytics, reporting, scheduling, and more. Try NapoleonCat and save 90% of your time spent on your marketing tasks. Try it for free:
Try NapoleonCat free for 14 days. No credit card required.
How to Manage Instagram DMs Easier with NapoleonCat
Thanks to the API integration, NapoleonCat was able to add Instagram management tools for business to its social engagement feature, the Social Inbox.
You'll be able to manage all your DMs from multiple IG accounts in one customizable view – making the whole process of managing your Instagram messages a whole lot easier.
The Social Inbox gives you everything you need to build a strong social media presence on the platform. By giving you an uncluttered, unified view of your social media activity, not only are you able to respond to all important Instagram DMs, you also respond much faster and with minimal errors.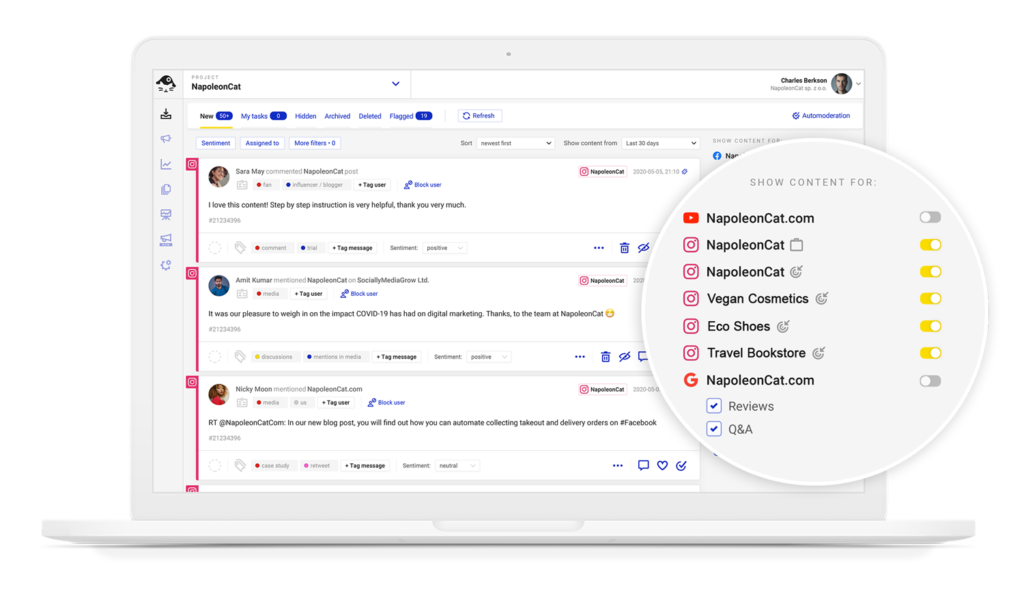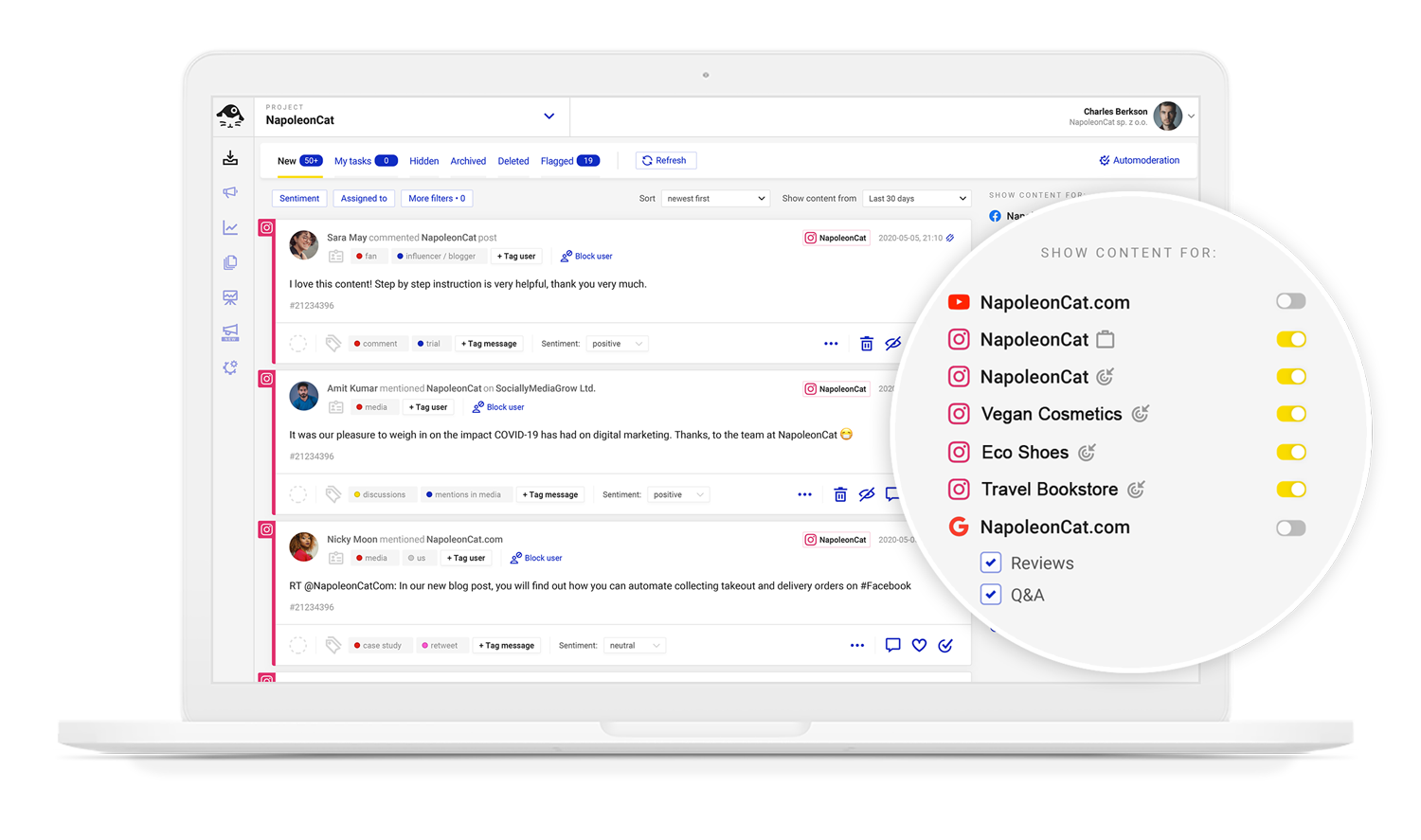 How does NapoleonCat help you manage Instagram DMs better? Let me count the ways:
Manage DMs and comments from multiple accounts in one customizable view
Automatically translate messages and your replies if needed 😉
Set up smart auto-replies for comments and messages
Provide collaboration tools so you can manage Instagram DMs more efficiently as a team.
Tag your messages with custom tags
See Social Inbox in action below:
Translate and respond to Instagram DMs in over 100 languages
With more than half the world (58.4%) using social media, you'd do well to expand your social media presence to an international market. But how do you get past the language barrier when you're conversing with customers from different parts of the world?
Google Translate helps. But all that copying and pasting can be a drag on your time (and resources) if you have to keep responding to DMs sent from multiple languages.
Thanks to Social Inbox's Translations feature, you can skip all that work and let the tool translate incoming DMs along with your reply. The feature is supported by Google Translate, so you can rely on it being accurate 😉
Managing your Instagram DMs as a team
The more followers and customers you get, the more Instagram DMs you'll receive. This could be a problem. A good problem, sure, but a problem, nonetheless.
But there's nothing that an entire social media customer service team can't solve, right?
Real talk: When you're being bombarded by DMs, having an entire team may not be enough to accommodate all incoming messages, especially when your team members are working in silos.
This is where NapoleonCat comes in. Using the social media management tool, team members can streamline their social media workflows and enjoy full visibility of who's doing what and when..
Not only that, but it also offers collaboration tools to help them communicate better and get things done faster and more efficiently (and with zero screw ups).
With NapoleonCat, your team can:
Reply to comments and DMs in real-time using one unified (and collaboration-friendly) dashboard.
Assign tasks to other team members and create a collaborative environment where team members can tag and consult each other over urgent issues and act upon them.
Automate replies to common questions and queries.
Measure your team's progress by creating Inbox Activity Reports
Speaking of social media teams, how sure are you that your team members are working well together?
Using NapoleonCat, not only can you measure your team's performance, but you can also generate professional-looking and data-driven reports and easily send them off to your bosses and clients.
If you're a team leader, you can use the reports to recognize the best performers and those members of your team who may need help. You'll get the exact numbers for their average response time and the number of comments, messages, and other conversations that they moderated. This is especially useful if you motivate your team with bonuses and extras.
If you want to know more, check out our Inbox Activity Reports guide.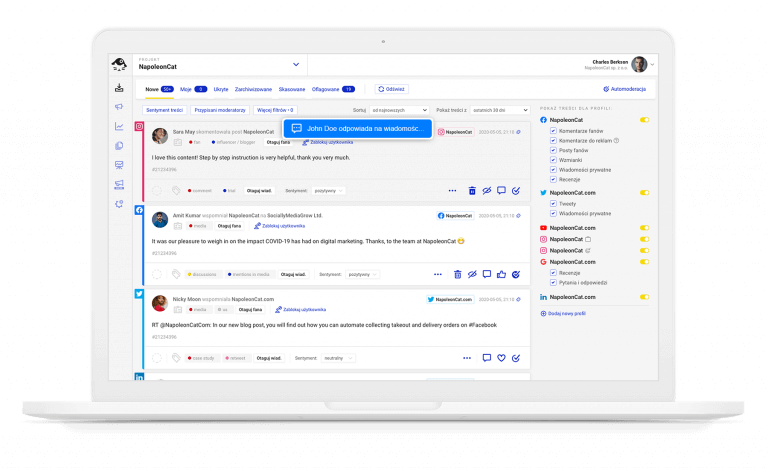 Manage (and automate) Instagram DMs for multiple accounts – all in one place
Manage all social media conversations, including Instagram DMs, using a single Inbox in NapoleonCat. No more logging back and forth across different accounts. Try it for free:
Try NapoleonCat free for 14 days. No credit card required.
Automatically hide, delete or reply to IG comments and DMs based on specified keywords
There comes a time in a social media marketer's life when they will receive spam, offensive comments, and hate speech. You don't have to put up with that.
You can reclaim your time (and sanity) by automatically hiding, deleting, or responding to inflammatory messages using NapoleonCat's Auto-moderation tool. You can also respond automatically to repetitive queries, e.g., about pricing or delivery times.
This automated solution works for both organic and paid Instagram posts, both for comments and DMs.
By letting the tool do its magic, you free up time and resources to focus on tasks that will have a more significant impact on your Instagram audience.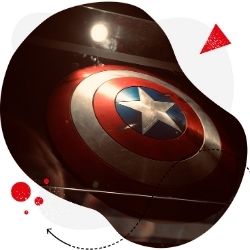 Protect your Instagram from hate & spam
Automatically shield your Instagram content from hate speech, inappropriate language, and spam (Instagram ads included). Try it for free:
Try NapoleonCat free for 14 days. No credit card required.
Few words to wrap it up
If you want to gain loyal fans and build a community on social media, make every interaction count. Remember, the best customer service experiences happen when there's nobody else watching. By managing your Instagram messages the easy way, you can create more opportunities to blow your audience away with exemplary service.
You may also like:
How To Reply to a Specific Message on Instagram (the easy way)