As Instagram users, we all have these moments when we come across something on the platform that's so intriguing, so captivating that we can't help ourselves from taking a screenshot.
Make no mistake, mindless scrolling on Instagram can get tiring. Sometimes, it's more convenient to save Instagram content pieces most dear to you and make them more accessible via your camera roll.
That said, every time we take a screenshot of a beautifully crafted Story, an inspiring post, or a direct message we want to get quick access to, there's that lingering question in the back of our minds: Will they know?
Because you've got to admit: It can be pretty awkward.
And if you want to grow a presence on Instagram and build brand trust among your audience, anything awkward is bad.
So, do Instagram users get notified every time you take a screenshot of their content?
Let's find out.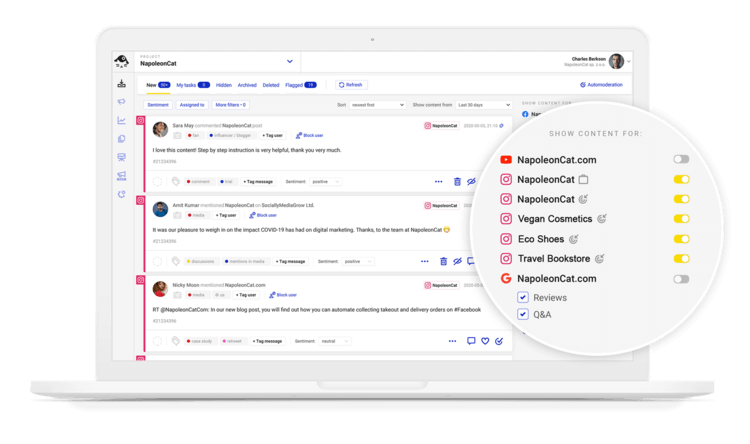 Simplify Instagram Business
Management with One Tool
Manage & reply to comments and DMs in one place.
Monitor ad comments from multiple accounts.
Automate answers to repetitive questions.
Schedule posts to multiple accounts, on desktop.
Analyze performance and monitor hashtags.
Keep track of your competition.
Create or schedule in-depth reports in seconds.
Try 2 weeks for free (no credit card required)
Does Instagram notify when you screenshot a Story?
The short answer: No
If you see an Instagram Story you want to preserve for the future, knock yourself out.
Now as you breathe a sigh of relief, you might be asking (embarrassed, laughing, and all), "Why did I ever think Instagram was out to expose my screenshotting habits?"
Well, for one thing, you might be vaguely aware that Snapchat (you know, the first app that came up with the idea of disappearing content) does notify users when someone has taken a screenshot of their photos.
Also, there was a time in 2018 when Instagram tested a feature that does something similar. To cut the story short (haha, get it?), the move didn't go down well with Instagram users.
The backlash was brutal, to say the least. Over on Twitter (Xitter?), there were responses that went like "Welp, how would we now sneakingly snapshot crazy exes and crimes," and "Instagram over," and "Instagram is canceled."
The message from Instagram users is loud and clear: No one likes a snitch.
Needless to say, Instagram heeded the collective voice of its users and laid the idea of screenshot notifications to rest.
However, don't take that as an invitation to screenshot Stories of other users haphazardly. If you're going to screenshot a user's content, avoid using it in ways that might make them uncomfortable or go against their intentions.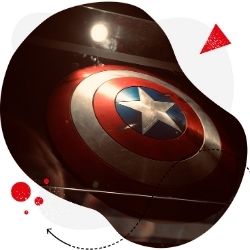 Protect your social media from spam & hate
Automatically hide or delete offensive comments, hate speech, and spam – with an all-in-one social media tool.
Does Instagram notify when you screenshot a close friend's Story?
Instagram has a feature that allows you to create a Close Friends list on the platform. If you screenshot an Instagram Story published by someone included in the list, will they get notified?
The answer remains the same: No.
Besides, if they're close to you (to begin with), all you have to do is ask.
Which reminds me… what if you're worried about someone you're not close to (or don't trust) screenshotting your Stories?

To hide your Instagram Stories from specific users, go to Settings, and then under Who can see your content, tap Hide Story and Live from and choose the users you'd like to hide your Stories from.
Does Instagram notify when you screenshot a post?
No one gets notified when you screenshot an Instagram post. Yep, much like with Stories.
So, if you've ever taken a snap of a friend's Instagram post in the past and you're wondering why she's been giving you side-eye glances, it's not because she found you out for capturing her posts. It's probably something else (in that case, you're on your own, sorry).
If taking screenshots of your favorite Instagram posts is causing clutter in your local folders, you can use Instagram Collections instead.
By using the Collections feature, you can save or bookmark Instagram posts within the app and group them into separate, well, collections. Once they're bookmarked, you can easily go to your saved posts via an accessible tab.
You can, for example, create a private collection for cars you fancy, another for your favorite recipes, and another for your dream vacation destinations.
This way, your phone's gallery will no longer look like a random assortment of screenshots, but more like a carefully curated digital scrapbook of your interests.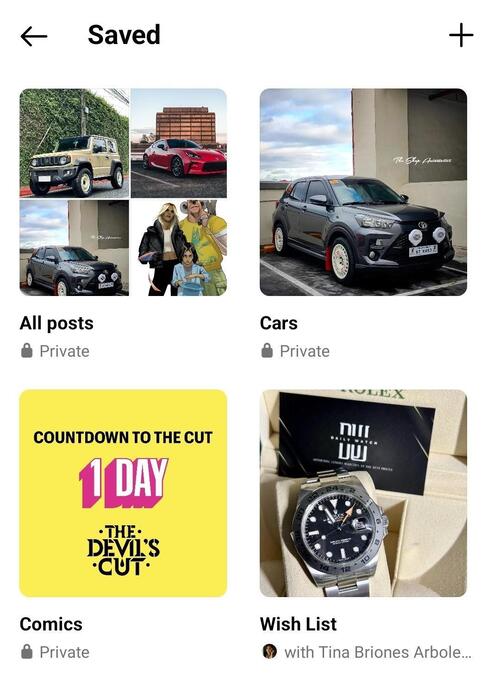 You can also share specific Collections with selected friends via Collaborative Collections. This feature not only enables you to share with others Instagram posts you've saved, but it also allows selected friends to add posts to the collection.
To access your saved posts (or collections), go to the Profile tab on the lower right section of your screen, click the three-bar icon on the upper right, and then click on Saved.
Also, if you want to create a new collection, simply click on the Plus button.
Does Instagram notify when you screenshot DMs?
But what about Instagram DMs (Direct Messages)? If you screenshot a private conversation with someone, will that person know?
The answer is no, with an exception (more on that later).
It's easy to understand why Instagram decided not to implement screenshot notifications for Instagram DMs.
After all, direct messages are the digital equivalent of hushed conversations in a secluded corner of a bustling party.
Unlike the public squares of timelines and posts, DMs foster a sense of intimacy, where users share thoughts, feelings, and information meant solely for the recipient's eyes. This intimacy hinges on a fundamental understanding of trust – the trust that your private conversations remain just that, private.
Okay, but what if someone you are DMing with is a little shady?
I knew you were going to ask that. This brings us to the next section.
Does Instagram notify when you screenshot a disappearing photo or video in DMs?
The only 2 times Instagram will notify a user of a screenshot is:
When you send a disappearing photo or video.
After creating your piece of content or selecting it from your camera roll, you can send it as a disappearing photo or video by choosing the "View once" option in the bottom left corner.
When you send a photo, video, or text message via Instagram DM in the "Vanish" mode – Snapchat style.
Vanish mode is an Instagram feature that allows users to have private and temporary conversations via Instagram DMs. When you enable "Vanish" mode, the messages sent in a private chat disappear after they are seen. The feature aims to facilitate casual and off-the-cuff conversations.
To use Vanish mode on Instagram, go to a chat and swipe all the way up from the bottom. If it doesn't work at first, try updating your Instagram app.
Here's what Vanish mode looks like:
When someone takes a screenshot of a chat window, everyone in that conversation will get notified.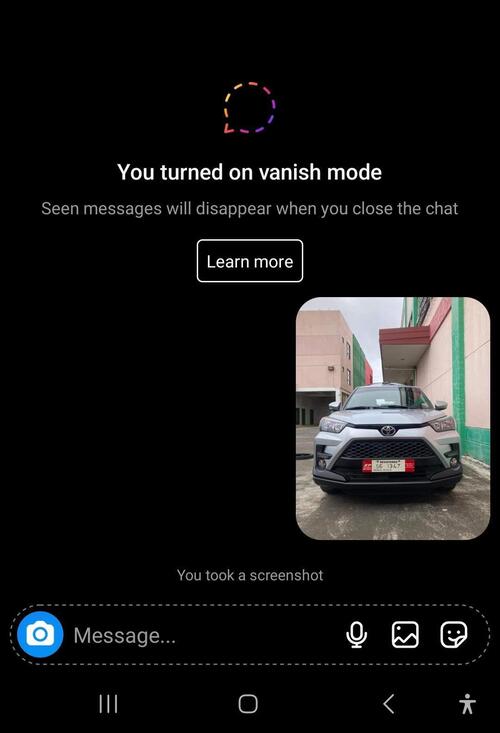 Does Instagram notify when you screenshot Instagram Live?
Again, the answer is no.
That said, it's important to note that when you start viewing a user's Instagram Live broadcast, that person can see that you've joined.
They can also see if you:
Leave a comment
Like a comment
Reply to a comment
React to a video
Share the video
So, the broadcaster pretty much sees your every move, except when you take a screenshot. Might as well take a snap, right?
How to take screenshots on Instagram ethically
Given how digital media has evolved, capturing and sharing moments on social media has become second nature. So much so that we take screenshots of everything we fancy without considering the harm it could cause to content creators and the online community at large.
So, how do we take screenshots responsibly and ethically on Instagram? Let's delve into some guidelines that will help us navigate the world of screenshots with respect and integrity.
Seek permission for public sharing
Don't get trigger-happy with that share button without reaching out to the original creator and asking for their permission. This simple act shows them that you respect their work. Besides, they might even be keen on the idea of you sharing their content (and could pave the way for a possible collaboration).
Give credit where it's due
Always provide proper credit when sharing somebody else's content. Mention the creator's username in your caption or give them a shoutout in your Stories. This is a good way to acknowledge their efforts, not to mention that it fosters goodwill.
Don't use screenshots for commercial purposes (without consent)
If you want to take screenshots of posts, Stories, or DMs, knock yourself out. Just remember to keep these screenshots private. Don't use them as a way to earn a profit without the original creator's consent.
Respect privacy and context
Before taking screenshots of DMs, comments, or other private interactions, ask yourself if the content is meant to be private. If you were in the creator's shoes, would you be comfortable if someone were to share that content? Make sure to consider the context in which the content was shared before you take that screenshot.
Avoid misrepresentation
Screenshots should accurately represent the content and the intent of the creator. Don't alter, edit, or crop screenshots in a way that strays away from the creator's intent.
Consider the long-term impact
Once something is captured and shared, it can potentially be circulated widely, even beyond your immediate circle. Be aware of this potential consequence and only take screenshots when you're confident it's ethical to do so.
Reflect on your intentions
Before taking a screenshot, question your motives. Are you capturing the content for personal enjoyment, to share valuable information, or to contribute positively to discussions? If your intentions are rooted in respect and integrity, your actions are more likely to align with ethical considerations.
Respecting Privacy and Building Trust on Instagram
As you craft and implement your Instagram strategy, remember this: Transparency and respect are the cornerstones of positive engagement.
If you want to build a brand that resonates with your audience, take screenshots responsibly. Always be mindful of user expectations, privacy concerns, and ethical considerations.
Brand building is serious business, and you want to be a trustworthy brand to pave the way for a stronger bond with your audience. After all, more than half of consumers will never do business with a brand again once trust is broken.
Speaking of building trust, NapoleonCat's Instagram management tools for business have all the tools you need to instill brand trust in your audience.
With this tool, you can:
You can see how it all works through this short video:
With the above features, NapoleonCat helps you engage with your target audience in a way that shows them that you genuinely care about them, are attuned to their needs, and can deliver value consistently.
You can test NapoleonCat for free here, no credit card required during signup 😉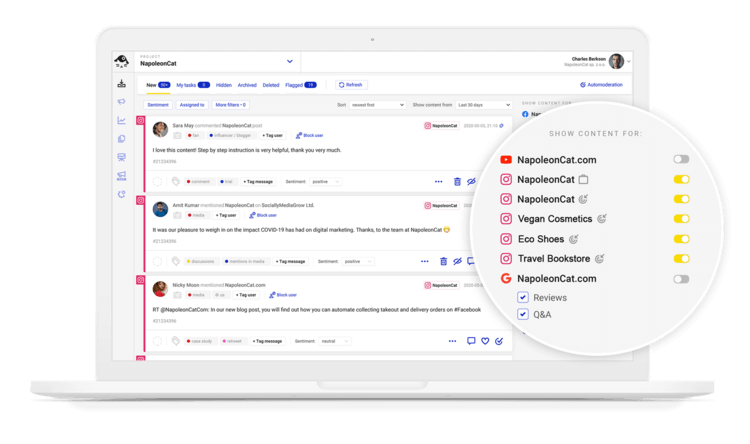 Simplify Instagram Business
Management with One Tool
Manage & reply to comments and DMs in one place.
Monitor ad comments from multiple accounts.
Automate answers to repetitive questions.
Schedule posts to multiple accounts, on desktop.
Analyze performance and monitor hashtags.
Keep track of your competition.
Create or schedule in-depth reports in seconds.
Try 2 weeks for free (no credit card required)
FAQs
How to view Instagram Highlights anonymously
The best way to get to know an Instagram user at a glance is to view their Instagram Highlights. That said, you can't click on a Highlight cover without that Instagram user knowing. If you want to view an Instagram user's Highlights anonymously, you can create a burner account with which to follow them.
If the Instagram user uses a private account, you can use the burner account to send a follow request. However, they are unlikely to accept your follow request if you don't reveal your identity. My advice? If you're not going to reveal your true identity, then don't.
How to view Instagram Stories without an account
You can't view an Instagram Story without being logged in to an Instagram account. If you want to view someone's Instagram Stories anonymously, you have to create a burner account and view them after logging in.
Again, this method is tricky if the Instagram user whose Stories you want to view is using a private Instagram account. You can try sending a follow request using a secondary account without revealing your identity. If the request gets accepted, you're free to view that user's Instagram Stories anonymously.
Can you anonymously view Instagram Stories of a private account that you don't follow?
By default, no. Officially, you can't view someone's Instagram Stories if that user's account is set to private. To get access to a private Instagram account's Stories, you have to send a follow request and get accepted. That said, that person is unlikely to accept your follow request without revealing your identity.
You may also like: