Making Reels on Instagram is not as hard as it might seem at first glance, but it definitely takes some practice. And you need to nail down the basics first – like Instagram Reel dimensions, for one. Let's see what they are and why they're important, shall we?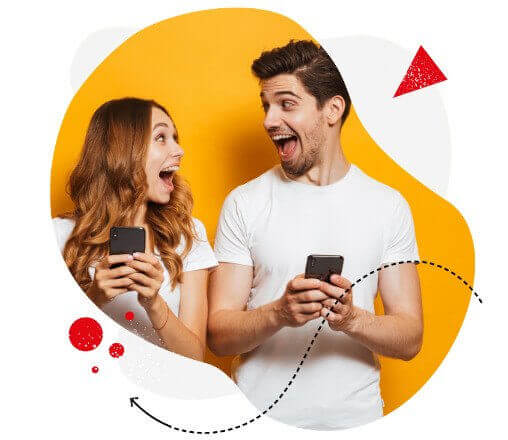 Instagram marketing made easier for teams
Instagram automation, analytics, reporting, scheduling, and more. Try NapoleonCat and save 90% of your time spent on marketing tasks. Try it for free:
Try NapoleonCat free for 14 days. No credit card required.
Why Instagram Reel sizes matter
Well, you might be familiar with the fact that different social media platforms use different dimensions and sizes for their images. And Instagram Reels are no different.
And what's more important is what happens when you upload a video to Instagram Reels that has the wrong dimensions or proportions. And let me tell you, a bunch of things can happen:
The video might not be visible entirely, with some text and other details cut off. It might even no longer make sense.
Here's an example – though this one's really subtle: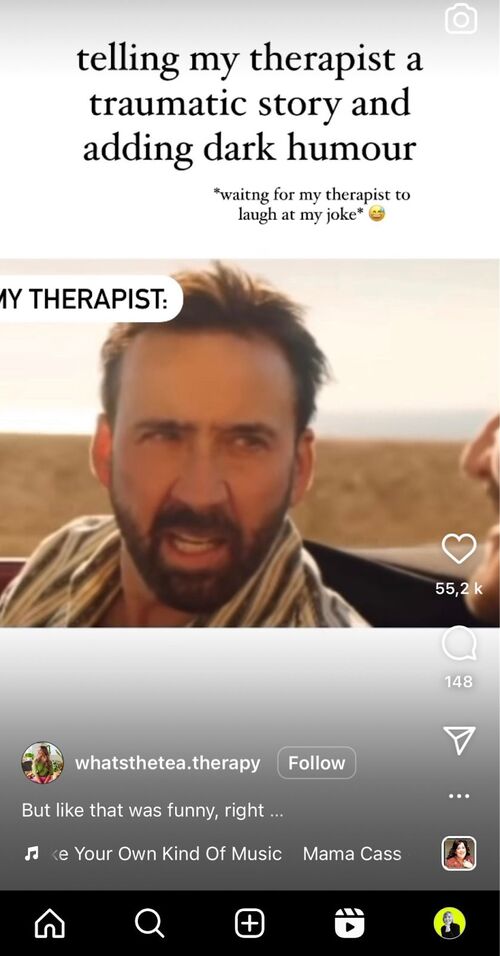 If the aspect ratio is off, the video could get distorted, stretched out, etc. (and ruin all your hard work)
It could get blurry/pixelated if the video and the file size are too small.
In general, your Reel won't look the way you intended it to, and sometimes, it might also give off unprofessional vibes (if you know what I mean.) But, if that doesn't convince you (though it totally should,) don't forget that Instagram's algorithm tends to favor quality visuals, so what your Reel looks like might actually impact how many people will see it.
As you can see, it's really not worth putting all the work into creating an Instagram Reel, and then having it all ruined because the size is not right.
So, let's take a look at what are the right sizes for your Instagram Reels in 2023.
Instagram Reel sizes 2023
Below you'll find Instagram Reel dimensions for 2023. Remember, though, that things like recommended image sizes on social media tend to change from time to time, so check back every now and then for updates if you're not sure. You can also check in with Instagram's resources to get the information first-hand and 100% solid.
And here's what Instagram recommends when it comes to Instagram Reels:
Instagram Reels size ratio: between 1.91:1 and 9:16.
A minimum frame rate of 30 FPS (frames per second).
Minimum resolution of 720 pixels.
Keep in mind that the aspect ratio will change depending on whether someone views your Reels as full-screen videos (in which case the aspect ratio is 9:16) or in their newsfeed (where it's cropped to 4:5).
It's important to think about this when creating/shooting your Reel and when editing the video, as the feed version will have a total of about a third of the frame cut off. So place your action and text strategically, so that nothing is missing even in the feed.
Oh, and don't forget, Reels – just like Instagram Stories – are vertical videos, so don't shoot or upload horizontal ones!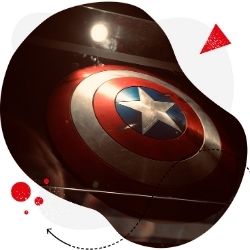 Protect your social media from spam & hate
Automatically hide or delete offensive comments, hate speech, and spam. Try NapoleonCat for free:
Try NapoleonCat free for 14 days. No credit card required.
Instagram Reels in pixels
The recommended upload size for your vertical videos is 1080 pixels x 1920 pixels.
Instagram Reels frame size
As above, the frame size is 1080 x 1920 pixels, and it's vertical (so horizontal videos won't really work here.)
Instagram Reel cover size
For the cover photo, Instagram recommends uploading a file sized 420px by 654px (or 1:1.55 ratio). And choose wisely – because right now, you can't edit your cover photo after you've uploaded it (so, make any edits beforehand in the editing tool.)
Here's how to create your Reel cover:
When your Reel is ready, tap "Next".
Tap on the preview image in the Share settings (It will say "Edit cover").
Then choose a frame from the video or tap "Add from camera roll" – if you're after the so-called curated look of your Reels feed, the latter option will probably be best.
You can also crop the image at this point, reposition it, and zoom in or out.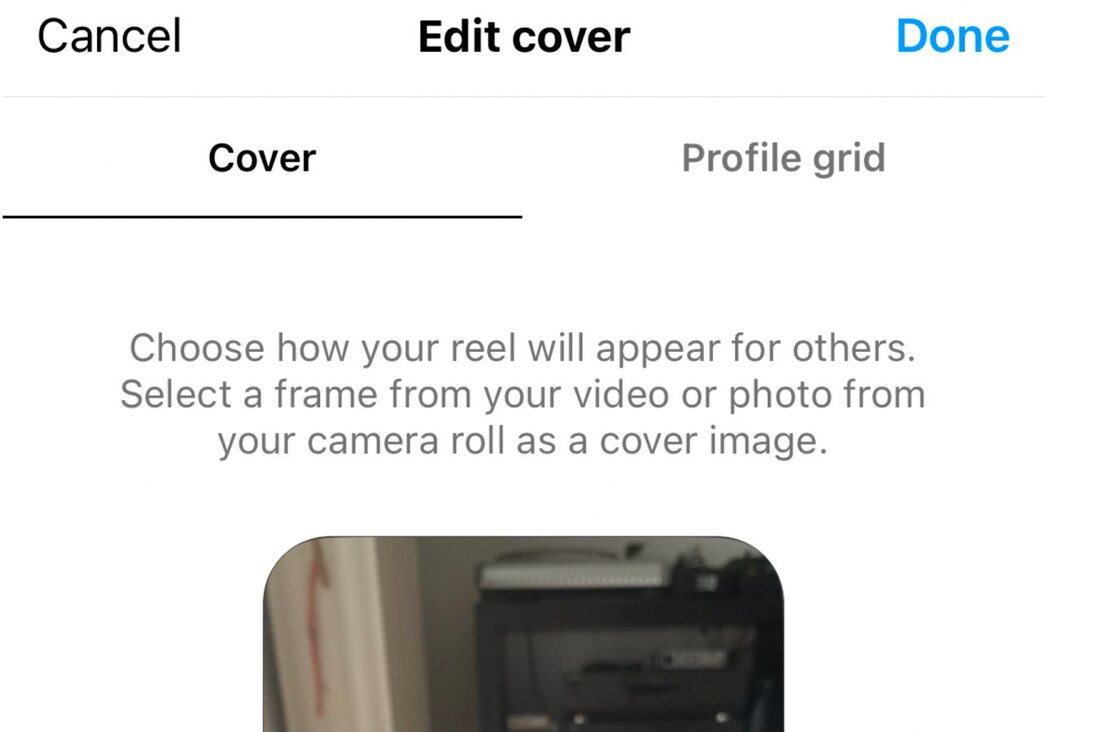 Instagram Reel thumbnail size
The cover is one thing, but the thumbnail is slightly different – it's the portion of the cover people will see looking at your (possibly highly-curated) profile grid. But don't worry, you don't need to ask your graphic designer for yet another image file (unless you want to.)
When editing your Instagram Reel cover, switch to Profile grid and reposition your cover to get the thumbnail you want. And if you want (and your graphic designer has time ;)), you can add a separate file as a thumbnail, too.
Instagram Reels length
Okay, how about the length of your Instagram Reels? So, at this point in time, your Instagram Reels video can be up to 60 seconds long. Of course, they don't have to be that – shorter content is usually much more likely to get more engagement, so don't stretch your Reels just to get to that 60-second mark.
Until you totally have to – in which case, make sure your video content is actually worth a minute of your viewers' time.
For the best length of your Instagram Reels, take a look at this article that talks about just that, with tips for different goals. Because yes, different Instagram Reel lengths can work better for different goals, be that engagement in the comments, shares, building a connection with your audience, getting more views, etc.
Instagram Reels caption length
Instagram Reels are obviously all about video content, but it's not just dimensions and aspect ratios. If you take the time to think of something relevant, original, and compelling for your caption, it can help you increase engagement on your Reels (especially in the comments.)
So don't forget about that element in your Instagram strategy.
Now, when it comes to how long your Reels caption should be, you have up to 2,200 characters at your disposal (count in the hashtags.)
Again, it doesn't mean you have to use up all of'em. But it gives you enough flexibility to come up with something creative. Remember about a few simple rules:
Don't write super long, complicated sentences and paragraphs. Go for something crisp, sharp, and concise.
You can use a few short bullet points to get your point across.
Add emojis, if you like – it'll make it even easier to read (you can add them as bullet points, too.)
And don't forget your hashtags to help people find your Reels easier.
Instagram Reels compression size
I mentioned before that overcompressed video can become blurry and pixelated – and nobody likes watching that kind of stuff, right? Bear in mind that Instagram will further compress your video when you upload it, so it has to be of decent quality to account for that.
It will also size down videos wider than 1080 pixels to just that – 1080 pixels. Your video also needs to be at least 320 pixels wide, or Instagram will size it up (and potentially lose quality.) Images between 320 pixels and 1080 pixels wide will retain their width.
If you want to make sure your vertical videos are high-quality, turn on high-quality uploads in your account settings.
(In your Settings and Privacy, scroll down to Data usage and media quality, and switch the toggle on.)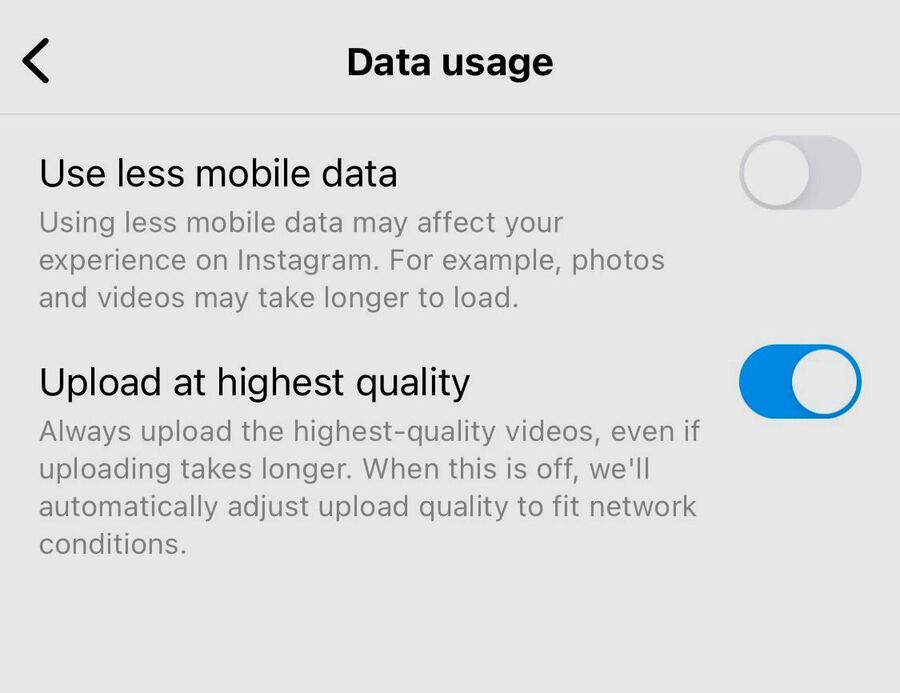 Plan and schedule your Instagram Reels easier
Adding social media content can sometimes be a pain – especially as you have more and more content, and maybe even more social media accounts. All the files on your phone, the aspect ratios, resized videos and images in different versions for all the different social media accounts, etc. All of that can get quite messy and frustrating (and I bet you know what I'm talking about.)
So, do yourself a favor and get a social media scheduler that can also handle posting Reels – and plan them all nicely in a visual calendar that can automatically post them to your Instagram account, without you having to go into the Instagram app every time.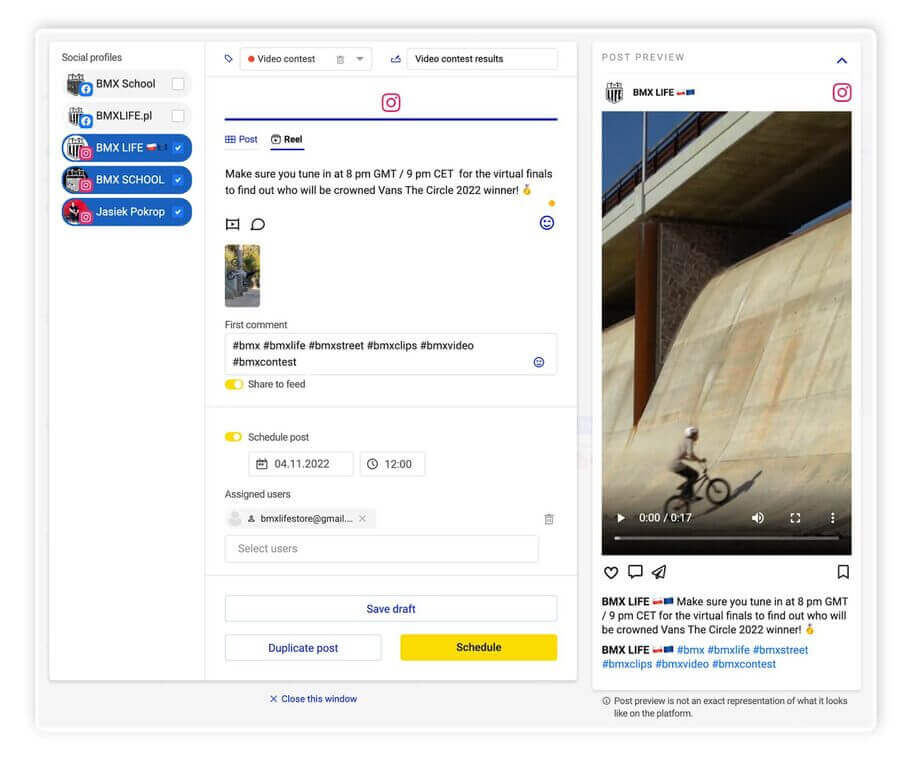 If you choose NapoleonCat for this, you will also be able to use the same tool to manage comments under your Reels (and your feed posts, too), which is super handy as you get more engagement. You can do it for multiple Instagram accounts, and even for your ads, which are particularly easy to overlook when it comes to comments.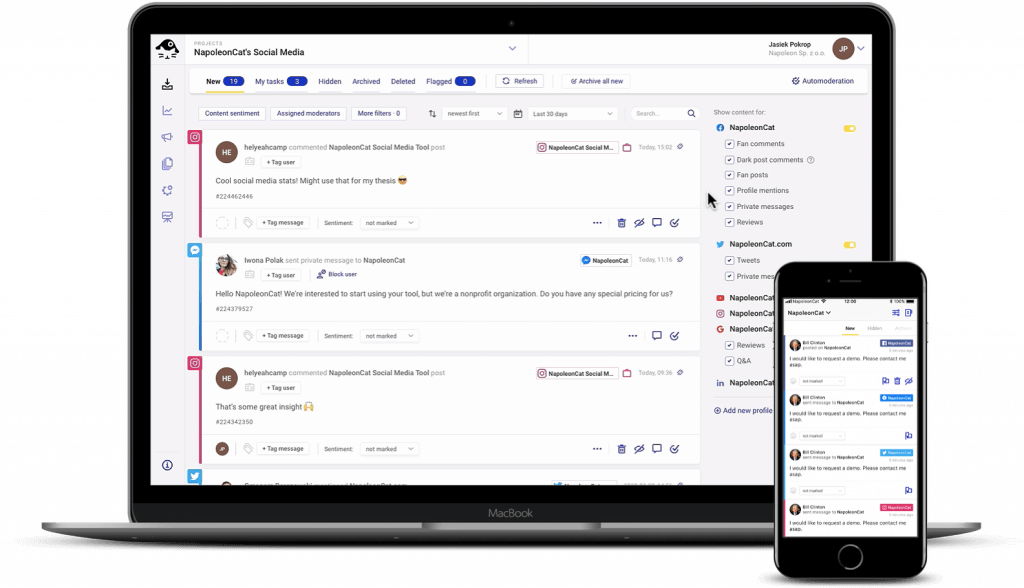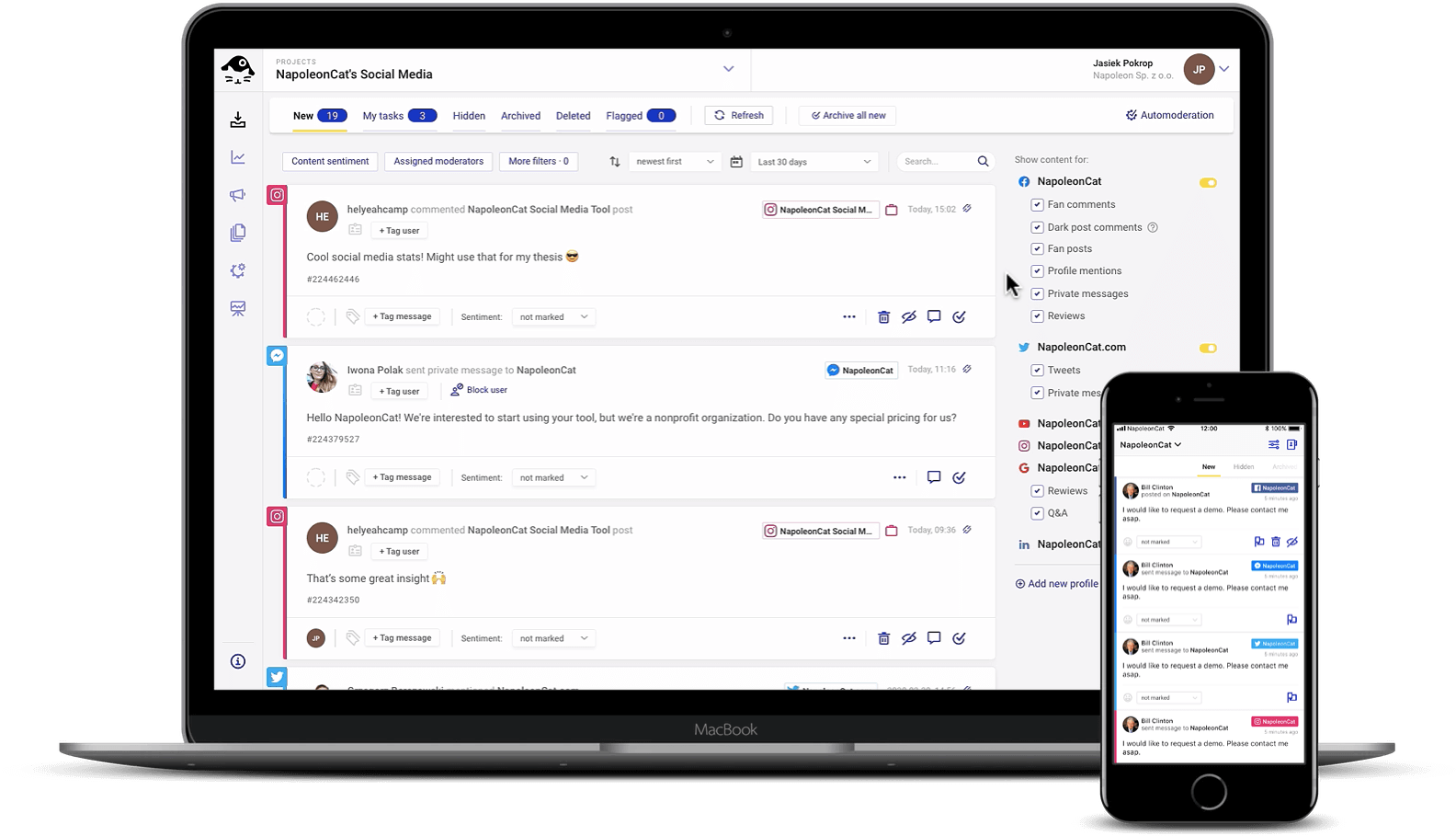 Plus, you can set up automated replies to answer the most frequently asked questions or let your audience know you're unavailable at the moment. And all that with one subscription.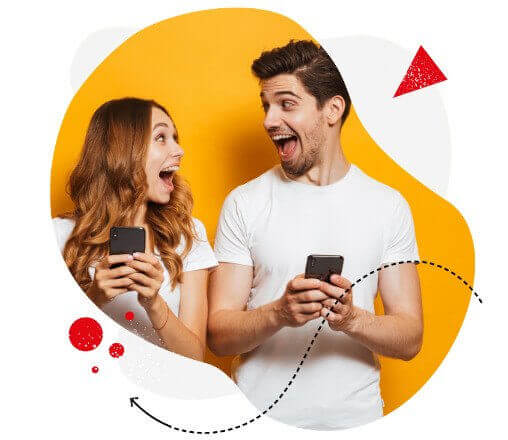 Instagram marketing made easier for teams
Instagram automation, analytics, reporting, scheduling, and more. Try NapoleonCat and save 90% of your time spent on marketing tasks. Try it for free:
Try NapoleonCat free for 14 days. No credit card required.
Create and post better Instagram Reels
Besides knowing the frame sizes, video formats, Reels dimensions, and all that kind of stuff (which you'll know by now after reading this article), don't forget about the contents: engaging, unique, relevant for your audience, with that "something" they actually want to watch.
But that's a story for another article. And in the meantime, happy Reeling!
You may also like: