Want your Instagram posts to be seen by more people? If you're wondering how to boost posts on Instagram and up their performance (and their value for your business), here are some ideas.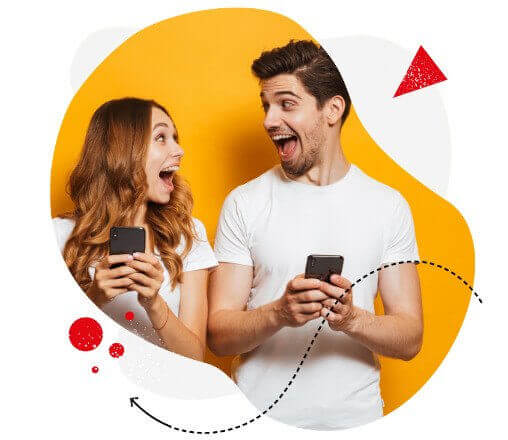 Instagram marketing made easier
Automation, analytics, reporting, scheduling, and more. Try NapoleonCat and save 90% of your time spent on your marketing tasks. Try it for free:
Try NapoleonCat free for 14 days. No credit card required.
Wait, what kind of Instagram "boost" are we talking about exactly?
You know how whenever we use social media – as brands and as individuals – we're at the mercy of the social media algorithms. Meaning that if you simply post your Instagram content and do nothing to promote it in one way or another, only a handful of people will see it. Regardless of how good your content actually is.
And that's just a waste of your time (and probably some of your business's budget.) And it's just a shame – especially if you actually put a lot of effort into creating the content.
So, naturally, you'll want to increase the Instagram reach of your posts. And not only that – but you'll also want to grow your account, increase Instagram engagement, and get comments, likes, and shares. You know, the usual things we expect when posting on Instagram. And the things that make Instagram presence actually make sense for your business (by increasing your brand awareness or straight up leading to increased sales.)
Which is exactly what I mean by "boosting posts on Instagram." Both using paid Instagram tools and organic efforts – because "boosting" does not only mean "paying for extra reach" (although it might, for sure.)
Let me give you a handful of ideas on how to do it.
14 things you can do to boost your social media presence on Instagram
(Because 13 is bad luck, and we don't want any more of it.)
1. Actually boost your Instagram posts
I know, mindblowing, right? 🤯
But yes, the most obvious way to boost your Instagram posts is using the social boost features Instagram offers to businesses within the Instagram ads. This will help you put your content in front of people who are not following you (yet) while letting you reach a target audience you actually want to reach (and not just some random folks who scroll Instagram and will never ever buy anything from you anyway.)
You can boost your Instagram post by clicking the "Boost post" button below the posts in your feed (if you have a business account) and following the steps.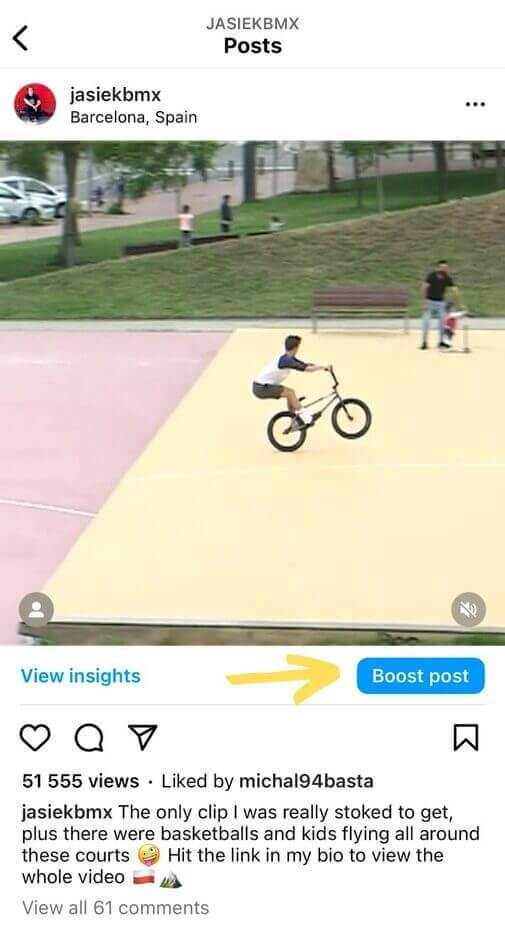 2. Partner up with others
Branded content on Instagram is a way to promote your products and services in partnership with other Instagram accounts. It's not a standard Instagram ad and won't appear as sponsored content in between organic posts. Instead, it appears in an influencer's (your partner's) feed as a "paid partnership," helping you reach other accounts' audiences to possibly get new followers and grow your Instagram brand account.
Here's an example of what that looks like: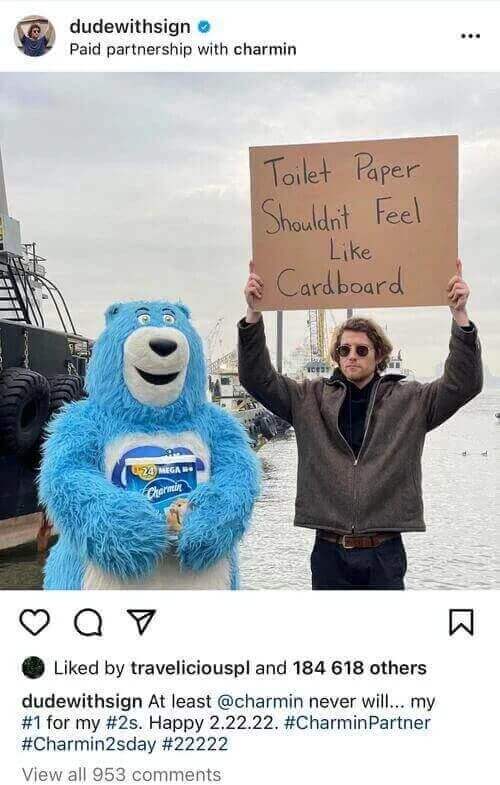 3. Promote your posts in your Stories
(And vice versa – your Stories and reels in your posts.) A simple act of sharing your Instagram content initially posted on your feed in your Stories can get it many more eyeballs.
This is mainly because people's habits have been changing on Instagram (very much encouraged by its creators to make it more about video content), and many of your followers will simply never see your posts because they won't be scrolling their feed at all (or not past a few initial posts) – and instead, will focus on Stories or reels.
So an obvious way to get them to see your feed posts will be to hint at them in yourSstories like most Instagram accounts have been doing lately.
4. Promote your Instagram content on other social media channels
The same is true for other social media channels (and marketing channels in general – like, for example, your newsletter.)
Don't just assume people follow you everywhere and see all of your content. Even if they do follow your channels on many social media platforms, they may actually never see some of your posts. So make it easier for them (and increase your chances of getting more likes and followers on Instagram) by cross-promoting your content on different social media channels.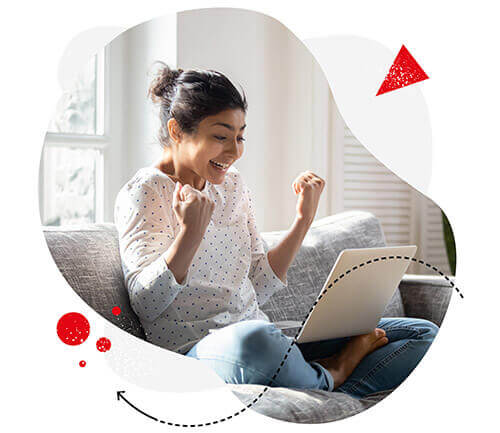 All-in-one Instagram management tool
Manage comments and DMs, bulk-schedule posts, analyze your own profiles and your competitors, and get instant reports. Try it for free:
Try NapoleonCat free for 14 days. No credit card required.
5. Make it easier to find your posts (and your Instagram profile)
Just as you put effort into optimizing your website content for SEO so that people can easily find you on Google, so you should optimize your Instagram posts and your profile so that they can come across your content even if they don't follow you on the platform.
An obvious way to do it is by using the right hashtags. And I don't mean squeezing every possible hashtag into your photo caption (the most popular ones probably won't get you too many viewers because your post will likely drown among all the others.)
Instead, go for relevant ones that are somewhat popular and frequently searched for but that will give your post a chance to be seen. (That's the whole point.)
Read this post to learn more about boosting organic reach using Instagram hashtags.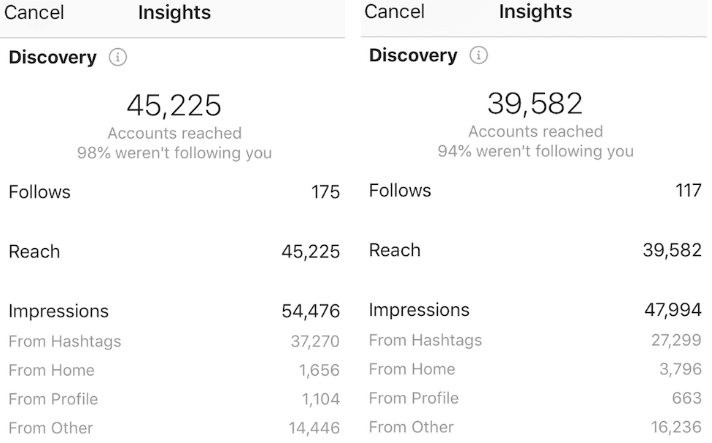 As for Instagram Reels, you can also try using trending audio to increase your reach.
6. Post on a consistent schedule
This is super relevant to how many people see your post, too. Because when people expect you to post on a regular basis, they're more likely to look for your posts (or maybe even visit your profile to see them) than when you essentially just let them forget about you altogether.
Plus, of course, algorithms like regular posters more than they do random ones.
One warning, though – this will only work if you actually post content people want to read and find exciting and valuable. Otherwise, who in their right mind would visit your profile?
7. Add value
Yes, this is essential if we want to talk about any kind of social boost. Boosting posts that are irrelevant, bland, devoid of value, or simply useless to people is just not going to work.
As much as I hope we all know this, it never hurts to bring that up, just in case, right? 🙂
And to be relevant, you, of course, need to know your audience very well and know what they want to see in their feeds (or in their email inboxes because this works for literally every marketing channel.)
So don't forget to give people what they want.
8. Make your content shareable
One other advantage of giving people what they want is that your followers can actually help you boost posts on Instagram. But that's only going to happen if they think your content's worth it.
("Oh, hey, what an irrelevant, useless post. Let me share it with my friends!" Said no one ever.)
Apart from providing value (which can also be, for example, humor. Yes, a meme can sometimes be valuable – we all know this, especially recently), you can also incentivize sharing by rewarding your audience in one way or another (for example, by organizing contests on your Instagram page.)
9. Post user-generated content
One of the ways to make your Instagram content more shareable (and more compelling) is by asking your followers to provide you with it.
You can incorporate user-generated content in your Instagram strategy by:
Reposting relevant content from others (e.g., content where they show your products)
Posting reviews, testimonials, and case studies
Running contests and posting winning content
Asking people to submit content around a specific topic
etc.
Letting people get engaged in creating your account is an excellent way to, well, boost your engagement rates. So find some slots in your content calendar just for this type of content.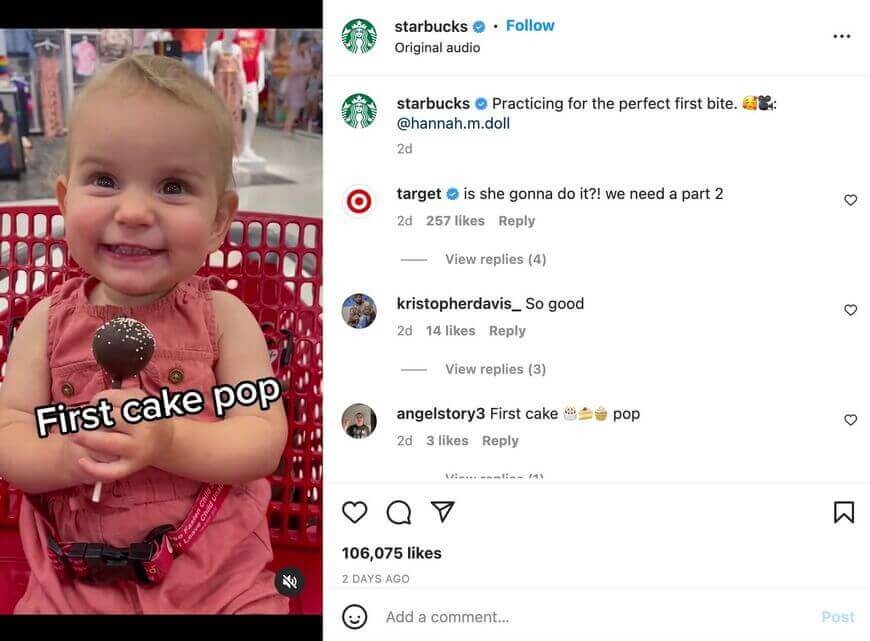 10. Follow the data
If you're struggling with strategically planning your Instagram content (don't worry, this happens to everyone), back up your content plan (and paid boosts) with data. Take a look at your Instagram analytics and track what type of content drives better engagement and which posts just fall flat with your audience. And post more of what works better.
Get yourself an Instagram analytics tool to monitor your performance over time. It will not only give you an idea of what to post but also, for example, when's the most effective time to boost content on social media (and when to post altogether.)
You can also track your most prominent competitors to know how their content is doing and what tactics you could adapt to your needs (and your audience's needs.)


11. Get creative
Let's face it – we're flooded with content. Not just on Instagram but on every social media channel and across the entire Internet. It's simply impossible for people to consume it all.
So if you want to boost social media engagement for your brand, find ways to stand out. Create images that pop and are easily recognizable to your audience as coming from your brand. As people scroll, you need to give them something that will catch their eye (and then something that will keep their attention. See the "Add value" section.)
So, test different content formats to see what your audience responds to best. Try new things instead of posting the same type of content over and over again. And look for ways to get remembered by people.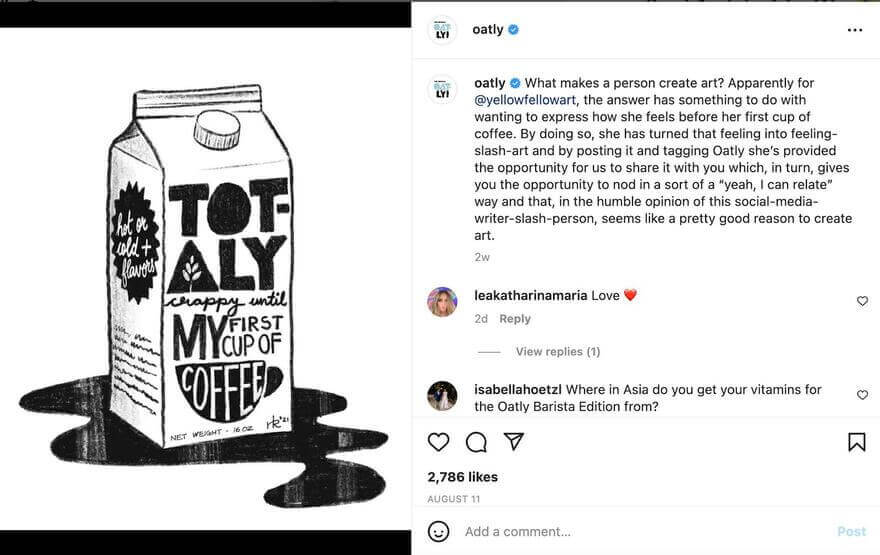 Oatly has definitely some creative (and very recognizable by now) ways to talk about oat milk
12. Use Instagram carousels
One of the content formats that you can try is Instagram carousels. They can let you go deeper on a subject of interest to your audience in a kind of slideshow format or simply post a collection of eye-catching visuals and videos.
Use them to post:
Product images and videos
Tips and tricks
How-to posts and simple tutorials
Case studies
Customer reviews
Product characteristics
And anything else you want.
People are likely to spend more time on a carousel because they have to swipe to get the full story – so make use of that time by providing them with something they'll actually want to read and possibly share with others.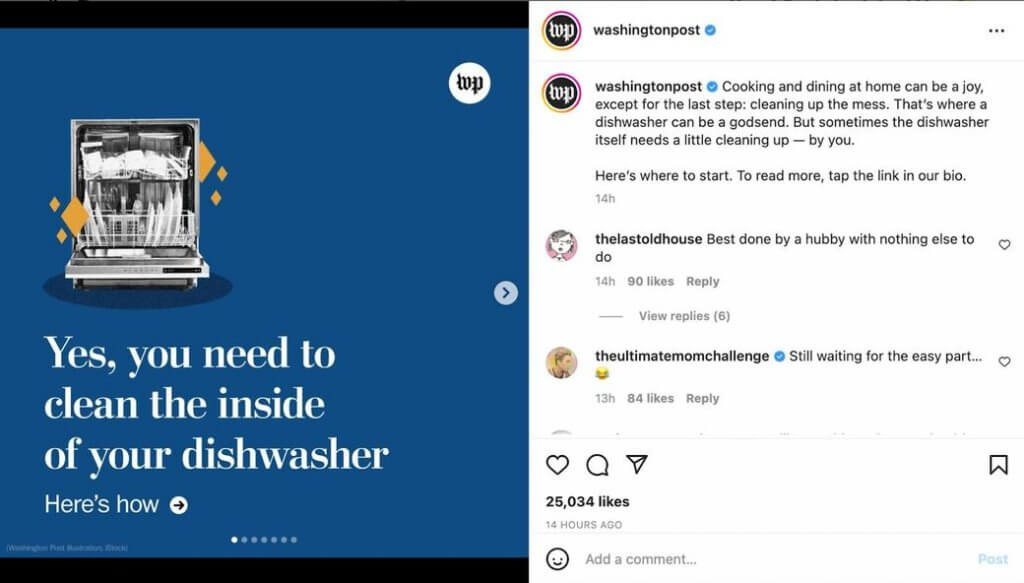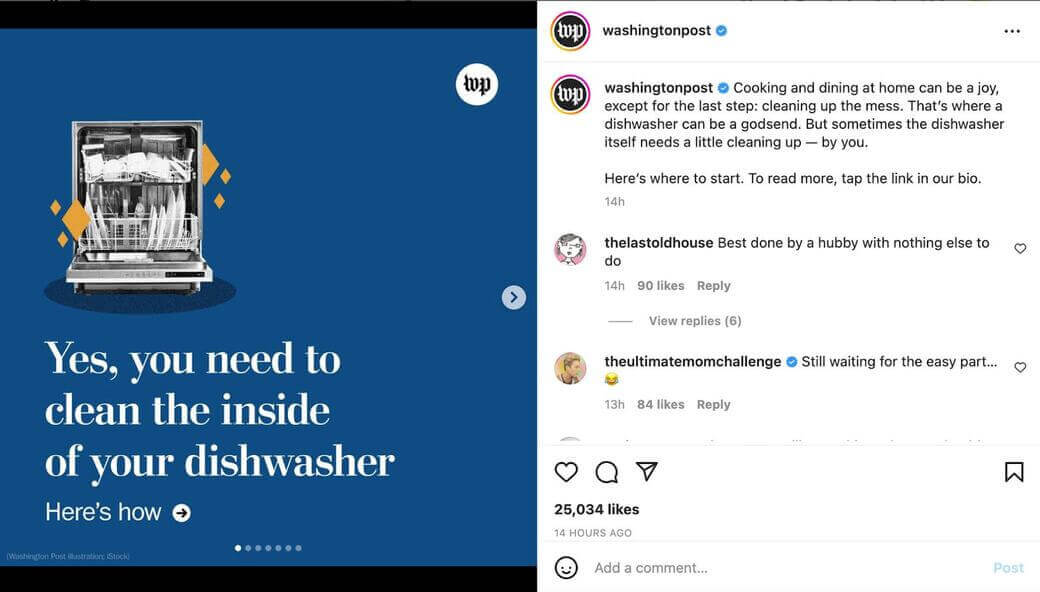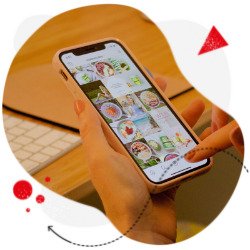 Schedule Instagram Carousels
Seamlessly schedule your Instagram carousels to multiple accounts at once. Try NapoleonCat for free:
Try NapoleonCat free for 14 days. No credit card required.
13. Keep your content up to date
Social media is all about the "now." So hop on widespread trends, tap into trending hashtags and viral cultural moments (think the craze around Kate Bush's "Running Up That Hill" after the latest season of Stranger Things), try Instagram Reels that are using trending audio, and relate to relevant events happening right now.
All to make your content more discoverable and reach more people interested in a particular topic.
14. Get tools to help
Managing Instagram (and social media in general), especially in a way that will help you boost your content, requires time and effort. Luckily, you don't have to do all of it alone. And by all of it, I mean spending hours manually posting content, replying to comments, and tracking individual posts' stats to decide which Instagram post to boost.
You can make it much easier on yourself and your team by getting some Instagram management tools for business.
Platforms like NapoleonCat include tools like:
A single dashboard for all your social media to keep track of and reply to social media comments and customer support issues coming from Instagram and other channels.
Keep track of comments and replies to your Instagram ads so that they never go unnoticed (and you're not boosting a post that has spam comments underneath promoting your competitor or an unaddressed customer complaint.)
A way to automate responding to comments and DMs and removing spam. You can then use the time you've saved, for example, to create some outstanding and super valuable content
A social media scheduler you can use to schedule and automatically post your Instagram posts (including Instagram carousels).
And comprehensive Instagram analytics that will help you decide which posts to boost, as well as when and what to post – and will generally inform your Instagram marketing strategy so you can come up with more effective tactics to execute it.
Boosting is much more than clicking "Boost post" on Instagram
Which means you have much more ways to get your content out there and seen by more people, reach new Instagram audiences, and make Instagram a more effective tool for your social media marketing.
So, what Instagram content are you boosting today?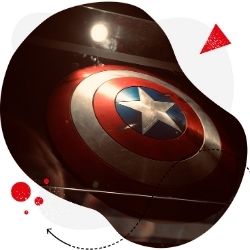 Protect your social media from offensive comments and SPAM
Automatically hide or delete comments containing spam under your organic posts and ads. Try it for free:
Try NapoleonCat free for 14 days. No credit card required.