Ecommerce and social media go hand in hand. An ecommerce business's success can often hinge on its ability to develop a brand, build a community, and establish a content style across social media. If it fails to do so, it will struggle to find new audiences and retain it's existing one.
With the ever-growing list of social platforms and new features within them, it can be overwhelming to work out how to best manage multiple accounts and create content for them. Luckily, the social media tool industry is booming, and there is a myriad of choices to help ecommerce businesses establish themselves.
1. Quill Engage
Ever wished your analytics reporting could be a bit more straightforward? Quill Engage is the tool for you. Whether you understand the impact of traffic inside out or you don't know the first thing about how anyone finds your website, this is a brilliant tool for keeping tabs on referral traffic and condensing whether or not your campaigns are working into a neat package.
Quill Engage makes Google Analytics simple to understand. Let the software do all the heavy lifting and leave yourself with more time to analyze what it actually means. You can set the times you get these reports, sent directly to you as an email. An essential tool even the most experienced marketers can learn from.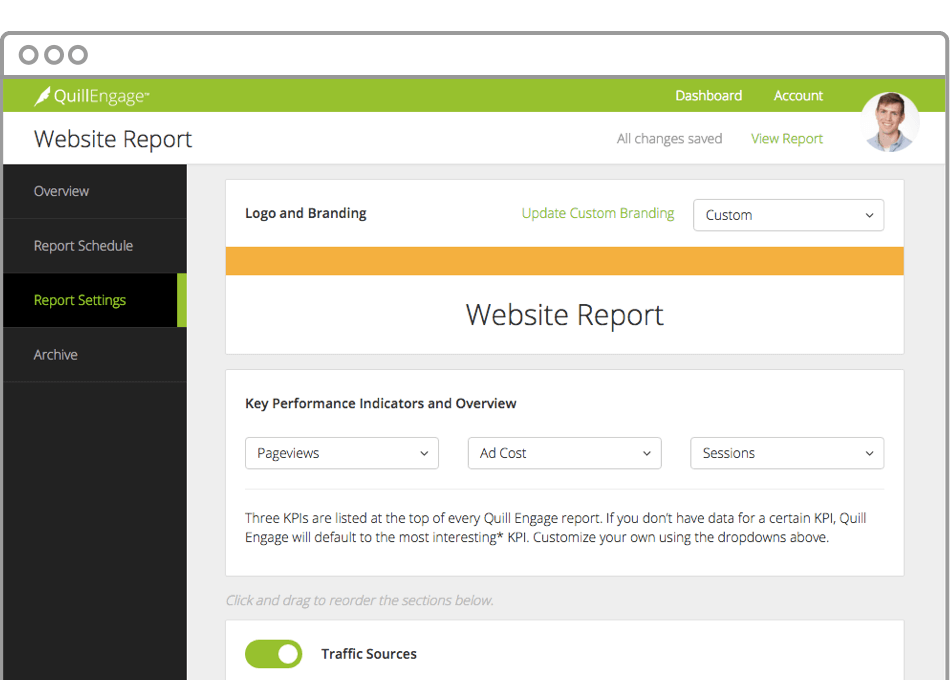 Tip: Personalise your reports with your own branding, logos, colors, and corporate imagery. It can give your reports a more professional look and help grab the attention of project leaders.
Pricing
Plans start at $19.99/month. A freemium version is available.
2. AspirelQ
Influencer content is all the rage on social media. Ecommerce brands are jumping at the chance to leverage the influence of big names across social platforms, and it has become a particularly effective tactic on Instagram, where visual content and audience interaction comes first. Influencers with millions of followers have immense power to turn a brand into a household name almost overnight, and working with them can give your online store a huge surge in popularity and conversions from their legion of fans.
AspirelQ is a tool that helps you begin your journey of working with influencers. It is a search tool for both brands and influencers, helping to match them up for working opportunities. Some 500,000 influencers currently use the tool and can be searched through keywords, topics, hashtags, and previous visual content. You can also use the tool to manage the other aspects of working with influencers, such as campaign management and payment.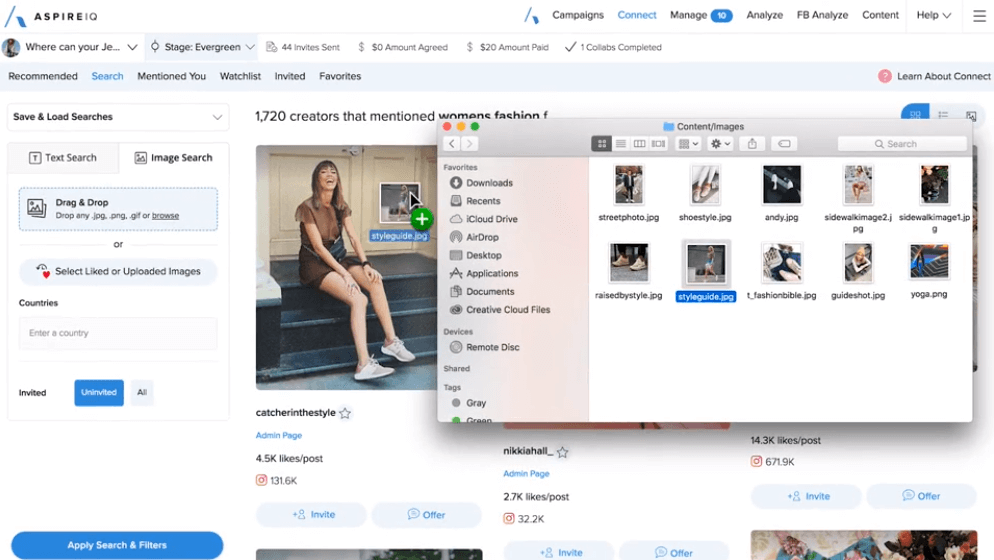 Tip: Don't aim too high. While it'd be amazing to have Christiano Ronaldo or Selena Gomez tell everyone to shop with you, it's just not going to happen. Use AspirelQ to find more appropriate micro-influencers to work with and build strong relationships with growing content creators.
Pricing
AspireIQ offers solutions for Enterprises, Agencies, Creators, and High-Growth businesses. Pricing is available upon request.
3. NapoleonCat
These days, social media are often the first touchpoint between customers and your business. This could be an effect of your targeted sponsored campaigns, successful organic efforts, or even word of mouth. In any case, as soon as you see potential customers engaging with you on social, you should start treating social media as a customer service tool.
Using NapoleonCat's Social Inbox, you can participate in online conversations happening across all of your social media channels through one intuitive dashboard. The tool helps you respond quickly to incoming messages and comments, prioritize interactions, and set up workflows for your team. With the Social Inbox, you can also save a lot of time by setting up automatic replies to common inquiries and comments. And, once all the work is done, you can assess the quality of your social customer care with detailed moderation reports.
Other NapoleonCat functionalities include in-depth analytics, automated reporting, and competitive analysis tools.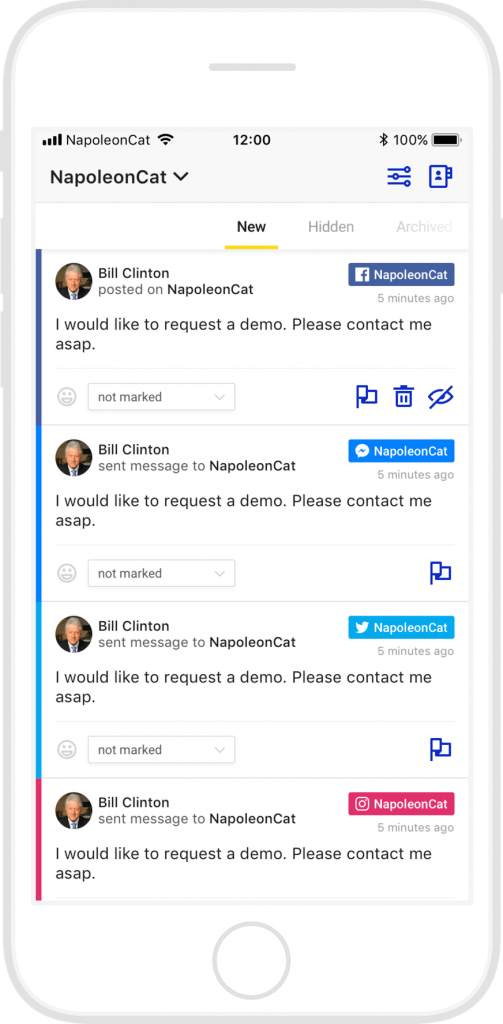 Tip: Tools and workflows will help your customer service team work more efficiently. But don't forget that the success of your customer care strategy relies heavily on how you talk to your customers. Maintain a friendly, helpful voice across all social channels, and make sure to train all staff on the core values of your business.
Pricing
Plans start at $27/month. Prices are fully customizable and depend on the number of social media profiles you want to manage or monitor and the size of your social media team.
Social customer care
Deliver timely responses to customers in social media. Manage unlimited Facebook, Instagram, Twitter and LinkedIn pages in a single inbox.
Try NapoleonCat free for 14 days. No credit card required.
4. Tagboard
It's essential now that ecommerce brands are able to tell a story, and one of the most popular ways to do this is through community content, aka user-generated content. Community content is imagery, video, and blogs created by your audience, generally in response to a campaign or competition. It's one of the best ways of showing the size and engagement of your existing audience and creating interest around your brand. Tools such as Tagboard help collate this content into one easily viewable place.
Tagboard creates a "hashtag feed" which collates all the content your community has produced under a particular hashtag, creating a space to show it all off. You can set up multiple feeds, including ones to monitor competitor campaigns. This is essential for an ecommerce store that puts emphasis on audience interaction, or replies of social proof to establish trust in its products. This can engage new audiences and bring potential leads to your store.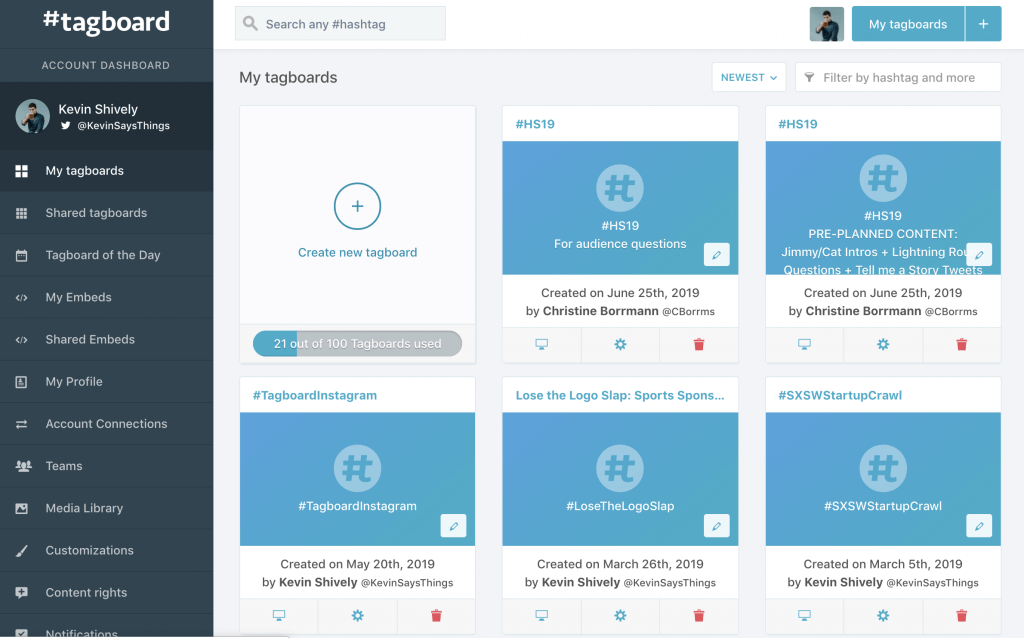 Tip: Alert fans who create the best content of your Tagboard to get them to share the whole collection with their followers for improved engagement.
Pricing
Tagboard offers three packages: Basic, Professional, and Enterprise. Pricing is available upon request.
5. TweetDeck
Anyone who has ever used Twitter professionally knows how much of a struggle jumping from account to account can be. The ever-popular TweetDeck helps to solve this issue. It allows for the mass management of content from multiple accounts at once among a number of other features. Originally an independent app, Twitter has since acquired and integrated TweetDeck into its dashboard. It can't be understated how useful TweetDeck is, and how many hours it's saved me on Friday afternoons scheduling social posts
You can use TweetDeck to post across multiple accounts either immediately or scheduled. Jumping from one to another is seamless, and you can set up multiple feeds for any monitoring purpose you may have. Want to follow a certain campaign hashtag? You can set up a whole column and do just that. The search and tracking functions are advanced, allowing for granular results by finite phrases, user types, and locations. For an ecommerce business that relies heavily on Twitter or has a different account for all it's different stores or brands, TweetDeck is a must.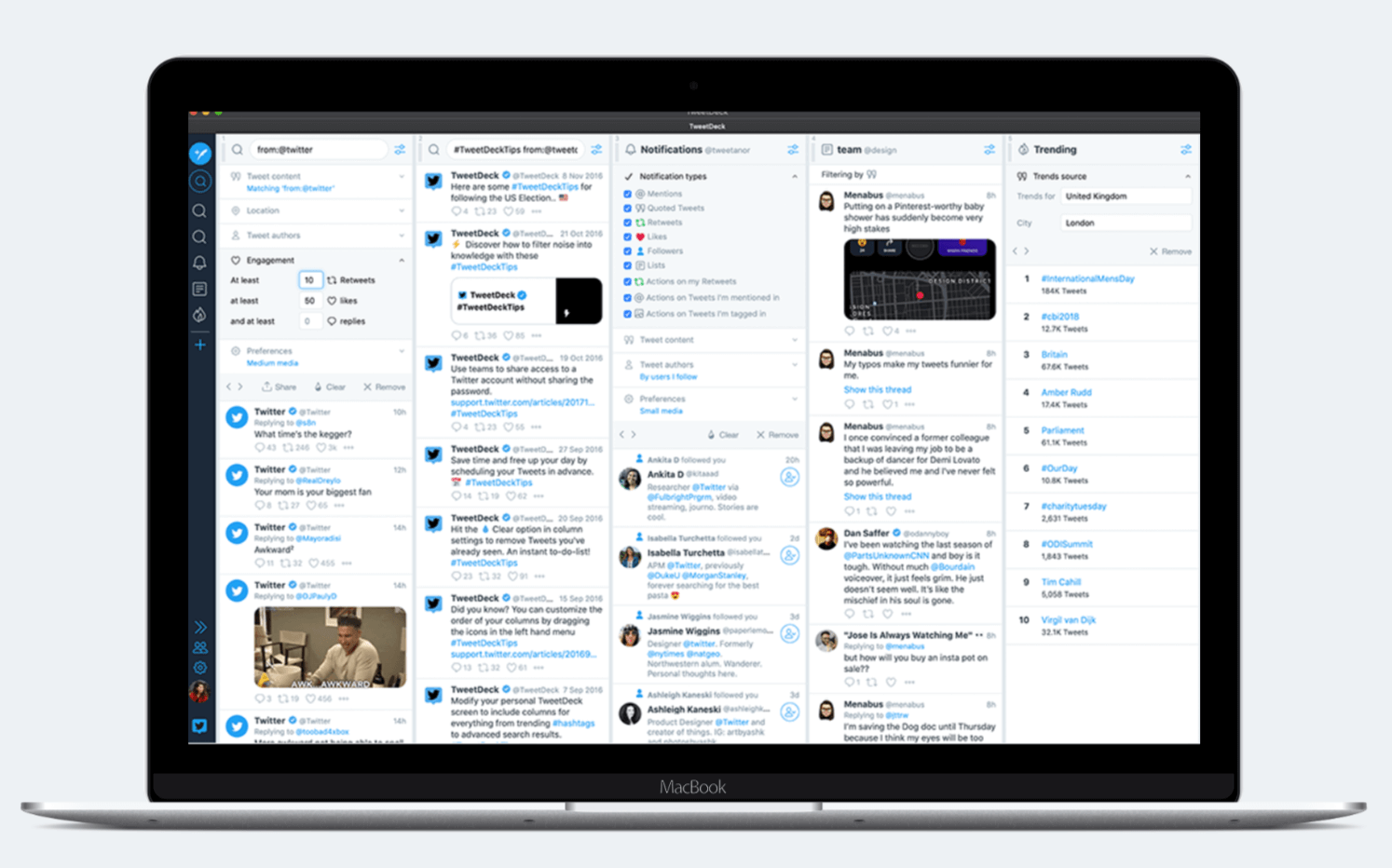 Tip: Use your columns to monitor real-time competitor data in the background while you complete other Twitter tasks.
Pricing
TweetDeck is free!
Wrap up
Social media management tools like these are essential for getting the most out of social media as an ecommerce website. Whether you're having trouble with analytics or managing multiple accounts, these tools will massively improve your productivity and campaigns. 
To find out more about using social media to support your ecommerce business, check out these articles: