The old and nostalgic among us will remember the days when our interactions with businesses involved one or maybe two (at a push) of the following:
Walking into a brick and mortar store and talking to uniform-clad staff
Calling a contact centre (maybe even from a landline)
Reluctantly watching an ad on TV
Being handed a leaflet by an unenthusiastic teenager in the street
But these are different times. Today's consumers enjoy dozens of possible brand communication routes and 73% of them choose to connect and shop across more than one.
For retailers and other businesses with a long list of communication channels, this means mastering different platforms, media and messaging strategies to meet their audience's needs.
In this article, we'll look at how businesses can use a few simple tactics and tools to train their omnichannel voice.
What is omnichannel communication?
Simply speaking, omnichannel (or omni-channel) marketing commits a business to provide consistent, on-brand communications across multiple customer touchpoints regardless of where they are in the path to purchase. An omnichannel communication strategy can include online and offline channels such as:
Mobile apps
Social media profiles
Brick and mortar stores
Online reviews
Websites
Email marketing
Customer service resources
A well-executed omnichannel communication strategy roughly translates to a business creating a consistent, easily recognisable and integrated customer experience across all of the above.
A brand that uses multiple communication channels but doesn't attempt to offer a consistent experience is running cross-channel marketing. If those experiences are different because they're targeting different audiences, it's multi-channel.
Got that?
Here's another way of thinking about it.
Even if your email marketing, social media, and contact centre are all knocking their performance out of the park, if they're not integrated and providing a consistent experience, they're not omnichannel.
A customer in an omnichannel experience should feel that no matter how or where they reach out to your business, they'll get the same impression and experience of your brand… every time. That means fast handle times at your call centre, prompt responses to social media comments, etc. You also need to provide great service across each channel.
Why should you bother going omnichannel?
At the outset, multi-channel and cross-channel are infinitely cheaper than omnichannel because you don't have to try and be coordinated. You can have a bunch of different departments or individuals managing different channels at once, all doing their own thing and they'd probably reach a lot of people. So, why should you bother investing time and energy into going omnichannel?
The answer is pretty simple! It offers a much higher ROI over time. Why? Here are four pretty compelling reasons…
1. You can own the micro-moments that drive today's purchases
More than ever, customers have several experiences with a brand before making a purchase. And, if just one of those experiences isn't good, they won't come back. These micro-moments are the hallmark of the digitally connected consumer age. According to Google…
"Consumer behavior has changed forever. Today's battle for hearts, minds, and dollars is won (or lost) in micro-moments—intent-driven moments of decision-making and preference-shaping that occur throughout the entire consumer journey."
Micro-moments are, by definition, short. Being instantly recognisable across all customer touchpoints places a brand ahead of its competitors. Being distinctive and consistent means making speedy connections with potential customers.
2. Customers have a better experience
When customers enjoy interacting with your business, they'll return time and time again and their repeat custom boosts your bottom line. Research shows that brands with effective omnichannel communication retain 89% of their customers compared to just 33% who are offered other experiences. Need we say more?
3. You look more professional
More professional doesn't have to mean 'stuffy'. It can just mean you have your s@#t together. New customers are more likely to spend big on a first-time purchase when they feel they can trust your company and this is especially true when that purchase happens online.
First-time buyers often research a business across multiple channels to suss out the kind of company they are and weed out the charlatans before opening their wallets.
By going omnichannel, you'll be the one that they remember for the right reasons.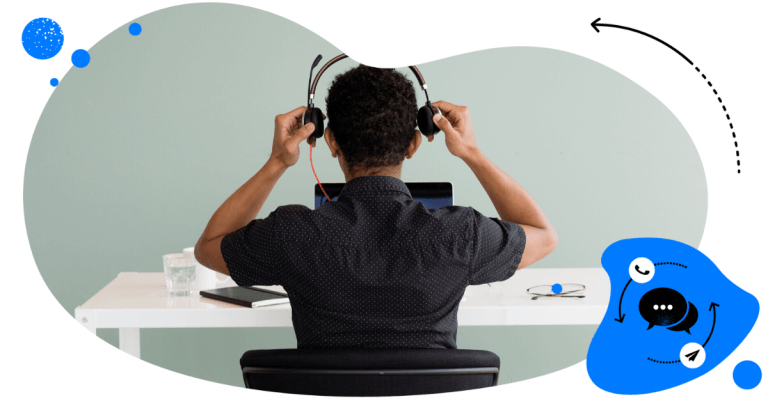 Social customer care
Deliver timely responses to customers in social media. Manage unlimited Facebook, Instagram, Twitter and LinkedIn pages in a single inbox.
Try NapoleonCat free for 14 days. No credit card required.
4. Consumers talk about positive experiences with businesses
Most people ask family and friends for recommendations about trustworthy and quality-driven businesses. By providing a seamless experience that data shows customers enjoy, you can generate a flood of interest from your customer's wider network.
Gaining custom by word-of-mouth is one of the quickest ways to boost your bottom line.
What makes omnichannel communications a challenge?
There's no better way to speed up the learning process than to understand where others have failed. Many-a-business has taken the 'omni' in omnichannel far too literally and forgotten how important it is to meet the expectations of each particular channel's different audiences.
Providing a unified and integrated communication experience does not mean your approach always has to be the same every time. You should not:
Try to use the same media on all of your platforms
Ignore the accepted standards for a particular communications type
Apply your Facebook strategy in your responses to online reviews
You get the idea!
According to data from PwC and SAP, other challenges revolve around a lack of resources and knowledge of how to implement.
Top tips for nailing omnichannel communications
So, what should you do? Since we love a good success story, we're giving you our top five tips for effective omnichannel communications.
1. Seamlessly recreate your visual style
Whether in your business's Twitter or Instagram, on staff uniforms and print materials, your visual style needs to give off the same message. Customers should be able to recognise your brand at a hundred paces. That means ensuring your business is on point with the following at all times:
Your logo is the same everywhere
You use a strictly defined colour palette
Your graphics are custom and stick to a particular style
You use the same images across campaigns and the same image style across channels
A leaflet handed out at your door should match the visuals in your store. When you introduce that customer to your mobile app they should already feel at home in the visual set up.
This helps people to get comfortable with your business. You want them to settle in and make themselves at home with a metaphorical cup of tea and a pair of slippers. They won't do that if your visuals are all over the place. They'll be too busy trying to work out your message and wondering if they're in the right place to start with.
2. Use a brand voice guide
A brand voice guide is to your content what a brand book is to your visuals. All businesses need both, especially when marketing across multiple platforms. Unless you're some kind of 100-limbed mega-organism with unmatched IT abilities, you probably employ a range of staff to manage different channels for you. If you want them all singing from the same song-sheet, they'll need a brand voice guide.
It describes the tone, language, character, and purpose you want your business to portray in all of its text and voice-based messaging. Asana's brand voice guide does just that.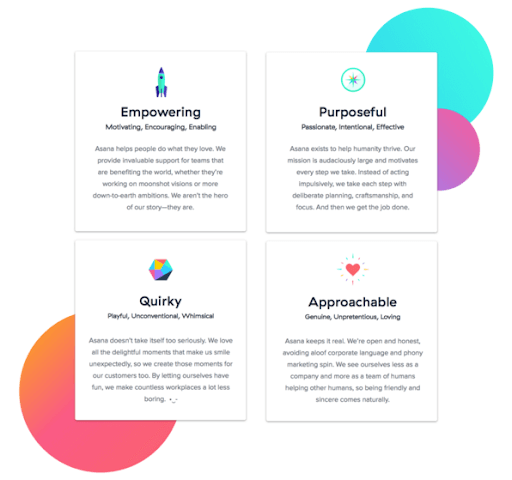 If your content writers, customer support agents, and social media managers all receive and understand a guide like this, they'll have a strong foundation for an omnichannel experience.
3. Keep all departments in the loop
Businesses find organising company-wide brand strategies a challenge because they need to be communicated across multiple departments. And they often have existing strategies, processes, and approaches that don't necessarily match up.
Unless your customer service, sales, and marketing teams, as well as your retail staff are all aligned, your omnichannel project will fall flat on its many-sided face.
Rolling out an omnichannel experience takes a lot of planning, convincing, communication and integration.
4. Embrace technology
Every effective omnichannel communication strategy is supported by a good bit of software. Ideally, yours will organise the various sources of communication your audience uses into one simple display.
NapoleonCat's Social Inbox rounds up all of your audience's posts, comments, mentions, private messages and more from Facebook, Instagram, YouTube, LinkedIn, Twitter and Google My Business. Meaning your business can respond to them in real-time and with a coordinated approach. The very definition of omnichannel communications!
Here's the crunch….
Omnichannel communication is not just another 'fly-by' eCommerce trend. It's here to stay. Consumers love it and they connect more and for longer with businesses that get it right. So, for the sake of your bottom line, take these tips on board and get started on your omnichannel communications journey.