Reposting content on Instagram is an effective way to diversify your content and increase engagement. The problem? It's not as easy as it sounds.

Besides spending an excessive amount of time finding high-quality posts and making sure they're relevant to your audience, you also need to determine the optimal times to post on Instagram.
And it doesn't help that you can't repost Instagram posts using the platform's native feature.
If you can figure out a better way to manage your Instagram reposting schedule, it would make this whole process a lot easier, don't you think?
In this article, we share the different ways to repost posts on Instagram. We also provide tips (and hacks) so that reposting on Instagram becomes a strategic advantage, not a time-consuming task.
We'll cover: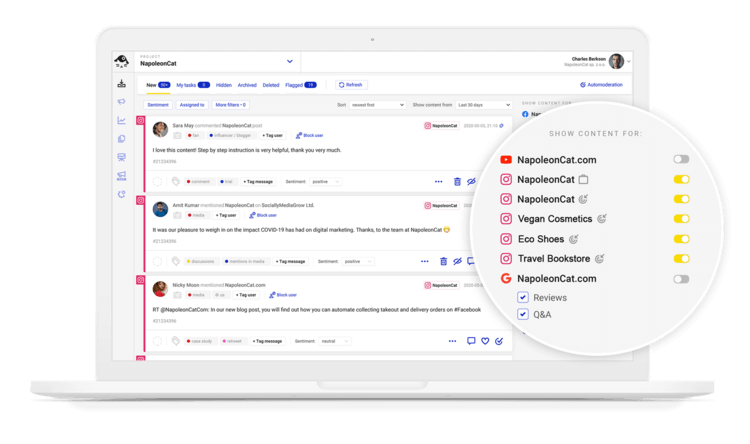 Simplify Instagram Business
Management with One Tool
Manage & reply to comments and DMs in one place.
Monitor ad comments from multiple accounts.
Automate answers to repetitive questions.
Schedule posts to multiple accounts, on desktop.
Analyze performance and monitor hashtags.
Keep track of your competition.
Create or schedule in-depth reports in seconds.
Try 2 weeks for free (no credit card required)
Why repost posts on Instagram?
In case you need some validation: yes, reposting on Instagram is worth it, provided you're doing it right.
Here are the benefits of reposting on Instagram:
Building trust and authenticity: Reposting user-generated content on Instagram provides you opportunities to showcase real-life examples of how your products or services are used by satisfied customers, which helps establish credibility and authenticity. After all, 90% of consumers say that user-generated content (UGC) influences their purchasing decisions more than promotional emails and search engine results.
Boosting engagement and interaction: Reposting on Instagram can help you increase comments, likes, shares, and feedback by encouraging conversations and interactions with your customers.
Saving time: Reposting on Instagram saves you hours of work by reusing existing content instead of creating new ones.
Reduced mental workload: Reposting on Instagram reduces the stress of creating new content just to stay visible.
How to repost posts on Instagram
Before we dive deeper, let's talk about how to repost content on Instagram.
As mentioned, Instagram doesn't have a native feature that enables users to repost Instagram content.
Thankfully, there are many workarounds to this: the first one is the good ol' screenshot method.
Yep, you can just take a screenshot of someone else's content and upload it to your Instagram (with credits to the original poster, of course).
Here are the steps to follow to pull it off.
Screenshot the photo you want to repost and crop it to fit your screen.
Once you've come across a post you want to repost on Instagram, take a screenshot of it.
Next, crop the image to fit your Instagram feed using a photo-editing app such as Adobe Photoshop Express or AfterShoot. You can also use Instagram's built-in cropping tool for this purpose.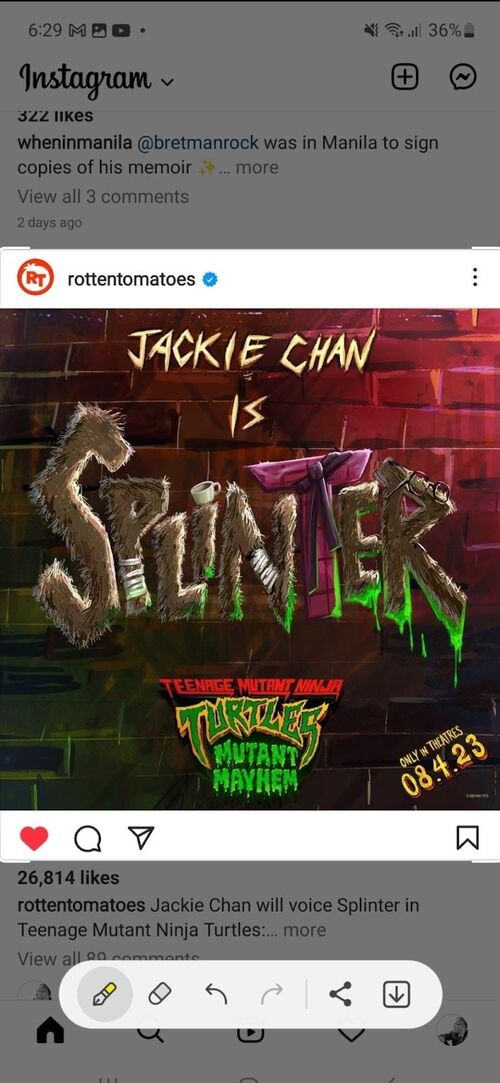 Upload the screenshot to Instagram as a new post.
Credit the original poster by tagging them or mentioning them in your caption. It's also good practice to ask for permission from the original poster before reposting their content, especially if it's professional or copyrighted work.
And that's how you repost a post on Instagram using the screenshot method.
How to repost to your Instagram Story
Instagram Stories are an excellent way to repost content without looking spammy. You can also do this within the app. Here's how to do it:
Open the Instagram app on your iOS or Android device and locate the Instagram post you want to share.
Tap the paper airplane icon below the post. This will open a list of options to share the post.
Tap "Add post" to your Story. This will open the editor with the post embedded in it. You can resize, rotate, or move the post around by using your fingers. You can also add stickers, text, drawings, or filters to your Story.
Tap "Your Story" to publish the Story with the reposted post. Your followers will be able to see the original poster's username and tap on it to view their profile or the original post.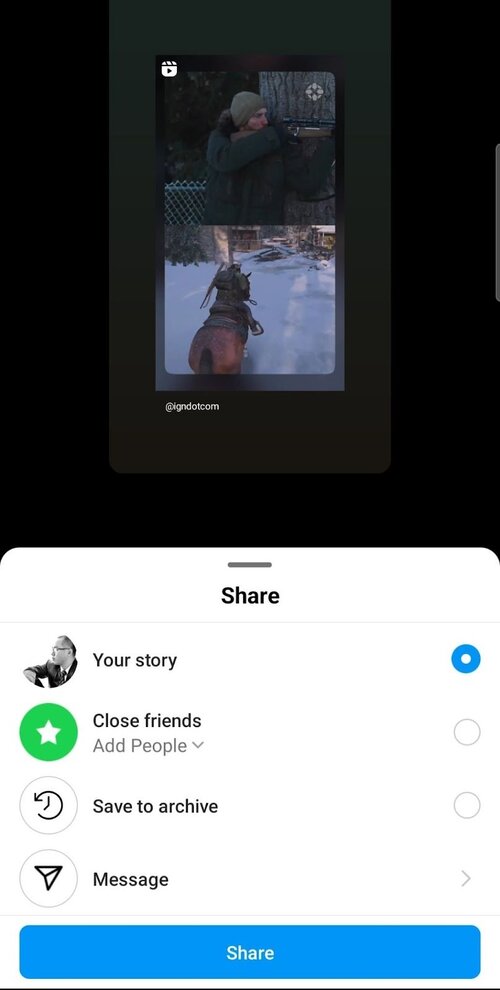 How to repost posts (video & photo) on Instagram more efficiently
Let's face it. Reposting content on Instagram can be a tedious process, especially if you're doing it multiple times throughout the day.
So let me share a simple hack to make the process simpler. To do this, you'll need an Instagram downloader tool like SnapInsta or ToolZu.

Using an Instagram downloader can make your life significantly easier, as you only have to copy and paste the link once. Plus, it helps to simplify the entire reposting process, so you don't have to worry about manually downloading and saving photos and videos.
Here's how to repost photos or videos on Instagram with the help of an Instagram downloader:
Access the Instagram photo or video you wish to repost and click on the three dots in the top right corner.
Copy the link of the Instagram content.
Paste the link to your preferred Instagram downloader.
Download the post.
Repost the photo or video using the desktop version of Instagram, or schedule it for a later date.
If you prefer to repost or publish via your mobile device, here's what you can do instead:
Email the photo or video to your own email address (or you can use AirDrop if you work on Apple devices).
Download the photo or video straight to your phone.
Upload and publish it on Instagram as you normally would.
Give these hacks a try and see how much time you can save.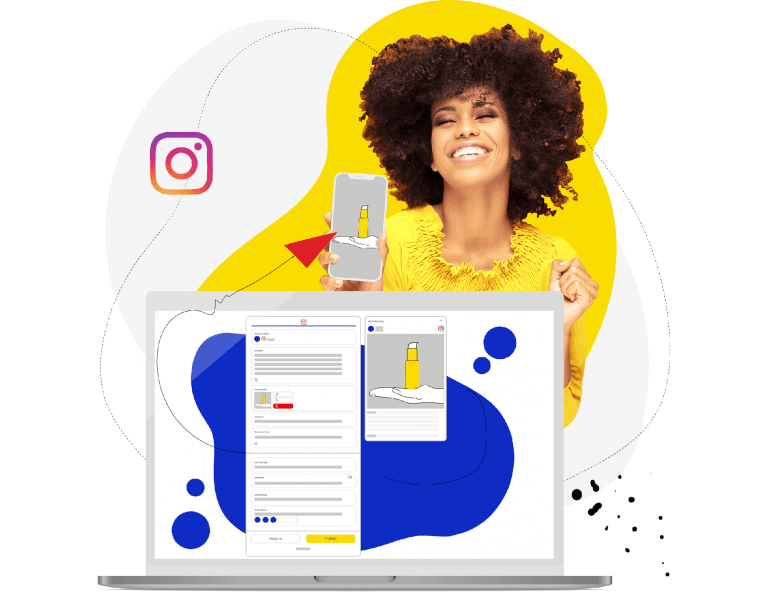 Schedule Unlimited Instagram Posts, Reels, and Carousels
Schedule posts, reels, and carousels across multiple Instagram accounts with an all-in-one social media tool. Reach your audience when they're online – not you.
How to repost across multiple Instagram accounts all at once
If your brand operates in different parts of the world, caters to different customer segments, or has multiple products and services, chances are you're managing multiple Instagram accounts (and accounts from other social media networks, for that matter).
Managing and reposting across multiple Instagram accounts can be challenging and time-consuming as you have to:
Constantly switch between accounts
Keep track of different audiences and content
Ensure that each account is engaging and active
Maintain a consistent brand image across all accounts
With the above in mind, how do you stay consistent with your reposting schedule?
Here's a solution: You can repost across multiple Instagram accounts at once.
Now this is where it gets tricky.
Posting (not reposting) across multiple Instagram accounts all at once is easy using the native Instagram app. But reposting across multiple Instagram accounts? That will take a lot of time.
Thankfully, you can manage it easier using NapoleonCat's Social Media Publisher tool.
Before I tell you how to repost across multiple Instagram accounts via NapoleonCat's Publisher tool, here's some context:
NapoleonCat's Publisher is a social media scheduling tool. It helps you plan, create, and publish content across different social media networks (including TikTok, Facebook, Twitter, and Google My Business).
You can schedule all your content in a convenient social media calendar, selecting the dates and times for your posts to go live. You can publish to different accounts at once, using one dashboard, and preview how your post will look on each platform.
Now this works for regular Instagram posts, not reposts. But with an Instagram downloader tool, you'll find you can "repost" across multiple Instagram accounts all at once.
This involves two main steps:
Downloading images or videos from the original post via an Instagram downloader tool (see previous section).
Uploading and reposting on Instagram using NapoleonCat's Publisher tool.
You're already familiar with the first step. The second step is just as easy, since "reposting" in this case is like publishing new Instagram content.
Here's how to do it:
First, connect your Instagram account/s to NapoleonCat.
Go to Publisher and choose the date in your content calendar.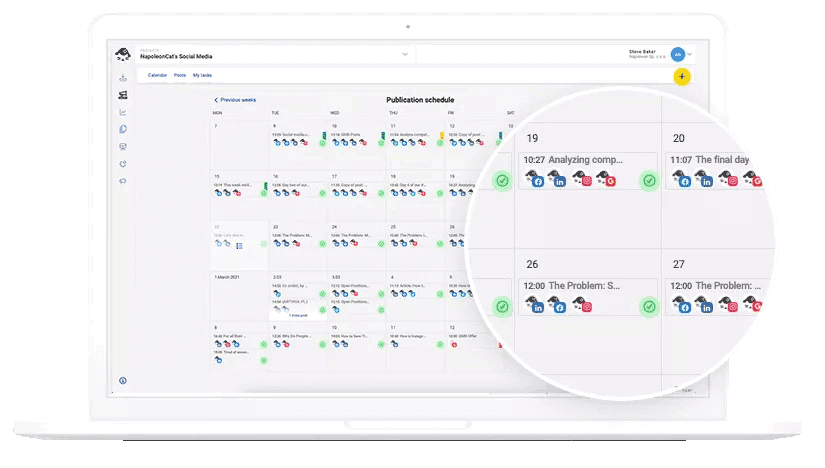 Pick the account or accounts you want to post to. And then craft your post (or "repost") by writing the caption. Feel free to add emojis and hashtags. You can also tag other users if you like (this is also a good time to credit the original poster).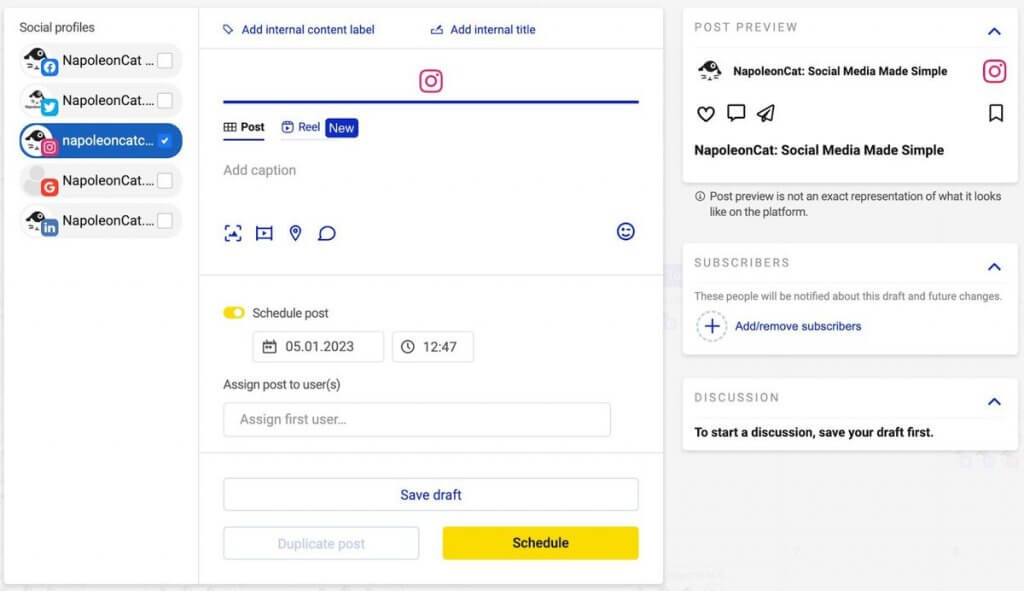 Upload the photo or video you wish to "repost." Once uploaded, you can adjust the orientation and size of the photo (You can also publish a carousel post by adding more images or videos).
Pick the date and time you want your "repost" to be published.
You can also assign a color-coded label or add an internal label to your post, so you can easily see which category the post belongs to (for example, if it's part of a product promotion or educational series on a specific topic.)
NapoleonCat's Social Media Publisher also enable team collaboration. By going to the My Tasks tab, you can access the list of all the posts (or "reposts") that are assigned to you. You can filter them by platform, account, status, or author. You can also mark any task as resolved by clicking on it.
Then save your draft or schedule your post. You can also choose to publish a "repost" instantly.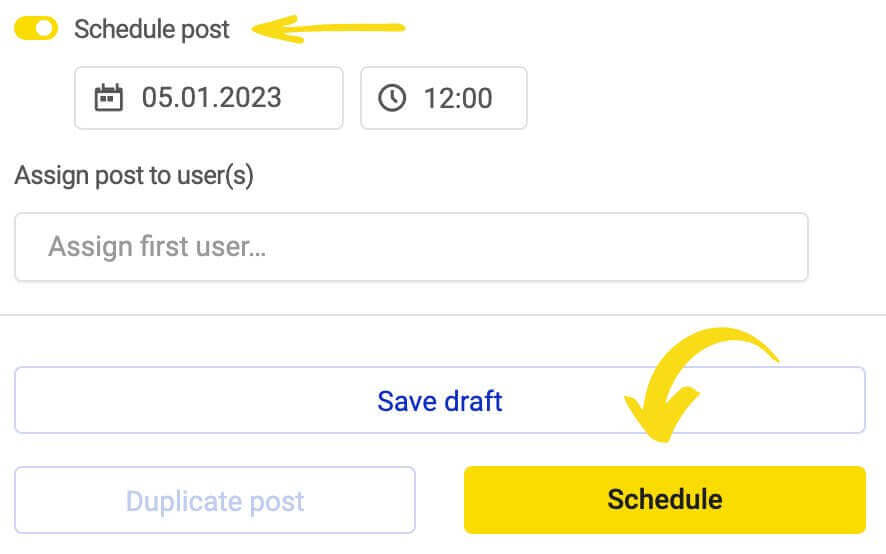 We also made this quick video tutorial showing the Publisher in action: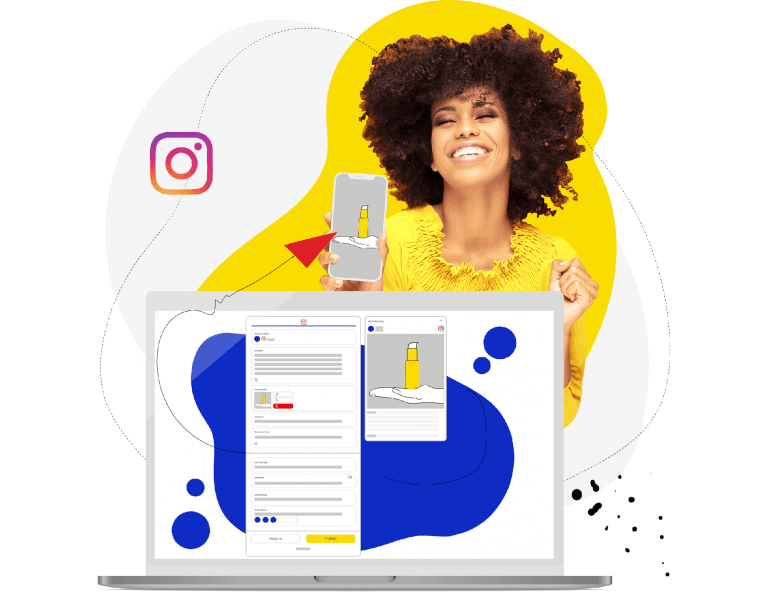 Schedule Unlimited Instagram Posts, Reels, and Carousels
Schedule posts, reels, and carousels across multiple Instagram accounts with an all-in-one social media tool. Reach your audience when they're online – not you.
Final thoughts
Building a presence on Instagram is not only about what you can put out there as a creator. What you repost on the platform also matters a great deal. We are, after all, in the business of community building. If you want your community of brand advocates to grow, provide them with every opportunity to take part in telling your brand story.
Reposting other people's posts on Instagram is a good opportunity to tap into different communities, and I hope this guide can help you do that in the most efficient way.
Good luck! 🤙😎✌️​
You may also like: