​​Looking for some extra passive income? Don't worry, I'm not here to offer you a unique "business opportunity" (lol). But a list of reliable affiliate programs worth looking into.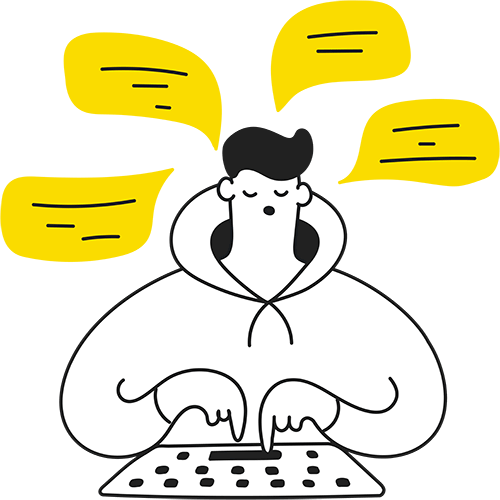 Let's be partners!
Get regular payouts of 20% for every sale within the client's first year. Join our Affiliate Program and earn from wherever you are!
BECOME A PARTNER
Why join an affiliate program
I've already said it – and I'll say it again. Affiliate marketing programs are not a way to make huge money with zero effort (and anyone who tells you that probably wants to make money on your ignorance.)
Instead, they're a way to promote the services and products of other companies to your audience for a fair share of the profit.
You get your affiliate link and place it on your website, in your emails, or on your social media channels. Anyone who buys a product or subscription via that link (usually in a defined time window, like, e.g., 30 days) will get you a commission – a flat fee or a percentage of the payment they made.
Which means you do have to have an audience and find a product or service they're likely to buy. But if you do, affiliate programs can be a reliable source of additional income in the long run.
This is also why you should look for the ones that actually fit the needs of your audience (and often, your own experience and expertise, helping you promote other brands in an authentic, non-intrusive way, which, btw, I highly recommend.)
So let's take a look at what companies offer the best affiliate programs – maybe some of them will turn out to be a good fit.
15 best affiliate programs to look into in 2023
NapoleonCat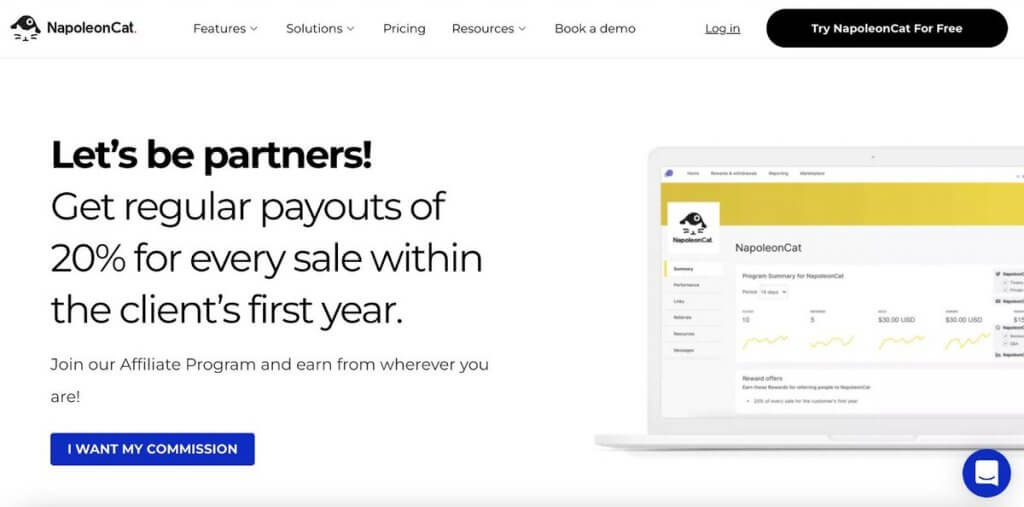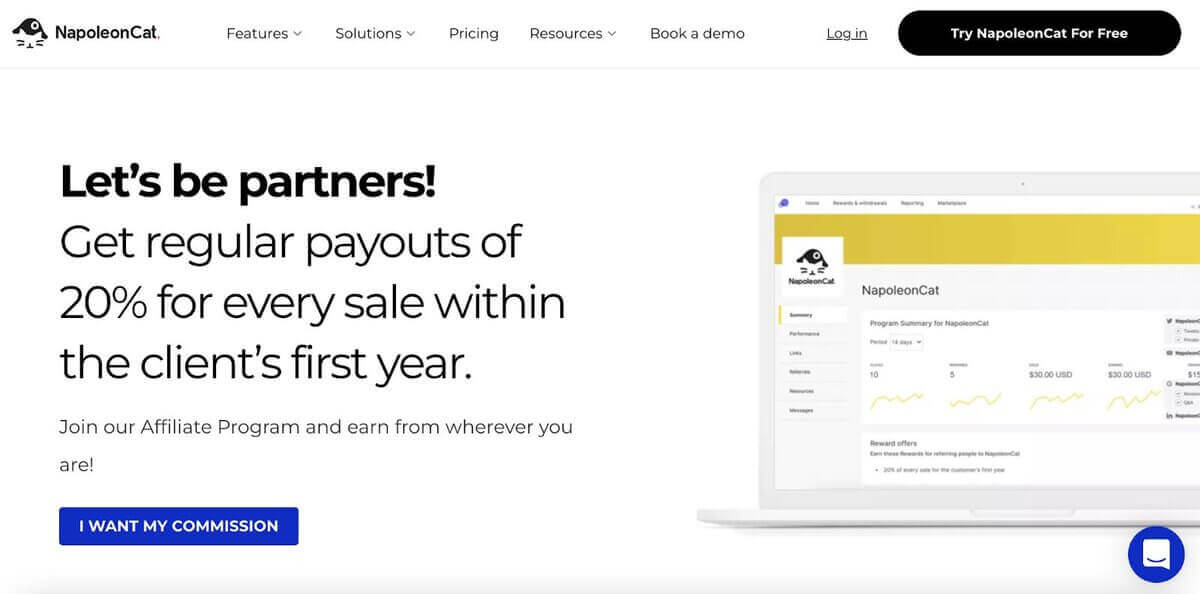 Of course, starting with NapoleonCat and its Affiliate Program. It's definitely a good idea if your audience is people who use social media for business, either for their own brands or for the brands they work for. And especially if you use the tool yourself (which is always a good idea when it comes to affiliate programs.)
How it works
Per the brand's affiliate marketing program, you can get 20% for every sale within a customer's first year with the platform.
This means that when someone signs up for a paid account via your affiliate link, 20% of their payment goes to your bank account.
If they go for monthly payments, you're going to get the 20% every month for up to a year (or as long as they stay with the platform if they cancel their subscription earlier). If they select an annual payment, 20% of that will go to you as a single payment.
Your rewards are calculated at the end of each month and available for cash-out via your PartnerStack account.
The cookies on your affiliate link last for 90 days after someone clicks it. This means that if they click and buy a subscription within 90 days, you get your affiliate commission. If they click again, the 90 days starts again.
With the program, you also have access to a pool of helpful product resources and the support of a dedicated affiliate manager.
Where to find it
NapoleonCat's Affiliate Program is available here.
Elementor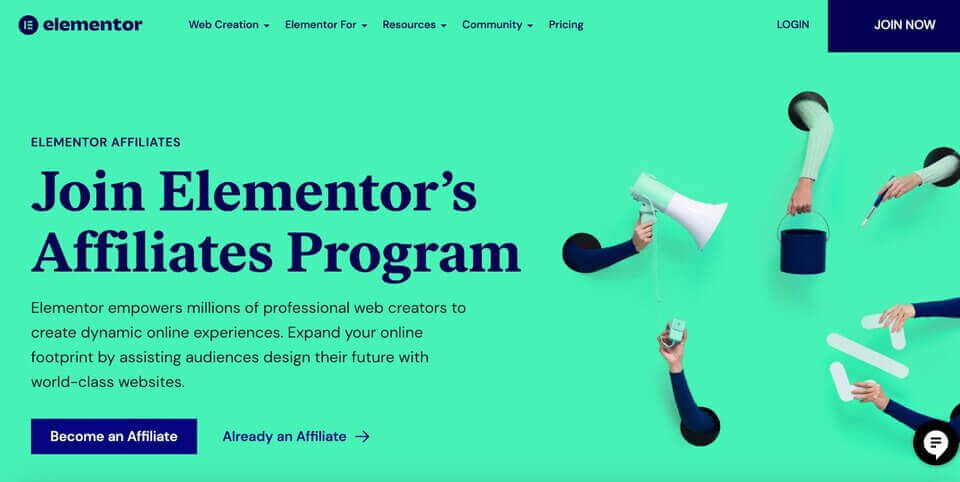 Joining Elementor's affiliate program will be a good idea if you have a website built with Elementor or provide website design services to clients, and also if your audience includes people who are looking for easy website design tools.
How it works
Elementor offers an affiliate program for two of its products:
With the Elementor Cloud Website, you get $70 for every new subscriber who signs up through your affiliate link.
With the Elementor Pro Plugin, you get 50% of every sale of the plugin (as a one-off payment.)
The platform also provides you with marketing materials and an active online community.
Where to find it
You'll find Elementor's affiliate program here.
GetResponse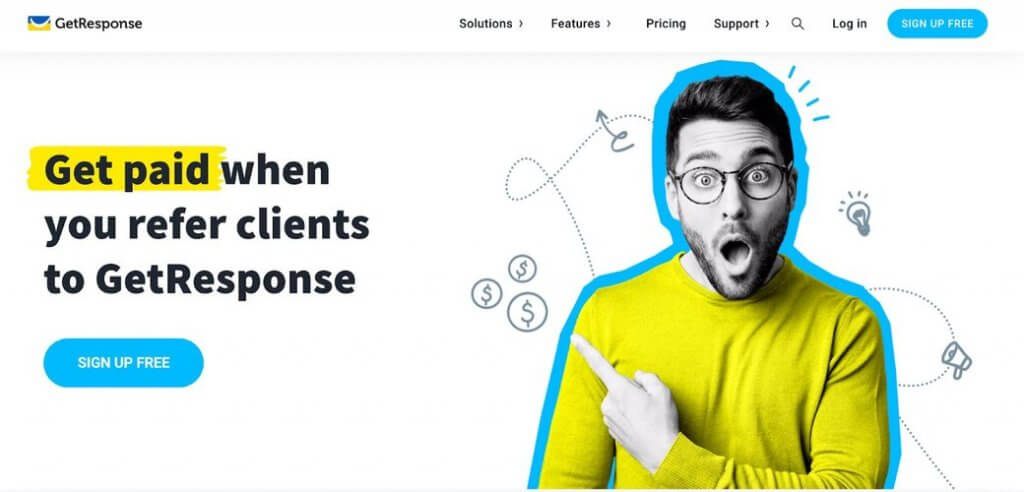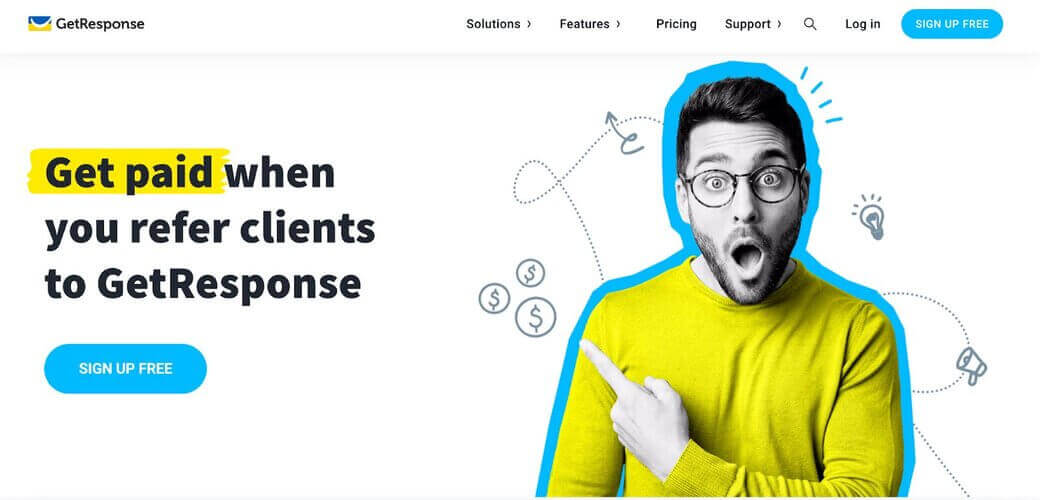 As a versatile platform offering email marketing, landing pages, website creation, and more, GetResponse will be an excellent fit for a general audience of marketers and online creators who want to promote their work and products.
How it works
GetResponse offers two affiliate models:
33% monthly commissions in their Affiliate Recurring Program for every referred subscription
A one-off, $100 upfront commission per sale – or each customer who signs up in their Affiliate Bounty Program.
The affiliate link cookie works for 120 days, plus you get a plethora of marketing materials to use.
Where to find it
The GetResponse affiliate programs (because there are a couple) are available here.
ConvertKit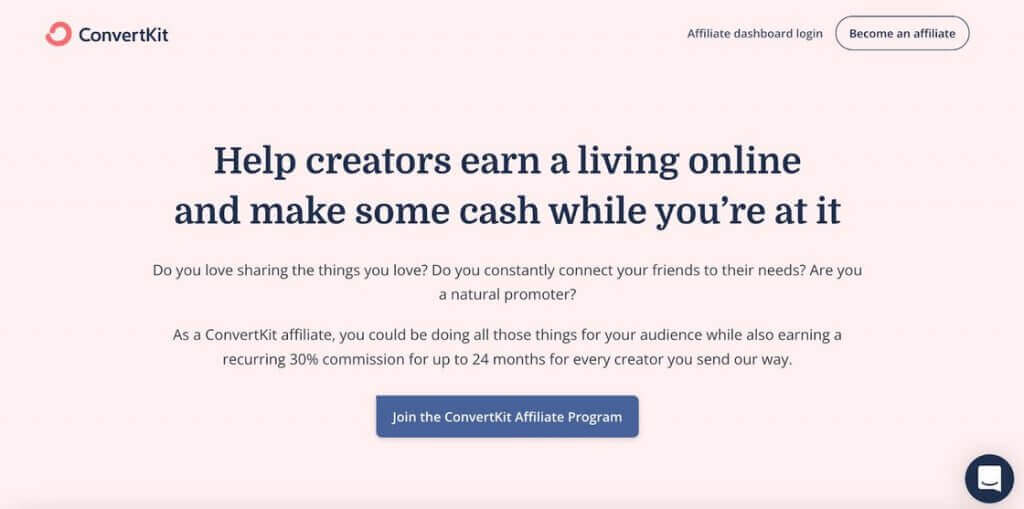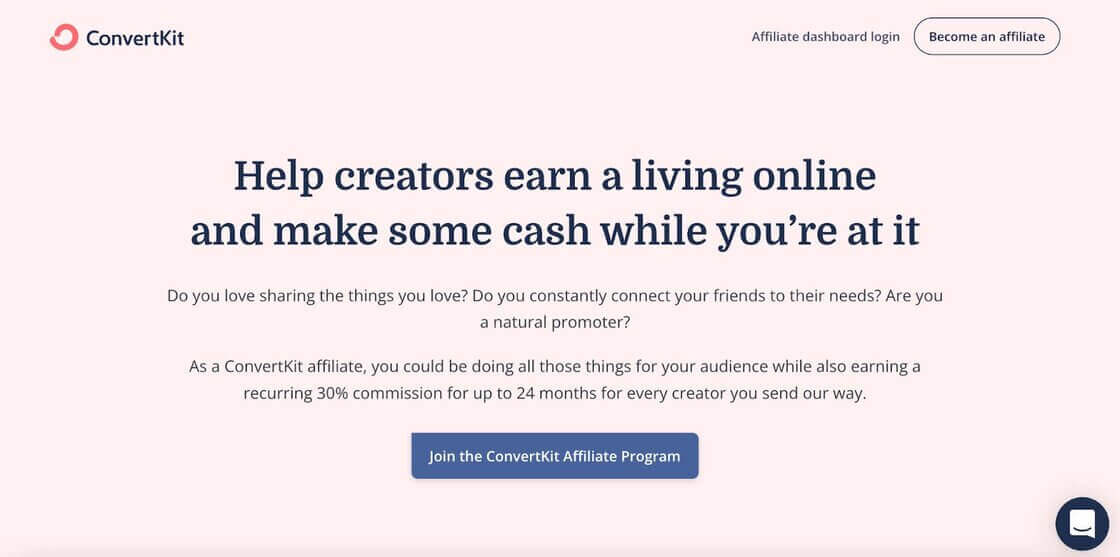 Marketed as a tool for online creators specifically, ConvertKit will be a great choice if your audience are indeed online creators looking for a straightforward solution to build an email list.
How it works
ConvertKit offers a 30% commission for up to 24 months for every referred customer. It also provides video assets and webinars to help you promote the platform.
Where to find it
ConvertKit's affiliate program is available here.
Fiverr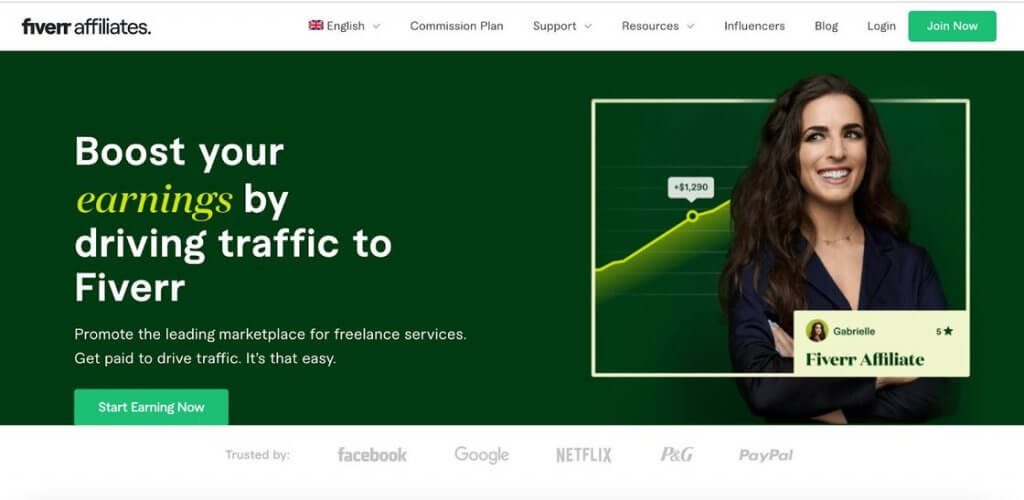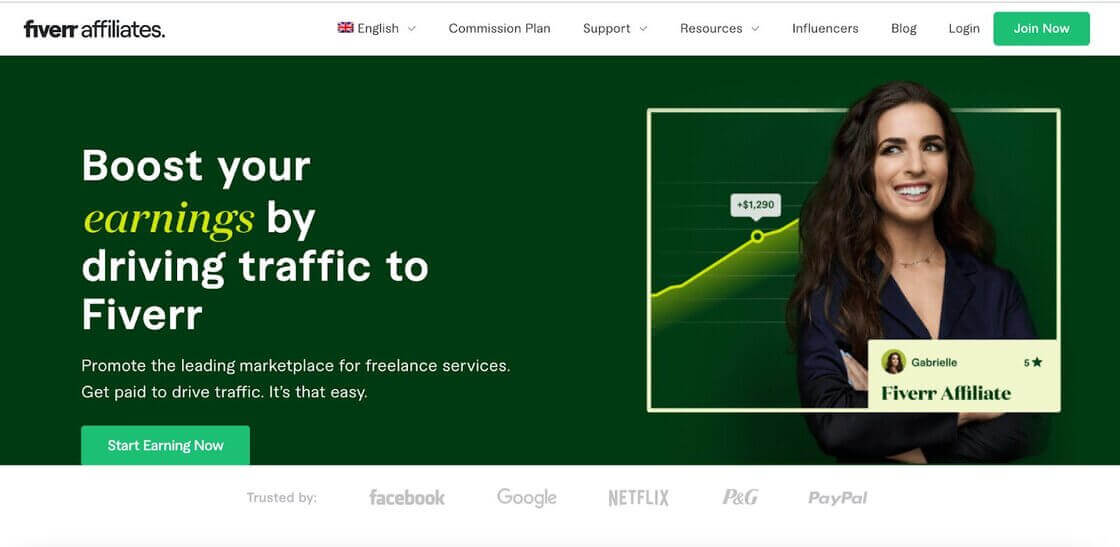 Look into Fiverr's affiliate program if you're a freelancer using the platform or work with freelancers who might be interested in signing up. Fiverr has several products you can promote, including their flagship freelance marketplace, but also their educational platform, a logo maker, and more.
How it works
Fiverr has different affiliate commission models depending on the product you're promoting, including:
A dynamic commission of $15-150 depending on the service the customer buys via your link
$10 commission + 10% for 12 months.
For more payout variants, visit their website.
Where to find it
Fiverr's affiliate program is laid out on this page.
Unbounce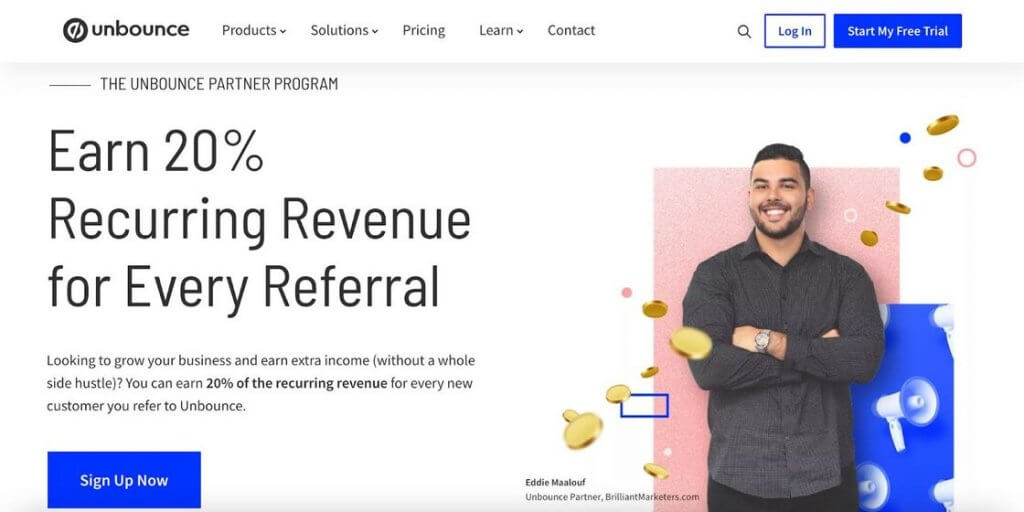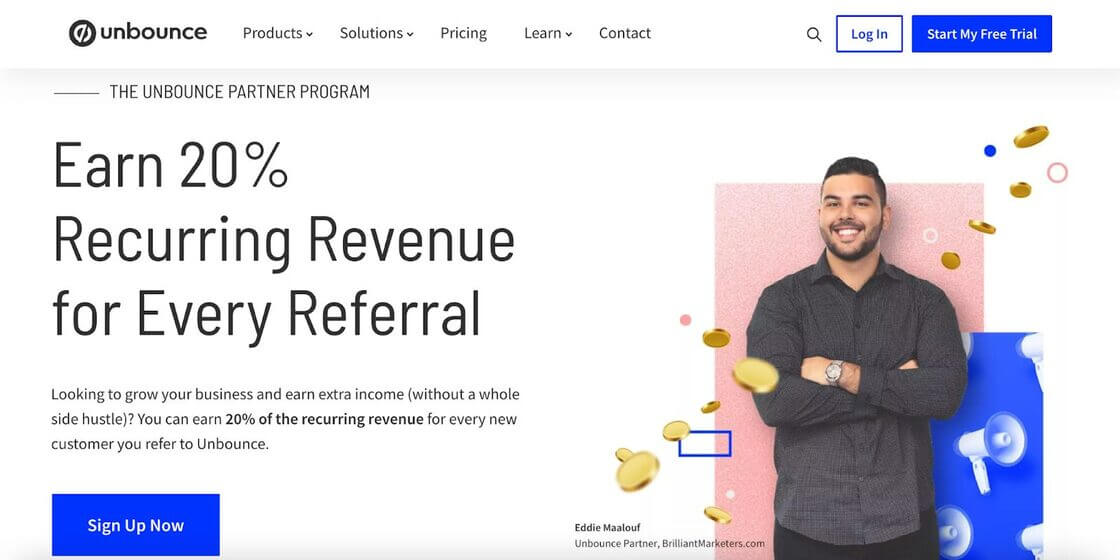 The Unbounce Partner Program might be a good fit if your audience consists of marketing agencies, small businesses, SaaS marketers, and others who could be interested in Unbounce's landing page builder and conversion intelligence platform.
How it works
Unbounce offers a 20% recurring commission for the lifetime of the account you referred, so as long as the customer stays with the platform. On top of that, your referrals get a 20% discount in their first three months.
Where to find it
You can sign up for their Partner Program here.
Typeform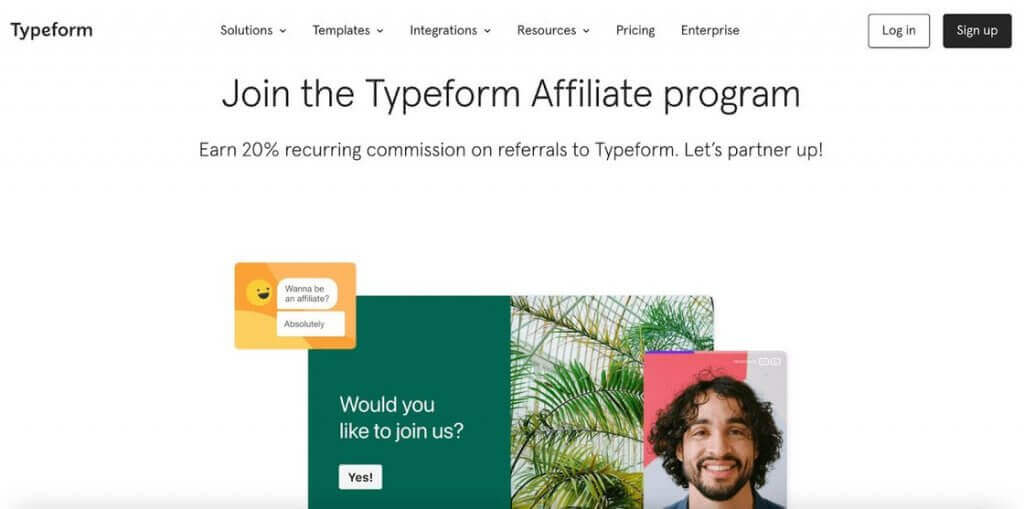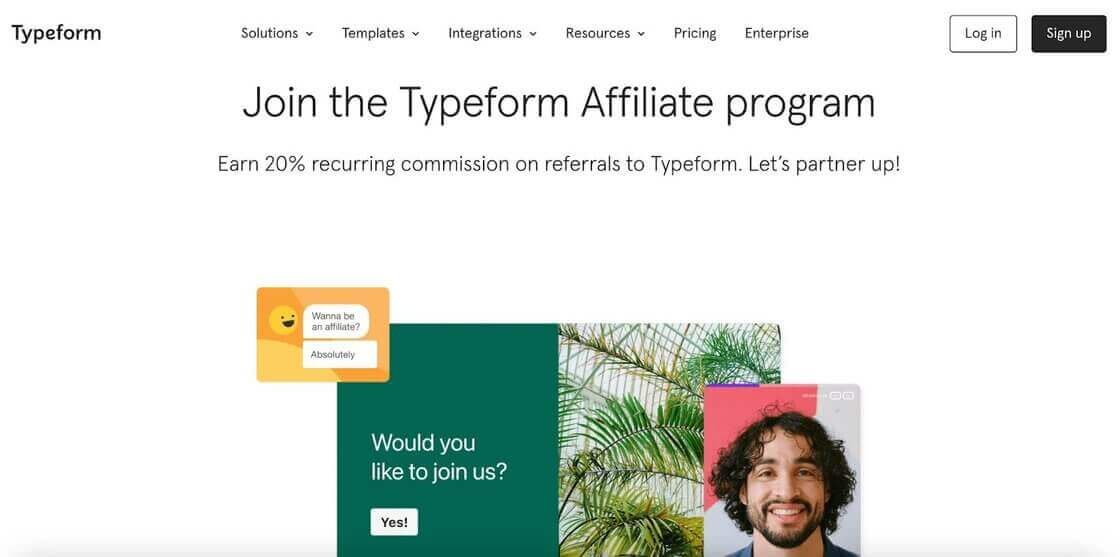 Who doesn't need surveys (and especially user-friendly ones?). If your audience does, it might be a good idea to introduce them to Typeform (and get the commission!).
How it works
Typeform offers their affiliate program through Partnerstack (just as NapoleonCat does.) To join, you need to sign up for a Partnerstack account, get your link, and start promoting Typeform using the materials the platform provides.
You can earn a 20% recurring commission for the life of an account – even when it's a free account that later starts paying monthly or annually.
Where to find it
Typeform's affiliate program is available on their website.
Teachable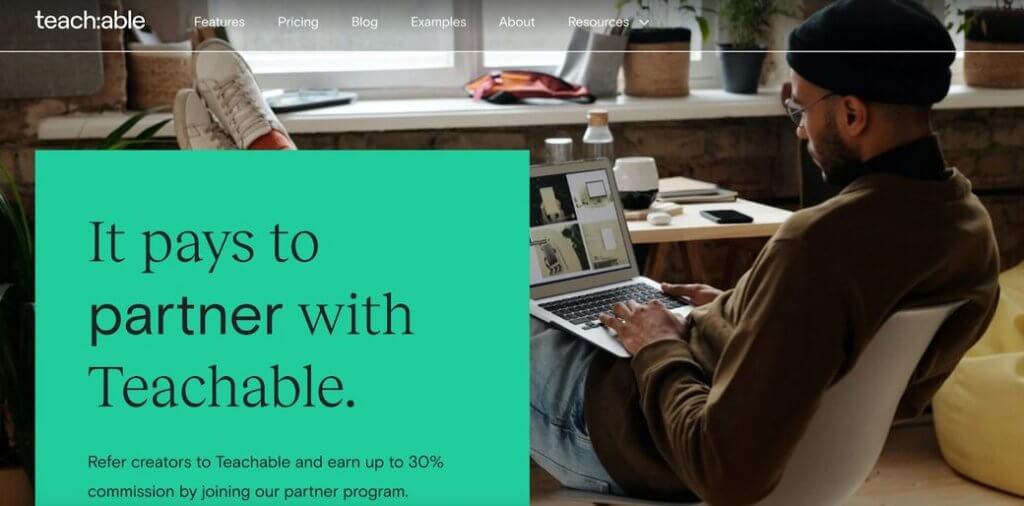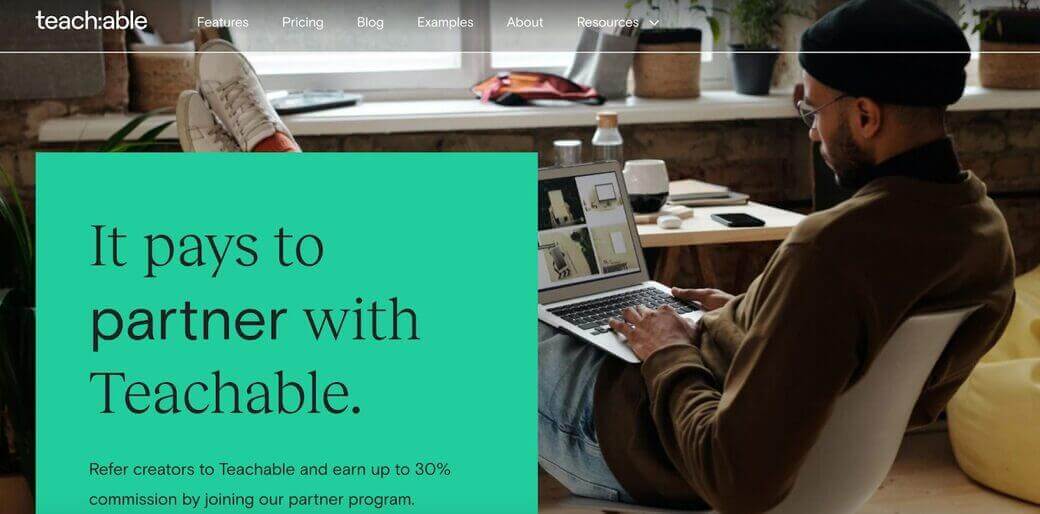 As a top online course platform, it will make sense for you to get affiliated with Teachable if your audience is made up of online creators, marketers, and educators who want to launch their online courses.
How it works
You can earn up to 30% recurring commission with a 90-day cookie window for your affiliate link. The amount of the affiliate commission goes up as you drive more customers to the platform.
Where to find it
You can find Teachable's affiliate program details here.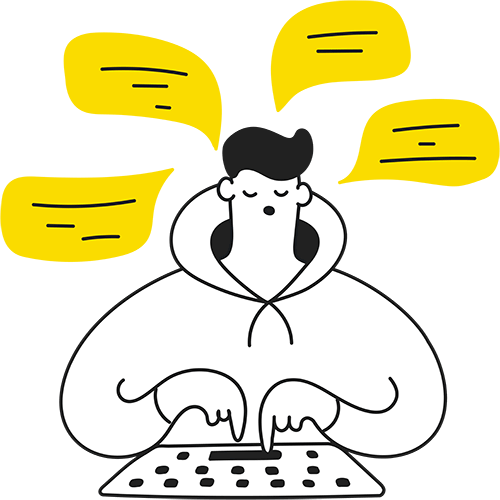 Let's be partners!
Get regular payouts of 20% for every sale within the client's first year. Join our Affiliate Program and earn from wherever you are!
BECOME A PARTNER
Shopify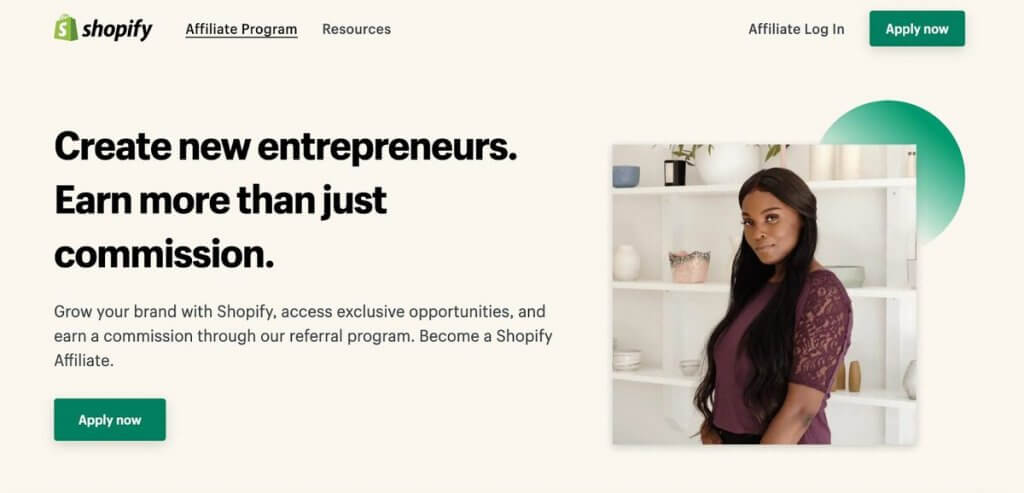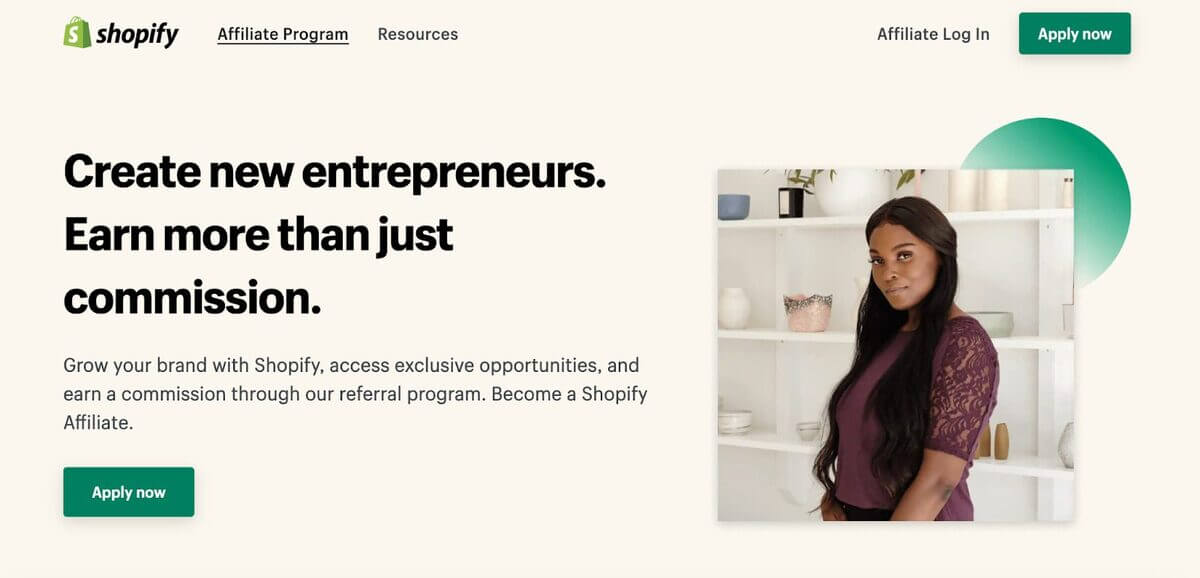 As the top eCommerce platform, Shopify is a great partner brand for affiliates with online entrepreneur audiences.
How it works
Shopify equips you with tracking links that last 30 days, paying you for each referred merchant. To apply, you need to have an active website and create original content (even though Shopify will give you access to their marketing materials, including lead magnets, too.)
Where to find it
Look for Shopify's affiliate program here.
AWeber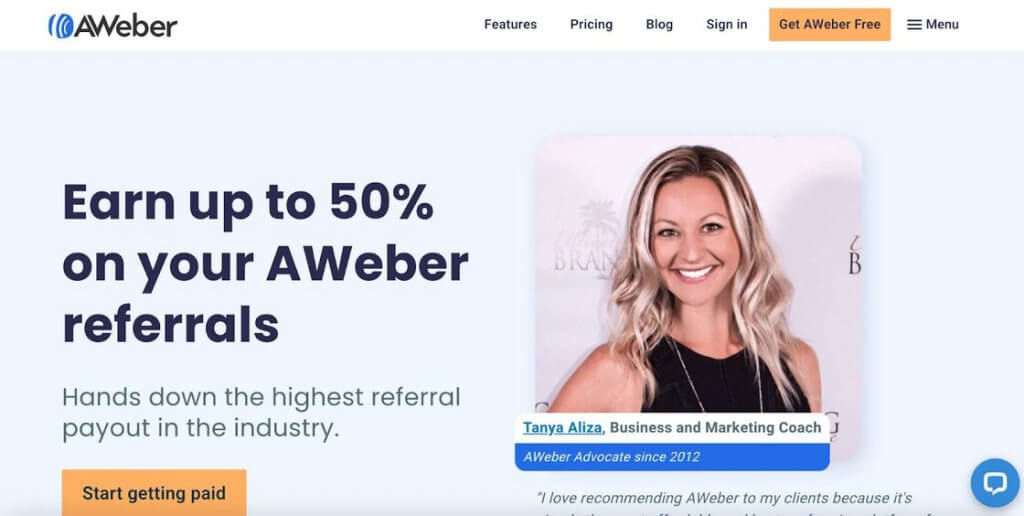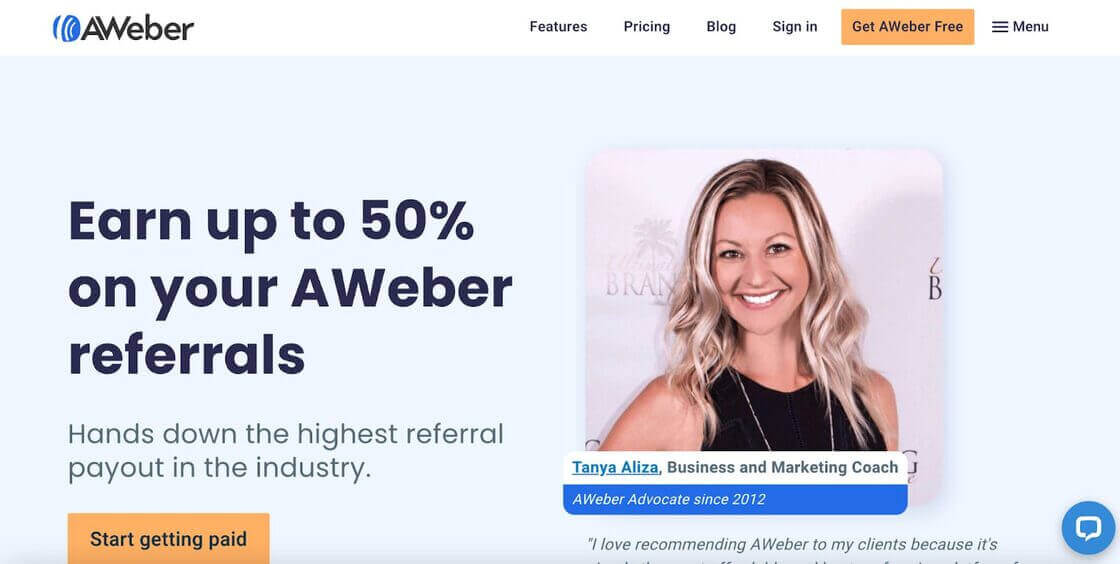 AWeber calls its affiliates advocates, and it's a good choice if you're serving an audience of entrepreneurs and small businesses who could benefit from using their platform (or switching from another one.)
How it works
AWeber's affiliate program offers up to 50% commission paid every month for the lifetime of each account you refer. All advocates earn a 30% commission, and you can earn more by referring more accounts within 12 months (40% for 10 or more and 50% for 50 or more.)
Plus, you get ads, articles, and tips on succeeding at promoting the platform to your audience.
Where to find it
AWeber's affiliate program is available here.
Leadpages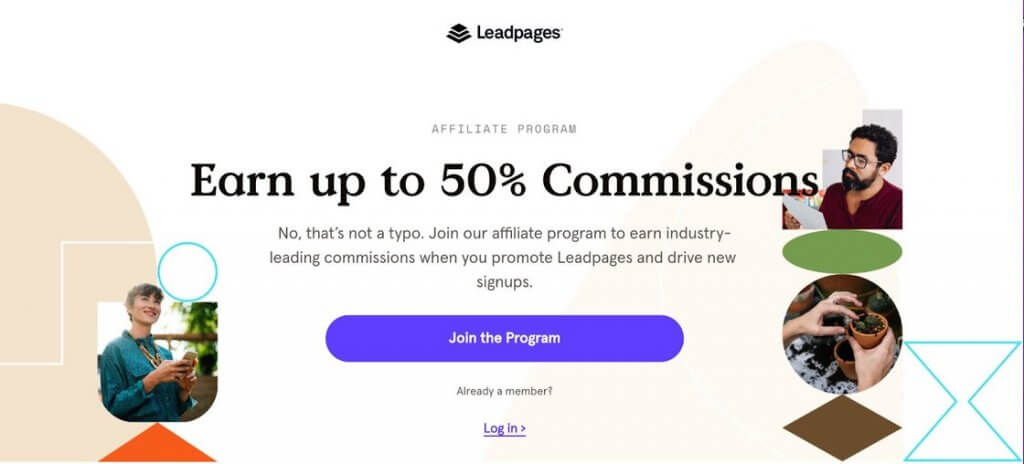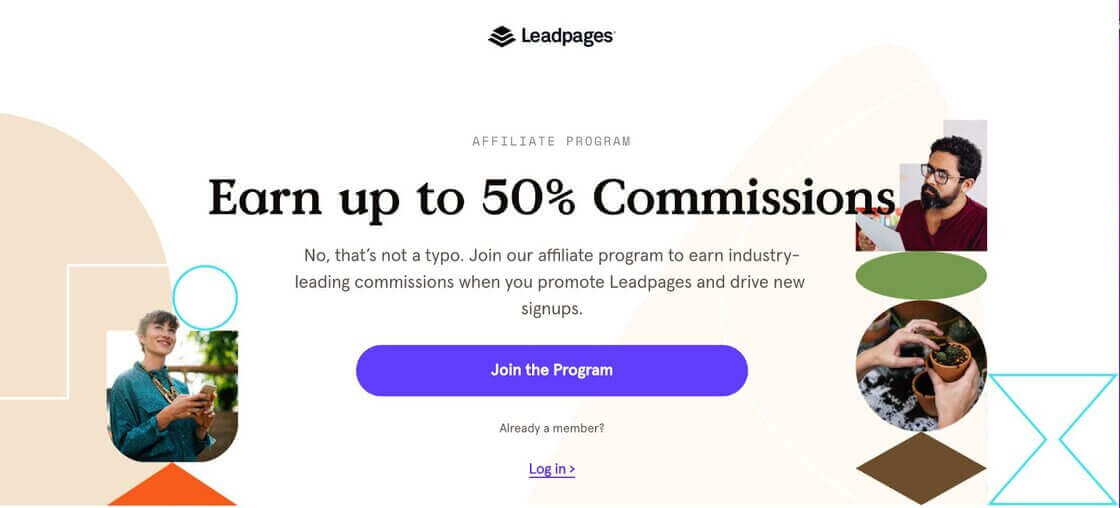 Leadpages is another SaaS platform in a marketer's and business owner's toolkit, providing a landing page builder and more.
How it works
The affiliate program at Leadpages offers up to 50% recurring commissions on all sales an affiliate generates for them, including upgrades and one-off purchases. This is for as long as a customer keeps an active subscription.
The commission rates are performance-based and depend on how much revenue you bring in via your affiliate link every month, starting at a 10% minimum commission.
Where to find it
You can sign up for their affiliate program here.
BuzzSumo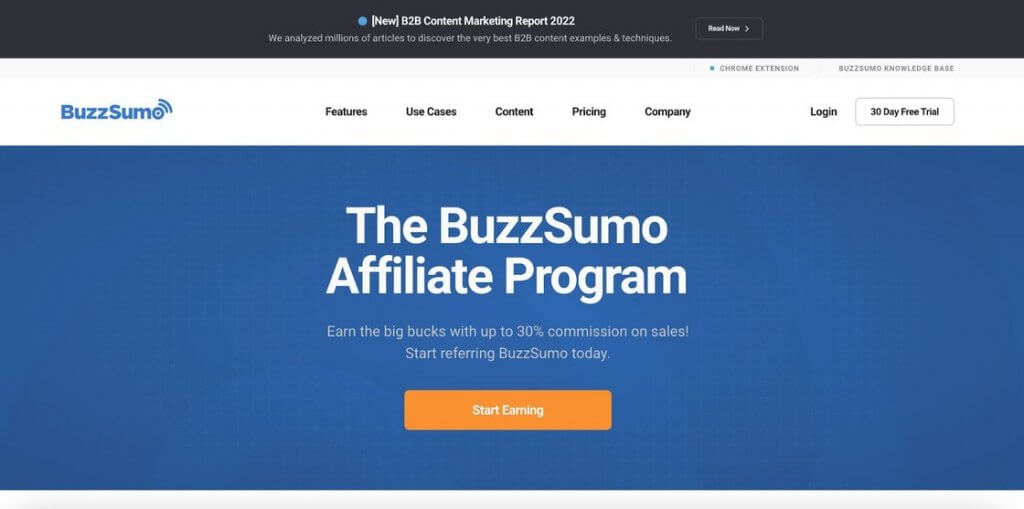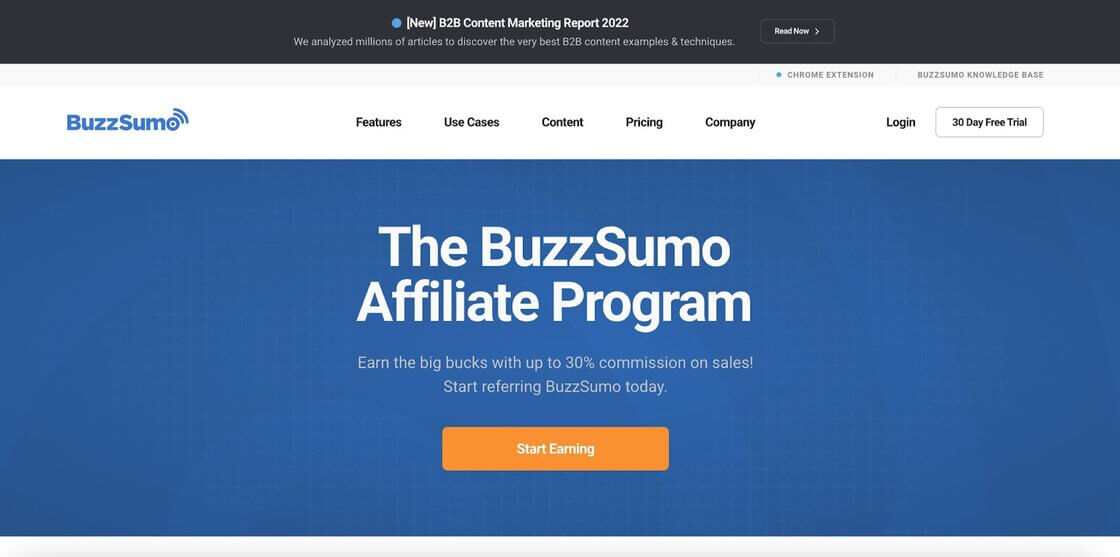 BuzzSumo claims to be a great affiliate program for consultants and trainers, influencers, marketing agencies, and – of course – BuzzSumo customers (btw, being able to demonstrate your own success with a tool you're promoting is worth more than even the greatest marketing materials provided by the brand.)
How it works
With BuzzSumo, you can earn up to 30% commission per sale. The company also provides affiliates with case studies, original research, and weekly webinars to support them in promoting their product.
Where to find it
Sign up for their affiliate program by visiting their website.
Thinkific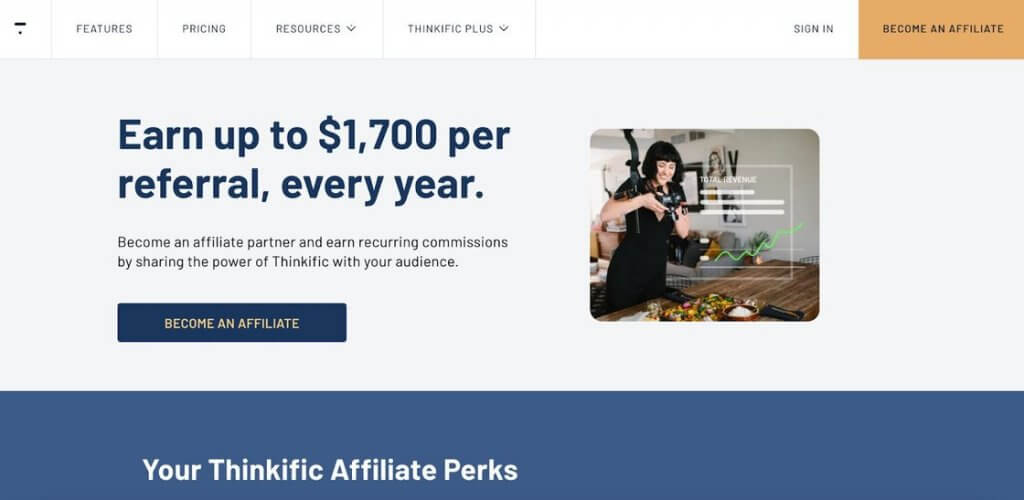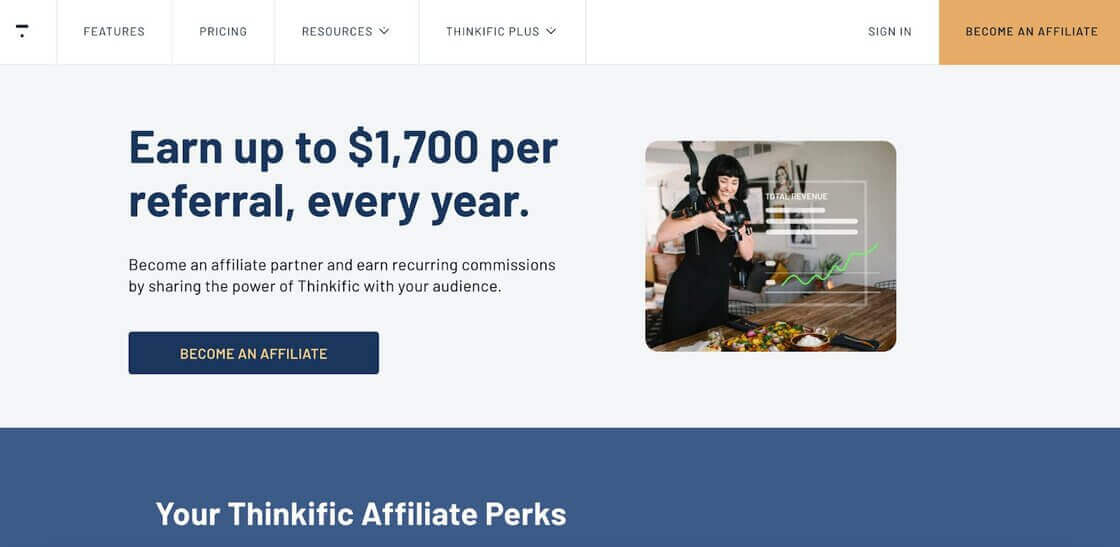 Just like Teachable, Thinkific is another platform targeted at online educators, helping them launch their online courses with no coding expertise. And it's another one that provides an affiliate program.
How it works
Thinkific's affiliate program offers 30% lifetime recurring commissions on all monthly or annual subscriptions with a 90-day cookie period. The affiliate commission structure is different for their Plus plans. And they offer a bunch of creative and promotional content to help you earn your commissions.
Where to find it
Go here to read more about their affiliate program and how to become an affiliate.
Webflow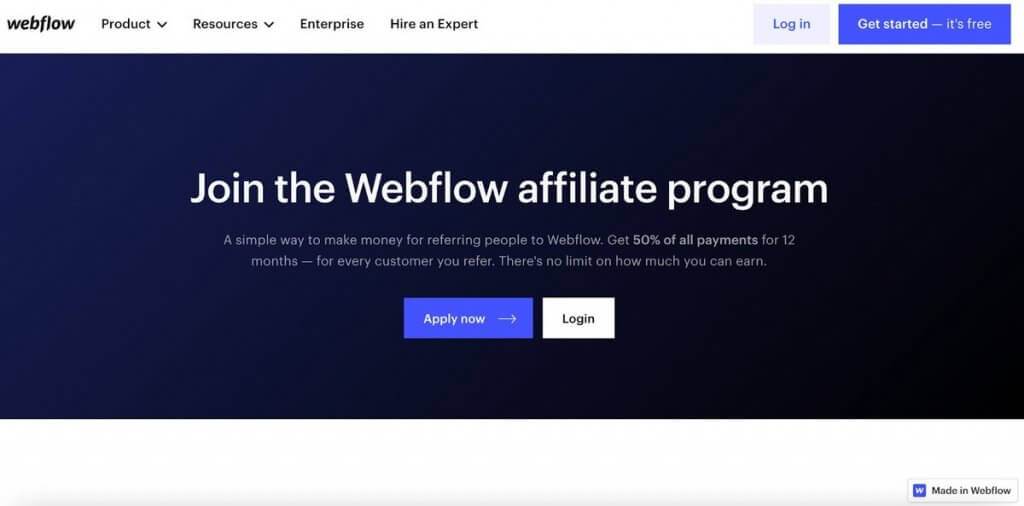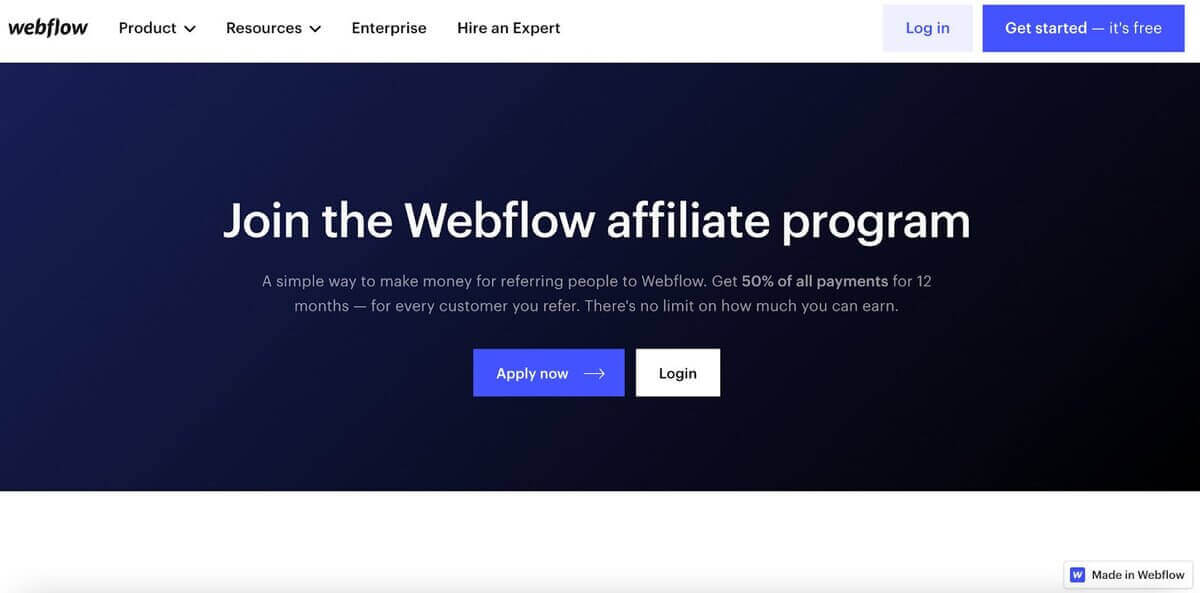 Designed for website creators and business owners, Webflow offers a no-code solution for building websites. So if you think your audience could benefit from it, you should definitely take a closer look. As well as when you have a website built using Webflow and don't mind exposing that fact to encourage others to do the same.
Webflow recommends its program to bloggers, entrepreneurs, educators, YouTubers, media networks, and social media influencers.
How it works
Webflow offers a generous 50% commission for every customer you refer to the platform for up to 12 months (or until the customer cancels their subscription). The affiliate links have a 90-day cookie window.
Where to find it
Go to their website to read more and sign up for their affiliate program.
Monday.com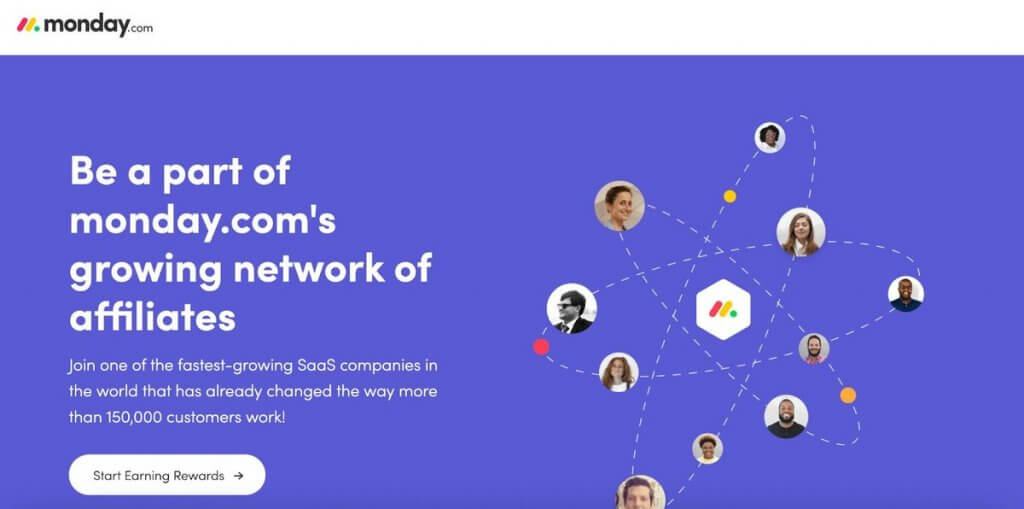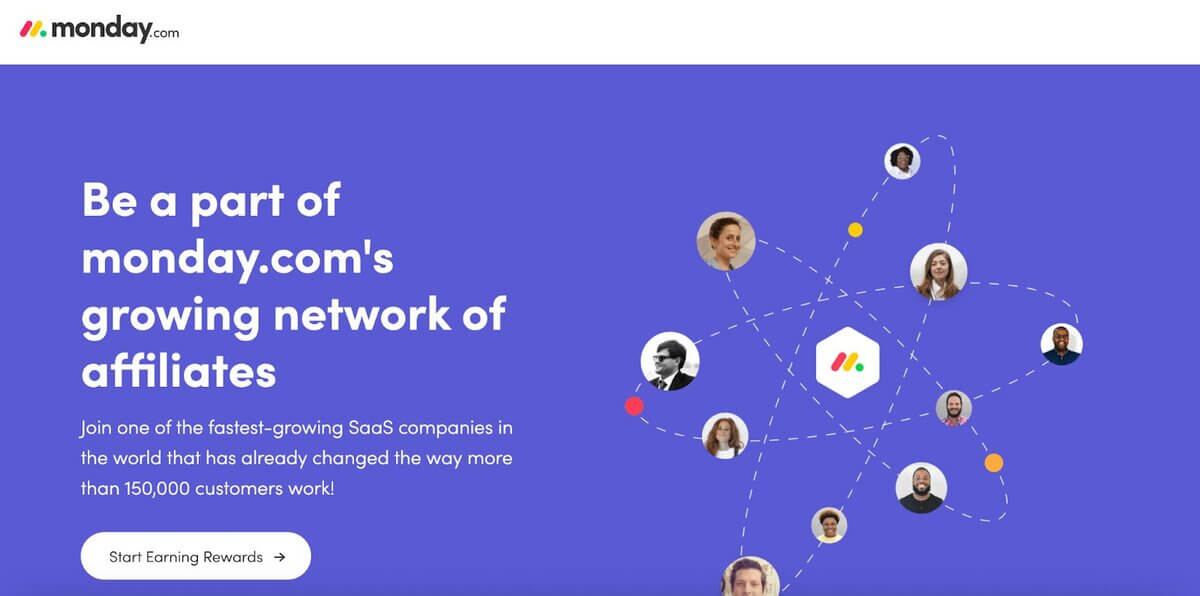 As a project management tool, Monday.com will be a valuable resource for teams who want to improve their productivity – and especially now as the world has gone remote and people need more effective tools to organize their daily work.
How it works
Monday.com offers its affiliates as much as a whopping 100% commission on the first year of each customer you refer to the platform. The program is based on a tiered model, with affiliate commissions going up depending on the sales you generate for the platform.
Where to find it
The affiliate program for Monday.com is available here.
Rentle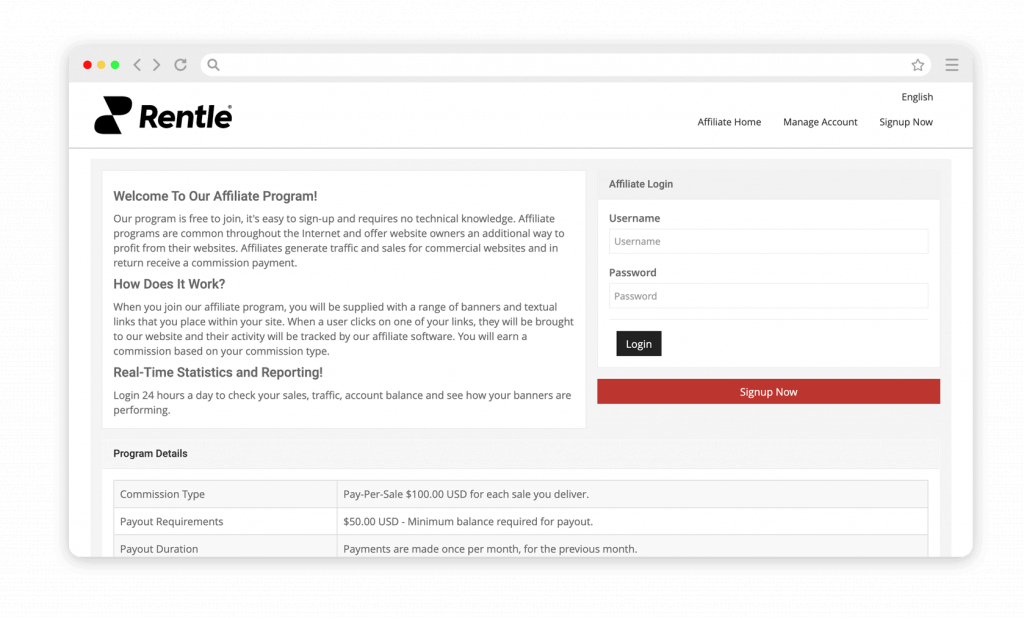 Rentle is a platform where you can get a free, ready-made online store or product inventory to be able to sell and rent products and accept bookings. So if you have an entry-level audience in commerce looking for ready-made online solutions, it's definitely a solution you can get them interested in.
How it works
The Rentle Affiliate Program pays $100 per sale and offers a second tier with a 10% commission. The affiliate cookie is valid for 90 days, and payouts are made once a month. You also get access to real-time statistics to see how your affiliate efforts pay off.
Where to find it
You can sign up for Rentle's affiliate program here.
Get paid high commissions as an affiliate marketer
If any of the above sounds like a good fit for you and your audience, joining an affiliate program is basically a no-brainer. You get extra income while also connecting your audience to trusted tools you know will work for them (which, again, is why promoting a tool you love using yourself is such a good idea.) So, will you be joining any of these?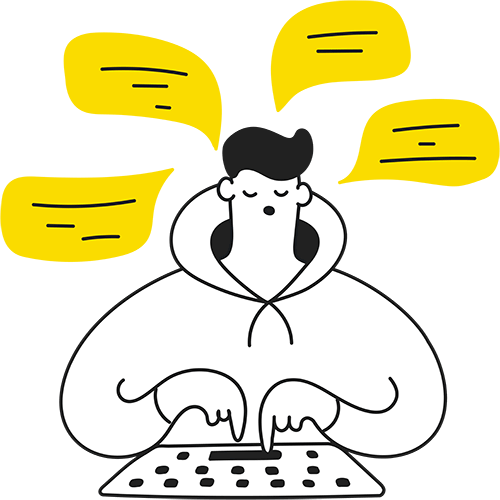 Let's be partners!
Get regular payouts of 20% for every sale within the client's first year. Join our Affiliate Program and earn from wherever you are!
BECOME A PARTNER
You may also like: