There are so many misconceptions and myths about affiliate marketing circulating online that it's hard to tell whether it is or is not a reliable way to earn money (hint: it is.) So, let's debunk some of them and find out the truth about affiliate marketing, its mechanics, and how you could benefit as an affiliate.
If you're anything like me – someone who's spent years in online marketing 👵 – you'll know "affiliate marketing" or "passive income" are terms that often get associated with questionable marketing practices.
Which is a shame.
Because the fact that there are people out there misusing them has made them controversial in some respects. But at its core, affiliate marketing is "just" one of many online marketing channels. One that can be both reliable and effective – if done right. In fact, just as any other marketing channel.
(I mean, I know people who claim "content marketing doesn't work" or "marketing, in general, is blah". But they probably just don't have enough knowledge about using them for their businesses.)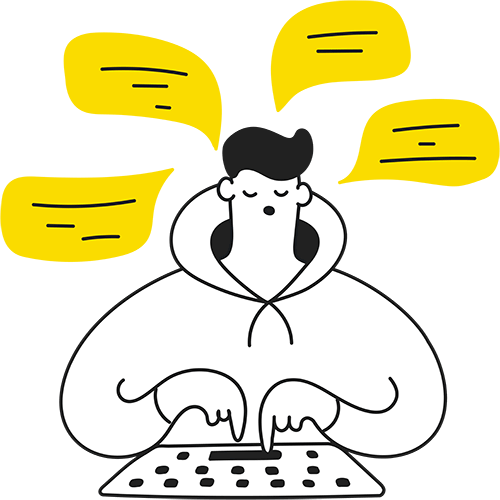 Let's be partners!
Get regular payouts of 20% for every sale within the client's first year. Join our Affiliate Program and earn from wherever you are!
And if you're new to this whole digital marketing thing, wondering if affiliate marketing is even worth it, you might get lost in all the opposing views (and maybe even think affiliate marketing is just a pyramid scheme of some sort.)
Which is precisely why I want to take a closer look at some of the common misconceptions and myths surrounding affiliate marketing that either keep people away from earning additional revenue using this channel or lure people with unrealistic expectations (eventually – and so predictably – leaving them disappointed.)
So, let's start with…
What affiliate marketing isn't
Affiliate marketing is not a get-rich-quick scheme
If you're looking for a way to "make a million dollars in a week", affiliate marketing is probably not it. Actually, I have no idea what *is* (except for being born into a family of millionaires or billionaires and asking your dad for the money. Or your mom.)
Anyone who promises that (and is NOT your billionaire dad) is most likely not being honest with you. There are no easy ways to earn that kind of money that quickly, and affiliate marketing definitely isn't one of them.
Affiliate marketing can make you decent money, and that *is* a fact. But if you understand how it works – i.e. earning you a commission from the sales of a product or a subscription (usually a percentage) – I don't know what you'd have to sell to make millions off it.
Of course, there are ways to increase your affiliate marketing revenue, including:
Actively promoting your affiliate links to your audience
Signing up for several affiliate programs that pay decent commissions
Matching the brand you're affiliated with to what your audience needs
But none of them will make you an overnight millionaire. Hope we've clarified that once and for all. 🙂
It's not like you don't need anything to do affiliate marketing
And I mean "anything" as in "literally nothing". Again, if someone tells you that, don't take their word for it.
There are things you're going to need, such as:
An audience. The nature of affiliate marketing is promoting someone's products or services to someone. And for you to earn, you do need people to click your affiliate links to buy.
A promotion channel (or channels.) You need to be able to reach said people so that they can click your links. This could be your social media profiles, your email list, your blog, or your website. Or even your email signature or Twitter bio.
A plan to reach that audience via your channels and drive consistent traffic to your affiliate links.
If you don't have those, it's most likely not 👏 going 👏 to 👏 work.
Affiliate marketing is not super complicated
If you do have the above (or at least a plan on how to get them), it's pretty easy to start with affiliate marketing (though, as I already said, not as easy as some will have you believe.)
In fact, I'd probably consider it one of the most accessible digital marketing channels to get started with. Also because you're partnering with a brand that most likely has a much more elaborate marketing strategy and can support you as your marketing partner with things like marketing materials, including banner designs or even marketing copy. Which really limits the things you need to do yourself.
So yeah, you don't have to be a seasoned marketer with years of experience. But it's probably good (both for you and for the brand you promote) if you know how this whole thing works.
Affiliate marketing is not a one-and-done
At least, typically. It's a common misconception (probably coming from focusing too much on the "passive" in "passive income") that affiliate marketing essentially just runs itself. You know, you just throw that affiliate link in somewhere (see a couple of sections up), and then it just kind of runs in the background, am I right?
Well, nope.
The income is passive in that you don't actively have to make the sale every time. But it *is* on you to reach the right audience so the sale can actually happen, you know?
And if you have online real estate, like a website with a steady stream of traffic or regularly send emails to your list, yes, that can happen almost without effort.
But you do need to make sure that your link is being repeatedly put in front of actual eyeballs (that might be an unfortunate image 👀) if you want it to bring you long-term results.
And by the way, a good solution here is to get affiliated with subscription-based products – like NapoleonCat's Affiliate Program 🤫 where you get a commission for every customer you refer for up to a year.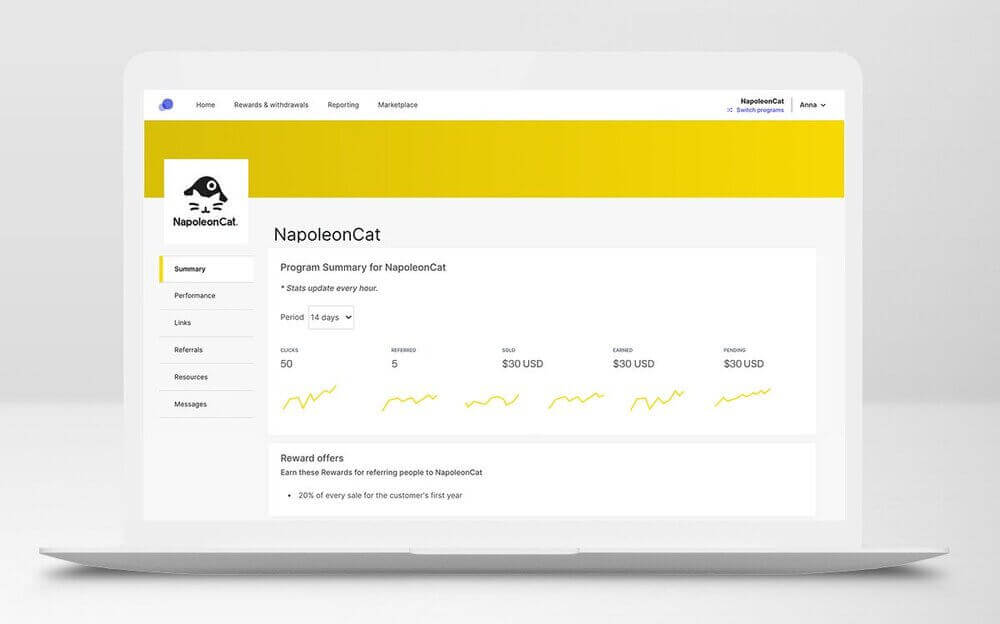 So, if someone buys an account with the platform, you'll get 20% of what they pay every month for 12 months (unless they cancel their account sooner or if they pay annually, in which case you'll get 20% of their annual payment, anyway.) And that's maybe the only case where you actually don't have to do anything to get paid after the initial sale is made.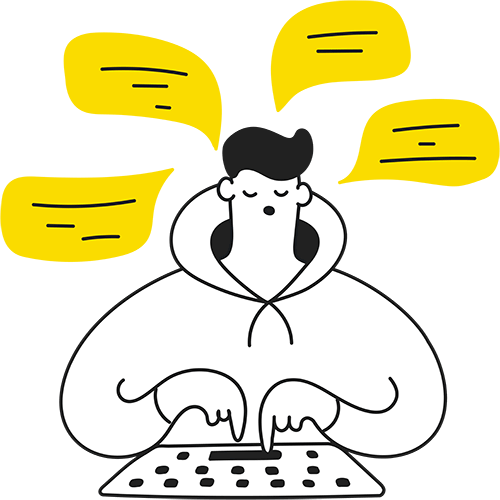 Let's be partners!
Get regular payouts of 20% for every sale within the client's first year. Join our Affiliate Program and earn from wherever you are!
Affiliate marketing is not just for B2C
Affiliate marketing works for both B2B and B2C, though they will likely require different marketing efforts. In fact, almost every B2B SaaS platform has some sort of an affiliate program, making it an established B2B marketing channel.
Of course, we're talking about different customer journeys and different decision-making processes (which, btw, you should understand at least at a high level if you want to be a successful affiliate). And – what's most important – we're talking about your audience.
Obviously, if you have an audience or network of business owners, promoting a B2B service will likely be a good idea. But if you're mainly talking to consumers, promoting a social media management platform like NapoleonCat won't really make sense. Which also brings me to the next point.
Affiliate marketing is not just for experts in a particular field
Let me stick to NapoleonCat's example to explain this one.
If you'd like to be NapoleonCat's affiliate partner, you don't really need to be an expert on social media management. It's enough that your audience are people in NapoleonCat's audience – so, businesses who could benefit from using the platform for their social media marketing.
And, of course, there are many other topics businesses and entrepreneurs are interested in and tons of tools that could be helpful. This could totally be just one of them. So, you could be posting content on email marketing or copywriting, or maybe sales tactics, or even bookkeeping or corporate law, and still be a successful affiliate promoting NapoleonCat.
But, again, if your audience is primarily made up of consumers, they are unlikely to benefit from a business tool like NapoleonCat. They're not going to buy it, and you're not going to be making money. Which might even lead you to the conclusion that affiliate marketing is overrated, maybe even a scam, or at the very least, just not working.
Well, no. Any marketing channel needs to have a product-audience fit. It's just how the (marketing) world works. 😉
Affiliate marketing is not reserved just for influencers
Yes, you do need an audience. But no, you don't need Kim Kardashian's Instagram reach to make a decent income via affiliate marketing (though it definitely wouldn't hurt.)
You don't really need to be a super popular online creator to be a successful affiliate marketer, either.
What you need is an understanding of how marketing works in general and a solid plan of how you're going to benefit from your affiliate marketing efforts.
For example, if you have a broad and engaged industry network, there's a chance there are people in it who could be interested in buying what you want to promote. (But check that first.) And sometimes, it might be enough just to place your affiliate link in front of them (e.g., in an email footer.)
So, evaluate your chances first, and if you're just getting started, have a growth plan in place.
Affiliate marketing is not risky
In fact, it's a very reliable source of income. Provided you have reasonable expectations and a plan to use it (as per all the above sections.)
The risk comes exactly when you're not prepared and treat affiliate marketing as something that brings income literally out of nowhere. In that case, you're in for a big and unpleasant surprise.
Okay, so with that out of the way, let's talk about…
What affiliate marketing is
And let me limit myself to one key point:
It's a reliable, relatively easy way to earn additional passive income based on a partnership with a brand.
Yes, you do promote other businesses' products or services, so it's not like you're doing absolutely nothing. You have to post the link, create an Instagram Story or publish a blog article. But – especially compared to other forms of marketing – it's probably among the digital marketing channels that require the least amount of effort. If you're unsure how your affiliate posts should look, here are some inspiring examples.
So, how does affiliate marketing work?
Let me, again, use the example of NapoleonCat's Affiliate Program and walk you through it in a few steps.
Decide whether your audience (which can be anything from the listeners of your podcast, readers of your blog, your agency's clients, or your business partners) could benefit from using the platform.
They will if they are businesses running social media profiles to build communities and promote their products or services. Or, for example, other creators like you.
They most likely won't if they're consumers subscribing to your beauty vlogs.
Sign up to become NapoleonCat's Affiliate Partner. You can do it here.
You'll get your affiliate referral link you're going to use to direct people to the signup page where they can buy an account with the platform. Place the link on your website, in your emails, on your social media – wherever people will (continually) see it and be able to click it to sign up for NapoleonCat.
Whenever someone does buy an account using your link, you'll get 20% of the amount they pay for their first year with the service.
Congratulations, you just made yourself an additional source of income!
Over to you
If NapoleonCat's Affiliate Program sounds like something that could bring you additional revenue, go on, sign up here. And don't ask "is affiliate marketing real?" ever again. It is.
You may also like: