There are many ways to earn a passive income these days. But if you want to earn money in your pajamas in the most cost-effective and efficient way, you can't go wrong with affiliate marketing.
In fact, 86% of publishers expect their affiliate marketing revenue to improve or stay consistent in the future. What's more, affiliate marketers have increased their revenue by 240% over the last few years.
That's not to say that affiliate marketing is that easy. To become a successful affiliate, you have to put in the work and adopt a strategic approach.
In this article, you'll find out:
What affiliate marketing is
The advantages of affiliate marketing over other marketing strategies
How affiliate marketing works
Some of the best practices that can help increase your earnings as an affiliate
Some examples of affiliate partnerships to help inspire your affiliate marketing efforts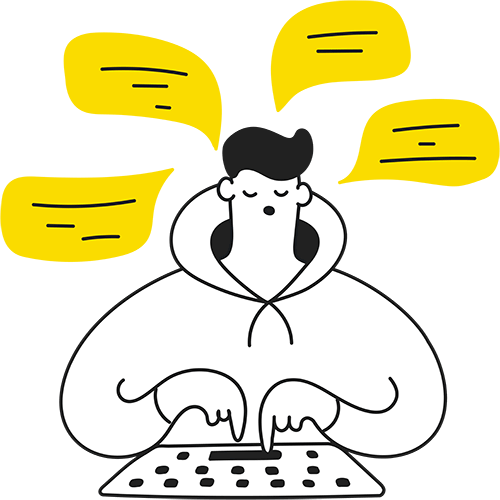 Let's be partners!
Get regular payouts of 20% for every sale within the client's first year. Join our Affiliate Program and earn from wherever you are!
What is affiliate marketing?
There are many myths about affiliate marketing, so a refresher is in order.
Affiliate marketing is a marketing tactic where an affiliate or producer earns a commission for marketing or promoting a company's product or service.
Affiliate marketing is a marketing strategy based on a partnership between two parties – the merchant (or seller) and the affiliate (publisher). To get more sales, the merchant delegates marketing responsibilities to affiliates. Affiliates, for their part, use their influence and do the necessary legwork to generate sales for the merchant in exchange for a commission.
In other words, when a consumer buys the product, the merchant and affiliate share the profits. It's a win-win!
How exactly do affiliates get paid after helping an affiliate partner (the merchant) sell a product? That depends on the affiliate program's payment structure, which could be any of the following:
Pay per sale. The merchant pays the affiliate for every sale.
Pay per lead. The merchant pays the affiliate for every converted lead they produce. The affiliate earns by free trial signups, a download, or newsletter signup.
Pay per click. The merchant pays the affiliate every time someone clicks on their affiliate link.
How affiliate marketing works
An entrepreneur or publisher seeking income opportunities via affiliate marketing will typically identify a product or service they like to use and sign up for that company's affiliate program (if they have one).
Once the publisher passes the eligibility requirements, the merchant will provide them with an affiliate link. The publisher then promotes the merchant's product or service and embeds the affiliate link in their content.
For every instance that a customer converts or buys the product using the link, the publisher earns a commission.
Commission rates vary and typically fall between 5% to 30%. Some merchants pay a fixed amount for every sale (especially those that sell a few products at a set price).
Advantages of affiliate marketing
So what are the advantages of affiliate marketing over other marketing strategies?
It requires little to no investment
Joining an affiliate program typically requires no investment. Meaning that you can sign up for affiliate programs without having to pay anything. There's no cost to joining and no upfront investment.
It's easy to scale
You can join as many affiliate programs as you can handle without hiring extra help. As your affiliate sources increase, you can continue to earn from your affiliate marketing efforts even while you're asleep.
Types of Affiliate Marketing
Let's take a look at the different types of affiliate marketing.
Unattached affiliate marketing
This refers to an affiliate partnership where the affiliate or advertiser doesn't have any connection or attachment to the product or service they're promoting. It's a business model often used for running pay-per-click campaigns (often called PPC affiliate marketing). What you do is simply slap an affiliate link in your content or ad and earn a commission.
While I don't particularly recommend unattached affiliate marketing, this option works for those who don't have the time or the inclination to build an audience or an online presence.
Related affiliate marketing
Some affiliates promote a product or service they don't use for the simple reason that it's related to their niche. A book reviewer who does book podcasts, for example, can market Audible to his listeners even if he or she doesn't like listening to audiobooks. As long as the product is relevant to their target market, it's fair game.
Involved affiliate marketing
Under the involved affiliate marketing model, the affiliate promotes a product or service that he or she has used and is still using. The affiliate likes the product and is recommending it to his or her target audience so they can enjoy the same benefits he or she has enjoyed.
This is a powerful model for publishers who are marketing to a specific niche or target market and have built a deeper connection with them. Micro-influencers who have established trust and brand affinity among their target audience use this approach and generate high revenue for their efforts.
Where can you promote affiliate links?
The way the Internet is now, there's no shortage of channels you can use to promote your affiliate links. As a general rule, you should choose a platform (or platforms) that you think are right for your target audience, one that makes it easy for them to interact with your content (not to mention click your affiliate links).
Here are popular platforms where you can promote your affiliate links:
Social media. Promoting affiliate offers on social media can be profitable because the platform enables you to reach a huge market. Not only that, but platforms like Facebook, Twitter, and Instagram have tools that allow you to target a specific audience. Social media also offers an advantage in terms of engagement and shareability.
Blogging. Blogging is an excellent way to be recognized as an expert or authority in a specific niche or interest. By consistently producing blog articles that speak to the needs of a niche audience, you can drive organic traffic via search engines and build a loyal following that trusts your expertise and recommendations.
Courses, workshops, and consulting services. Coaches, trainers, and consulting professionals are considered experts in their particular fields. As such, their affiliate offerings hold a lot of weight among their target audience, especially when used within the context of the training and instruction they're providing.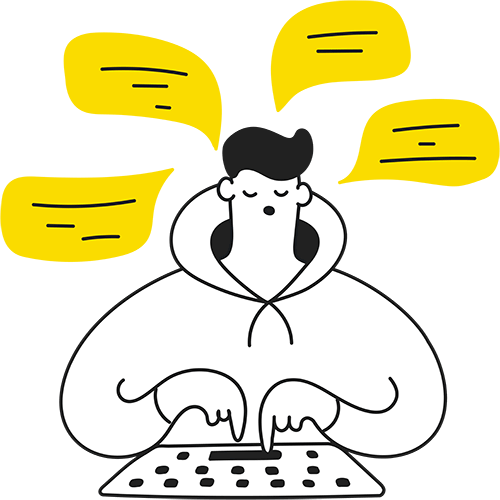 Let's be partners!
Get regular payouts of 20% for every sale within the client's first year. Join our Affiliate Program and earn from wherever you are!
4 Awesome Affiliate Marketing Strategies to Increase Sales
Here are some powerful strategies you can use to earn steady and consistent income through affiliate marketing.
1. Know your audience
It's important to get a deep understanding of your audience from the get-go. What do they want and need? If you're not delivering the type of content that resonates with them, you can't build the type of relationships that will get people to care about your affiliate offerings. If your target market doesn't give a damn about what you're putting out, they're not going to be interested enough to click your affiliate links.
Here are tried-and-tested ways to get to know your audience.
Conduct user surveys. What types of content and products do they like? All you need to do is ask them. You can use Google Forms or SurveyMonkey to create your survey forms.
Create buyer personas. Buyer personas are semi-fictional representations of your target audience, which can help you create content that speaks to the needs of your target market.
Review user data and analytics. Your audience's actions as they interact with your content can unlock insights that can help you market to your target audience more effectively. Use Google Analytics or any social media platform's native analytics tools to access, query, and make sense of user data.
2. Choose the right affiliate programs
You'll find there's no shortage of affiliate programs to choose from. In fact, 81% of brands use affiliate programs to boost their sales. With that said, you have to pick the right affiliate programs if you want to generate more revenue from your affiliate marketing efforts.
Here are some tips for choosing the best affiliate programs:
Find products that are relevant to your niche. By promoting products that are relevant to your niche, it's easier to tailor your campaign in a way that best serves the interest of your target audience. The more engaging your campaign is, the more likely they're going to buy via your affiliate links.
Pick products your target audience will want. This one's related to the first reason above. If you want your campaign to serve your audience's interests, you have to promote products your audience will want to use. As a marketer, you're taking your audience on a journey, and if you want them to keep following you, market products that will grab and hold their attention.
Pick affiliate programs that generate a good return. It makes sense to consider affiliate programs that offer high commissions, but you need to look beyond that. Is the product easy to sell? Do you earn a commission for every sale or for every click? You can generate the ROI of your affiliate marketing efforts by calculating how much you spent on the campaign and subtracting that number from your total earnings during that time frame.
Merchant support. Pick vendors that provide you with the resources and support you need to promote their products better. And by "better" we mean not just in helping you generate more sales, but also in engaging your target audience in ways that reinforce your own brand.
3. Diversify your affiliate partnerships
As an affiliate marketer, you don't want to put all your eggs into one basket. Why? Because you're still beholden to the rules set by the merchant you chose as an affiliate partner. If you put all your effort into promoting a single product and the seller suddenly decides to slash their commission rate, your earning capacity will be impacted in one fell swoop.
4. Use A/B testing to optimize your content
Adopting "best practices" when creating content can only take you so far. If you want your social media posts, videos, or blog articles to generate the most affiliate sales, test them on your audience via A/B testing.
To A/B test your content, separate your audience into two groups and show a different variation of the same content piece. After a specific time interval, compare the amount of engagement each content piece has received.
You can test any component of your content, including:
Captions
Headlines
Calls to action
Images or videos
Etc.
After a specific period, you can analyze the results from both content pieces. You can then unlock practical insights that will help you improve your content, and in the process, collect more commissions from your affiliate partners.
5 Examples of Affiliate Marketing
Need some examples to serve as inspiration? Here are content creators and publishers who use affiliate marketing to generate more revenue from their business.
1. Alex & Books
Alex Wieckowski is the founder of Alex & Books, a website that provides book reviews, recommendations, and reading tips to people who want to generate more meaning and value from their reading journey.
Alex & Books published the following tweet to promote the book 'How to Write a Book' using an Amazon affiliate link.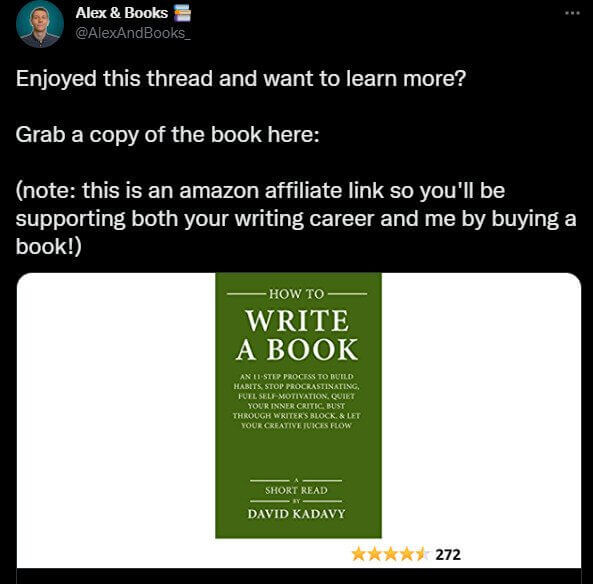 2. Forte Labs
Tiago Forte, the founder of Forte Labs, teaches more than 20,000 knowledge workers around the world how to boost their productivity and personal effectiveness using technology.
In one of his blog posts for the website Forte Labs, Tiago posts a review of Cal Newport's best-selling book 'Deep Work.' You can see him briefly mentioning the affiliate link before proceeding with the review.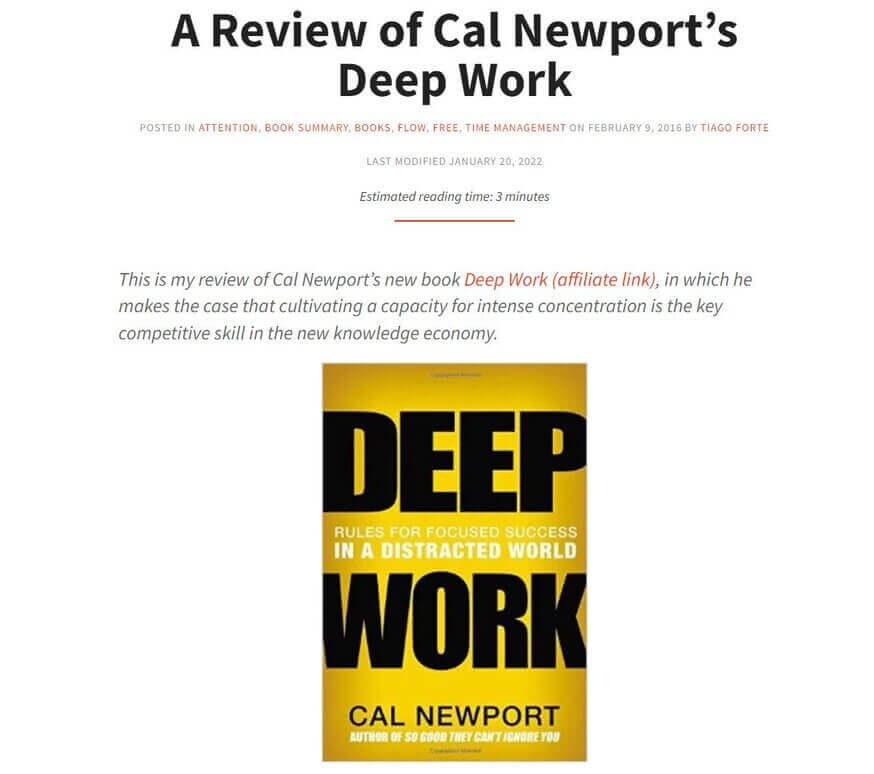 3. Writing Revolt
Jorden Makelle, the CEO/owner of the Writing Revolt blog, teaches freelance writers how to get clients and create content that converts. In her free newsletter, Jordan always recommends that freelance writers should build a website so they can land more clients. As such, Jordan forged a partnership with web hosting provider Bluehost. Below is an excerpt from an email in which she recommends Bluehost while providing readers with an affiliate link.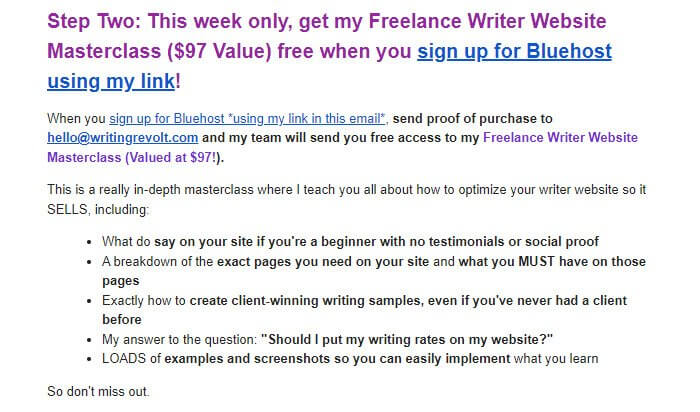 Email is a great way to stay in touch with your customers and inform them whenever you have new deals. Just make sure you have a specific email marketing tool for affiliates, because not every platform will allow affiliate marketing.
4. The Anna Edit
Anna Newton created The Anna Edit, a lifestyle blog where she writes an almost daily edit of all things beauty, fitness, life, fitness, and everything in between.
In one Instagram video created by The Anna Edit, Anna promotes a few products from Armani Beauty. As you can see below, the Instagram post has an affiliate tag to show her audience that she has a paid partnership with Armani Beauty.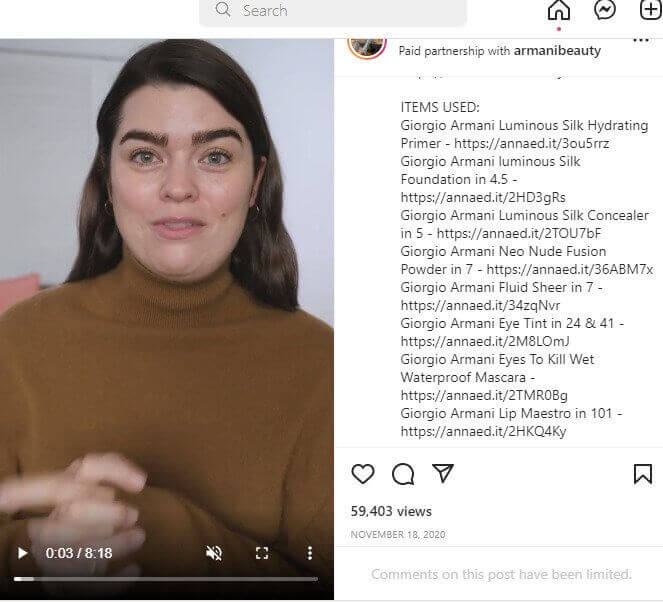 5. The Digital Mums Directory
The Digital Mums Directory is a website that helps Australian mums in business grow their online business using digital marketing.
In a video tutorial showing moms how to create a scrolling screen effect, the website included an affiliate link so moms can upgrade their Canva membership (which could make it easier for them to create the scrolling screen effect as has been demonstrated in the video).

The right way to join an affiliate program
Still hesitant about joining an affiliate program? Let's use NapoleonCat's Affiliate Program as a concrete example to see how it works step by step. Oh, and just to be clear – NapoleonCat is a social media management tool 😉
1. Is NapoleonCat a product that you personally believe in? Will people feel you're being authentic and sincere if you recommend it to them? If yes, proceed to step 2.
2. Will your target audience benefit from the platform? Let's say you're selling digital content to bloggers who want to find new readers. Will using NapoleonCat help them reach that goal? Or is it at least something that will pique their interest? If the answer is 'yes' to either or both, proceed to step 3.
3. Will becoming a NapoleonCat Affiliate Partner generate a positive return on your investment? NapoleonCat will pay you 20% for every sale made by the referred client for up to 12 months while he or she uses the platform. Your cash rewards are calculated and made available for cash-out at the end of every month.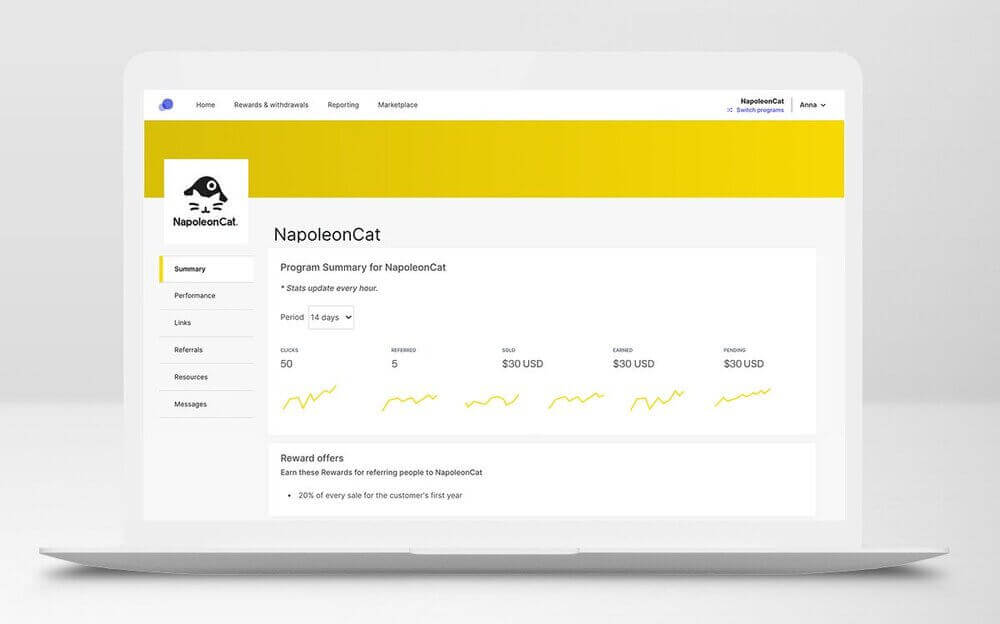 4. Will NapoleonCat provide you with ready-to-use resources and marketing materials? Once you're an affiliate partner, NapoleonCat will provide you with promotional and educational materials to help you convert more users into paying customers.
5. Will NapoleonCat provide you with support when you need it? As an affiliate partner, you gain access to NapoleonCat's Affiliate Program Team which will help you out regarding any issues.
6. Become NapoleonCat's Affiliate Partner by signing up here.
7. If you have room for another affiliate program, find another potential product you can promote and go back to step 1.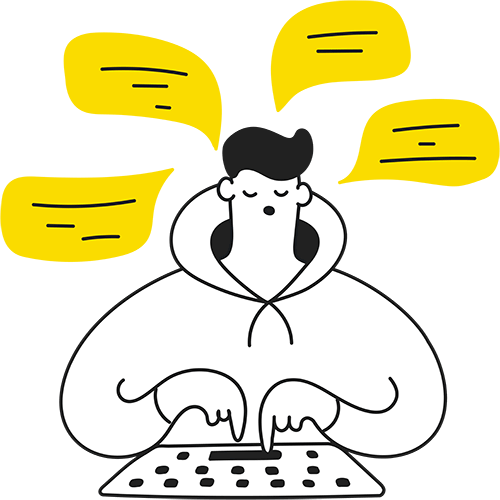 Let's be partners!
Get regular payouts of 20% for every sale within the client's first year. Join our Affiliate Program and earn from wherever you are!
Once you've signed up for a few affiliate programs, make sure to log in to each affiliate program portal on a regular basis and monitor how many sales you have made over a certain period.
It might help to record your affiliate marketing KPIs in a spreadsheet so you can track and monitor your progress (you can choose from the following affiliate marketing spreadsheets to become more efficient).
Wrap up
Building a reliable passive income stream through affiliate marketing is one of the best things you can do for yourself as a creator and business owner. While building an engaged audience and picking the right affiliate partners takes time and effort, creating high-value content that people will find relevant will pay big dividends in the long run.
You may also like: