Affiliate marketing – just like any other type of marketing – is ultimately about selling something to a target audience that needs it. And to sell it (and find the right audience), you need a sales funnel. Here's how to build and use it for your affiliate marketing needs.

Let's start with a simple but crucial question.
How do I get more sales as an affiliate?
If you're not happy with the results you're getting (or not getting) as an affiliate marketer, there might be several reasons:
You have no idea how to promote your affiliate links.
You don't have an audience.
You don't have the right audience for the type of product or service you promote.
Your audience is not yet ready to buy, while you expect them to jump at your affiliate link every time you post it on your social media or send it in an email.
To get more sales, you need to get through to the right audience and show them explicitly why they need the product you promote and what problems it can solve for them. And you need to be able to do that at scale, over time, again and again.
And that's exactly what a sales funnel can help you with.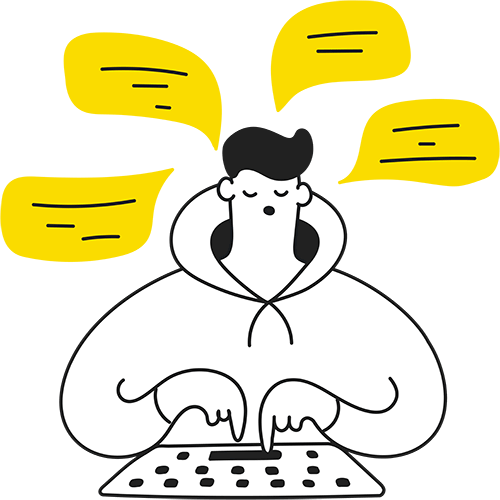 Let's be partners!
Get regular payouts of 20% for every sale within the client's first year. Join our Affiliate Program and earn from wherever you are!
What is a sales funnel in affiliate marketing?
A sales funnel is a visual representation of your buyer's journey – from the moment they start looking for a product or service to the moment they buy – and beyond. And it might look something like this: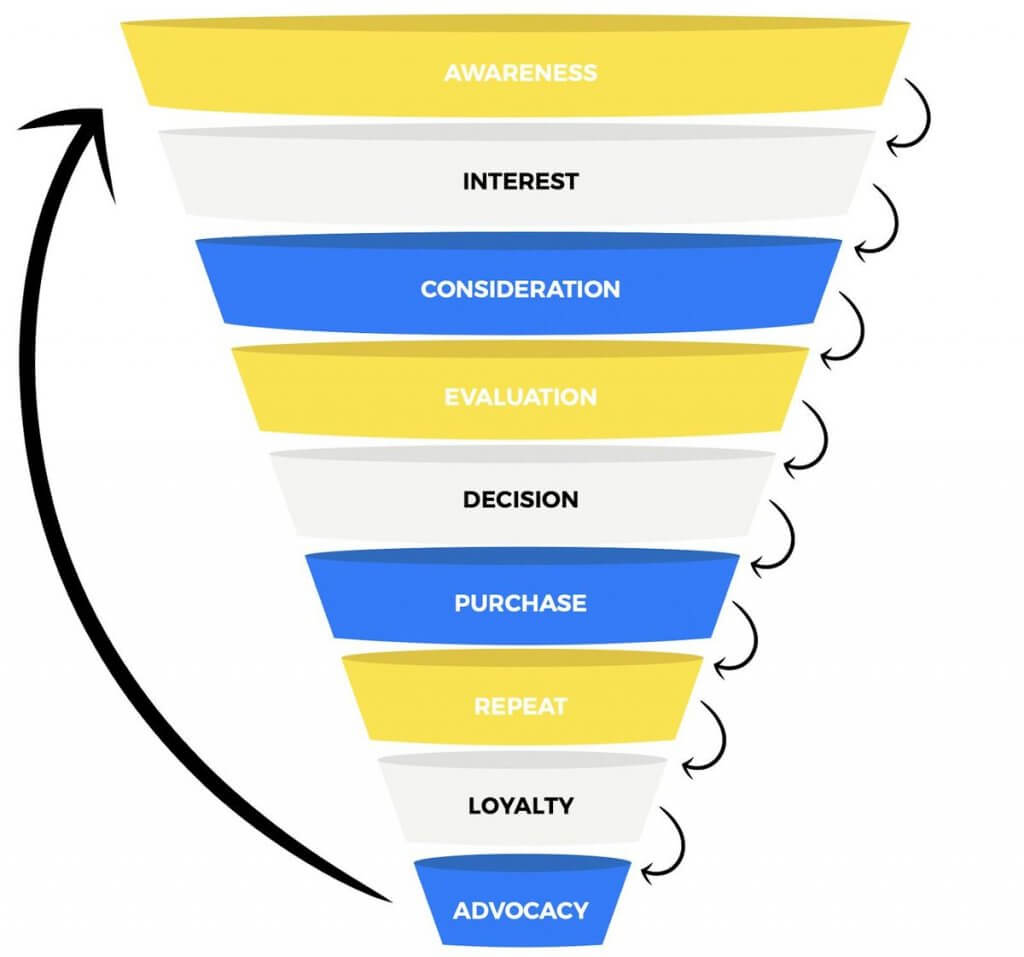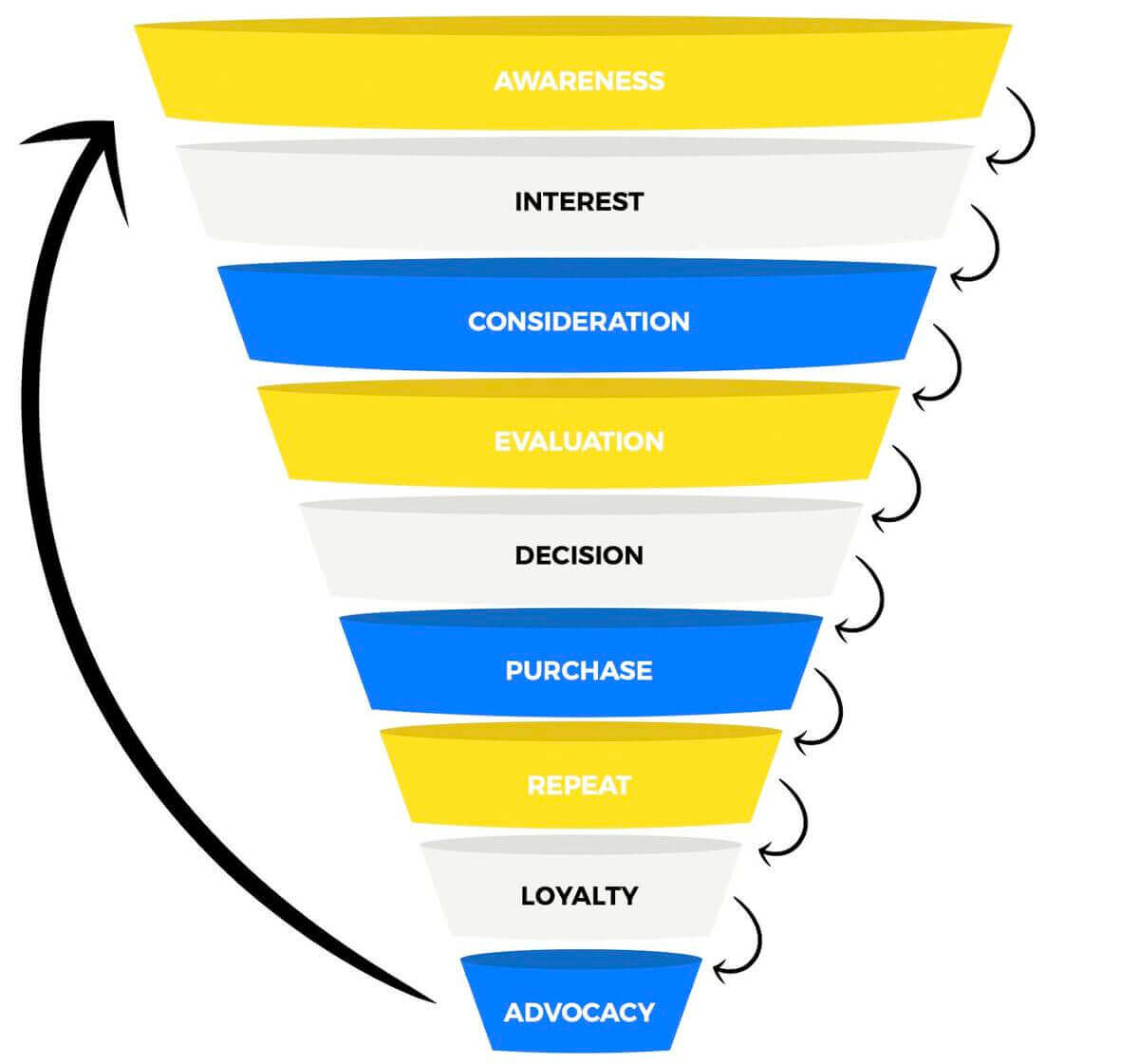 It's represented by a funnel because at the top of it – when people search for and consider a product or service and its competitors – there's much more of them than at the bottom, which is the moment of purchase and beyond it, where customer loyalty happens.
This process naturally looks like that – there are always more people looking at your product than the actual buyers and even fewer repeat buyers. Though how many people do buy in the end depends heavily on how solid your funnel is (and the product you promote, btw) and how efficiently you're guiding them through the affiliate marketing funnel right until the purchase – usually with compelling content, helpful materials, and convincing social proof.
(Here's more about the different types of content at the different stages of the funnel and an overall affiliate marketing content strategy.)
Now, one thing I always like to add when it comes to sales funnels is that there are different versions and variants of the funnel you can come across in Google, and some of them don't include what happens after the purchase – they just end at "buy". And what happens after clicking the buy button is also a part of the customer journey. Especially if you sell something people can keep buying. That's where customer retention and advocacy come in. And they're just as important as customer acquisition. Though, when you're just focused on growth alone, it might be hard to see that. But I guess that's a story for another article.
Why do affiliate marketers need sales funnels?
You can think of your affiliate marketing sales funnel as a marketing campaign – and a perpetually running one. It helps you organize your sales process and make sure you find the right people for the product you're promoting and that more of those people actually become customers (or repeat customers).
Plus, maybe most importantly, it helps guide people to the purchase, showing them the benefits of the product or service and how it can solve their problems, and not just present your affiliate link to people who are not yet ready to buy. It's a simple way to increase your conversion rates and sales in a consistent way.
Also, today there's a multitude of tools that help automate parts of the process or even the entire funnel. So you set it up, and then it runs for you in the background, helping you successfully promote your affiliate product or service. I'll talk about some of those tools later on in the article.
So, without a (successful) sales funnel, you need to put much more effort into every single sale. With a funnel, you can start doing it at a larger scale, with systems and content in place that do the work for you. (Mind you, this is not some sort of a magic bullet type of thing by no means. But a tool – or rather, a set of tools – you can set up to make more from your affiliate marketing activity.)
Let's get some more specific with this.
Here's what an affiliate sales funnel might look like
Say you've signed up for NapoleonCat's Affiliate Program and will be promoting its social media management platform to marketers, bloggers, business owners, influencers, and content creators – anyone who actively runs their social media profiles and needs tools to streamline and automate some of the processes.
And let's say you yourself run a YouTube channel with an active community you've built over the years and who also follow your blog and other channels like Instagram and Facebook.
The simplest way to promote the offer using your existing audience and channels is to promote your affiliate link in your videos, social media posts, and blog articles.
But to avoid having to post the content again and again, plus to be able to continuously reach more people that are not your subscribers or followers, you'll need to build a sales funnel.
A simple affiliate sales funnel could look like this:
A landing page with a signup form (also known as your opt-in page). It's where you collect email addresses to capture leads in your sales funnel and hint at your offer.
A thank you page, as the very name suggests, thanking people for the signup.
An email, or a series of emails, with the actual offer (including your affiliate link.)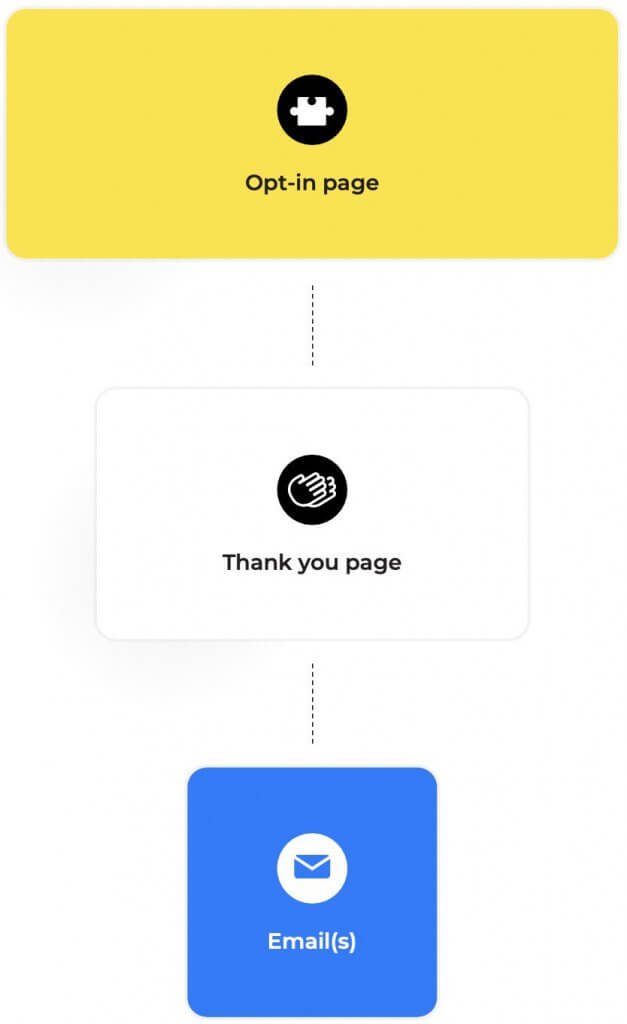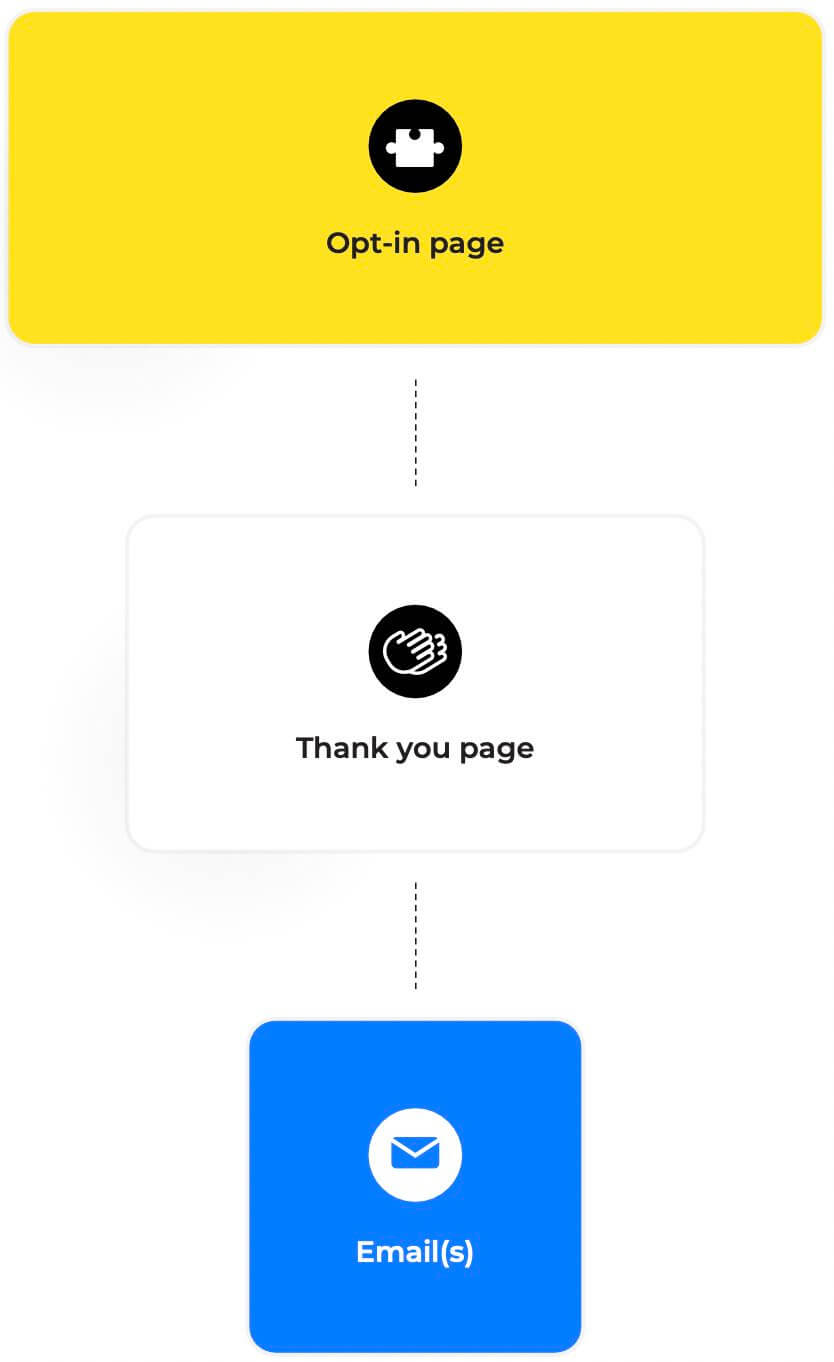 The landing page could also be a blog post you're going to drive traffic to. Either way, it is kind of the heart of your offer – and to pull traffic to it (and more leads into your funnel), you need to find sources that will drive traffic to that page. These can be:
Social media posts
Your YouTube videos
And so on.
You can also extend your affiliate marketing funnel on the other end – beyond the emails. The emails can prepare (or what marketing likes to call it, "nurture") your audience to buy. In our case, for example, this could be a series of tips on how to manage customer service on social media, or how to automate some of your social media communications. You can link to your videos, blog content, etc., to provide even more valuable information.
This is what's actually guiding people down the funnel, giving them time and resources to go from the consideration phase all the way to actually figuring out that they need the product and want to buy it.
Then, you take them from the email to a sales page, where the actual purchase happens.
This is where you can lay out all the details of the offer and include your affiliate link.
So the entire sales funnel could look like this: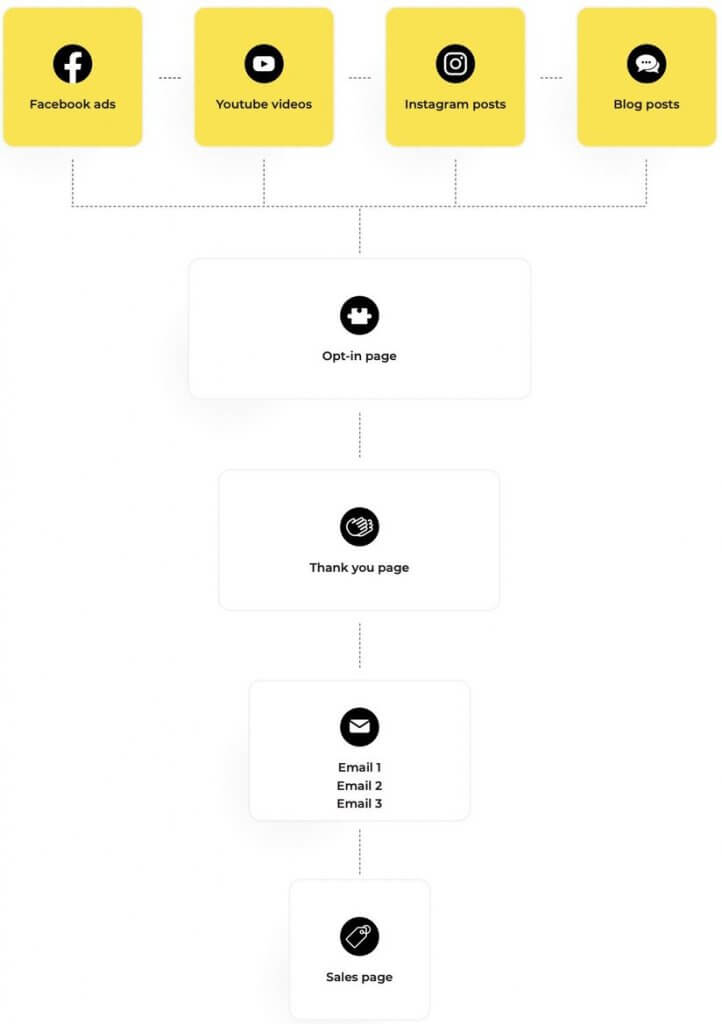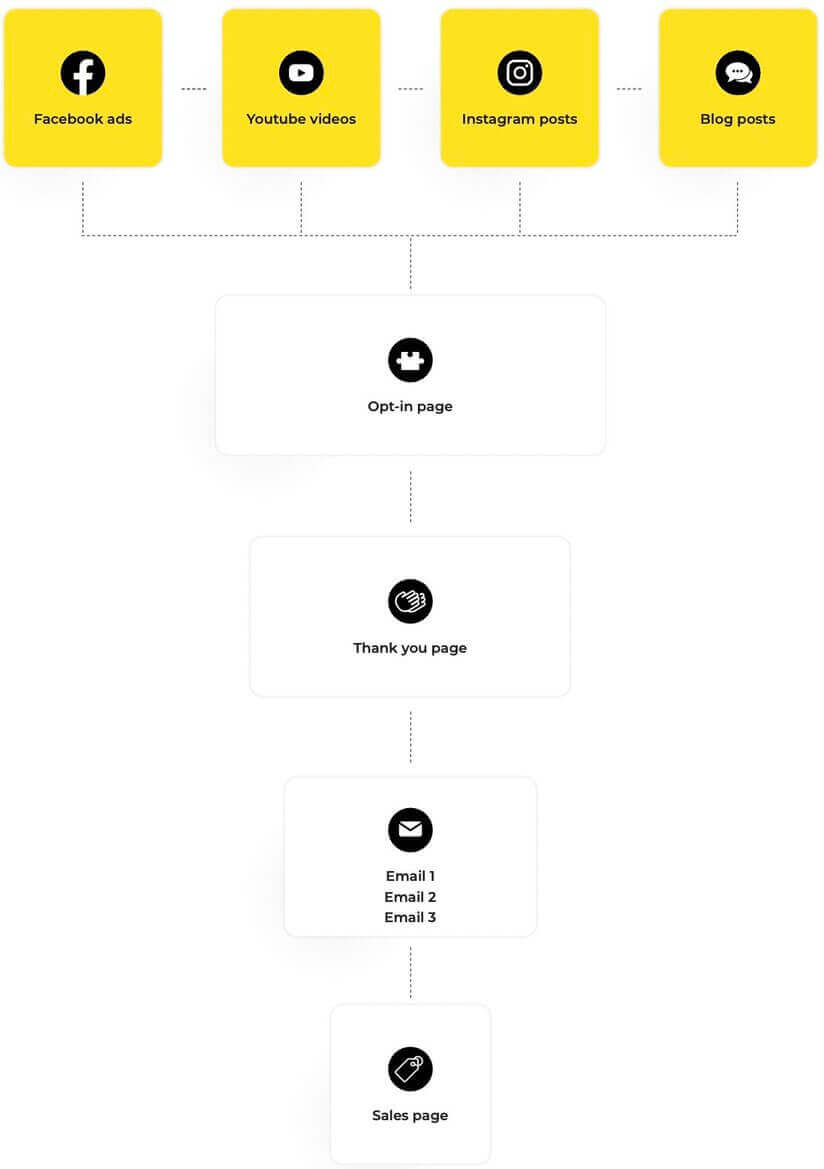 Beyond the point of conversion – or, to ditch the marketing jargon, after your lead buys a NapoleonCat subscription using your affiliate link – you can keep nurturing them with occasional emails to keep showing them your content (and not necessarily actively selling anything.) This way, when their subscription ends, you'll keep them in your audience. And if you're a part of several affiliate marketing programs, you might get them interested in other solutions, too.
You can build similar sales funnels for other purposes. For example, an ebook sales funnel, where you send people an ebook after they opt in to your emails as a thank you. An ebook can also be a lead magnet – something that entice people with, giving them a more compelling reason to leave an email address in the first place.
You can also do it with webinar sales funnels, where people sign up for a webinar (that can also serve as a lead magnet) and get emails from you after the event that lead up to a sales offer.
In fact, you can use it with any other elements of your marketing, as long as you're consistently and actively helping your potential customers understand more about your solution and get them ready to buy (and excited about it!)
How to actually build a sales funnel for affiliate marketing
1. Start with building your landing page with an opt-in form.
There are tons of tools you can use to build one – either on its own or usually integrated with signup forms and emails (probably the easiest solution, too).
These include platforms like ClickFunnels, GetResponse, Leadpages, or ConvertKit. Some of them will actually help you build entire affiliate funnels using one platform and following an automated, step-by-step process, like GetResponse's conversion funnels with ready-made funnel templates you fill out with content.
You can also place the signup form on your website, without building a separate landing page. Though it's a good idea to have a separate page to be able to hint at the benefits of the solution you're promoting. Either way, add a compelling call to action to encourage people to give you their email addresses.
2. Create your thank you page.
Most landing page and email marketing platforms will give you a template for this, letting you display it to those who sign up using the form on their page. Use it to link to any free resources you're giving away in exchange for the email address (e.g., an ebook or checklist with "x things you need to know about managing your Instagram page".)
3. Create an email or a series of emails that you'll automatically send to the people who sign up.
This could be:
A welcome email to say hi and tell people what you're all about.
Plus a series of a few emails sent every few days with additional content, such as links to videos, tutorials, or success stories of people who have used the tool you promote (or your own success story, too). The final email should have a compelling offer taking people right to the sale.
If you're promoting NapoleonCat, you can either place your affiliate link right in the email or take that one extra step and take them to the final sales page. (A good idea is to keep testing your affiliate marketing funnel to see how your leads respond and what, eventually, brings you in more sales and at what exact moment.)
Most of the tools mentioned above will let you create automated email drip campaigns, with emails sent automatically at fixed intervals after signup.
4. Make sure you have a constant stream of traffic flowing to your opt-in page.
You can set up Facebook ads (tools like the GetResponse conversion funnel will actually let you do that all within the same platform) or place the link to the opt-in page in your other marketing channels.
This way, instead of posting just a bare affiliate link with no context, often at random people, you have a consistent campaign that will help you nurture your leads to show them all the benefits of the product and increase your chances for more sales – and more affiliate income.
Sign up for an affiliate program that benefits you and your target audience
You can look for lists of best affiliate programs to join online. Since we're on NapoleonCat's blog, one I can definitely recommend is the NapoleonCat Affiliate Program – read more about it here.
And don't forget that the main rule to make any affiliate program work is to match the product to the audience (and look for an audience that needs the product.) If you do that, building an effective affiliate marketing funnel will be much easier and will bring much higher conversion rates and more sales. Which is what you're probably looking for. 🙂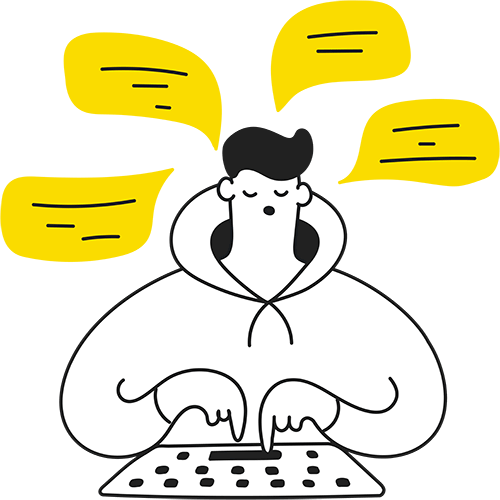 Let's be partners!
Get regular payouts of 20% for every sale within the client's first year. Join our Affiliate Program and earn from wherever you are!
You may also like: