Wouldn't it be nice if a cash bonus hits your bank account each time you recommend a product or a service to friends or followers? With affiliate programs, you can experience this firsthand.
Anyone can become an affiliate marketer and start recommending good offers to others. All you need is the internet and advice on how to promote affiliate links just right. And then some patience and consistency.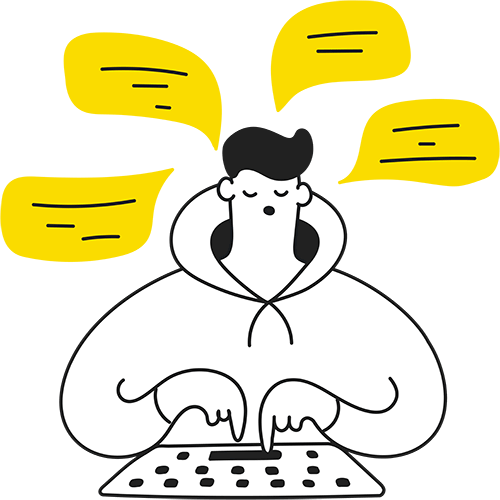 Let's be partners!
Get regular payouts of 20% for every sale within the client's first year. Join our Affiliate Program and earn from wherever you are!
Customer acquisition cost, or CAC (fancy words, I know), can be high. Hence, companies prefer to share their profit and gain customers via affiliates promoting services rather than invest in other usually costly marketing tactics.
According to Statista, in 2022, affiliate marketing spending will reach 8.2 billion dollars in the US alone. That right there is cash straight to affiliates' pockets.
Looking at the stats, it's clear that over the last 12 years, the money that companies are willing to share with affiliates is increasing every year. What does this mean for affiliate marketers? More and more companies hop on the affiliate wagon, and affiliate commissions get higher. That's a piece of good news if you're considering affiliate marketing and promoting affiliate links as a side hustle.
In this article, you'll find a 101 guide to help you understand affiliate programs and how they work, along with some examples of the best places to start. And if you're already in the affiliate biz, you'll get some fresh and new ideas to expand the reach of your affiliate links.
What are affiliate links? And how they work.
Let's start with the basics.
Affiliate links are unique URLs that you use to promote recommended products and services. We often ask friends (or strangers on the internet) for advice in daily conversations. Which tablet should I get, or These shoes are gorgeous, where did you get them?
Thanks to affiliate links, you can exchange your recommendations for money or points on eCommerce platforms like Amazon, online shops, SaaS platforms, and various apps. Affiliate marketing can be a source of passive income if it's done the smart way.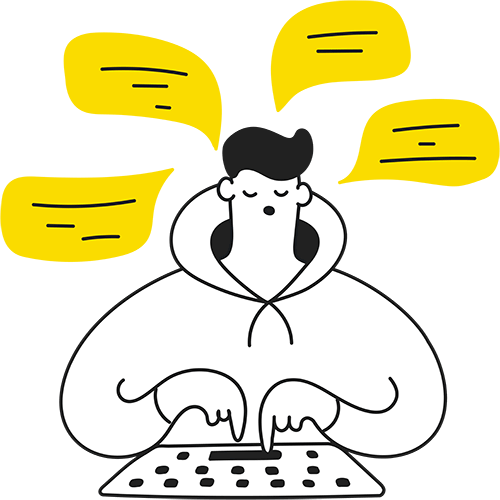 Let's be partners!
Get regular payouts of 20% for every sale within the client's first year. Join our Affiliate Program and earn from wherever you are!
What are the benefits of affiliate marketing for each side of the transaction?
For you: cash or shopping points, the satisfaction that your quality recommendation genuinely helps others.
For your friends and followers: the delight of using great products usually at a lower price.
For the company: new clients brought by existing customers who get the cut out of the company's profit margin.
Win-win-win.
How does affiliate marketing work?
You join an affiliate program or network.
When joining the program, you are assigned with a unique link that you'll use to promote products or services.
Based on the individual rules of the program, each time someone purchases via your affiliate link, you earn a steady commission or bonus.
The company pays you money when you're successful in promoting their products.
Easy-peasy.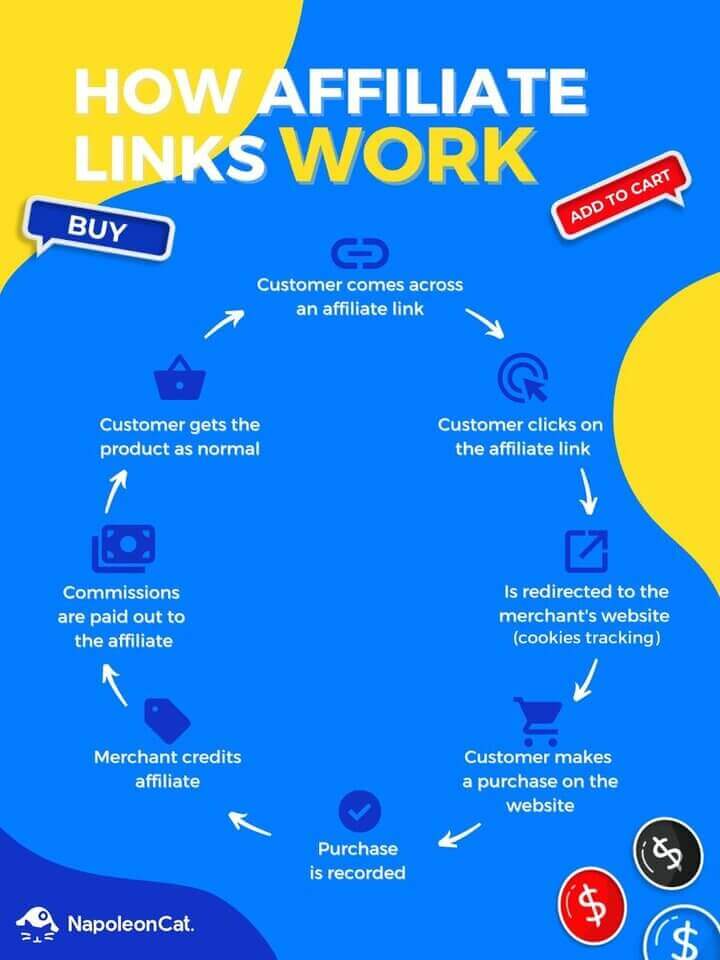 When you know how the affiliate programs work, you may wonder, How can I promote my affiliate links?
Let's look at the best strategies for promoting affiliate links
Verify the affiliate program before joining
Since more and more companies open affiliate programs, getting lost in all the rules and requirements may be easy. Take some time to select and verify affiliate networks before joining their ranks as an affiliate marketer.
High-quality affiliate programs will always have the rules open and visible to everyone. You should be able to quickly contact the company, ask questions and inquire about commission payouts. If anything seems shady and unclear, too good to be true – search for the opinion of others. Talk to existing affiliate marketers of the program from your interest pool and ask questions.
Don't spam
First and foremost: as an affiliate marketer, your goal is not to spam the entire world with your link. Period. Nobody likes spammers, and people tend to cut right through the salesy and fishy content.
Make sure that by promoting your individual link, the message posted along with it is always a high-quality comment or point of view useful in the discussion.
Look for guidance from the affiliate program owners
Check how the owners of the affiliate network take care of their marketers. If you're not experienced in digital marketing, do they offer guidance and have resource pages to help you start? Do they provide valuable tips on promoting affiliate links, and is this advice promoting ethical online behaviors?
Prompts to create multiple accounts and bots to post (spam) under random blog posts or spammy social media comments in Facebook groups should not make any "best practice" and "best tips" lists. If they do, that's a solid NO for any affiliate program.
You may first become a customer of an online shop and then figure out what the website offers and affiliate commission. And that's perfectly fine.
But, if any program demands to pay cash or enter your credit card deets as a requirement to join, take a sharp U-turn and steer clear. There are plenty more fish in the sea.
Consider joining more than one affiliate program, but don't overdo it
What is the sweet spot? In the beginning, it is good to consider joining 2-3 affiliate programs, learn the ropes, spot the differences, and see which is the best for you. Affiliate programs come within different niches, so try to expand. This way, you won't cannibalize any promotion opportunity by promoting competing offers or promoting too often.
5 ways to promote affiliate links
By now you are familiar with the best practices on how to promote affiliate links. Let's see some actionable examples that can bring some inspiration to your digital marketing strategies.
Your blog and website
Once becoming an affiliate marketer, it's good to have your digital headquarters. This way, affiliate links can be promoted in your owned media without the requirement to adhere to strict policies of other websites or social networks.
Again, the first rule of promoting affiliate links is not to spam. And yes, it is possible to spam in your very own digital garden. So be wary.
Here are some ideas on where to include affiliate links on the owned blog or website:
Create content; for example, write a detailed blog post or review.
For example, if you promote kitchen appliances, you can write an article about how you organize the kitchen. Show the things you use and recommend. Use the affiliate link in the text. Hyperlink a picture inside an article.
Show banners corresponding to the content to promote your affiliate offers.
This one is simple enough; present a solution or a complementary offer to what your visitor already sees on the website. Of course, by using your affiliate link.
Reach to reputable, high-quality sources and guest post.
This tactic is often used in the SaaS or MarTech industry. Propose a guest post about the most valuable tools in your niche or best practices around any topic. Or, you can use a guest posting service to find the most relevant sites and get the attention of your target audience.
Be the subject matter expert and show a high understanding of the target audience's needs and problems. Solve the problem and present easy, reachable solutions. One of which can be something under your affiliate link.
It's not recommended to include only self-promoting hyperlinks.
Why? Because:
A) any blog editor will see this as a no-go to post what you wrote.
B) people are not stupid and will close the article quicker than you can say, "Buy now."
C) by including other reputable similar products, you add value but also increase
Record a video and post it on a few platforms.
Similar to blog posts, creating video content is very useful. Did you notice how google will now show Youtube videos and other content when you search for anything? Use this power to fuel your affiliate link promotion.
Create a helpful guide on using the product – present the pros and cons of a SaaS platform. Post product reviews and be honest while speaking about the offer. Be genuine and not pushy. Add value so the viewers see your video materials as applicable and share them with others.
Promote your affiliate link in the video on video platforms such as YouTube or Vimeo.
Replicate this tactic in Instagram Stories, Instagram Reels, or on TikTok. You may need to record not one but potentially a couple of video formats. You may also need to learn how to do it if you are unfamiliar with new platforms or specific content creation styles.
But hey! Do the job right, and it may be a source of a passive income for the next few months or years.
Discuss, advise, and be vocal.
Each day we get to have many conversations. Offline or online, we meet people and exchange opinions. Think about voicing your ideas constructively and strategically on different platforms:
Facebook groups and comment sections
Linkedin comments and articles
Instagram comments and lives
Under opinion pieces on reputable websites
In the niche blogger's comment section
Discord groups
Everyday conversations with friends
Telegram channels
Niche discussion forums (yes, they still exist)
To summarize, any place you can think of is aligned with products or offers you want to promote. But! Look at best practice once again: don't spam. Help, listen, stay on topic and think about the potential customer as someone that needs guidance, not a product shoved down the throat.
Use the power of email marketing.
Any digital marketer will tell you that a regular newsletter and your email list are pure gold. In fact, 74% of the email users consider email addresses as their most personal channel to communicate with brands.
Wherever there is an internet, there will be people who have an email inbox and are willing to exchange their email address for something they need. In marketing, we call that a lead magnet, and it can be a helpful checklist, a workbook, or ready-to-go products. Then, build trust with your readers and get to know them more over time.
Help your email list readers solve business problems, pick a perfect gift for grandma or teach them how to make paper-mache hanging stars. Whatever your niche is, email marketing can help to sell what you offer and is an excellent channel to promote your affiliate marketing links.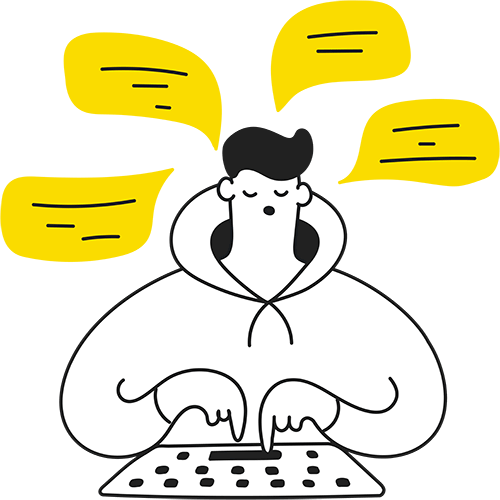 Let's be partners!
Get regular payouts of 20% for every sale within the client's first year. Join our Affiliate Program and earn from wherever you are!
Key takeaways
Whether you are just starting on the affiliate marketing path or have some experience promoting affiliate links already, we hope this piece leaves you with some fresh ideas and more understanding of how affiliate marketing works.
Take a look at the graphic below. It can be useful in your future affiliate marketer endeavor. It contains the key takeaways and pointers on the best places to promote your affiliate links.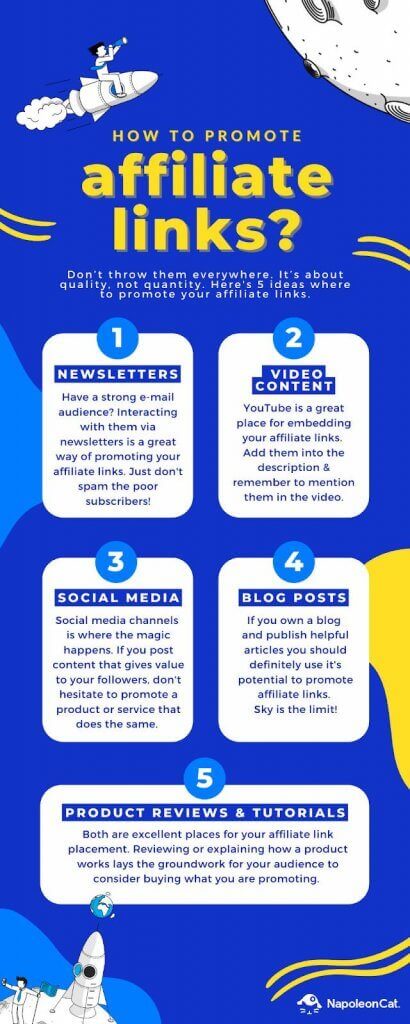 Remember that this helpful guide is always here to serve you with advice when in doubt. Save this article in your bookmarks to make sure you promote affiliate links with genuine intent to help others instead of spamming for money.
You may also like: