If you're thinking of getting started with affiliate marketing, you're in the right place. Here's what you should know to become a successful affiliate marketer, including some best practices to follow (and also some affiliate marketing myths debunked).
You probably know the term "passive income". It's often referred to as the "secret" to making big'n'easy money with no effort. And, to be quite honest, not always truthfully.
It's not the kind of passive income I'd like to talk about today.
In this article, I'm taking a look at affiliate marketing as a solid digital marketing channel: one that's mutually beneficial for both the affiliate brand and the person or brand promoting products or services to their audience. And one that needs a solid plan, just like other online marketing channels.
And don't get me wrong, affiliate marketing absolutely is a great and cost-effective way to make passive income and monetize your content, like a blog or newsletter.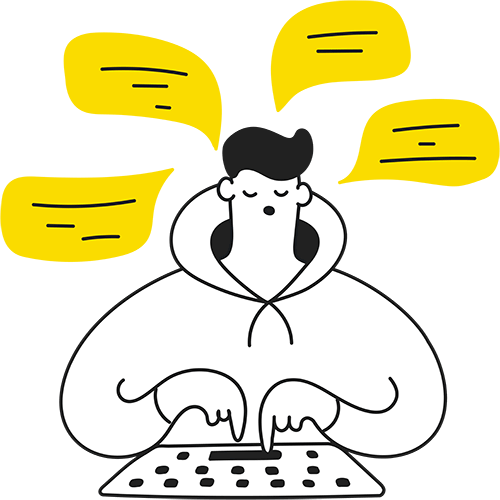 Let's be partners!
Get regular payouts of 20% for every sale within the client's first year. Join our Affiliate Program and earn from wherever you are!
But before I show you how affiliate marketing programs work, step by step, first let me focus on…
What affiliate marketing programs are and – maybe more importantly – what they're not
They're definitely not get-rich-quick schemes or passive income silver bullets.
In very practical terms, affiliate marketing is a marketing channel based on a partnership.
On the one hand, there's a brand, like NapoleonCat, wanting to get new customers to sign up for their products or services. On the other hand, there are people who help the brand do that: bloggers, online creators, digital marketers, marketing agencies, etc. What they do is promote the product (service, subscription, etc.) to their audience.
And for every sale (usually, depending on the individual program), they get a commission. Which means they earn money every time someone, say, signs up for a paid account with the service they're promoting.
So it's a win-win. The affiliated brand gets exposed to new audiences – and can get more products or subscriptions sold. *You* get revenue for every product or subscription sold through your recommendation.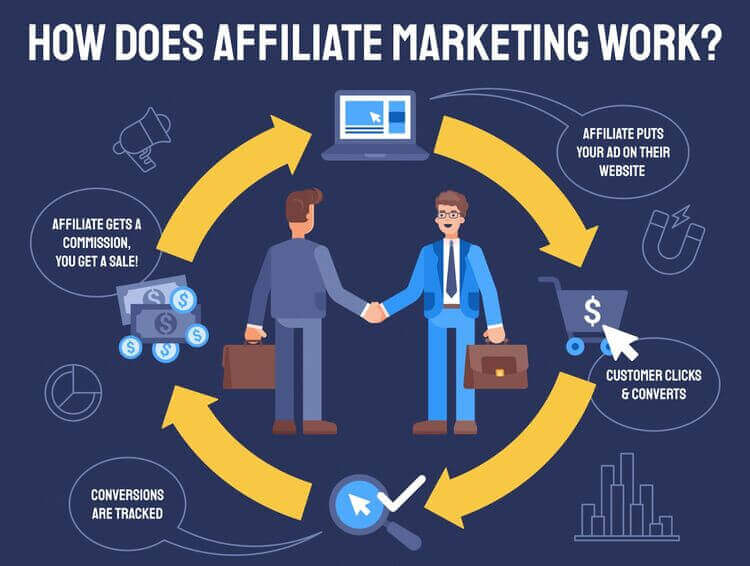 In between the two, there are also affiliate networks serving as an intermediary. As an affiliate, you can choose to work with a network (which often is the case with people who are affiliates for multiple brands), but you can also work – and earn – partnering up with a brand directly. Which is the scenario we're going to look at in the next few paragraphs or so.
So let's take a closer look at how that works, based on NapoleonCat's Affiliate Program.
Choose the product or service to promote
First of all, you need to choose an affiliate program to work with. Pretty much any SaaS tool – like social media management platforms, email service platforms, and others – will offer one.
Your job will be to find a program that offers attractive terms and also is in line with your audience (you're not likely to earn on promoting a tool your audience doesn't need – a little more on that later).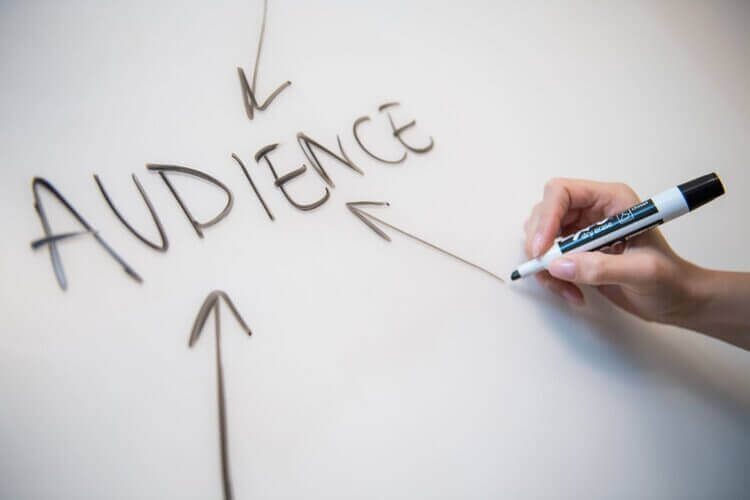 With NapoleonCat, it's 20% of every payment a customer who signed up via your affiliate link makes during their first 12 months with the platform. And the people who will benefit from the tool are business owners, marketers, or agencies who need help with managing their social media marketing channels. Know some? Great.
How does that work exactly?
When you sign up for the Affiliate Program, you get your own referral link. This is what literally makes you the money from affiliate programs.
You share it with your audience in your marketing materials (more on how to do that in a moment). Whenever someone uses your individual link to sign up for an account with NapoleonCat and purchases a plan, you're going to get 20% of their payments within their first year.
So, if they buy an annual subscription, you get 20% of that. And if they pay monthly, you're going to get 20% of their payments every month for up to 12 months (depending on how long they stay). What they need to do in either case is sign up for an account *after* clicking your individual referral link on your website or in your email.
To track the referrals from your links, NapoleonCat uses cookies. These last for 90 days, meaning that if someone signs up for an account within 90 days of clicking your affiliate link, the sale's going to count towards your referral – and you'll get paid.
If they click on the link again, the 90-day period restarts with a new cookie. 🍪
And that's the process, in short.
But there's more.
Commissions are not all you get
Most affiliate programs, including NapoleonCat's, will provide you with all the necessary digital marketing materials to make sales easier and more effective. These include:
Educational materials, so you're up to speed with the platform's functionality and are better equipped to create an in-depth review and convince your audience of its benefits.
Promotional materials, including ready-made ad banners you can put up on your blog or social media or emails you can send to your list. This means you can take them and use them as they are without creating your own designs or content.
Support from the affiliate team whenever you need it.
All this to make promoting the platform easier and help you make more sales via your affiliate link. The more sales you drive, the more customers the platform gets – remember?
How to get people to sign up via your affiliate link
The key thing for you is to convince your audience to sign up for an account with NapoleonCat (or any other tool you're affiliated with). And that's what makes it different from just the making-money-online-passive-income narrative you can spot all over the Internet.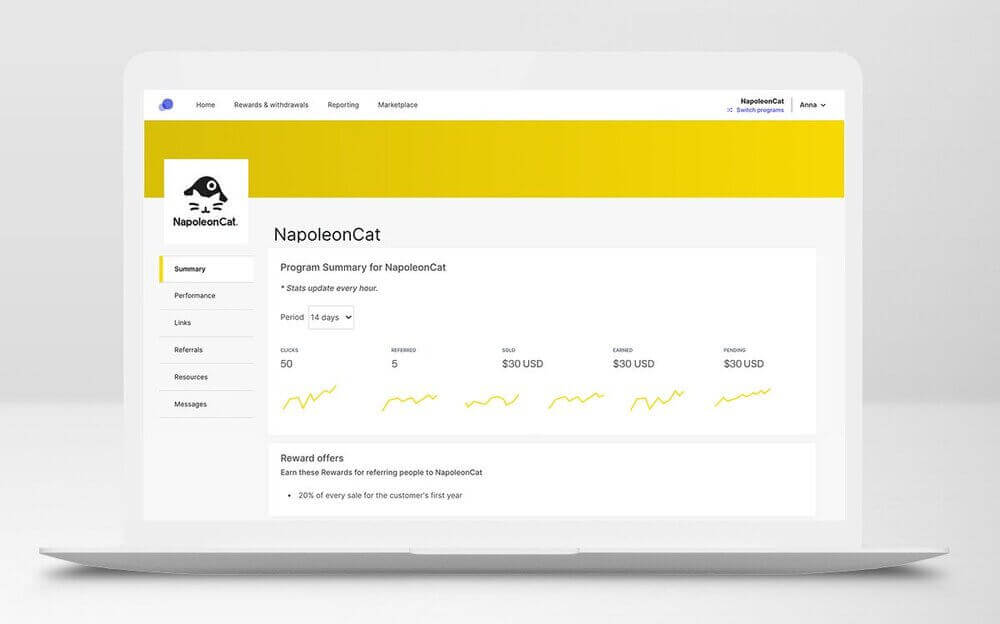 Here are a few essential tips.
Know your audience
Do they need the product you're promoting? (Hate to be the bearer of bad news, but if they don't, you're not going to make any sales. Plus, that's just bad marketing). Make sure that you're actually advertising something they can benefit from.
And it's even better if you benefit from it yourself – there's nothing better than advocating for a product or service you're happy with.
Of course, it's essential to have an audience in the first place 😉
This could be your email list, your blog readers, your social media followers, etc. This is a non-negotiable in the case of affiliate marketing. If you don't have an audience, you won't have anyone to recommend the product to. Which will, of course, prevent you from making sales in a consistent manner.
Reach out to your audience
Depending on the channels you use to communicate with your audience, this could be by:
Sending emails to your email list dedicated to promoting and recommending the affiliated product.
Placing a promo banner within your regular emails (like your monthly newsletter), e.g., in the partner section.
Placing the affiliate link within your email footer in your regular emails with your clients or business partners.
Placing a promo banner on your website or blog.
Writing a product review on your blog or recording one for your YouTube channel (with the link in the descripiton).
Including your link in your blog articles.
Posting your link in your social media posts or including it in your bio.
To make sure any of these work, remember about being consistent. A well-placed, conspicuous banner on your homepage that gets decent amounts of traffic might get you a constant stream of sales.
But if you post the link on your Facebook Page in a post that quickly gets buried under other content, don't expect people to find it – let alone click it.
So before you start with affiliate marketing, plan out your marketing strategy with all the different communication channels. Of course, you can use the affiliate link on multiple channels at once – that's your best bet for a consistent stream of commission payouts.
Some best practices to keep in mind
Besides the above, there are several things that can help you build a good relationship with your audience around your affiliate promos. And a good relationship with your audience is at the core of successful affiliate marketing (or any marketing, for that matter).
Be honest
Promote something you see value in yourself. Otherwise, people won't believe you (and, honestly, why should they?)
So, for example, if you use NapoleonCat yourself and see the results for your own social media marketing, it's only natural to recommend it to others. And if you can make money while doing it? It makes total sense.
Also, never purposefully hide the fact that you're affiliated with the company you're promoting – or that your content is promotional at all. Some channels, like for example Instagram, will enable you to tag paid partnerships, and that's what you should always do.
Again, this way, you're building a relationship with your audience based on transparency and trust. And these days, that's how good (and effective) marketing is done.
Be timely
Whenever there are seasonal promos (like Black Friday, for example) or new features, let your audience know. Send your content periodically (but don't spam your audience, as it will blow up in your face sooner or later).
If you're using multiple marketing channels, with slightly different audiences on each one, don't forget to talk about the affiliate offer on all of them, but in a way that's aligned with your specific communication goals for each channel.
Track your results
Track statistics on your website or in your emails to know how many people click the link or how many people open your promo emails.
Of course, your affiliated platform will know how many sales you've made based on your referral link stats. But knowing how many people click it versus how many people end up buying, or how many people open the emails versus clicking the link can help you improve your marketing and find new ways to communicate your affiliate offer.
Wait, where do I sign up?
If you'd like to give the NapoleonCat Affiliate Program a try, go to this page to sign up. And please, puh-lease, make sure your audience are people or businesses that can benefit from using a social media management tool like NapoleonCat first. As a marketer, I'd really appreciate that!
You may also like: