To help you reach more people on Instagram during the upcoming Halloween, we've put together 92 Halloween hashtags. So have fun with festive stylizations. Use decorations, costumes, and images that evoke Halloween vibes, then apply the appropriate hashtags to achieve maximum Instagram organic reach in 2022.
Before we go over specific hashtags, remember that the most important thing is posting the right content. If you are going to use Halloween tags, your Instagram posts should relate directly to Halloween. Otherwise, you cannot count on much engagement under your posts, and your hashtags just won't work properly.
The size of your following on Instagram also matters, you can't just choose the most popular hashtags out there. You need to be strategic. But don't worry, our list includes both big and smaller Halloween hashtags. So, let's get started 🙂
For your convenience, here's a table of contents: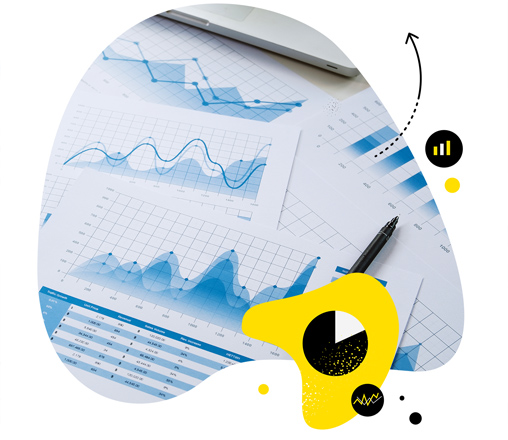 In-depth Instagram Analytics
Analyze your Instagram performance. Generate reports in seconds. Track your competitors, find the best times to post, and improve your marketing strategy. Try NapoleonCat for free:
Try NapoleonCat free for 14 days. No credit card required.
Why should you use Halloween hashtags on Instagram?
If any of your hashtags under a specific post start working, that post will appear inside the hashtag browser on Instagram. And that's your goal here, that's where you want to rank, and that's how you can tremendously increase your organic traffic on Instagram.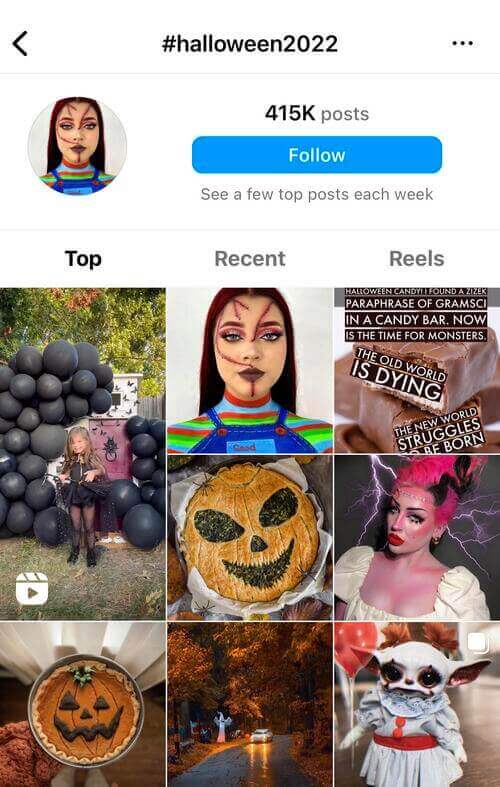 Taking advantage of holidays, trends, seasons, and other important occasions is a brilliant move, thanks to which you can expand your Instagram organic reach and get through to new audiences. So if you are planning on publishing a Halloween-related post, you should most definitely take advantage of the opportunity at hand. 
What kind of Halloween hashtags to choose?
First of all, you shouldn't aim at hashtags with more than 1 million posts tagged with them. The biggest mistake Instagram users (especially newbies) make results from the rumor that using the most popular hashtags will attract heavy traffic to their content, and they will receive hundreds or even thousands of likes, followers, and comments. Unfortunately, it doesn't work that way.
Such a large number of posts tagged with a specific hashtag means that the competition for a given hashtag is very high, and thus breaking out is practically impossible, especially for a beginner.
For example, imagine that you used the hashtag #october in your Instagram post. There are over 20 million posts tagged with it. As a result, it will be hard for you to rank inside the Hashtag browser on Instagram if you focus on the most common hashtags.
Bigger Instagram accounts can, of course, afford to compete with other robust profiles and use more popular hashtags, which include:
#autumn (112M)
#halloween (111M)
#october (23.4M)
#skull (17.7M)
#happyhalloween (17M)
#scary (13.4M)
#spooky (12.3M)
#ghost (9.9M)
#halloweencostume (8.5M)
#halloweenmakeup (8.3M)
#trickortreat (8M)
#vampire (7.7M)
#zombie (7.4M)
#pumpkins (5.8M)
#spookyseason (5.4M)
#skeleton (5.1M)
#pumpkinpatch (4.2M)
#halloweenparty (3.8M)
#halloweendecor (2.9M)
#hocuspocus (1.7M)
#halloweennails (1.7M)
What are the best Instagram hashtags for Halloween 2022?
So what should you do to get thousands of comments, likes, and followers for free? 
If you're just starting on Instagram, we recommend that you use hashtags with 10,000 to 600,000 posts tagged with them.
In addition, the maximum number of hashtags that you can use in a single Instagram post is 30. We recommend you add up to 28 hashtags per post to maximize your reach potential and not alert 'Instagram's secret radar' by using too many hashtags. You can check out our other article How I Used Hashtags to Grow my Instagram Organic Reach 20x to learn more about the best practices of effectively using hashtags on Instagram.
Halloween is getting closer, and you may not have enough time to find the right hashtags. So, without further ado, here are some universal hashtags that you can copy and apply in your Halloween posts:
Halloween hashtags up to 100K
#thehauntedmansion (98.5K)
#halloweencostumeideas (93.2K)
#halloweenbaking (90.8K)
#ilovecandy (86K)
#halloweenisalifestyle (84.8K)
#halloweendecorating (84K)
#halloweenhome (82.5K)
#halloweenedit (77.6K)
#halloweenartwork (75.1K)
#halloweenmakeuplook (73.7K)
#halloweenlove (70.6K)
#halloweencakes (66.1K)
#halloweenselfie (56.5K)
#halloweenhouse (51.2K)
#halloweenhomedecor (49.9K)
#hitchhikingghosts (45K)
#halloweenlovers (44.6K)
#halloweenathome (43.6K)
#disneyhalloweenparty (34.2K)
#halloweencostumeparty (29.5K)
#herefortheboos (27K)
#foreverhalloween (21K)
#creepingitreal (18.7K)
#quarantinehalloween (18.2K)
#trickortreatyourself (16.3K)
#witchbetterhavemycandy (15.3K)
#halloweensquad (13.5K)
#halloweenpost (13.3K)
Halloween hashtags over 100K
#halloweeneveryday (877K)
#autumndecor (753K)
#halloweeniscoming (699K)
#halloweenvibes (698K)
#spooktober (628K)
#spookyart (588K)
#halloweennight (521K)
#halloweenmakeupideas (512K)
#halloweenseason (474K)
#halloweenSpirit (470K)
#halloween2022 (416K)
#halloweenlover (399K)
#halloweentreats (386K)
#halloweentown (332K)
#halloweenfood (312K)
#loveatfirstbite (309K)
#scarymakeup (288K)
#trickortreating (286K)
#halloweenmovie (271K)
#spooktacular (264K)
#halloweenlife (263K)
#halloweenlook (250K)
#instahalloween (237K)
#halloweenobsessed (233K)
#halloweenmask (228K)
#halloweenpumpkin (217K)
#halloweenkills (209K)
#halloweencupcakes (198K)
#monstermash (197K)
#halloweenforever (175K)
#halloweendecoration (165K)
#bootiful (150K)
#halloweenlooks (142K)
#halloweenaesthetic (136K)
#spookydecor (128K)
#readyforhalloween (125K)
#halloweenoutfit (117K)
#halloweendiy (115K)
#halloweenstyle (114K)
#halloweenislife (107K)
#basicwitch (101K)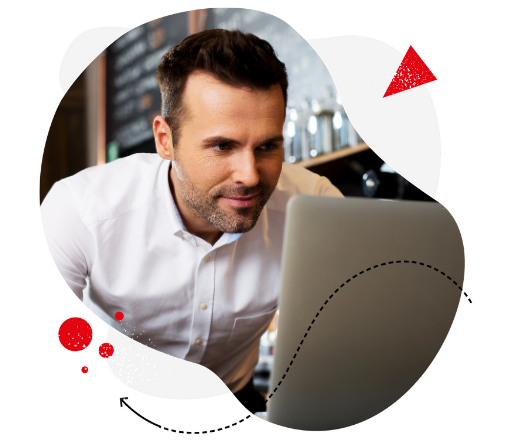 Analyze your competitors' hashtags on Instagram
Track which hashtags your competitors are using, and which of them perform best. Get inspired and improve your own Instagram marketing strategy. Try NapoleonCat for free:
Try NapoleonCat free for 14 days. No credit card required.
Create variations of popular hashtags on Instagram
Combining the most popular hashtags with different words and creating variations of those big hashtags is an excellent strategy to make your content go viral.1
For example, let's take the hashtag #halloween and combine it with the word costume.
Now, I type #halloweencostume inside Instagram's hashtag browser, and I get instant hashtag suggestions including more niche hashtags for which I will have a better chance to rank with my content: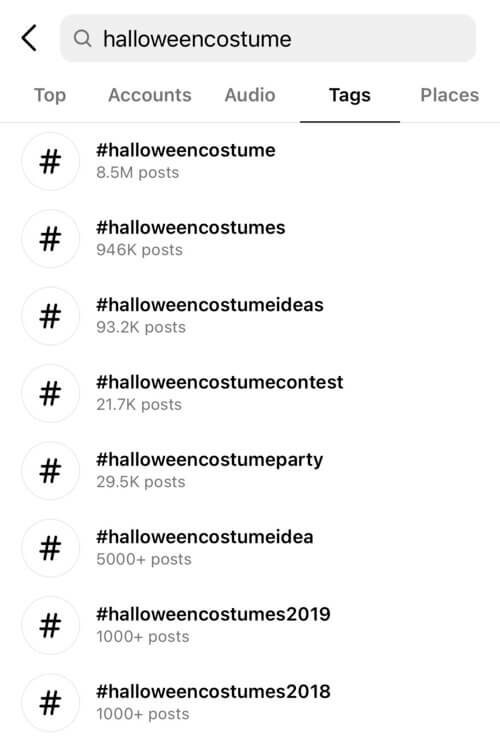 You may also consider adding '2022' to your Halloween hashtags, as October 31st is coming soon.
How to find the most popular hashtags
Hashtags help users search and sort content by topics and categories. You can use many hashtag research tools to find the most popular hashtags and target the broadest possible audience with your posts. One of the most basic ones is the Instagram search engine.
If you search for a hashtag on Instagram, you will see how many posts use that particular hashtag. You'll also see a list of other popular Instagram hashtags using similar words, along with the number of posts. To search for a hashtag, enter the phrase you're interested in (you don't have to include a # symbol). The most popular hashtags will appear at the very top of the search results.
Again, we don't recommend using the most popular hashtags because the chances of them actually working are very slim.
How to check what hashtags your competitors are using
Since you and your competitors share an identical or a very similar target audience, following their best practices on social media can prove valuable in developing your own strategy.
NapoleonCat's Analytics feature allows you to monitor which hashtags your competitors use on Instagram and how well the posts connected with specific hashtags perform: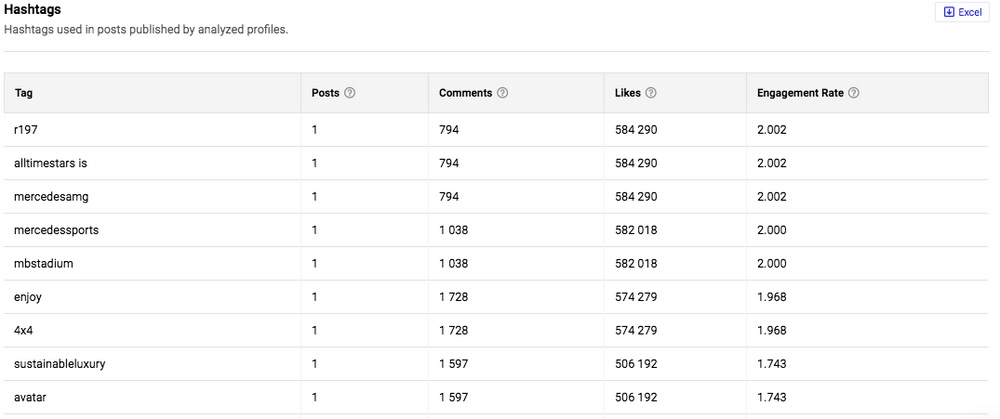 This is another great way to find hashtags inspirations on Instagram that will not take more than just a few minutes of your time (given that you don't have a NapoleonCat account).
Invite users to chat
Hashtags are necessary, but you must never forget that Instagram is a social medium through which you want to communicate with your potential customers.
That's why you should always try and engage with them. Invite users to chat. Talk with the parents who feel their children have overeaten sugar with the hashtag #SugarComa or with decorators to review the prettiest pumpkins from #halloweenpumpkins.
Let's put it this way – if you reply to each and every comment, you will double the engagement under your post, thus increasing the chances of your content appearing inside the hashtag browser and boosting your reach.
If you'd like to have all of your Instagram comments and DMs in one dashboard, you can try NapoleonCat's Social Inbox. This feature lets you manage all of your social interactions across multiple social platforms and accounts, all from one simple customizable view. It also supports Instagram ads, so moderating your Halloween ad campaigns will become a lot easier as well.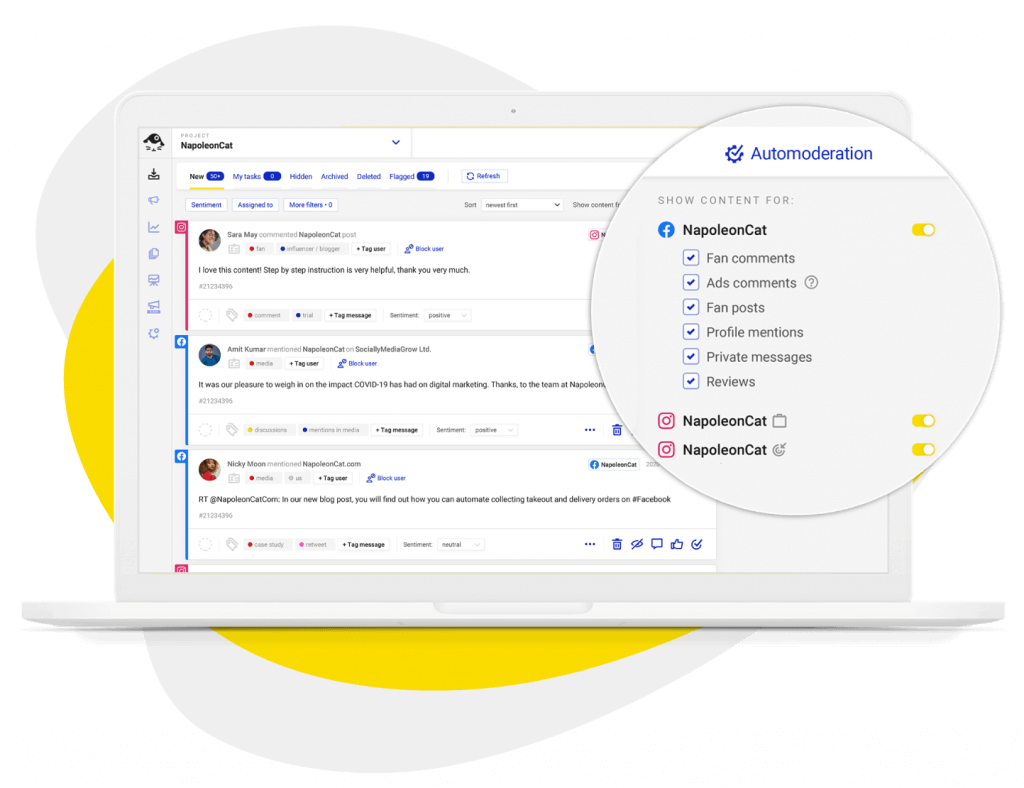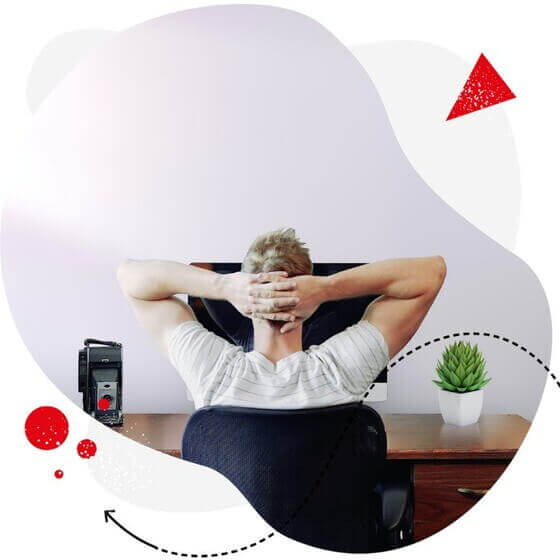 Manage all comments and messages from one view
Manage all your comments and messages from multiple accounts and social platforms – all from one simple view. Instagram DMs included! Try NapoleonCat for free:
Try NapoleonCat free for 14 days. No credit card required.
Halloween hashtags – Q&A
How do I choose hashtags for Instagram?
You need to be strategic about each hashtag that you choose. For example, rather than using the most popular hashtags on Instagram, it's better to find and use smaller, more niche-oriented hashtags and have an engaged audience relevant to your industry. You can use Instagram's hashtag browser to do just that.
When choosing Halloween hashtags, you should consider the size of your Instagram account, i.e., how many followers you have. Thanks to this, you will be able to determine which hashtag size to use. The matter is very individual, but we can recommend you a general rule to follow:
0-20K followers: choose hashtags with less than 10K tags
20-40K followers: choose hashtags with less than 50K tags
50-100K followers: choose hashtags with less than 100K tags
100-300K followers: choose hashtags with more than 300K tags
over 300K followers: go ahead and target big tags
Why don't my Instagram hashtags work?
Hashtags work, check out our case study and see for yourself. It's all about choosing the right hashtags relevant to your content and industry. It is worth noting that random hashtags can lack valuable engagement followed by spam comments.
---
1. How to Use Instagram Hashtags for Business: A Guide for Marketers