Halloween's just around the corner. As someone who works in social media, is there anything scarier than your sales flatlining during a Halloween social media campaign?
Spikes in sales start to happen in the first two weeks of October and continue through the rest of the month. If your social media campaigns are doing poorly at a time when customers are eager to splurge, then you're missing out on a huge opportunity to top up your Q4 revenue and finish the year with a bang.
Okay, I get it. Trying to come up with social media campaign ideas for Halloween isn't as easy as it sounds.
How do you promote your products and services in ways that grab people's attention during one of the busiest times of the year?
And how do you manage your Halloween social media posts more efficiently and in scalable ways?
We cover all of the above in this blog post.
So without further ado, here are the best Halloween social media ideas to give your sales a boost.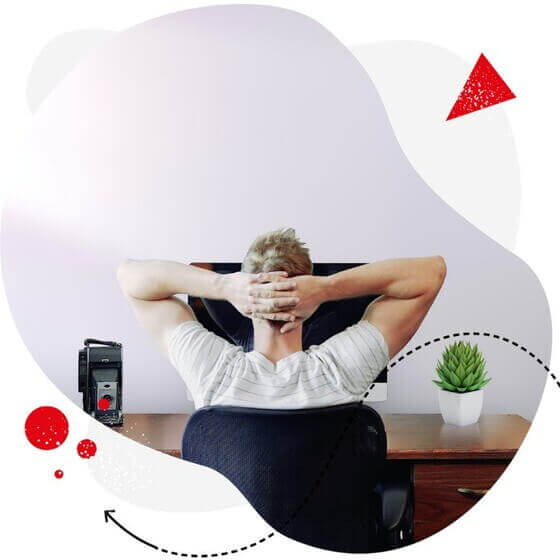 Social Media Management Made Easier
Manage all of your social accounts with one tool. Collect all comments and messages in one view, get in-depth analytics and reports, automate post publishing, and more. Try NapoleonCat for free:
Try NapoleonCat free for 14 days. No credit card required.
Encourage User-Generated Content (UGC)
Trust is hard to earn these days. You can't tell or show your audience why your product is the best and then expect them to believe you right off the bat.
It takes a while to earn people's trust. But if there's anything that can help you earn that trust faster, it's content created by your customers, otherwise called user-generated content or UGC.
Why is that? Because customers trust each other more than they trust brands.
Is it any wonder that 85% of consumers find UGC more influential than any form of brand content? 60% of consumers also say user-generated content is the most authentic form of content.
Going by the above numbers, you should encourage your customers to post a ton of UGC.
Thankfully, the spooky season provides you with great opportunities to encourage your customers to publish UGC on social media.
Why? Because everyone is eager to participate in Halloween contests and giveaways during this time of the year.
So, why not host an epic Halloween contest or giveaway that will reward your customers and give them something to get excited about?
Some fun ideas for Halloween contests/giveaways:
Ask customers to post an image showcasing your product
Throw Halloween sweepstakes
Organize a Halloween design contest
Launch a Halloween discount or clearance sales event
Host a Halloween costume photo contest
For example, Entice Cosmetics hosted a Halloween photo contest inviting customers to post their most creative Halloween look using their products.
The idea is to organize something that will create excitement among your target audience and around your brand. So make sure that your Halloween contest or giveaway's mechanics involve your brand's offerings in some way.
Pro-tip: Ask your participants to use branded hashtags and industry-related hashtags so that their entries will be easy to find. And make sure to ask them to tag you so that those within their network can visit your social media account and maybe even join themselves.
Decorate your social media and online assets
Can you call it Halloween if you're not decorating? If brick-and-mortar businesses decorate their storefronts during or in preparation for the Halloween festivities, why not do the same for your social media and online assets?
The idea is to give these assets a scary twist. Think bats, spider webs, pumpkins, black bats, and whatever you think will make your digital assets look fa-boo-lous. Anything to show potential and existing customers that you've got something brewing.
You start by spooking up your website, ads, and landing pages. This is important. After all, one of your main goals in your Halloween social media posts is to get your fans or followers to visit these pages.
You need to design your social media assets with Halloween-themed images as well (it's a Halloween social media campaign after all!).
These assets include:
Logo
Social avatars
Product packaging
Cover photo
Here's a cool Halloween-ized design by Lays to serve as an inspiration: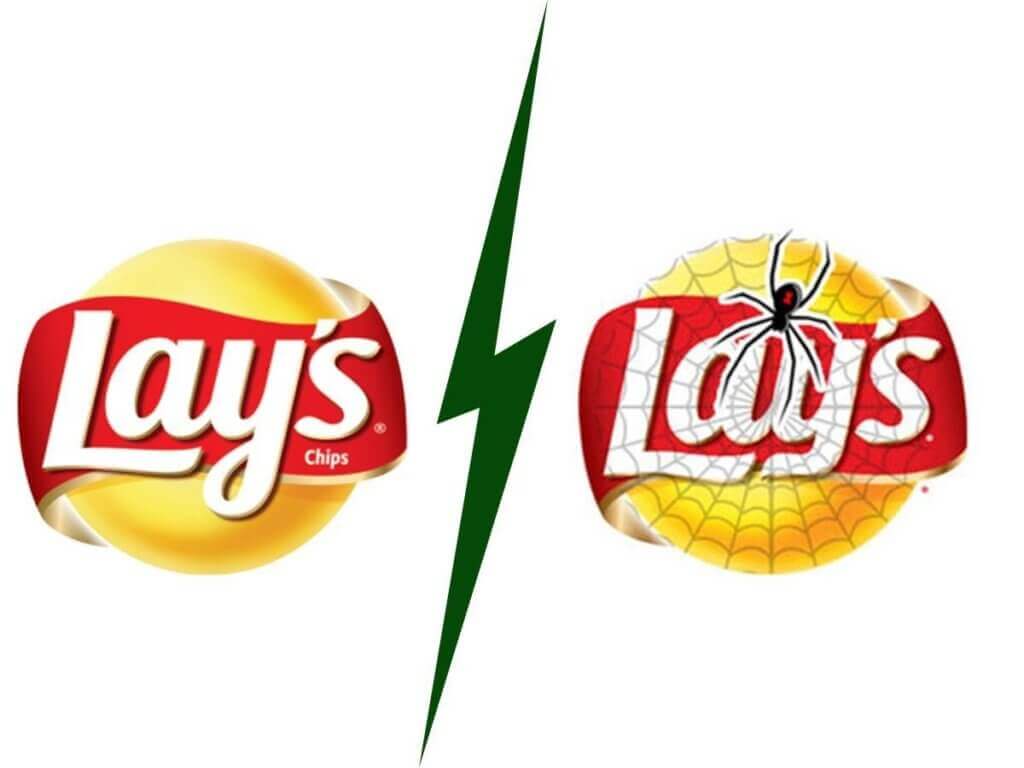 Protip: If you don't have a designer in your team, you can always use Canva for Halloween-themed templates.
Spook it up with Instagram/Facebook Stories
If you're not using Stories in your social media Halloween marketing mix, you're missing out.
I'm sure you know what I'm talking about. When you see those colorful rings with your friend's social media profiles on them appearing at the top of your feed, you can't help clicking on them.
So it's no surprise that many businesses have been using Instagram and Facebook Stories as their go-to channel for building and converting an audience.
Stats prove it:
58% of consumers say they've become more interested in a brand or product after seeing it in Stories
50% of customers will visit a website to make a purchase after seeing a product or service in Stories
If you want to bring attention to your offers or products this Halloween, showcase them in a Facebook or Instagram Story and give them a spooky twist. Do it well and you're not only going to boost engagement, but they will also generate a ton of leads and boost sales.
So, how do you create Stories that will keep them engaged?
Here are a few ideas:
Behind-the-scenes videos or photos showcasing Halloween celebrations in your office
Ask Halloween-inspired questions that tie back to your brand
Post Stories to showcase an event or a sale
Stories to announce discount offers or special Halloween promotions or flash giveaways
Or just wish them a Happy Halloween
Halloween-ize your goods
Want to draw more attention and interest to your products? Halloween-ize them.
Giving them a Halloween twist creates an opportunity for your customers to see your offerings in a new light. They're already feeling the Halloween vibe, and that will rekindle their interest in your products by pure association.
Call me weird, but looking at the photo of the Halloween-inspired Starbucks beverage below makes me want to grab a frappe from a nearby Starbucks joint (without the zombie hands, of course).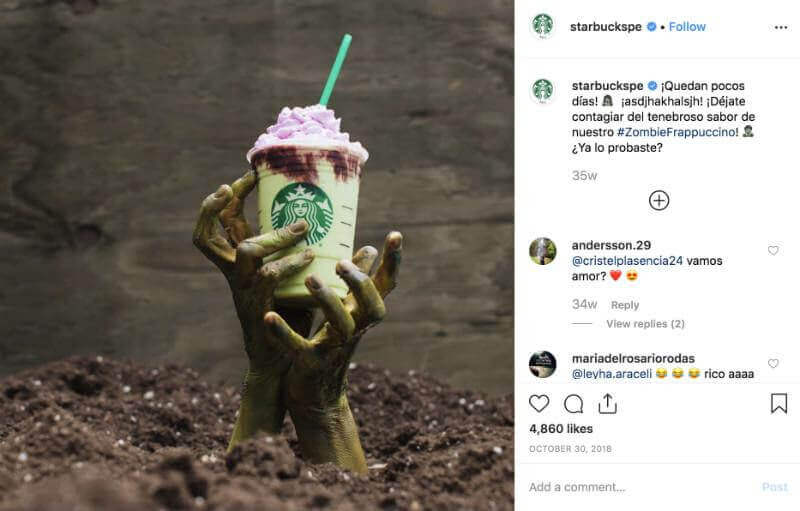 Besides, Halloween-themed gift items are popular around this time, so giving them a fancy redesign can grab the attention of customers who want to spread the Halloween cheer by giving Halloween-inspired gifts.
SmileyCookie got in on the action by creating these spooky sweets and then hinting they'll be great gifts for Halloween.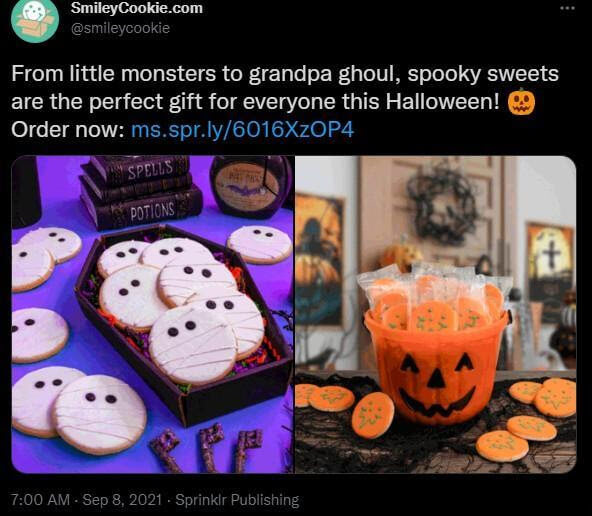 Create a tutorial
Customers are always looking for creative and fun ways to celebrate Halloween. Some of them might be stumped for ideas. Why not lend them a hand? You can create a tutorial, for starters.
It goes without saying your offerings have to be involved in some way. Are you in the food and beverage business? You can publish Halloween-themed recipes on social media, starters.
After all, free, helpful content has always proven to be effective in not only engaging an audience but also in driving sales.
In fact, a 2018 video marketing report found that 72% of customers prefer to learn about a product or service by watching a video. If you want your social media posts to generate more clicks and boost brand awareness, posting an instructional video that features your product or service is one of the best ways to pull it off.
Naio Nails, a supplier of nail products, got some buzz on Facebook when they shared their Damaged Nail Tutorial video on Facebook in late October last year. The video had a total of 1.4 million views.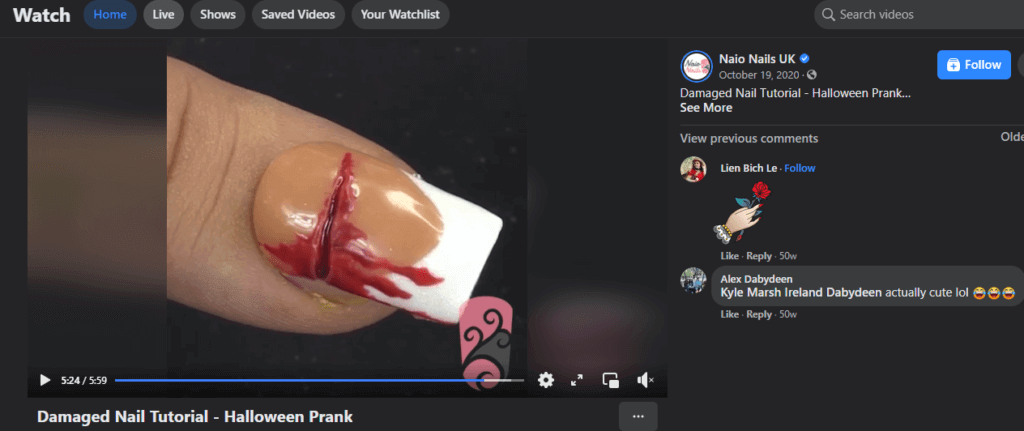 A how-to article is nearly as effective. Jam Jar, for example, shared their Spooky Chocolate Cookies on Instagram and then put in the caption how followers can access the recipe.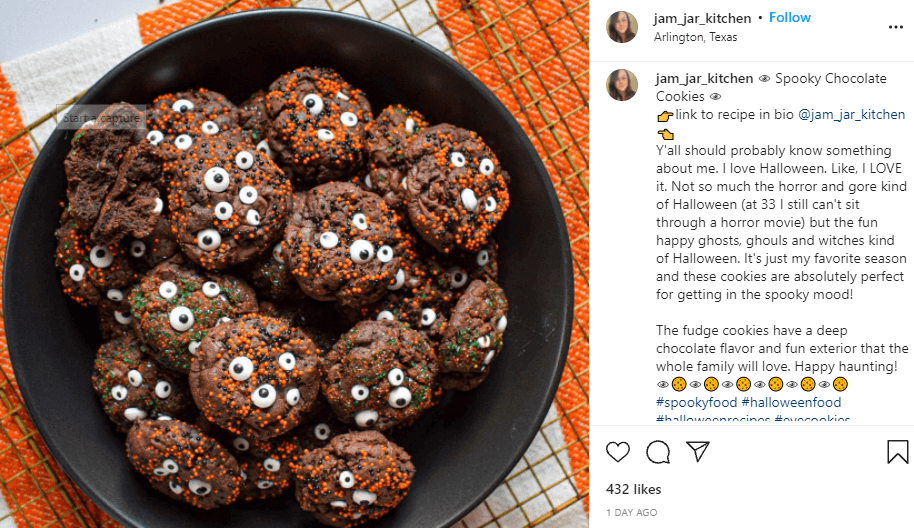 Even if your products aren't inherently scary, you can always create an interesting tutorial for Halloween involving your brand's offerings.
Tap into what's popular
Want to draw more eyeballs to what you're offering this Halloween? Tap into what's popular at the moment.
Relevance matters in digital marketing. No wonder 28% of the most successful businesses like Burger King, Coca-Cola, and Nike have pop culture featured somewhere in their marketing campaign.
Besides, people love trendy things. By staying on top of trends and incorporating them into your Halloween social media campaign, you can draw more attention to your brand purely by association. Which leads to more leads, shares, and sales.
Tapping into what's popular at the moment also makes your brand less formal and more personable. If you're a Stranger Things fan, you're more likely to warm up to somebody who's also a big fan of the show. It's a safe bet you'll have a similar reaction when you stumble on an upside waffle on Facebook or Twitter.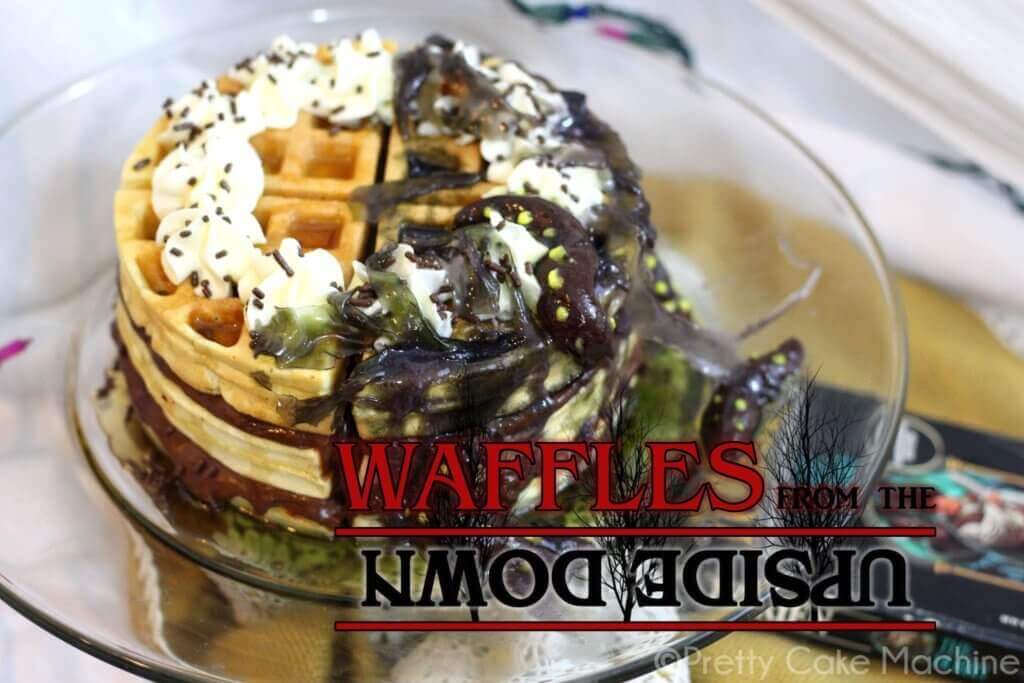 REI, an outdoor retail cooperative that offers high-quality gear at affordable prices grabbed the attention of Walking Dead fans in 2015 (coinciding with the show's 2015 season premiere) with this zombie-inspired infographic.
Needless to say, the infographic blew up on social media.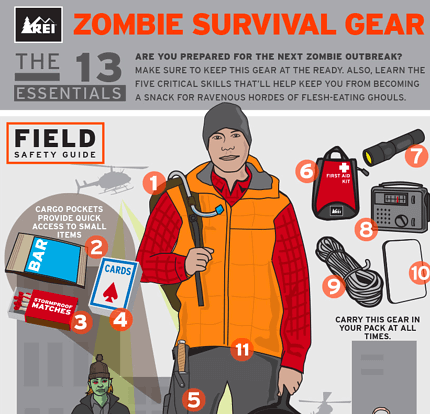 Use a dedicated social media tool
Halloween social media campaigns are proven effective in generating brand awareness and boosting sales, but they can be tricky to get right.
You might have the best marketing ideas or the best plan of action, but if you don't have the tools to help you execute those ideas and plans, then they won't amount to much.
Scary, right?
If you want your Halloween social media strategy to move the needle for your business, you need to execute them well. But doing that seems impossible if your social media accounts are getting thousands of comments, messages, and requests daily.
Thankfully, a dedicated social media tool is all you need to manage the chaos.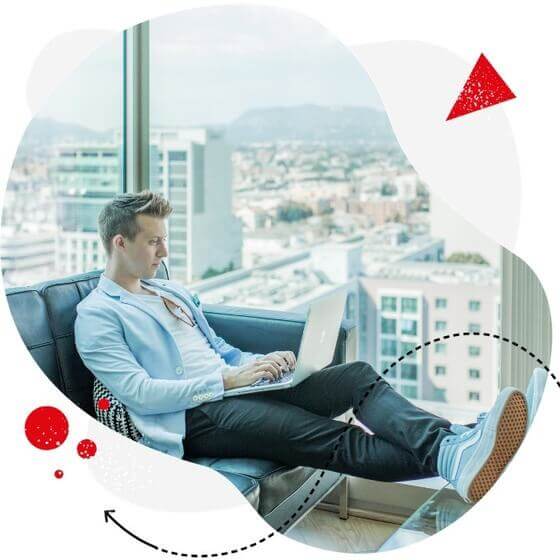 Save time and money on managing your socials
Gather all the comments and messages from multiple social networks in one view. Get in-depth analytics & reports, track your competitors, and automate post publishing. Try NapoleonCat for free:
Try NapoleonCat free for 14 days. No credit card required.
Tailor each content for each social media platform
Each social media platform has its own audience and voice. As a social media marketer, you want to speak the language of your audience if you want your messages to resonate.
That's why you need to tailor each social media post to different social media sites.
Instagram users, for example, are more interested in high-quality photos that tell stories. Short videos also do very well on the platform.
Twitter, on the other hand, favors posts (or tweets) that are concise, informal, and fun. Adding a GIF every once in a while isn't such a bad idea, either.
You can be a little more formal in your posts when publishing on Facebook, but you want to avoid using business jargon. Facebook is also an effective platform for cross-promoting fresh content.
If the above paragraphs sound overwhelming, wait till you try to post each Halloween-themed update on each of the social media platforms you're using in your entire Halloween social media campaign.
Instead of wasting your time and energy doing all that, you're better off using a dedicated social media tool like NapoleonCat. Why? It helps you publish the same post across all social media channels using only one post creator.
Better yet, it helps you tailor the post for each platform at a more granular level, helping you maximize the strengths of each platform easier and in less time.
NapoleonCat's Publisher feature also lets you schedule posts ahead of time, allowing you to reach fans at the best times of the day — even when you're sleeping.
On top of that, the tool comes with a cross-platform calendar view, giving you a bird's eye view of your entire social media campaign.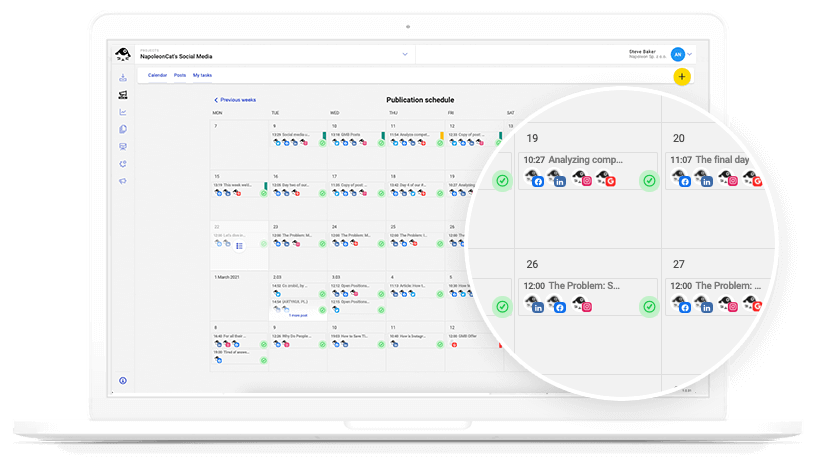 Lastly, it helps streamline the processes and workflows of your entire team by logging all related activity, assigning internal titles, and providing notifications to each member when changes are made to posts.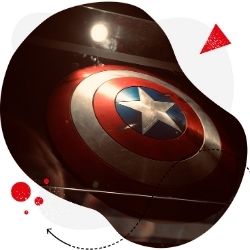 Protect your social media from SPAM
Automatically hide or delete spam and inappropriate comments under your posts (including FB and IG ads). Try NapoleonCat for free:
Try NapoleonCat free for 14 days. No credit card required.
Engage and support customers better
Halloween social media campaigns can get overwhelming. If you're getting thousands of comments, complaints, messages, how do you (or your team) manage to respond to them all, and quickly?
Here's another area where a social media management tool can help. NapoleonCat's Social inbox, for instance, allows you to: cut down response time by 66%.
How? By helping you keep track of all messages from all different platforms in one place. With the Social Inbox, you can tag and filter messages and comments based on different categories (complaints, spam, inquiries, etc.) and assign them to different team members accordingly.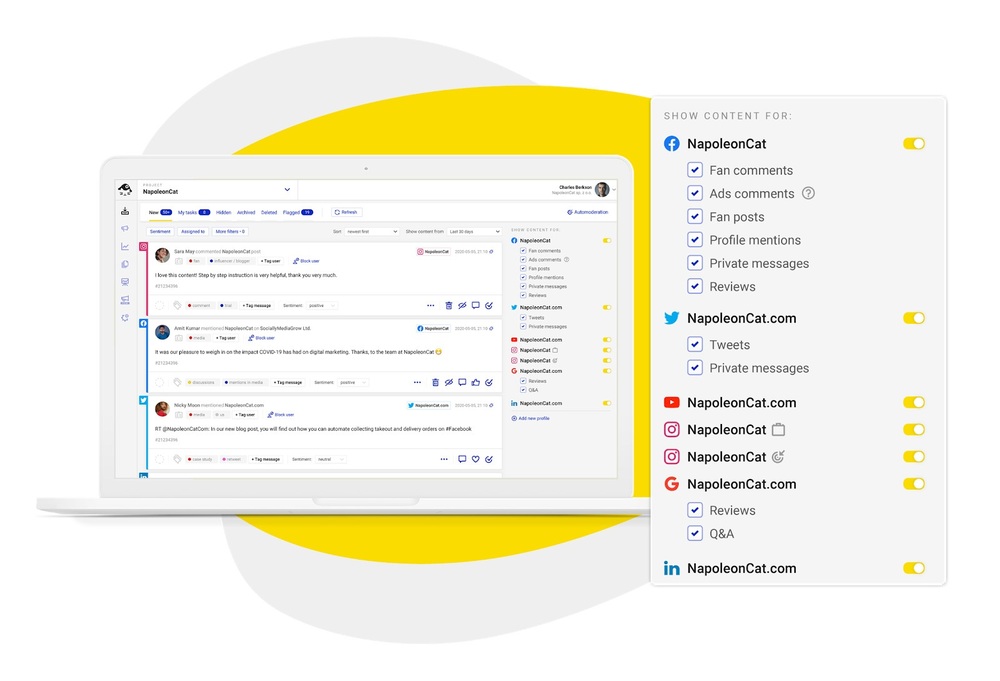 But what about messages during off-peak hours? Surely, your team can't stay awake all the time, right?
Here's where NapoleonCat's Auto-moderation can help. What it does is allow you to set up automated replies to the most common and most important types of messages, comments, and complaints.
All you need to do is set up auto-moderation rules. If a question about your Halloween giveaways always comes up, you can add relevant keywords so that auto-replies are activated when these keywords are triggered.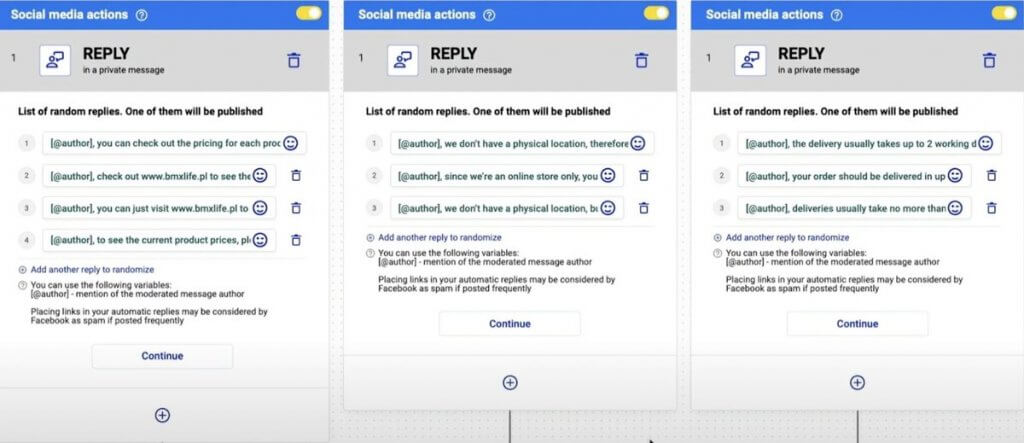 Over to you
Are you ready to make a killing in your Halloween social media campaign this year? If you need a little inspiration, I hope the Halloween social media ideas shared in this blog post will prove helpful.
With the right strategy and a dedicated social media solution to back you up, you're likely to get that boost in engagement and sales you're aiming for.
Good luck and give 'em pumpkin' (sorry, can't help it) to talk about!