The thing with hashtags is that people – and brands – often misuse hashtags without seeing their true purpose and potential, which is creating and spreading conversations (call me an idealist).

So, this holiday season, take a look at how to use them in a productive way that actually serves your Christmas campaigns and holiday social media content – instead of stuffing your posts with hashtags and hoping for the best. Shall we?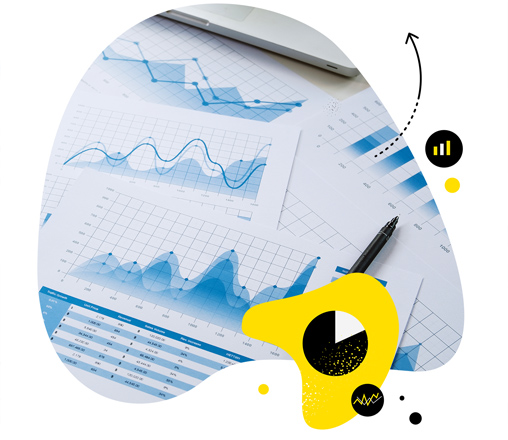 In-depth Instagram Analytics
Analyze your Instagram performance. Generate reports in seconds. Track your competitors, find the best times to post, and improve your marketing strategy. Try NapoleonCat for free:
Try NapoleonCat free for 14 days. No credit card required.
A quick history of hashtags
Hashtags have been around for a while – and originally came from Twitter (here's an interesting story about how we came to use them.) And quickly, they became a way to follow trending news or have conversations and chats around specific topics.
They've also become a powerful tool to influence people – which is also known as hashtag activism. They're used to influence presidential elections (#truestory) and spread awareness of important topics like #metoo (we're even using hashtags today as names for social or political movements).
But of course, at some point, brands discovered the potential in hashtags and started using them for their own purposes. And as always with marketing – some did it better than others. The rest just jumped on the bandwagon.
So I thought, let's look at the most popular hashtags from a different angle – how to use them to really join the conversation on social media (while growing engagement and your Instagram account), and not just randomly pick from a list of "most popular Christmas hashtags for Instagram".
So, how can you use hashtags for Christmas?
You might already know this, but let me quickly recap (in case you're new to this whole hashtag thing or simply lacking ideas during the busy holiday sales season). Using the right hashtags in the right way can help you do things like:
Boost the organic reach of your social media posts, making them searchable and easier to find by people looking for specific content or Christmas promotions.
Run contests and giveaways on Instagram and monitor the submissions – which is great for your holiday social media campaigns.
Join the conversation on trending topics. (A note here for marketers: avoid hashtag bombing, i.e., using trending hashtags that are unrelated to your brand in any way – think, for example, #blm. That's considered bad marketing and can actually dilute the message and hinder the efforts of people fighting for a specific cause.
Create your own conversation and raise awareness about a topic – an original hashtag can quickly catch on if people have interesting things to say.
Build a community around a branded hashtag – a powerful social media tactic for brands that want to stay close to their audience.
Not all social media channels are created equal when it comes to hashtags. Today, when we talk about social media marketing campaigns for brands, it's mostly Instagram they're relevant for (they help browse content more efficiently and increase the organic reach of posts and stories).
Facebook tried introducing hashtags, but that never really caught on on the platform. Hashtags can be useful on LinkedIn – and of course, on TikTok. Plus, on the original platform they were invented for – Twitter.
From a brand perspective, they might also be helpful if you're using Pinterest – where people specifically look for products or inspiration.
But for the purpose of this article and in the context of Christmas hashtags, I'm going to focus on Instagram.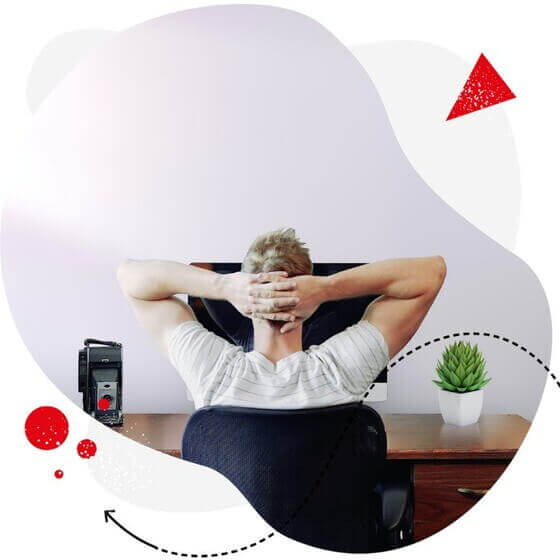 Manage all comments and messages from one view
Manage all your comments and messages from multiple accounts and social platforms – all from one simple view. Instagram DMs included! Try NapoleonCat for free:
Try NapoleonCat free for 14 days. No credit card required.
Popular Christmas hashtags for Instagram
Here's a Christmas hashtag list including the most popular and widely used hashtags. Now, the thing you have to remember is that the fact that a hashtag is viral should never be the only indicator of whether you should use it or not – but I'll explain it in detail in a little while.
Let's start with:
Most popular Instagram Christmas hashtags
The hashtags below are very popular – we're talking millions of posts. So, they might not be your first line of choice (contrary to what you might think at first.)
Your posts will likely disappear in the deluge of other content. You can still include them, but try pairing them with more specific hashtags – more on that a little later.
So here are the top ones in 2022:
#Christmas
#Christmas2022
#MerryChristmas
#HappyHolidays
#ChristmasIsComing
#TisTheSeason
#ChristmasTime
#ChristmasDecor
#ChristmasDecorations
#ChristmasGifts
#ChristmasMood
#ChristmasLights
#ChristmasEve
#ChristmasShopping
#ChristmasCountdown
#ChristmasParty
#ChristmasGiveaway
#ChristmasTree
#ChristmasVibes
#Xmas
#XmasTree
#XmasTime
#XmasIsComing
#AdventCalendar
#Christmasmagic
#Christmasfun
#SantaClaus
#SantaClausIsComingToTown
#ChristmasNails (watch out for this one if you run a nail salon)
#ChristmasCheer
#GiftIdeas
#GiftGuide
#HolidaySpirit
#LetItSnow
#JingleBells
Some other that are also popular – but not as much, include:
#ChristmasWish
#ChristmasDrinks
#ChristmasMusic
#ChristmasPets
#ChristmasSale
#AllIWantForChristmas
#ChristmasPromo
#ChristmasJoy
#GiftIdeasForHer
#GiftIdeasForHim
#ChristmasGiftGuide
#ChristmasSweater
#NiceList
#NaughtyList
#ChristmasTable
All in all, you should look for hashtags that will give you more exposure. And bear in mind that the bigger the hashtag, the smaller chances of people finding your content.
To learn how popular a hashtag is, you can search the hashtag on Instagram to see how many posts it includes to help you with your decision: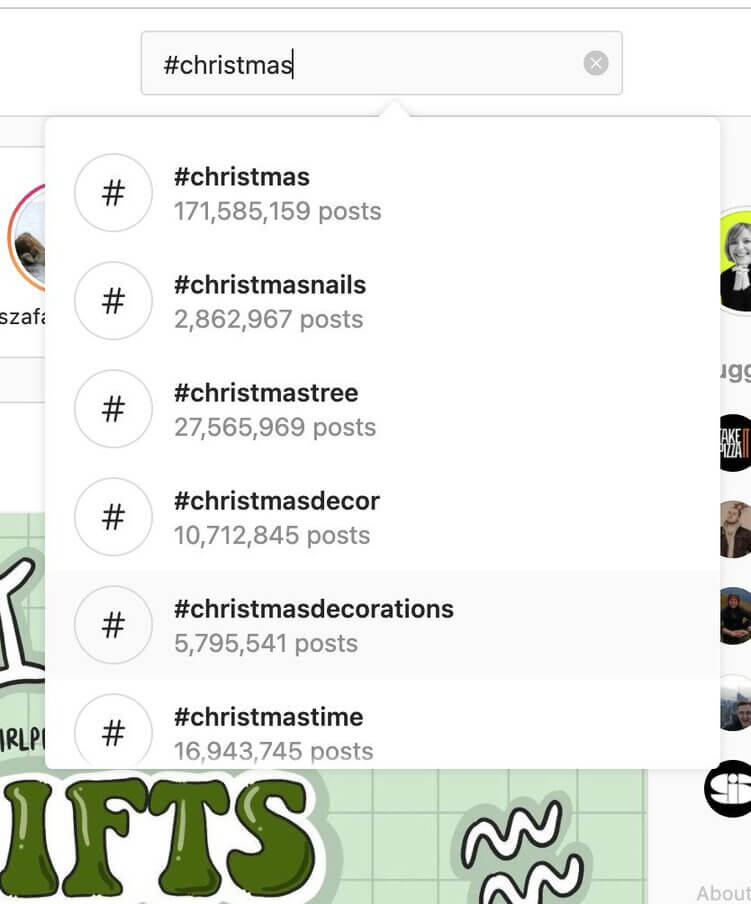 Things to keep in mind when choosing your hashtags
Avoid very popular hashtags – your content will get lost, and they're unlikely to work.
Avoid generic hashtags – like #snow – for the same reason.
A popular hashtag might not be the same as a trending hashtag – look for how recent the posts are to know if it's actually being used currently.
Create popular versions of hashtags already in circulation (like #Christmas2022).
Or create your own hashtag to build an exclusive community around it.
Which hashtags should I choose?
When choosing Christmas hashtags for Instagram, consider your follower count. Although this is very individual, we can recommend a general rule of thumb (you can read more about it in this post).
0-20k followers: choose hashtags with less than 10k posts
20-40k followers: choose hashtags with less than 50k posts
50-100k followers: choose hashtags with less than 100k posts
100-300k followers: choose hashtags with more than 300k posts
over 300k followers: go ahead and target the big tags
Apart from the size, consider your industry and the type of customers you want to attract. Think of it a little like search intent on Google – ask yourself what kind of people you'd want to see your posts and what they're likely looking for when they come across your content.
Attracting people just for impressions is only a tiny piece of the puzzle – ideally, you'd want them to stay and eventually become your customers. So be wary of vanity metrics alone.
Though, of course, the Instagram algorithm will appreciate the engagement happening under your posts and in your stories, either way.
An interior design company will probably be better off using hashtags related to Christmas decorations, while it will make more sense for a restaurant chain to use hashtags related to food like #ChristmasDinner.
And if you have a nail salon, #ChristmasNails (apparently a very popular hashtag currently, with currently almost 3 million posts) will obviously be a better idea.
How to create your own Christmas campaign hashtag
When creating your own Instagram hashtag, keep a few things in mind to make it more effective.
Make it easy to memorize.
Make it easy to spell – if someone misspells your hashtag, you won't be able to find the content.
Make it relevant to the occasion (like a contest).
Make it inviting – so people want to join.
To keep it simple (and easy to type and search), don't use extra symbols or emoji. You can use capital letters for individual words in the original hashtag – this will make it more legible and easier to remember. (This doesn't affect the searchability in any way).
Don't use too many hashtags at once – especially if you want to highlight that one specific hashtag.
Make sure the hashtags are actually related to the contents of your post – and that the caption plays a central role and tells a story. A post with a boring or virtually non-existent caption and a bunch of unrelated hashtags stuffed in the first comment is not something I would typically recommend.
Check what hashtags your competitors use
This is another great way to find relevant Christmas hashtags for Instagram. There's a simple way to do that using NapoleonCat's analytics feature. This can give you an idea about what hashtags to use and how they perform for others. This is especially helpful if you share the same target group with another account.
You can check on the number of likes and comments a post with a hashtag gets and its engagement rate – and it really takes much less time than doing actual research on Instagram.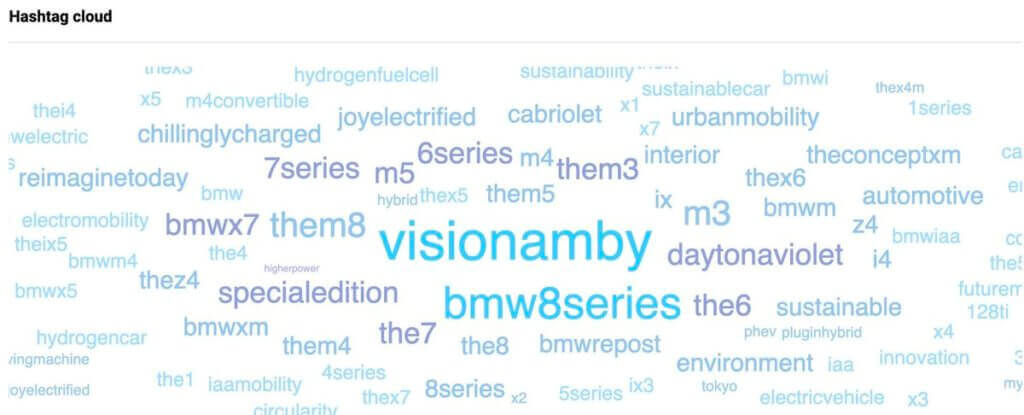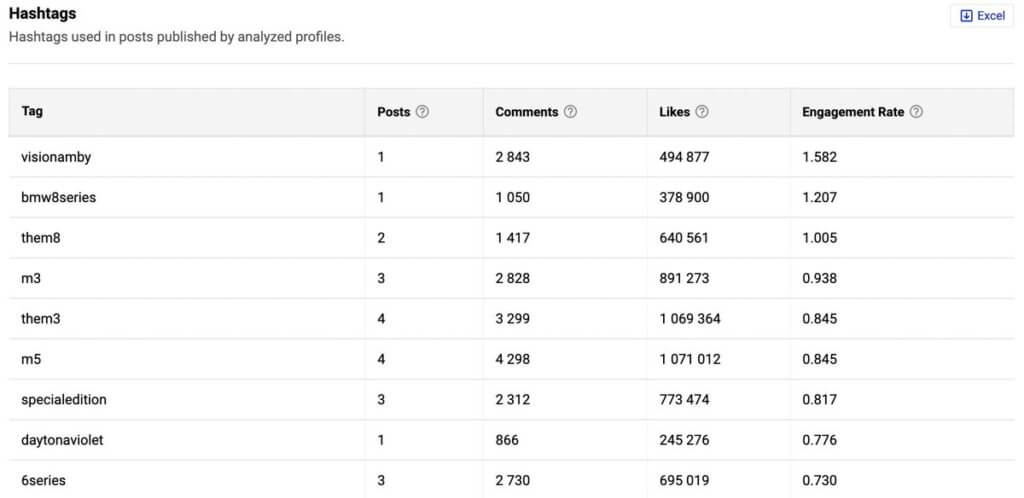 Plus, you can also do a competitive analysis to compare your results and inform your social media strategy – not only at Christmas.
Of course, you can – and should – also monitor the performance of your own posts with hashtags, like checking the impressions from hashtags to see how they boost your social media content's reach organically.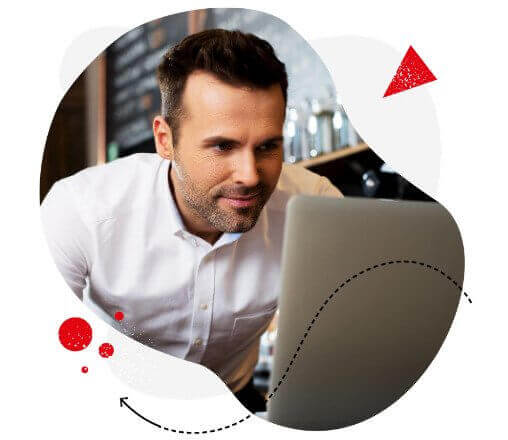 Analyze your competitors' hashtags on Instagram
Track which hashtags your competitors are using, and which of them perform best. Get inspired and improve your own Instagram marketing strategy. Try NapoleonCat for free:
Try NapoleonCat free for 14 days. No credit card required.
Merry hashtagging!
Hope this helps with choosing the hashtags that might actually work for you and feeling a little more at ease with all the Christmas hashtag lists you see around the internet.
Remember – using a hashtag on any platform, at any time of the year, should have a business goal behind it. So, define it clearly and look for hashtags that will tie in with your goals and help you achieve them – using the tools you have at your disposal.
Good luck!