Effective use of social media is an essential part of your marketing efforts, and you can grow engagement on your channels by using hashtags effectively.
Hashtags are words or phrases (written without spaces) preceded by the hash sign. A hashtag creates a clickable link that allows users to easily browse all content utilizing the same tag. Hashtagging is used on all the major social media platforms, including Twitter, Facebook, Instagram, and LinkedIn.
On Twitter, popular hashtags are known as "trending topics":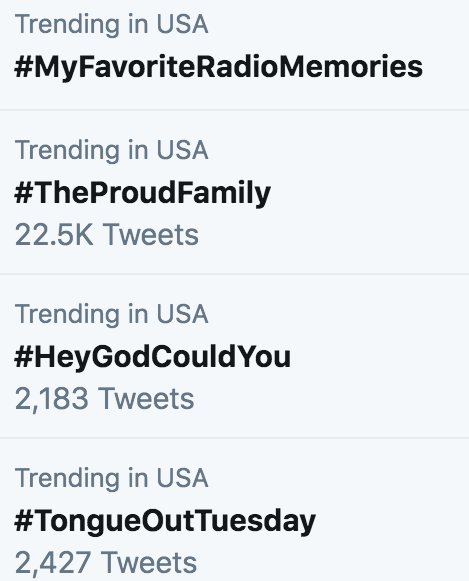 To see currently trending topics, choose "Explore" from the left hand sidebar menu, then select "Trending":

By using hashtags, you can ensure the right people see your posts. So if you plan to start an online business, hashtag research is an essential part of planning your marketing strategy. If you're not convinced, just check out these hashtag fails. You don't want to end up on a similar list in the future! 
Read on to learn all about hashtag research and how to do it.
Hashtag vs keyword
Keyword and hashtag research are related but distinct. In many ways, a hashtag is similar to a keyword. When people look for content using a search engine, they type in a keyword. When they look for content on social media, they might type in a hashtag.
One significant difference between a hashtag and a keyword is the time element.
When you create a blog post and optimize it for a specific keyword, it will take time for the post to start showing up in search results. It can take weeks or months for a post to start ranking highly if it ever does. With hashtags, your social media posts can be showing in search results in seconds. However, a post optimized for a keyword has a longevity that most social media posts and hashtags do not.
Types of hashtags
There are many different types of hashtags. Here are five that are most likely to be relevant to marketing your business on social media:
Related hashtags: These are hashtags that are related to your business or industry. Examples might be #humanresources, #recruitment, and #digitalmarketing.
Local hashtags: These are hashtags related to a specific geographical location or landmark, such as #SanFrancisco or #StatueofLiberty.
Event hashtags: These are hashtags tied to specific events, such as #Comicon.
Holiday hashtags: These are connected with a particular holiday or date, such as #Christmas2020.
Brand hashtags: These are hashtags started and popularised by companies. There are two main types of branded hashtags. The first and most basic is the company name, such as #Nike. The second type is a slogan related to or created by the brand. Well-known examples include #Riskeverything from Nike and #ShareACoke from Coca Cola.
You'll want to use a mixture of hashtag types in your Tweets. Which ones you choose will depend on what is appropriate for your company and industry.
How to do your Twitter hashtag research
Hashtag research is basically composed of six steps. Let's look at each of these steps, and the ways to go about them.
Start with a root hashtag
Begin with a root hashtag that is broad but directly related to the content you'll be posting. For example, you might start with something like #ecommerce or #socialmediamarketing.
What's the first word or phrase that you think of when you categorize your business or product? That's probably a good root hashtag.
Generate more relevant hashtags
There are several tools you can use to generate ideas based on your root hashtag. Hashtagify offers hashtag suggestions based on either correlation or popularity. Here's what I got when I started with the root hashtag #dogs: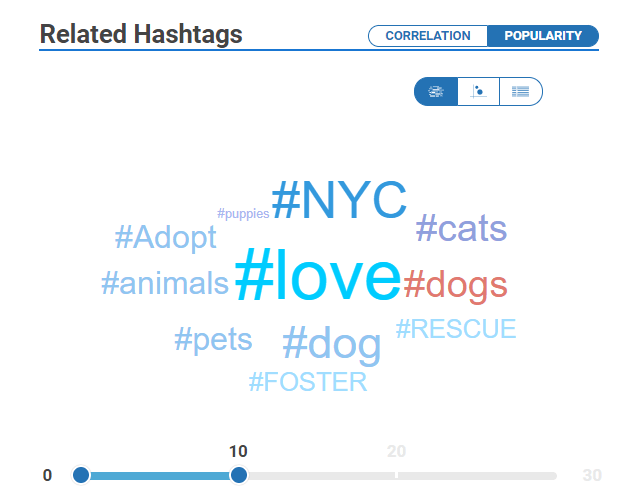 If you upgrade to a paid account, you'll be able to generate a spider diagram of related hashtags. The wider the web, the more popular the root hashtag.
Here's an example for the root hashtag #SEO: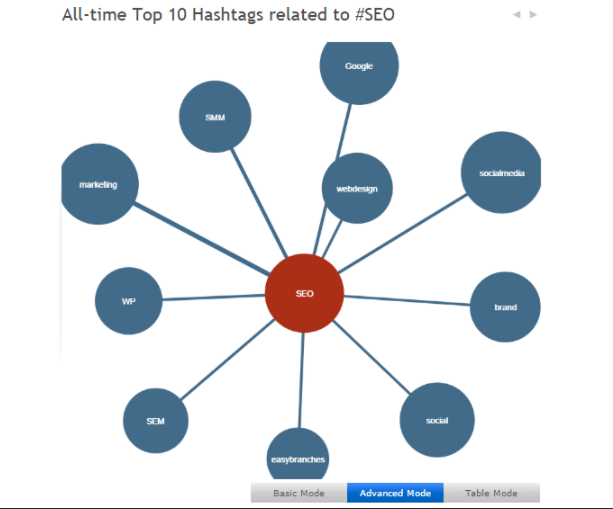 Hovering over every circle will give you a popularity score for that hashtag. You can also get your results in a table format and sort by popularity, correlation to the root hashtag, weekly trend, and monthly trend.
The most popular hashtags are not necessarily the best to use. Some have so many uses that your tweet will likely be lost in the noise. It's best to combine popular and trending hashtags that have a huge reach (#throwbackthursday and #fridayfeeling are two examples) with these with more modest usage figures. Two to three hashtags per tweet, with a mix of popularity scores, is about right.
Popularity is not, by itself, a sufficient indicator that you should be using that hashtag. Remember that a hashtag can be popular for the wrong reasons. If that's the case, associating your company with it can harm your brand and reputation.
It's time for the next step in the hashtag research process.
Look at each hashtag's usage
Next, you need to explore how your prospective hashtags are being used.
Sentimentviz is a useful free tool that provides a visual analysis of sentiment associated with popular hashtags and keywords. Enter your hashtag, and you'll see a chart like this: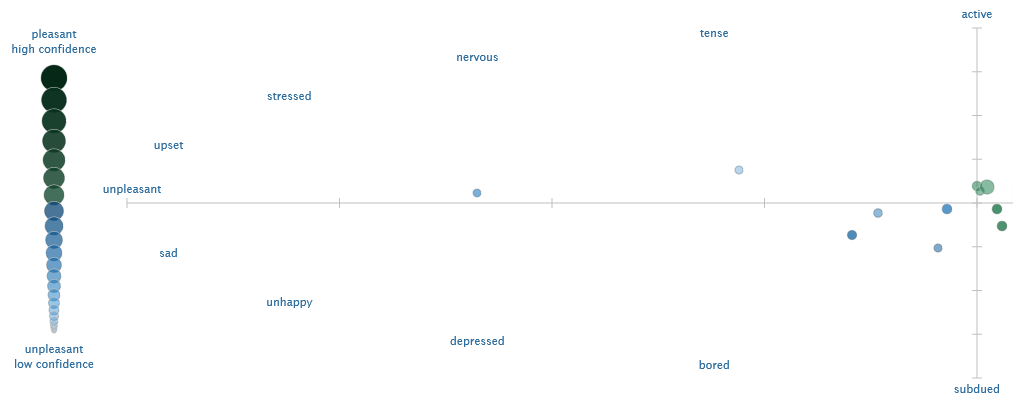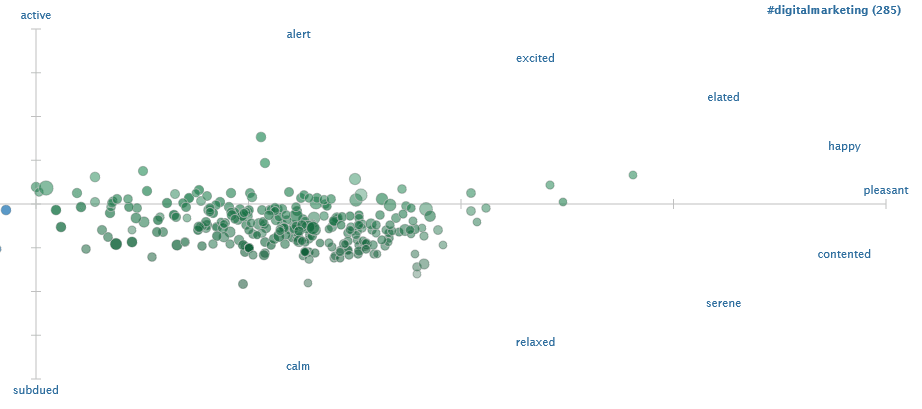 You can click on any of the circles to see some of the Tweets and words that have factored into the analysis. Go through your list of potential hashtags and analyze each one. If any of your contenders has a high percentage of negative sentiment, remove it from your list.
Check Usage Volume
Now that you have your sanitized list of hashtags, it's time to check their usage volumes. This will help you decide which ones to use. Trackmyhashtag's tweet counter is a useful tool that allows you to monitor the usage of a chosen hashtag during a specified period of time: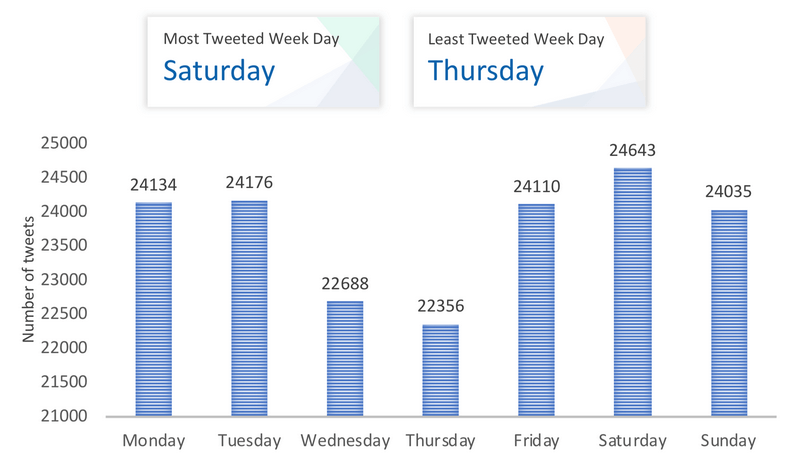 This will help you decide which hashtags to prioritize and when to share them. Aim to use at least one high-volume hashtag (500+ Tweets per day) in most of your posts.
If you get a report that spans weeks or months, you can also see usage patterns over time. This is useful as it indicates when you should add hashtags of your choice to get the most engagement. If a hashtag has significantly declined in popularity over time, that implies that it was a trend that has dwindled. In this case, unless you have a specific reason for trying to resurrect an older hashtag, try to find a different one to use instead.
Get creative
There's no reason you can't come up with your own hashtags that have never been used before. For example, you might make a hashtag out of your brand slogan or the name of a campaign. Some examples of successful campaigns built around new hashtags include Coca Cola's #ShareACoke, and Purina's #PetsAtWork: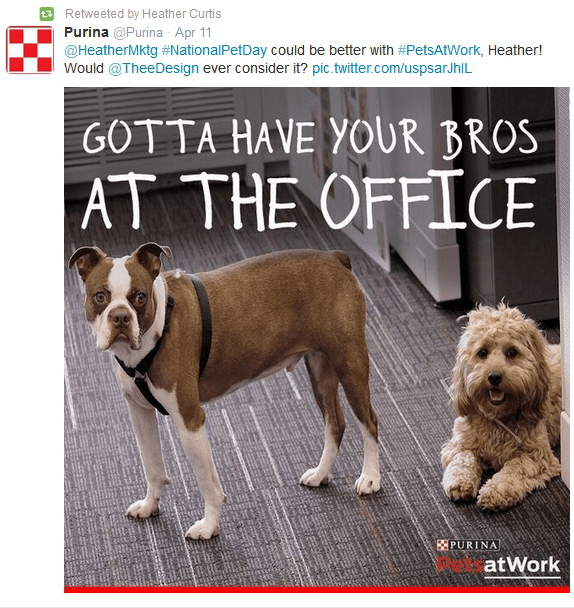 The advantage of a new branded hashtag is that your fans can use it to instantly find content related to your brand and engage with it. They can also tag their own posts with your branded hashtag, which spreads the word about your brand further and potentially provides valuable user-generated content. The downside is that unless you have an enormous following, you're unlikely to get a branded hashtag to trend.
If you come up with a branded hashtag, remember to search it on your social media channels and hashtag tools first. It's always possible someone else came up with it before you.
Determine the perfect time for your posts
Now that you know your targeted hashtags, it's time to determine when you should use them. Hashtags.org is an excellent tool for this. Before you post using a hashtag, enter it into the tool to see a 24-hour trend graph of estimated usage. Here's what I got when I entered the hashtag #digitalmarketing:

Based on this graph, I know that my chosen hashtag is at its peak first thing in the morning. Whether you'll post at the busiest time depends on your social media strategy and goals.
An advantage of posting at the busiest time for your chosen hashtag is that you may get more overall impressions, based on the likelihood of people looking at that hashtag at that time. On the other hand, if there are too many posts with the same hashtag, you risk getting lost in the noise and your post going unnoticed. You must decide on the right trade-off between the two.
What next?
Congratulations – you've finished your first round of hashtag research! You should now have a good idea of which hashtags you are going to use, and when.
Just remember to keep adapting and tweaking your hashtag strategy. Trends come and go, and social media is notoriously fast-paced. Therefore, make hashtag research a regular part of your digital marketing and social media efforts. Remember to track the engagement that your Tweets generate and look for possible correlations with the hashtags that you used. You can analyze engagement with NapoleonCat's Analytics.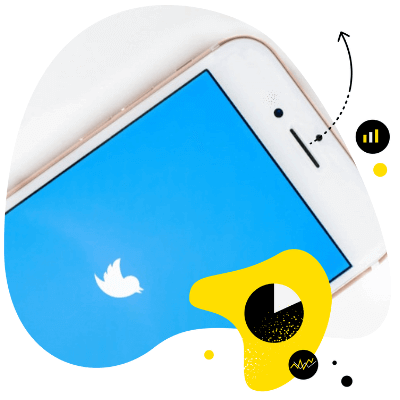 Analyze your Twitter profile
Measure your social media engagement and identify top-performing content, alongside with top-performing hashtags.
Try NapoleonCat free for 14 days. No credit card required.
Hashtag Research Done Right
If you're an online business, having a social media presence is essential. But if you want to reach social media goals and use it to grow your business, you'll need a strategy. You must know your target audience, understand your competition, and keep your messaging clear and consistent.
To get your posts in front of the right people, you also need to make sure you're using hashtags appropriately. That means taking the time to brainstorm, research, and strategize.
Fortunately, once you get used to it, hashtag research is less complicated than it seems. There are many useful tools available to help you too. Follow the tips I've outlined for you here, be a little creative, and be prepared to adapt as trends come and go. Who knows – your brand might just be the next one trending!