The concept of social media is based on the idea of creating online communities. Social networks aim to attract more and more users and keep them engaged. Most platforms use hashtags to do so by helping their users find relevant content more easily. But even though Facebook, Instagram, Twitter, and LinkedIn are essentially based on the same premise, each one of these social networks has a unique nature that affects the way users interact with it.
If you want to grow your business or personal brand on LinkedIn, you need to learn how to make your account more visible on the platform. Dive into the specificity of LinkedIn hashtags to understand how to better promote your profile and easily find the information you're looking for.
What are hashtags and why are they important?
Hashtags have become one of the most popular tools for tagging content on the internet. But what are they, really? A hashtag is basically a word preceded by the # symbol. Note that the # has to be written together with the chosen word – only then can hashtags work as metadata, helpful in content categorization and discovery.
Your next question is probably: why are hashtags so important on LinkedIn, though? Contrary to popular belief, hashtags are not only popular and useful on Twitter and Instagram. LinkedIn also segregates content in a way similar to the rest of the big social media players.
This has some major consequences for LinkedIn users because using relevant hashtags can affect their ability to grow their professional networks. LinkedIn is all about business development and professional connections, so finding the right people to interact with may be crucial for your career path. If you want to develop meaningful business relations via LinkedIn, you should learn how to use hashtags effectively.
Where and when you should use hashtags
To start things off, you need to become aware of where on LinkedIn hashtags can be used. Firstly, you can add hashtags to your LinkedIn posts. This will help the LinkedIn algorithm classify your updates and thus make them visible for people who type any of the hashtags you used in the search bar. It is up to you to decide whether you prefer adding hashtags at the end of your post or including them in the body of your post.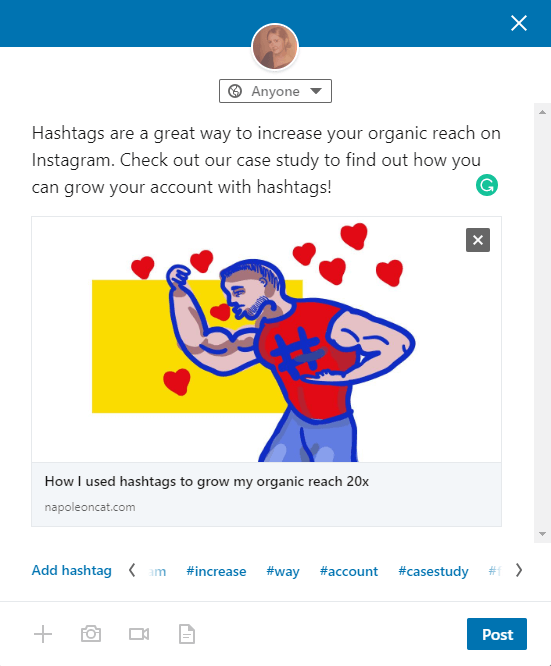 The second way to actively use hashtags on LinkedIn is to add them in the comments section. This way you'll make your activities even more discoverable for other LinkedIn users. It will also make the discussions you get involved in more structured and easier to follow.
Another highly recommended way of improving the visibility of your LinkedIn activities is to always tag your LinkedIn articles. After you finish writing and click the 'Publish' button on your article, a pop-up window will appear. You will be asked to briefly describe your article to inform the readers about its contents. That's where you put in all the relevant hashtags that suit your article's subject matter.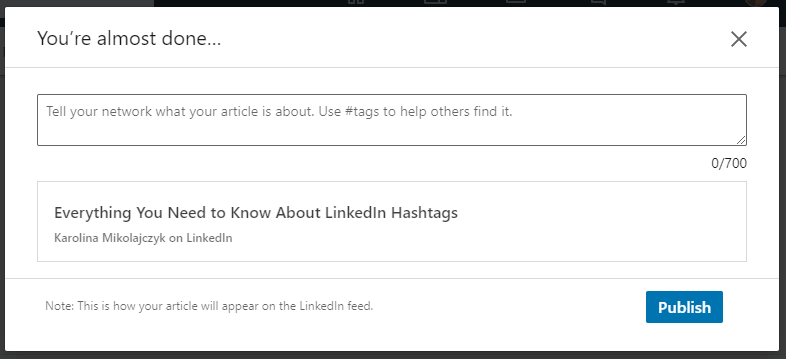 Finally, there's adding hashtags to your LinkedIn profile summary. This is possible in the case of both personal accounts and company pages. Be aware, though, that these hashtags don't work in the same way as those you add to your posts or articles. Think of them more as keywords that you add to your profile. Even though they don't get highlighted and underlined similar to hashtags added to other locations, they play an important role in making your whole profile more visible in LinkedIn search results.
What hashtags should you use?
Knowing how hashtags work and how to use them is a great start, but it's not enough. The next important step is finding out what hashtags you should be using. The easiest way to do this is manually conducting a simple research. You know your business best – and hashtags are essentially keywords connected to your products, services, or line of work.
Once you identify keywords that best suit your profile, just type them into the LinkedIn search bar. You will see suggestions of hashtags related to your specialty. For example, if you want to see content related to social media marketing – type #SocialMediaMarketing in the search bar and start following relevant results. You can also explore more similar hashtags by clicking the 'See all results' button. If you are not sure what to type in, you can start by exploring the hashtags:
Popular in your business field
Related to your business interests
Used by companies you work with or would like to work with
Used by the leaders of your industry or your competitors
If you want to keep an eye on interesting discussions, but you're not sure what other hashtags to follow, you should give the 'Discover more' function a try (you can find it in the sidebar on the left side of your screen). LinkedIn will suggest more interesting hashtags to follow. The recommendations are based on hashtags you already follow, your profile information, and your activity on LinkedIn.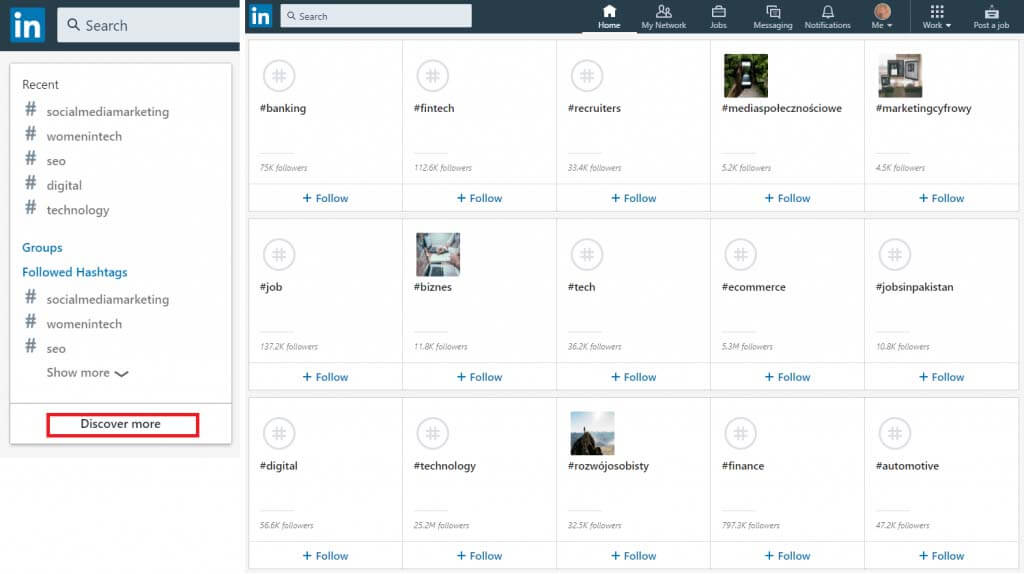 It's also a good idea to check out the hottest LinkedIn hashtags lists from time to time to be aware of what's trending on the platform. Remember to constantly monitor hashtags, people, and brands that you follow to keep your LinkedIn feed tidy and relevant. Doing that will help you make the most of your LinkedIn experience. Also, if you feel like some of your previous hashtag choices were less then perfect, you can always edit or remove hashtags to tweak your existing posts.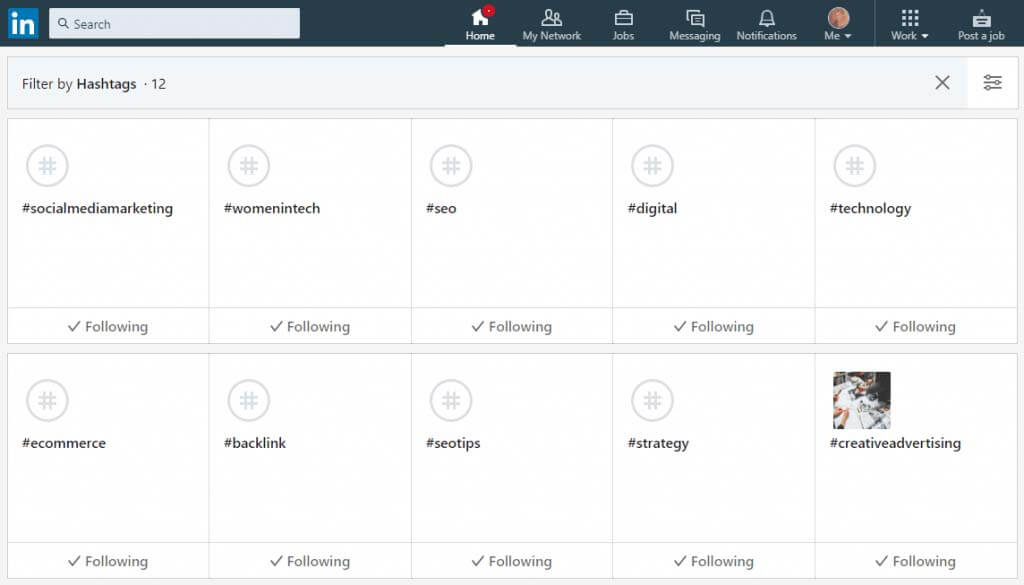 Keeping track of your hashtags
Once you start using hashtags for good, it's time to start tracking and optimizing them. Thanks to that you will gather some crucial knowledge that will help you further develop your LinkedIn strategy.
The best way to do so is to keep checking on your post statistics and driving insights related to how specific hashtags affect post performance. You will eventually discover that some of them work better than others. This will always be a field of continuous improvement, but close observation will help you learn how to tag your posts more accurately. 
Currently, LinkedIn's API doesn't allow third-party tools to analyze hashtags, so the data crunching is on you. This is a good thing though, as performing the analysis by yourself may help you better understand the rules and best practices that govern the LinkedIn environment.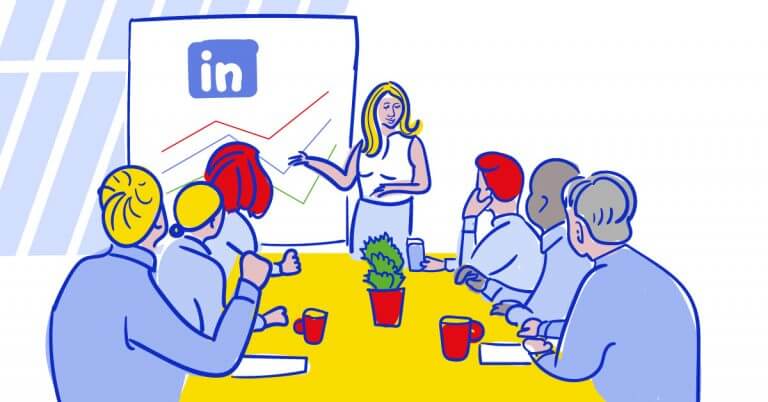 Social media management
Manage unlimited Facebook, Instagram, Twitter and LinkedIn pages in a single inbox. Track competitors and improve performance using simple dashboards.
Try NapoleonCat free for 14 days. No credit card required.
LinkedIn hashtags: best practices
Finally, let's deal with some dos and don'ts that will contribute to the effectiveness of your LinkedIn actions. This section contains answers to a couple of the most frequently asked questions regarding the use of LinkedIn hashtags.
One of the most recurring questions revolves around the number of hashtags you should be adding to your content. You shouldn't compare LinkedIn hashtags to Instagram hashtags, you definitely don't need that many! Consider them to be more like the hashtags on Twitter.
DO use between 1 and 5 hashtags to keep your post clear.
DON'T use # in front of every word in your posts because this will make them look messy and hard to read.
Another issue is making your hashtags readable. You need to be sure that their meaning is clear to everyone.
DO use capital letters in your hashtags. Doing this will make them easier to decode, especially if the hashtag consists of a phrase, not just a single word. #MakeYourHashtagsClear is significantly easier to read than #makeyourhashtagsclear isn't it?
DON'T use punctuation or spaces in the middle of your hashtags – this will break their integrity as metadata and thus make them unsearchable.
If you want to stand out a little bit it is a good idea to create unique hashtags as long as they have a purpose.
DO create event and company hashtags – these will help you to make your account or business page more recognizable and searchable.
DON'T use acronyms irresponsibly. This may lead to a real crisis if you accidentally use one without realizing that it may mean something bad for people who don't know what the individual letters stand for. Being careless while using hashtags can sometimes backfire really badly, so always check everything twice before you post.
Using LinkedIn hashtags can bring much value to your business by increasing your discoverability within the network. If you follow the rules and tips listed in this article you will surely benefit from incorporating hashtags into your LinkedIn strategy. Building up first-hand experience in this field will also help you get more comfortable in tagging and will eventually make you a true master of it. Good luck!