Every year around the beginning of February, Instagram feeds start filling up with Valentine's Day content. It's really not that long until you'll notice a spike in online displays of love mixed with memes, posts criticizing the commercial nature of the holiday, and, of course, heaps of Valentine's-themed branded content.
And, while opinions about the romantic holiday vary, its potential to generate buzz on social media should not be overlooked. Decide how you want to address Valentine's Day 2023 in your Instagram strategy and pick the best Valentine hashtags to boost the reach of your campaign.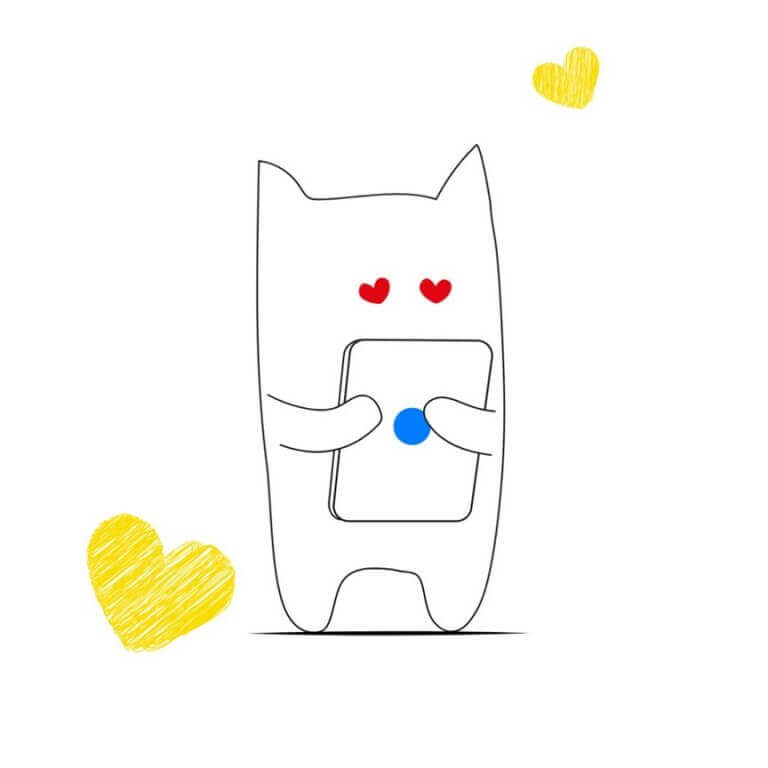 Valentine's Day Deal: List of the best hashtags for 2023!
Want to get more out of your V-Day Campaign? Download our list of both the most popular and industry-specific hashtags.
Not sure where to start? Here's everything you should know. 
Know the top Valentine's Day-themed hashtags
When trying to figure out what hashtags you should add to your seasonal posts, it's best to start with the basics. We made a list of the most popular Valentine's Day hashtags in 2023 so you don't have to. Here they are!
#ValentinesDay (25 million posts on Instagram)
The most obvious Valentine's Day hashtag in 2023 is also the most universal one – as you can see above, it can be used even in posts promoting children's clothing.
However, when using this one "big" hashtag, remember to pair it with hashtags that are a bit more specific and speak to your location or business profile.
After all, the main purpose of hashtags is to increase the discoverability of content, and you wouldn't want your posts to get lost amongst the millions of updates using the #valentinesday hashtag.
It's simply easier to rank in the hashtag browser for less popular hashtags.
Notable variations:
#happyvalentinesday (9.9 million posts)
#valentinesdayspecial (130 thousand posts)
#valentinesdaycards (87.4 thousand posts)
#valentinesdayideas (82.9 thousand posts)
#valentinesdayflowers (80.2 thousand posts)
#valentinesday2023 (59.1 thousand posts)
#ValentinesDayGift (1.9 million posts on Instagram)
While this Valentine hashtag might not be as popular as #ValentinesDay, it holds a lot of value – it can bring new customers to your Instagram account. Treat it as an opportunity to organically get your brand in front of new, valuable eyes. Studies show that in 2015, 40% of all Valentine's related searches included the word gift!
Notable variations:
#valentinesdaygifts (385 thousand posts)
#valentinesdaygiftideas (154 thousand posts)
#valentinesdaygiveaway (42.3 thousand posts)
#valentinesdaygiftshorher (828 posts)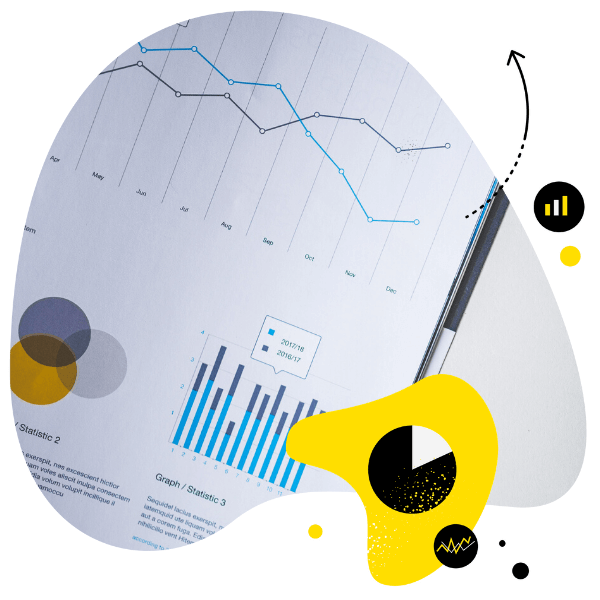 In-depth Instagram analytics
Analyze your own Instagram accounts and your competitors, too. Generate in-depth reports in seconds. Try it for free:
Try NapoleonCat free for 14 days. No credit card required.
#GalentinesDay (1.1 million posts on Instagram)
Valentine's Day isn't always about romantic love. Make sure you acknowledge that in your Valentine's communications to prove that you understand the needs of everyone in your audience. Gal power!
Notable variations:
#galentinesdaygift (5 thousand posts)
#galentinesdayparty (5 thousand posts)
#galentinesdaygiveaway (1 thousand posts)
#galentinesday2023 (312 posts)
#AntiValentinesDay (93.6 thousand posts on Instagram)
#AntiValentinesDay is yet another hashtag you can use if you want your content to be more relatable to those who don't celebrate Valentine's Day – at least not in the traditional sense. As negative as it might sound, it can add a lot of humor to your communications. Consider pairing it with Valentine's-themed memes!
Notable variations:
#antivalentines (37.3 thousand posts)
#singlesawarenessday (1 thousand posts)
#antivalentinesdayparty (1 thousand posts)
#antivalentinesdaymakeup (1 thousand posts)
Create your own Valentine's Day branded hashtags
If you're planning an elaborate social media Valentine's Day campaign that will support a charitable cause or include contests for users, consider using a branded Valentine hashtag that will make it easier for your audience to participate.
Here are some successful examples of branded Valentine's Day-themed hashtags.
#Lushvalentines
Lush used this dedicated hashtag in their Valentine's Day posts, but the community caught on to it, generating an astonishing 40.1 thousand posts in total.
#payloveforward
The Body Shop created the hashtag #payloveforward to celebrate inclusive love. The brand used it in their Valentine's Day communications across international social media channels as well as in UGC contests on a few different markets.
#lindtlove
Lindt uses this branded hashtag year-round, but it becomes particularly relevant around Valentine's Day. Last year, the brand teamed up with a few influencers to share the love with new audiences.
Valentine's Day hashtags – FREE BONUS
If you need more Valentine's Day hashtags, we prepared a free, detailed PDF with even more hashtags and tips for your campaign – you can download it here.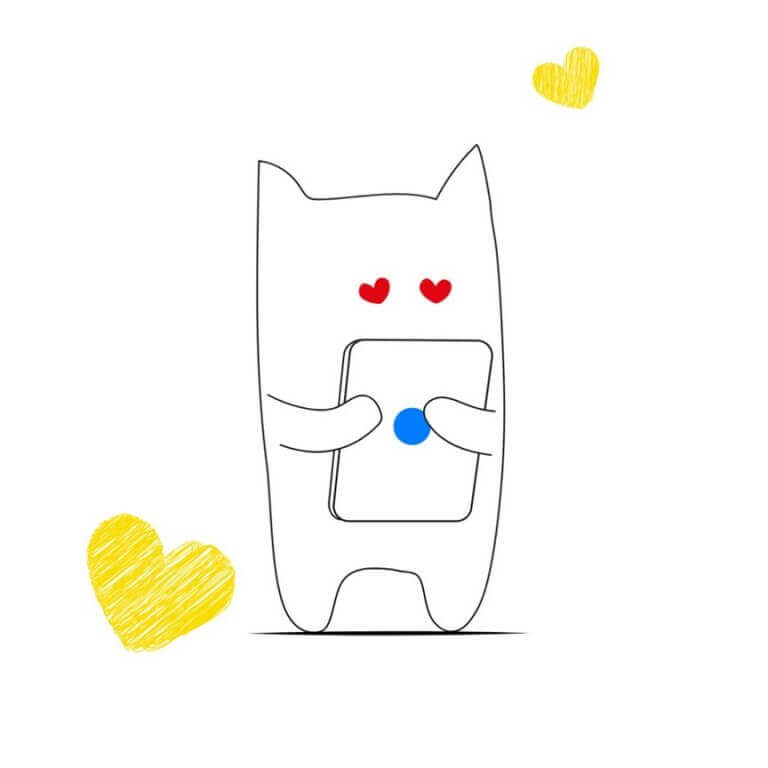 Valentine's Day Deal: List of the best hashtags for 2023!
Want to get more out of your V-Day Campaign? Download our list of both the most popular and industry-specific hashtags.
Explore trending hashtags
Before we wrap up, let's touch on one more important group of hashtags you should be aware of when planning your Valentine's Day campaign: trending hashtags. Instead of listing last year's trends or trying to predict the future, we'll show you a few ways to find hashtags trending at the moment. Instead of giving you the fish, we'll teach you how to fish.
1. Use Instagram's Explore page
The Explore page is the first thing you see when you go to the Search tab in the Instagram app. It's a collection of trending content curated for every individual user based on how they use Instagram.
You will definitely see a good amount of Valentine's Day content here in the weeks leading up to the holiday – explore, look for patterns, and get inspired.
2. Use a hashtag exploration tool
Automate the process and let software do the work for you! There's plenty of tools available – start with a free solution like All Hashtag.
Using NapoleonCat's hashtag analysis, you can quickly find out which hashtags your competitors are using and which of these hashtags perform best.
First, you'll see a general overview of your competitors' hashtags in our so-called "hashtag cloud". One glance is enough to see whether you're missing out on a trend your competitors are embracing:

You'll also be able to see a more detailed hashtag performance in the form of a table. The hashtags will be broken down by the number of posts, comments, likes, and engagement rate: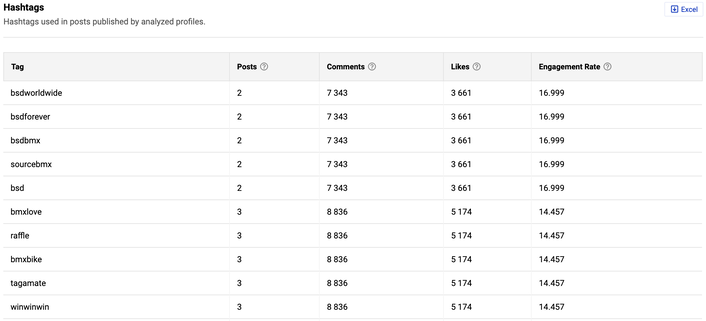 Wrap up
There you have it – the best hashtags and hashtag strategies you can use to amp up your Valentine's Day social media marketing campaigns.
Use our guide to make sure your Valentine's posts reach the audiences you're going after, and don't forget to measure your results and apply your findings to future campaigns. Good luck!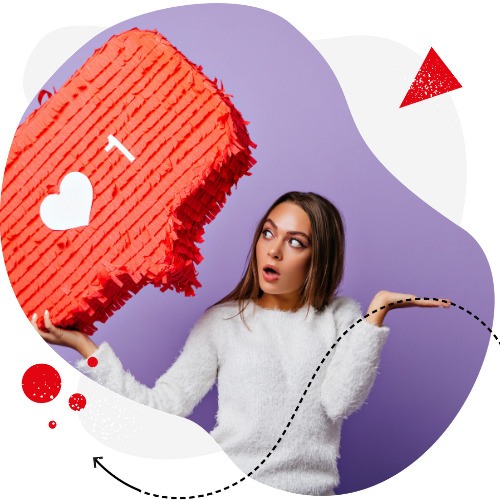 Instagram marketing made easier
Figure out what to post and when. Find the best-performing hashtags. Try it for free:
Try NapoleonCat free for 14 days. No credit card required.