Valentine's Day is a holiday that provokes strong opinions. For some, it's a welcome excuse to celebrate love and get their sweethearts – or themselves – something special. Others see it as not much more than a cheesy marketing gimmick.
Regardless of where you stand in this argument, you should consider building Valentine's Day into your social media strategy. After all, the holiday is going to happen either way, and acknowledging it in a thoughtful way can be a great opportunity to showcase your brand's personality and get some love from your customers and social followers.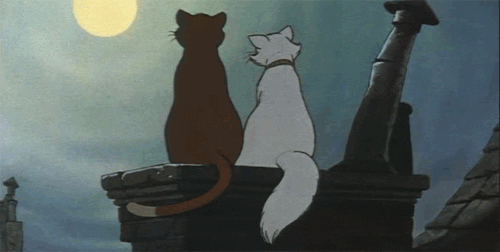 Grasp that opportunity with our guide to planning and carrying out a social media Valentine's Day campaign your audience will love and remember.
Establish campaign goals
If you're not sure whether you should jump on the bandwagon and celebrate Valentine's Day on your social profiles, think about what effects you would like your potential campaign to accomplish.
As in the case of all social media marketing campaigns, a seasonal activation is only worth your time if it's aligned with your overall digital marketing strategy and supports your business objectives.
With that in mind, let's go over some goals a successful Valentine's Day campaign can help you achieve:
Building brand awareness and reaching new audiences – if this is your goal, consider including influencers, competitions, or custom hashtags in your plan;
Boosting sales – if you want to use social media platforms as a sales aid and promote Valentine's Day-themed products or services, focus on creating attractive product posts and try to get your audience involved in showcasing your brand (user-generated content contests, anyone?);
Building or enforcing a positive brand image – thoughtful communications with a focus on inclusivity (not everyone's living in a love story!) are the way to go if you're looking for a sentiment boost.
These are just examples of how Valentine's Day posts can make an impactful addition to your social media calendar – we're about to go into more detail on creative approaches that can help you succeed.
Figure out the campaign's creative direction
On to the fun part. With high-level strategic decisions out of the way, you can focus on planning a creative campaign that will convey your message in a beautiful package.
Here's a list of campaigns that our team found inspiring – take a look!
MeUndies and their Valentine's sets for two
Last year, underwear brand MeUndies, known and loved for celebrating diversity and inclusivity across their digital campaigns, focused on promoting a limited-edition, love-themed line of couples' underwear. The campaign was active on multiple social channels and – on top of official photoshoot images – included memes, UGC, and content acknowledging single fans.
MeUndies' campaign is a great example of how product posts with a clear sales focus (see the call to action and link to the campaign's landing page) can be heartwarming and engaging.
Lush and the campaign that checks all the boxes
Environmentally-friendly cosmetics giant Lush is another great example to follow when planning a Valentine's Day campaign. In 2018, their campaign did everything right:
it promoted seasonal products (see Valentine's Day gift suggestions below)
it nurtured the brand's positive image (other posts included relatable pictures of couples)
it reached an amazing audience by featuring a contest as well as a dedicated Valentine's hashtag, #lushvalentines (that's so far been added to over 36,000 posts!)
Glossier and the minimalistic approach
You don't have to flood your Facebook Page or Instagram feed with heart-shaped sweetness. Sometimes a post or two is more than enough to show your audience how you feel about Valentine's Day.
If you decide not to go all out on Valentine's Day, consider posting something tongue-in-cheek that will show your audience that you're acknowledging the holiday, but it's not necessarily your goal to only appeal to the love doves.
Post like this will make anyone smile – the sweethearts and the Galentine's Day-celebrating gals. And while they might not result in an immediate sales boost, they can definitely reinforce your image of a cool, relatable brand.
Handle the process
You now have a set of goals and creative ideas for your awesome Valentine's Day social activations – you're almost done! The last – but very important – step is planning the logistics of your campaign.
Remember to follow these steps to make sure your ideas reach their full potential.
1. Plan in advance
This one should go without saying. If you want your campaign to reach the right people, convey the right messaging, and reap the rewards, have a plan in place at least a few weeks in advance. Here's what shouldn't wait until the last minute:
Content and copy, adjusted to the platforms you intend to post it to;
A publication schedule, preferably automated. This step is particularly important if you're planning a complex campaign. Publish content during your audience's peak activity periods on each platform, and make sure to mix it up a bit – your followers will get bored quickly if you give them 17 product posts in a row.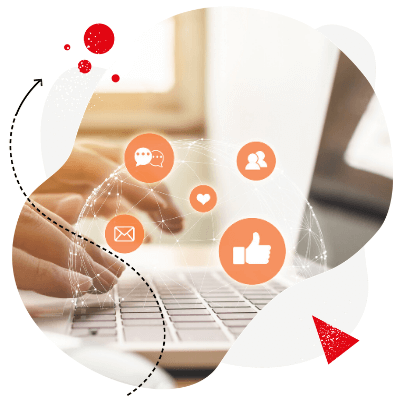 Social media management
Manage unlimited Facebook, Instagram, Twitter and LinkedIn pages in a single inbox. Track competitors and improve performance using simple dashboards.
Try NapoleonCat free for 14 days. No credit card required.
2. Manage community engagement
Your job is not done once the content is published – some might argue that that's when the hard work just begins. Make sure you stay on top of the conversations happening around your campaign posts – engage with the positive ones, and apply your best social customer care standards to address any questions, concerns, or negative opinions.
Don't underestimate the power of kind and timely social media responses – the modern customer treats social media as an important touchpoint with brands and expects professional service on traditional customer care channels and social alike.
3. Measure the results
We talked about how every social media campaign should be designed with specific goals in mind. But this approach only makes sense if you measure your campaign's performance – how else would you know if your objectives have been met?
Built-in analytics tools available on every individual social media network are a viable solution if you are only running your campaign on one or two platforms. For more elaborate activations, consider a more advanced tool. Our very own NapoleonCat allows you to track important social media metrics (including reach, impressions, engagement, and hashtags) across Facebook, Twitter, Instagram, YouTube, LinkedIn, and Pinterest. The Social Footprint feature will provide you with additional insights, illustrating the combined performance of all your social profiles.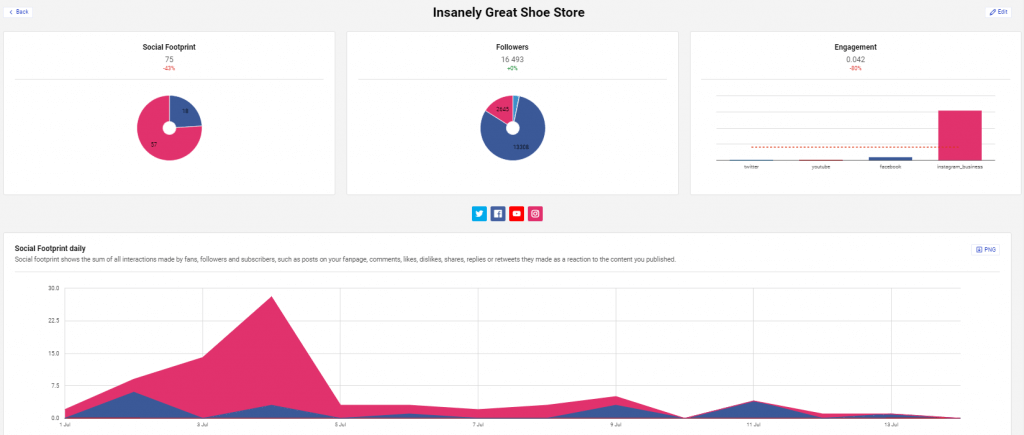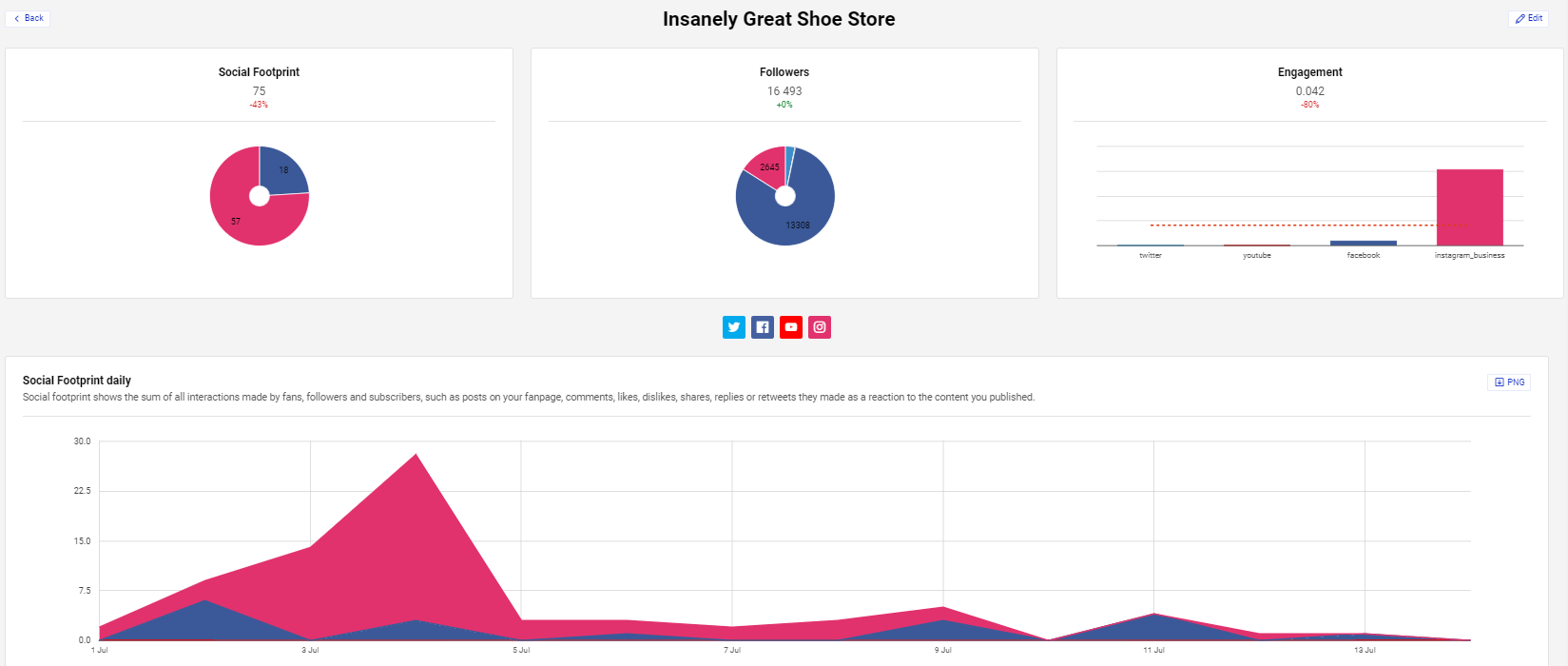 Final thoughts
Valentine's Day might not be everyone's highlight of the year, but it's a fun holiday that has the potential to generate a positive buzz on social media.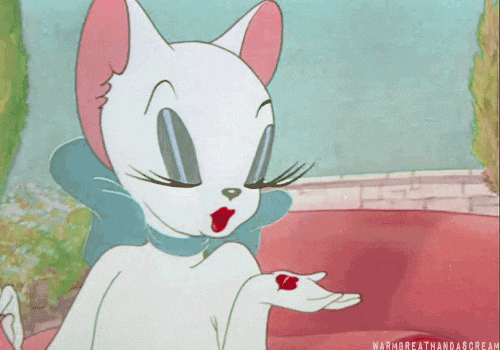 Use this guide to build your own tailor-made campaign, and put a process in place to measure the performance of your Valentine's Day content. The insights will help you plan successful campaigns year-round. Lovely, huh?