Since the outbreak of COVID-19, social media has been filling up with nothing but the latest updates concerning the spread of the disease, voices of uncertainty, and, sadly, fake news.
People are having a hard time adjusting to the lifestyle changes necessitated by the pandemic, and the affected communities are enduring a lot of physical, mental, and emotional stress. Since residents of the COVID-19 hotspots have no place to go, they're looking for signs of change within their newsfeeds.
It's hard to maintain peace on social platforms open to anyone's contribution, but it's definitely worth trying. Searching for examples of civil and helpful social media communications surrounding difficult topics, we decided to take a close look at how NGOs manage their social profiles.
Well-versed in crisis communications, non-governmental organizations experience numerous critical situations that bring high traffic to their social channels. They manage to use it for common good and overcome panic with educational content, fundraising, and sharing reliable information – and as such, they should be an inspiration for all social media communications in these uncertain times.
The challenges of managing social media during a crisis
Floods, fires, and earthquakes affect countries all over the world. The fallout can be tragic. Such events take lives, separate families, and ruin possessions. They also tend to get a lot of traction on social media from worried communities and individuals looking to help. News articles are shared, people leave numerous comments, send messages, and form groups – either seeking help, offering help, or just trying to stay up to date during the tough period. What's more, Facebook makes it easy to track if the ones you care about are safe: a while back, the platform introduced crisis responses which allow users from areas affected by disaster to mark themselves as safe.
In such situations, effective communication focused on timely responses and accurate information is key, but that's often easier said than done. News providers and NGOs come across many issues. To name a few: similar questions appear every moment, people (often unwittingly) spread fake news and panic in comments, sometimes alongside inappropriate language or content.
Hundreds or thousands of questions, concerns, and comments fall on the shoulders of a few – social media managers and moderators. Their role is to provide reliable, timely, and helpful information and keep their virtual space free of harmful content. But, especially during crises, team members can struggle to streamline moderation processes: automating replies to comments and messages, reaching broad audiences to collect donations, and dividing time between different social media management tasks.
Crisis management techniques for social media
The very nature of any crisis is that it's unpredictable. That's why it's best to have your crisis management strategy already figured out and pre-approved before disaster happens. We completed a list of strategies non-governmental organizations often incorporate into their potential media crisis management plan – and which can serve as a set of guidelines for organizations, regardless of niche.
Monitor online media
Internet monitoring tools such as Mention help organizations identify emerging issues at early stages. As a non-governmental organization, you can tap into the power of internet monitoring and social listening to:
Track how people feel and what they expect from your organization – not all exposure is good exposure. Monitor and analyze sentiment in order to understand how your online presence and actions are perceived.
Prepare yourself for emerging questions – use monitoring tools to track the questions and uncertainties that are already out there on the internet as similar issues may soon be raised on your social media or right in your inbox. For additional context, follow news reports and press conferences, where burning questions are asked and answered.
Adjust your tone of voice – analyze social sentiment to adjust the tone of your communications to how people feel about a current situation.
Create a FAQ section
During critical situations, certain questions will be asked on repeat. For example, people may be asking about the disaster's potential effects on their lives or seeking information on how they can support your actions, donate to the cause, etc. Try to recognize reappearing issues at the early stages of the crisis and prepare ready-made templates with answers, known as saved replies. Use the templates for answering questions within comments and private messages on social media.
Some social media platforms (including Instagram, Facebook, and Twitter) have built-in functionalities that allow setting up saved replies to direct messages. Using automatic replies can help you improve your response rates, which is particularly important during a crisis, when organizations deal with a high volume of similar inquiries.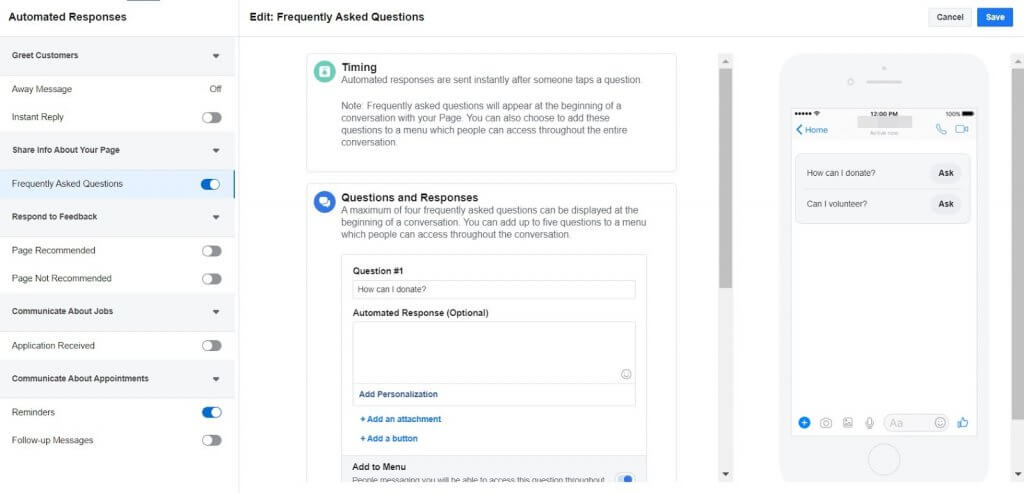 During critical situations, it's also important to keep information organized. Create a resource center for crucial news and answers to frequently asked questions: it can be either a separate page on your website or, for example, a separate section within Instagram highlights. Redirect your social media audiences to that specific information outlet when necessary. This way, you'll avoid any confusion, and you'll be able to save your time for what's truly important during the busy period: finding new, creative ways to help the cause.
Redesign your social media content plan
Forget about the tweets and posts you planned, it's right here and right now. During a crisis, the content you publish should be limited to:
Educational materials – share social media posts that provides true value. Educate people on how to behave, what to do and what not to do. For example, during the COVID-19 pandemic, NGOs as well as governmental organizations, brands, and individuals are sharing hygiene instructions, emergency contacts, and overall dos and don'ts.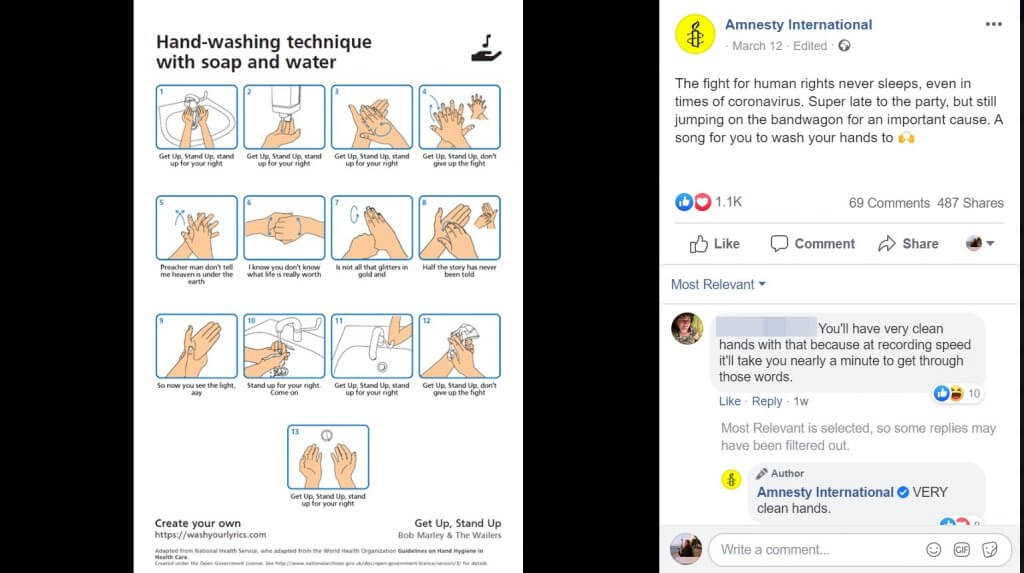 Instructions on how to provide support and donate to the cause – make sure to spread a clear message and provide your social audience with information on how they can help: donation details, voluntary work openings, and charity events.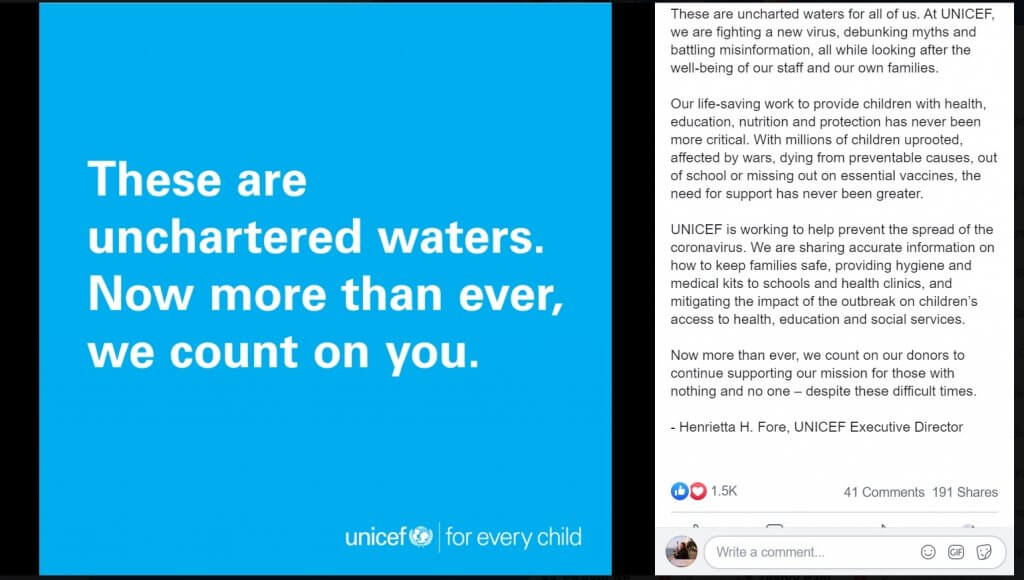 News – be careful when sharing news. Make sure the information you share comes from trustworthy sources. Try to share facts – avoid narratives that could potentially contribute to arousing public fear. Most importantly, do your best to eliminate fake news concerning either the overall situation or your organization's actions.

Frequently asked questions and advisory information – all the dos and don'ts in a crisis situation.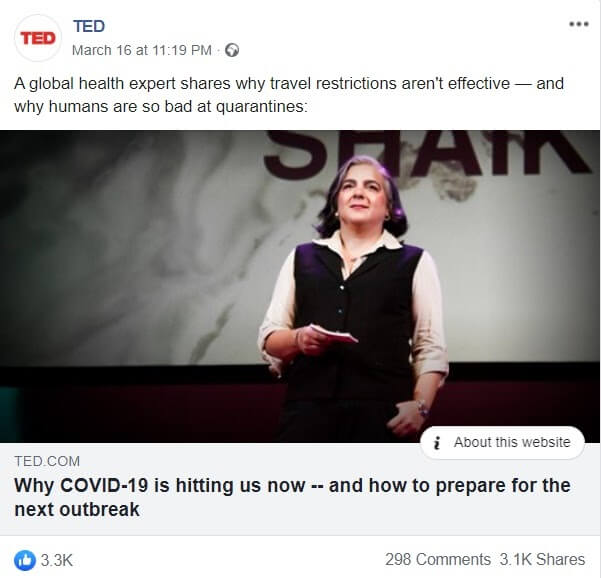 Emotional support – crises usually trigger unforeseen, negative consequences. Do your best to manage your followers' anxieties, be kind and empathetic. Your emotional support is invaluable. During the COVID-19 epidemic, many organizations (such as Greenpeace Australia pictured below) remind social media users how to take care of others during this difficult time.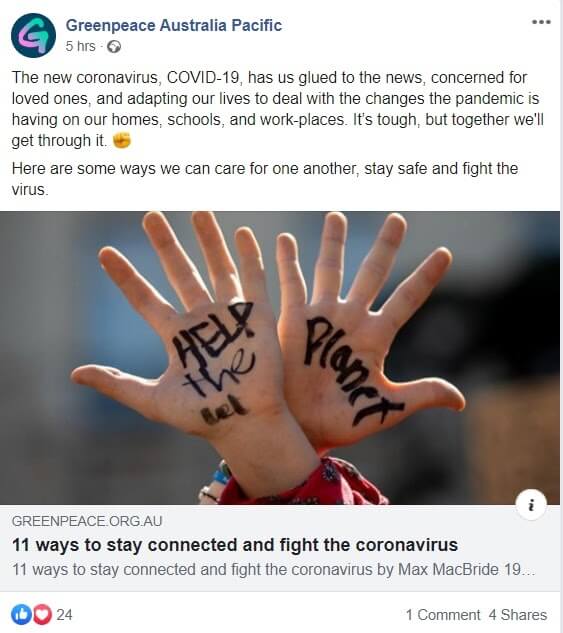 Optimize your social media accounts
Make sure anyone visiting your social profiles during a crisis will immediately find both help and the most relevant information.
If your organization's primary focus is addressing the crisis, optimize your background images on Facebook and Twitter – make sure your cover photos speak to the crucial information you're focused on sharing at the moment. Create a section within your Instagram Highlights and use it as a compendium of all information concerning the current situation. Make use of Twitter's pinned tweets feature and keep the most important updates right at the top of your Twitter profile.
If you use one social platform more than extensively than others, make sure to redirect users from other social media channels there. If you wish to keep all socials equally updated, you can consider using external social media management tools to simultaneously publish to multiple profiles.
Facilitate direct communication: make sure to fill in your contact information and give your audience a chance to reach you via messaging apps like Facebook Messenger. Create a Facebook Messenger greeting, that will appear immediately once someone opens a message thread, before they send their first message. Make it work for your specific needs – you can insert links within the text or include your working hours. You can also set up an automatic first response or automated answers to frequently asked questions directly within your Facebook page settings.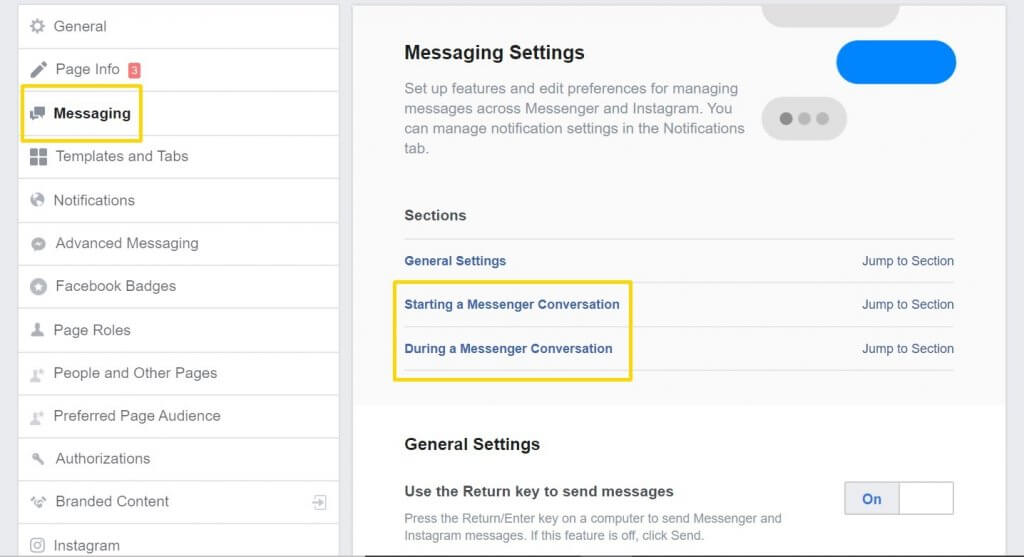 Get the right tools
As an organization, you're not alone in doing good – your online community is there to support your activities. We know it's not easy to combine social media management with crucial daily duties, especially during a crisis. But there's many businesses that are willing to support non-governmental and charity organizations by offering their services at a reduced fee.
Here's a list of social media tools offering discounts for non-profits. If you're interested in purchasing NapoleonCat with the discount, contact us.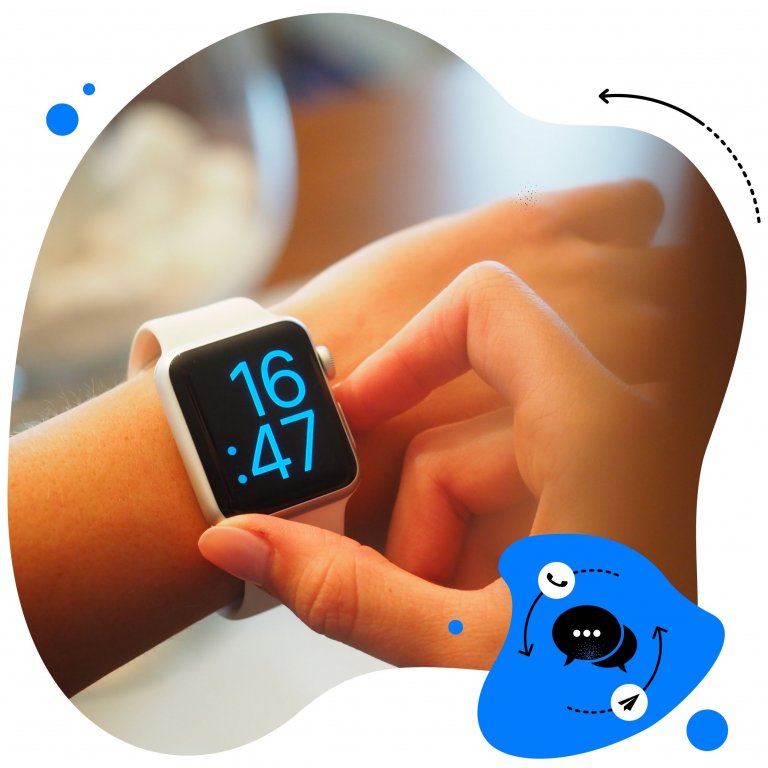 Go the distance with rapid response rates
Deliver timely responses on social media with a 50-percent discount for all non-profit and educational organizations.
Try NapoleonCat free for 14 days. No credit card required.
Wrap up
Social media is a powerful tool which can help you create a positive brand image and engaged communities around your organization . With Facebook, Instagram, Twitter, and many other platforms you're able to do good – better.
Take care of your social media following, deliver valuable information from trustworthy sources and offer emotional support. Make use of the power of social media to collect donations and create communities of volunteers. You're not alone in your efforts. Keep your head up – and keep up the good work!