In an overcrowded TikTok landscape, it can take a lot of work for content creators to stand out and gain the attention of their target audience.

Millions of TikTok creators are striving for attention. If you want to get noticed by your target audience, you need to establish your credibility and trustworthiness on the platform.
And one of the most effective ways to do that is by getting your account verified.
But how exactly do you get verified on TikTok?
In this article, we'll talk about how to get verified on TikTok and discuss why getting your account verified is a big deal. We'll also provide some tips to help increase your chances of earning that sought-after badge.
We'll cover the following: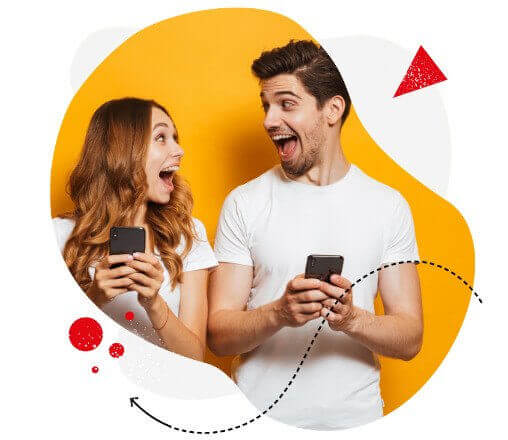 Social media management made easier for teams
Social media automation, analytics, reporting, scheduling, and more. Try NapoleonCat and save 90% of your time spent on marketing tasks. Try it for free:
Try NapoleonCat free for 14 days. No credit card required.
What does getting verified on TikTok mean?
Getting verified on TikTok means that your account has been officially recognized and authenticated by the platform. It is a status that is presented to you in the form of a blue badge of authenticity.
It's like a virtual high-five from the TikTok overlords themselves. What type of endorsement could be better?
When your followers and other users see the verification badge on your profile, they know that the account is the real deal. This can go a long way in helping you build your credibility and trustworthiness.
Why you should get verified on TikTok
Let's go over why getting verified on TikTok is one of the best decisions you can make as a brand or business.
Getting verified on TikTok makes you more trustworthy
When you're rocking that blue checkmark, users are more likely to trust you. And once you've earned that trust, building relationships with your followers becomes a breeze.
You'll be cruising down the road to becoming an authority in your field, waving at your newfound fans along the way.
The best part? As a verified account, you'll have an edge in the competitive online marketplace, which can help you attract more customers and grow your brand.
Getting verified on TikTok increases Visibility
Being trusted by other users is nice. But getting your TikTok videos "liked" or shared? Much, much nicer.
The great thing about being verified is that it makes users more likely to like or share your TikTok content.
When people engage with your content, it sends signals to the algorithm that your content is interesting and valuable to the TikTok community. This gives your profile the boost it needs to appear more prominently in search and discovery results.
And when your profile gains increased visibility, it opens the door to more followers, greater opportunities, and a chance to truly make your mark on the platform.
Getting verified on TikTok opens up opportunities for profitable partnerships
Brands and influencers are always on the lookout for content creators to collaborate with.
Here's why that little blue badge is like a golden ticket to landing profitable partnerships:
Trust and authenticity: A verified account gives brands and influencers the assurance that they're collaborating with a genuine and reliable creator.
Quality content: The verification process highlights creators who bring something unique and engaging to the table, giving collaborators confidence in the content they'll be associated with.
Increased reach: Verified accounts often enjoy greater visibility, meaning the collaborations have the potential to reach wider audiences and make a bigger impact.
Zach King's verified status on TikTok helped pave the way for a profitable partnership with CAPEX.com, who chose him as their Brand Ambassador due to his widespread influence and creative, out-of-the-box thinking.
Getting verified on TikTok protects you from impersonators
The more followers you gain on TikTok, the more likely you'll be targeted by copycats who want to profit from your hard work.
One of the most effective ways to deal with fake accounts is to get your account verified. This way, TikTok will know that you are the legitimate owner of the account, making it easier for them to take down any impersonators.
Having a verification badge makes it easier for users to identify impersonators. This can help reduce the chances of someone stealing your identity or damaging your reputation.

How many likes do you need on TikTok to get verified
Well, surprise, surprise – there's no specific number of likes required for verification. Yep, it's not all about the 'likes.'
In fact, there have been cases where accounts without a huge number of likes have still scored the blue checkmark.
So, what's the secret sauce? It's all about the bigger picture.
TikTok considers a variety of factors when deciding to verify an account: consistent follower growth, watch time, media coverage, and verification on other social media platforms all play a role in the decision-making process (we'll cover all these shortly).
So, don't get too caught up in the like game – focus on building a strong overall presence and you'll get there in time.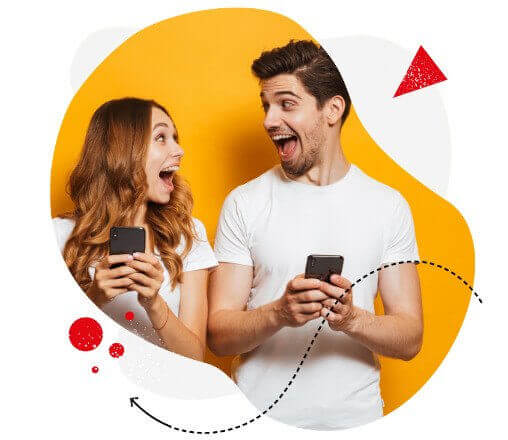 Social media management made easier for teams
Social media automation, analytics, reporting, scheduling, and more. Try NapoleonCat and save 90% of your time spent on marketing tasks. Try it for free:
Try NapoleonCat free for 14 days. No credit card required.
How many TikTok followers do you need to get verified?
Again, getting verified on TikTok isn't just about the level of engagement and popularity you gain on the platform.
That doesn't mean having an impact on TikTok doesn't matter. It does. However, you can also earn the right to a verification badge by having an impact on other channels or platforms.
If the number of likes and followers doesn't determine verification, what does? We'll cover this in the next section.
What are the requirements for getting verified on TikTok?
Here's what TikTok takes into account for verification:
Level of activity: You've got to be in the game to win it. Make sure your account has been active within the last six months.
Your authenticity: Your account must represent a real person, business, or entity. TikTok only grants one verification badge per individual or business, with exceptions for language-specific accounts.
Profile completeness: A picture is worth a thousand words, but so is a well-crafted bio. Your account should be public, featuring a bio, name, profile photo, and at least one video.
Your impact: TikTok keeps an eye out for accounts that have been featured in multiple news sources. But heads up – they don't count press releases or sponsored/paid media.
Your level of security: Make sure your account has multi-factor authentication enabled and is linked to a verified email address.
How to get verified on TikTok the easy way
Spoiler alert: there's no magic formula or instant shortcut for getting verified on TikTok.
It's worth noting that verification is primarily reserved for notable figures, brands, and influencers. So, it can be challenging to get that stamp of approval.
But hey, you're a marketing pro, so never say never, right? If you want to know how to get verified on TikTok without followers – at least in the beginning – the next section provides some handy suggestions to increase your odds.
5 tips to get verified on TikTok
Let's get to it! Here are five ways to get verified on TikTok.
1. Follow community guidelines
TikTok has a set of community guidelines that all users must follow. This means no spamming, no hate speech, and no inappropriate content. Following these guidelines will show TikTok that you're a responsible user who takes the platform's rules seriously.
Remember, being a verified TikToker isn't just about following the rules – it's also about contributing to a positive and inclusive environment. Consistently violating the community guidelines will not only sabotage your current efforts but also leave a bad impression on your brand.
2. Create high-quality content
To get verified on TikTok, you need to post high-quality and engaging content. Consistently.
Your videos should be well-lit, edited, and have audio that is clear and easy to hear. Additionally, your videos should be interesting, informative, or enjoyable. Use catchy music and sounds by leveraging TikTok's music library. Inject humor and personality into each video.
When your videos start making waves and grabbing attention, it signals to TikTok that you're a creator worth paying attention to.
As your profile gains traction, your chances of getting approved for account verification also increase. After all, TikTok wants to recognize and highlight creators who genuinely contribute value to the platform.
@thep00lguy earned his verified status on TikTok by consistently posting high-quality, satisfying pool-cleaning videos, captivating millions of viewers, and inspiring user-generated content on the platform. You can check out his Creator Spotlight page on the TikTok website!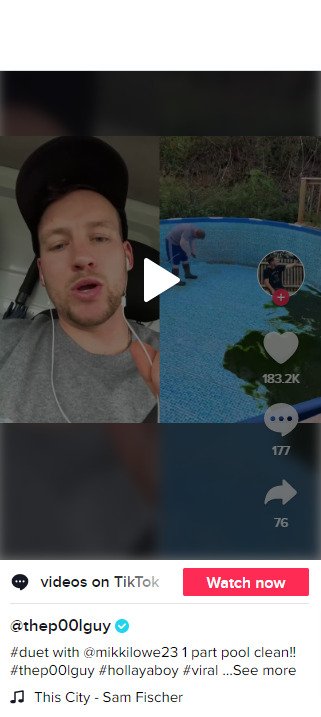 3. Use trending sounds and hashtags
TikTok users love to hop on trends. In fact, 67% of TikTok users prefer to see videos that feature popular or trending songs on the platform.
By hopping on these trends, you can significantly increase the visibility of your content on the platform.
If you're wondering where to find the latest trending music, sounds, and hashtags, look no further than TikTok's "Discover" page. This is your one-stop shop for all things trending. Remember to keep an eye on viral challenges, as they often come with their own set of popular sounds and hashtags.
Remember, increased visibility goes hand in hand with increased engagement. The more users interact with your content, the better it is for your overall TikTok presence. And as you consistently grow your engagement, your chances of getting verified on TikTok may also improve.
4. Get viral
Going viral on TikTok can significantly boost your chances of getting verified. Viral content increases your visibility, helping you meet TikTok's criteria for verification.
So participate in challenges and trends, use relevant hashtags, and create high-quality content. You can also increase the odds of going viral by leveraging the best times to post on TikTok and reposting on TikTok your best videos.
By going viral, you demonstrate your value as a creator, increasing your odds of getting that blue checkmark.
@LauraorGill earned her verified status on TikTok by going viral with hilarious skits, dance challenges, and relatable portrayals of life as a "TikTok postie." Laura struck gold by going viral in her first TikTok vid.
5. Get verified on other platforms
When aiming to get that verification badge on TikTok, it's essential to put your best foot forward on other social media platforms too. Becoming verified on Facebook, Twitter, or Instagram can boost your chances of getting verified on TikTok.
Think about it this way: having a blue checkmark on those platforms demonstrates to the TikTok team that you're already an influential presence in the digital world. It's like having a VIP pass to the internet's hottest party – and who doesn't want that?
You can easily connect your verified social media accounts to your TikTok profile. This way, the TikTok team can easily see your online credibility and influence, making your verification process smoother and more efficient.
The Road to TikTok Verification: Wrapping Up and Moving Forward
Getting verified on TikTok is no walk in the park, but it's a game-changer for marketers looking to stand out. The process involves more than just likes and followers; it's about building a strong online presence, creating engaging content, and being an upstanding member of the community.
As you work toward that blue checkmark, remember to prioritize authenticity, quality, and connection with your audience.
Try auditing your TikTok account and social media presence to identify areas where you can improve. Make necessary changes and continue to refine your strategy, and who knows – that coveted blue badge might be just around the corner.
You may also like: