Companies too often focus entirely on customer acquisition and ignore retention. Good customer service is becoming rare whilst 86% of customers are willing to pay more for a better experience. Social customer care is a cost-effective way to enhance customer experience and increase retention.
We're witnessing an alarming trend amongst businesses. An overwhelming majority are putting most of their attention and efforts into customer acquisition, while neglecting another essential growth factor – retaining customers.
Are we forgetting that keeping customers happy is just as essential – if not more – for growth?
According to Marketing Metrics, there is an at least 60% chance that an already existing customer will buy from you again. The probability of selling to a new client varies from 5% to 20%. These stats alone should give you more than a glimpse of understanding of how important it is to keep your customers satisfied and wanting to come back for more.
If you're using social media for customer acquisition, why not use it to retain your customers? To do this you need a team of people with up-to-date know-how on social customer care as well as tools for managing social media.
1. Deliver customer service together with social media ads
Are you using Facebook to promote your products and services and get more traffic to your website? While you're running Facebook ads to get new customers, make sure you reply to the questions that may come up in the process. All the time we see Facebook ads with threads on unanswered questions from potential customers.
In the example Facebook ad below, a competitor used NCR Silver's ad to piggyback off their outreach and managed to capture interest. Eight weeks have passed and still no one thought it would be a good idea to divert attention back to the brand that's actually paying for the campaign.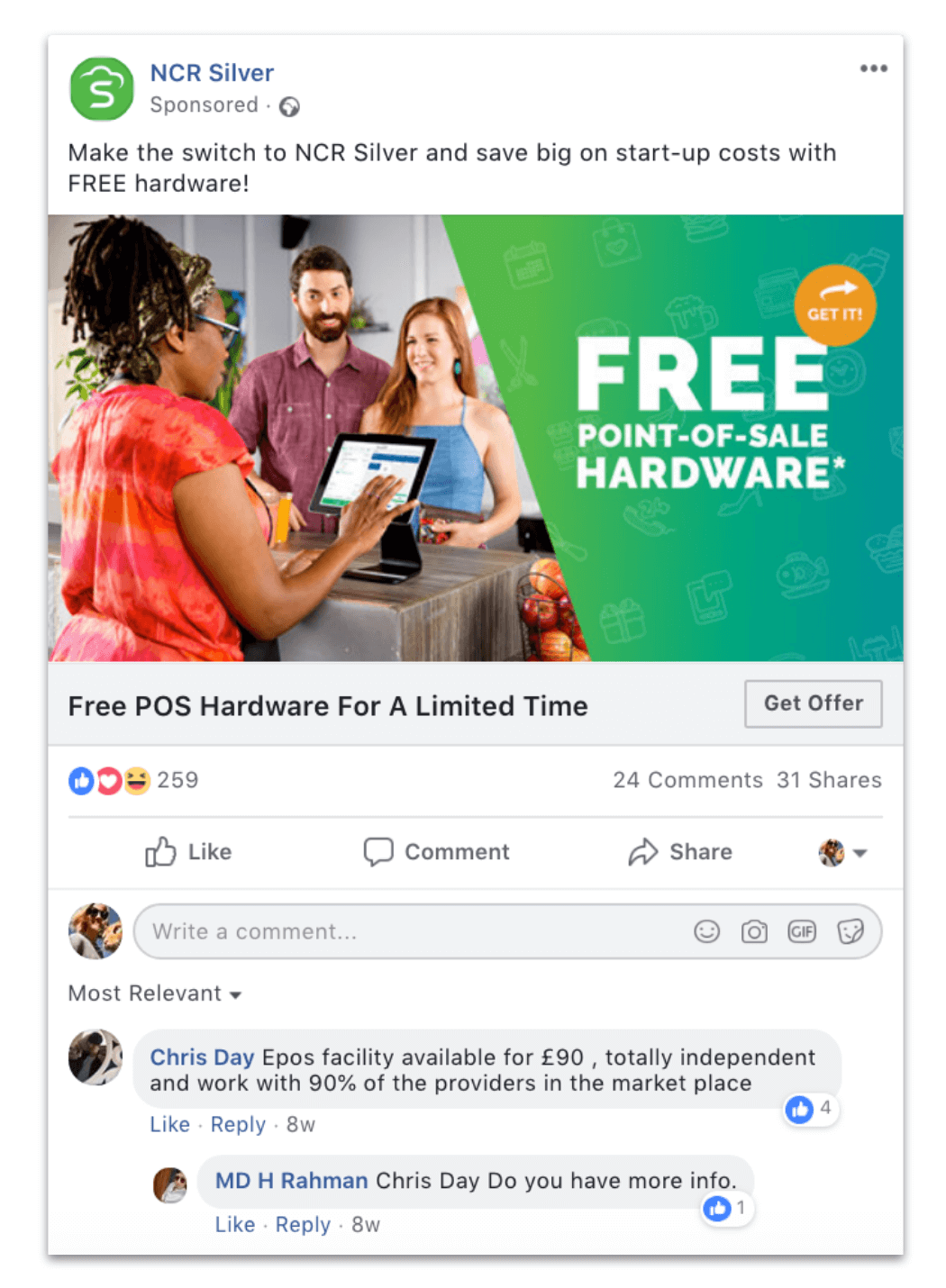 Make sure you reply in time by monitoring your sponsored ('dark') posts together with all your other social media touchpoints. Our Inbox module in NapoleonCat makes it easy by bringing all incoming messages into a single view and getting rid of all other distractions. Splitting your campaigns between Facebook and Instagram? You can also moderate comments under sponsored Instagram posts.
2. Make it a priority to solve customer issues
The key to customer retention is demonstrating that you – as a business – care about the people who spend their money on your product or service. This often boils down to solving their problems and doing so without delay. If you can't solve their problem, the bottom line is to take them seriously and show that you tried.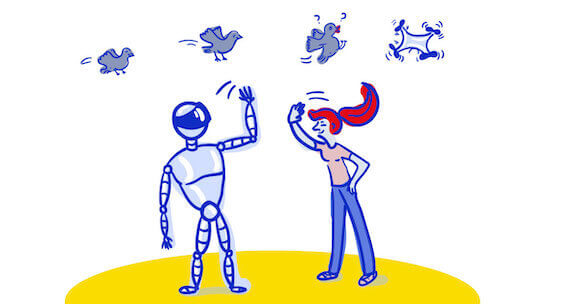 Social customer care
Deliver timely responses to customers in social media. Manage unlimited Facebook, Instagram, Twitter and LinkedIn pages in a single inbox.
Try NapoleonCat free for 14 days. No credit card required.
When you're in the middle of a complaint storm due to some systemic problem that's affecting a large number of customers – that's when you're really testing your social customer care. Social media is often the "last resort" for angry customers. So if some of your customers have had a "less than great" experience, be prepared that they will make it known publically. More often than not, via Facebook or Twitter.
For example, this customer used an IKEA Facebook ad to submit a complaint and after a day still haven't received a reply. Now everyone who sees the ad can also see his juicy comment.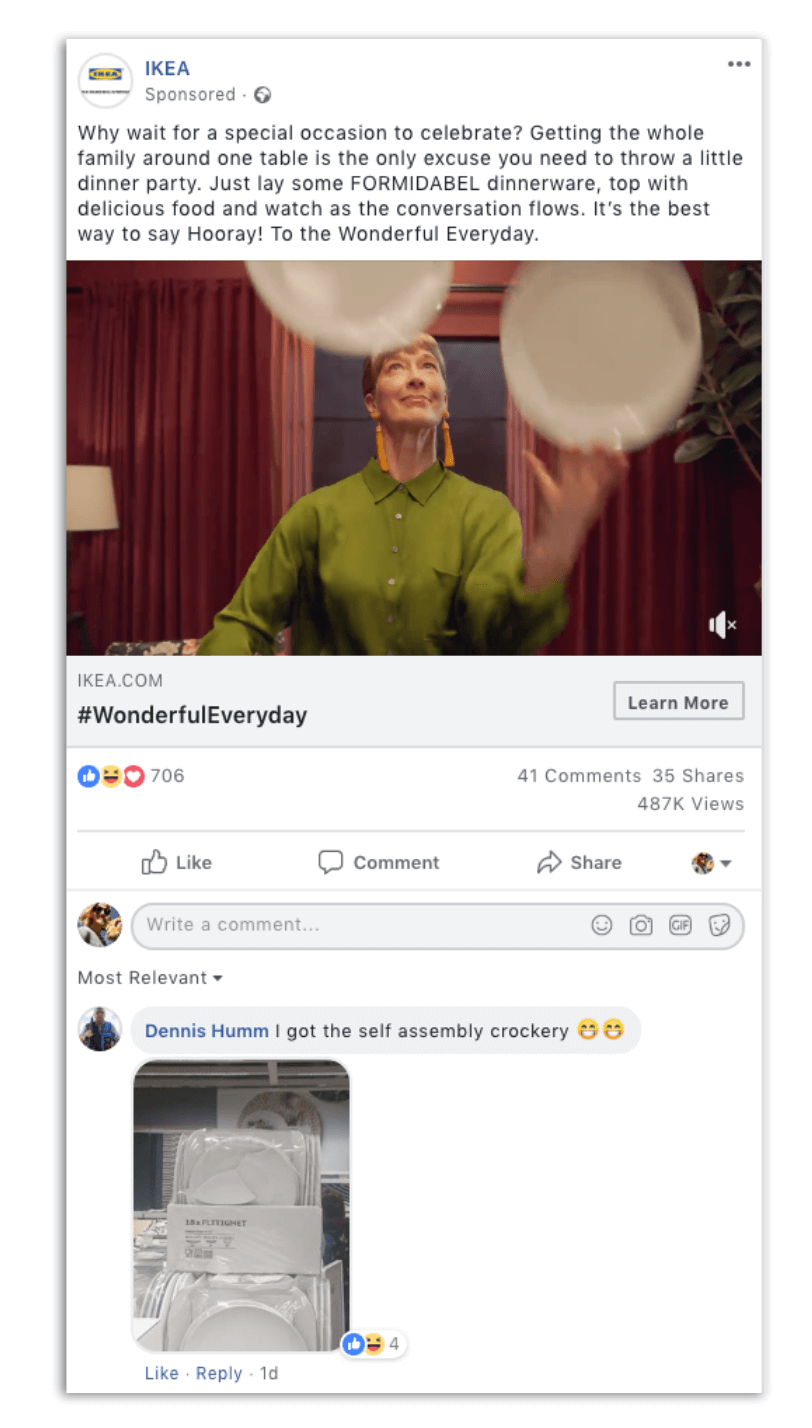 GET INSPIRED: How awesome social customer care reunited a commuter with his AirPod.
3. Manage customer recommendations (reviews)
Retention-based growth gives you a better chance at positive recommendations from existing customers. And that, in turn, makes acquisition easier by giving your prospective customers solid validation points.
Facebook recommendations (previously 'reviews') are becoming more and more popular – one in three users goes on Facebook to check other people's opinion of a place or business. Make the most it by replying to customers who took the time to type their opinion on your page.
When you receive a positive opinion on your Facebook page, take the time to thank for it by adding something more personal than just "thanks" and including a user tag. Treat negative opinions as if they were legitimate customer complaints. Address the issue at hand straight away by asking for more specifics.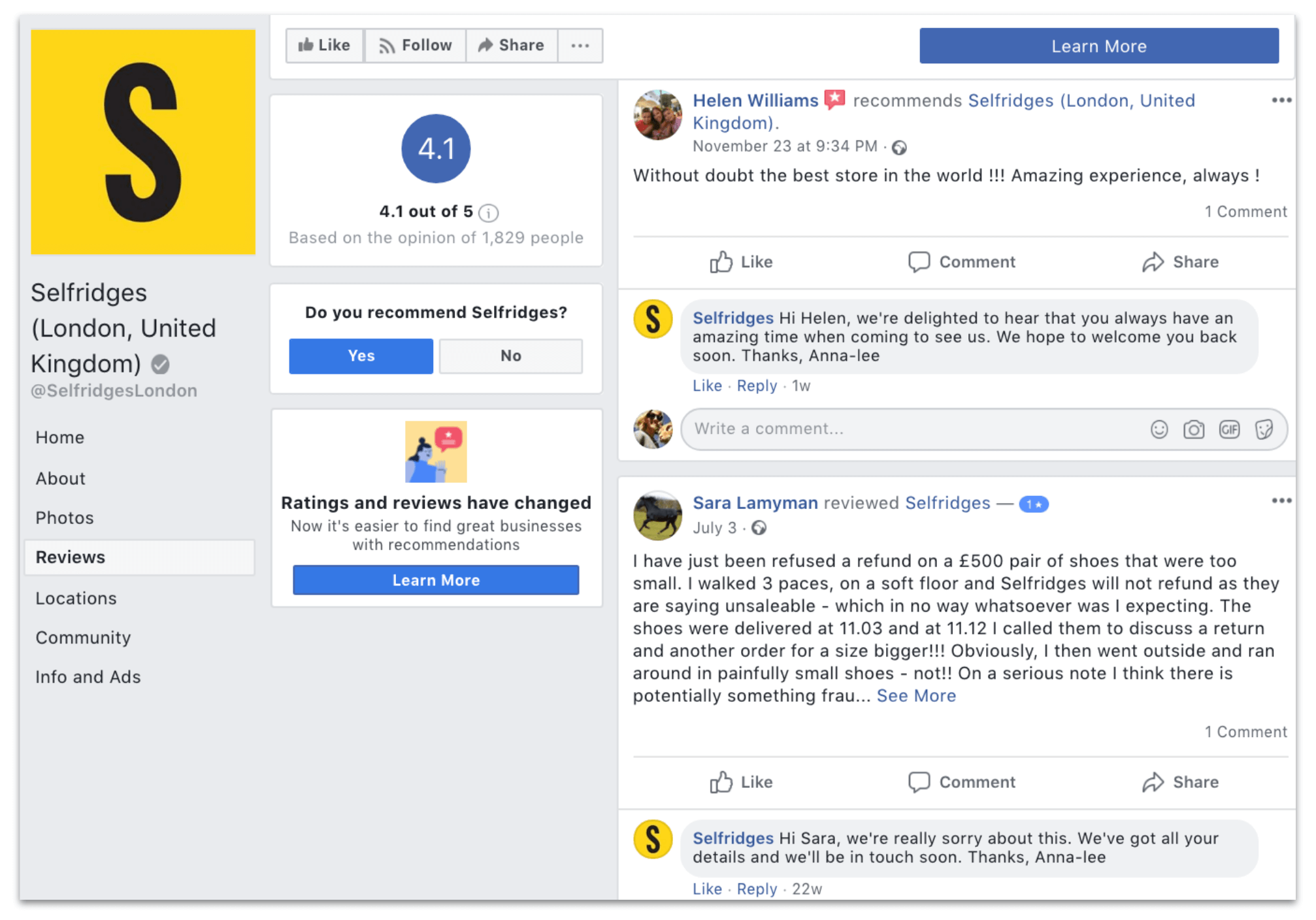 Learn more about managing Facebook recommendations.
Remember that by tackling a negative opinion on your Facebook page you're not just helping one customer who had a bad experience. You're demonstrating that you know how to deliver solid customer service. When using NapoleonCat, you don't have to switch between views to see and moderate customer recommendations on Facebook.
4. Can't always be there? Use automation.
There are many reasons why we can't always be there for our customers. Lack of sufficient reasources is a common one. If you have customers in different time zones or are experiencing a larger problem that's likely to cause a series of predictable complaints, you should use automation to cut your losses in customer retention.
NapoleonCat lets you do that by setting up a variety of replies triggered by key words. By setting up different replies to a query that you predicted, you're delivering a more human-like response and therefore, a better experience.
Does that mean you can just leave it up to a robot to deliver your customer service? Of course not. But automation will support you when times get tough and you don't have enough fingers to type up replies!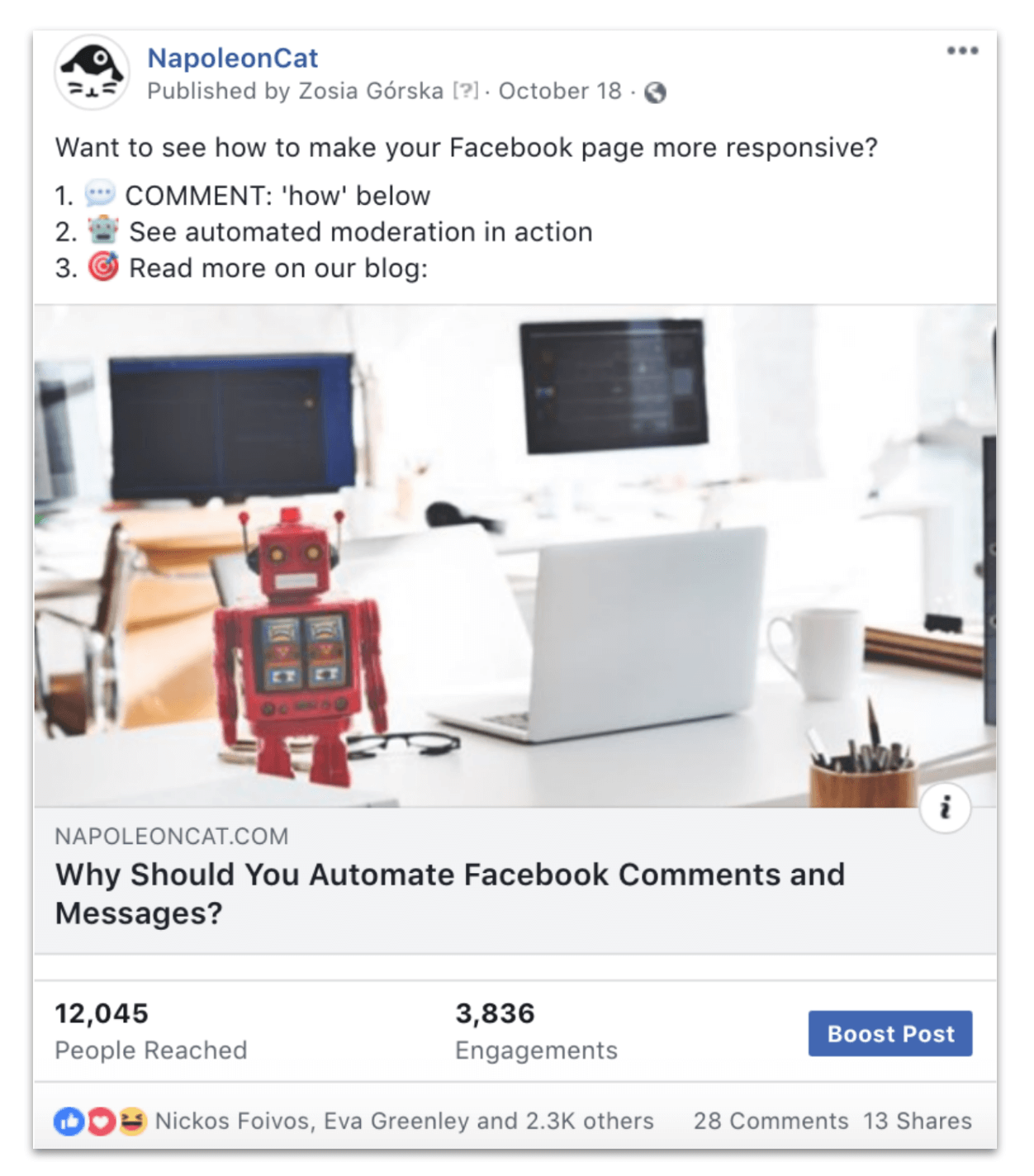 Find out more about automoderation on Facebook.
Want to enhance customer experience using social media?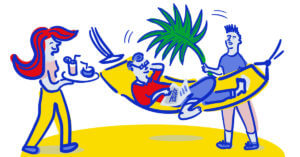 OR
Dive into our KNOWLEDGE BASE to find out more about what NapoleonCat can do.