With 2 billion users worldwide in 2023, Instagram remains one of the best social media platforms for building brand awareness. Thanks to the social media platform's visual-oriented tools, your business is presented with many great opportunities to captivate the audience.
But trying to make prospects and customers sit up and take notice without the right Instagram metrics to guide you is like shouting into the void, hoping someone out there can hear you.
If you want to capture the attention of your audience effectively, you need to track some key metrics, so you know what to work with.
You need to measure and track your Instagram impressions, for starters.
But what exactly is an impression on Instagram? And how do you use that information to boost your presence on the visual platform?
This guide will cover all that and more.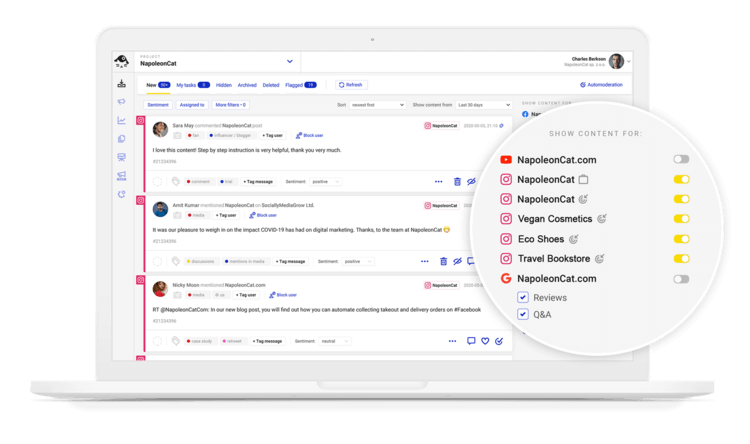 Simplify Instagram Business
Management with One Tool
Manage & reply to comments and DMs in one place.
Monitor ad comments from multiple accounts.
Automate answers to repetitive questions.
Schedule posts to multiple accounts, on desktop.
Analyze performance and monitor hashtags.
Keep track of your competition.
Create or schedule in-depth reports in seconds.
Try 2 weeks for free (no credit card required)
What are impressions on Instagram?
Instagram Impressions are the number of times your Instagram content, whether a regular post or a Story, has been shown to users.
If your content shows up on a user's feed, that counts as an Instagram impression. It doesn't matter whether the user has clicked the post or not, or whether they've been paying close attention. So, if your Instagram post appears on a user's feed while she's scrolling and distracted, this still counts as an Impression.
Impressions vs. Reach: What's the difference?
The thing with impressions is that it's often confused with reach. One thing to remember about impressions is it doesn't track the number of people viewing your posts.
If impressions are the number of times your Instagram content has been displayed on your users' feeds, then reach is the number of unique users who have seen your Instagram content.
When looking at your Instagram Analytics, you'll notice that the number of impressions is always higher than the reach. That's because some users will view your posts multiple times.
So if Martha viewed one of your Instagram posts last Monday, that counts as one reach and two impressions.
As you'll find out later in this article, knowing the difference between impressions and reach is key to unlocking key insights that will help you create meaningful outcomes for your Instagram campaigns.
How to track your Instagram impressions
You can track your Instagram impressions if you have a business account. Here's how.
Step 1: Go to Instagram
You can access the Instagram app from your iPhone, iPad, or Android device.
Step 2: Go to your profile
Once you're in the app, click on your profile icon in the upper right corner of the screen.
Step 3: Click on Insights in the menu
You'll see a menu open up when you click on "Insights". Tap on the reach tab and there you'll see your number of impressions.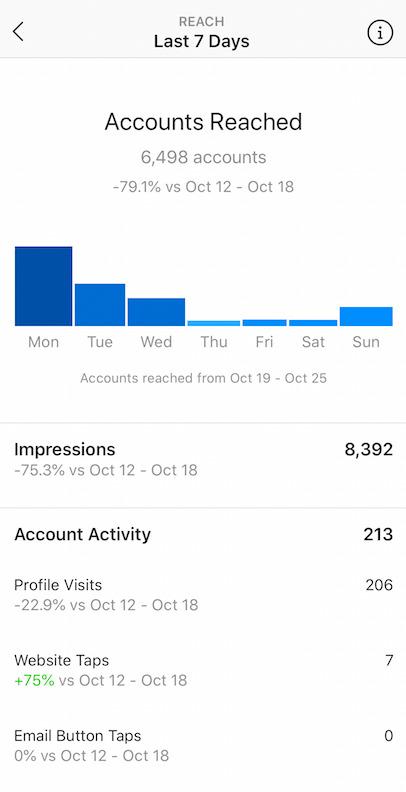 Why are Instagram impressions important?
Instagram impressions are important because it's a foundational metric for measuring and tracking brand awareness.
The more opportunities for users to see your Instagram posts, the more exposure your brand gets. Your target audience then becomes more familiar with your brand, which leads to trust, which leads to sales, and so on.
The point is, if you want to build an audience, nurture a relationship with them, and turn them into loyal customers, you need to be able to track and measure the number of times they have seen your content.
Tracking impressions on Instagram is important because it helps you understand what type of content resonates with your audience. You can then use this information to create more engaging posts.
How Instagram impressions are different from reach and engagement, and what those differences mean
If impressions are the number of times your post has appeared on people's feeds, and reach is the number of unique users who saw your content, then engagement is the number of times someone commented, liked, or clicked your posts.
Engagement is an indication that people aren't just seeing your content – they're engaging with what you share. Which can only mean your content is making an impact on them.
Engagement is also crucial for Instagram's algorithm. If the algorithm sees you have high engagement rates on Instagram then it will think more highly of your posts and show them more often to users, which leads to more reach and impressions.
But let's get back to impressions.
Impressions are just one piece of the puzzle. But when measured in relation to important metrics like Reach and engagement, Instagram impressions can offer key insights into the effectiveness of your social media campaigns.
You can, for example, calculate your Instagram engagement rate by impressions by dividing the number of likes, comments, and saves by the number of impressions then multiplying the answer by 100.
Engagement rate = (Likes + Comments + Saves) / Impressions x 100
A high engagement rate by impressions is a good thing because it's an indication that people aren't just seeing your content, but are engaging with it – which is another sign that your content is making an impact.
The more engagement you get, the more boost you get from Instagram's algorithm, and that means higher visibility in users' feeds and greater chances for them to see your business or brand.
How to boost Instagram impressions
If you're getting how exactly do you increase your Instagram impressions? Here are some tips to help you out.
1. Make your Instagram posts and Stories relevant
To boost your Instagram impressions, you must publish posts that speak to the needs, interests, and challenges of your target audience. Users engage with posts that resonate with them. And if users engage with your post, it sends the Instagram algorithm all the signals it needs to prioritize that post.
That said, when it comes to creating Instagram posts that are relevant to your audience, you can't afford to make assumptions.
You need to do your due diligence to understand your audience. What makes them tick? What do they like? What motivates them to get up in the morning?
One great way to learn more about your audience is to access Instagram Insights. By using the analytics tool, you can check who's engaging with your posts, and then identify patterns and trends that uncover psychographic and demographic information which you can use to create and refine your buyer personas.
For more information on how to generate key insights on your target audience using Instagram insights, check out our A Complete 2023 Guide to Instagram Follower Demographics.
2. Use Instagram's tools and features to your advantage
When it comes to visuals, Instagram is the best social media platform. From filters, video posts, and Instagram Stories to stickers, polls, and quizzes. Instagram has a wide range of tools and features that allow you to not only grab the attention of your audience but also to keep them engaged.
As someone who's in the business of growing a following on Instagram, you must use these tools to your advantage.
Here are some Instagram features that will help you engage with your audience, whether you're just starting or have been on the platform for years.
Video Posts. With video posts, you can use filters and editing tools to make your video look more interactive, entertaining, and engaging.
Story Polls. Stories offer an easy way for brands to ask questions or poll their followers about certain topics. If you're creating a Story about something important to you or your business (like giving back or supporting causes), this is a great way to engage with people who care about those things as well.
Reels. Reels are short videos that show a series of photos or footage in rapid succession. They are great for showing off your brand's personality, and allow you to convey your sense of humor and style. Try adding a fun soundtrack or sound effects. Add captions that describe what's happening in the video – this will help them understand what they're watching.
3. Find the best times to post Instagram content
Instagram's algorithm prioritizes recent content, which is why you must do your best to publish content when your target audience is online.
There's an extensive study on the best times to post on social media. But at the end of the day, what works for you depends on your brand, target audience, and specific goals.
You can use Instagram Insights to find the best times to reach your audience on Instagram. To come up with key insights to help you, you can track the following:
The times when users see your posts
The times when users respond to your posts
The types of Instagram posts they respond to.
You need to track your analytics over a certain period so you have consistent data to use as a basis for comparison. If you're using NapoleonCat's Analytics, for example, you can track your impressions and engagement data based on days of the week or hours of the day.
By the way, you can test it for free here – no credit card required 😉
With NapoleonCat, you can also track your competitors on Instagram to see when their posts perform the best: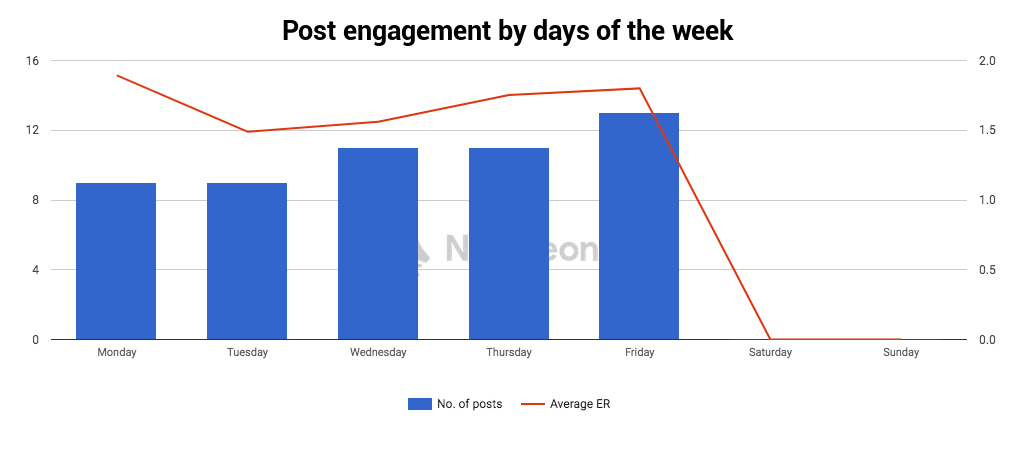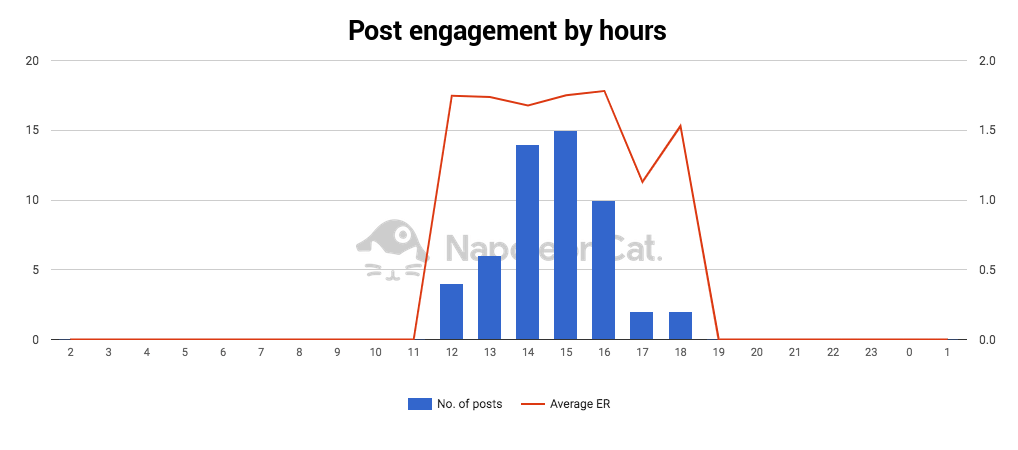 Once you have more data to work with, you can extrapolate the data and come up with the best times to post on your Instagram account. With that done, it's a simple thing to plan a content calendar optimized to help you reach your target audience.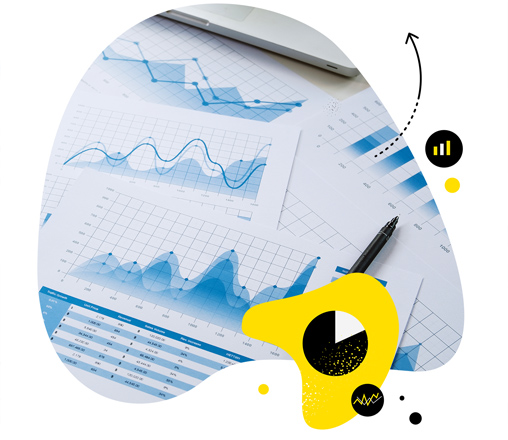 In-depth Instagram Analytics & Reports
Get in-depth Instagram analytics for your own accounts and for your competitors, too! Compare accounts side by side, and quickly generate and schedule reports. Try it for free:
Try NapoleonCat free for 14 days. No credit card required.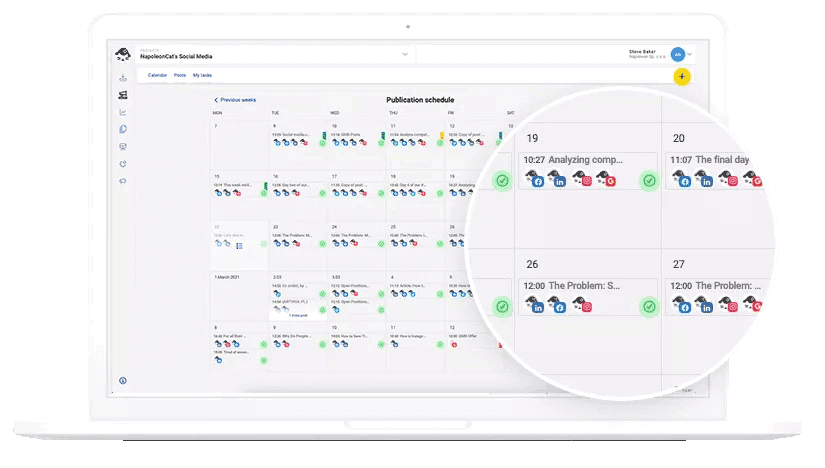 4. Use hashtags to your advantage
Using Instagram hashtags is a simple way to boost impressions on your posts and get more eyes on them.
When you add a hashtag to your post, it helps your audience find your content when they're looking for something specific. In other words, you get more visibility and more engagement with your followers, and they see your content in an easy-to-find place.
According to the Hubspot Blog's 2022 Instagram Marketing Report, 19% of Instagram impressions come from hashtags.
Use hashtags your audience likes to use
The first thing you need to do is figure out who your target audience is. Once you know who your audience is, it's time to find out which hashtags they use most often.
Letterfolk, an eCommerce brand selling personalized home decor products, used #tilemat and #tilematdesign to draw attention to their product line of tile mats.
Use branded hashtags
Your brand is not just a product. It's a story. By using branded hashtags, you give your customers opportunities to be a part of that brand story.
Branded hashtags are yours. No one can lay claim to them. And once a branded hashtag resonates with your audience, you have no competition. You can then use those branded hashtags to promote events, run contests, and do other things that boost impressions and brand equity.
So, how do you come up with effective branded hashtags?
Think about what makes your brand special – what makes you different from other companies out there? How can you bring that into the conversation? Make sure it's something specific and emotional so it sticks with your audience.
Start brainstorming some ideas for how it could be used in social media posts or ads. Think outside the box!
To inspire some ideas for branded hashtags, here are some good examples:
#ShareaCoke by Coca-Cola
#LetsDoLunch by Domino's Pizza
#OpenYourWorld by Heineken
#MyCalvins by Calvin Klein
5. Engage and support customers on Instagram
When you use Instagram as part of your customer service strategy, you'll be able to connect with clients in a way that feels natural and meaningful.
By responding promptly to comments on Instagram, you'll be able to create a positive impression with potential customers who are searching for a solution. You're able to show your brand's personality and make your customers feel heard.
This instills trust in your brand. And because of that trust, they're more likely to engage with your brand and buy your products.
That said, keeping up with all those DMs and comments can get overwhelming as your audience continues to grow. This is where a social media engagement tool like NapoleonCat can also help.
NapoleonCat, for instance, can gather all your comments and messages (ad comments included) in one view, even for multiple IG accounts at once. You can also set smart auto-replies for your DMs, which will allow you to reduce response times and ensure every comment or DM is attended to.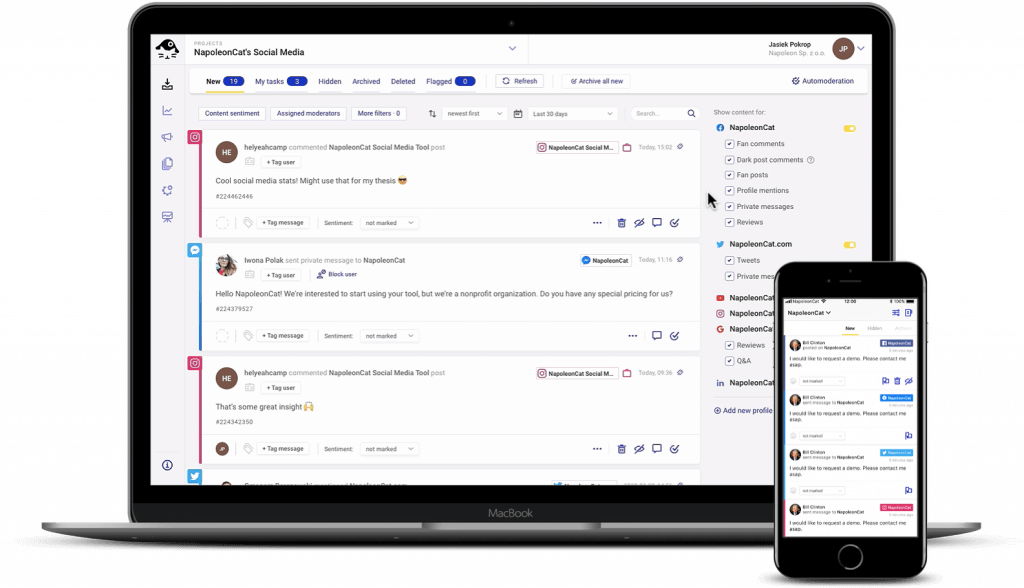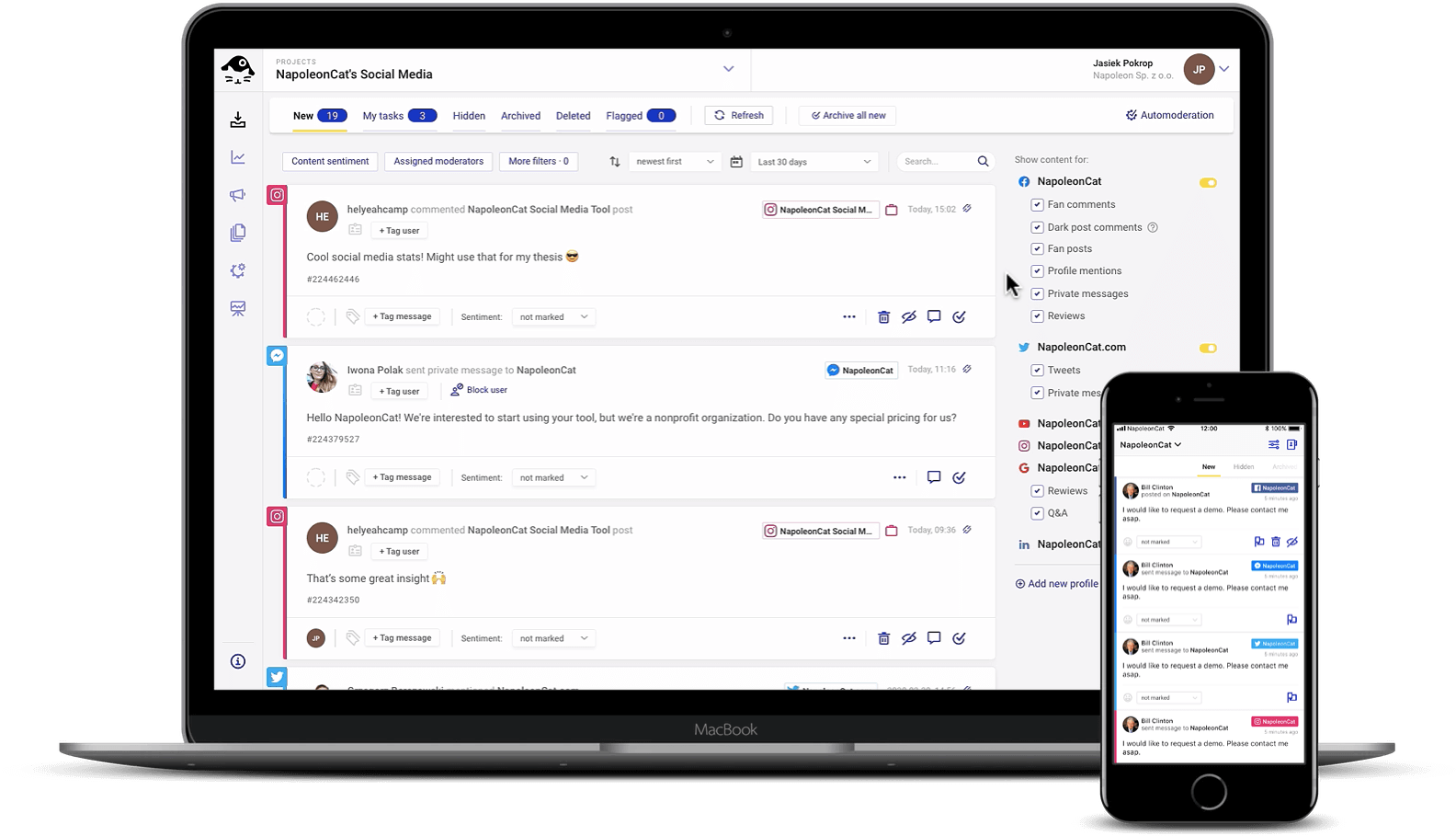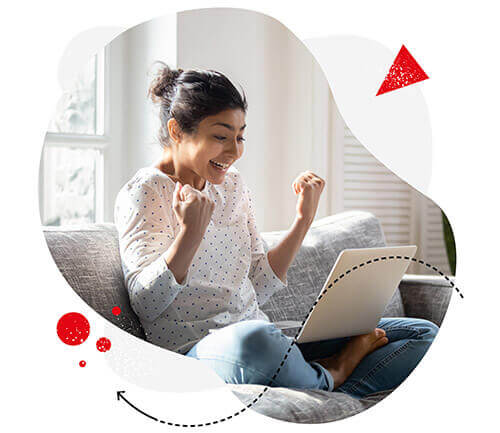 All-in-one Instagram management tool
Manage comments and DMs, bulk-schedule posts, analyze your own profiles and your competitors, and get instant reports. Try it for free:
Try NapoleonCat free for 14 days. No credit card required.
Final Words: What is an Impression on Instagram?
In this post, we've shown you how to track your Instagram impressions and how you can use that data to increase awareness around your brand.
Tracking Instagram impressions can be a great way to measure the effectiveness of social media marketing campaigns and see what works for you. You'll be able to see who is interested in your products or services and how much you're influencing their purchase decisions, so you can adjust your social media strategy accordingly.
We highly recommend you test NapoleonCat for free to analyze your performance and effectively manage your Instagram accounts – no credit card required during signup 😉