The digital world is cluttered with the activity of people minding their business and countless businesses trying to catch their attention. With various brands employing various social media strategies, your marketing approach can get lost in the noise.
You really do need to create a set of functioning social media marketing tactics for your business in order to make your voice ring true above the din. And in order to select tactics that work, you have to start from scratch – with a plan. Which social media platforms best fit your brand? What kind of content will you push on different platforms? Read on to find out how to spread your brand awareness and grow your business through social media.
Enhance your strategy with customer service
For a large majority of companies, just a mere presence on popular social media platforms accounts for a social media strategy. You need to do more than just this and stand out from the competition so that potential customers can flock to you.
Instead of engaging in outright marketing of your products and services, you can use social media platforms as a way of listening to your customers' suggestions and complaints. Facebook, Twitter, and Instagram can all be used to engage with individual customers and answer their queries.
According to Influencer Marketing Hub, 71% of consumers who have had a good social media experience with a company are more likely to recommend it to their peers.
For example, Delta Airlines opens up its Twitter platform for the public and customers to pose their questions and do follow-ups. Below, you can see this in action – the customer leaves satisfied. When this thread appears on another person's timeline, they are ready to try out Delta owing to its good engagement with customers.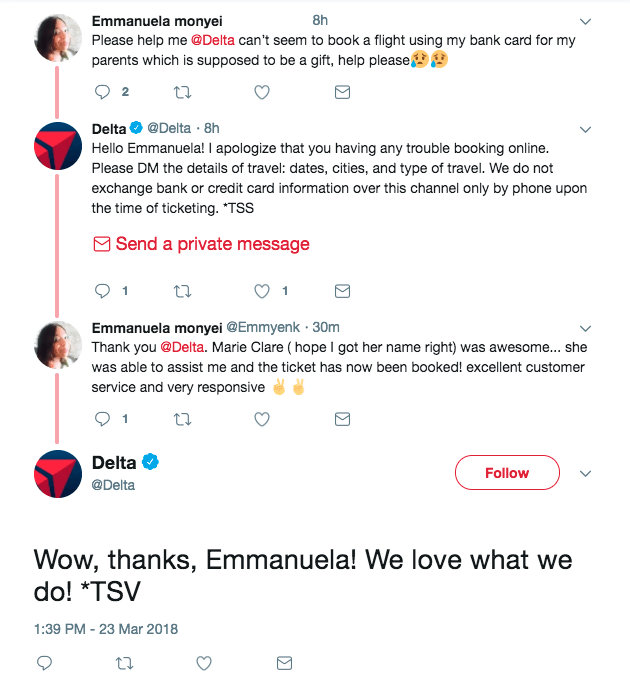 However, interacting with followers is just the tip of the iceberg when it comes to a strong social media presence. You need to incorporate more social media tactics to support the momentum built up by the customer service part of your plan.
This means you need to apply some digital marketing skills.
Employ digital marketing best practices on social media
Social media are a vital element of digital marketing. You should keep that in mind when putting together your social media marketing plan and apply digital marketing best practices to your strategy. In his article for Entrepreneur, Jeff Foster underscores social media's importance in creating a strong connection with your potential customers.
This means you need to know how to reach out to your target audience on various social media channels. Here are some steps you should follow in order to create effective social media strategies.
Set smart goals
Before moving on to sharing content on social media and interacting with your audience, you need to set goals for the digital marketing undertaking. These goals give you something to look forward to, providing a guide for the marketing techniques you are going to implement.
Your social media marketing goals should be relevant and realistic; this means that they should align with your overall business profile and planning. If you set goals that are way above what you can realistically achieve, you will squander resources that you would otherwise use in more effective areas.
To ensure that your social media goals are right for you, they need to be SMART. What does this mean?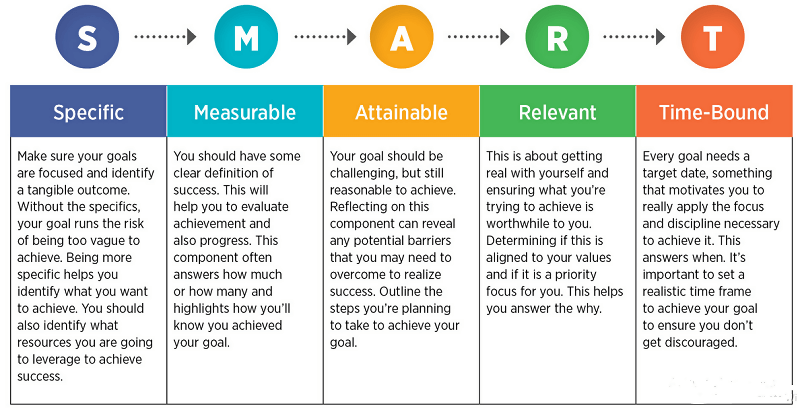 The goals you set should complement your core business objectives. Common digital marketing goals include:
Growing your fan base
Increasing your brand awareness
Increasing conversions, a.k.a. boosting sales
Know your target audience
The digital space is comprised of all kinds of people. You shouldn't deploy your content marketing strategy and just hope that your potential customers will respond to it. You need to identify your target audience and craft content that specifically appeals to them.
If your product appeals to a younger demographic, it doesn't necessarily make sense to market to all young adults. Instead, you should create buyer personas of your ideal customers. Create details for this persona, starting with a name, age, marital status, pay grade and their preferences.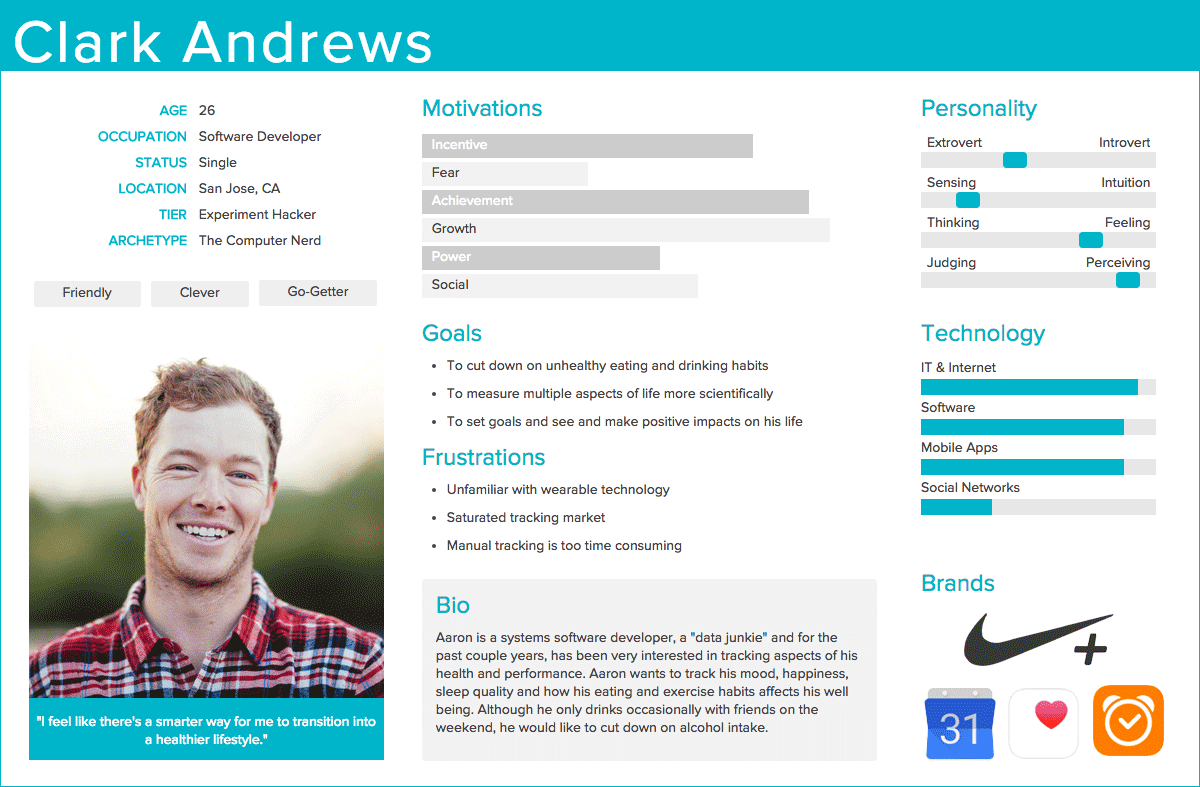 You should also use analytical tools to figure out when your audience is online. Knowing the patterns of their online behavior will help you plan the best times to post and, effectively, improve your organic reach.
This kind of information helps you to better understand your audience, giving you an edge on your competition when it comes to marketing.
And speaking of competition…
Study your competition
You and your competitors are likely targeting the same audience, trying to carve out a larger share of the market. If your competition has been around before you, you can see what they have done right and where they came up short.
You definitely want to keep an eye on what the other players in the space are up to. By using an analytics tool like ours, you can see what kind of footprint they have on social media. Use this as a benchmark for your own social media performance, aiming to hit and surpass those targets in order to expand your business.

By carrying out competitor analysis, you can pinpoint their strengths and weaknesses. This gives you a lay of the land, enabling you to fill the gaps when it comes to marketing to your shared target audience.
For example, if your competition is adept at creating a buzz via Twitter, you can utilize your team's visual creativity to engage more with the audience through Instagram. In this way, you are not left behind but competing favorably.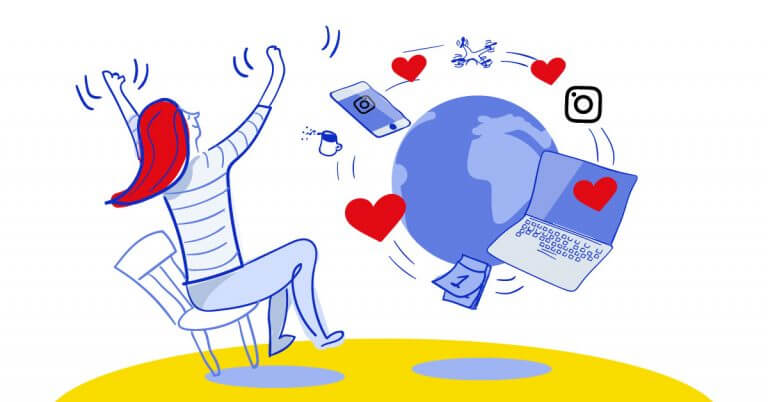 Social media management
Manage unlimited Facebook, Instagram, Twitter and LinkedIn pages in a single inbox. Track competitors and improve performance using simple dashboards.
Try NapoleonCat free for 14 days. No credit card required.
Craft suitable content
Once you have set your reasonable goals, identified your target market, and studied the competition, you can go ahead and begin creating content to distribute on relevant social networks.
Don't be afraid to mix it up when you are trying to drum up social media activity by pushing out content. There are a lot of distractions on social media. In order to stand out and grab your potential customers' attention, your content has to be diverse and compelling.
If you usually post educative content, mix it up with something light and fun from time to time to keep your online following engaged and coming back for more. Diversifying the types of content you publish will also help you hit your goals when it comes to metrics.
You should also aim to craft content that suits the particular social media channels that you have placed your brand on. This means that if your business is more visually oriented – like fashion or food – you should focus on creating content for your Instagram and Pinterest rather than on your LinkedIn profile. You can also consider including user-generated content in your strategy. Sharing your followers' interactions with your brand is a great way to express your appreciation and care.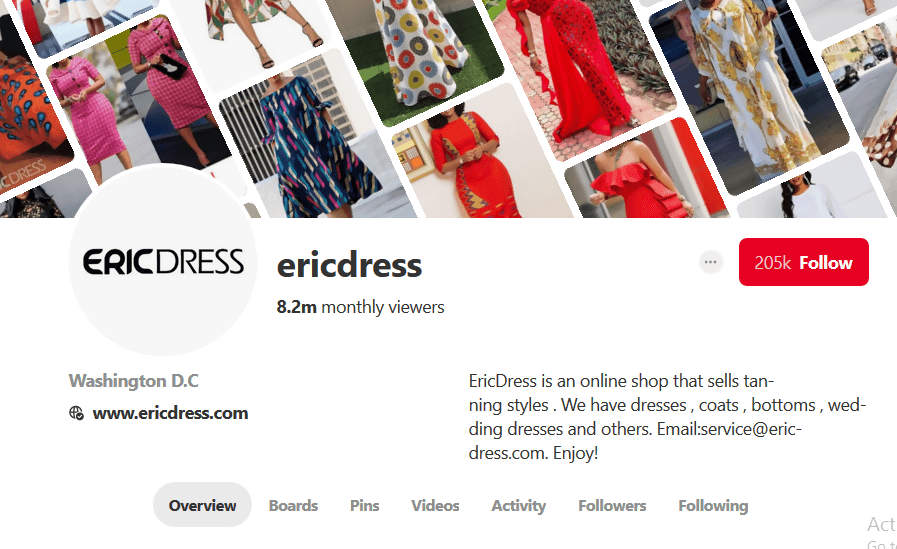 Keep an eye on your social media metrics
Posting content to your social media channels is simply not enough to guarantee the success of your social media strategies. You need to know if your target audience is engaging with your content and if that engagement is converting into sales or fulfilling any of the other goals and objectives you set.
If you're using Twitter or Instagram, you can easily access the engagement metrics of a single post – retweets, likes, and replies. The replies are a particularly great way of conducting social listening. They enable you to find out exactly what the public thinks of your brand or product and whether you need to take action.
If you use hashtags with your content, you can also use social media analytics tools to give you a clearer and more detailed picture of your posts' reach and performance compared to previous time periods.

Moving forward
With these points in mind, you can go ahead and formulate your social media strategy suited specifically to your unique needs as a company. Remember to keep your business objectives top of mind.
Once your goals are all set and well laid out, you can sketch out a strategy, bearing in mind what your target market is and what they want. Knowing them well is the best way to engage with them in the right way and ensure that they respond positively to your marketing.
Craft content based on your target demographic to drive engagement and reach. Make sure to stay relevant with your communications. Using social media analytics tools, always keep an eye on how your content and overall social media strategy are performing.
You can also utilize tools like NapoleonCat to get an in-depth analysis of the performance of your competition and see how you stand against them. In a field of marketing as new and fluid as social media marketing, it's more important than ever to make sure you always have a finger on the pulse of what's going on.