No matter how hard we try to avoid it, there's no getting away from managing social media. Any business with an online or in-store presence (so any business at all) knows that to drive interest and sales, you need a social media strategy.
But how do you know what to do, or whether it's actually working? By analysing the data. Which is why you need social media measurement tools.
What are social media measurement tools?
When you start a campaign on social media, should you…
Click 'post', sit back, cross your fingers and hope that your strategy works?
Or…
Monitor Likes, Shares, retweets, etc. and keep an eye on the impact it has on your other branded assets like a website?
Even if you're a complete beginner, I'm willing to bet a week's worth of steamy-hot mochas that you know it's option b.
But, even if you only have one social profile, keeping track of all the content you pump out is a near-impossible task. Luckily, tech exists that can do the hard work for you.
Social media measurement tools keep track of the popularity, effectiveness, impact, and end-result of your activity across one or more social media platforms. Most tools take masses of data from impressions, engagements, mentions and more and morph it into graphs, charts, and figures, like this…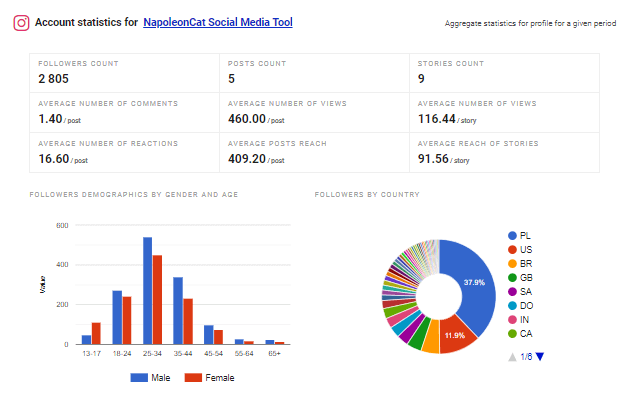 Why should you track your social media campaigns?
If you wouldn't fly a jet to an unknown destination while wearing a blindfold, you shouldn't take the same approach to your social media campaigns.
To maximise the benefit of your social media investment, you need to stay in the know. That is, you need to know what's working, what isn't and what you can do to make it better.
When you track your social media efforts, you can…
Refine and optimise your social media marketing strategy
Better reach your target audience
Understand your position in the marketplace
Increase your campaign ROI
Maximise the secondary benefits of your social strategy, like increased website traffic, leads, subscribers and more
When you have the right data to hand, you can answer important questions like…
How can I tweak my strategy to encourage more sales?
Which sections of my audience am I not reaching?
What are the best days of the week to post to maximise engagement?
What types of content does my audience respond best to?
Where do I stand against my closest competitors?
What do I need to do to be better than my competitors?
How can I increase the leads I gain from my posts?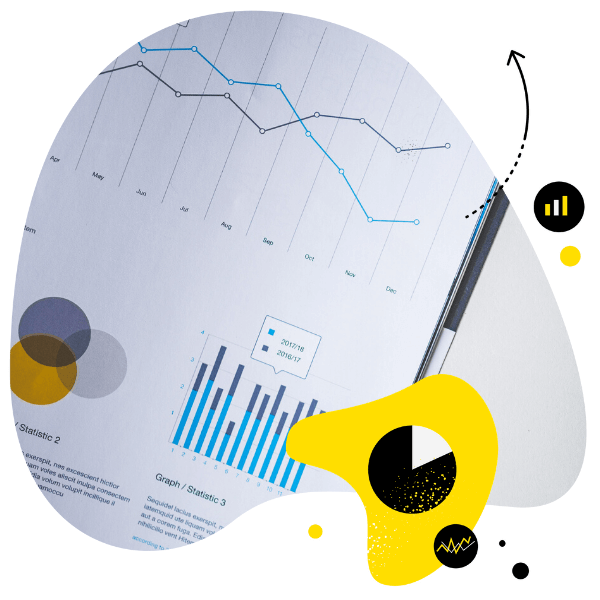 Measure social media performance
Track your social media marketing results. Analyze competitors and improve performance using simple dashboards.
Try NapoleonCat free for 14 days. No credit card required.
What social media metrics should you track?
What metrics you choose to track will depend on what you want to achieve. So, before you start, you need to get smart… SMART goals that is. Smart goals are…
Specific: think 'gain 1000 more likes' rather than 'get better at Facebook'
Measurable: talk about 'X number of new Followers' not 'increase reach'
Attainable: a goal needs to realistic, you don't want to set yourself up for failure
Relevant: your goal needs to be relevant to your overall business goals
Timely: a SMART goal should end with 'by some defined time' like 'within 6 months'
Now you have tangible social media goals to work with, you can choose the metrics you want to watch use to keep an eye on them. Make sure the metric is relevant to the goal. So, if you want to measure conversions from Facebook to website sales, you'll need to track Facebook-referred traffic to your website and onsite metrics that define your conversion.
But what metrics are best? Here are 4 you'll find useful.
Audience Growth Rate
It's not enough to track audience numbers. You need to know the pace at which your audience is growing (or shrinking, but hopefully not).
When you track audience growth rate, and not just the numbers, you can understand what business actions drive or stunt audience growth and adjust your plan to maximise your reach.
Social conversion
Your conversion rate is undoubtedly the most important metric to track. It shows how many of the people you reach go on to carry out the action you're trying to encourage. Whether that's making a purchase, subscribing or requesting a consultation, it will be your main business goal.
When you track conversions, you connect your efforts on social media to your overall business plan and bottom line.
Engagement rate
Engagement rate shows how many people out of those your reach actually react to a piece of content. On its own, it's not the most helpful metric because you could have high engagement but low conversions. But, if your engagement rate is high, you know you could be making a lot more money if you optimised the lower end of your sales funnel.

Impressions
Any time you reach an individual with social media content, it counts as an impression. It differs from engagement in that individuals don't necessarily take any action after seeing your content. Seeing it is the impression.
When you track impressions, you can compare it to engagement and conversion rates to identify bottlenecks in your funnel and determine which stage of your strategy needs to be improved.
Top 4 free social media measurement tools
For businesses on a tight budget, just starting out, or those who only have a presence on one social platform, free social media measurement platforms could offer enough of what you need. But which free platform should you use? Here are our favourite four.
Google Analytics
This free website analytics dashboard integrates with your website's CMS so you can view important metrics about its performance within the admin area of your website.
It tracks:
Traffic metrics: number of site visitors
Referral metrics: site visitors broken down by source
Page traffic: number of visitors per web page
Click-through-rate: number of visitors who click through to another page of your site
Visitor demographics: visitor age, location, gender, etc.
Exit pages: the pages people leave your site from
Bounce rate: the number of people who leave your site without interacting with it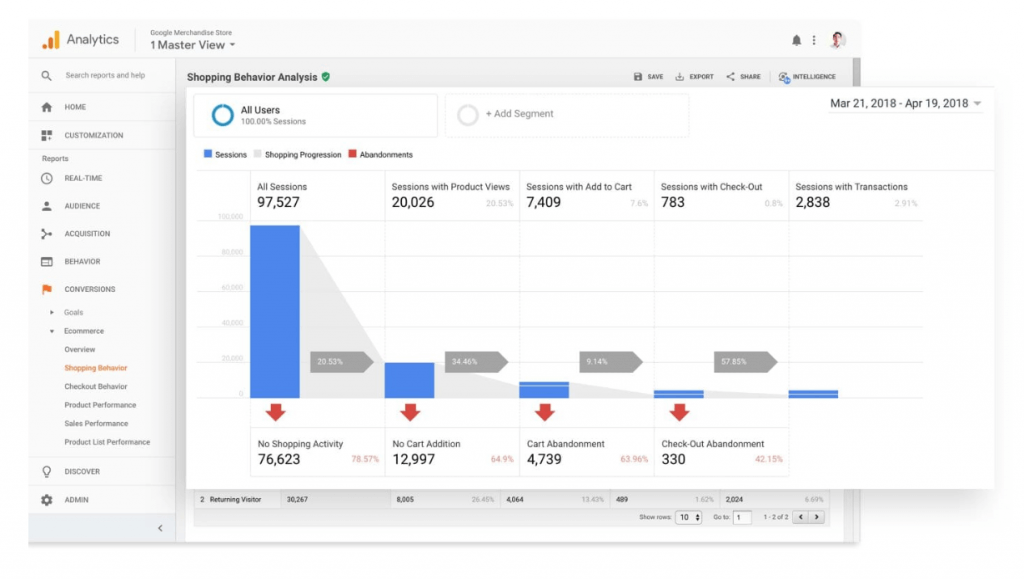 You can set up custom metrics like conversion rate, cost per visit, cost per conversion and more. But how does this help you track social media campaigns? Well, since you can segment insights from Google Analytics by traffic source, you can easily see how referrals from each of your platforms act once they reach your website.
Native analytics tools
Some social platforms have their own analytics tools and they're generally free. Facebook and Instagram have Insights, Twitter has limited native analytics and Business accounts can access the Pinterest analytics dashboard.
Native analytics are great for businesses who choose to focus all of their energy on a single platform. But if you have more than one account, you'll very quickly become frustrated with flitting between dashboards.
TapInfluence
TapInfluence is the perfect free platform for businesses who do a lot of influencer marketing. It helps you find the top influencers you want to work with and measure their success.
You can easily determine the reach, engagement and cost of potential influencers. You can search profiles by keyword, audience data and insights, visuals and more, then benchmark an influencer's results and work out your campaign ROI.
TweetDeck
This free Twitter tool allows users to track, organise and understand their Twitter campaigns. Manage multiple Twitter accounts in one interface, uncover emerging trends, manage your Twitter Lists and stay up to date with all of your notifications in one place.
The app has a user-friendly and uncluttered interface of columns that can be customised to suit your needs. If your only social platform is Twitter, you won't find a better measurement tool… free or paid.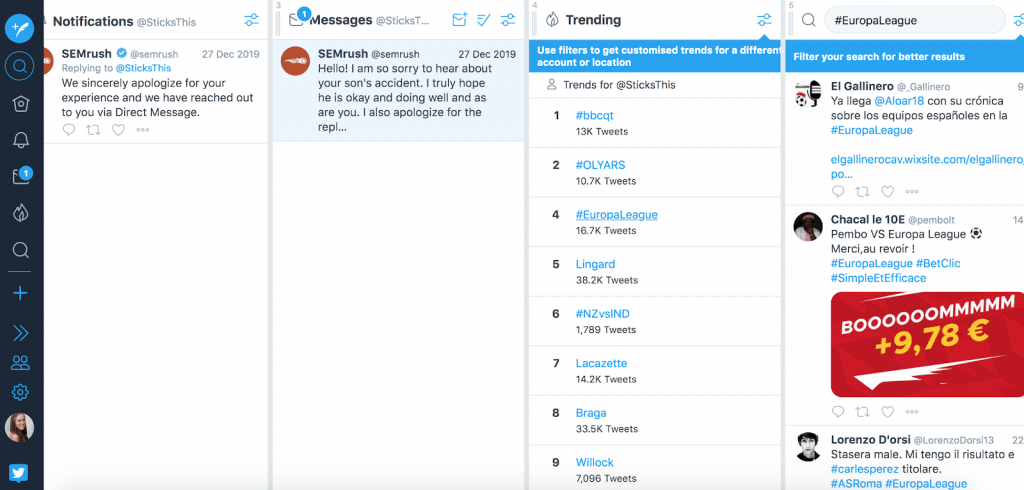 Top 4 paid social media measurement tools
For businesses with money in the bank, who are further along their marketing journey or who want to build their presence across multiple social platforms, paid platforms with more functions are the best option. Here are four of the best on the market.
NapoleonCat
If you're looking to measure social media analytics, manage social customer service and automate posting and reporting, then NapoleonCat is the social media dashboard for you.
It pools data from Facebook, Twitter, Instagram, LinkedIn, and YouTube to help you better understand and manage your social media campaigns. And once you've got a handle on the analytics, you can apply your insights to provide better customer service using the Social Inbox.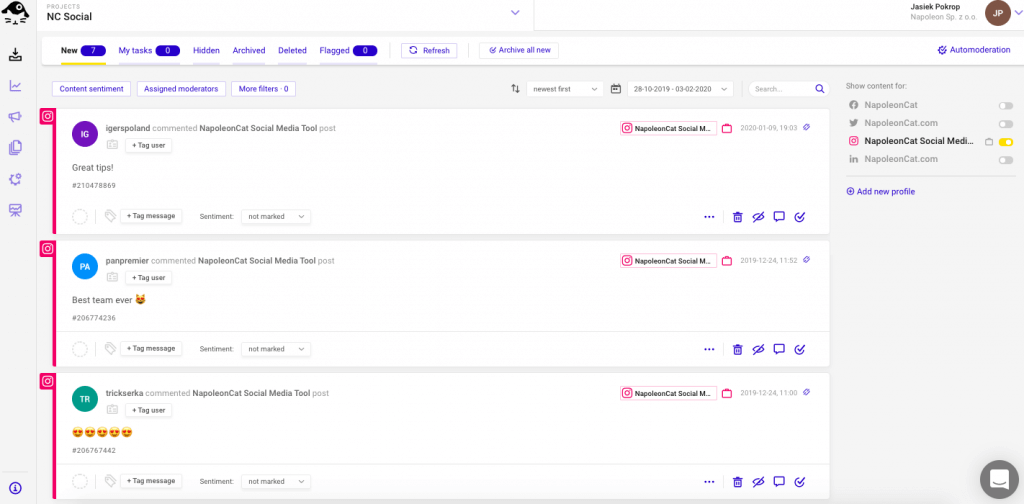 Keyhole
With Keyhole, you can track influencer and hashtag data, measure the metrics that tell you how you're doing, calculate campaign impact and ROI, and create comprehensive reports about all of the above.
Data collection, tracking and reporting can all be automated, which saves you time, helps you pick out glaring issues and make changes that lead to social success. As well as the usual social media analytics, you can find out when the best time is to post and what hashtags are trending with your audience.
SHIELD
SHIELD is the app of choice for B2B businesses because it focuses entirely on measuring performance on LinkedIn. Run content analytics for average likes, comments, and hashtag success, or track what individual employees are posting about your business.
The app automatically generates content and growth insights, so you can concentrate on building your presence and engaging with others on LinkedIn.
Snaplytics
As video content becomes more and more important to content marketing, Snaplytics has popped up to fill the gap where a native Snapchat and Instagram Stories measurement tool should exist.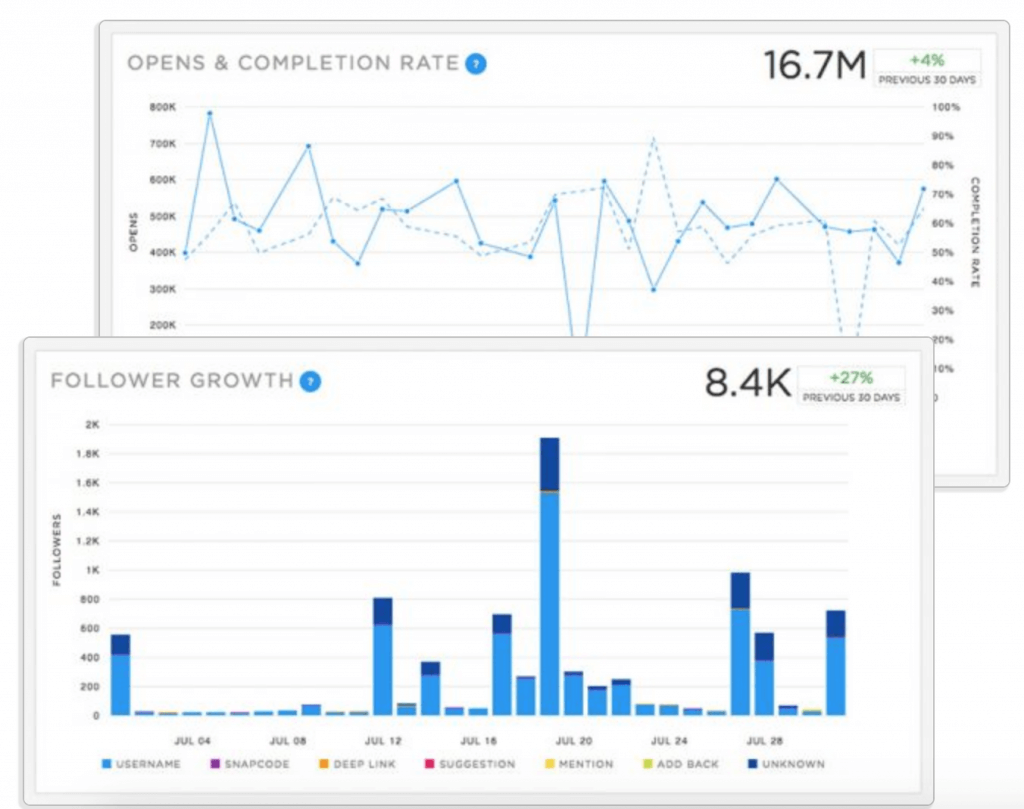 Snaplytics allows users to create and post content to both platforms. But that's not its major strength. It also measures video-specific metrics like open and complete rates. And since both of these social media outlets are popular with Millenials and Gen Zs, it makes sense to add it to your social media measurement toolbox.
The takeaway
If you want to succeed on social media, you need to get serious about data. But you don't have to set up complicated systems of your own. You just need to find the right social media measurement tool for your business and its goals.
Tell us why you use a free or paid social media measurement tool in the comments below!