A good social media marketing campaign can work magic for a business's digital strategy. Every post you make across all the social platforms you use is a unique opportunity for users to find out about your company, engage in your discussion, and convert into paying customers. And who doesn't love a good conversion?
According to Adobe's research, social media is the most relevant advertising channel for Generation Z and Millennials. This means that as long as you invest in truly good content – social media is your best chance of reaching potential customers and getting that sales funnel started.
But how can you be sure that you're creating the best content for your target audience? And what if you're just not quite certain how to promote it in the best way possible?
That's where social media marketing agencies come in.
Instead of tasking your entire marketing department with scouring Medium for yet another example of "the ultimate way" to impress your audience, consider outsourcing to the guys who have already done it. And learned from what they found. And automated the experience in the process.
So keep reading to find out:
what services social media marketing agencies offer and how they could help your business;
which digital marketing strategies can boost your lead generation, engagement rates, and conversions;
what are the know-hows worth paying for;
and finally – how to choose the right social media agency for you and your business.
What Social Media Marketing agencies do
Content marketing is prospering these days. Back in 2017, content marketing conversion rates were six times higher than those of traditional marketing. And the number has only grown higher since! So ask yourself: what is the best way to share content? Social media!
But the truth is that content is just part of the big picture. In fact, in order to be really good at marketing through social media platforms, you need to be a little bit of a writer, a photographer, a programmer, a data scientist, and, most of all – a psychologist.
Now, we all got our strengths. But very few people in the world can successfully be all of these things at once. That's why people with different talents get together and create something that is simply too much for one person to handle.
Or so it was in the past. We're living in the automation times, after all!
A good social media agency should combine the experience of professional teams with the support of state-of-the-art technology. Together, the two let you rest assured that your posts will reach the right people with the right content at the right time. And that is what makes social media marketing so magical.
Social media marketing services
There's a whole bunch of ways to improve your digital strategy. A good digital marketing agency should be able to help you with all of them, across all your social media channels, without breaking a sweat.
Creative Direction
Every business wants to stay consistent throughout the entire experience of a customer's journey. Usually, this requires the well-coordinated work of designers, marketers, and sales representatives. But it's creative direction that's the first step to making sure that your content reaches the expected numbers at the end of the month.
Successful social media campaigns are all about creativity, novelty, and keeping up with the social agenda of your audience. Get it right, and you will be rewarded. Miss something crucial and you will never know what kind of heights your business could have reached. A good social media marketing agency will develop a unique creative direction for your company by bringing secret know-how, precious industry insights, and the talent od top-notch designers and copywriters to the table.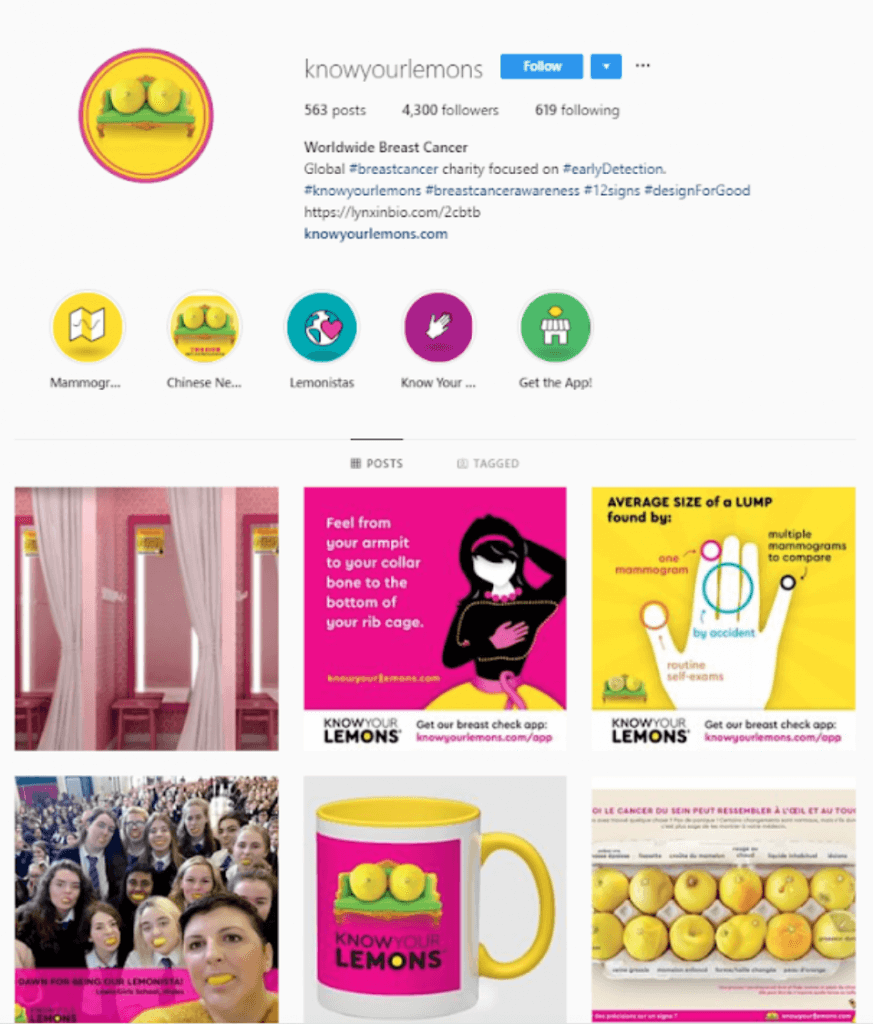 Content Creation/Curation and Scheduling
A well-researched content strategy may become a decisive factor for your business's success. CMI reports that among the "most successful" marketers 62% of the B2B sector and 59% of the B2C sector invested in creating content.
But before you think that bombarding your in-house writer with new requests is a good idea, please remember that "a lot" doesn't always mean "the best".
Content marketing requires a lot of talent, but it also heavily depends on research. In order to guarantee the success of your social media marketing campaigns, you need to make sure that they reach all the right people at all the right times.
The social media agency's job is to analyze all the data available out there and to see which types of content from which platforms will resonate the best at what time. You can rest assured that you found the right agency when they don't just provide you with good copy. Instead, you can expect thorough and up-to-date research, a carefully planned posting schedule, and all sorts of assistance when it comes to the execution of the finalized campaign.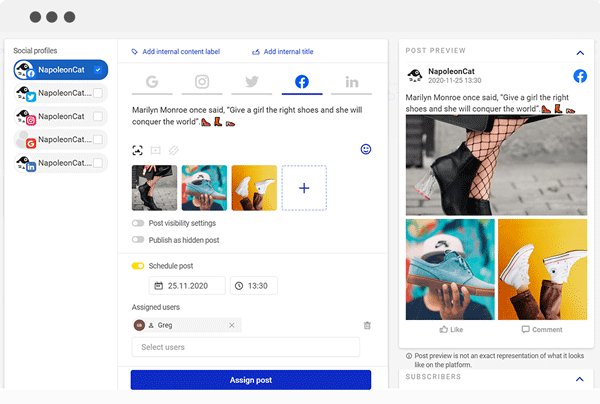 Community Management
Every customer wants to feel special. That's why businesses need to incorporate community management into their social media strategies.
Community managers make sure that your business stays connected with your clients throughout the lifetime of your campaigns to make sure that their requests are heard and their needs are met.
But community management goes beyond quality social customer care. Examples of more advanced community activations include brand ambassador or affiliate programs, incorporation of user-generated content, or the nurtured sense of belonging achieved through external engagement. Social listening can help you find existing or potential customers and join their conversations. Or even better – start one! After all, every long-lasting friendship is based on the quality time invested into it.
Community management does take a lot of dedication, effort, and time. But social media marketing agencies got you covered!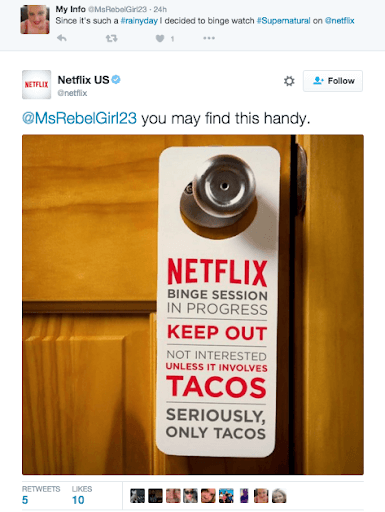 Performance Measurement & Reporting
Setting targets and measuring performance are some of the key components of success for most businesses. It's impossible to reach the top without getting your hands dirty with some numbers.
Now, don't worry if that last bit got you a little bit scared. Let's be honest, no one takes particular pleasure in spending 8 hours a day scrolling through chunks of data! Fortunately, a good social media agency will offer analytics and reporting as part of their service.
More importantly, agencies make sure that your data is presented in the most user-friendly way possible. So you can sit back, relax, and watch the numbers of your social media performance grow.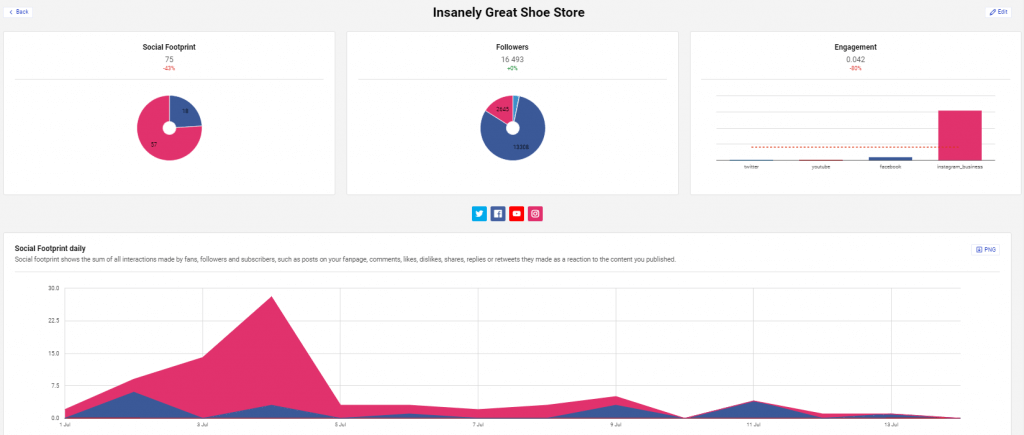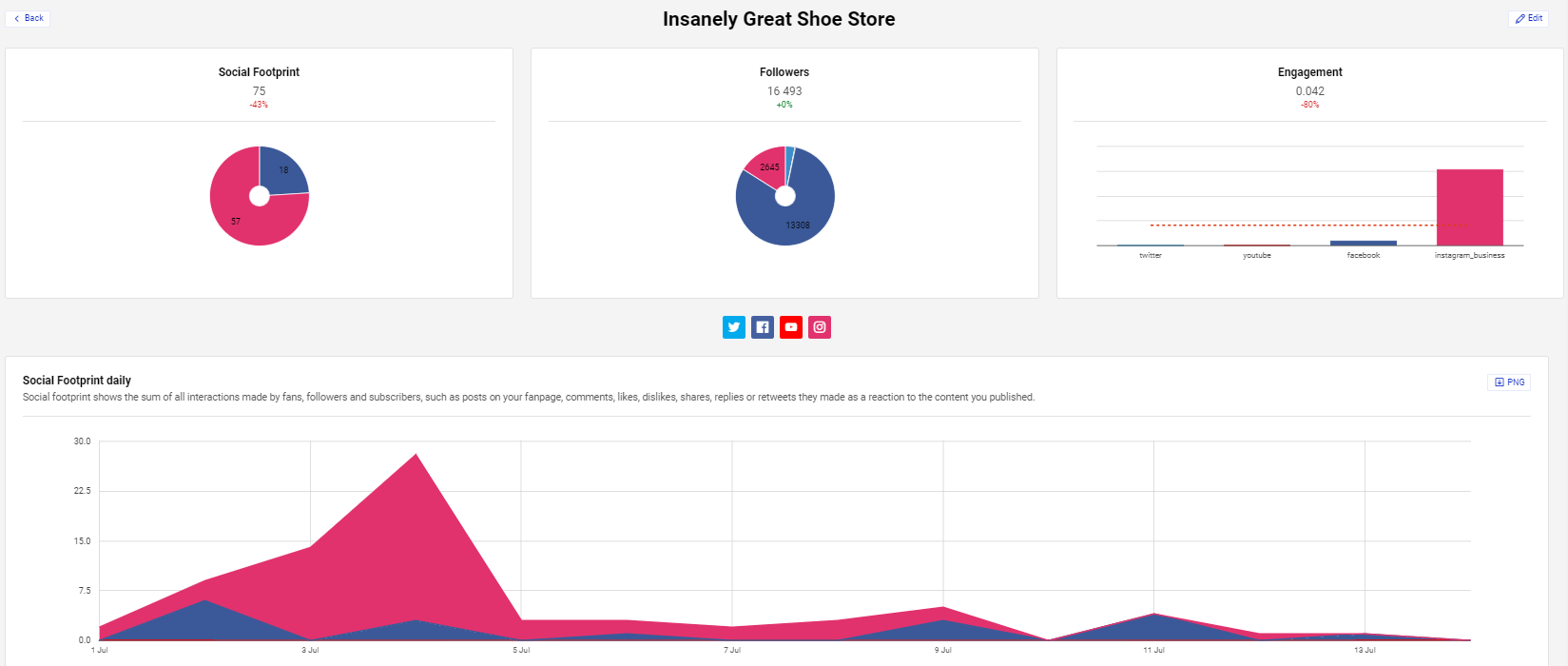 Custom social media management software
Now, could you research the market yourself, find the most talented writers out there, and hire a true Google Analytics guru to track your performance? The answer is "Yes".
But will it really be worth it in the end?
There are many pitfalls in trying to effectively analyze social media performance in-house. Google Analytics is not nearly enough, and other tools, like Facebook Analytics or other in-app statistics, are scattered all around the web.
A really good social media marketing agency should offer its clients custom state-of-the-art technology that will keep all the data in the same place and let you plan your future social campaigns with ease.
Your social media agency should use software that includes:
an easy-to-navigate analytics tool;
proper solutions for social media automation;
a reporting tool to monitor and showcase your social media marketing performance;
a user-friendly social media scheduling calendar with an option for automated posting;
and a customer care dashboard to improve your response rate.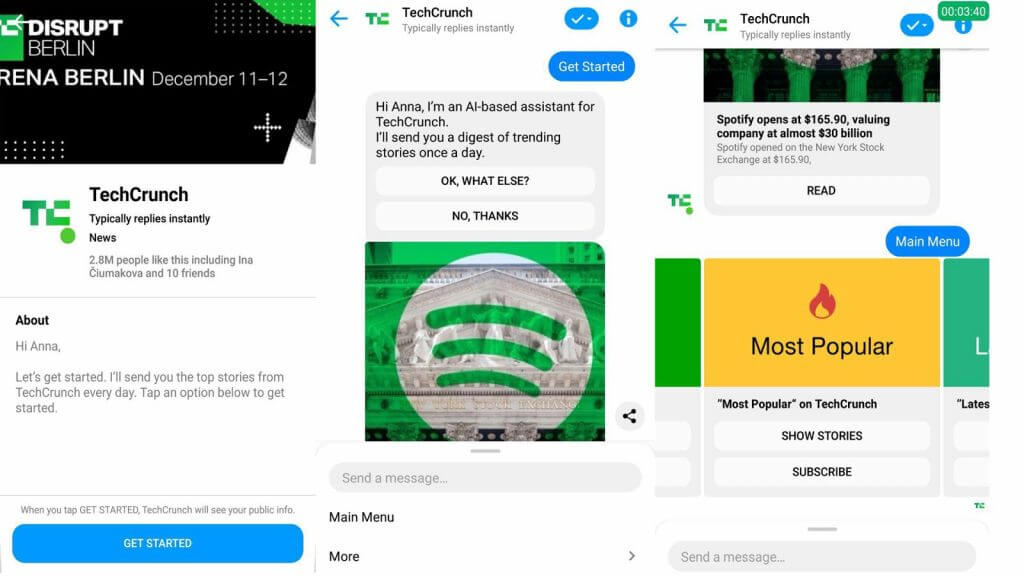 Now that you know what features and services to search for in the perfect social media marketing agency, let's talk about some ways to actually find one.
How to find the best SMM agency
Generally, there are two things you need to keep in mind: what kind of services will be most useful for your business and your budget. Don't overinvest in particular strategies just because they work for your competition – or your friend's business. Try to weigh all the pros and cons, see how important a social media presence actually is for your niche, and turn to a social media marketing agency to improve specific parts of your strategy – not necessarily to completely overwrite it. After all, you are looking for a helpful assistant, not a new CMO.
Social media marketing agency pricing
Now, let's talk about money a bit. Most social media agencies' pricing plans come in different shapes and forms. A really good agency will offer several plans that will help you settle for the best option for your business at a given moment.
On average, social media marketing agencies would charge you anything from $20 a month for very simple services, all the way to multi-thousand-dollar enterprise packages. But remember that buy cheap, buy twice – so make sure you choose your partners wisely!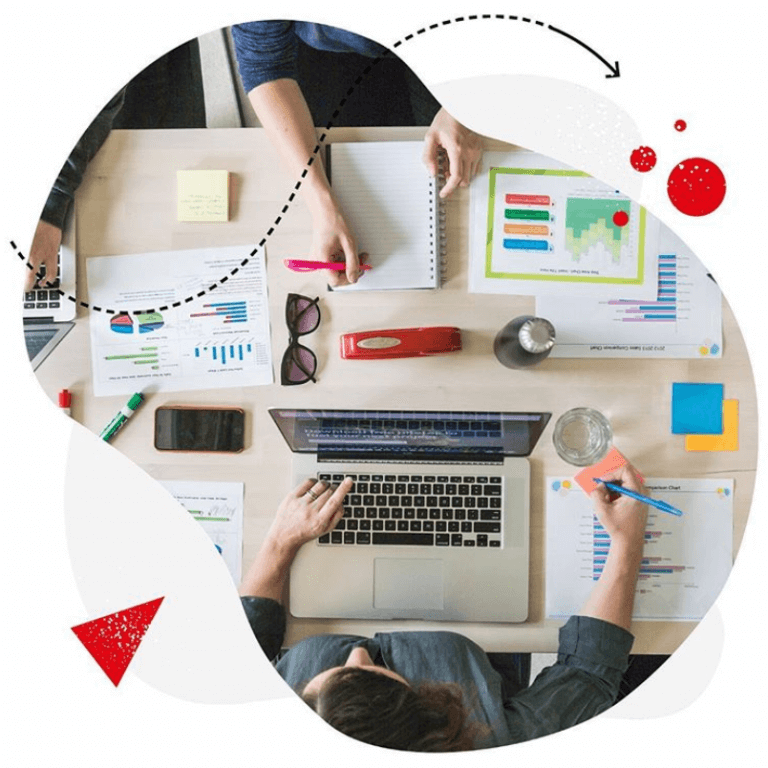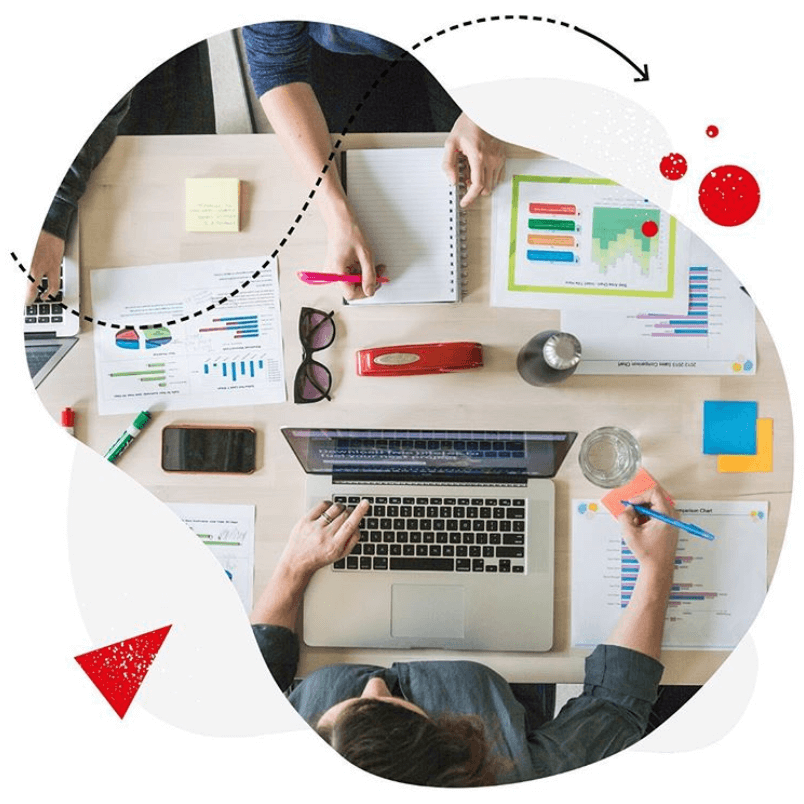 Social media management
Manage unlimited Facebook, Instagram, Twitter and LinkedIn pages in a single inbox. Track competitors and improve performance using simple dashboards.
Try NapoleonCat free for 14 days. No credit card required.
5 things to keep in mind while searching for the right SMM agency
Now, with all these fine details in mind, just arm yourself with a little bit of common sense and dive into the world of social media marketing opportunity. There's a whole bunch of ways to do it, really!
First, you need to decide if you want to stay local or if it's okay for you to cooperate with agencies from around the world. Don't worry – it seems like it's a lot, but you're at the very beginning of the filtering funnel.
Then, try asking around to find the best professionals with the experience related to your industry. You will be surprised how many ends will be cut loose at this stage.
Search for some niche-specific case-studies they worked on before. How many do resonate with you? Remember, it's not just the number game anymore – content is just as important!
Find the companies that offer specific plans and services that you're looking for – there's no need to overpay.
And, finally, don't disregard the people factor! After all, human contact is just as important in B2B situations as it is in B2C deals, and you don't want to trust people who don't resonate with you with your digital image
According to a recent survey, 28% of small businesses trust digital marketing agencies with their strategies. It means that 28% of your potential competitors are asking professionals for help. It's about time you take control over your social media performance too!