Since the moment we launched Social Inbox, it's been our pride and joy. Every day, teams as small as two people and as large as 400 people spread across different continents use the tool to manage incoming comments and messages from different social channels via one multi-user dashboard.
Social Inbox has always been a collaborative tool. Features such as sending messages to consultation or assigning tickets used to be what our clients needed a year ago. But as time has gone by, we've gathered feedback, and we've seen that these needs have changed.
Covid-19 hit unexpectedly, turning the way we work upside down. Teams deprived of daily personal contact had to confront the new reality – executing business remotely.
Intending to improve remote teamwork, we've decided to enrich our Social Inbox with a brand new update: real-time collaboration.
From now on, even though you and your colleagues are apart, you'll always know who's doing what. I mean, in real-time, just as if you were sitting side by side.
Excited? So are we! Read on to find out more about real-time collaboration in Social Inbox and why we have decided to introduce the update.
A growing need for social customer care
For many businesses, the outbreak of Covid-19 meant a pivot to the digital world.
The increased use of social media was caused not only by intensive private communication of social media users but also by contact with brands. The possibility of selling products and services online gave many small and medium businesses a chance to stay afloat.
Despite the end of lockdown in most countries, the trend seems to continue, and the line between social media and eCommerce is increasingly becoming blurred. In May, Facebook launched Facebook Shops – its most significant move towards eCommerce yet. The feature allows small businesses to build online stores on both Facebook and Instagram. The platform also announced that they would add new features, such as live shopping or loyalty programs. This way, they are going to help people shop for the things they love via the platforms they use daily.
All these updates make us firmly believe that the trend won't disappear anytime soon. Most importantly, the shift towards social commerce points to another significant aspect: the growing demand for efficient social customer service.
The use of our tool well illustrates this shift. Since the beginning of the global pandemic, we have observed a significant rise in the use of our Social Inbox:
Our clients were receiving 24% more comments and messages — comparing March to April 2020.
The numbers were self-evident:
We have answered the growing demand by introducing several UX improvements and new functionalities. Inbox translations or simultaneous Auto-moderation for all Facebook and Instagram Ads are the examples.
We aimed to help our clients deliver outstanding social customer service even in this demanding time.
The new social customer service
People often seek help before they buy something. In stores, they're always able to reach out to a shop assistant and ask about whatever they need: the right size, return policy, etc. In the new reality, they seek help too. And they do so using comments and private messages.
Social media and customer service teams collaborate closer than ever before.
It means that, from now on, social media content strategy, community management, and customer care are interconnected. Plus, the departments need to manage it all working remotely.
Collaboration goes first
Delivering the highest quality of customer service on social media cannot be achieved without efficient collaboration. Although teamwork is a typical feature of office work, it doesn't mean that it cannot be attained in remote work. The case is:
Remote teamwork requires new solutions.
Our real-time collaboration feature makes remote work truly effortless! You're able to see what everyone's doing, even though you're not in the same room. Duh, sometimes not even in the same city or country!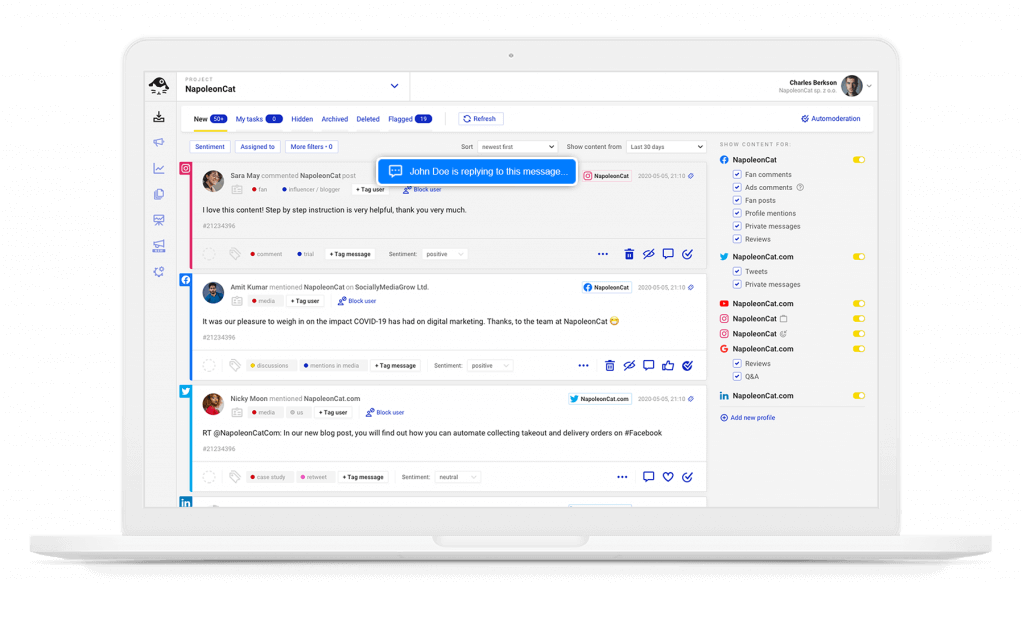 With the new, improved view you can be sure that you won't overlap with any of your colleagues and answer the same comment or message.
(Half the trouble if you both reply giving the same answer, but imagine sending two contradictory responses at the same time 🤯).
Within the main view of our Inbox, you'll be able to track all of the following activities of other users:
replying to a comment/message
liking
adding and removing user tags
adding and removing message labels
marking sentiment
archiving tickets
flagging tickets
deleting comments
hiding comments
assigning and unassigning users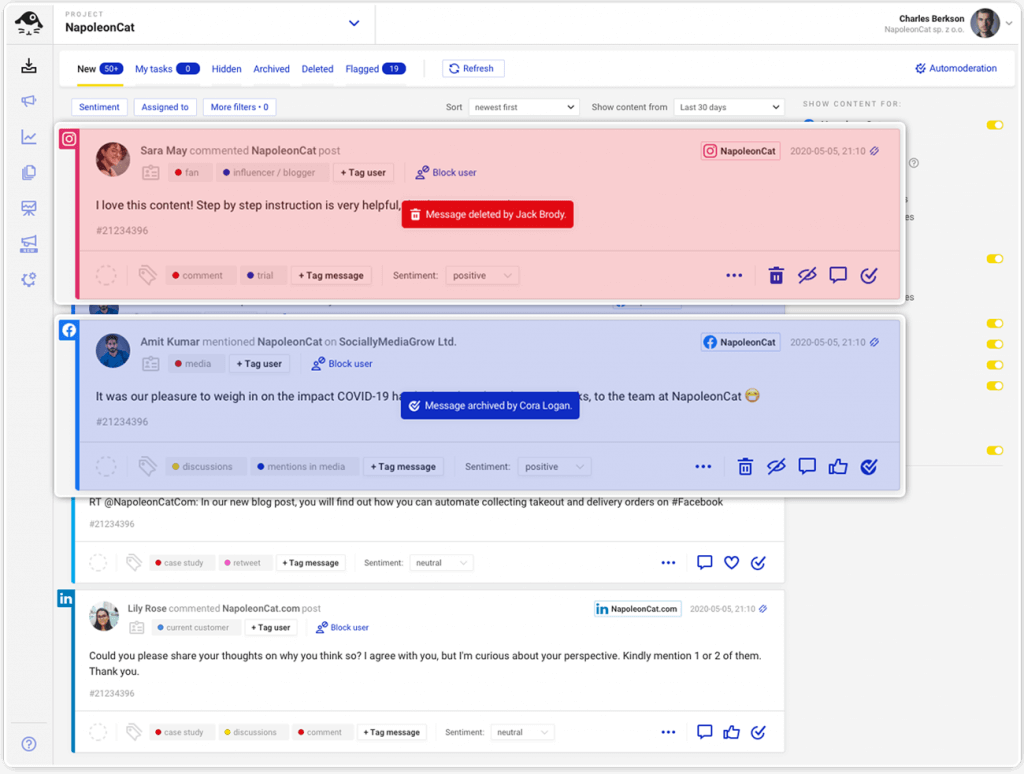 And we'll also update in real-time the number of:
replies
private replies
translated replies
notes
consultations
translations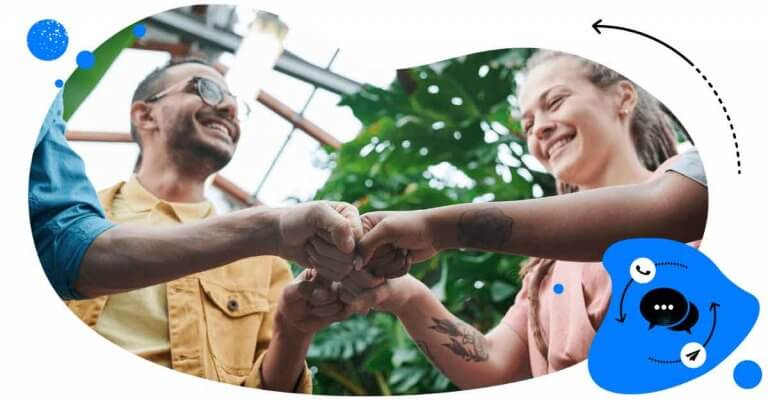 Make remote teamwork truly effortless
Take your social customer service to the next level of convenience with the feature of real-time collaboration – with an all-in-one social media tool.
And we're just getting started:
We're also going to introduce the update in the history view (the one you get once you click on a ticket in our Social Inbox). That's when you and other moderators from your team will be able to exchange notes and support each other while replying to more complex issues.
We're also working on replacing the view of private messages with a 'conversational' one to help you run real-time conversations with clients in NapoleonCat. Yes, just like you do while using Messenger.
Log into our app to check the latest update!
Here are some other stories that you may also like: