Social media management is a core of growth for companies worldwide. Marketing teams often collaborate and brainstorm to create engaging and entertaining posts on social media.
However, with work-from-home being the new norm, most professionals, such as social media managers and virtual assistants, are now working remotely, making collaboration quite challenging.
For project managers or team leaders, it's challenging to supervise their team and help them perform better from a remote location. It's also demanding to induce collaboration and cooperation among the team members. But the biggest obstacle you can face as a remote team manager is getting everyone on the same page.
A survey found that 33% of workers have difficulty collaborating and communicating. Furthermore, 27% of remote workers experience distractions at home, which might make it more difficult for remote workers to perform effectively.
Many businesses are adept at managing the collaboration and communication between remote team members through communication tools such as Slack. However, the efficiency of these tools depends on how well managers and employers plan projects, implement them, and maintain employee engagement.
Managing Remote Social Media Teams
Define the roles and responsibilities
Allocate responsibilities based on the seniority and area of expertise of the team members. For entry-level positions, it would be better to focus on day-to-day operations.
In contrast, senior specialists are more likely to handle higher-level tasks like developing content strategies.
When you clearly define your team's responsibilities, it becomes seamless to optimize their work to the utmost potential and resolve any issues the team faces. In addition, your team will have a clear picture of what is expected of them.
Create a work schedule
Creating a schedule is especially important for teams operating in various time zones. When your team members' working hours don't overlap, it may affect the team's overall workflow. Additionally, it becomes extremely challenging to collaborate.
Plan your work schedule to avoid such conflicts. It would be best to set 2-3 hours daily when everyone should be present. Inform your team in advance about the planned schedule to get them ready to adjust their working hours.
To ensure everyone's meeting deadlines, use project management software such as ClickUp, Asana, or Trello. Set due dates for all tasks and define priority.
Encourage work-life balance
According to the Clutch, unplugging after work is one of the biggest challenges for remote workers. 22% of remote workers find it difficult to stop working after 8 hours.
If employees cannot strike a balance between work and life, they may become resentful or experience burnout. You should encourage them to put in their time during the workday. If a team member takes a break, encourage them to disconnect and explain that they should not be checking and responding to emails during this time.
Help your team manage their stress
Remote social media management can eventually become stressful, mainly if the profiles you manage are active and call for quick work. Give your team breaks and stress relievers.
Let it be as simple as posting memes or animated gifs on your communication tool in an arbitrary chat room.
Working from home can make it awkward to feel like a team member. But with the help of some tension busters, it may be simpler to achieve.
Promote upskilling
A company's manifesto should include regular employee training. It enables employees to develop, learn new skills, and work more effectively.
Your team needs to stay on top of the evolving trends in digital marketing. You should encourage them to take part in lectures and conferences. Next, motivate them to test themselves and prepare presentations to ensure they have understood the new concepts.
Use the best tools
There are plenty of social media tools that can make remote work (and communication!) a breeze. For example, social media scheduling tools can save your team ample time and reduce the number of calls or Slack discussions needed to decide when posts should be sent out.
Social media team collaboration tools are designed to enable seamless team collaboration. They offer a full range of appropriate and effective communication features, from built-in chat features to approval flows.
Consider the following tools:
NapoleonCat is a social media management tool that allows teams to monitor who's doing what, collaborate on posts, and set workflows.
With Splice, your team can produce short social media videos on the go.
Filecamp is a tool that will help you organize all your digital assets.
Slack is one of the best team communication tools.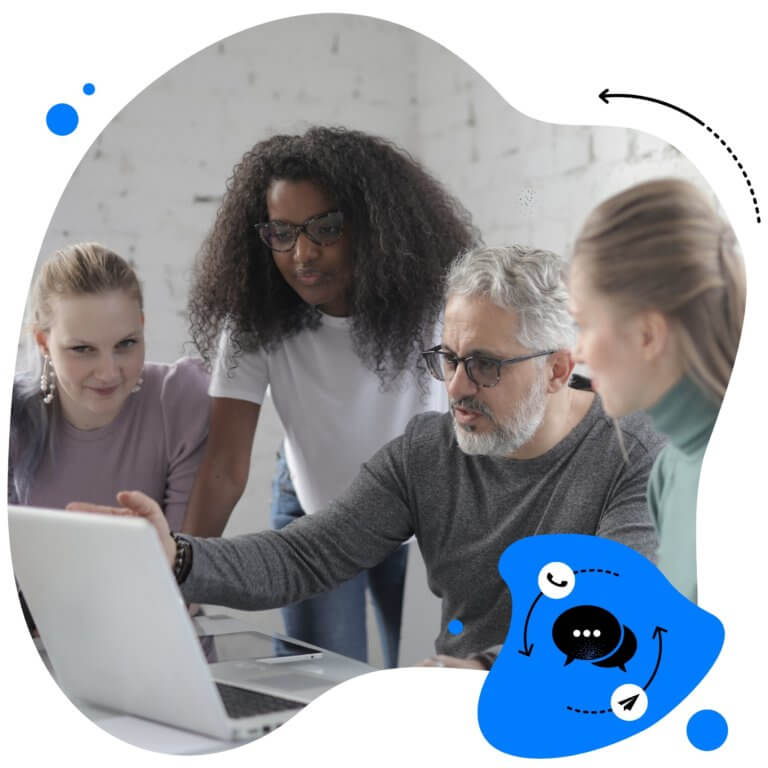 One social media management tool for the whole team
Help your remote team avoid distractions and keep up with tasks and workflows. Monitor progress in real-time.
Try NapoleonCat free for 14 days. No credit card required.
Monitor team activity
It can be challenging to encourage focused work schedules and adherence to deadlines when members of your social media team are constantly logged in to social media sites like Facebook and Twitter.
One idea to deal with that and help your team stay productive is to use an hour tracking app. But it's something that definitely won't help you establish mutual trust.
You can also ask your team to perform all tasks from the social media management tool. This way, they won't get distracted by funny cats Reels or DMs from their friends. Plus, you'll be able to keep track of the progress in real-time.
Set response times
Your teammates don't like being seen-zoned, and neither do you! So if a team member sends you a message, you should respond as soon as possible.
Naturally, you expect the same from your team members. Talk openly about your expectations. If the team members simply cannot respond quickly, you can ask them to send a short response informing that they have received the message and will respond later.
It's also better to inquire about your team's email and messaging preferences.
Is email a better way to contact team members?
What conversations would be better off on chat?
When sending an email to a team member, which address should you use?
Addressing these questions should be one of your top priorities when starting a new team and building your organization's work culture.
Wrapping up
A social media marketing team is essential to growing your business.
While teams continue to work remotely across various time zones and hours, you should establish clear communication and performance standards. You should also learn more about your team members to identify their needs, strengths, and weaknesses.
Remote working has its fair share of advantages and disadvantages, but its benefits in terms of flexibility far outweigh the cons.
To grow your business, you must set clear expectations and help teams collaborate and communicate better with each other. Investing in the right tools can help you manage your remote team of social media managers more effectively.
You may also like: