Over the last few years, Instagram has become an important customer support channel. Since 90% of Instagrammers follow their favorite brands in-app1 and 70% of customers prefer sending messages to calling businesses2, it's no wonder that people send customer inquiries on Instagram.
With the growing number of social media users, more and more people send customer service requests on social networks. But when it takes days or weeks to get a reply from brands, it negatively affects brand reputation and customers are more likely to lose interest in doing business with your brand.
Any proof needed? According to one research:
48% of customers want to get customer support on social media and 84% of businesses see revenue growth after improving the customer service experience.
This means that having an Instagram presence isn't enough to grab and hold your target audience's attention. If you provide Instagram customer service, it can help your business grow.
In this article, you'll learn:
Why Instagram is a great platform for customer support
What you can do to optimize your profile for better customer experience
How to train your team to improve social customer care
Why use Instagram as a customer support channel?
Here's why you should implement Instagram into your customer service strategy and use Instagram as a customer support channel:
Users reach out to brands in-app: More and more customers want to interact with businesses on social media platforms. In fact, 90% of Instagrammers follow at least one business on the platform and around 150 million people send a direct message to brands each month. This means users expect brands to communicate with them in-app.
Customers have high demands: Modern users value their time. When people send questions or complaints to brands on social media, 83% of them expect to get a response within one day. When customers have to wait for a reply, people simply lose interest in your business and switch to competitors.
Businesses hope for the attention of customers: Instagram has great sales potential, so it's no wonder that over 25 million companies use this platform for business promotion. Since people choose brands they trust, providing customer support on Instagram is your chance to stand out from the crowd and therefore grab the attention of your audience.
As you can see, Instagram is a great customer support channel. However, most businesses still fail to provide customer support in-app as they don't have a clear roadmap and they don't know how to optimize their Instagram accounts for customer support.
Today we're going to tell you everything you should know about optimizing your Instagram profile for customer support and all important tips and tricks to follow for your social media customer support strategy.
1. Prepare your Instagram account for customer service
Write about customer support options in the bio
An Instagram bio is the first thing users see when they visit your business profile. With an average attention span of 8 seconds, your bio should tell visitors everything they need to know on how to get in touch with you.
For example, if you solve customer requests on other social media platforms, tell your visitors and followers about alternative channels, just like B&Q did it:

If you have a chatbot on your website, it's also a good idea to add a link to your website in the bio so that your followers can get a fast reply to their inquiries directly on your preferred channel.
Not only does it help to resolve a great number of customer issues, but it also relieves your social media service agents. After all, providing omni-channel customer service is a proven way to gain credibility and trust.
Add various contact buttons
When followers reach out to businesses on the platform, most businesses believe that Instagrammers want to get their request solved in-app. Although it makes sense, not all customers have time to wait for a reply. Thus, they prefer using alternative contact options.
It's no secret that most Millennial customers prefer texting over calling, but…
Some consumers still believe that phone customer support is the quickest way to reach your support agents.
Obviously, it's hard to meet every customer's demands, but you can still add various contact options so that all followers could choose the best way to contact your business. Thus, it's a good idea to add your phone number and email address as action buttons.
Check out how VirtueLabs did it: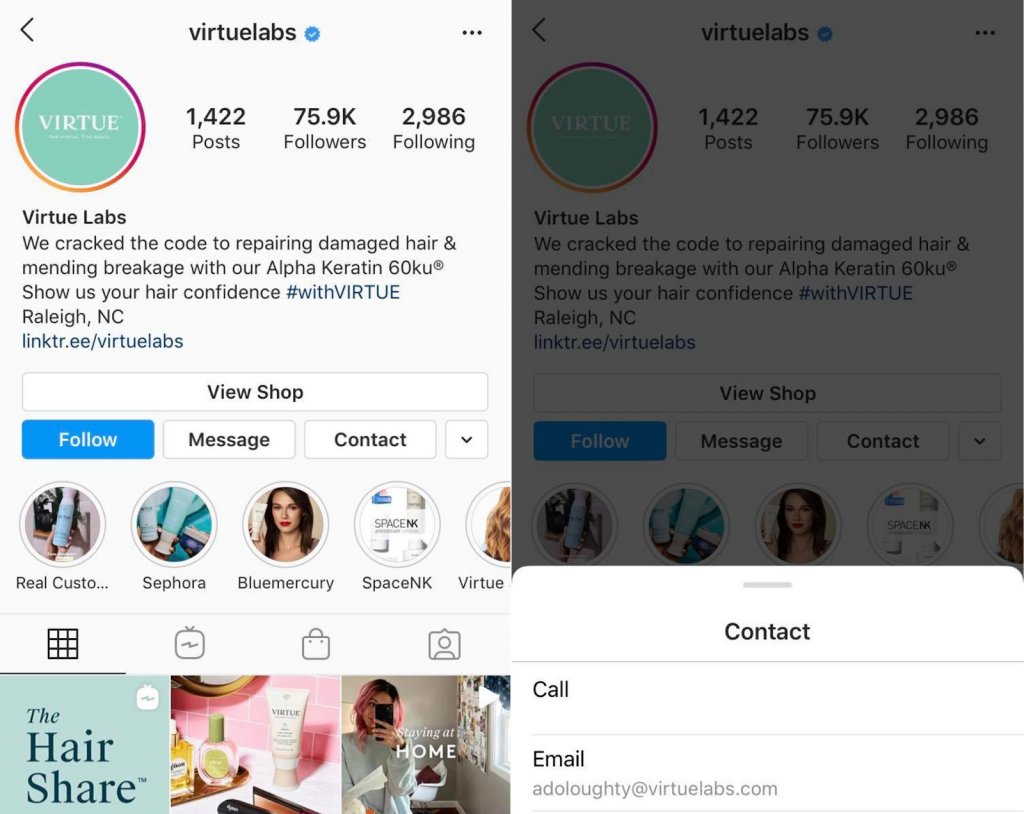 NB: People expect seamless customer support across multiple channels, so it's better to avoid adding contact options if you don't use these channels (email or phone) for customer support.
Set up push notifications
If you provide customer support on Instagram, that's great. But if customer requests get lost in your profile and you don't send a timely response, customers lose interest in your company.
Look: Whether you're a famous brand with a large following or a small business who is just starting out, customer requests can get buried in the inbox. But it can negatively impact your business as customers crave prompt response. Thus, it's important to set up push notifications for comments, tags, and direct messages.
Here's how to do it: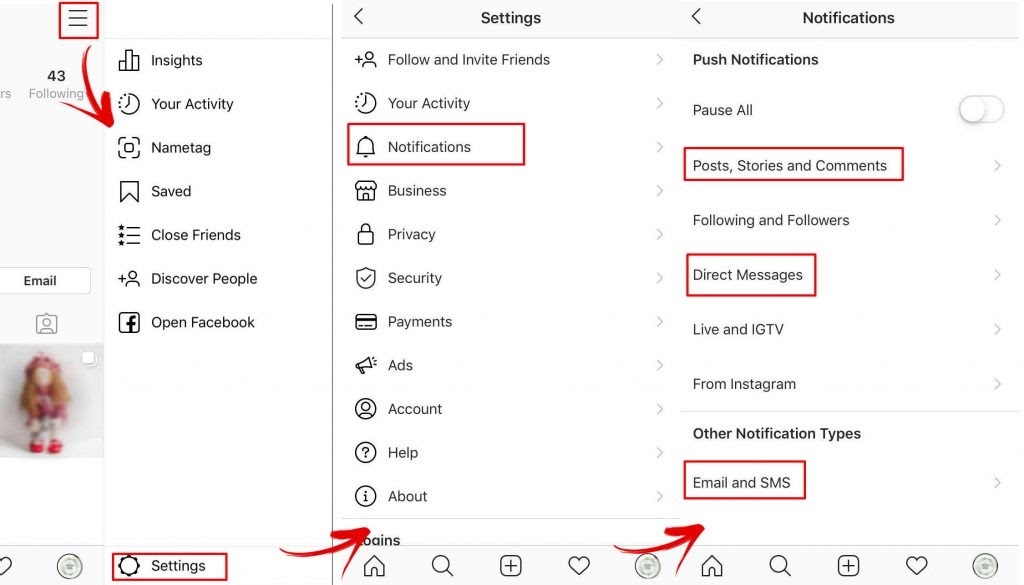 2. Improve customer response time
Use Instagram Quick Replies
To stand out from the crowd of your competitors and provide followers with excellent customer support, you should aim at reducing response time. Luckily, Instagram has a solution for businesses that want to improve their customer experience–quick replies.
Instagram quick replies are similar to canned responses that allow businesses to format the list of responses to common questions and send them over to customers via direct messages when needed.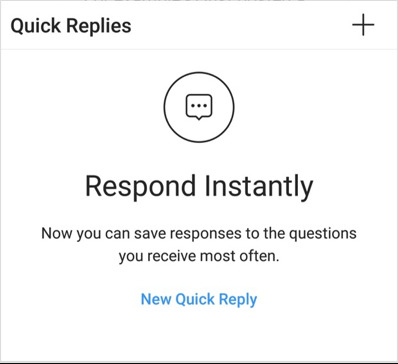 The quick response feature is a great solution for businesses that have an in-house team of customer service representatives for Instagram or hire a freelance social media moderator who needs assistance before replying to customers' requests.
If you deal with high volumes of customer inquiries and receive a lot of repetitive questions on Instagram, you may seek help with external solutions. You can reduce your team's workload (and improve response time!) by automatically handling generic messages and comments with NapoleonCat's automated moderation. By setting up automatic responses, you can deliver outstanding customer support on Instagram without the need to grow your team or implement pricey technologies.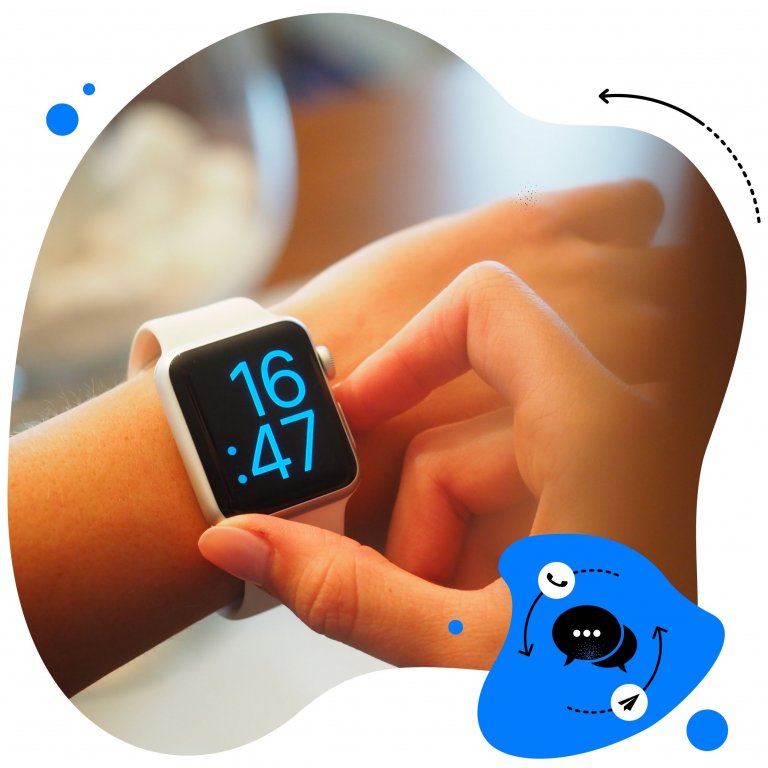 Improve your response time on Instagram
Handle generic questions automatically and cut down on the time you spend on replying by as much as 66%
Try NapoleonCat free for 14 days. No credit card required.
After all, the faster you solve customers' requests, the happier they will be. As a result, they are more likely to trust your company and recommend it to their friends and family.
Create Story Highlight FAQ albums
Every business deals with worried customers during the discovery phase. With a great variety of options on the market, it's no wonder that your potential customers may have questions about your product or business.
If you want to satisfy your customers' demands and provide them with replies, it's a good idea to think about frequently-asked questions and feature them as Story Highlight albums. Since they appear right below your bio section, it's easy for visitors to find these replies when scrolling your feed.
BaliBody is a great example of using this strategy in action. Not only does the company feature FAQs via Stories and make them permanent with story highlights, but it also groups questions customers ask about different products.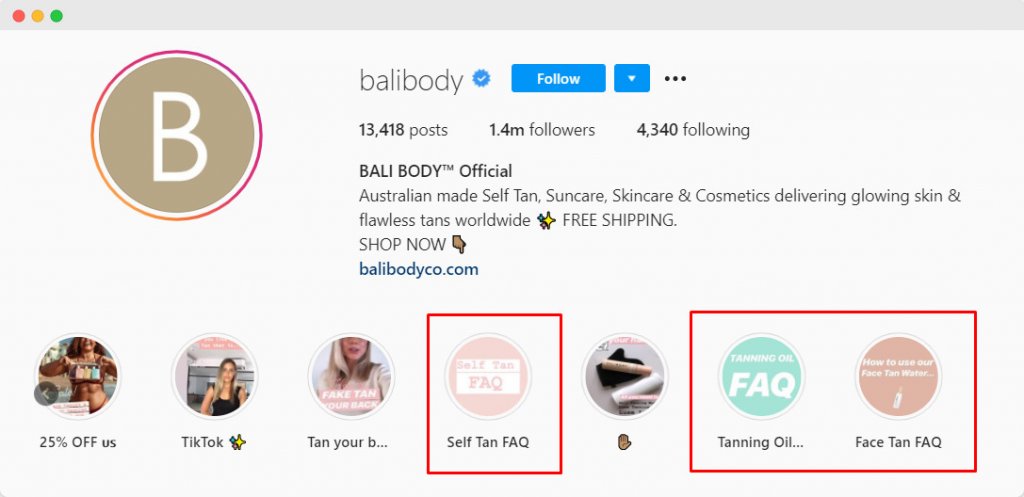 As specified in the guide on vertical videos, 1 in 5 stories from businesses gets a direct message from customers. Simply put, this content keeps the audience hooked and encourages people to start a conversation.
3. Train your team for Instagram customer care
Create a knowledge base
When it comes to Instagram customer care, it's more likely you have a freelance moderator as a small business; large companies usually have teams of support agents.
All in all, when different people manage the same business account, it can be daunting to ensure that all people have the same knowledge of each topic or situation even if you use team software. Plus, it's important to maintain a consistent brand voice, so your customer support representatives should know how to act.
The solution? Knowledge base! It's a self-serve customer service library where your team can find information about a product, service, or topic.

Alternatively, you can browse information product ideas and create eBook or PDF guides for your customer support representatives where they can find structured information on your products and therefore provide customers with prompt responses.
You can also use these files when training newly-hired freelance support agents or remote employees.
Use social media tools
Social media marketing isn't a new concept, so there are many handy tools that help to work on social media marketing strategy and automate tasks. What is more, these tools can improve communication between different departments.
Let's take NapoleonCat, for example. With a variety of features, this tool is handy for social media teams who work together. The social media inbox feature helps to keep track of all issues and make sure all social media requests are resolved.
To bring your team performance to the next level, it's a good idea to share the list of productivity apps and provide online L&D training so that your customer support team can speed up the process of solving issues and therefore improve customer satisfaction.
4. Listen to Your Instagram Followers
Read comments and direct messages
Social media users crave communication with brands on Instagram and they leave comments or send direct messages to share their thoughts on your product or ask questions.
Not all people who leave comments on your posts are your followers, but they may be your customers who want to share their thoughts. Simply put, if your Instagram profile attracts the right audience, you can analyze your data and communicate with followers to understand your customers better. Thus, it's important to use one of the best Instagram data analysis tools and make sure your visitors and followers fit your customer portrait.
To understand the importance of the comment section, let's take a look at Made.com. The company often receives comments from customers which helps to understand the drawbacks of their service better: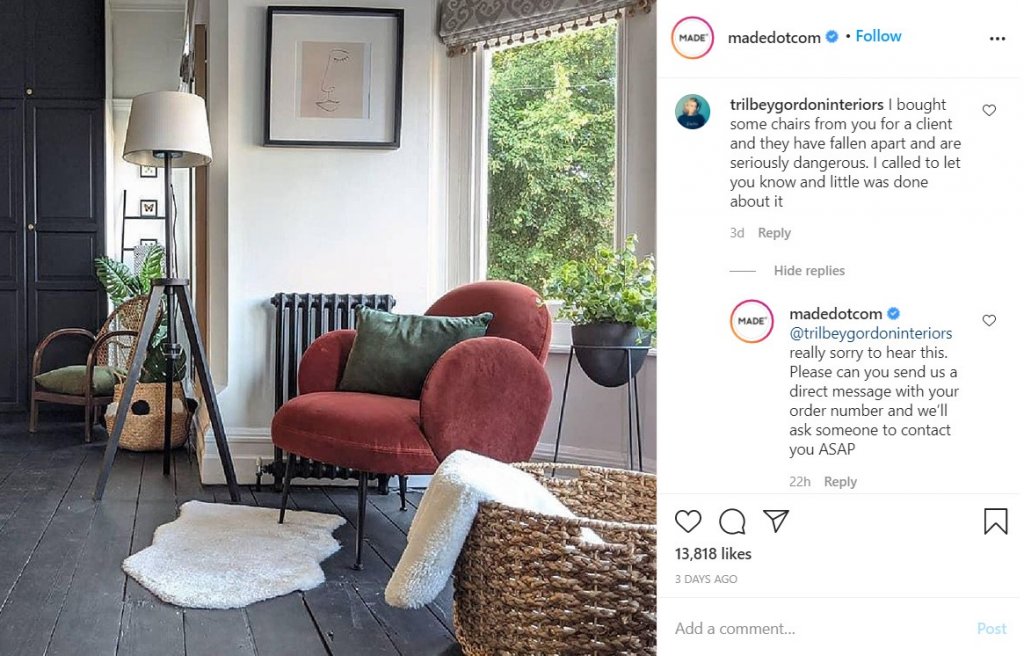 But if your customers don't share their customer experience in the comment section, think about the chameleon effect that can help you. It's scientifically proven that people tend to unconsciously imitate the people around us, so it's important to get more comments to encourage your followers to leave their comments, too.
Collect customer feedback on Instagram
When people follow your company on social media, it's more likely they want to help your business grow, so you can invite them to share their thoughts on your company. Thus, Instagram is a great source of customer feedback if you invite your followers and visitors to tell more about their customer experiences.
Collecting customer feedback is one of the most effective reputation management strategies that help to understand your customers better and therefore improve your products or services.
To encourage your followers to share their thoughts on your product, you can organize a giveaway with valuable prizes and ask participants to 'take a customer satisfaction survey' as the entrance requirements, just like OmniTrans did it: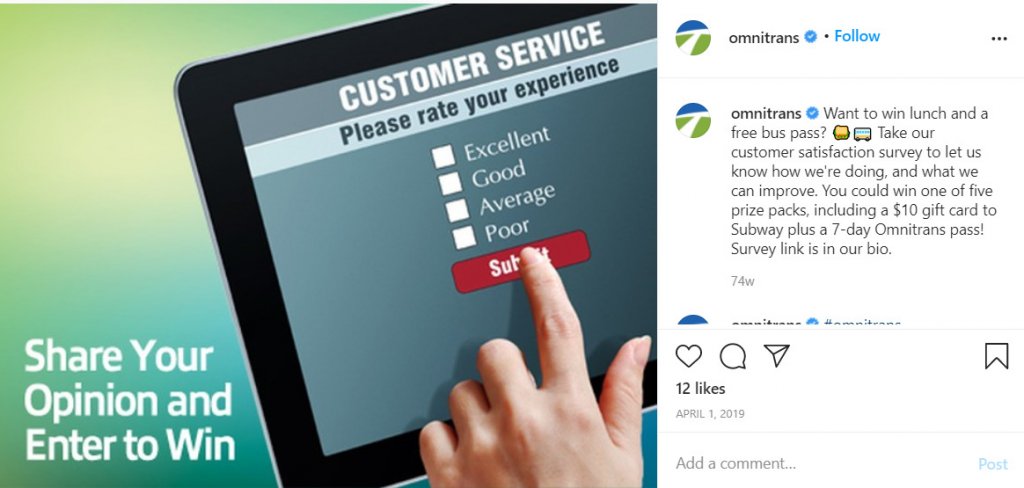 If you use Instagram Stories for business growth, you can also make the most out of this ephemeral content that creates a sense of urgency and encourages followers to interact with your brand. For example, you can create online quizzes with the help of Quiz Stickers where your followers can tell you how satisfied they are with your product and what you can do to improve.
Monitor brand mentions
Instagram users are not shy to share their customer experiences with their followers, so they often post both positive and negative stories on their profiles.
In fact, 96% of people who discuss your company online don't follow your business on social media.
This means you need to monitor brand mentions and analyze what your customers think about your product. Here's an example of brand mention where a disappointed customer tells the following about Starbucks: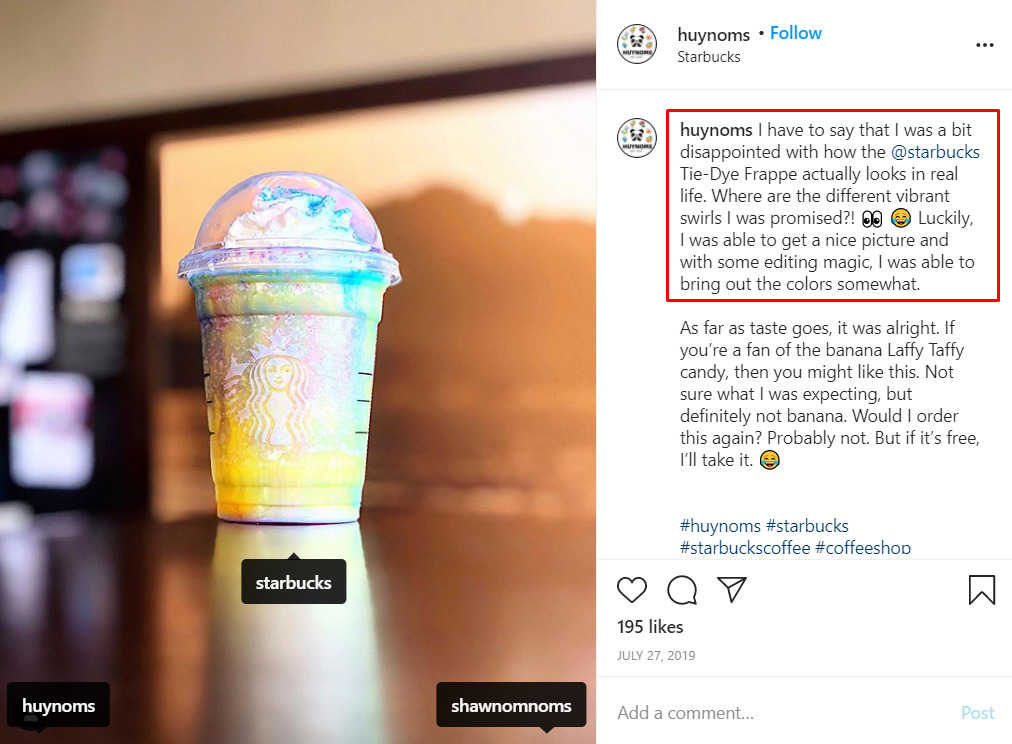 Not all users tag your business profile when they discuss your brand. Thus, it's important to use social media monitoring tools that help to keep track of your mentions. However, tracking your brand mentions isn't enough to improve customer satisfaction, you also need to handle negative feedback. One of the easiest ways is to slide into direct messages and discuss the situation with the person.
But if you can't get a reply, it's better to use an email finder extension and find contact information so that you can send an email. Not only can it show that you care about your customers, but it can also build brand loyalty and trust.
Conclusion
Modern customers have high demands, so they pay close attention to brands that invest time and effort into improving customer experience. Whether you're a big or small business, providing Instagram customer care is a must if you have an Instagram presence.
Here are four main steps to optimizing your Instagram profile for customer support:
Prepare your Instagram account for customer service
Improve customer response time
Train your team for Instagram customer care
Listen to your Instagram followers
Now you know how to optimize your Instagram for customer support, it's time to take the bull by the horns and implement these tips. Good luck!
1 Instagram for Business | 2 UJET Releases New Research | Business Wires