Social media are quickly becoming the go-to for those in search of holiday accommodation. What can be done to launch the sales process already at this stage and boost the number of direct bookings?
Regrettably, there is still a mistaken belief that social media is all about promotion. For this reason, when developing communication channels for Facebook, Instagram, or YouTube, we often disregard their sales potential. Account owners are known to redirect clients to OTAs (Online Travel Agency) from their Facebook profiles or Instagram ads. Meanwhile, social media channels are an excellent sales platform which can easily help you boost your direct bookings. How is this done?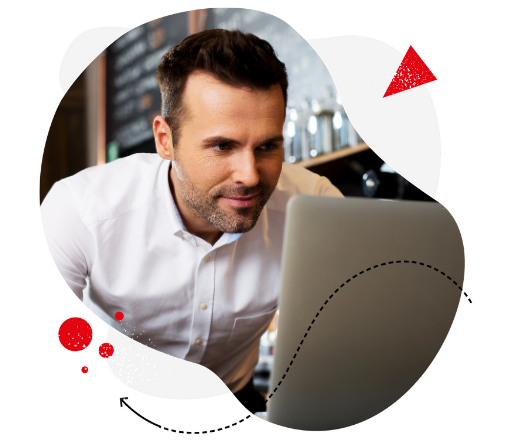 Manage multiple social media accounts from one place
Manage comments, messages, reviews, and more, across different social media platforms – all from one simple view. Try it for free:
Try NapoleonCat free for 14 days. No credit card required.
Plan the hotel's communication strategy in social media
A lack of social media marketing strategies is said to be the source of the biggest losses. We grope in the dark while struggling and failing to identify our objective. This is when mistakes are easy to come by. Because of that, a communication strategy in social media is the groundwork of any hotel's marketing plan.
Luckily, this doesn't mean having to create a vast set of instructions. The simpler the plan, the better.
Start with the SWOT analysis. Analyze the strengths and weaknesses of your services, as well as the opportunities and risks present in your environment. Evaluate your past activity in social media.
If your hotel boasts a state-of-the-art spa facility, how have you advertised its uniqueness to date? What was the reaction of the hotel's fans to your messages?
Open your Facebook statistics and see which posts are the most successful. What are your competitors busy doing on social media? Which goals will you set for your Facebook profile and which for your LinkedIn accounts?
Do you know how you'll beat your competition at this stage? What are you better at and what do you want to emphasize?
Although there are many questions, don't be tempted to set too many goals. As Michael E. Porter, economist and director of the Harvard Business School's Institute for Strategy and Competitiveness, once said: "The essence of strategy is choosing what not to do".
1. Who are the hotel guests and the people following the profile in social media?
When devising the communication plan, great attention should also be paid to hotel guests. Create user personas, i.e. target group representatives. Define their sex, age, size of the town or city they come from, their education and occupation. Find out how the people you are describing use the facility. Are they technology buffs or do they prefer using the hotel library? Do they enjoy morning exercises at the gym or prefer their evening swim? What do they expect from their weekend getaway? What are their requirements in relation to a conference held in one of the event rooms?
Compile as many of these observations as possible and correlate them with the data provided by Facebook statistics.
Scrutinize the use of social media by your target audience. They might prefer YouTube or Instagram to Facebook. On what days and at what time of day are they most active?
Which category of posts do the profile fans react to most often? Are these photos taken in the morning, videos showing the surroundings, or perhaps pictures from events held in the hotel?
If you wish to analyze the profile and compare the hotel's social accounts with that of the competition, your best option is to use the NapoleonCat Analytics feature. By inspecting this data, you will discover what type of content is expected by the profile followers, which type of information will get you through to a broader audience and tell you how to improve your chances for better sales.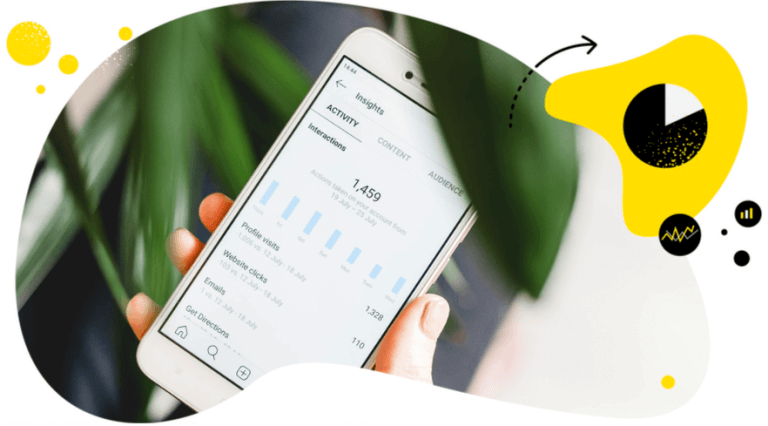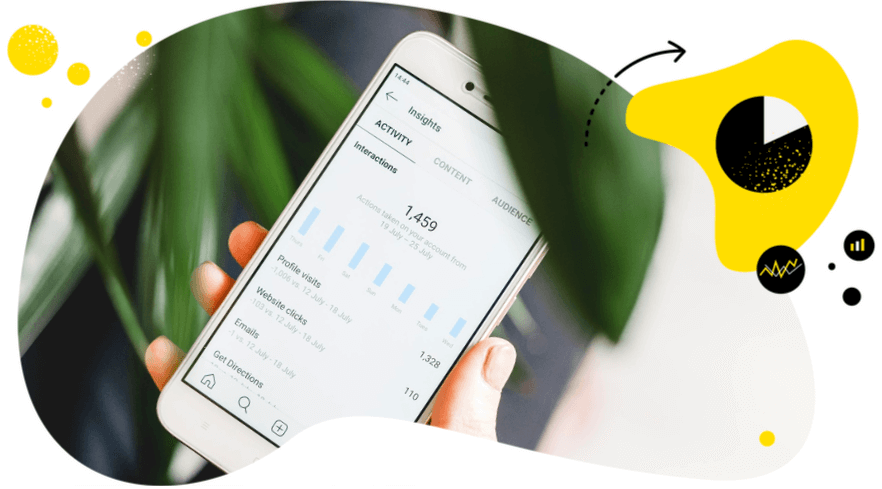 In-depth social media analytics
Figure out what to post, when to post, where your audience comes from, and more. Try NapoleonCat for free:
Try NapoleonCat free for 14 days. No credit card required.
2. What is the purpose of marketing activities in social media?
Another question worth answering relates to the purpose of social media activities.
Social media are perfectly suited for building brand awareness. They allow you to quickly identify your target groups and provide them with interesting content.
Social media also make it easier to direct traffic to the hotel's website through the published links.
Thanks to attractive communication channels, you can engage the hotel's fans, increase the profile's reach, expand the audience base, and use social media tools for effective sales.
Objectives can be determined using the SMART method. Your goals should be specific, measurable, attractive, realistic, and timely.
Would you like to win over committed fans who will visit your hotel? Do you want to demonstrate the charms of the place and the nearby attractions, talk about the CSR activities you undertake, sell holiday packages and promote events which take place in the hotel? Increase the number of direct bookings? That's great!
Write down each target separately and try to create several posts for each target. It would be excellent if the content prepared for Facebook, Instagram and Twitter was diverse and tailored specifically to these channels and target groups.
The entire schedule of posts can be plotted and published directly on social media using NapoleonCat's Publisher. This gives you greater control over the entire content creation process. Everything is organized and switching between profiles is quick and intuitive.
Social media marketing for hotels
Every time you publish – for instance, an Instagram post, you strive for your audience's involvement. With a dozen reactions under your post, your message reaching a larger number of people is rather unlikely. How, therefore, should you run your marketing activities in social media to engage your fans and followers and increase your audience? Here are a few solutions. Give them a go and see how they work for your social media channels.
1. Commitment to communication
Social media see many hikes in intensity. Social profiles tend to be very active during the sales periods but calm down as soon as the hotel has full occupancy. There are several reasons for this. One of them is the lack of a long-term communication strategy or plan for the hotel. We should remember that active and systematic communication allows us to achieve better brand visibility and involvement of the online audience. Regrettably, the profiles which do not follow this rule tend to lose their followers.
RIU Hotels and Resorts runs a Facebook Page known for its engaging communication. This hotel chain is present on several social media platforms, while its Facebook profile has over 2.5 million fans. A quick look at the fan page tells us that the most frequently added posts are videos – they show much more than photos and as such receive more comments from Facebook users. RIU's Instagram account also publishes photos of its guests. This considerably improves the hotel chain's reach and makes it more authentic.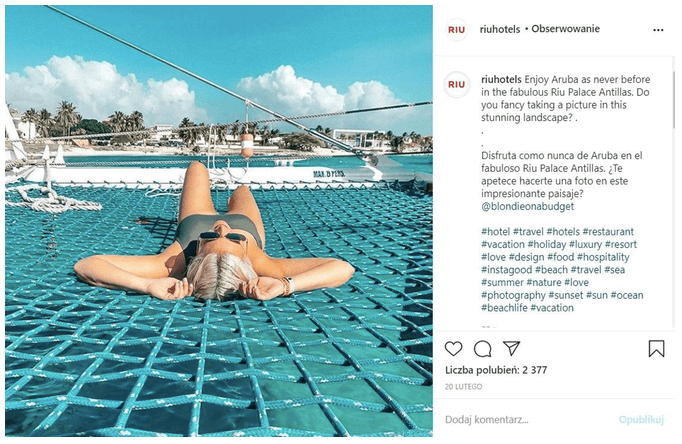 2. Listening to customers in social media
Social media have become one of the most fundamental communication channels. Quite demanding to boot. Facebook users expect profile moderators to reply to questions posed without unnecessary delay. Meanwhile, the average response time of a brand in social media is 10 hours. The Hilton hotel chain, wanting to respond faster to comments and intervene more efficiently in situations where a guest is expecting assistance, has combined its social media management departments with a call center.
Its @HiltonSuggest campaign went a step further to reacting to comments posted on the chain's profiles. On Twitter, the brand listened to travelers who had just arrived in a city with a Hilton Hotel. The assistance provided by @HiltonSuggest was addressed at Hilton's guests and anyone who needed local advice.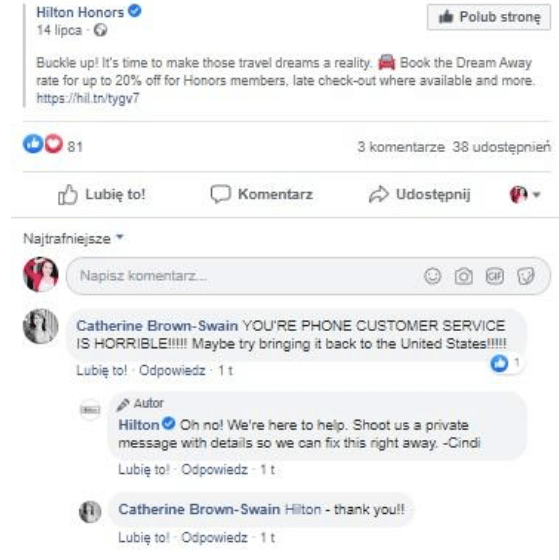 Surprisingly, you don't need a large team of people to monitor what is being said online. A simple and effective way of reaching potential guests is finding the hashtags we are interested in. The #visitlondon hashtag has over 2.5 million posts on Instagram alone. Watch out for popular hashtags that may relate to your hotel and comment on them by inviting guests or giving advice.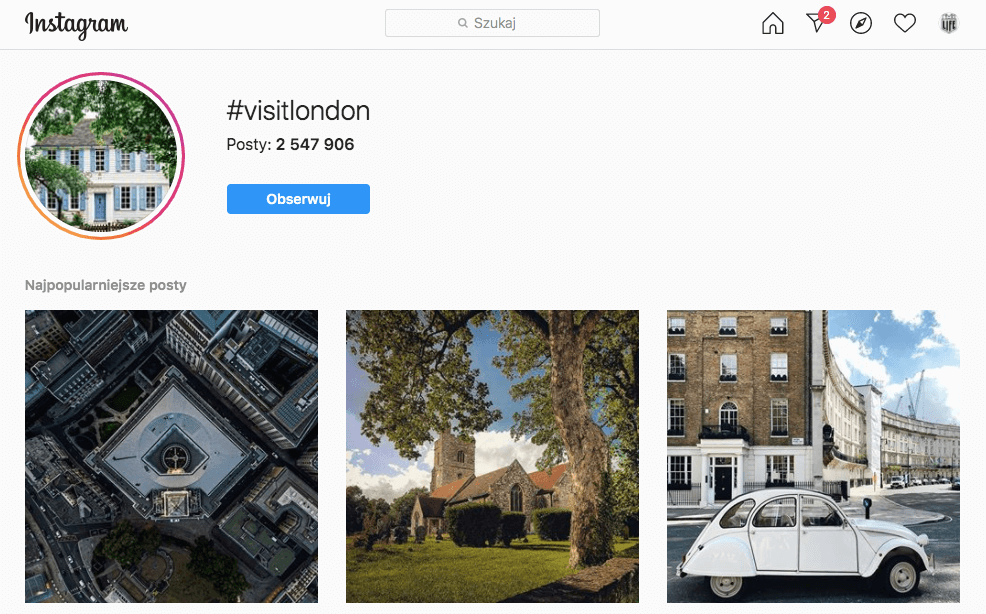 3. Video social media
Video posts are becoming increasingly popular on Facebook and Instagram. The video format allows us to simply show more. This is because film is a much more evocative medium than photography. When seeing a beach and hearing the sound of the waves, we can almost feel the sand between our toes. That is why a video post can be an excellent promotional clip for any company. It can also take the form of a miniseries. This is precisely what Moxy did with its "Do Not Disturb" project. This series, which is available on YouTube, saw the influencer Taryn Southern interviewing celebrities from a hotel bed. The project has had several episodes so far; however, it seems that Moxy is of the opinion that in order to attract potential guests, it needs to frequent the same places at these guests. This on top of creating engaging content for its target market, in this case, young people.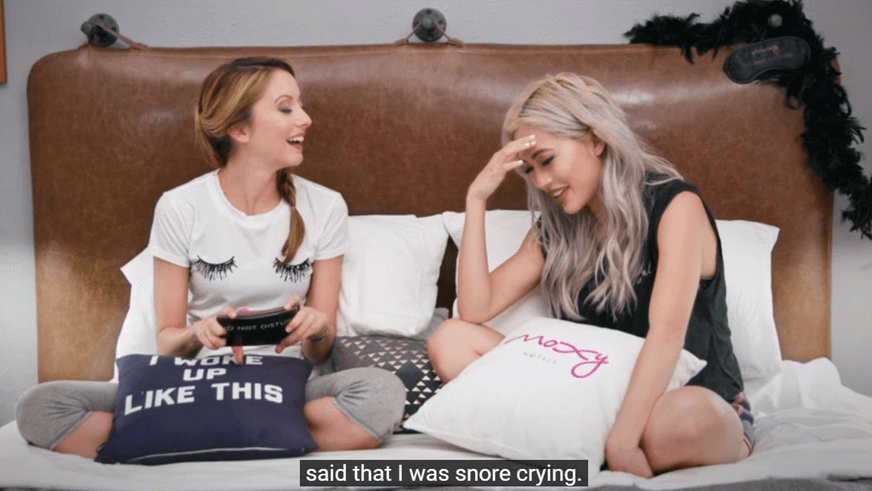 4. Facebook Shops and Offers
We need to be aware that the purchasing process has changed. On seeing a product on social media, we often want to be able to buy it without having to leave Facebook. We don't necessarily feel like browsing the website, filling in a form, checking availability and ultimately reading the message "the selected product is unavailable".
Luckily, Facebook Shops and Facebook Offers are there to help us make sales via social media. Of course, you can direct any potential customers to the hotel's website, but a much better solution is to have a chat with the person interested in what the profile offers: give advice, describe the possibilities and finalize the sale more effectively.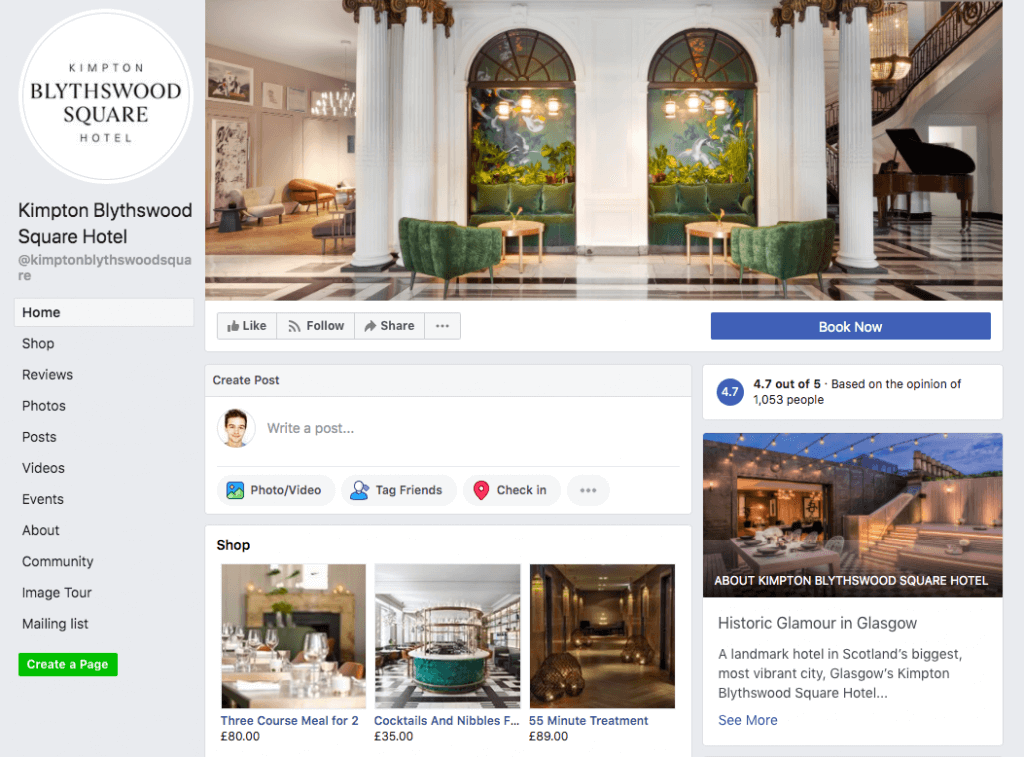 5. Sales automation
Automated comment moderation tools are already widely used in social media channels. Have you seen your friends reply to a Facebook post in high numbers by adding a comment reading DISCOUNT? The number of comments under such posts very often goes into hundreds. Seeing such excellent audience engagement, Facebook algorithms make such posts available to even more people.
Can this be used by the hotel sector? You are about to start selling your summer holiday offer. You create an attractive Facebook post. You set up Auto-moderation rules available in NapoleonCat's Social Inbox.
Create a call-to-action. Those who comment on your post with the word 'SUMMER" automatically receive a discount code in a private message. Thanks to this quick interaction, you can move on to a private conversation. You can explain, advise, and encourage someone to come and visit. If you wish to finalize the transaction, ask to be contacted by phone or email. At this stage, try not to redirect customers to the booking engine on the hotel's website.
NapoleonCat gives you access to the best Social Customer Service solutions, including automation tools to reduce response time, increase sales and retain your customers.
Social Inbox will not only help you to increase your reach thanks to the Auto-moderation feature but also to organize and streamline the work of the entire team. The NapoleonCat dashboard displays comments that need to be answered. You don't need to access Facebook, Instagram, Twitter, or YouTube, and tackle thousands of potential distractions and your own irresistible desire to see what your friends are posting. The Social Inbox panel enables you to reply to all comments and private messages. You can effortlessly manage your entire social media communication from a single location.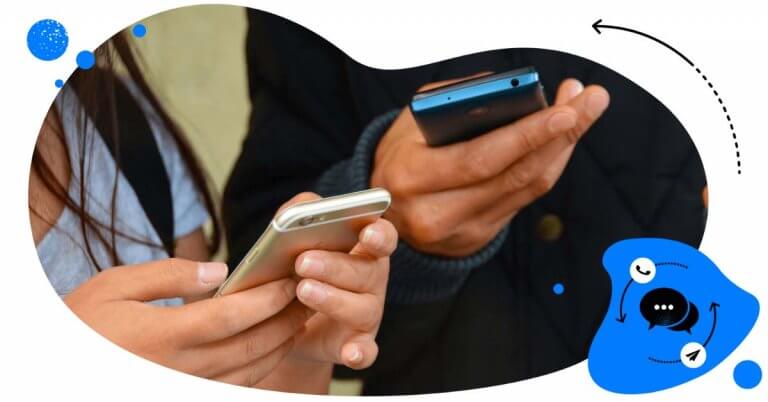 Manage social media engagement across platforms
Keep your online community engaged with one user-friendly dashboard. Answer questions and interact with customers on Facebook, Instagram, Twitter, LinkedIn, YouTube, and Google My Business. Try it for free:
Try NapoleonCat free for 14 days. No credit card required.
6. Remarketing in social media
Social media advertising has long been one of the more effective methods of reaching potential clients. Advertising costs are relatively lower than that of radio, TV, or metro campaigns. It takes little time to generate traffic and reach a specific target audience.
However, at this point, your attention should be drawn to remarketing. This is a form of advertising campaign addressed to those who have already had contact with the hotel's brand, but have not performed any relevant action. A well-thought-out remarketing campaign allows reaching those Internet users who once abandoned the website while in the booking panel. Such a campaign aims to continuously remind the potential client to finalize the booking process or encourage another website visit.
Imagine that a potential guest starts searching for a hotel using the well-known Booking.com website. He visits the hotel's website or its social media profile while researching the facility. This online visit leaves a trail. We see an Internet user potentially interested in the hotel. This is when we initiate the remarketing process to encourage the would-be guest to make a booking via the hotel's own website or by calling the reception desk.
Conclusions
Social media are an excellent tool to make even obscure and small hotel accounts highly popular. Thanks to social media, or rather the activities we undertake on our profiles, we are able to easily influence other people – for example, by sharing ideas for a holiday in the mountains, a spa weekend, a memorable wedding reception or an open-air workshop. The creation of a communication strategy for hotels and selection of suitable solutions will not only improve the hotel's brand awareness but also boost the number of direct bookings. And this is what I want for you, dear hoteliers!