YouTube is a great place to find new audiences for your business, but it's not easy to get your videos noticed. With over 500 hours of video being uploaded every minute, the competition isn't just getting more intense – it's also becoming harder to stand out from all that noise.
But there's one single strategy you can implement as a brand to make sure each and every one of your YouTube videos gets found by viewers who are looking for something specific.
Use the YouTube algorithm to your advantage.
Learning how to get subscribers on YouTube helps. But it's not enough. You also need to understand how the YouTube algorithm works.
In this guide, we discuss how you can make the YouTube algorithm work in your brand's favor so that more people watch what you've got to say.
Here's what we'll cover: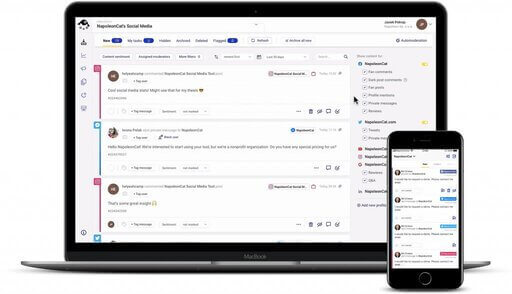 Manage YouTube comments from multiple channels in one place
Monitor and manage your YouTube comments from multiple channels – all in one customizable view. Try NapoleonCat for free:
Try NapoleonCat free for 14 days. No credit card required.
How the YouTube algorithm works in 2023
The YouTube algorithm is a complex set of rules and data that determines how your videos are ranked in YouTube's search results. It's been used for over 10 years and has evolved over time to help YouTube users find the content they're looking for.
The YouTube algorithm works by identifying what type of content you have and then matching it with other users who have similar content.
For example, if you post a video about how to cook chicken breast, that video will show up alongside videos from other people with similar interests who also post videos about cooking chicken breast.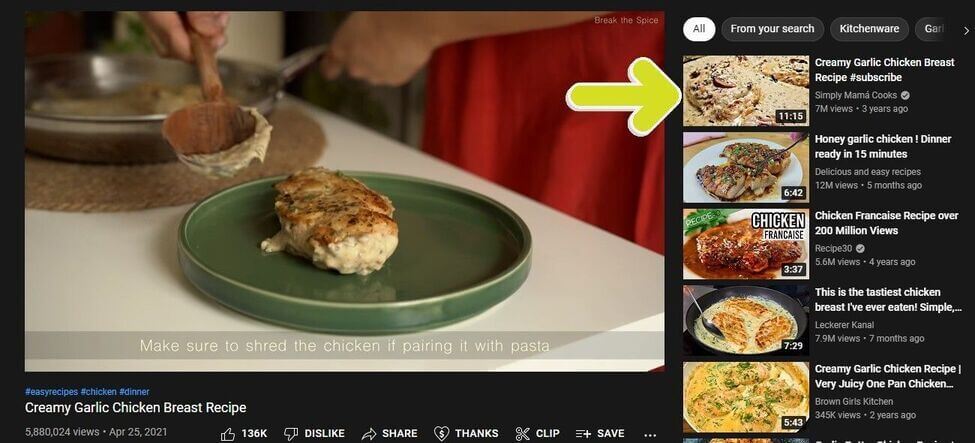 When you upload a video to YouTube, it begins its journey through the search engine. The YouTube algorithm analyzes your video against millions of other video titles and descriptions to determine which ones match your video title and description (and even the tags you use).
The YouTube algorithm ranks videos based on factors like popularity, length (how long people watch), age (when they were uploaded), and more. These factors are combined into a list called "the watchlist." The more popular your video is relative to other videos on YouTube, the higher it will rank in search results — even if that popularity was accrued via paid ads or an endorsement from someone famous!
The 3 key goals to make the YouTube algorithm work to your advantage
The algorithm isn't perfect and changes regularly to reflect user behavior and the content being uploaded to YouTube. But some key elements remain consistent throughout all versions of the YouTube algorithm:
Quality over quantity. The primary goal of the algorithm is to prioritize high-quality videos while also making sure they're not competing with too many other videos for attention.
Relevancy. The second goal is to ensure that your video is relevant to the user's search query. This means you have to be able to answer a question or solve a problem in the video.
Clarity. Finally, your video must be easy for users to understand and follow. If people can't understand what you're saying or don't feel like they've learned anything from it, then it won't rank as well in search results.
9 Tips on how to improve your organic reach on YouTube
Now that you know how the YouTube algorithm works, what can you do to make it work to your brand's advantage?
Here are some tips to help you increase your brand reach and get your YouTube videos found by your target audience.
1. Optimize your video titles on YouTube
Optimizing your video titles is one of the most important things you can do to improve your organic reach on YouTube.
The title is a key part of what makes a video stand out from others in search results, so it's important that you put some thought into how you want people to find and watch yours.
The more specific the title is at getting viewers interested in watching this particular piece of content, the better chance there will be for them to actually click through and view it!
2. Write quality descriptions
Your YouTube descriptions are just as important as your video content.
A good YouTube description can:
Attract potential viewers to watch your video content. Which helps in boosting watch times and view counts.
Help crawler bots identify what your video content is about. These bots identify the keywords in your descriptions and match them with searchers' intent, helping your video content rank for relevant keywords.
Here are a few quick tips for writing a YouTube description that helps your video get more views:
Grab their attention from the beginning by describing what your video content is about.
Share all relevant information in the video. 
Adopt a conversational tone.
3. Make sure your video is search-engine optimized
There are a few ways you can use keywords in your video title, description, and tags.
Keywords in the title. You can include up to 100 characters of keywords in your video's title by using all capital letters and spaces. If you want to increase the relevance of these terms, make sure that they are relevant to what you're talking about (e.g., if it's an instructional video on how to cook an omelet, then include some terms such as "how-to" or "cooking").
Keywords in the description. You can also add up to 400 characters worth of text here by using all capital letters and spaces again but without any punctuation except for periods at either end (this will help Google understand where each sentence begins). If possible, try not to make too many changes between sentences since this can confuse people who might be scrolling through their feeds!
4. Add relevant tags to your videos
When it comes to organic reach, tags are an important part of your video strategy. Search engines use them to find relevant content; they're also a great way to gain exposure for your channel.
Tags should be relevant to the video (and ideally, they will be all over your description). If you have a lot of videos with similar topics, consider creating subcategories under each so viewers can easily find what they want.
You'll want at least three or four short and long-tail keywords that you can include in your tags – for example, "organic gardening," "organic food," etc. You can use Google's Keyword Planner tool here.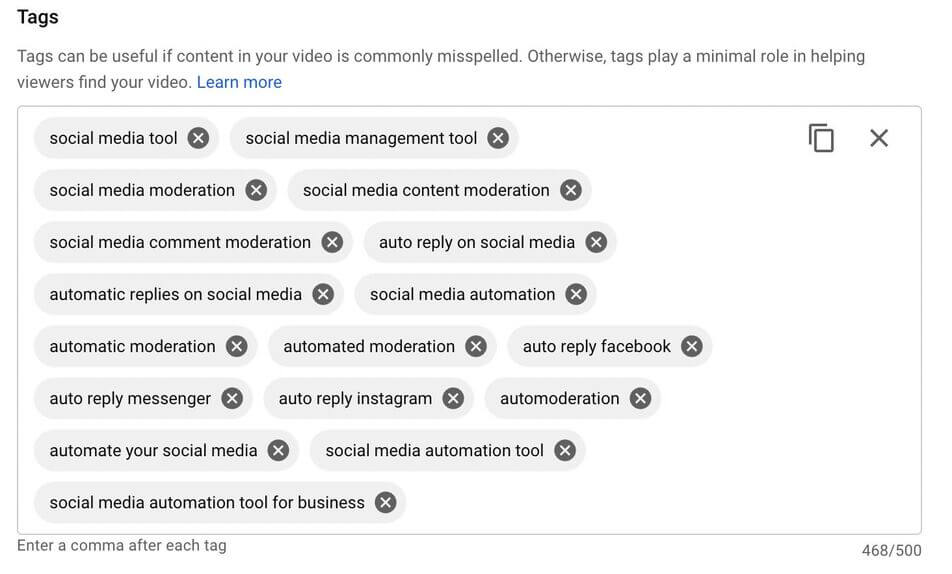 5. Upload custom YouTube thumbnails to get more viewers
A good thumbnail can make a big difference in the number of views your video gets. After all, your thumbnail is usually the first thing viewers see when they discover your YouTube content.
Here are some tips to help you create YouTube thumbnails that will get your video noticed and clicked.
Make your thumbnail relevant to the video. If your thumbnail doesn't convey what your video is about, many of your viewers will click away. This sends mixed signals to the YouTube algorithm, which can negatively impact your views.
Use an attention-grabbing image. While you want your thumbnail to be relevant, you want it to stand out, too. Studies show that thumbnails with people perform much better, so make sure to have a close-up image of a person looking straight at the camera for better results.
Use clear, concise text. The text in your thumbnail can also entice people to watch your video, so it's important that it's clear and concise. Keep in mind that the search engines will likely take part of your thumbnail text into account when ranking your video, so it's important that it's relevant and descriptive.
Test different thumbnail designs. You might be surprised at how many views you can get if you create a different thumbnail. There are many different ways to optimize your thumbnail, but only testing will tell you which way works best for your channel. You can create a few thumbnails and then use Google Analytics to see which one gets the most views. You can also use a third-party tool like Thumbnailanalyzer.com to test different thumbnails. You can even ask your viewers to vote on which thumbnail they prefer.
6. Create playlists
Playlists are a great way to organize your content. You can create public or private playlists, which can then be shared with other users and used for various purposes (like organizing videos for a specific project). Playlists also make it easy to create a collection of videos that belong together, even if they're all from different projects.
Viewers love to binge-watch, and creating playlists using multiple videos that tell a single narrative or theme is a great way to make your videos binge-worthy.
7. Produce high-quality content
It's not enough to just have a video. You need to produce high-quality content that people will want to watch, comment on, like, and share with their friends.
Use camera angles that show off your product or service in an interesting way. For example, if you're selling beauty products, try shooting from above or below the product so viewers get a different perspective than they would if they're looking at it straight on (this is especially effective when combined with other camera tricks).
8. Post transcripts of your videos below the video player
Make sure to provide a transcript of your video below the video player. When viewers click on it, they'll see a transcription that explains what you're saying and why you're saying it. This can help people who don't speak your language understand what's going on in the video and make them more likely to share it with others who do speak that language.
It also works well for people who are deaf or hard of hearing (or any other type of disability). It provides an alternative way to access information when audio isn't available, making sure everyone has a chance to see relevant content through any device at any place at any time!
9. Reply to every comment you receive.
Responding to comments is a great way to show your viewers that you care about their opinions and thoughts. It's also a great way to get feedback on your videos, which helps you improve them in the future.
If you respond quickly and politely, it will help build trust with viewers who may not have been watching before or are new at all!
Better yet, the YouTube algorithm rewards those who engage. Viewers appreciate it when you reward their attention with engagement, and the connections you build between them and your brand can send relevance signals that will make the YouTube algorithm notice your videos.
As your channels grow, you'll experience periods where it's hard to keep up with all the comments that come in. So make sure that you create a system that makes it easier for you to manage YouTube comments.
With NapoleonCat, you manage YouTube comments across multiple YT channels – all in one place.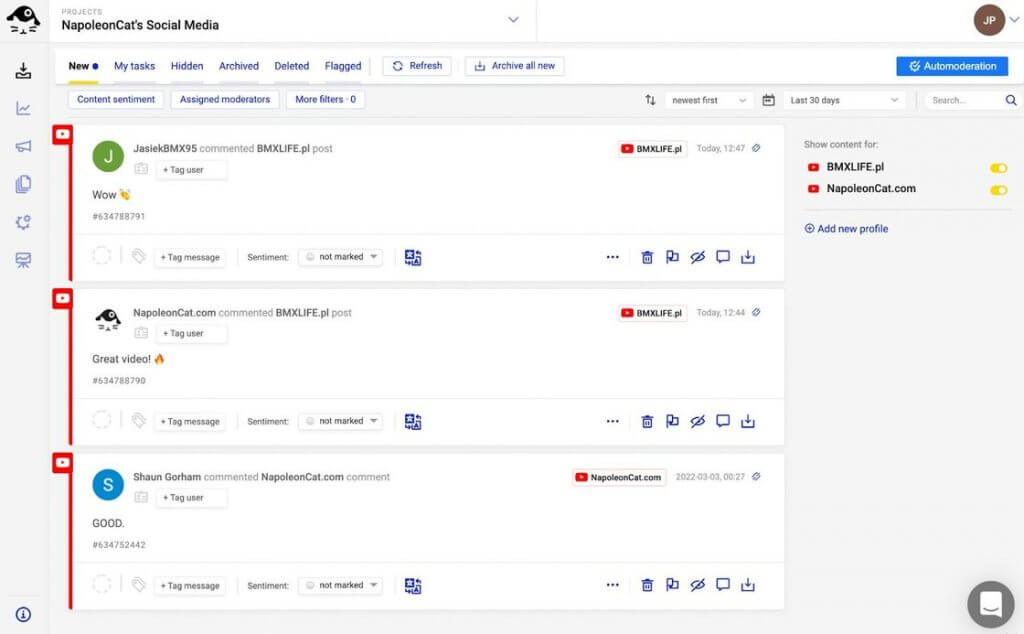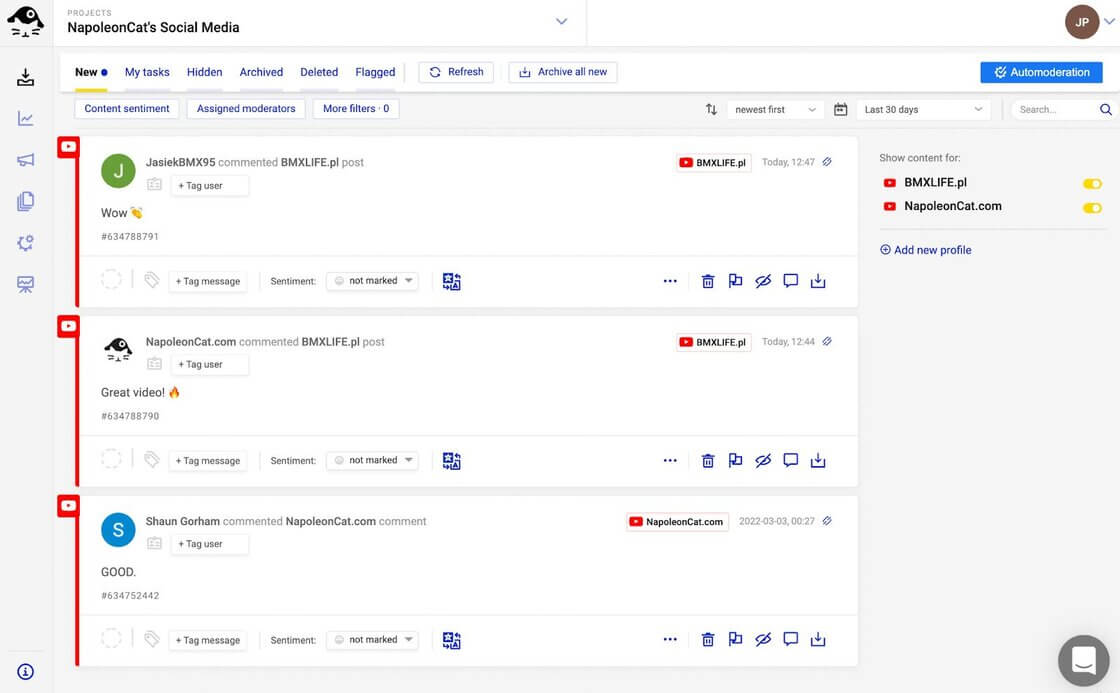 Pro-tip: Even your most engaged viewers might forget to like or leave a comment on your videos, so don't forget to ask! Asking helps to keep the conversation going, and can encourage other viewers to engage with your video as well. Likes and comments are a big deal because the YouTube algorithm takes notice of them.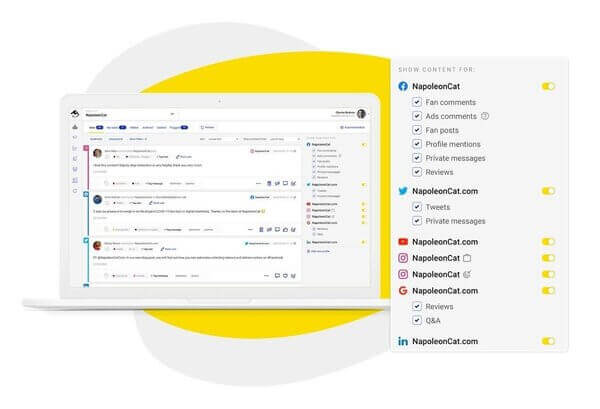 Manage all your YouTube comments from one place
Monitor and manage all your comments from YouTube, Facebook, Instagram, Twitter, LinkedIn, and even Google reviews. Try NapoleonCat for free:
Try NapoleonCat free for 14 days. No credit card required.
Wrap up
Make no mistake, the YouTube algorithm is a constantly moving target. At times, you will feel overwhelmed trying to keep up with the constant algorithm updates.
But at the end of the day? Leveraging the YouTube algorithm is about creating the best experience for your target viewers. It's important to find ways to make it easy for crawler bots to find and index your video content, but if you want to future-proof your videos, create them in ways that entertain, educate, and inspire.
With all of these tips in mind, you can begin to build your organic reach on YouTube. It's a long process, but if you follow the steps outlined above and keep at it, success will eventually come. The path to YouTube dominance can be a slog at times, but with the help of a YouTube management tool like NapoleonCat, you'll find it easier to keep your head above the water.