Thinking of getting a YouTube channel for your business? In this blog post, let's take a look at why it's worth it and what to do to get people to watch your videos (because what's the point of having a YouTube channel if nobody sees your content?)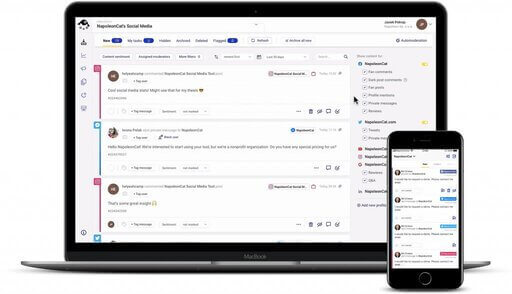 Manage YouTube comments from multiple channels in one place
Monitor and manage your YouTube comments from multiple channels – all in one customizable view. Try NapoleonCat for free:
Try NapoleonCat free for 14 days. No credit card required.
Is YouTube even worth the effort?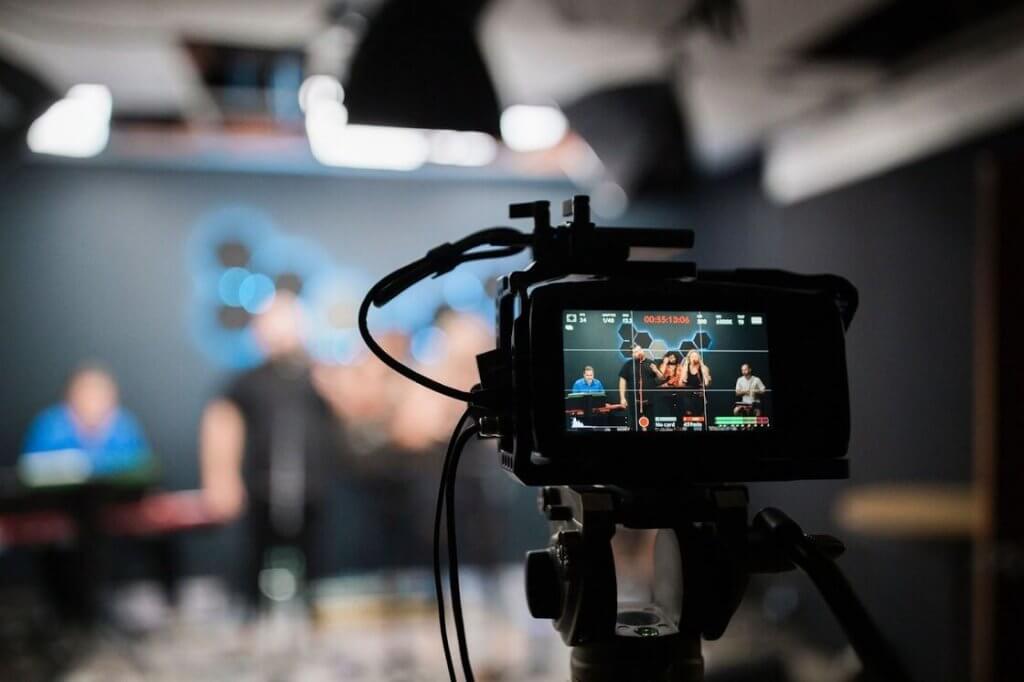 You might be worried that creating and uploading videos to YouTube is a lot of work. And I won't lie – it most probably will take time and effort. You need someone to record the video, you need equipment and a studio (or at least a quiet corner in your office or apartment), you need video editing software and skills. The list goes on.
You then need ideas to create content that people will actually want to watch. And a strategy to know what to create in the long run so you won't abandon your channel after your first few publications. (Remember that blog you started that only has three posts from four years ago? Yeah, we don't want that.)
And then, you need to build a community around your content – promote it to get people to see it, encourage them to take part in conversations under your videos, and moderate the comments. (And btw, YouTube is actually great for community building.)
I'm not saying all this to discourage you from starting a YouTube channel, not at all. In fact, if you prepare well, your YouTube channel can be a great way to get your brand out there and get more people to know you and buy from you. Consider it encouragement, but with managing your expectations. 🙂
And yes, it's worth it. YouTube is the second most visited site organically in the US and first globally. I mean, you want your business to be there, right?
And think about it – where do you go when you need to check how something works, how to solve a practical problem or learn more about a specific subject you're passionate about? People visit YouTube to discover content they're interested in – and when they come across your channel (and you have interesting content), they're likely to stick around.
So let's talk about increasing your chances for them to stick around instead of only leaving it up to YouTube's algorithm.
How to get subscribers on YouTube in 2023
Let's take a look at how to get more subscribers on YouTube and grow an engaged audience.
1. Bring value with your content
That's probably an essential thing to start with. If you want your viewers to subscribe to anything, you need to give them a reason. So make sure the videos on your YouTube brand account are what they want to watch in the first place.
For example, if you run a gym, you can post fitness workouts people are looking for. Or, if you provide B2B services, post educational videos answering the questions your customers ask in real life. (Like NapoleonCat does it on their YouTube channel ;))
You can also post product tutorials, expert advice, tips and tricks, etc. Anything you know your customers will appreciate.
2. Focus on production quality
You're more likely to get loyal subscribers if you couple the value with attractive packaging. So take your time to improve your videos, or hire an expert who can help you build a more compelling image on YouTube. There are also many YouTube video creation tools you can tap into to improve your video quality.
Stats show people are more likely to choose videos that are better produced (if they're relevant, of course.)
3. Be consistent with your publishing schedule
In this sense, YouTube is like any other social media platform or your blog – to get people interested and keep their attention, you need to keep delivering great content consistently. Posting once every 6 months is probably not the best way to do that.
So plan your content ahead (use a content calendar to match it to your other social media channels), taking into account your existing resources. YouTube is not the type of social media platform you can just jump in ad hoc and post something. So have a plan in place (and a strategy to know what goals you want your YouTube content to achieve for your business.)
4. Promote your YouTube channel on other channels
Got a newsletter or an active Facebook community? Talk about your videos there and encourage people to watch them and subscribe to your channel. Don't forget to add at least a link on your website, too.
Cross-promoting your content is a good idea in general – don't just assume people follow all your channels (they most probably don't.) And when you're just starting out with your YouTube channel, you can definitely win over some subscribers from your Facebook Page, Instagram, or TikTok. Wasting that opportunity is just, well, a waste. 🙂
5. Build a community on YouTube
YouTube is an excellent place to have conversations with your subscribers and customers. So encourage people to take part in them in the comment sections under your videos (asking them direct questions in the video is a good idea to get them engaged. As is straight asking for comments.)
And while you do that, make sure you're using the right YouTube management tools for business like NapoleonCat to help you:
Moderate the comments
Reply in the conversations without missing a comment (getting people engaged means you need to get engaged, too)
Automatically translate and reply to comments in foreign languages with a built-in translator
Remove spam comments and bots (which, unfortunately, will happen. And if you want your YouTube channel to be a safe, enjoyable space for your community, it's on you to clean up the mess.)
Link your YouTube channel to your customer service workflows, so your team can jump on any issues that come up in the comments and help customers quickly solve them.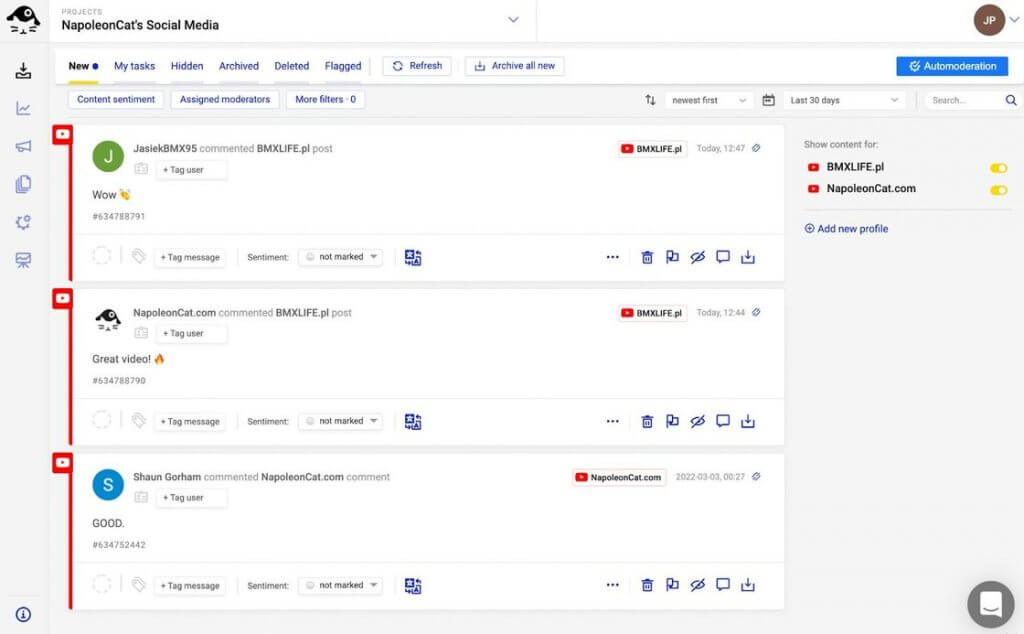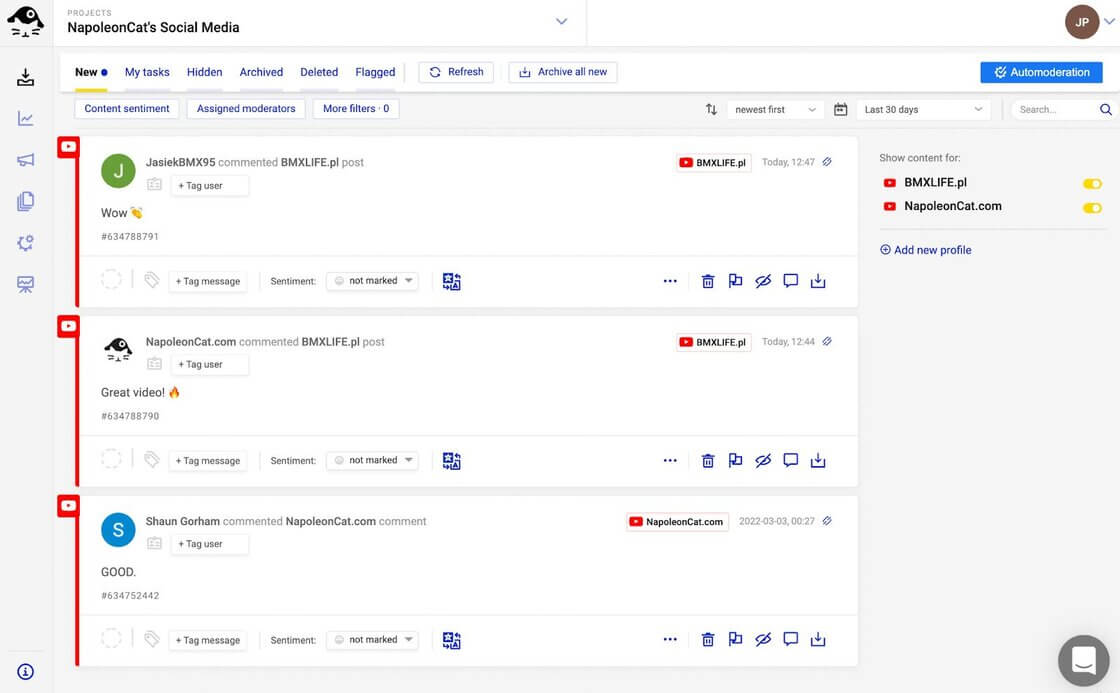 As your community grows and gets more engaged, you'll naturally get more subscribers to your YouTube channel.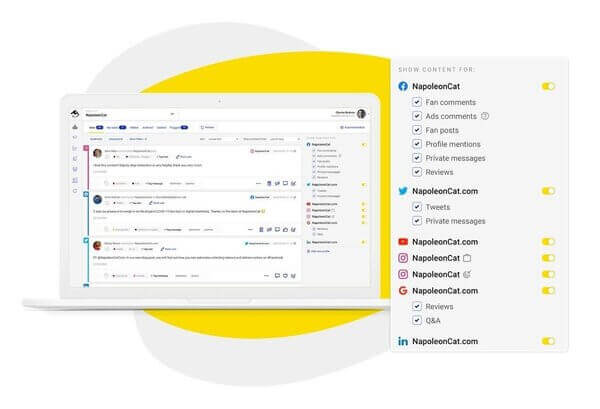 Manage all your YouTube comments from one place
Monitor and manage all your comments from YouTube, Facebook, Instagram, Twitter, LinkedIn, and even Google reviews. Try NapoleonCat for free:
Try NapoleonCat free for 14 days. No credit card required.
6. Analyze your performance
Not sure what people like to watch? Rely on data – both from your business and YouTube. Look at customer service chat logs for content ideas. And get yourself a tool like NapoleonCat to keep track of how your channel is doing and which videos get the most engagement. You'll then have more data to know what type of content to come up with in the future.
It's also a good idea to monitor your competition on YouTube for some benchmarks and inspiration. Here's how to do that (as seen on YouTube.)
7. Create consistent branding
Your YouTube channel is a little like your website – but with videos only. And, apart from the contents and the value we've just talked about, the visual side plays an important role, too. So don't forget to design your banners, channel icon, and video thumbnails in a way that shows off your brand in a consistent, appealing way.
That way, when someone visits your channel from a video they maybe came across when searching for something, they might be more attracted to your content and compelled to subscribe.
It might be as simple as adding a logo on your thumbnail, like on GoPro's YouTube channel: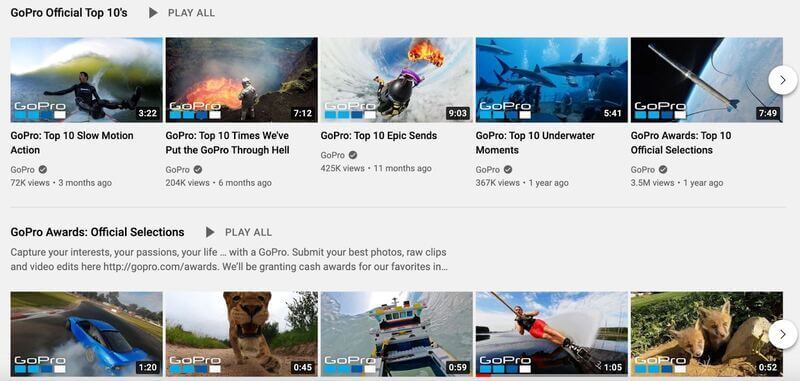 Or you can go for something fancier if you (or your designer) feel like it. Just make it consistent, using your brand colors, fonts, etc.
8. Organize your content in a clear way
Another thing that might keep people on your channel is letting them easily browse your content to see if what you post is what they want to see.
Again, think about your channel as you think about your website, where you organize content in a menu. Create thematic playlists so people know upfront what they can expect and whether they'll find what they're looking for.
Like in this example taken from Sephora's YouTube channel: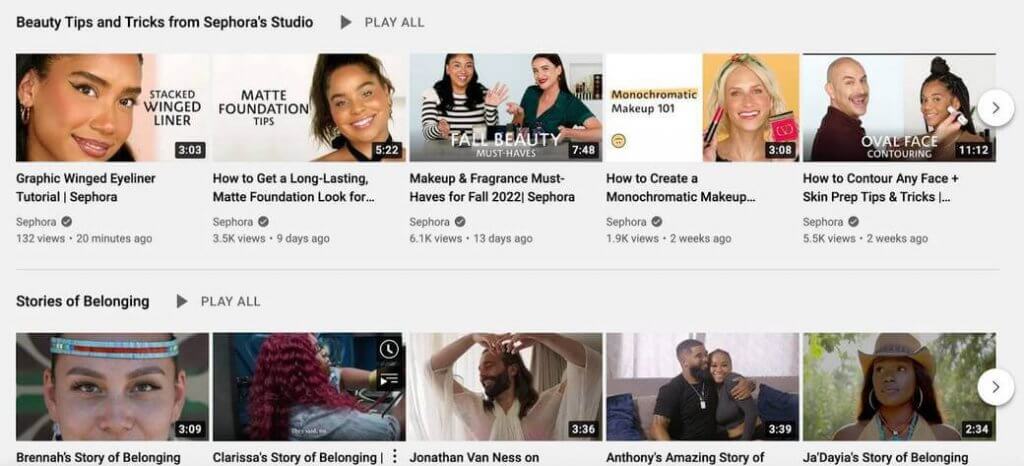 Or this one from the Yoga with Adriene YouTube channel, possibly the most popular yoga channel there is. (Notice the very clear thumbnails.)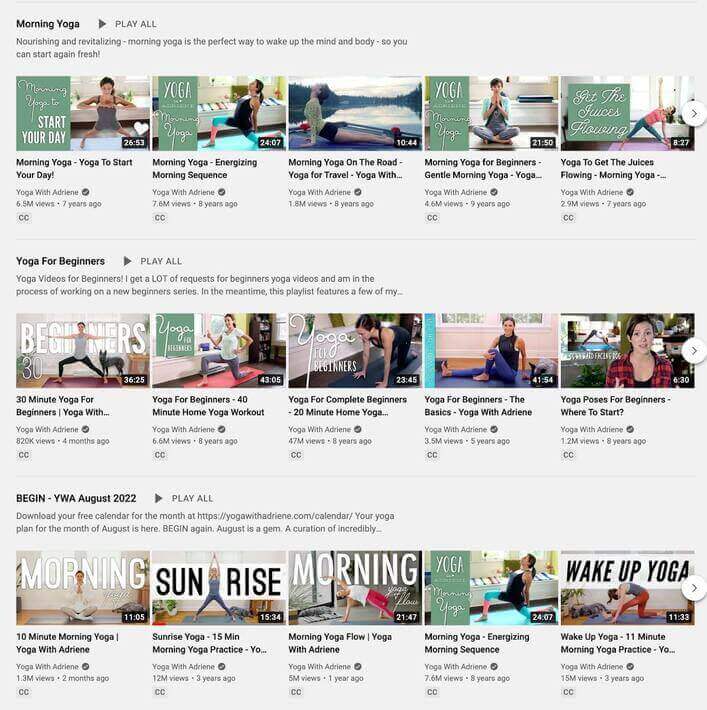 9. Add a featured video
To go a step further with this, add your channel trailer where you talk about what your channel is all about and encourage people to stay and click that subscribe button.
YouTube lets you show a different trailer video to visitors who haven't yet subscribed and a featured video for returning subscribers, which is really handy.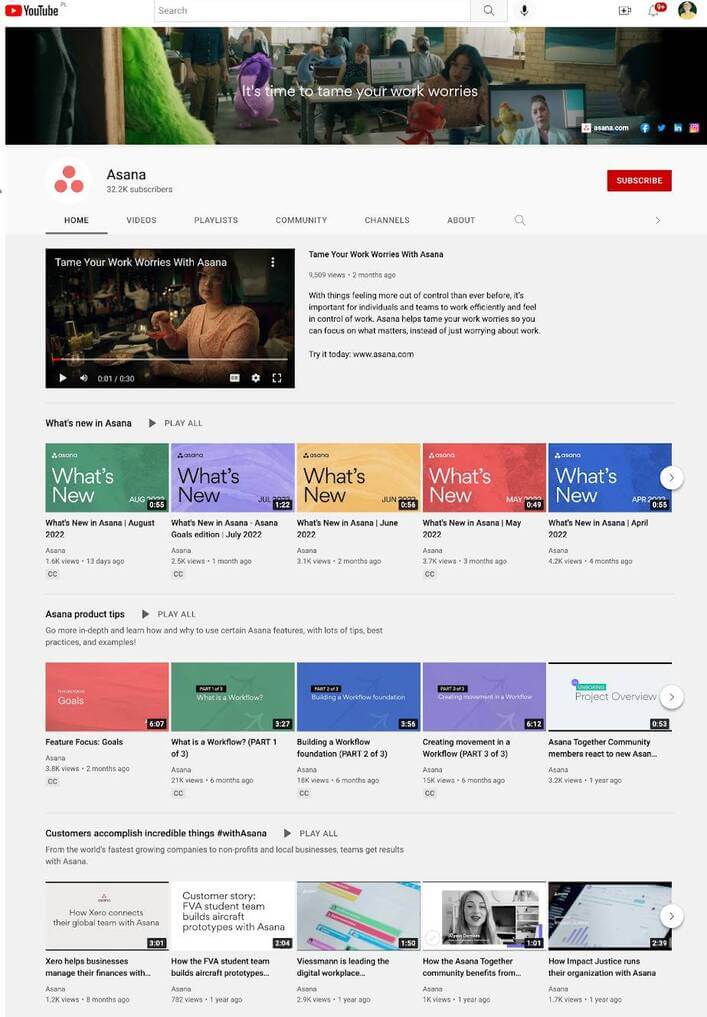 10. Add clickable subscription prompts in your videos
YouTube provides an array of tools to creators to make growing their channels easier. A simple one is the clickable call-to-action buttons you can add on the end screen of your videos or brand watermarks that appear in the bottom right corner throughout your videos.
Both will help you get random visitors to subscribe, especially if you also prompt them to do so in your video content.

11. Don't forget about YouTube SEO
YouTube is great for search (no wonder it belongs to Google, after all), so make sure you do your keyword research and incorporate the right keywords in your titles and descriptions. That way, you're increasing the chances of the right people finding your content.
And the right people are obviously more likely to stay (you DON'T want just any people who randomly join your channel but will never engage with your content or become your customers. Duh.)
If you don't have an SEO expert on your team, you can use tools like the Google Keyword Planner to find words with higher search volumes (and, preferably, lower competition scores – at least at first.) This will also help you get more ideas for your content itself – it's smart to put out content people are actually looking for, you know? 😉
12. Collaborate with creators and other brands
An excellent way to find new audiences is to join forces with other YouTube creators, influencers, experts, and maybe even other brands. You're exposing your brand to other YouTube users, and if your content matches their interests, you can get yourself some new loyal subscribers.
Make sure you carefully pick your partners in a way that actually benefits your brand. Your target audiences should overlap. So, for example, work with influencers in your space, brands that sell complimentary products or services, and experts who are known in your industry.
So, how's your YouTube channel?
Whether you're just getting started or want to grow an existing YouTube channel, don't just leave it to fate and algorithms. There are some relatively easy fixes you can make to keep growing your subscriber list and an engaged community on YouTube. But it'll take some engagement from you and your team, too.
And if you're looking to grow other social networks, here are some tips on how to:
Oh, and good luck!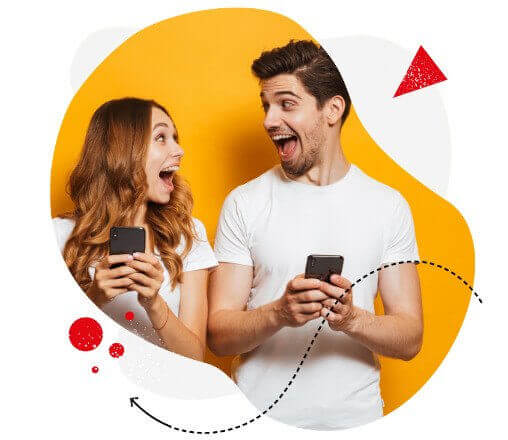 Social media marketing made easier
Automation, analytics, reporting, scheduling, and more. Try NapoleonCat and save 90% of your time spent on your marketing tasks. Try it for free:
Try NapoleonCat free for 14 days. No credit card required.