Looking for tools that make growing your YouTube channel easier? You're in luck because there's plenty out there. Here are just a few that will help you across the board – from video editing to YouTube analytics all the way to comment moderation.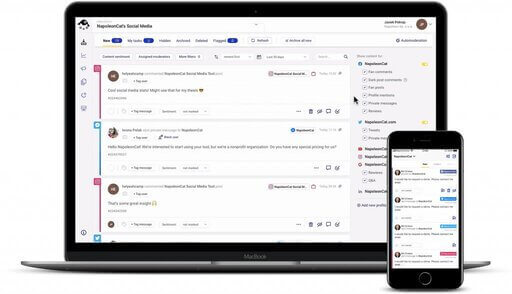 Manage YouTube comments from multiple channels in one place
Monitor and manage your YouTube comments from multiple channels – all in one customizable view. Try NapoleonCat for free:
Try NapoleonCat free for 14 days. No credit card required.
Wait, is YouTube still a thing?
Of course, it is! YouTube is consistently the second most popular social network after Facebook, with more than 2.5 billion people using it every month. Now, let that number sink in. It's actually half of the 5 billion active Internet users worldwide. And a testament to video's unwavering popularity.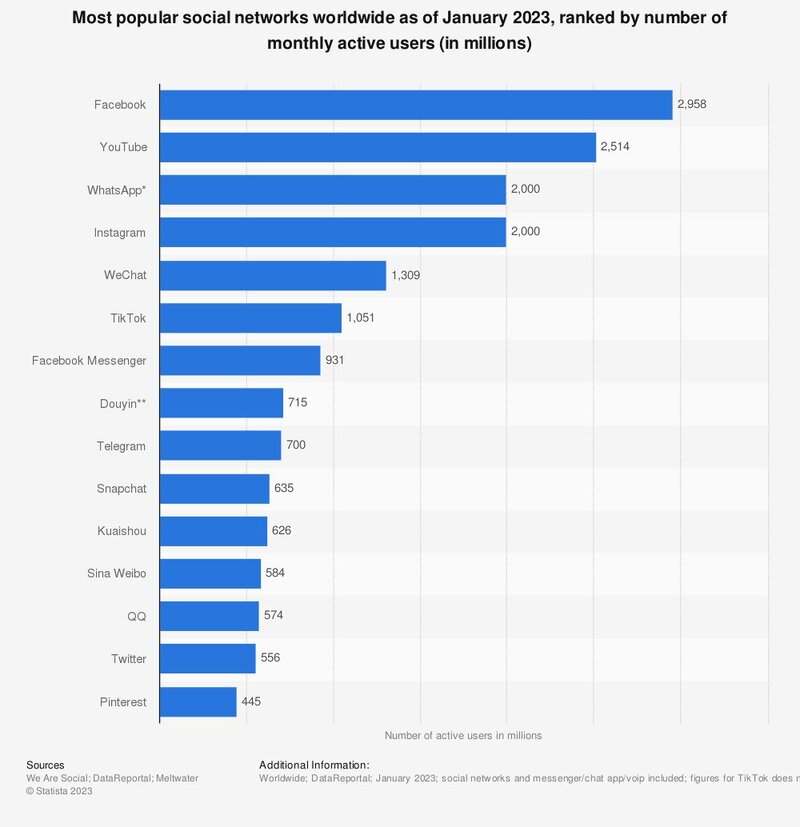 Content creators have made YouTube their workplace, some of them earning tens of millions of dollars from their YouTube activity. And it's definitely an appealing career.
Of course, not everyone will make millions on YouTube, even if they make content creation a full-time job. But it's still an excellent place to have fun making quality videos (and still make some money while you're at it) and create content that effectively supports brands and products. And these days, you don't have to have a film-making empire to create stunning videos.
Of course, you still need good video ideas. That's a must. But other than that, today, there are plenty of tools that make YouTube content creation much easier and more available – from free and professional video editing tools to automated captions to AI voiceovers (and yes, AI's making a massive impact on how video content is and will be created).
(And judging from the number of retargeting ads I've been getting since I started writing this article, there are even more YouTube video-making tools than I thought.)
So, if you're a serious YouTube content creator (or planning to become one), here's a look at some valuable examples of YouTube video creation tools (including free tools) in a few different categories:
Video editing software
Animated video creators
Screen recorders
Captions and subtitles
Voiceover and music
Video analytics
Community management
So, here we go!
YouTube video editing software
There's tons upon tons of video editing apps these days, so let me take a look at just a couple of selected ones here when it comes to content creation for YouTube, okay?
CapCut
A super popular app from ByteDance, the creators of TikTok, especially for editing vertical videos for TikTok, Instagram Reels, and also YouTube shorts (because, let's not forget, YouTube these days is not just for long-form, horizontal video.)
But really, it's an all-in-one video editing for all kinds of videos, and will let you do things like:
Use templates, filters, and sound effects
Add text
Remove the background
Transcribe your video
Resize it
And invite other team members to work with you on your videos.
It's a super versatile tool – you can use it for your videos and video ads for all kinds of social media platforms, and it's available online, on mobile, and as a desktop Mac app.
And the best thing is that it's free (which also explains its popularity.)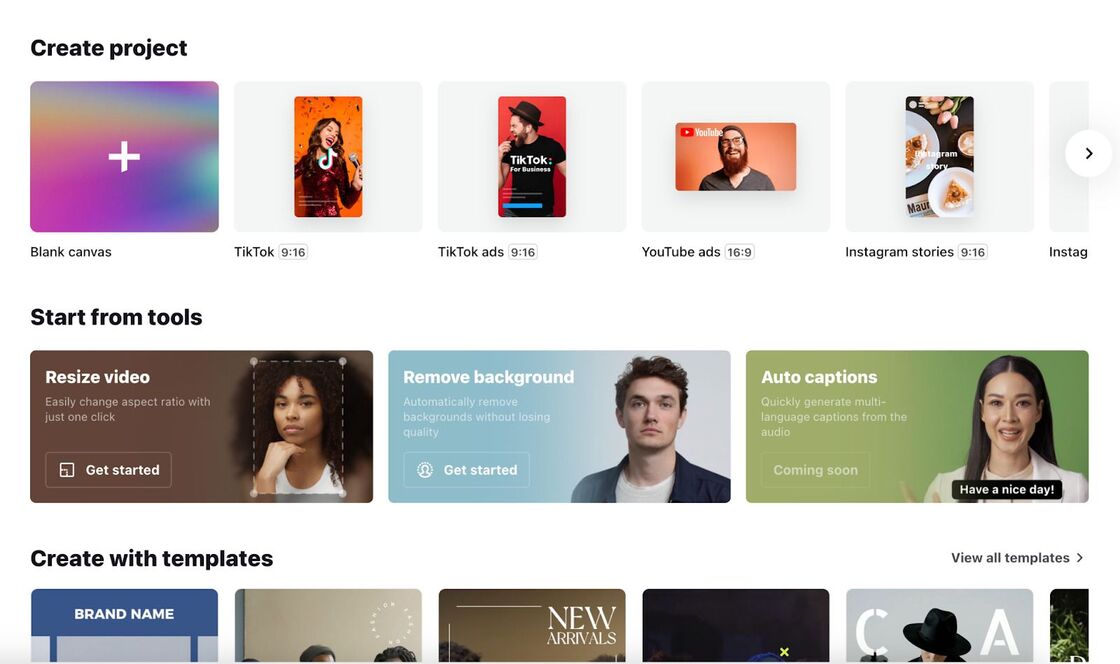 Animoto
Animoto is an automated, AI-based video editing tool. It's an easy-to-use, drag-and-drop kind of software but with enough customizable features to make your videos unique and enhance their quality.
You can pick one of the available templates or start from scratch, adding only your raw photos and videos. Then you adjust colors, fonts, music, and sound effects. Animoto also allows you to create videos using only photos and text, so you don't actually need to shoot any video clips.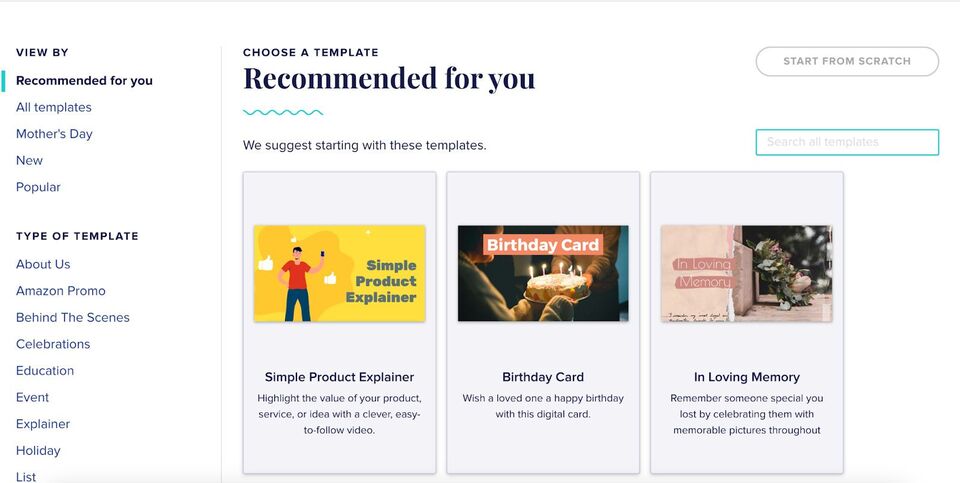 You can start with their free account or go for one of the paid options to remove Animoto branding and use more features like licensed music and photo libraries, HD, time-stamped comments, and more.
Promo.com
To build a community on YouTube, you need to know how to promote your videos. That's when a suite of tools for social media marketing comes in handy. And Promo, in addition to letting you edit your YouTibe videos with ease, offers a range of tools like:
Collage maker
Image resizer
Social content calendar
Industry templates
Ad maker
You can use it to create your YouTube thumbnails, GIFs, and even memes. And you get access to stock clips and images, fonts, effects, transitions, animations, YouTube intros, and more.
You can try it for free or go for one of their paid plans starting at €29 a month, with extra templates and features.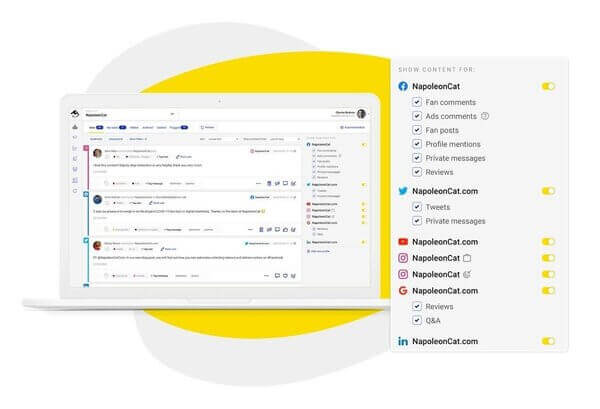 Manage all your YouTube comments from one place
Monitor and manage all your comments from YouTube, Facebook, Instagram, Twitter, LinkedIn, and even Google reviews. Try NapoleonCat for free:
Try NapoleonCat free for 14 days. No credit card required.
Animated video creators
These days, you don't have to have graphic design and animation skills to actually get an animated video out there. Here are a couple of tools that will help you.
Animaker
Animaker lets non-designers create all sorts of animated videos. You can use it to:
Build and customize your characters, along with selecting from a pool of facial expressions
Add automated lip sync
Customize your backgrounds
Add subtitles
And more.
All in a drag-and-drop builder, with access to stock videos and photos and multiple templates, letting you also create live-action movies. Making it a perfect tool for product videos, explainers, and the like.
It's also part of a larger suite of tools, including a voiceover generator, screen recorders, and social media management.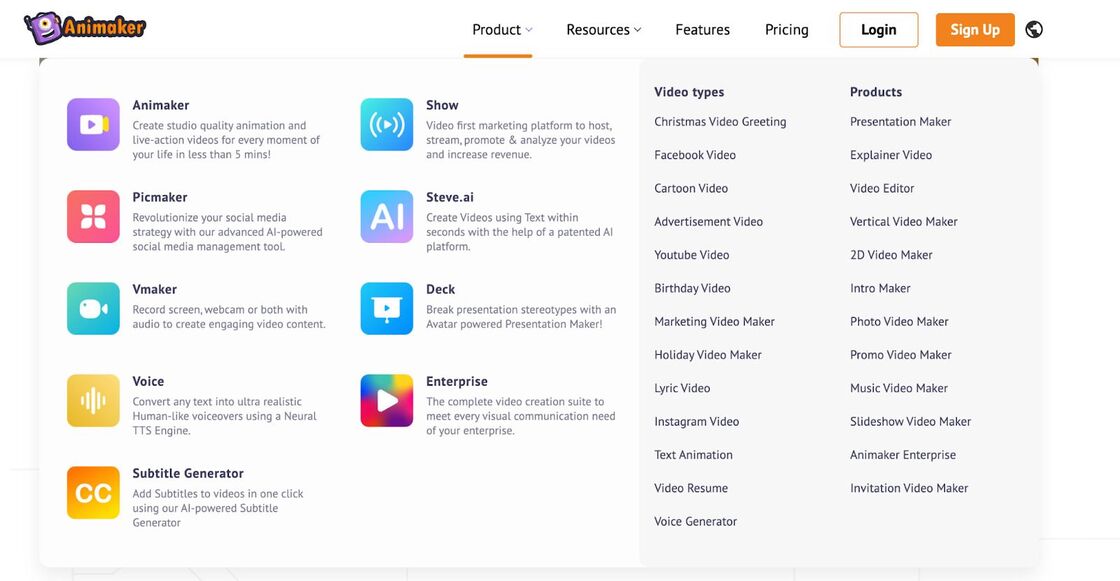 Headliner
Need something simple to complement audio for YouTube?
Headliner lets you turn audio content like podcasts into YouTube videos with simple waveform animations. It also includes automated upload for your podcasts, and you can upload your entire backlog from your RSS feed.
The basic plan is forever free, and the paid plans start at $7.99 a month, with branded templates, automation, transcription, and more.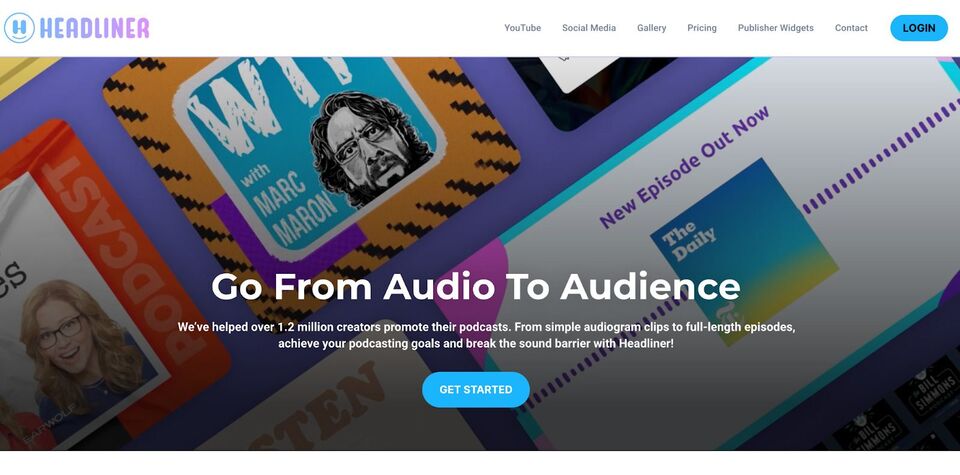 Screen recorders
Screen recorders are indispensable when you want to create a video tutorial. They're often a part of more comprehensive YouTube video creator tools and platforms, too. Here are a few that might come in handy.
Soapbox
Soapbox is a browser extension from Wistia letting you capture your screen and webcam to create tutorials, demos, and pitches.
You can record both your screen and your face and switch between a full-screen and split-screen view. And it's super simple and free.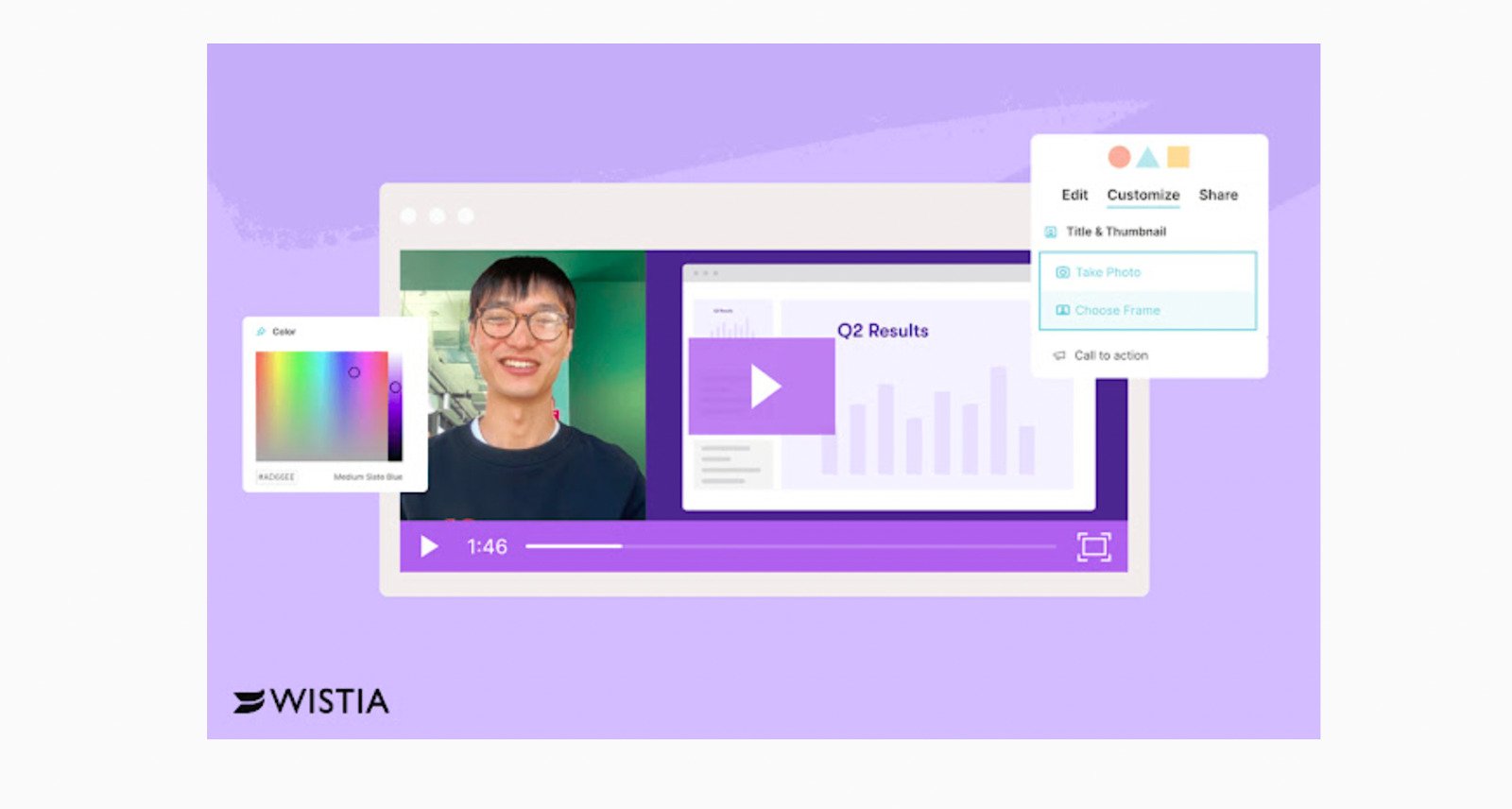 Loom
Loom is a collaborative video tool that you can also use for recording your YouTube tutorials (on top of sharing videos with others to replace some of your time-sucking online meetings, which is its primary purpose.)
Loom records both your screen and your face in a bubble letting you go through interfaces, documents, presentations, and more. It offers unlimited transcriptions, and you can use drawing tools to mark up your screen contents if you need to explain a concept better.
Apart from sharing your video with anybody and getting their reactions and comments, you can download it and later share it on your YouTube channel.
The basic version of Loom is free, but only lets you record videos up to 5 minutes long. The Business plan is $8 a month, and it lets you brand your videos and use more of Loom's collaborative features like engagement insights and password-protected videos (for use outside of YouTube, of course.)
Captions and subtitles
Many YouTube content creation tools already include the option to add subtitles, and here are a couple.
Wave
Wave is an auto subtitle generator online, converting voice in your videos to text to create subtitles. It can also translate text into 70+ languages.
You can customize your caption colors, fonts, and sizes and use video templates for different purposes like ads, intros, etc.
Besides the video captioning feature, Wave includes much more tools, such as:
An easy-to-use online video editor
Live streaming
Stock libraries
Visual effects
Video converting
And more
There's a free plan, but if you specifically need the captions, you'll need to go for at least their Creator plan at $24 a month.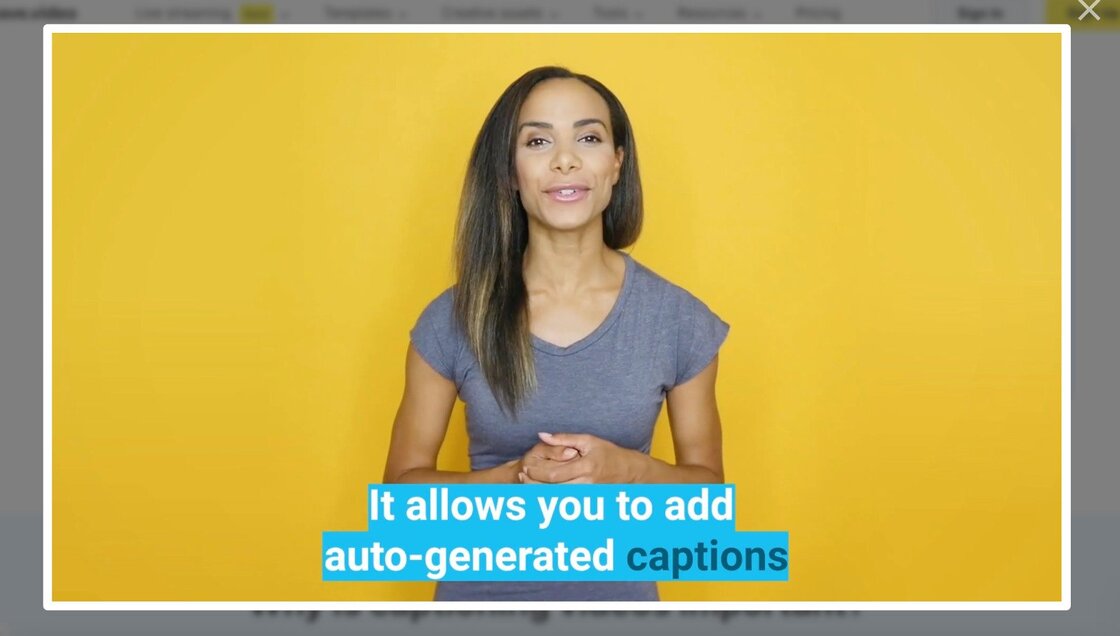 Matesub
Matesub is specifically a subtitle tool, using AI to quickly create high-quality subtitles for your YouTube videos.
It's web-based, and all you have to do is upload your video. The software will then generate your subtitles you can edit in their easy-to-use editor. You can then embed your subtitles in your video or export them as .SRT/VTT files.
The tool is free for 60 minutes a month, and if you need more, the individual plan is $50 a month and includes 25+ languages and machine translation into 60+ languages.
Definitely helpful if you put out a lot of video tutorials for your customers and need an automated solution that will help you save time and money (the $50 will definitely be much less than you can pay for manual transcription and translation.)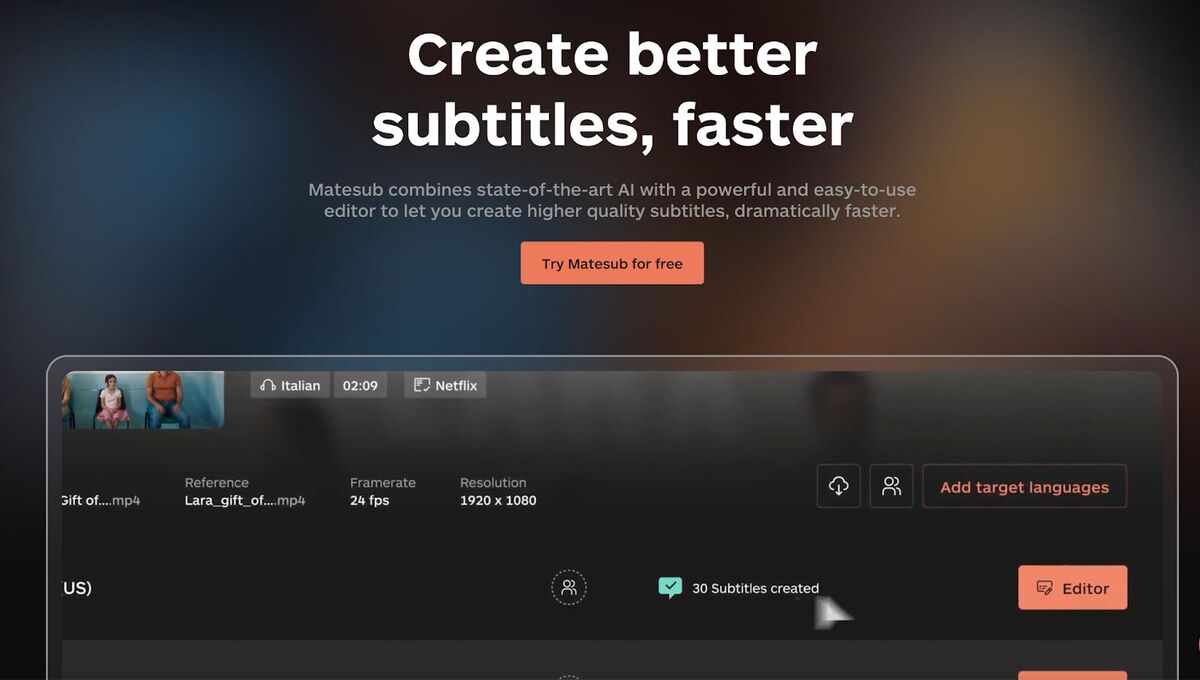 Pro-tip for YouTube subtitles
There's actually a shortcut to adding subtitles to your videos. Basically, Youtube generates subtitles for your videos automatically. It doesn't always do a perfect job, but it still does most of the heavy lifting for you. All you need to do is then fine-tune them with some edits.
Here's a quick step-by-step guide:
Sign in to YouTube Studio.
From the left menu, select Subtitles.
Click the video that you want to add captions or subtitles to.
Under "Subtitles", click the three dots for More next to the subtitles you want to edit.
Review automatic captions and edit or remove any parts that haven't been transcribed right.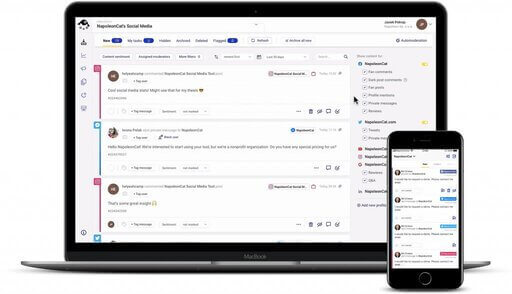 Manage YouTube comments from multiple channels in one place
Monitor and manage your YouTube comments from multiple channels – all in one customizable view. Try NapoleonCat for free:
Try NapoleonCat free for 14 days. No credit card required.
Voiceover & music
If you want to go the other way – from text to speech – you can use AI voice generators that are becoming more and more popular. And they can now apparently also let you make music, even if you're not a professional.
Murf.ai
Murf.ai lets you make studio-quality voiceovers without ever going into the studio. It captures the tone and intention of your video and will definitely be helpful if you can't afford or don't have the time to record with a professional voice actor, and need a voiceover for your ad, product tutorial, explainer video, and more. 
And with how AI is getting more human-like by the minute, it's definitely a trend that will be growing.
Their free plan won't let you download your videos, unfortunately, but paid plans start at $19 a month, with access to multiple voices and licensed soundtracks.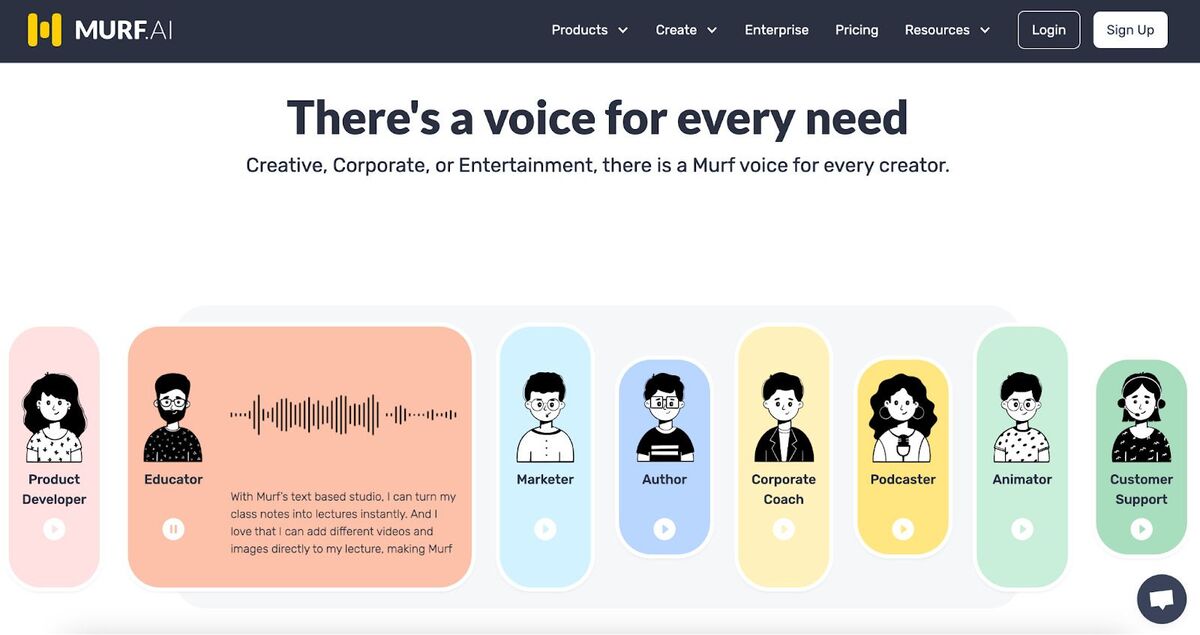 Soundful
Soundful might be the tool for you if you want to generate your own royalty-free background music, without having to go through countless tracks in stock libraries. You can pick a theme and mood, and also use ready-made templates. 
There's a free forever plan with 10 downloads a month, and if you're in for a bigger scale, the premium plan is $7.42 a month, with licensing for business use and ads.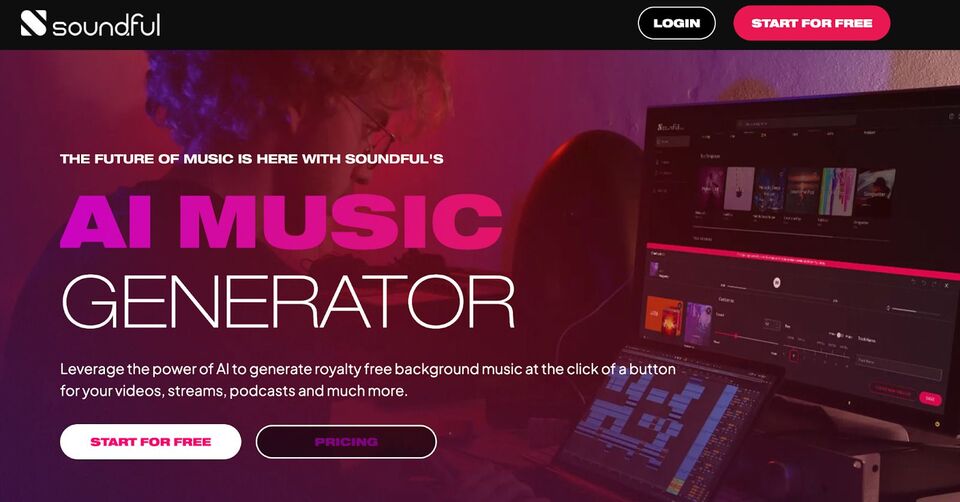 YouTube video analytics
Video editing is, of course, essential for YouTube. But if you're serious about building a YouTube audience, analyzing your video performance is important as well. Here are a few tools that can help.
TubeBuddy
TubeBuddy helps you improve your content performance and optimize your YouTube channel. It's got plenty of different features, from keyword tools to search engine analytics.
They have a really helpful automated suggestions feature. When uploading your video, you will get automatic suggestions to boost the power of your:
tags,
titles,
thumbnails,
descriptions, and more.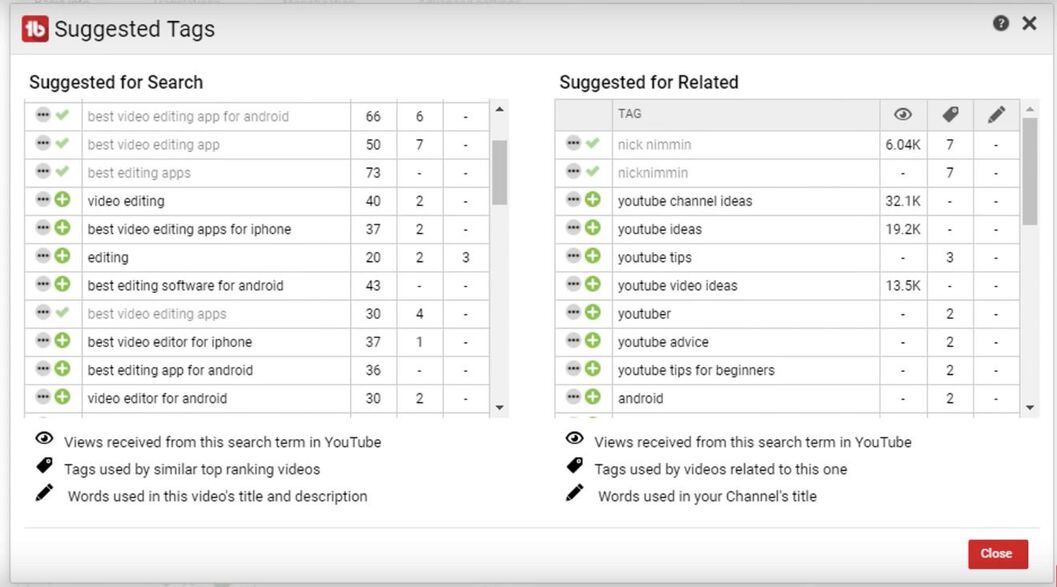 You can also A/B test your thumbnails to see which ones perform better. And it will suggest the best times to publish content to your channel to maximize the views of your uploaded videos.
Some of other TubeBuddy's functionalities include:
scheduling videos
updating video descriptions (which you can do in bulk)
real-time competitive analysis
The tool works for brands, agencies, creators, and networks. The plans start at $2.80 a month, and there's also an Enterprise plan for bigger teams.
VidIQ
VidIQ is a tool meant to help you increase your organic reach on YouTube and boost your video views with features like:
YouTube keyword research
Competitor analytics
And a channel audit tool showing you how your content is performing, what works, and what doesn't, and how to fix issues that prevent your videos from getting more views and engagement.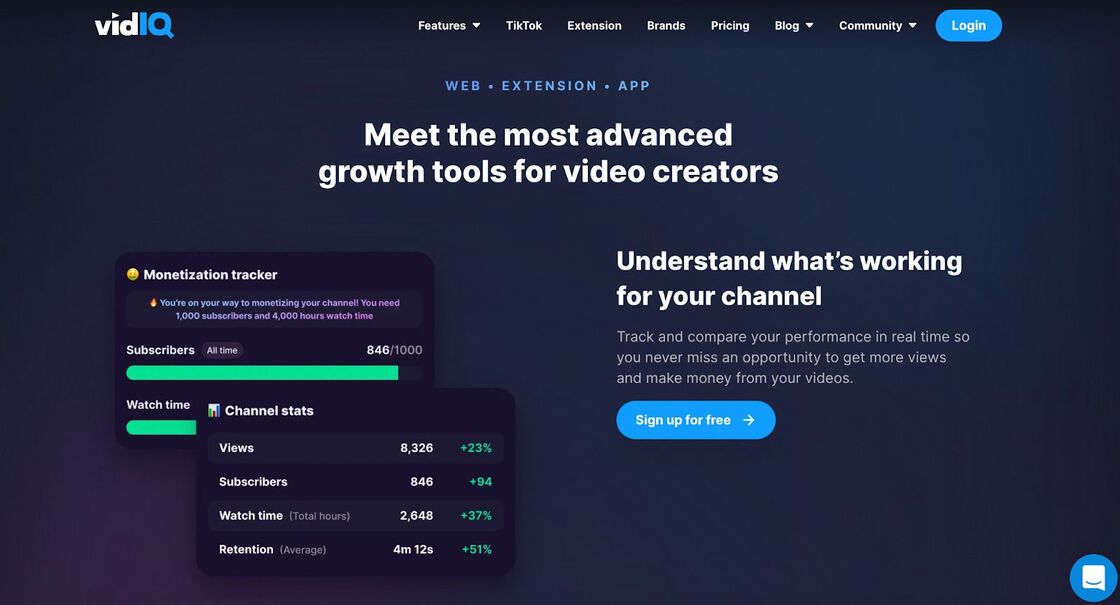 You can get started for free with some limitations, and paid plans start at just $7.50 a month.
YouTube community management
You know what's still missing from this list? Engaging with your community, which – as on any social media platform – happens in your video's comments section. Here's a tool that can help.
NapoleonCat
As a proper social media management platform, NapoelonCat can be many things, and one of them is a tool that will help you get on top of your YouTube comments.
You can manage them in the same dashboard as comments from your other social media channels like Facebook, Instagram, or TikTok, including multiple social media profiles. This will definitely help you not to miss any comments and spend less time managing them and responding to your viewers.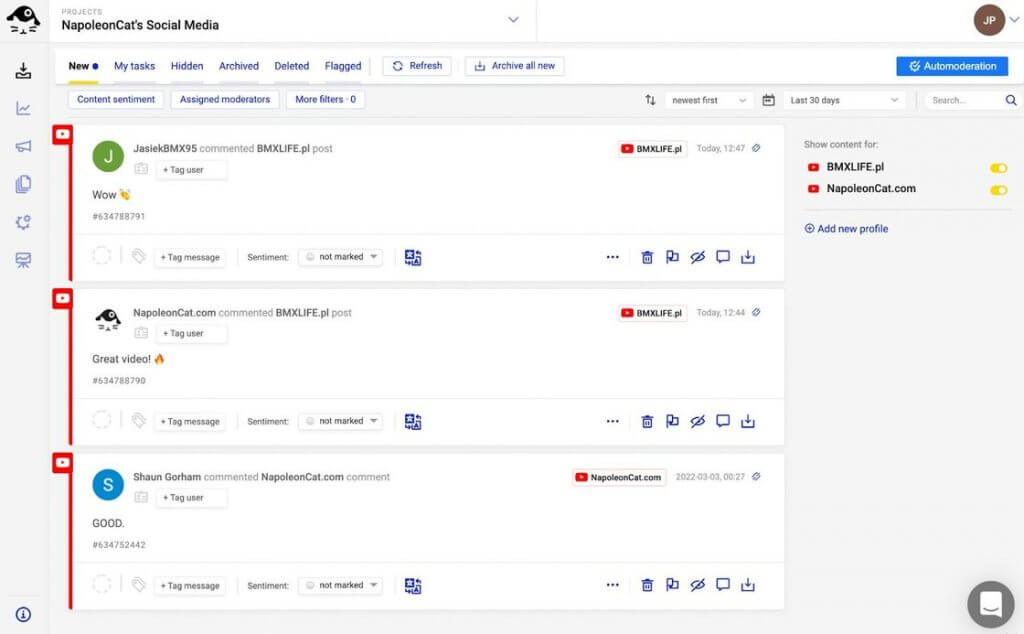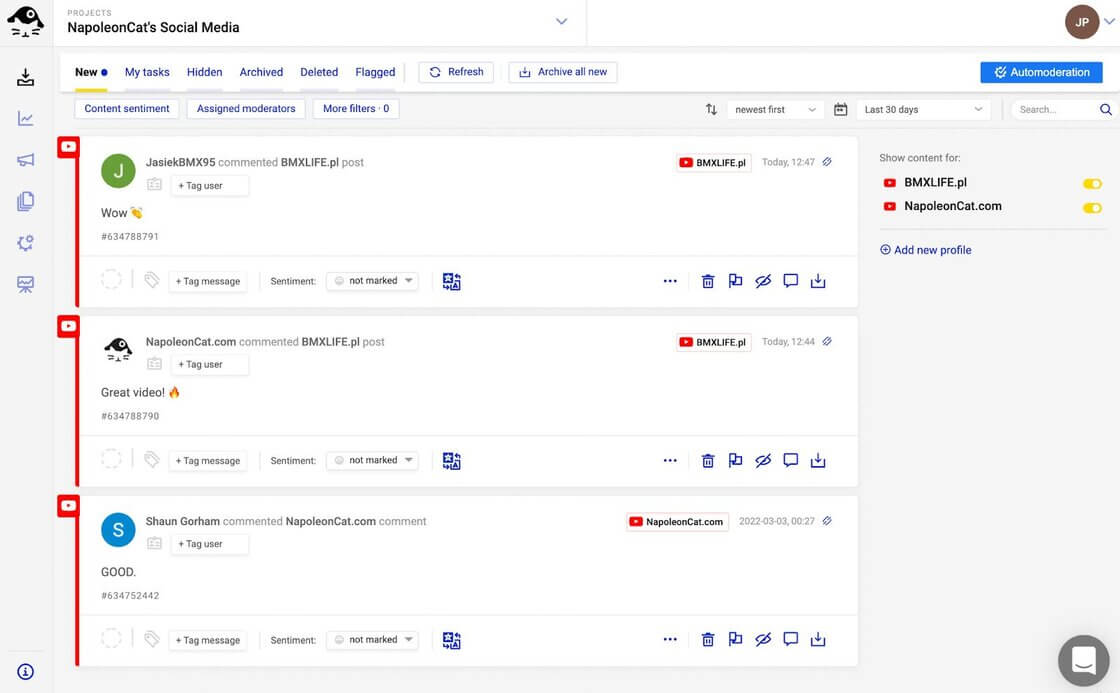 And besides comment moderation, the same subscription will also get more YouTube management tools for business:
YouTube analytics for your channel
And competitor tracking for any YouTube channel you want to follow.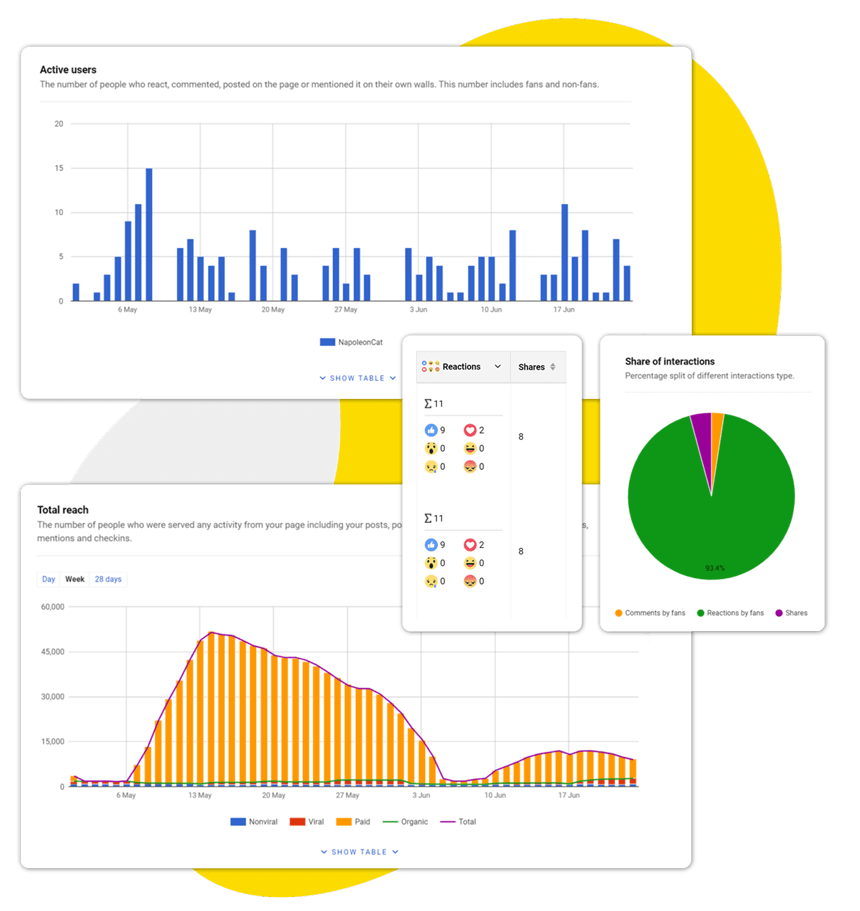 The price depends on the number of channels you manage and the users in your team. You can check out all the details here.
What are your favorite YouTube content creation tools?
Of course, this list is by no means exhaustive – there's just too many YouTube content creator tools to mention. Plus, YouTube and social media overall keep growing at the speed of light (or at least so it sometimes seems, especially since AI has entered the mainstream.) 
So I hope these few will be helpful, and don't forget to keep your finger on the pulse!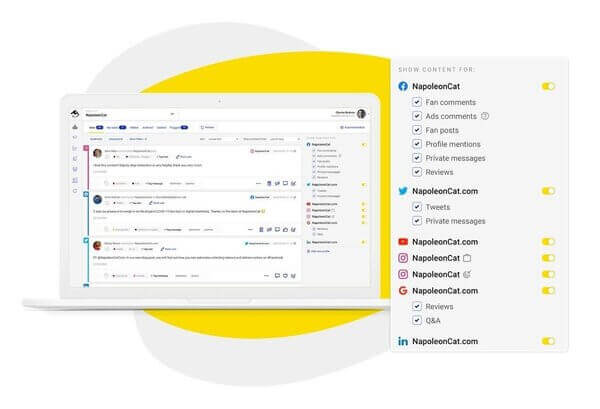 Manage all your YouTube comments from one place
Monitor and manage all your comments from YouTube, Facebook, Instagram, Twitter, LinkedIn, and even Google reviews. Try NapoleonCat for free:
Try NapoleonCat free for 14 days. No credit card required.