In the last 12 months, I've grown my marketing agency from a low five-figure business to a comfortable six-figures. Underpinning this growth has been two drivers; customer acquisition, getting people to try my service, and customer retention, proving I can deliver.
As a customer operating in the Business to Business (B2B) sector, one of my most effective customer acquisition channels is LinkedIn. In this guide, I'll show you how to use LinkedIn to promote your business.
The first half of the guide will cover how I've used LinkedIn to acquire customers. In the latter half, I'll share some good practices from other people who use LinkedIn. Hopefully, by applying some of the tips I've shared, you'll be able to develop a LinkedIn marketing strategy that works for you.
How I use LinkedIn to promote my business
You always adapt any marketing strategy you encounter to fit your business's needs and how you operate. I'm quite a private person. I'm not particularly active on social media and don't like sharing private things about my life or business. It sounds strange to admit that in a guide that discusses how to use LinkedIn to promote your business.
While I am a private person, I like to connect with people on an individual level. My LinkedIn marketing strategy is reflective of these factors. I use LinkedIn to expand my professional network and pitch to individuals who come from businesses that fit my customer persona.
The LinkedIn marketing strategy I use works for me. Below is an anonymized example of a conversation that I was having with a potential client on LinkedIn only yesterday.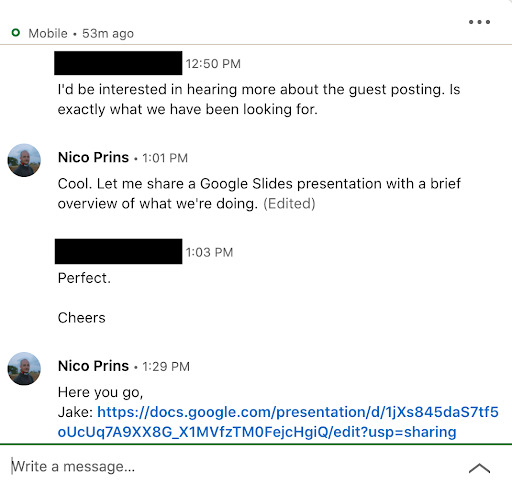 Keep these thoughts at the forefront of your mind as you read the first section of this guide. I'm not suggesting what I'm about to share is the only way to use LinkedIn; it's just the strategy that works well for me. You can apply elements of this strategy to promote your business on LinkedIn. You don't have to use every step.
Step 1: Research and preparation
If you want to acquire customers, you need to have a clear idea of exactly who you want to target. I find it helpful to create a customer persona of my ideal customer.
The customer persona is a representation of your ideal customer. You want to describe the kind of company you want to work with, revenue levels, the niche they are operating in, etc.
In addition to this, you want to create a persona for the person who makes its purchasing decisions. You can include demographic information, but I find it more valuable to spend time exploring their goals and pain points.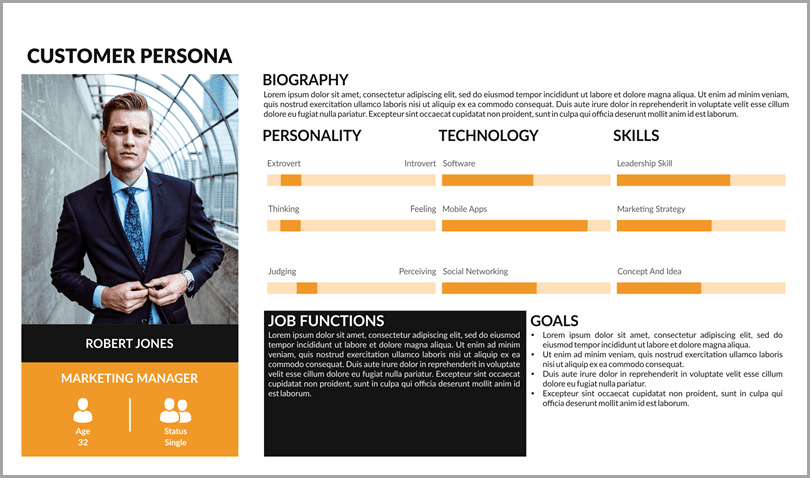 It shouldn't take you that long to create a customer persona if you haven't already got one. You should be able to create a customer persona in a couple of hours.
Once you've created your customer persona, you need to create lists of companies that fit your target persona. There are plenty of excellent sources for building lists of companies that fit your target market. A few obvious examples include:
Google My Business – endless lists of local companies that you can filter by niche.
List Roundups – resources like the Inc 5,000 can provide you with a list of fast-growing companies that operate in your target niche.
Investment Sites – you can find companies that have recently gone through funding rounds on resources like TechCrunch.
Those are just a few obvious examples of places you can look. You should have some ideas of resources that are relevant to your niche.
Save this list of companies to target in a Google Sheet. I recommend creating a list of around 100-200 companies initially.
Step 2: Optimize your bio
The next step on your quest to use LinkedIn to promote your business and generate sales is to optimize your bio. Your bio should look professional and attract your ideal customer persona.
Before you start writing your bio, check out a few relevant competitors in your industry. See how they write about themselves.
If you find an example of someone who catches your eye, pay attention. You want to imitate that type of bio. Here's a nice example from Neil Patel, where he lists his big wins.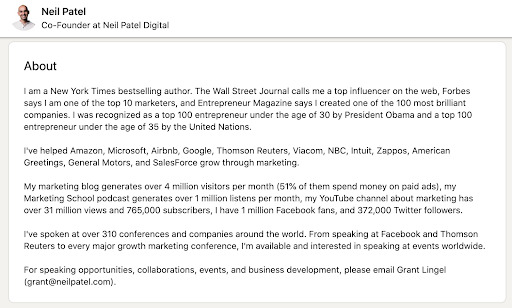 I like Neil's bio. He lays out why he is an expert in his field.
I imitated his bio copy with facts that are relevant to my background. You can find my example below.

You might not like his bio, which is fine. Try and find bio examples that you find impressive. Figure out what it is you like about them, and then incorporate that style into your bio.
In addition to optimizing your bio, you might want to create a company page. Follow the same steps to optimize your business bio as I shared for the personal bio.
Step 3: Connect & outreach
Congratulations, you've got a list of companies that fit your customer profile, and you've optimized your bio. The next step is to grow your LinkedIn profile.
I recommend creating a Google sheet with the following columns:
Company
Position
Name
LinkedIn ID
Connected (you can add a Yes/ No option for the column)
Email Address
You'll now need to identify and connect with the relevant people at the companies you want as customers. The process of connecting with people is laborious but straightforward.
On LinkedIn, search for the name of the company. Then, identify the person.
As a marketing agency owner, I usually try to connect with the Chief Marketing Officer or someone involved in procurement decisions. I also use LinkedIn to pitch guest posts, so I try to connect with the blog editor.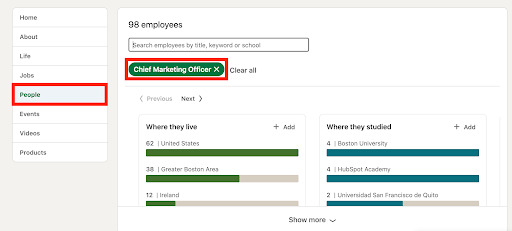 Once you've identified the relevant person, send a connection request, and note down their details in the Google Sheet. I use a combination of Find Emails and Voila Norbert to find the email address of each person.
As I mentioned, this is a lot of work. I've automated this whole process. I have an assistant who researches and connects with people on LinkedIn.
When you first start using LinkedIn to connect with people, you'll see all of the company's employees. After using the service for a while, though, LinkedIn will start to put restrictions in place and push you to use LinkedIn for business.
Step 4: Pitch your prospect
In the previous sections, I discussed how to grow your LinkedIn network. If you plan to use LinkedIn to promote your business and generate sales, you will need to pitch your product or services to your prospects.
There are a few golden rules for sales prospecting. First, don't pitch people the moment they accept your LinkedIn request. You'd probably find it annoying. I almost guarantee the person receiving the message would also be annoyed.
Second, you need an elevator pitch that will generate a response.
There are two common approaches you can take to pitching your service. First, there is the direct approach. The direct sales approach is most effective when people are actively looking for your solution to a problem. For example, you happen to email them when they are looking for a new SEO agency. But you rarely email someone who is in buying mode.
The second approach to sales outreach is to try to hook the prospect into responding to your message by offering something of value.
Normally, what you'd do is to provide them with something for free in exchange for their time. For example, as an SEO agency, I might offer a free content audit in exchange for a person's time.
Here's a simple example of an outreach message that I used on LinkedIn.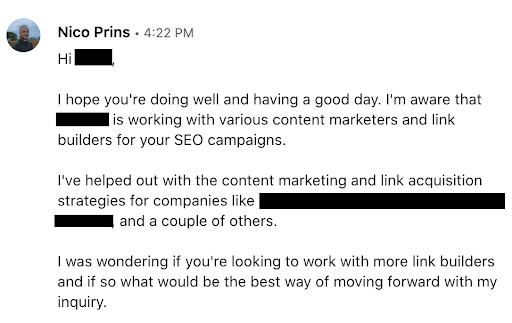 It's a direct sales pitch.
That pitch works some of the time. However, I've found that a pitch where I offer something for free is more effective. In my case, I offer one free guest post as a test service to potential clients.
Essentially, I work with the lead to secure them a guest post opportunity, and then we write the copy, which is published under their name. I charge my customers $250 per post for this service.
If you're going to use an incentive to get a response, and I think it's a good idea, make sure that incentive has value. The more value you offer, the more likely a person is to respond to your inquiry. I think $250 for a meeting with a lead is a good investment of my resources. You need to consider what would work for you.
If someone doesn't respond to your LinkedIn message, send a cold outreach email. Your email pitch will be similar to what you use on LinkedIn.
4 ways to use LinkedIn to engage your network
I mentioned at the beginning of this section that I'm a private person. If you look at my LinkedIn feed, you'll quickly realize that I rarely share content on my feed.
Generally, the content I'll share will relate to the guest posts I'm writing. I'll also engage with friends and react to their content. I'm not going to pretend it's very engaging.
Promoting your business on LinkedIn is not as simple as uploading a single post. To get your business in front of thousands of people, you need to exert a lot of effort and invest time in the process. Here are some things you can try to get noticed on LinkedIn.
Master the basics of LinkedIn
If you want to use LinkedIn to promote your business, spend some time learning about LinkedIn marketing and how people use the platform. For example, if you're going to be posting content on your feed, it's good to know when people are active.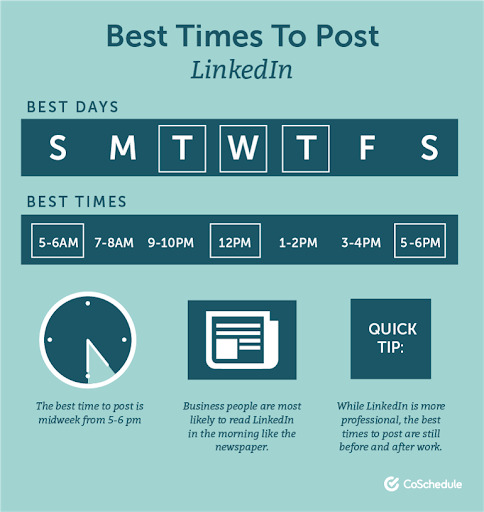 You can see from the image above people are most active on LinkedIn first thing in the morning when they wake up. They're also active during their commute to work, around lunchtime, and commuting back from work.
Those facts probably don't surprise you, but it's useful information nonetheless.
Another fact to consider is that LinkedIn limits the reach of posts that contain external links. LinkedIn does this because they don't want people to leave the platform. So, don't publish a lot of content in your feed with external links.
If you want to include an external link, you can always publish the post and then edit it after the first few minutes. Or, you can publish a post and leave a link to the article in the first comment.
Small insights like this are good to know if you want to use LinkedIn to promote your business.
Join a LinkedIn Pod
LinkedIn has the highest organic reach of any of the mainstream social media platforms. If you post a piece of content and get a lot of engagement, more people would see it on LinkedIn than on Facebook.
Moreover, the algorithm powering what people see on LinkedIn is a lot easier to fool than Facebook. So, if you can create enough engagement immediately after posting a piece of content, your content will start appearing in other people's feeds.
Ideally, you'll generate that engagement organically.
LinkedIn pods, essentially groups where people leave comments and likes, help you generate your luck. There are a lot of LinkedIn pods online. Lempod has a nice article that discusses LinkedIn pods and provides a few useful Facebook groups.
You can also create private LinkedIn pods.
You can use LinkedIn Pods to generate some initial reach. However, you still need engaging content for your post to go viral.
Share valuable materials & company updates
You can promote your company by sharing relevant content through your feed and the company page. There are several types of content you can post directly on the company page:
Company news and views
Industry articles
Polls and thought-provoking questions
Videos, photos, and links to content
Thought-leadership pieces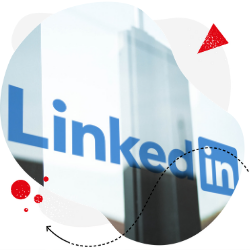 Schedule LinkedIn posts
Set up a publication time and sit back – our Publisher will post for you, directly to your LinkedIn page.
Try NapoleonCat free for 14 days. No credit card required.
Include hashtags, too! Hashtags are searchable and make it easy for your posts to be discovered, making them vital for driving social media engagement. Moreover, if you're using LinkedIn Pods to promote your content, it's easy to go viral for certain hashtags.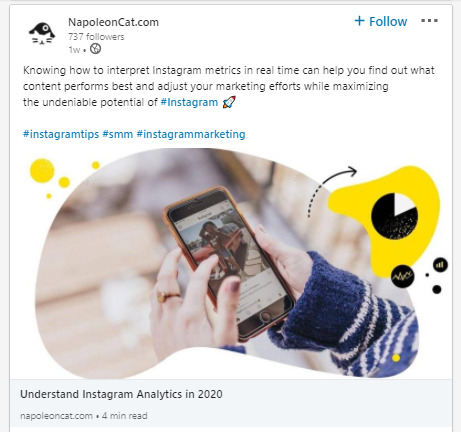 Make sure your content isn't always about your business. A lot of people spend time browsing LinkedIn to take a break at work. After all, if you're on LinkedIn, you could be networking, which is technically working. You should create some content that people who are looking for a distraction would find interesting.
Be willing to experiment with inventive graphics. Check out this series of Gifs from a series of slides that look cool in a feed. It beats what most people post.
Finally, proofread your posts carefully before you publish them. Use a grammar checker to catch typos and silly mistakes.
Keep in touch with old clients & contacts
Using LinkedIn for business involves expanding your professional network. However, that should not be done at the expense of maintaining your existing network. Set aside time to nurture relationships with people in your network, current clients, prospective clients, and potential clients.
You should maintain your professional network across multiple social channels. An email is also a great tool for nurturing relationships. Send your old clients marketing emails, valuable content, and special offers from time to time. A congratulatory message a year after their purchase also helps. Don't forget to use a tool for email tracking, so you'll know when to send those follow-up emails.
Bottomline
Businesses shouldn't wait for customers to come to them. They need to find ways to get in front of potential customers. Promotion is key if you want to break through all the internet noise, connect with the right people, and convert them into clients.
Fortunately, there are many platforms you can use. LinkedIn is one of the best. If you know how to use LinkedIn to attract prospects, promote your business, and nurture relationships with leads, you already have the edge over your competitors. Just put in the time and effort and measure your performance, so you know how things are going.
You'll soon see those sales rolling in!