If your brand isn't on LinkedIn, I have just one question: why not?
LinkedIn is one of the best places to be if you're trying to grow your business and increase brand awareness. It offers super useful tools and features for free or affordably.
Many marketers and consumers alike think of LinkedIn as the "B2B" place. But it doesn't have to be.
I want to share the whys and hows of using LinkedIn as a consumer brand.
Why LinkedIn?
Most professionals looking to build their brand assume all you need is a good-looking website. And that's partially true. You do need a website, but you also need to be present where people are.
That's because consumers buy from people they trust. So you need to connect with consumers on other platforms, like social media and email. This way, you can build trust over time, turning connections into customers.
For your consumer brand, LinkedIn is a good way to add to that trust.
Being on LinkedIn — both your company page and your personal profile — humanizes you to potential customers. People will be able to see who has endorsed you, what other pages you follow, and the content you post. There's a lot of info you can have on your profile that won't be on your official website.
So, if you're not already on LinkedIn, it's time to get started.
Get started on LinkedIn with your personal profile
You may already be a LinkedIn member and have a professional profile page for yourself. Now it's time to update it. Make sure your experience is current, add links to your website and portfolio, and freshen up your bio.
On top of that, you can ask your connections for endorsements and testimonials. It looks really good to newcomers to your profile, especially if you're running a small business.
Once you've updated your profile, you can create a LinkedIn company page. This strengthens your online presence and gives your brand more reach. It's free and easy to set up, as long as you already have an account with a verified email address.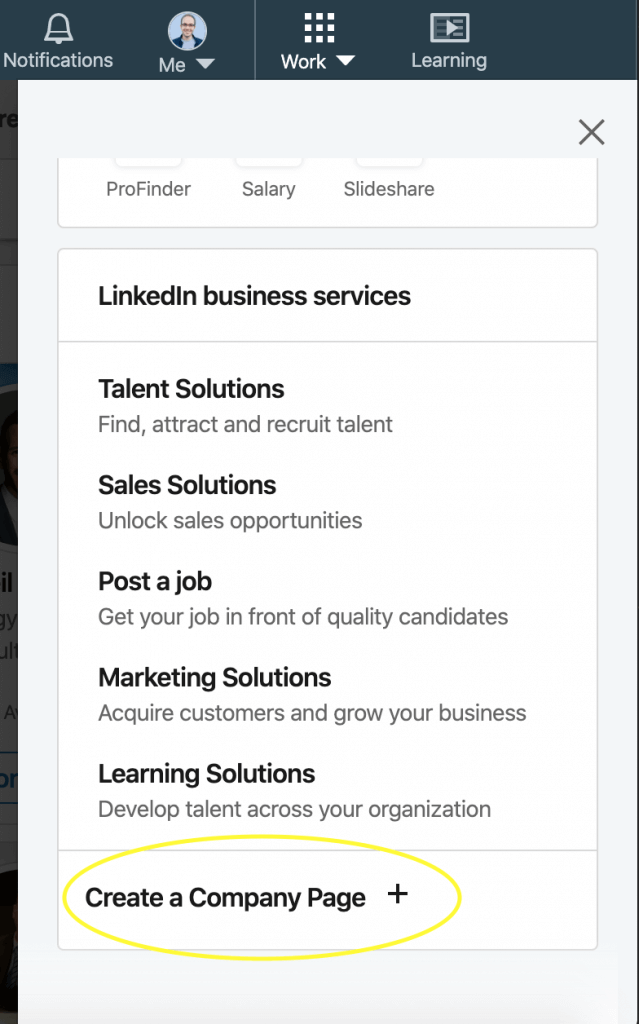 First, add the company description, which should tell people what your brand offers, the problems your company solves, and what makes you stand out. Then add a logo, which will appear in search results and on the LinkedIn profiles of your employees.
Next, you'll want to start welcoming people to your LinkedIn page. You can do this by adding a LinkedIn "Follow" button to your website, and also link to your company page in your consumer-facing emails. Then you can start posting regular and valuable content on LinkedIn.
Tips for building your brand on LinkedIn
After you've added a description, logo, and a profile picture, you can launch your page and start spreading brand awareness. Here are some practical LinkedIn marketing tips that will help you do that.
Refine your message
First, you'll need to decide on a consumer-focused message. This is a huge part of your brand, so spend time on this step.
Instead of pushing your product on people, let the people tell you what they want in a product. Speak to the pain points of your fanbase.
Then make sure this message is loud and clear on your company page, on your professional profile, and in all the content you produce. Also ensure that every leader at your company is on board and on the same page.
Add value
Earning customers' trust is all about adding value to their lives. Giving leads to relationships, and relationships lead to sales.
If all you do is promote yourself and your company, how does that add value to people? You need to create content that's legitimately helpful and useful. It has to be engaging content — encourage people to like, comment, and share your posts to their personal feeds or LinkedIn groups. And if your content is actually valuable, people will gladly engage.
This is important because LinkedIn will show your post to a selected few contacts. Based on how they react, the algorithm will show it to more people. So your topics and LinkedIn headline really need to pull people in.
Lastly, you'll need to share content regularly. Your connections and followers may see your posts multiple times before they actually click, which is why you want to post on a consistent schedule.
The more people see your brand, the more likely they are to get involved.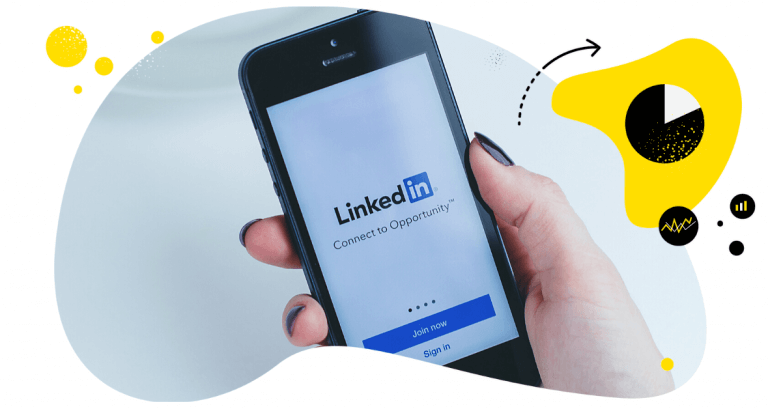 Grow a strong LinkedIn presence
Analyze your LinkedIn performance and interact with your network – with an all-in-one social media tool.
Create native content
The content you create also needs to be native, meaning it originates on LinkedIn and keeps people there.
This means it's best not to include links in your posts. LinkedIn penalizes content that has links to other websites, so avoid including links whenever possible.
However, a smooth workaround to this is to publish your native, link-less content, then go back and edit the post to add your link.
This native-content rule is also true for photos and videos. If you're going to post photos, try to use company pictures that include faces. People are drawn to faces and they want to see the people behind your brand.
Generate leads with LinkedIn Sales Navigator
LinkedIn Sales Navigator is an account that offers many features perfect for increasing brand awareness. It lets you easily find and connect with possible customers. The main way I recommend doing this is through cold emails, which Sales Navigator is perfect for.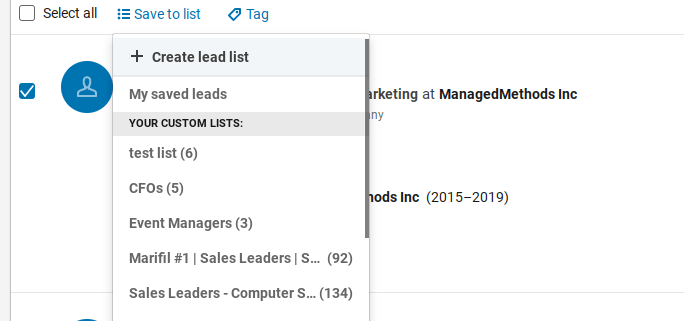 Here's how you can generate leads for cold emailing with a LinkedIn Sales Navigator account:
Create a lead list: a lead list is a place where you can bookmark profiles for later contact. You can create a customized lead list by clicking Lists → Lead Lists → Create Lead List.
Use Advanced Search to filter your results: you can then search for connections using a number of filters, including industry, location, job title, and keywords.
Save leads to your lead list: once you get your unique search results, you can add the profiles to your lead list either individually or by importing all the people in your search result.
Write a message template: whether you'll be using LinkedIn InMail messages or cold emails (recommended), you'll want to write a message template. You can use this template to save time, and you can easily personalize each message to the recipient.
But what should you include in this message template?
Here are some general tips for writing an effective cold email:
Write a short subject line, even just a few words. A good example is "Quick question for you" but you can find more inspirations on SalesHandy.
Keep things simple in the subject and email body. Use one font, one color, and avoid links whenever possible (spam filters don't like links).
Personalize the opening line. This works, as we've seen in this cold email test. Use the person's name and mention specific things about them.
Make your call-to-action clear, and use just one CTA: reply to your email.
Connect with your target audience
Now that you have a lead list and engaging content, you have ample opportunity to connect with your target audience.
People connect with people, not name brands. So be authentic, share some of your personal life, but still keep it professional.
This looks like commenting on and sharing other people's posts, replying to comments, and interacting in groups.
Doing these things not only increases your brand's awareness, but it also can lead to you being a "micro-influencer." Someone who has great influence but with a smaller group of people.
Wrapping Up
Hopefully, you now see how LinkedIn is crucial to growing your brand awareness. And now you know how to do it effectively.
Start with the big picture: make sure your company has a strong profile and adds value on the platform. Then dive into the weeds, finding leads and reaching out with an effective message.
For more LinkedIn marketing tips, check out these articles: