If content is king then what's its kingdom? There's no better place to build your marketing castle than on Instagram, a platform that really gets your creative juices flowing. Did you know that 80% of Instagram users admit that the platform helps them decide whether or not to buy a product or service? The data speaks for itself – if you manage to attract and engage users with your Instagram content, then your kingdom is going to be a very wealthy one.
Despite the broad range of forms that Instagram offers – images, carousels, videos, stories, IGTV – sometimes even the most creative marketers may find themselves running out of ideas. That's why it's good to keep up with the strategies behind sourcing attractive content.
Read on to find out how to make your Instagram kingdom rule.
Plan your content ahead of time
Spontaneity is great, and ultimately it's what all real-time marketing is about. But let's be honest, an opportunity to jump on trending topics only arises every now and then. For every other day, you need to have a plan. A content plan.
Having all of your ideas organized into an Instagram content calendar will save you a ton of time and hard work in your day-to-day. You won't need to come up with last-minute ideas anymore if you just try to figure out in advance what and when to post, then fit in specific content ideas.
You can prepare a content calendar using many different tools, starting from a scrap of paper and finishing on professional solutions such as NapoleonCat's Instagram Scheduler. If you run multiple Instagram profiles and/or post intensely, the second option would be most advisable. The Instagram Scheduler not only allows you to plan your posts, but also to craft them and schedule automatic publication at a pre-defined time directly from your desktop.
Scheduling posts in advance will enable you to focus on more strategic goals: you'll be able to see in which direction your profile's theme and tone of voice are going. While you should diversify content for better engagement, your tone of voice should remain consistent. A content calendar will help you keep track of these things.
Get inspired
Now that you know how to organize your Instagram calendar, it's time for the fun part: sourcing and sharing great content. Let's equip you with some effective strategies and exciting ideas that will make you happy with your Instagram feed.
Embrace content curation
Let's start this strategy listicle with a bit of good news: you don't have to create all of your content in-house, you can simply curate it instead.
Content curation is a way to supplement your marketing efforts by sharing existing content and enriching it with your voice and values. You can share basically anything – it doesn't need to be a post on Instagram. Look for inspiration on YouTube, Pinterest, blogs, or even printed sources like newspapers!
As simple as it may sound, content curation takes effort too. If you want to share somebody's content on your Instagram profile, start by asking yourself the following questions:
How is it going to help my audience?
Is it unique and shareworthy?
Is it a reliable source?
Does it align with my brand voice and values?
Once you have this all figured out, you're ready to start building your expert image. Incorporate curated content into your content calendar and add a little bit from yourself: think of how a particular piece is relevant and important to you, then put it in context and add a pinch (but literally just a pinch) of self-promotion. Et voilà! The post is ready.
But, hey – just one more thing! Never forget to tag the source. It's not only an important element of digital etiquette (and a legal necessity), but it also creates an opportunity for the source to become aware of your brand and share your post!
Repurpose your content
Creating valuable and attractive content is a tough nut to crack. Eventually, everyone runs out of ideas from time to time. But hey, content marketing – just like any other job – shouldn't be about working hard, it should be about working smart. Therefore, why wouldn't you try to get the most out of content that you've already worked on?
Repurposing content will save you time and effort. If you run a blog, you can promote it either within your stories or on your feed. If you have a sufficiently large audience (over 10k followers), you'll be able to link articles within stories and redirect your Instagram audience directly to blog posts, without them having to leave the app.
Add the best blog posts to your Highlights to maximize their reach. If you wish to create a series of stories promoting a single blog post, you can diversify it with quotes and statistics that appear within the text or turn interviews into testimonials.
You can also share your blog post in the form of an Instagram post – this solution is advisable to those who have an insufficient number of followers to be able to add direct links within stories. In such situations, remember to add the link to your bio – and tell your followers where to find it in the post's caption.
Jump on trending topics
Did you know that real-time marketing can increase conversions by 26%? That's why it's crucial for social media marketers to keep a close eye on news and trends, then incorporate them into their social media campaigns.
Regardless of whether there's a challenge, a meme, or a current social issue trending at the moment, think about how you can relate it to your brand voice and values. This is exactly what Burton did – the brand imitated viral posts created by @dudewithsign to spread the word about what irritates them and their customers, and they did it in a graceful way. Well, you may even say it's an educational post since no one who saw it is likely to call Burton's boots "Step-Ins" ever again 🙂
Use popular hashtags
Another strategy that may help you create outstanding Instagram content is to craft your posts around popular hashtags. Hashtags are a great way to show your support for specific social issues. For example, if your business revolves around ecology, you could go with #endfoodwaste to share your tips on sustainable consumption or #savetheturtles when elaborating on how your brand supports waste reduction. Remember to always share content that aligns with your brand values, voice, and image – jumping on all popular hashtags might do you more harm than good.
Partner with influencers
Words become more valuable (I mean, literally more valuable) when they are spoken by opinion leaders, period. An endorsement from the right influencer can significantly boost your sales – research shows that the average earned value per $1 spent on influencer marketing has increased to $5.78.
What's more, influencer marketing is a great way to drive growth in not only sales, but also in your Instagram presence. By sharing pictures of influencers using your products or services, you provide your audience with social proof. And that's priceless.
Tighten the relationship with your audience
Social media is not solely about pretty images and clever captions, it's about being…social. There are many ways in which you can tighten the relationship with your followers and build loyalty, and here are a few of them:
Share user-generated content – anytime a customer posts a picture and tags your product or service, show that you're proud of this and share it to your profile.
Ask questions – this is how you turn your customers into stakeholders, how you gain invaluable insights, and how you make your followers feel important and listened to. Instagram stories are simply perfect for this: you can add polls and quizzes or ask questions.
Take your followers behind the scenes – spill some secrets and welcome your followers into the daily life of your business by showing off the production process or your office rituals. It's a great way to introduce a "human element" to your content strategy that may bring your followers closer to your brand.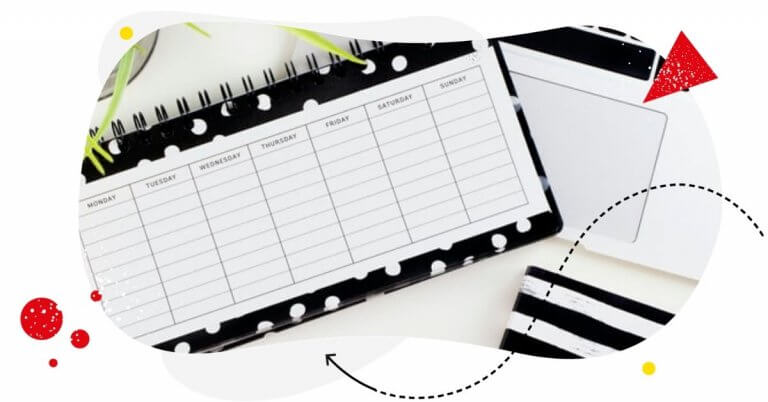 Schedule and auto-publish Instagram posts
Craft photo and video content and organize upcoming posts into a calendar. Schedule automatic publication and sit back – the Instagram Scheduler will do the rest of the work for you.
Try NapoleonCat free for 14 days. No credit card required.
Take a closer look at your competitors
Keep your customers close and your competitors closer – or something like that. Keeping a close eye on your competitors will provide you with great insights about what and when to post, as well as which types of content your target audience finds most valuable.
Analyzing what kind of content performs best for your competitors will save you countless precious hours you'd otherwise have to devote to the nightmares of trial and error. Once something peculiar grabs your attention, don't copy the idea but rather try to apply similar solutions to your Instagram content strategy.
If you perform your competitive analysis manually, it may turn out to be a difficult task that will require you to develop spreadsheets and make countless calculations. Luckily, tools such as NapoleonCat will help you come up with realistic, up-to-date benchmarks in a matter of seconds. You can comparative sets to extract all of the numbers that you need from a time period of your choice.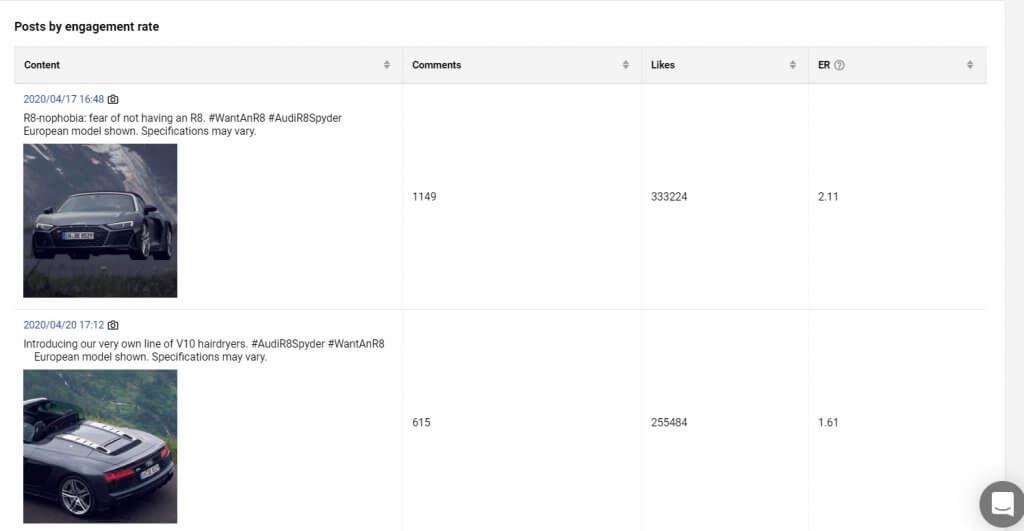 Wrap up
Effective Instagram content creation is a challenging task that requires constant creativity. We hope that these seven content strategies will help you create better content, and do it faster. Remember that, as a creator, you should remain open to new ideas and solutions. Don't devote your Instagram profile solely to a certain kind of content just because it's what you're used to. Be open to new ideas, test, analyze and have fun – as long as you are consistent with your brand voice and values, you're destined for greatness.