There are many factors to take into consideration when planning a social media strategy. The business sector in which the brand operates is one of them. Social media management for businesses in some industries can be relatively simple, but for others it can be a real challenge. The latter group includes the financial industry, who we are here to help.
Financial brands may face difficulties and challenges on social networks. They need to obey even more regulations, as well as the terms and conditions of selected social media platforms. Such brands also need to make customer service a key part of the strategy, since many clients may reach out to them via social media profiles.

So, how to make it work? What to take into account when running social media communication for the financial industry? And, actually, should you do it at all?
Today we're going to guide you through managing a financial business on Twitter, which is one of the most demanding social media channels.
The financial sector on Twitter: why is it challenging?
A few potential challenges are awaiting financial businesses who want to gain more Twitter followers and conquer the platform.
The first challenge is compliance with specific Twitter terms and conditions. The financial industry is highly regulated on social media. Companies need to state clearly who they are, what they do, clarify any risks or benefits, and provide full transparency about all of their services. GDPR is therefore not the only regulation that financial businesses need to obey.
Many other directives were implemented for banking industries in the last few years. Whilst not all of them have a direct impact on social media communication, some of the legal initiatives do. Take a look at MiFID II, which is focused on refining consumer information and making it easier to understand.
The rules vary between countries, so if you run an international business or have branches in a few countries, then double-check the regulations before you start out on Twitter.
Here are some examples of country-specific regulations for the financial industry on Twitter:
adverts targeting Slovenians must be in their own language
advertisers can only target potential Twitter followers in Mexico if the business is located in there
the Monetary Authority of Singapore must authorise any financial promotion in the country
The whole list of such exceptions is available here.
The second challenge faced by financial businesses on Twitter is related to customer service. Being present on this platform means being exposed to all types of interactions from Twitter followers. These could consist of requests, complaints, or appraisals, but also some irrelevant content. Your customer support team members need to have eyes in the backs of their heads.
Should you take the challenge, then? Yes, because it very often pays off.
The financial sector on Twitter: benefits
Your target audience IS on Twitter
There are 330 million monthly active users from all over the world on this platform, and 145 million of them are active daily.
Many of them probably use more than just one financial product too. Twitter users may have a credit card, a mortgage, and use a mobile banking app. And such users could become your Twitter followers.
Twitter helps build press relations
A Twitter profile may also work wonders for B2B relations, since there are many investors, journalists, and influencers who are active on the platform.
They may ask questions or tag your financial services in their posts, providing your business with extra visibility and brand recognition. If your reaction is on point and timely, you could be a step closer to building some further relations.
Spot-on reactions may result in extra media coverage and gaining more clients, as well as expanding your professional network.
When in need, customers go and tweet
People often tweet when they need help. For many Twitter followers of various brands, it's the fastest and most effective way of reaching out for assistance. Sometimes, it's even the only channel on which a certain brand replies.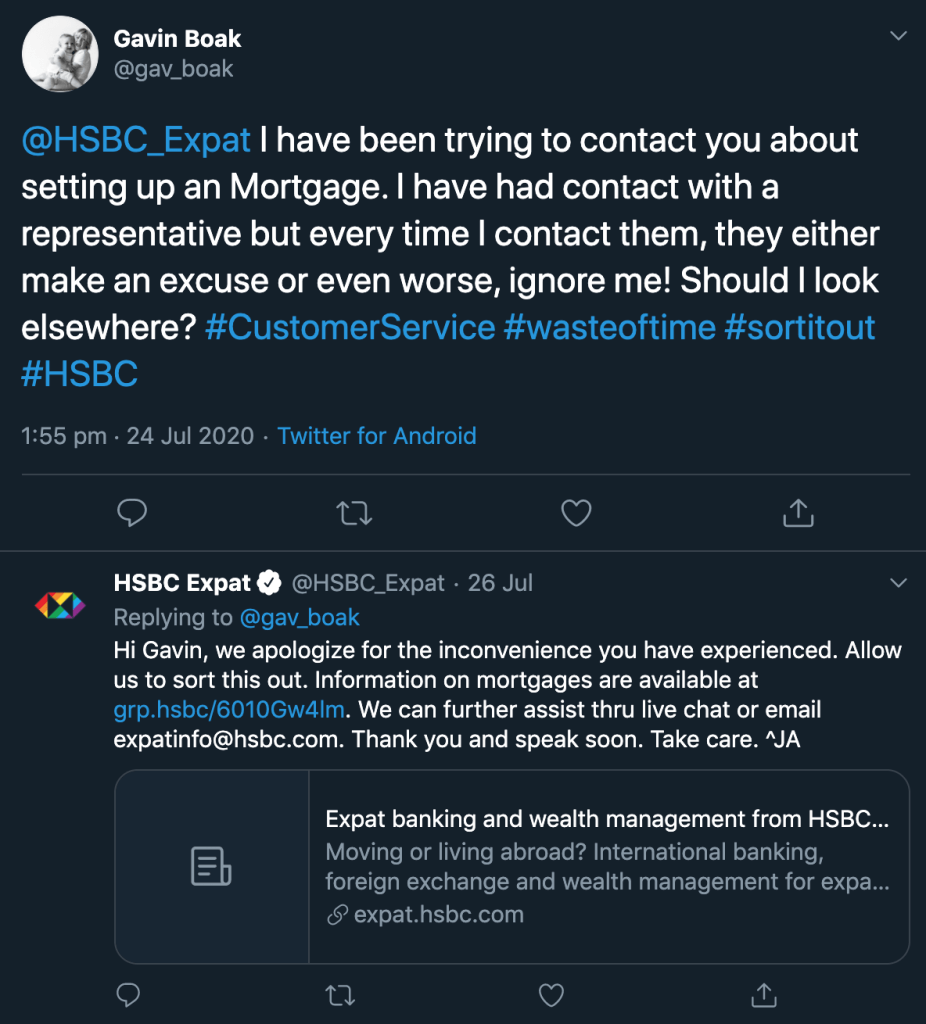 A particular client was put off by having a negative customer experience, so they decided to reach out to HSBC Expat on Twitter with hashtags like #WasteOfTime and #SortItOut. This sort of tweet may put off some other Twitter followers of HSBC Expat who see it too.
The brand may have a hard time trying to change Gavin's mind about their services. They were even trying to provide alternative contact methods, but they only did so two days after the tweet had been posted.
Where's the benefit, then? There's rather a lesson to be learned here: be responsive and you may win a customer's loyalty, even if they have been put off by unsatisfactory service.
Twitter provides real-time customer feedback
Twitter gives you an excellent overview of both your positive and negative customer feedback. Did you know that Canadians alone send 11K Tweets per day about financial services?
Such feedback might include complaints, requests, questions, suggestions, appraisals, or even just chit-chat. All these interactions give you valuable information about what your Twitter followers want, need, and talk about. Make sure that you don't miss out on what's being said about your brand, and that you take this feedback on board.
It's a platform for communicating errors
Many clients turn to Twitter not only to make complaints or give applause. Your Twitter followers may also check for updates on your account during system downtime or a crisis.
Sometimes brands are not aware of any downtime until they find out about it from their Twitter followers. In many cases, though, brands communicate about planned downtime in advance. This way, they won't be overloaded with messages and angry comments when such downtime occurs.
The financial sector is one of the most sensitive industries when it comes to system errors. Communicating about them quickly and clearly can save a lot of hassle to both businesses and their Twitter followers.
The financial sector on Twitter: good practices
We've identified 8 aspects that will help you manage a Twitter profile for the financial sector.
#1 Be active and responsive
To serve your Twitter followers right, just being present on Twitter is not enough. You need to be active with a consistent posting strategy that goes hand in hand with your customer service. Respond to queries quickly and precisely. Have your team on standby and define their working hours. While it may be hard to stay online 24/7, you can create a Twitter chatbot or hire some external community managers to help extend your service hours.
#2 Be an expert
Your Twitter followers expect you to be professional, since they often reach out to you when they need your help or advice.
Act as an expert! Provide Twitter followers with useful information that could solve their queries. Post content that can be of help for them. Educational content may not only increase customer satisfaction but also save you time on customer service by reducing the amount of repetitive yet simple queries.
#3 Be prepared
Twitter is about much more than just publishing Tweets. Ensure that your team is familiar with advertising policies and procedures in terms of crisis escalation. Prepare a couple of templates that your employees can refer to when some common questions are asked by your Twitter followers. Double-check that your team knows who to contact (who's on duty) if more complicated problems occur.
#4 Be up to date with regulations
As we mentioned before, there are many regulations covering the financial sector on Twitter. Remembering all of these rules doesn't help much though, since they tend to change, get removed, or be expanded frequently.
To avoid problems (or even financial punishments for breaking the law), keep refreshing your knowledge and be all ears for any updates.
#5 Be informative
Highlight the broader benefits of your services in your communication. If you provide credit cards, for example, then show the value of them instead of just their usage.
That's exactly what Revolut is doing. They show their Twitter followers how to take advantage of the app (keep track of all your spending in one place) instead of releasing a standard statement about a new feature (use Linked Accounts).
#6 Be up for user-generated content
You may also think about promoting brand awareness via user-generated content. Yes! Your Twitter followers may become genuine brand ambassadors. If you also share their (positive) experiences with your business, you might win their loyalty forever.
Revolut knows how to manage this. They do so by retweeting some content from their users.
These Twitter followers haven't even tagged Revolut in their posts! The brand is probably monitoring anything that's said about Revolut on social media. They found the displayed mentions and decided to retweet their post on the official profile.
Needless to say that this may encourage more Twitter followers to jump on the bandwagon and post such content themselves.
#7 Be aware of your competitors and sector
Conducting a competitive analysis never hurts. Find out what your competitors are doing and identify helpful benchmarks in your sector. If there's a specific pattern or some interesting stats, try to better them.
Keep an eye on your competitors' communication. In particular, check their stats, the demographics of their Twitter followers, engagement rates, content lines, and customer service standards.
#8 Be involved
You need to be competent on social media. However, showing a little bit of corporate culture, social responsibility, or marketing activities may help bring your brand profits. Presenting the human face of your company can contribute to better employer branding, a higher engagement rate, and, as a result, you can grow your Twitter account.
Make sure that you have good timing, though. Introducing extra pieces to your content plans might not be the best idea if your business can't deal with simple customer service requests first.
How NapoleonCat helps manage the financial sector on Twitter
There are several features of NapoleonCat that make Twitter management easier for financial industries.
Social Inbox
Thanks to NapoleonCat's Social Inbox, anyone in your company can have access to all tweets and direct messages from your Twitter followers. Each of these interactions can be assigned to a particular agent or employee for them to resolve it.

Moreover, these agents don't need to have access to the Twitter account in question. This is a significant advantage of NapoleonCat's Social Inbox: financial businesses don't need to worry that someone may access the official Twitter account of the brand and potentially start a fire.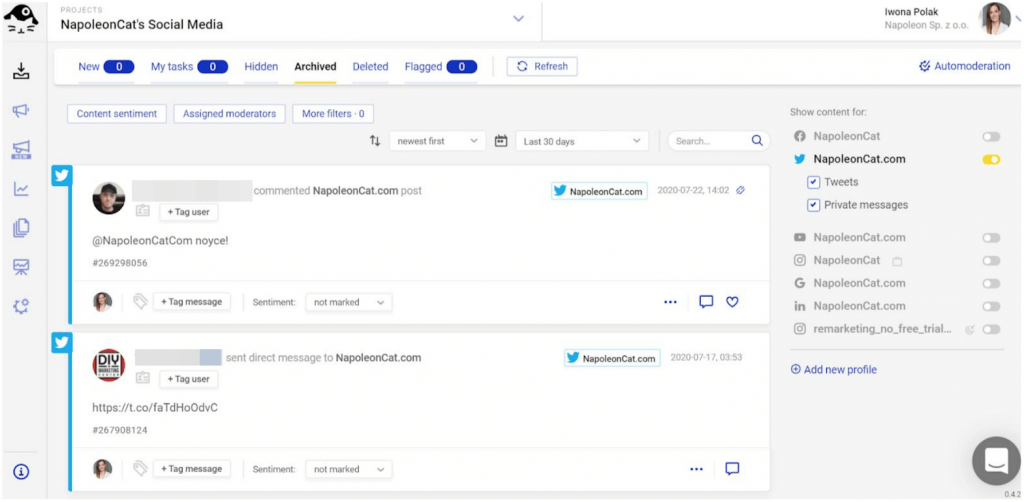 Social Inbox also comes in handy if you have multiple accounts to manage (e.g. you're in charge of a few branches of one bank on Twitter). Instead of switching between accounts, you can get all interactions with Twitter followers of each profile sent to one common dashboard.
Manage all Twitter interactions in one place
Allow your agents to manage Twitter messages and comments without granting access to your brand's official account.
Try NapoleonCat free for 14 days. No credit card required.
Twitter Publisher
Tweet consistently – that's the key to success when it comes to publishing on Twitter. According to research by MOZ, the average lifespan of Tweets is 18 minutes (or less). As such, sending one or two Tweets a month may simply not be sufficient.
With NapoleonCat's intuitive Publisher you can schedule your Tweets in advance, label them internally, and add assignees or subscribers. You can also add multiple images and a link to one tweet.

All of these features will help keep your Twitter content plan in good shape.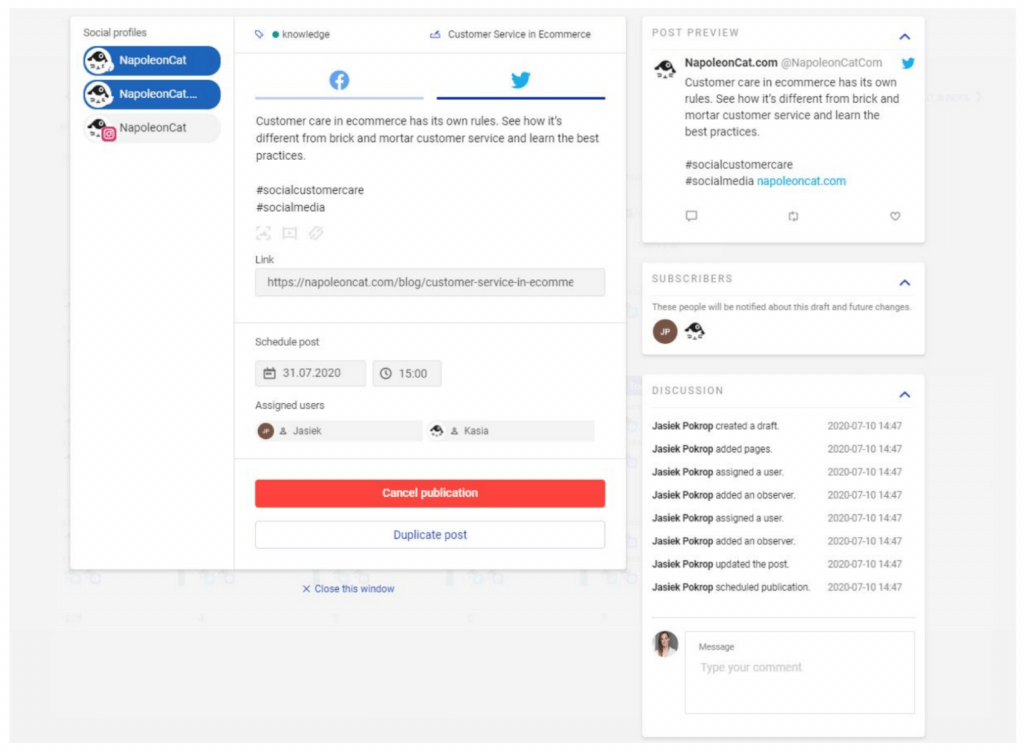 Twitter Analytics
NapoleonCat also grants you access to detailed data about your Twitter performance, on both content and your Twitter followers counter.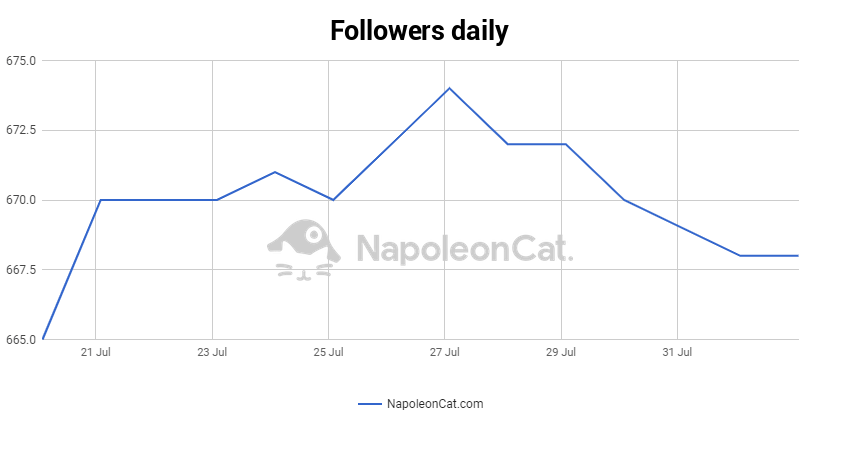 To evaluate your strategy, you can also check the ER (Engagement Rate) and interactions, which include retweets, favourites (equivalent to Facebook likes), replies, and mentions. Then, you can generate a report on your activities in just a few clicks.

Over to you
Managing financial services on Twitter can be challenging, no doubt about it. However, if you prepare for regular posting and more demanding customer service, you can turn even unsatisfied customers into loyal brand ambassadors. This can bring about greater reach, more Twitter followers, and, in turn, more clients. Good luck!