If you've been playing with the idea of advertising your business on Facebook but feel like you don't have the knowledge or experience, here are some pointers that can help you avoid wasting your marketing dollars on ineffective ads.

Starting with creating a Facebook advertising strategy (a.k.a. figuring out what you want to achieve and how you can do it.)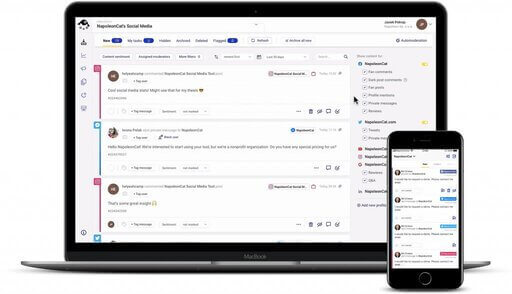 Manage all FB Ad comments from one view
Manage Facebook Ad comments from one place. Reduce response time with one simple customer engagement tool. Try it for free:
Try NapoleonCat free for 14 days. No credit card required.
How Facebook Ads can benefit your business
Facebook has been an essential part of marketing for brands for years now. And seeing how the platform has evolved towards paid content, a profitable one at that – both for Facebook (or Meta, these days) and the brands advertising on it.
Meta profits aside, there are some good reasons why brands take to advertising on Facebook:
It's fairly easy to start and grow your ad campaigns as you go, even if you're a small business. (Hiring a Facebook ads expert who can help you get started is also a good idea.)
It's an effective way to drive traffic to your website and your online store, letting you also promote and sell your products directly on Facebook.
Besides actual sales, you can use Facebook ads to generate leads, build brand awareness, promote your content or app, find new customers or reengage existing customers. Essentially, whatever your business goal, there's an ad campaign for that.
You also get pretty precise targeting tools, letting you reach the type of customer you actually want to reach with content that's tailored to their specific needs. So you're not just throwing your ads around hoping for the best.
You can measure your results and adjust your ads as you go so that you know if they're indeed working for your business and can test different approaches.
And maybe the best thing about advertising on social media, in general, is that you get to directly connect and communicate with your target audience and potential customers – in the comments or private messages. That human connection element paired with targeting precision is probably the biggest advantage of this type of advertising.
But to do all that (and more), you need a Facebook advertising strategy first.

Who needs a strategy, you'll ask? Well, your business does if you want to achieve your goals (or even know what those goals are) and save tons of time and money while you're at it.
How to create your Facebook Ads strategy
I know strategies might sometimes seem like a pain to create (and a waste of time – while they actually help you save it.)
So, let me give you a basic, step-by-step outline of what to do to prepare your Facebook advertising strategy to, later on, create successful Facebook ad campaigns.
1. Start with your goals
What do you want to get from your Facebook advertising campaigns? Is it:
More product sales
More repeat sales
More visits to your website
More content downloads
More engagement on your Facebook Page
More [insert goal]?
You can set up campaigns based on these goals. And you don't have to settle just for one – you can map your Facebook ad campaigns to your different goals and target them to your different audience segments.
2. Make those goals specific
How much more traffic do you want to get to your online store? How much more sales? Or how many new followers/comments/likes on your page?
Define the growth you want to see using numbers (you can adjust this later. In fact, revisiting and revising your strategy on a regular basis is what marketing experts recommend.)
3. Specify your target audience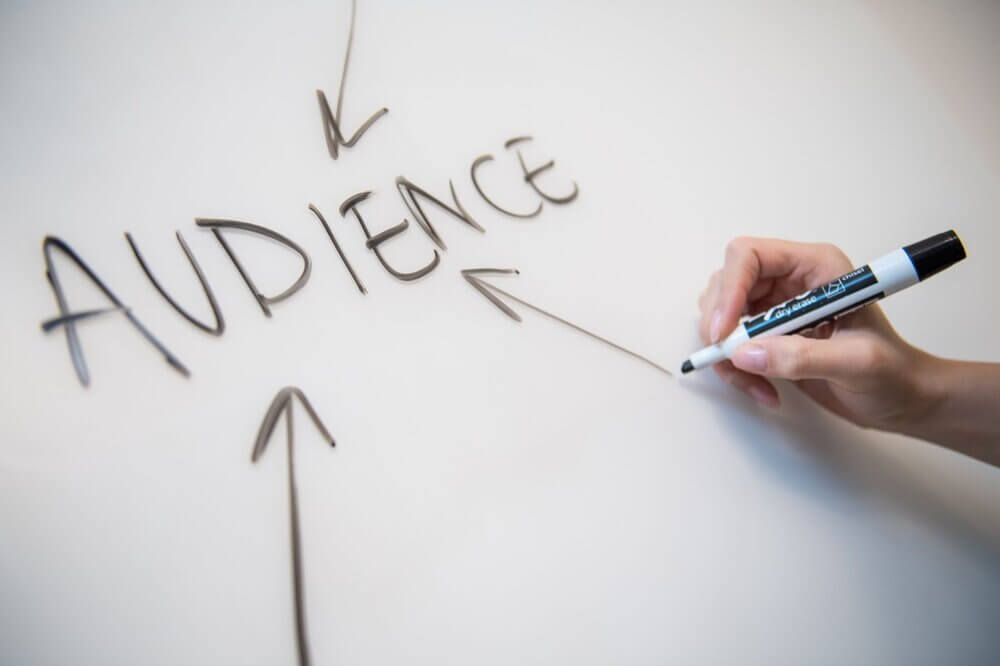 This is super important, not just in your Facebook advertising strategy but in your overall marketing efforts, too. I can't count how many times in my work as a brand messaging consultant I have come across businesses advertising to the proverbial "everyone." Even if it's a little more precise than that, you usually still need much more information about your audience.
So while you're strategizing, spend some time figuring out specific audience groups you want to show your ads to. And remember, your different ads will likely be targeted to different groups of people, depending on the product, your goal, but also the stage of your customer journey. (For example, you'll want to run different campaigns to attract completely new customers than the campaigns retargeting your existing customers, encouraging them to come back and buy again, upgrade, etc.)
If there's one takeaway here, it's probably this: don't just put out the same content to "everyone" (if you want to see results from your ads, that is.)
4. Decide on your ad formats
When you know your target audience and your goals, figure out ways to achieve those goals using the tools that Facebook has to offer.
You can take a look at this post on the different types of Facebook ads you can use, with some examples. Or go to one of the many resources created by Meta, like this one.
Of course, this will also depend on the resources you have available – like a graphic designer (or access to easy content creation tools like e.g., Canva), a video creator, a copywriter, etc.
5. Create general ad scenarios
Besides deciding whether you'll use image carousels or videos, consider a general scenario for each of your ad campaigns.
For example:
Promote a specific offer to people who have visited your website (or a particular product page)
Promote different products or services to different audiences based on their interests or their job titles
Or promote an event to people in the area based on their location, age, and interests.
Start at a more general level, and then go into more specific details as you create your ad campaigns. The Meta Business Suite will guide you through the steps for the different ad objectives: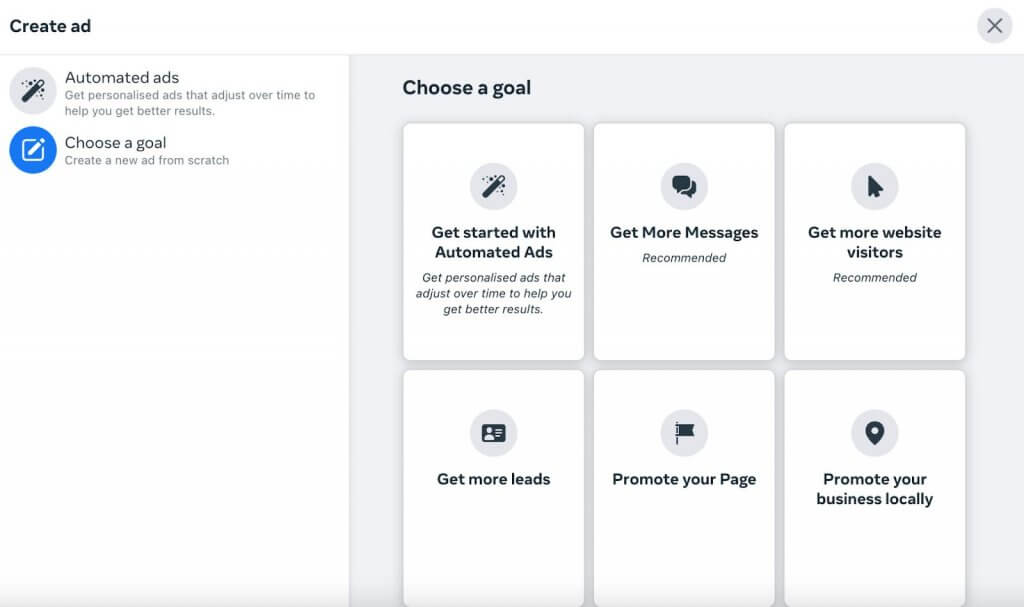 You can also use the Automated Ads first if you need more guidance.
6. Define a budget and a timeline
Figure out how much you can spend on advertising. Keep in mind your goals and KPIs and how much you want to earn as a result. You can start with a smaller budget and then increase as you go.
This also involves your bidding strategy, i.e. how much you're willing to pay for clicks. Here's a very helpful resource from Meta that explains how bidding works on Facebook.
By the way, this is exactly why you need your strategy first. This way, you're not just randomly spending money and burning your budget on something that doesn't work. With your audience segments and goals figured out, you have much higher chances of the ads bringing in actual revenue (preferably, much higher than your spend, which is the whole point of running any kind of ads.)
When it comes to the timeline, it will, of course, depend on things like product launches, seasonal sales, etc.
You can, for example:
Launch a sales campaign in the few weeks leading up to Black Friday
Run continuous ads for your evergreen products
Or promote your organic content for a couple of weeks after posting it regularly to increase your reach.
7. Measure the results
When you've launched your campaigns, keep an eye on how they perform. It's relatively easy with the performance data you'll get from Meta for your campaigns. And if you see that the performance is not what you expected it to be, or that you pay too much for clicks and don't get enough sales or traffic out of it, look for ways to optimize your campaigns.
Some things that can be relatively easy fixes are:
Tightening up/changing your targeting
Changing the contents of your ads, like the copy and design
Adjusting your goals (are they even realistic?)
Adjusting your bids.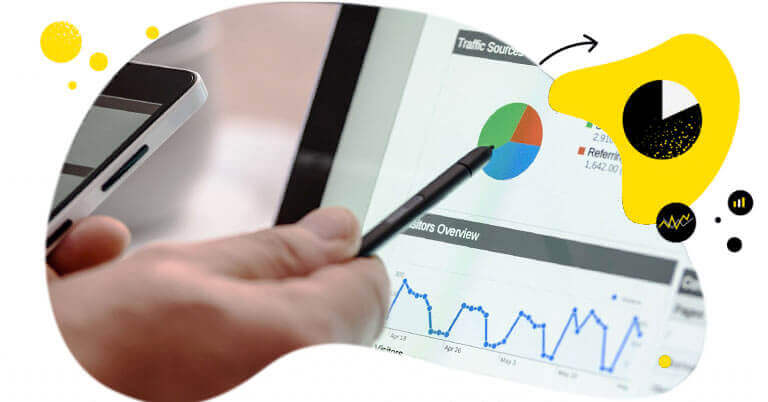 Create custom Facebook analytics reports
Generate custom Facebook Page reports within seconds. Schedule automatic reports, analyze your competitors, and more. Try it for free:
Try NapoleonCat free for 14 days. No credit card required.
One thing that's very easy to overlook when it comes to performance optimization is what happens under your ads. Because imagine an ad with great content, compelling design, and accurate targeting appearing in people's feeds with unaddressed customer complaints below it. How effective do you think it's going to be?
Which is why I've made my last point a separate section in this article:
Don't forget to moderate your Facebook ads
Facebook is a social network. But it sometimes seems a lot of businesses forgot about it a long time ago, treating it just like a billboard to push their one-sided promotional content.
But Facebook doesn't work like that. Well, not exactly.
On the one hand, consumers are used to seeing ads and sponsored content on social media (though I still remember the times when we rebelled against that. Well, maybe rebelled is too strong of a word.)
But on the other, more important hand, as a brand, you're kind of visiting their news feed. Your ads appear in between content posted by their friends, colleagues, or pages they follow. And it is subject to the same rules of social media: people can comment on them, share them with others, or even just leave a like.
And no, it's usually not enough to just turn off comments on Facebook ads and be done.
As a brand, you (or your moderator) should be there in your ads, talking to people, answering their questions, cleaning up the spam, and removing competitor links (unless you want to share your advertising budget.)
Yes, that's more moderation work to do. But that's why you should consider getting a tool to help. Especially if you manage multiple Facebook accounts, have multiple ad campaigns running, or work with an outside ads expert who's not on your moderation team.
Here's how that could work:
Get a social media engagement tool like NapoleonCat. Make sure it includes moderating Facebook ads (not all tools do that.)
It will let you monitor and respond to comments on Facebook ads from the same dashboard you use for all your social media content. Every time someone adds a comment under any of your ads, you'll get notified and see it along with other interactions from your organic posts and other social media channels.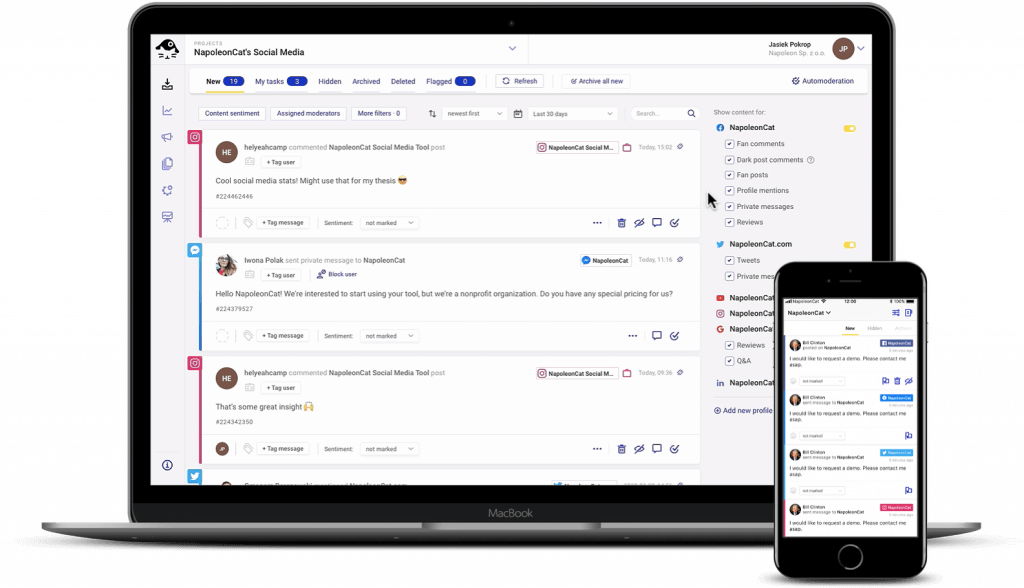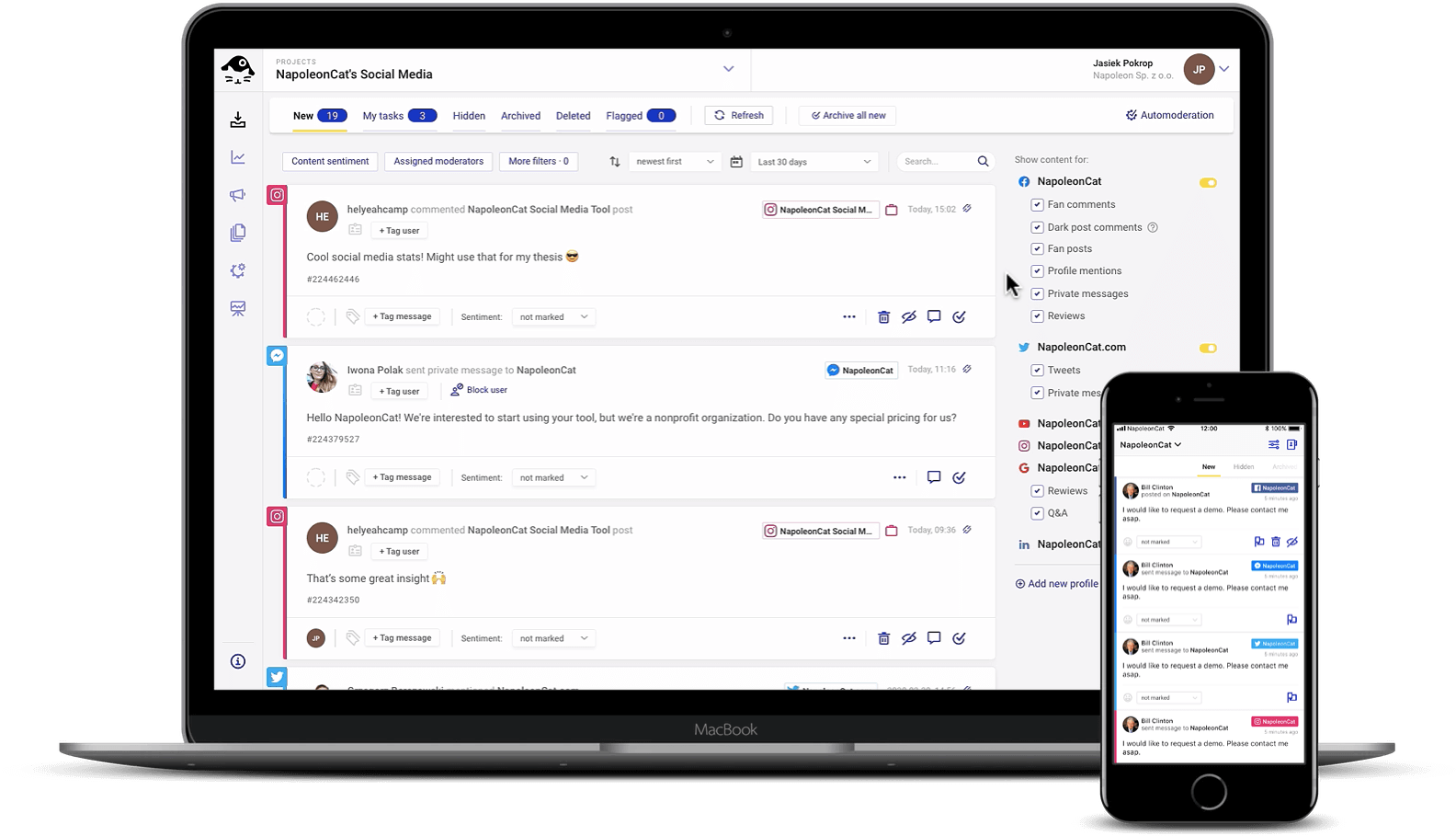 Using a social media automation tool like NapoleonCat, you can also automate some of your Facebook moderation. For example, you can automatically remove spam from under your ads or hide comments with links. Aside from getting the most out of your advertising budget, you also don't have to worry about people seeing your ad with hate comments or links to other pages.
The latter also relates to customer complaints. I mean, you don't want people seeing your product with a frustrated customer replying below – and no response from you, right? Based on selected keywords, you can automate responding to comments like this and even redirect the conversation to private messages to investigate the issue or delegate it to a customer service team member to get it solved.
That way, you have a reliable way to monitor what's going on under your ads without spending hours digging into your ad campaigns searching for comments. And you can actually make better use of the money you spend on your ads.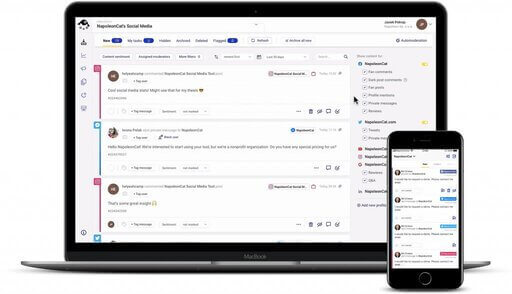 Manage all FB Ad comments from one view
Manage Facebook Ad comments from one place. Reduce response time with one simple customer engagement tool. Try it for free:
Try NapoleonCat free for 14 days. No credit card required.
If you're new to Facebook ads, try the small-step approach first
Start with a smaller budget and a couple of ads to get a feel for what they can do for your business. Then, as you go and learn more about how it all works, expand your ad campaigns (and your budget), and grow new audiences and your profits.
And don't forget to put together a Facebook advertising strategy first!