Want to reach your target audience and give your sales a boost in the fastest way possible? Facebook ad campaigns are where it's at – at least with the right strategy in place.
The thing is, finding and implementing the right strategy is where it gets confusing. If you're not careful, you'll end up wasting money on ads that don't perform well, which may cost you your business.
If you ask me, it's all about how you structure your Facebook ad campaigns. Get that one right and the rest will follow.
Need help acquiring more clients and customers from social media using paid ads? You've come to the right place.
In this blog post, you'll learn:
How to structure a Facebook ads campaign,
How to start a Facebook marketing campaign,
How to create adverts that expand your reach and increase sales,
How to manage and moderate ads with little time and effort.
Before we get to the good stuff, let's talk about why creating Facebook ads is worth the effort.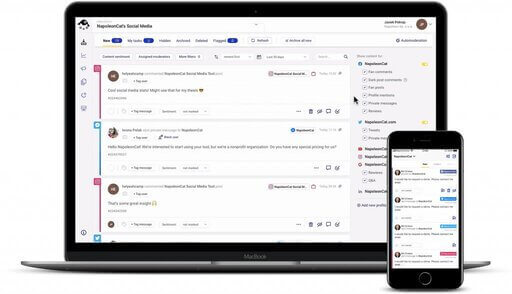 Manage all your Facebook Ads comments from one place
Track and reply to all your ads comments using one simple dashboard. Never miss a single comment – with an all-in-one social media tool.
Why do paid advertising on Facebook?
You have to admit, social media, and the entire Internet for that matter, is getting pretty crowded.
If you want your business to have a fighting chance, you have to grab the attention of your target audience.
Publishing organic Facebook posts (posts you publish without paying to boost them) is a good strategy to pull this off, but considering how recent algorithm updates nerfed the organic reach of Facebook Pages in our news feeds, you have to post consistently over a long period before you get the traction and revenue you're looking for.
This is why Facebook ads (or sponsored Facebook posts) can help you gain a competitive advantage. By posting your Facebook posts as adverts, you're increasing the likelihood that your message will reach your audience fast.
How to structure a Facebook ad campaign
If you want to run successful Facebook adverts, you have to be organized about it. After all, running ads is not a game where you throw things at the wall hoping something will stick.
Thankfully, Facebook Ads Manager can help you do just that.
What is Facebook Ads Manager?
Facebook Ads Manager is a free tool that allows you to create, manage, refine, and optimize multiple Facebook ads in one place. It gives you better visibility on how well your FB Ad campaigns are doing while allowing you to make changes as you see fit.
Facebook Ad Campaign Structure
The structure of a Facebook campaign has three hierarchies or levels:
Campaigns. This is where you define the objective of your Facebook campaign.
Ad sets. The ad set is where you define your targeting strategy by letting you specify a budget, placement, schedule, etc.
Ads. This is where you specify the creative ad format.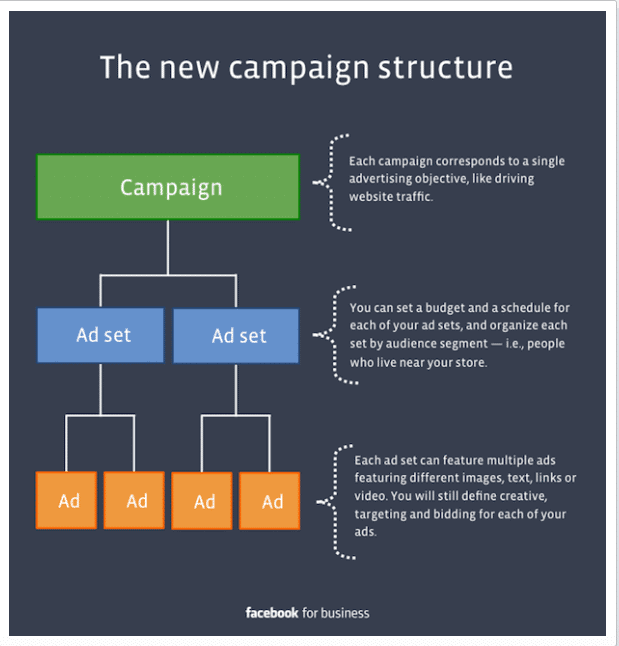 To access Facebook Ads Manager, simply go to business.facebook.com.
We'll cover all three levels in more depth as we go along. For now, it bears noting that your Facebook Campaign Structure, specifically your campaigns, ad sets, and ads, form the hierarchy of your ad campaign. Understanding how each level relates to each other and to every element in your Facebook ad campaign is key to creating successful ads.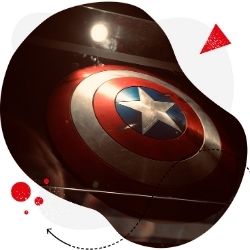 Protect your Facebook Ads from hate & spam
Automatically delete or hide comments, and protect your Facebook Ads from hate speech, inappropriate comments, and spam – with an all-in-one social media tool.
How to set up a Facebook ads campaign
Step 1: Create a Facebook Business Manager Account
To create your Facebook ad campaigns effectively, I suggest you create a Facebook Business Manager Account. While it's not necessary to create ads, it's a free tool that helps you manage and optimize multiple pages, ad accounts, and business assets on Facebook.
To set up a Business Manager account, do the following:
Go to business.facebook.com.
Click on "Create Account"
Type your business name, choose the primary Facebook Page for the account, and enter your name and work email address.
Next, set up advertising access to your ad accounts.
Under Accounts, click on "Ad Accounts"
Click on "Add" in the drop-down menu and select "Create a New Ad Account"
Step 2: Set a campaign objective for your Facebook ads
Next, choose an objective for your Facebook ads campaign. Log in to Facebook Ad Manager and select your Ad Account. Click on the "Create Ad" button.
See the list of objectives to choose from? These are the three stages in the buyer's journey:
Awareness
Consideration
Conversion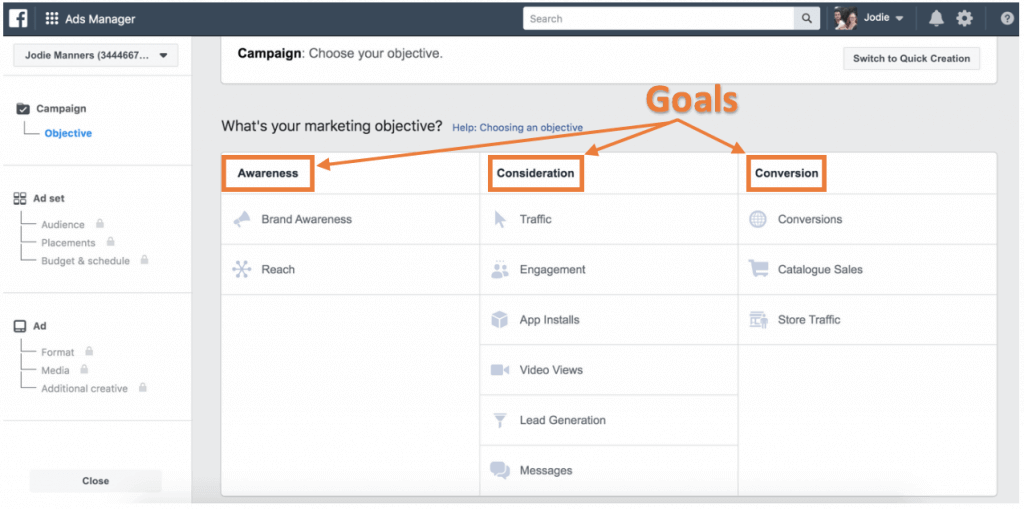 So which objective should you choose?
Choose "Awareness" if you want to:
Gain followers or "likes" for your Facebook Page.
Expand your brand reach.
Create interest around your product or service.
Choose "Consideration" if you want to:
Drive traffic from your Facebook ad to your landing page, blog post, webinar, eBook, etc.
Generate more leads
Get video views
Increase engagement
Choose "Conversion" if you want to:
Boost conversions on your website
Draw attention to your online shop
Promote your product catalog.
Once you're done selecting your Facebook campaign objective, you'll be asked to name your campaign.
Step 3: Define your audience
Next, you need to define your audience. By this point, you should already have a good idea of who you want to reach with your ads. When your ads are reaching people who will be interested in your offerings, your ads are more likely to hit your revenue targets.
Remember the Facebook Ad campaign structure we talked about earlier? Note that you define your audience at the campaign level.
You can customize your audience based on:
Location (target by country, county, state, city, or postcode)
Demographics (age, gender, education, etc.)
Interest (hobbies, favorite activities, the Pages they like, etc.)
Behavior (prior purchases, device usage, etc.)
Connection (for including or excluding people from seeing your ads who are already familiar with your brand)
With Connections, you can use advanced targeting to include or remove people who are connected to specific pages, apps, or events. You can also use Custom Audiences to retarget those who have already shown interest in your products and services.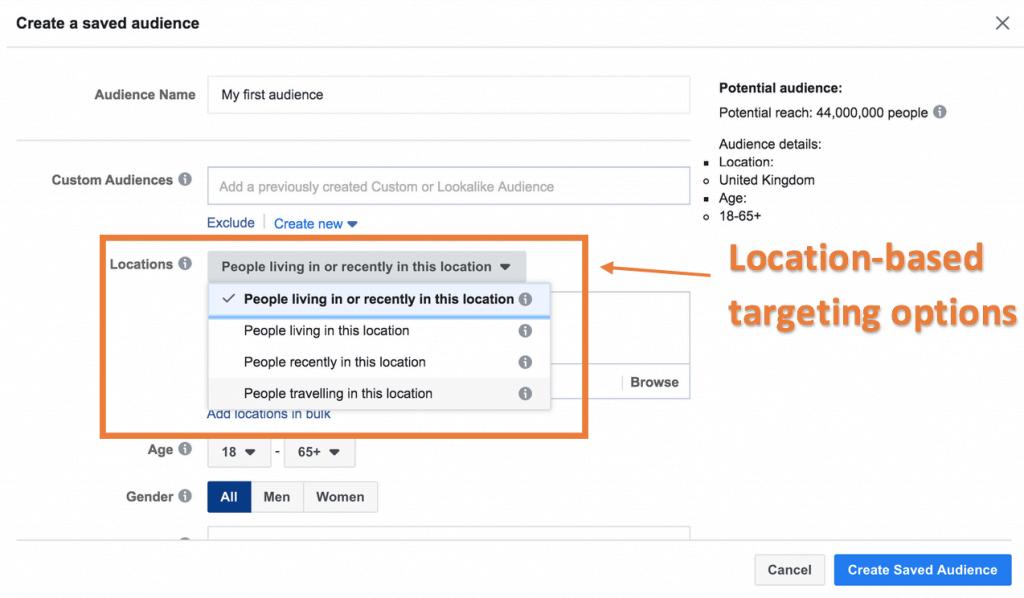 Step 4: Set your budget
How much are you willing to spend on each ad?
When you set your budget (also done at the campaign level), you're providing a ceiling on how much you want to spend.
To do this, choose either Daily or Lifetime.
Daily (the max amount you're willing to spend on an ad set per day.
Lifetime (the max amount you're willing to spend during the lifetime of your ad set)
Facebook suggests a $20 daily budget but you can increase or decrease that amount based on your campaign goal.
Updating your budget manually can get time-consuming. Thankfully, you can automate it using campaign budget optimization (CBO). Why not? Facebook works 24/7. You don't. Besides, using CBO gives you more flexibility on how your budget is spent across ad sets.
Step 5: Create your FB ads
This is where you decide what your customers or audience will see and interact with. When creating an advert, you can choose an ad format as well as the images, headline, body text, CTA, and where to put it on Facebook.
You can create adverts in two ways: by boosting an existing post or creating a new advert. Let's go over each of them.
Boosting an existing post
Do you have an organic post already shared on your Facebook Page? You can give it a boost to get it in front of more people.
To do this, go to the Facebook Ads Manager dashboard and select 'Use Existing Post'. Select the Page where the post was published and pick the post you want to use as an advert.
Creating a new FB ad
If you want to create a new ad, select first your preferred format.
The most popular formats for ads are:
Carousel
Single Image
Single Video
Collection Ads
Slideshow
Canvas
Instant Experience
Bear in mind that the format options available to you depend on the objective you set for the particular ad.
After choosing a format, time to create the actual ad itself. This means adding the copy, images, video, etc. However you go about it, the main goal is to grab the attention of your audience. But make sure that it's relevant to their needs as well.
A few ad tips:
Craft benefit-driven headlines
Use a relevant call-to-action
Use eye-catching images
Get straight to the point (don't try to be cute)
Keep it short
To get the design recommendations and tech requirements for Facebook ads, go to this Facebook ads guide.
Step 6: Choose where to place your FB ad
It's time to choose where you want your ad to appear. Your ads may appear on Facebook's mobile news feed, desktop news feed, or in the right column. You can also create ads straight from your Facebook Ads Manager
There are two ways to go about choosing ad placements:
Automatic placements (Facebook puts your ads on locations where they're more likely to perform best)
Manual placements (you call the shots on where the ads will show)
Overall, you're better off using Automatic Placements because it makes the most out of your budget and helps you reach more people within your target audience.
There are times when using Manual Placements is justified. It depends on what you're optimizing for. But in most cases, you're better off trusting Facebook's algorithm.
To learn more about ad placements, go to this Facebook guide.
Step 7: Publish your Facebook Ad
Once you're done with your ad, time for you to publish it. Just click on the green Publish button on the bottom right. Once it goes through, that doesn't mean it's already out in the wild. Facebook will review it first to check if it meets Facebook's advertising policies. You'll receive a confirmation email from Facebook once the ad is approved and published.
Step 8: Test Your Ad Creative
To make the most of your ad budget, test different variations of your ads. Remember, best practices can only do so much. If you want to see which ads will perform better, test them out in the wild and see what sticks and what doesn't.
Split test (or A/B test) your Facebook ads, in other words.
By testing different variations in copy, images, and formats, etc, and then seeing what works and what doesn't, and then making the necessary changes as you go along, the overall performance of your ads will keep improving over time.
To learn more about A/B testing on Facebook, read this guide.
Step 9: Manage engagement from paid content on Facebook and Instagram
Just because your ads are already published doesn't mean your job is done. If your ads do well, chances are the people you reach will engage with them.
And you need to engage commenters in return. After all, 30% of people will go to a competing company if a brand doesn't respond to them.
Look, I know: responding to comments is as overwhelming as it is time-consuming. But engaging people on your paid content doesn't have to be stressful. A social media management platform is more than enough to fix this problem.
NapoleonCat's Social Inbox, for example, lets you track, manage, and moderate comments from paid content across platforms (Facebook and Instagram) and different accounts in one place, helping you significantly cut down response time and never skip a comment.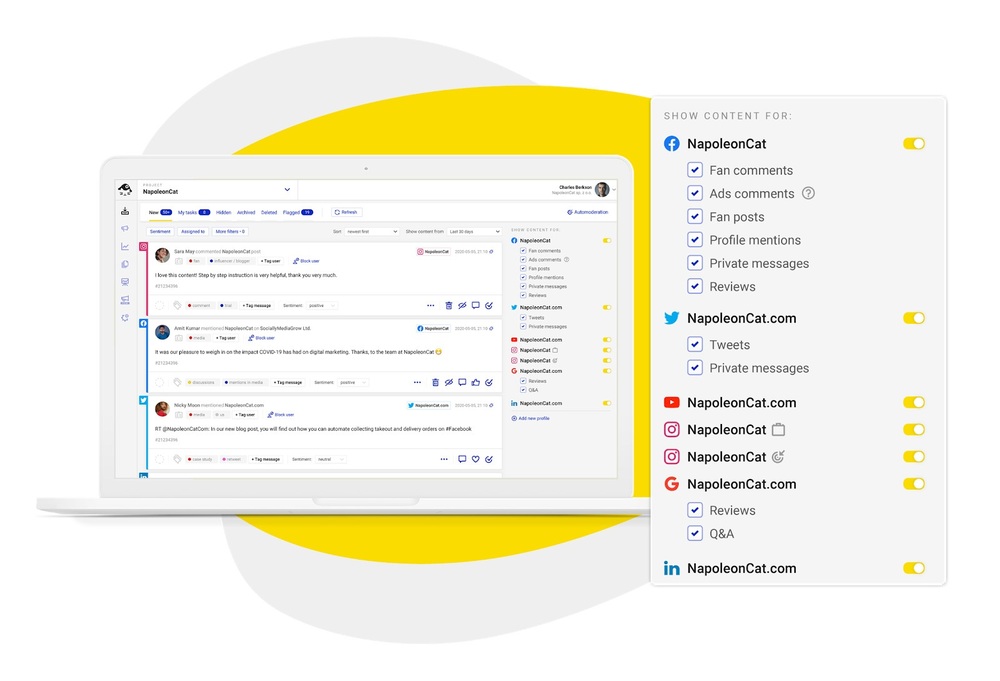 Better yet, NapoleonCat's social media automation tool enables you to automatically respond to the most common types of messages and comments during off-peak hours.
Simply set up automatic moderation rules. By adding relevant keywords that when mentioned will trigger auto-replies, you can automatically respond to comments from your ads even if you or your entire team is asleep.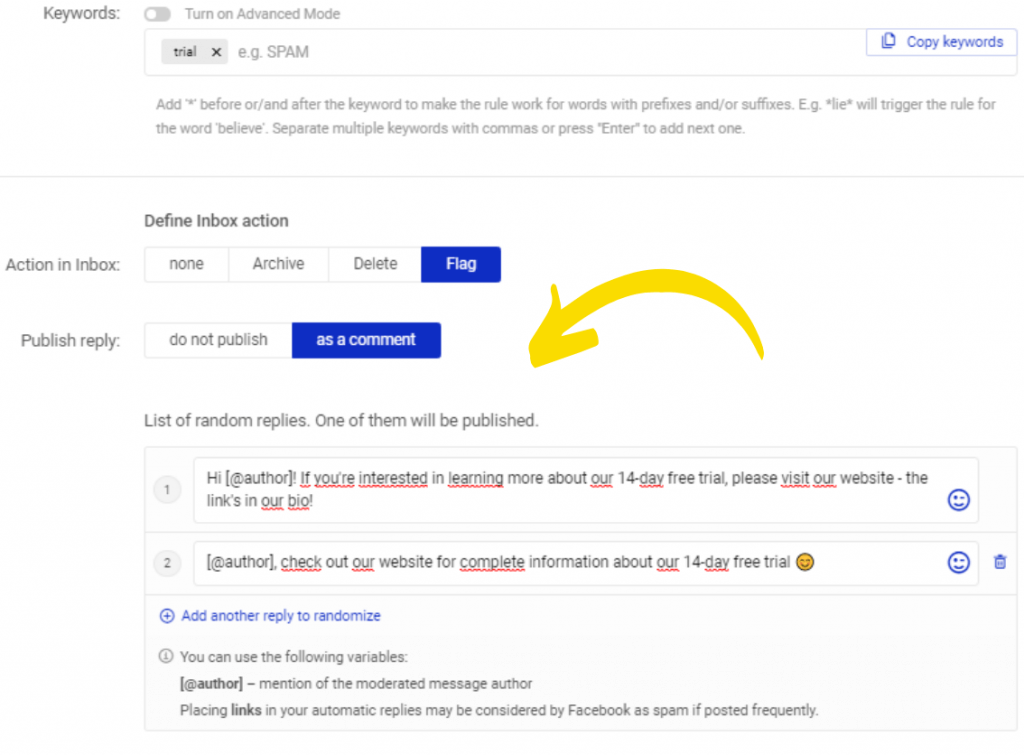 Better yet, Social Inbox also allows you to deal with trolls, spam, and distasteful comments on your social media ads. You can automatically hide or delete comments based on specific keywords and phrases that you define when creating your 'anti-spam shield'.
But what if you're catering to international audiences as well? Thankfully, NapoleonCat can translate incoming messages in over 100 languages so you can respond in the language of the person engaging with your paid content.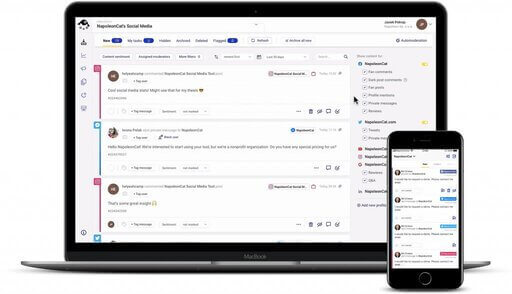 Manage all your Facebook Ads comments from one place
All your Facebook Ads comments in one view. Our customers reduce their response time by 66% – with an all-in-one social media tool.
Wrap Up
If you want to generate a higher ROAS on your Facebook (and Instagram) ad campaign, start by getting your Facebook Ad campaign structure right. When you have the right structure, the right systems will follow. As best-selling author James Clear wrote in Atomic Habits, "You do not rise to the level of your goals. You fall to the level of your systems."
Lastly, be intentional with your Facebook and Instagram ads. You don't need to shout to make your Facebook ads effective. In a world that's been overcrowded lately, building meaningful relationships with your audience is what will cut through the noise.