In today's digital age, a customer's bad experience with a company can go viral with a single tweet.
In May 2019, a dissatisfied Mercedes-Benz customer in China posted a viral video complaining about being sold a defective car at a local dealership. The public outcry led to the dealership getting fined one million yuan (nearly $145,000) and severe legal ramifications, including a suspension of operations pending an internal audit by its parent company, Daimler.
This incident not only caused immediate embarrassment and penalty but also damaged any potential sales the automaker would make in the region. If you search for "Mercedes-Benz China," you're immediately inundated with negative press even nearly a year later. As a potential consumer, this may impact your purchasing choices.
Social media teams can't afford to ignore the power of a brand's online reputation. A brand with just four negative results on Google's first page of results can lose up to 70% of potential business.
As a social media marketer, you're probably wondering, "What can I possibly do to protect the reputation of my brand?" These days, it seems like the power of social media to influence sales is growing exponentially. But that doesn't mean your team is powerless to influence the brand's narrative online.
That said, it's hard to see the bigger picture when scrolling through a feed of very public, less-than-stellar reviews of your company's products. Fortunately, there are a number of ways to handle a customer complaint that will not only protect your brand's online reputation but will strengthen it in the event of a future crisis. This article breaks the process down into three fundamental steps. Let's take a look!
1. Respond swiftly
According to Ethan Kolsky, CEO of ThinkJar, an estimated 55% of customer requests for service go unacknowledged on social media.
Why do customers complain? Typically, their frustrations stem from an experience where they didn't get the quality of product or service they expected. Social media, however, adds another layer of intent to the process.
When an angry customer takes a complaint to social media, it's usually indicative that something was missing in the customer care process. They didn't receive the response from the brand that they wanted or a resolution to their issue was still out of reach. This "escalation from frustration" is where viral social complaints come from, and they can be very damaging to a brand's online reputation. That's why identifying complaints on social media and responding promptly should be a priority for all customer care teams.
Look to the tweet below for a humorous, albeit serious example of customer service gone wrong. You don't have to be a celebrity to gain viral traction with a complaint, but it certainly doesn't reflect well on the brand being mentioned if the celebrity doing the complaining is as beloved as Sir Patrick Stewart!
These days, customer experience depends on rapid response. In order to strengthen the efforts of your customer care across multiple social media accounts, you'll want to unify your activities and analytics.
Social customer care tools like NapoleonCat arm your staff with the ability to engage concerned customers across multiple platforms with a single inbox, automate FAQs and other customer care activities, and generate powerful custom reports.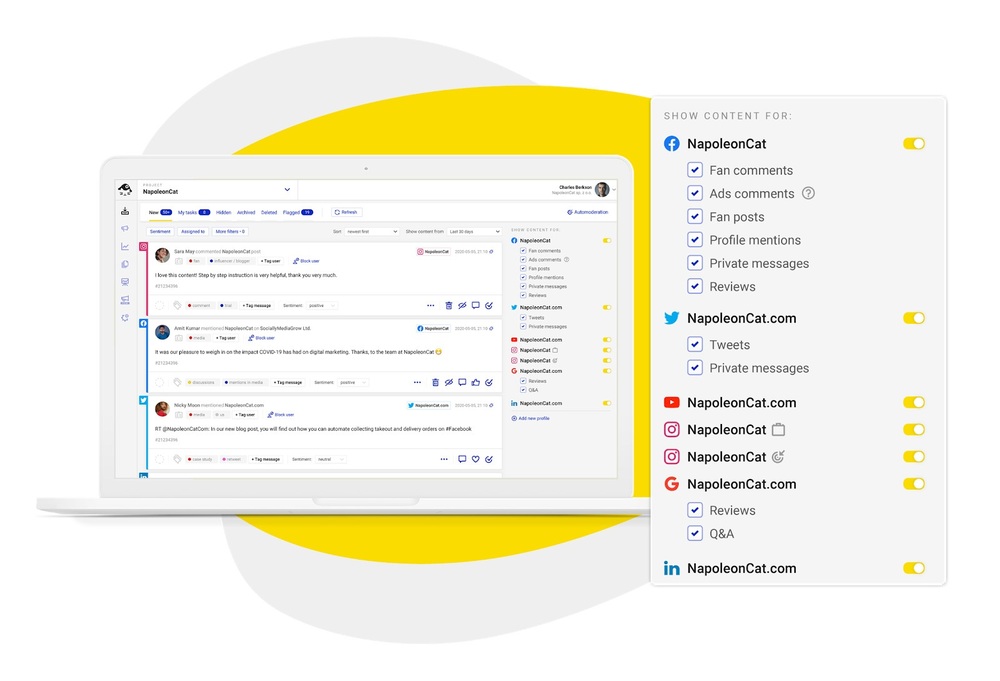 2. Go above and beyond
It isn't enough to simply answer a customer complaint. Your team needs to also offer something of substantive value to make up for any inconveniences that may have occurred. The good news is that according to Kolsky, retaining a current customer is up to 7 times cheaper than acquiring a new one, so the rewards are well worth the effort.
It's important for your team to usher the conversation away from the public, in order to limit the digital footprint left behind by customer complaints. By offering to move the discussion to private channels such as a direct message or email, a customer care team is better able to hear the full story and come up with a solution rather than potentially escalating the issue with a public back-and-forth.
And, just as in the Zappos example shown below, a positive offline experience can generate some good buzz on social – which can boost your brand's reputation in the eyes of consumers.
3. Take customer feedback as an opportunity
As with any strategy, social media customer care is an ongoing opportunity to learn. In this case, your team has access to a plethora of data about your brand's customers and how their interactions affect your company's online reputation. It's time to use that information.
According to Microsoft's 2017 State of Global Customer Service report, 52% of people around the globe believe that companies need to take action on feedback provided by their customers. What's more, brands are viewed more favorably by 77% of consumers if they proactively invite and accept customer feedback.
Data from Accenture also concludes that two-thirds of customers are willing to share personal information with companies–but only in exchange for some perceived value, such as an exclusive deal or social validation. Thus, research shows us that customers are receptive to brands that leverage feedback data in hyper-relevant, personalized ways.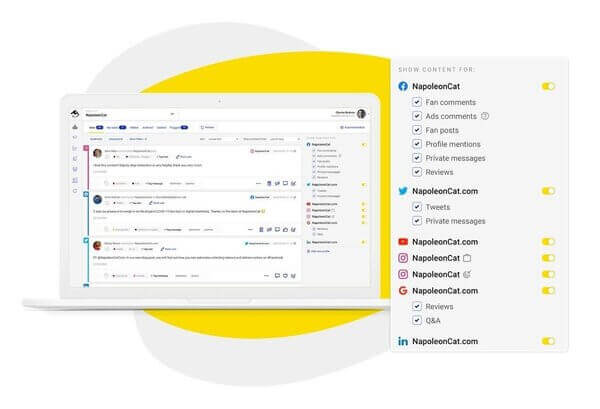 Social customer care
Deliver timely responses to customers in social media. Manage unlimited Facebook, Instagram, Twitter and LinkedIn pages – with an all-in-one social media tool.
Your social team can leverage customer feedback in a variety of ways, including:
Showcasing reviews and testimonials on your website as a badge of trust.
Highlighting customer stories and soundbites as website case studies and social media content (e.g. infographic design or blog content)
Informing product development and customer service initiatives.
Building FAQ pages or help desk answers that help answer common customer service queries before they escalate.
Xero, an accounting software company, has done a great job folding in customer feedback into the user experience on their website. Their team has developed an engaging page for customer stories, that shows a user a wide variety of use cases and potential applications from a broad spectrum of businesses. Check out their example below:
Whether your team uses feedback to improve their approach or to build consumer trust through content marketing, your customers will notice and appreciate the improvements in your service as a result of taking their feedback into account.
Conclusion
Customer care has evolved to reflect the immediacy and connectedness of social media. Social channels are a great way for brands to forge lasting relationships with customers using the mediums where they spend the majority of their time. However, brands that drop the ball on customer experience can see a dip in their brand's reputation online, which has a very real impact on the bottom line.
By taking proactive measures to respond, resolve, and learn from customer complaints, brands will be able to position themselves favorably in an ever-expanding sea of competition. Their reputation, especially as it relates to customer service, will serve as a valuable competitive advantage that can protect them from future reputation issues.