The more you know about your clients and customers, the easier it is to make them happy — and good communication is essential!
People will be talking all the time, and be sure they will talk about your communication team as well — especially if they had a bad experience. However, word of mouth works both ways, and if they are satisfied, they will let others know too!
In this article, we will show you how to supercharge your customer communication game with five simple yet powerful tips.
Use tech to enhance customer experience
Having excellent communication tools is essential for all brands.
As businesses vary in size and the services they provide, you're the person who knows best what your employees need the most. When it comes to solving customer requests together with other team members, it's important to find collaboration software for your business where your employees can share updates on each issue and get prompt responses from other members.
As for communicating with customers, there are some universal things you should pay attention to:
Integration capabilities — your CRM tools should be tied together, ideally with an interactive, shared dashboard with immediate updates. It enables your employees to resolve customer issues without delay, having up-to-date info at their disposal anytime. If you're wondering about your options, Yummy Software did a ranking of data integration software.
Mobility — you've probably realized by now how important it is to be able to work from home or other places rather than the office. People have now started using CRMs on mobile phones. Can you walk while you talk with your clients?
Tool efficiency — are you paying more than you need? Update your plan or swap the existing tech stack with something more suitable for your company's communication needs.
BTW, A good business phone software with built-in CRM and organization features can replace quite a few expensive software additions you pay for separately.
Be proactive to keep them coming back
There's more than just scheduling emails and customer service updates, though. Now, we'll show you how to be proactive and bring your customer communication to another level.
Follow up with your customers
If your team solved an issue for a customer a week ago, it would be thoughtful to get in touch with them and ask if everything works properly. That's a pretty rare practice, but you will stand out from the competition as a kind and caring company.
Most people think that communication with customers ends once you sell them a product, but you can lose a lot in this way.
As it turns out, regular customers bring high profits:
A whopping 86% of the customers who had a good purchase experience will buy from you again.
91% of consumers are more likely to make a repeated purchase from a brand that remembers them and provides relevant, personalized offers and recommendations.
Don't miss this opportunity! Customer retention is a vital part of a successful enterprise, and to keep them coming back, improve your communication game by showing some compassion and interest.
Ask for feedback and referrals
You can reach out to your customers, even if everything is okay. In fact, you definitely should reach out to them — that's an excellent way to acquire precious referrals, testimonials, and positive reviews!
Reach out to them via email, and ask them to share their thoughts about the products and services they purchased some time ago. They can do it in their own words, or you can create a questionnaire with 1-5 ratings and comment spaces.
These questionnaires are a good way to conduct more massive customer research and learn what needs to be improved.
As people aren't really into company emails, make sure to motivate them somehow to answer. You can do this by promising some sort of perk in return, such as a discount code or free access to a premium feature for a certain period of time.
Reply to negative reviews and comments
Some online comments you might receive won't just be sassy and petty — people can get pretty nasty. You can find examples of such comments and reviews almost anywhere, from Instagram to Google. And if they're really upset, they might come up with creating a dedicated Youtube video or a wordy LinkedIn post.
Nip it in the bud! No matter how tempted you might be to clap back at them, ignore it, or even worse, delete the comments — don't let one salty review turn into something much worse. Otherwise, you'll need to handle a PR catastrophe instead.
The best practice is to respond to aggravated customers right on the spot, pleasantly and genuinely. Express your regrets about the situation, and reach out to them with a private message or an email; you can also direct them to get assistance by sharing an email address or a link to a dedicated webpage.
Here's an example so you can see how to do it yourself:
"Yvonne, we're terribly sorry you had such an experience on our platform. Please, reach out to us at (company support email), so we can resolve this ASAP."
This way, you have a chance to turn a bad customer experience into a good one, and (if you respond to the comment/review publicly), no one can accuse you of ignoring and neglecting the customers.
Be where your customers are
Sure, you created a dedicated email address for all the questions and complaints — but does everybody know that?
Even if they do, they will still talk about you on social media. To stay a part of that conversation, increase your social media activities. Burger King sets an example with their hilarious yet appropriate responses.
Of course, communication with clients on social media looks different than via email, but that's exactly what makes it so powerful and efficient. By using your social media pages to engage with the customers, you can:
Increase brand visibility
Improve company image
Solve issues faster
Reach your customers right where they are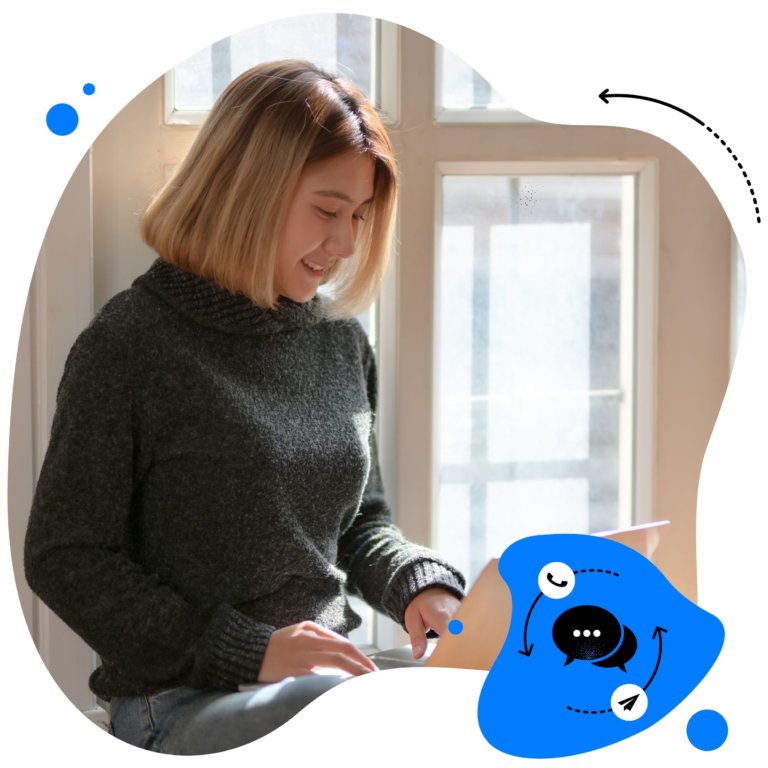 All social platforms in one place
Respond to all social media comments and messages using a single dashboard. Get back up to 70% of your time and energy.
Try NapoleonCat free for 14 days. No credit card required.
Answer questions before they arise
Although passive and one-sided, creating content is a way of communication equally important as the others!
Before getting lost in the data research and SEO, ask yourself some simple questions: why would people want to spend time reading your blog? What's the purpose of your articles (other than driving the revenue)?
Blog section that consists of valuable, evergreen, and short articles will help you turn into an industry opinion leader. Just look at Ahrefs and Hubspot — their websites are a precious knowledge base for marketers worldwide, even if we forget they have pretty cool tools to offer.
Assaf Cohen, who runs gaming studio Solitaire Bliss, uses customer interactions to help inform content creation. "We see the types of questions our users ask, and what interests them. Then our marketing team will create content and blog posts related to that. It not only addresses what our current users are looking for but also creates resources for future users."
Shortly put: people won't spend time reading your blog unless it provides them with something they need — so find out what it is and write about it.
If you're uncertain how to create a successful blog, check out this article to lead you through.
Summary
Communication and active listening is the most important thing when it comes to meeting customers' expectations. Your clients can be your best learning asset if you stay in touch with them at all times. Improve the customer service, invest in a good tech stack, go where they are, and provide them with quality content — so they can learn more on their own!