We all know these brands – people talk about them at social gatherings; they're the topic of watercooler conversations. They're the holy grail of social media marketing. Unicorns? Or maybe, they have their social media engagement strategy right. Plus, the right tools to follow through. In this post, we're looking at what it takes to become an engaging brand on social – and how the Social Inbox can help.
We'll talk about:
What to do to stand out in the crowd of social media brand profiles
How to moderate conversations without drowning in notifications
How to be proactive on social networks
How to help your team do an outstanding job on social
What tools to use to make your daily work on social easier
Your branding is not only your logo and color, or even your brand voice. It's how you talk to your customers, how you engage with them, and how helpful you are in daily interactions.
And stats reflect that. About nine out of 10 people say they buy from companies they follow on social media. And for brands, it's one of the best ways to connect with consumers, turning them into loyal fans.
The way you drive and manage conversations on social media can be your competitive advantage. But you need to nail down some things first.
1. Have a strategy
Before we start with the tools, there's one thing that you need to do – that so many brands still don't do – and that's creating a strategy.
To build a community and win your follower's hearts, you need to know them very well:
where they are -to choose the right social platforms to be on. Remember, you don't have to be everywhere
what they enjoy -to select the right content topics to post and conversations to spark
what works for them -to choose the right content formats like video or images
what conversations they want to be having.
This bit will take the most preparation, but there's no shortcut – if you want to stand out, you need a strategy. Period.
Here's a nice compilation of brands with excellent social media strategies to get you inspired.
2. Have a brand voice and personality
As part of your strategy, define HOW you'll be talking to your audience. People feel more attached to brands with distinct personalities that differentiate them from the competition. Plus, nobody wants to have robotic conversations.
There are plenty of excellent examples out there, but one of my favorites is the British brand Innocent. With a very specific language, sense of humor, and accompanying images, they don't just talk about fruit drinks (which is their product) and healthy eating.
They've chosen a slightly absurd approach, which their audience loves, which is proven by hundreds of likes, comments, and retweets their posts get. Like this one.

One thing to remember though – once you start posting great content that people quickly pick up, share, comment, and generally love, you need to be prepared. If you want it to be a success, you can't just leave it like that – the initial enthusiasm will quickly die down. You need to be prepared to respond, sometimes creatively.
3. Turn your strategy into an actionable plan
You need to plan for two things. One is relatively more straightforward: decide what you want to post, how often, and when.
Have a calendar to fill in in advance. You can use NapoleonCat's Publisher to do that.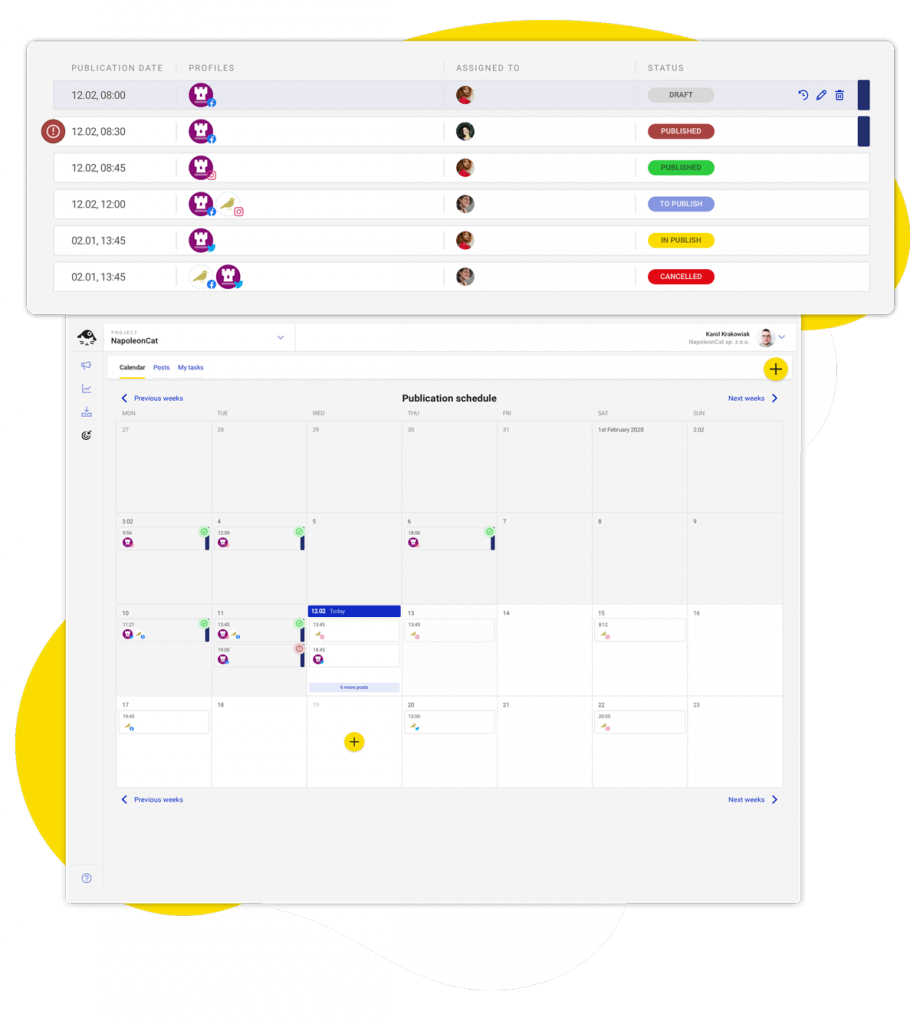 The other one involves planning for things that are not precisely plannable – the conversations that follow.
Decide who's going to talk to people:
respond to their comments,
watch out for trolls,
remove spam,
answer people's questions,
or just post witty responses. And post them in a timely fashion to keep up the momentum. Your audience WILL appreciate this.
Use NapoleonCat's Social Inbox to manage all the comments, posts, and messages for the social profiles you've connected. You can choose which content you want to appear in your inbox:
fan comments,
ad comments,
fan posts,
profile mentions,
private messages,
Google My Business Reviews.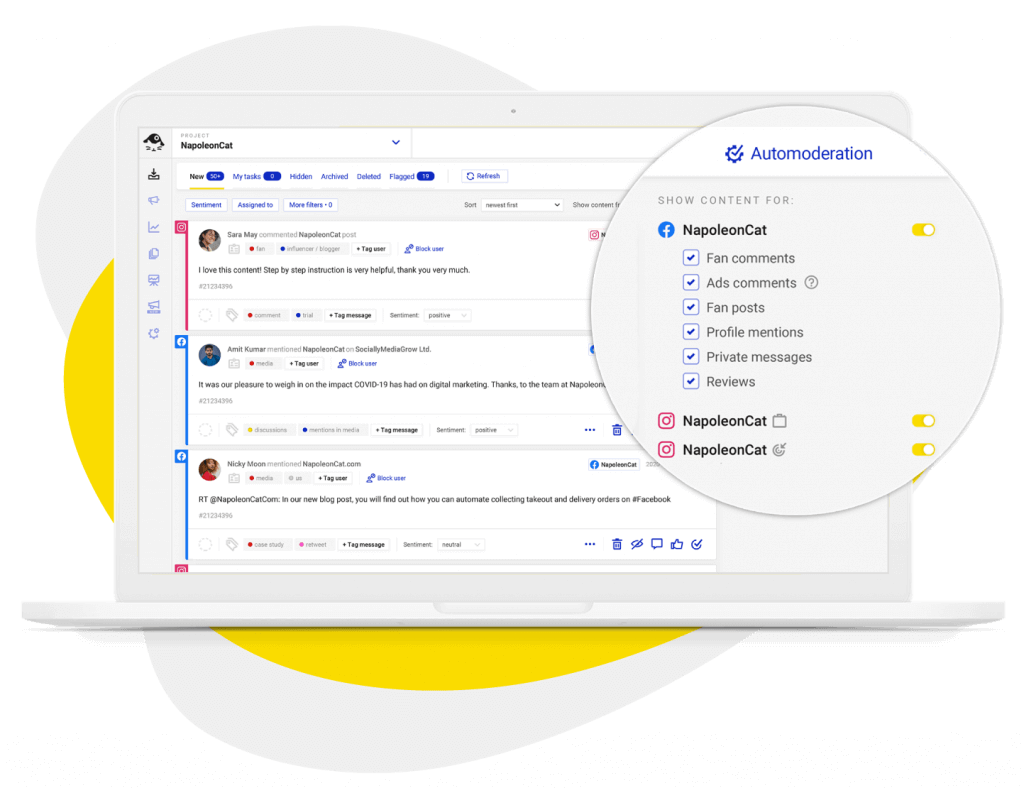 From within the tool, you can easily respond to all the interactions, flag them, tag the content and users, hide, or delete. The cool thing is that you have all of them in one place, so you won't get overwhelmed by a gazillion notifications buzzing on your phone and popping up in countless browser windows (I know you have them open.)
Basically, this is your command center for how you'll be executing on your strategy. Or – to put it in plain words – talking to your customers and prospects. Because social media marketing is a conversation with your fans and followers – keep that in mind at all times.
Manage all social media interactions in one place
Deliver outstanding customer service without missing a single comment
Try NapoleonCat free for 14 days. No credit card required.
4. Build workflows with marketing and customer service
That's another key thing to keep that engagement score going up – and your audience interested. Marketing and customer service need to work together – and the closer they do, the better your social conversation will turn out.
In the Social Inbox, you can add team members and assign specific threads to people on your team.
You might already know what it's like – social media engagement WILL mean you have to be proactive and helpful. But if people ask technical questions or have an issue with your product or service, the main person moderating the profile might not be able to provide specific answers.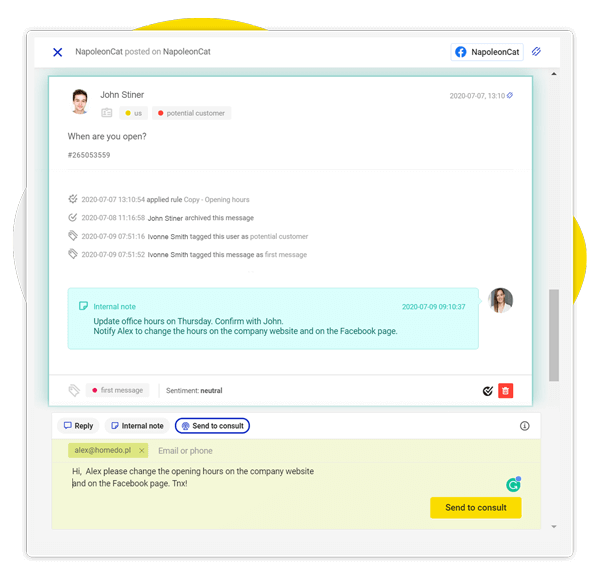 Don't leave your audience hanging. In the Social Inbox, you can invite team members and define permissions, either as a user, administrator, or client (if you're running social media communications as an agency for multiple clients.)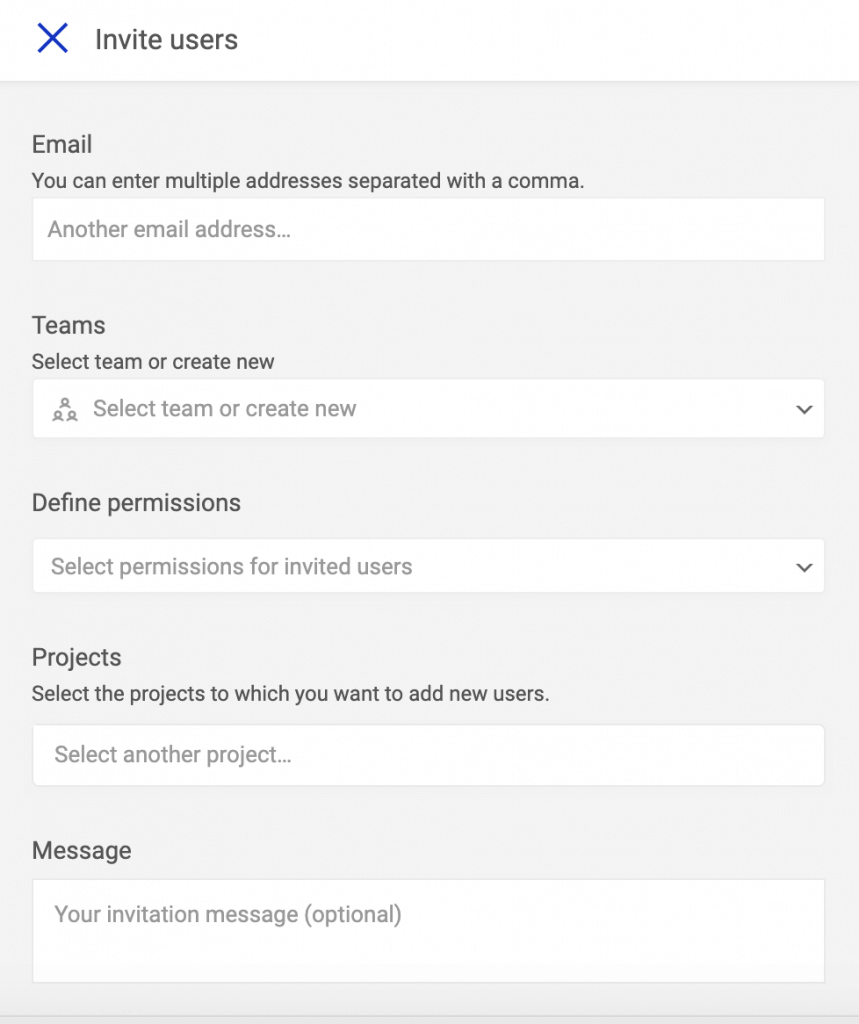 Then assign a moderator to answer a specific question. This can be a person on your or your client's customer service team or a member of your tech or product team that can help with the technicalities.
This is especially helpful when you have multiple clients. There's no way going back-and-forth on email or Slack can be productive and structured in the long run. At some point, you'll get caught in the chaos, especially with a lot of conversations going on and questions asked.
And how timely and accurately you'll respond is part of your brand building.
5. Automate responses – if you need to
There's a misconception going on around marketing automation. The word "automate" is immediately associated with impersonal communication. And of course, it can be just that, if you don't use it correctly.
But in fact, marketing automation gives you a lot of options to be more personal – while being timely and handling more significant volumes of conversations more efficiently. It's another way you can prepare for what's not really under your control: questions asked around frequently recurring topics, social media crises, or just plain spam.
The key is to do it right.
With the Auto-moderation feature of the Social Inbox, you can define what happens when certain conditions occur.
These can be things like:
posts and comments on your page
profile mentions
private messages
ad comments
reviews
and more.
If you want to, you can further refine your triggers with certain conditions like text-only posts and define users whose content you want to react to, like clients, competitors, or leads.
Then, when the conditions are met, you can automatically reply to specific comments, delete or flag content, and get notifications.
Now think about what this means for your communication strategy. It will take a little to set up (just as your strategy will take time to develop.) But as your engagement grows, and you learn more and more about your audience, the most active people in it, and the most common topics, you can react more quickly. This is especially useful when the timing is essential (like when things blow up on a Saturday evening because an upset customer posted something on Twitter.)
Even though it might not sound like it at first, but this is an essential part of your brand building. If you want to be seen as a responsive brand that cares about its audience.
6. Have conversations – not just with your fans or customers
The whole point of social media is conversations. It's not a one-way channel that motivates people to take action like clicking a button. People on the other side can talk back; they can even initiate interaction with brands. And it's there in the open, for everyone else to see.
So if you want to be a brand people notice for how it communicates on social, it's not enough to have great visuals and inspiring ads. You need to engage in actual conversations.
Not just with your fans or customers, but sometimes also with other brands, even if they're your competitors.
Essentially, with anyone.
In the Social Inbox, you can tag users to identify people who are your best customers or promising leads, but also those who are there just to troll, or competitors trying to engage in conversations (not always maliciously!). This not only helps refine your Auto-moderation rules, but will help guide your conversations based on the context and your conversation history, available in the Inbox.

Some of the most entertaining and often cited conversations on Twitter have happened among brands, whose community managers had enough guts and sense of humor to reply to a maybe a little bit sarcastic remark, and then the thing just went on.
But whether you're mentioned by a brand or a customer, don't ever leave the conversation to happen without you.
7. Ads can start conversations too – don't neglect your sponsored content
You might have experienced this. You have multiple ad sets and sponsored posts set up by your PPC expert. And they're getting clicks and likes, maybe shares if you're lucky. Maybe even comments. The thing is, no one's monitoring them, and your PPC guy (or gal) is not the one to respond.
And then you have that great ad with hundreds of reactions, and a couple of comments by complaining customers or trolls ruining the whole thing. No replies, no response on your part.
We often forget ads on social media have the option for people to respond – mostly because we treat them as "just ads," and not a part of the overall conversation we're having.
In the Social Inbox, you can monitor reactions to your sponsored content to change that. This way, you'll always know when someone replied and can reply back, escalate the issue if necessary, and turn a complaint into a win-win situation both for your customer and your brand.

And by the way, next time you're designing your brand assets and writing copy for Facebook ads, let that sink in for a moment: Social media is a conversation. Your social media ads should fit the format of the platform. And if you want them to be effective, make them a coherent part of your overall social media communications strategy.
8. Respond to what's happening around you
Or do what's called real-time marketing – IF it fits your brand. Obviously, you can't plan real-time marketing campaigns in your strategy or schedule, because they're "real-time", and you never know what's going to happen.
But you can have the readiness to do it written inside your strategy. And the right people on the team who are creative enough to be able to respond quickly to a significant event that has all the social media buzzing about it.
If you're listening to what's going on online, you'll know it quicker and react. And the Social Inbox will again be your command center when your content is out there, and you're monitoring the reactions (and responding accordingly.)
9. Invite your audience to participate
Ah, the magic phrase: user-generated content. According to stats, 50% of consumers say that seeing user-generated content on a brand's social media profile would increase their chances of buying a product.
Your followers are not an anonymous bunch – they're people genuinely interested in what you have to offer. You can show them your appreciation by reposting their content. It's a win-win situation for both sides: you get audience engagement and loyal customers, and they get exposure for their business.
Like in this example by the mobile app Ripl, which gives users the tools and templates to create animated banners for social media. The brand reshares the best of their users' templates they create to promote their own brands: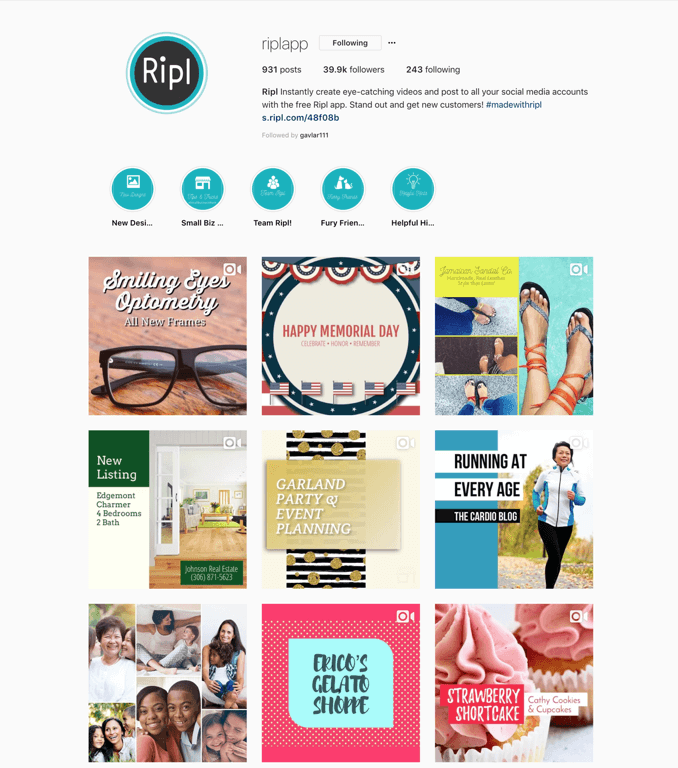 It's a good idea to reward your most engaged fans – few things are worse than talking to a brand and then not hearing back or hearing the same thing all over again.
With the Social Inbox, you can check conversation history with your fans and followers and tag them. This way, you can recognize your loyal fans and keep them engaged. 
When they're tagged, anyone on the team can see they're not just a random commenter, which can help you build consistent communication, no matter who on your side is answering a given question or comment.
10. Respect your community
The internet is not all sunshine and rainbows – I don't have to tell you that. That's why moderating conversations, especially to remove hate speech or scammy comments, is essential. What helps is having a policy detailing what's unacceptable, what can and cannot be ignored, and what comments and posts should be removed.
Deciding that might be tough, but it's your call what you tolerate on your business profiles. But when you have a policy in place, the Social Inbox will make it much easier to apply it, especially with the Auto-moderation rules.
You can react more quickly to what's going on in your comments, defining the keywords that will trigger specified actions like deleting or flagging a post. You can also further narrow it by specifying a user tag it will only work for.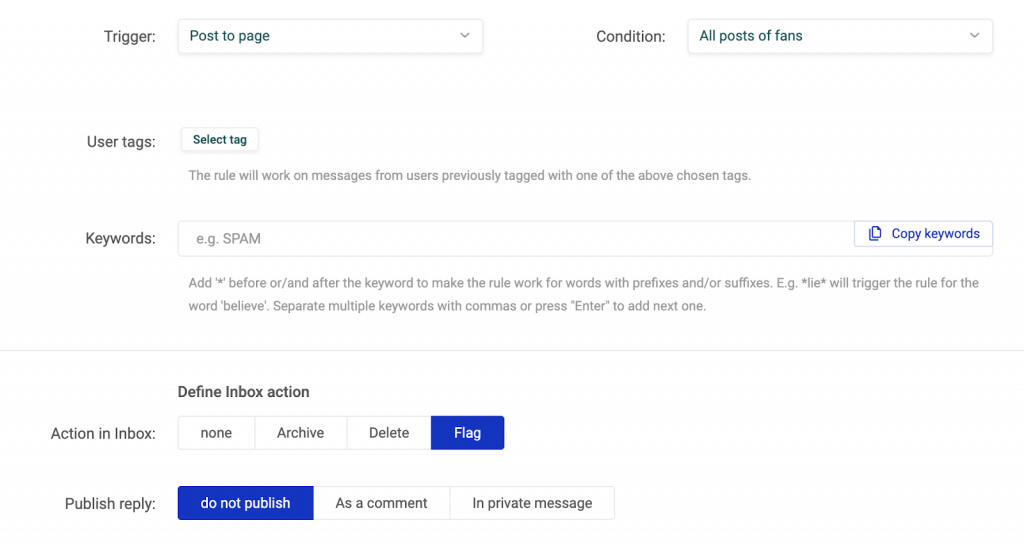 And you can obviously do the same for paid post interactions. This way, you have more control over the conversations you're having and can create a safe environment for your brand community to grow in.
Conversations with your audience are the way to build your brand
Yes, there are huge brands with enormous marketing budgets, who've earned their way to their customers' minds with high-profile ads.
But today, marketing works a little differently. And any brand can do great things on social, so long as it focuses on the people on the other side of the newsfeed.
The Social Inbox will support you in making sure the conversations you're having are timely and relevant, and you're proactively engaging your customers. So they keep talking about you even when they're logged off social media. That's the best a brand could hope (and work) for.