Take a moment and think of a juicy fresh hamburger. The lightly grilled buns are moist from a generous splash of barbeque sauce. The freshly grilled beef is firmly stuck between the thick layers of cheese, bacon, lettuce, and vegetables. The tomatoes are so freshly cut that you can spot the droplets of water on their edges. And the burger is so hot that the steam is rising from your plate.
It would take an average person at least 30 seconds to read this paragraph.
It took me 5 minutes to write it, choosing all the right words.
And it could all be said with 1 picture.
That's why Instagram has 1 billion monthly active users, while older, "verbal" social networks like Twitter and Reddit are struggling to breach 300 million.
Visual content is the shortest way to the social media marketing pedestal. And making sure that you're doing it right may become the turning point for your business.
Today we are going to talk about the importance of visual content and ways of mastering it without spending a fortune. So sit tight and don't forget to take notes!
Keep reading to find out:
The definition and importance of visual social media
The exact requirements for social media images sizes and formats
Which tools you can use for sourcing, curating, and creating your own high-quality visuals
The best practices in using visual content on your social media channels.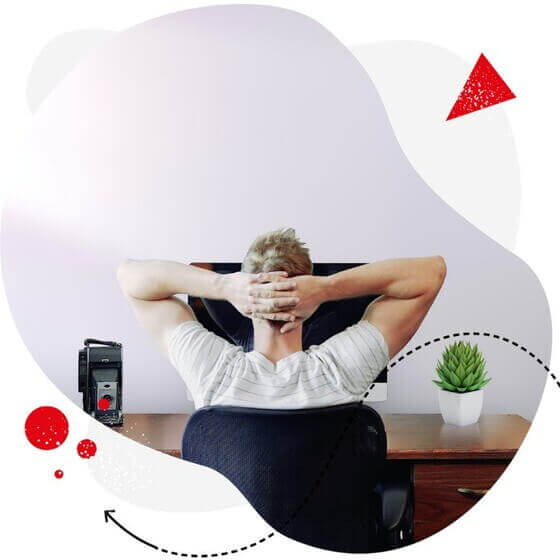 Automate your social media and save time
Automate publishing, reporting, analytics, comment moderation, and more – all with one simple tool. Try it for free:
Try NapoleonCat free for 14 days. No credit card required.
Why is visual content so important?
To put it briefly: use visual content and you'll do better than those who don't. "Why so?", you might ask? Well, let's consider some numbers:
It all means that the future is in visual social media marketing and to do it right, you need to put in some extra effort right now!
Now, this article could take forever if I were to tell you about all the great ways to do social media images, videos, and graphics all at once. But ain't nobody got time for that.
So let's take one step at a time and focus on the pictures for now.
According to Venngage, only 30% of all digital marketers create their own social media images. There are two ways to look at it. On the one hand, you could join the brave pioneers and dive straight into the pool of infinite creativity, possibility, and production costs. At the same time, you could stick to the well-proven method of curating already existing content. Both paths are totally justifiable and have their own pros and cons. You can even try to cuddle up somewhere in between!
Just make sure that the visual content you're sharing fits all the technical requirements and doesn't go against your brand's style guidelines.
Best image size and resolution for social networks
Are you familiar with that ultimate first-world problem of having Instagram crop your perfectly adjusted photo in the worst way possible?
Well, it's time to put this to an end.
Follow our Social Media Image Sizes cheat-sheet below so that you'd never have to choose between the model's feet and the architectural integrity of the tower's roofing in the background again!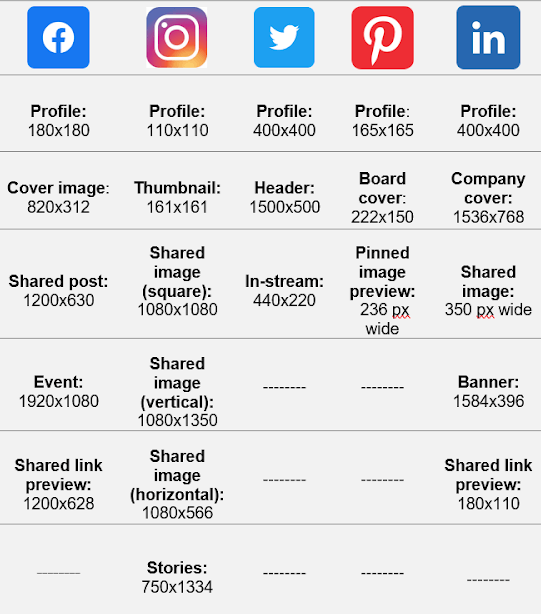 5 awesome tools to upgrade your social media images
Now that we've got the technicals covered, let's move on to the next part of the agenda. It doesn't really matter if you choose to curate someone else's visual content or create your own – eventually, you will need to source, edit, and upgrade your image collection.
And here are some tools we play-tested ourselves and can guarantee that they can give you a serious advantage!
1. Canva
Let's start with the basics. You've heard about it, you've used it, maybe you even liked it, and decided to invest in the paid version. Canva is the app when it comes to simple graphic design these days! Mainly because it is pretty easy to navigate and it features an impressive collection of photographs, graphics, and vectors. Both professional designers and non-professionals can turn to Canva for some last-minute design solutions, but it's not the only good app available out there!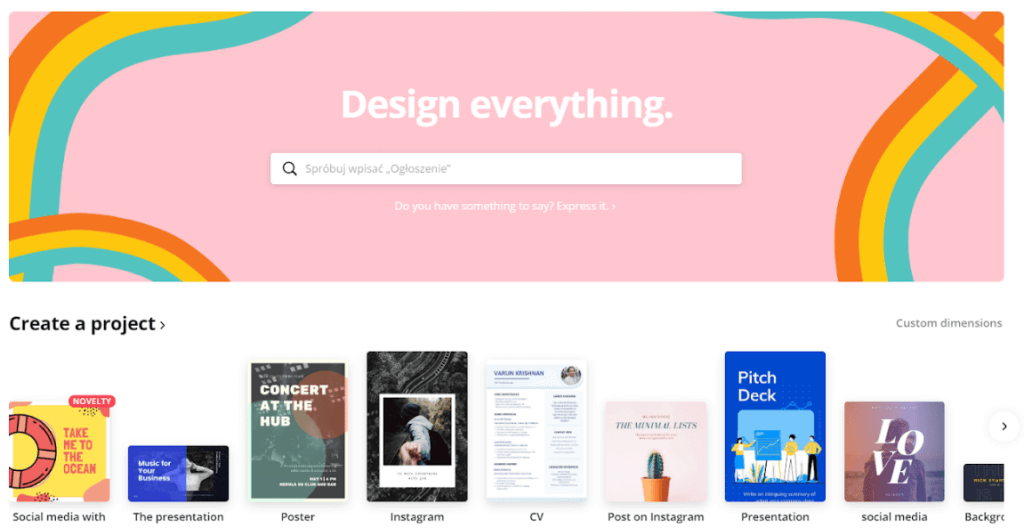 2. Stencil
If Canva specializes in graphic design, Stencil's main purpose is marketing optimization of social media images. Sounds intriguing, doesn't it? Don't be discouraged by its seemingly complicated interface – all gets easier with time! Stencil is not nearly as flexible as the previous tool, but it does feature its own fair share of templates, icons, different types of images, etc. Some of Stencil's particularly highlighted advantages include "being ultra-fast", focusing on social sharing, and an "all-inclusive pricing" model. But is it the right choice for your brand? You won't know until you give it a go!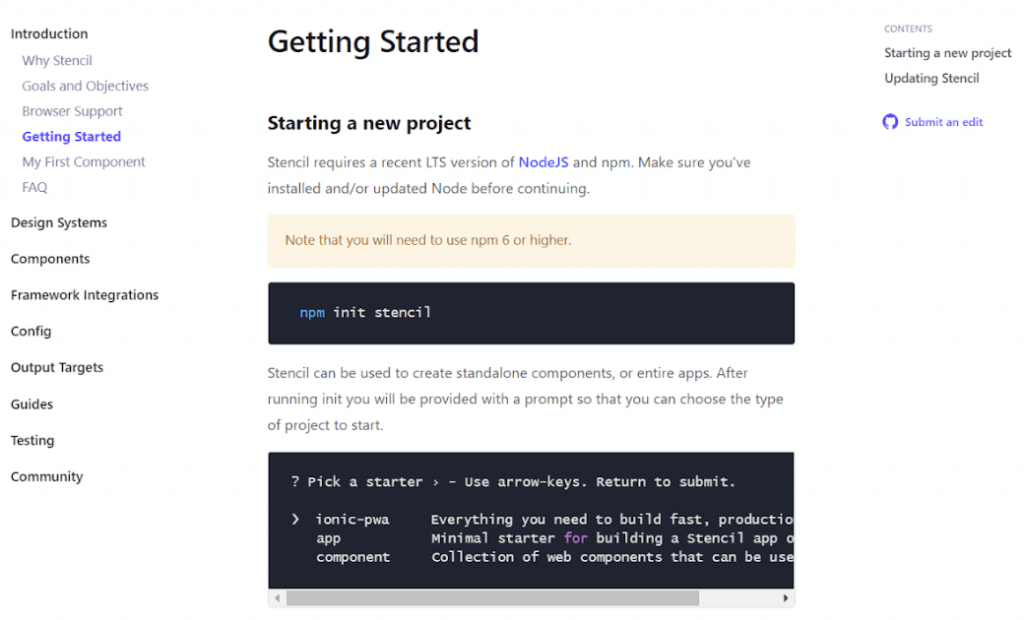 3. Crello
Similarly to Stencil, Crello positions itself as an app designed specifically for marketers, bloggers, and entrepreneurs. A feature that helps the tool stand out from the competition is that apart from the graphic design toolkit, it also allows creators to make animated visual content. For those users who want to dig a bit deeper and learn about the full spectrum of functionalities available on Crello, the tool provides a documented guide describing some of its more advanced features.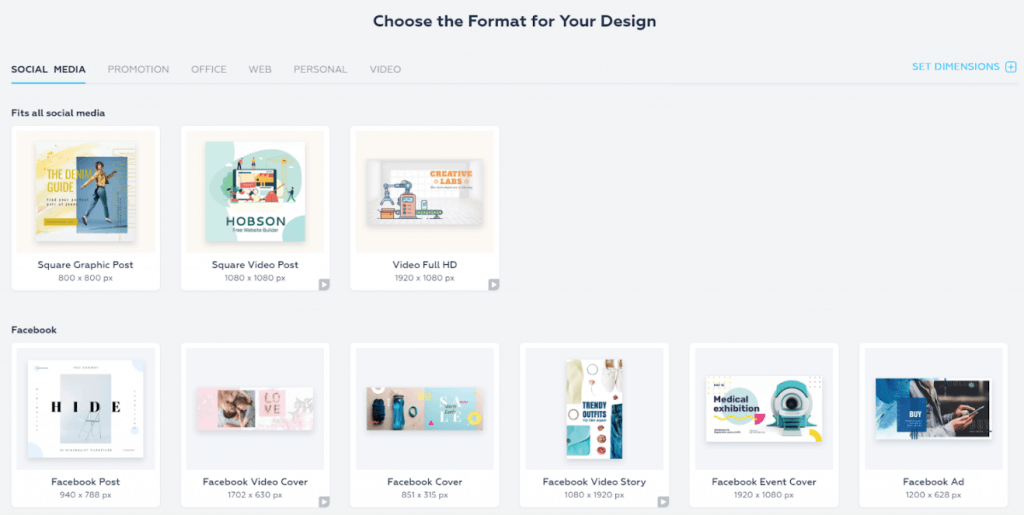 4. Desygner
With more than 8 million users, Desygner is still considered a "lesser-known" graphic design app. Just like its main competitors, Desygner provides you with a bunch of templates for all sorts of purposes and a simple re-sizing solution (perfect for adjusting content to different social media networks). One feature that makes the tool particularly worthy of a mention is its 100% royalty-free image collection. So if you are looking for some easy-to-find, high-quality pics for your social media posts – Desygner is your guy!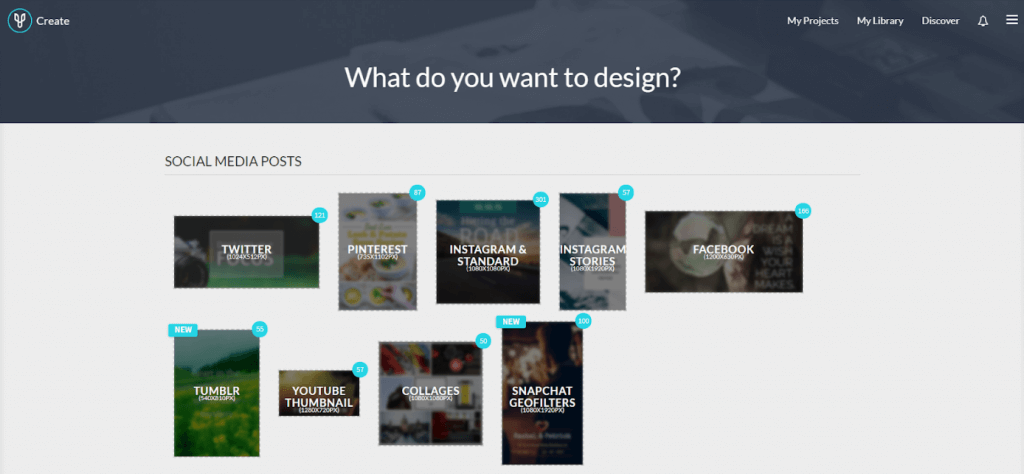 5. Adobe Spark
Last but not least, no list about graphic design would be complete without mentioning at least one Adobe product! But if both Photoshop and Illustrator may come off as a little too advanced for many beginners, Spark may be a perfect solution for those of you without much experience in image creation. Much like all others, the tool enables you to design visuals and size them for specific social networks. But that's not all. Spark's Pages feature lets users customize layouts for entire websites and even edit short videos (short enough for me to mention it in the image-only post).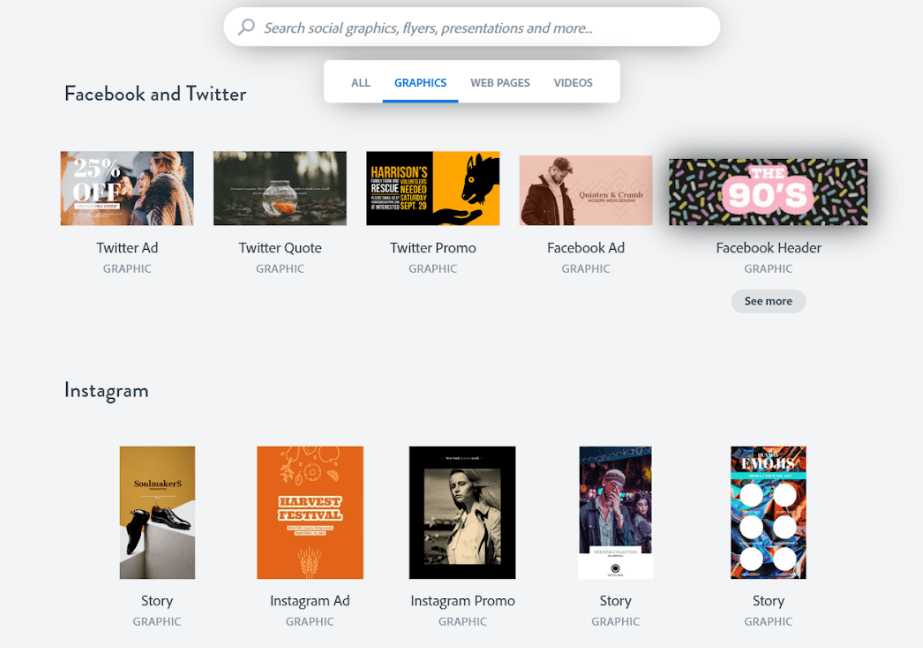 As you can see – there's quite a lot of tools for content creation, sourcing, and curation available out there. Most of them have freemium versions available. That's why no one is forcing you to settle for just one solution for creating your own social media images. Instead, try to mix and match a little. You'd be amazed at how professional the results of the carefully cooperated work of several simple tools can be!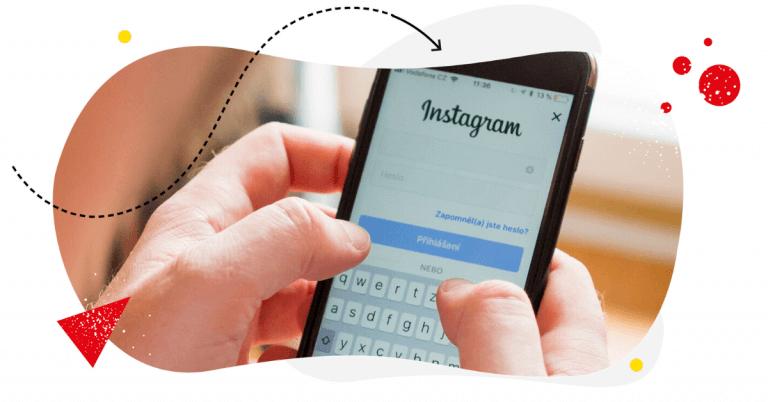 Social media management
Manage unlimited Facebook, Instagram, Twitter and LinkedIn pages in a single inbox. Track competitors and improve performance using one simple tool. Try it for free:
Try NapoleonCat free for 14 days. No credit card required.
Visual content strategy for social media: best practices
Now, to make sure that all your effort doesn't go unnoticed and you don't spend resources in vain, let's quickly go over some of the best practices you can adopt right now without much hustle.
Stay relevant. It's amazing that today you feel like talking about dogs, but what's good in that if your brand specializes in selling cat food? You always need to remember about staying true to your niche and your product when posting online.
Never stop researching, learning, and keeping up-to-date with the trends. You may be the pioneer or the monopolist in your niche, but tomorrow everything may change. Or maybe it'sNational Dog Day and the image of your poodle gorging on that sweet bowl of Whiskas becomes relevant all of a sudden. Make sure to follow digital trends, and keep your eyes open to holidays and events you can incorporate into your content planning.
Don't repeat the same joke twice. I mean, you can, but will people really laugh? If you absolutely have to use the same image twice, make sure that it's justified. Try to go cross-platform: sharing an image from a blog post on social media is better than multiple social shares of the same picture. Also, you might want to consider repurposing instead of simply reposting. The tools from the previous section will help you update the picture in question and bring new value to your audience.
Add unique design elements to your images to be easily recognizable among competitors. There are more than 55 million visuals uploaded on Instagram every day. It's good if your content is memorable enough to stand out by itself. But even if that's the case, trust me, an extra dash of your brand's personality won't hurt!
Don't steal. There's plenty of high-quality royalty-free resources available online. If you feel like your content needs are so specific that you cannot produce the images yourself and Canva's library doesn't cut it – just pay your bills. It will always be cheaper than to settle a court case if you get caught red-handed.
There you have it – a guide to social media images. You have a lot of new tools to try and a lot of pics to create! Just stay true to your brand values and identity and do your best to reflect those in your visual content. Good luck!