Instagram has been one of the best networks to market your business on over the past few years. This popularity has resulted in more brands joining the platform to promote their business and products.
The competition is immense. Every time you publish a post on Instagram you are competing with posts from several other businesses, sometimes very similar to yours. This can make it difficult to reach your target audience and make a lasting impression on potential customers.
But there is one tactic you can use to outsmart competition: publish videos.
A study by Quintly shows that images are the most popular type of content published to Instagram. This is probably because photo posts are easier to create. But the same research also found that photos drive fewer interactions than videos.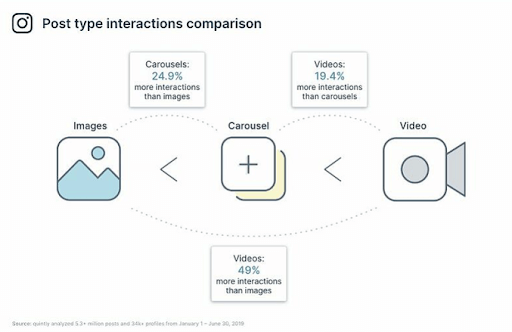 So, if you create videos you will not only rise above your competition but also boost your chances to generate better engagement and sales.
With that in mind, let's see how you can create effective Instagram videos.
1. Keep your videos short
Your Instagram videos can be up to 60 seconds long. But this doesn't mean that you should take advantage of the full time offered by Instagram and only create 60-second videos. Research from Hubspot found that videos that are 26 seconds long get the most comments, so you might want to stick to videos that are up to 30 seconds long.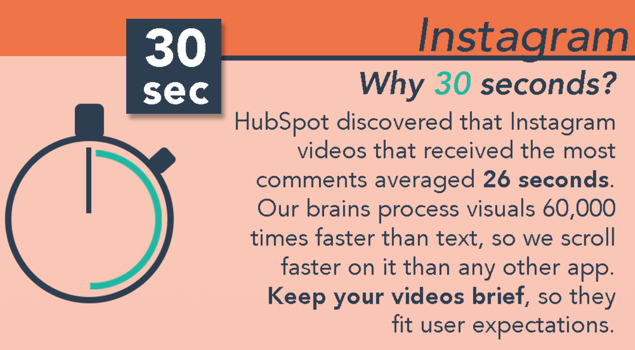 This shows that Instagram users don't want to watch long videos. They prefer short videos that get to the point quickly.
A company that constantly gets this right is Ikea. If you go through their Instagram feed you will find that it is filled with short videos like the below one that are less than 30 seconds.
Ikea shows what they want to show immediately, instead of beefing their videos up with unnecessary content. Their video posts are also very creative. All in all, their Instagram is a great source of inspiration for brands getting started with Instagram video.
2. Share your best content in the first few seconds of the video
First impressions matter. If you make a good impression in the first few seconds of your video, more people (especially those who are seeing your content for the first time) will watch it to the end.
This is why you should share your best content in the first 5 seconds. If your viewers like it, they will stick around for the rest.
An easy way to do this is by starting with something exciting or showing the end result of a process you're referring to right at the beginning.
A good example is this video from Under Armour:
This video gets to the point immediately. There's no unnecessary build-up. As soon as you watch the beginning of the video, you want to continue watching the rest. And that's what you should be going for with your Instagram content!
3. Use shoppable tags
One of the best features that have benefited businesses on Instagram, especially ecommerce stores, was the introduction of shoppable posts.
With shoppable posts, you can publish a picture or video of your product and tag the product(s) in it. People can then click on the product tags and visit the landing pages directly.
This helped ecommerce stores drive more traffic and sales from Instagram. A great example is Oro, whose revenue from Instagram increased by 29.3% when they began implementing shoppable posts.
This increase occurs because people can access the product directly from the post, without interrupting their experience. They don't need to go through the process of leaving the photo and clicking on the 'link in bio'. It's very straightforward.
Initially, Instagram only made shoppable tags available for photo posts, but the feature is now available for video content too. Here's an example from que Bottle: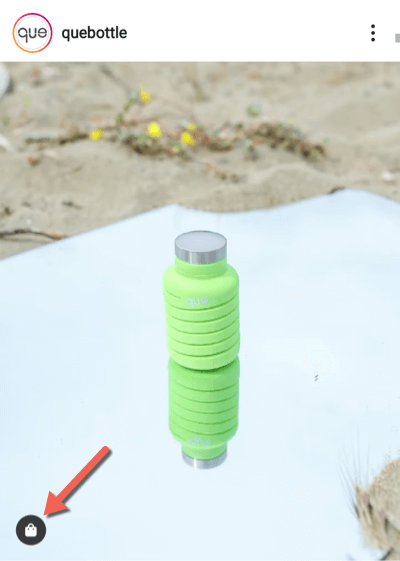 A shopping bag icon appears in the bottom left corner of video posts in which products are tagged. When you click on the icon, more details about the tagged products pop up.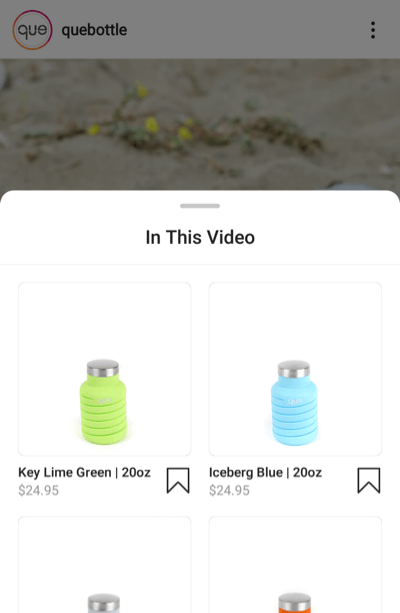 You can then click on a product, visit the landing page, and make a purchase. It's that simple.
que Bottle were able to set this up because their online store is built with Shopify. The platform offers an integration that lets you tag products from your store in Instagram posts.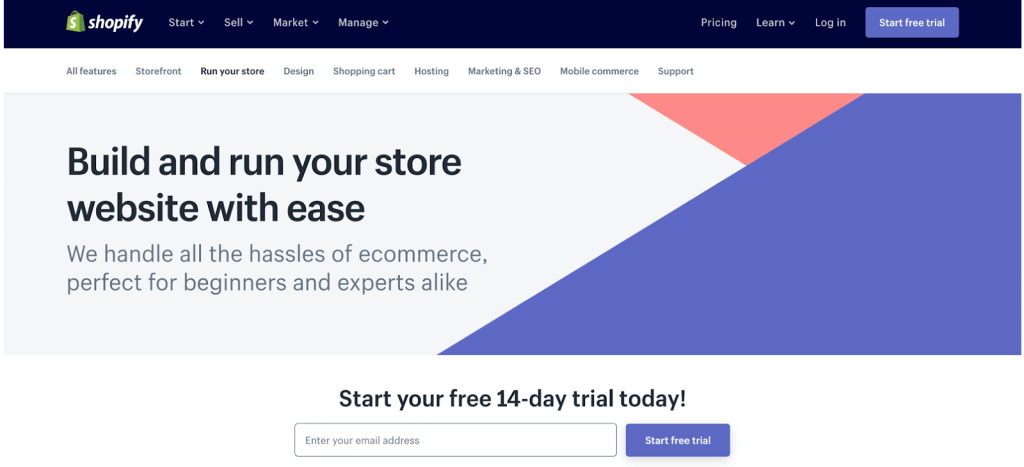 So, if you want to tag products in your Instagram posts, make sure you set it up with a tool that integrates product catalogs with social media platforms.
Another benefit of this is that it will free up your Instagram bio, where only one URL is allowed and you will no longer have to constantly change it.
4. Brand your videos
Content theft is a common problem on Instagram. There are many accounts out there that steal content and post it to their accounts without crediting the creators. Some will go as far as telling people that they created the video themselves.
If you want to avoid this problem you should watermark your videos by adding your logo to the footage. This way when someone else publishes it to their site without crediting you, people who view it will still know the original source.
You can place the logo all throughout the clip or just at the beginning or the end of the video.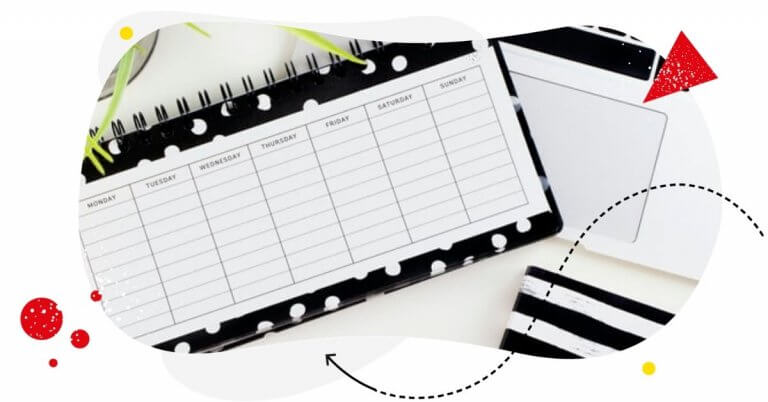 Auto-publish Instagram video posts
Craft Instagram posts in advance. Schedule photo and video posts for automatic publication directly from desktop.
Try NapoleonCat free for 7 days. No credit card required.
5. Get influencers to create video content for you
Research proves that Instagram is the most preferred network for influencer marketing as it generates the highest ROI.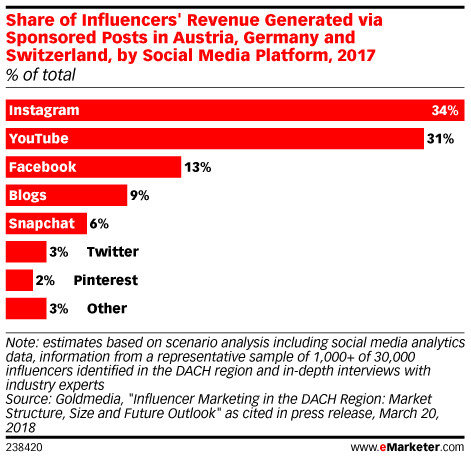 Most influencer campaigns on Instagram rely on photo content. These photos can get you some great results. But as discussed in this post, videos drive the highest engagement on Instagram, so you might want to include video deliverables in your next influencer campaign as well.
Also, if your aim is to drive traffic to a specific landing page on your website, you should ask the influencer to create a video story with a link to the landing page. According to a recent study, swipes up are the most common method people use to access a website from Instagram.
A good example is this story from Shannon Dennison of Hinch Hauls promoting a setk of cooking pans from Swan.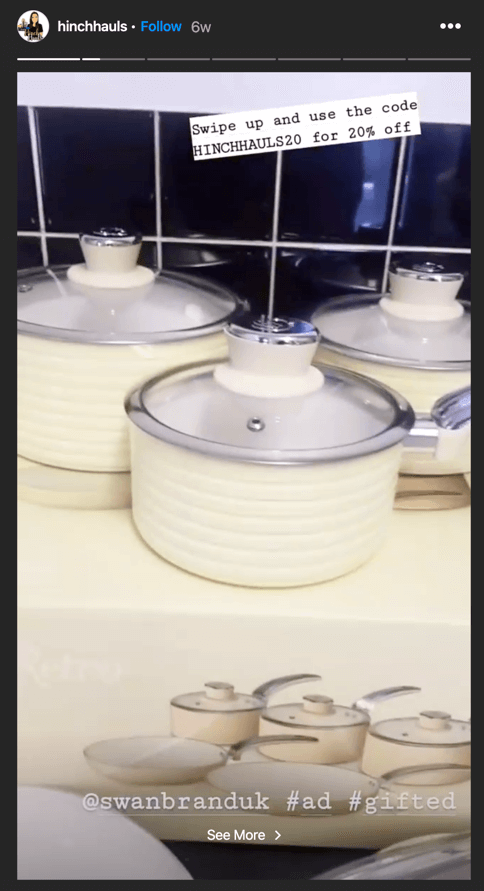 In the video, Shannon describes the product and places a link at the bottom of the post. When you swipe up or click on the 'See More' button, you are taken directly to the product's landing page where you can buy it.
Of course, this will only work if the influencer has more than 10,000 followers, which is the minimum required to share swipe up links in Instagram stories.
If the influencer you are working with has fewer followers, they can publish a regular in-feed post and feature a link to your website in their bio. Make sure they use the 'Link in bio' call to action in the post's caption.
6. Use attractive thumbnails
If you want more people to watch your video, you should create an appealing thumbnail. This way you can attract users who have autoplay switched off on their mobile devices and those who are browsing through your profile. An enticing thumbnail can get them to tap that play button.
For the best results, you should include just a bit of information in your thumbnail to spark curiosity and make your audience interested in seeing more. Text works great in thumbnails, but remember that it shouldn't take up more than 20% of the post in the case of Instagram ads. It's best to tick to this rule when creating thumbnails for all of your video posts. That way, if an organic post does well and you want to boost it, you will not have to edit the thumbnail.
An example of someone who understands the importance of creating smart thumbnails for their Instagram videos is Jamie Oliver. Here's one of his videos with a thumbnail:
As you can see the amount of text is minimal – he just adds the name of the recipe he will be sharing in the video.
To create a custom thumbnail you can use InVideo. It comes equipped with templates that make it easy to add overlay text.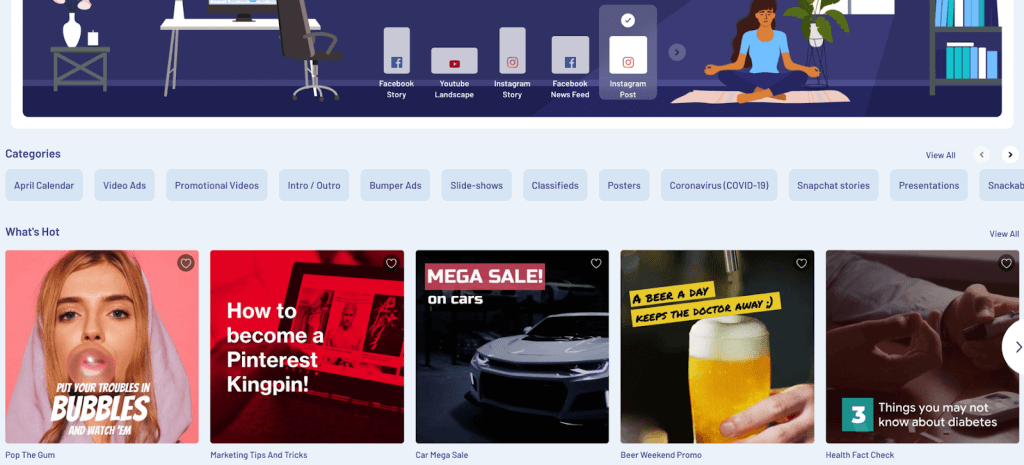 You can choose a template, upload a video, and modify the thumbnail's text to ensure it generates more plays.
I recommend that you publish 10 to 20 videos with different types of thumbnails over a period of 6 to 8 weeks. Try different font styles, sizes, colors, overlay elements, branding, etc. Then analyze the performance of your posts over that period to see which thumbnails helped your videos get more views. This will help you determine what types of thumbnails work best for your audience.
Conclusion
There you have it – 6 powerful tips for creating effective Instagram videos. Creating videos can take more time than creating photos, but the potential benefits will make your investment of time and resources worthwhile. Give these tips a try and let us know if they helped you generate more sales and engagement on Instagram.