Over the last couple of years, the business world has seen a rapid transition into the digital space. More and more companies are opting for strong social media strategies instead of developing traditional marketing efforts.
The reason for this is the fact that most spheres of our lives are either doubled online or happen online entirely. Subsequently, in order to stay relevant and effectively engage with customers, businesses need to keep up with the trends.
One of the most important things to remember if you are a business owner is that the virtual space is much more dynamic than the real-world one. It can be explained by the fact that the internet landscape is shaped by a collective effort from diverse, multi-national communities. The internet brings millions of minds together and gives them the space to interact with each other, to discuss concepts and ideas and give birth to new trends. For this very reason, online trends change so fast and often tend to not stick around for long after something new has been introduced.
Therefore, when something new appears, as a progressive brand, it is vital for you to get on the trend immediately and exploit all the benefits the early adopter advantage brings.
One of the big trends right now is Augmented Reality. Just a couple of years ago, it was costly and inaccessible to brands that did not have the fortune to spare on high-tech marketing campaigns. However, ever since the astonishing success of Pokémon Go, brands have been trying to get a slice of that pie.
Recently, Instagram partnered up with Spark AR, making AR much more accessible to everyone. Nowadays, you can create a custom AR filter for your brand and upload it to Instagram for other users to enjoy at no cost. Without a doubt, this innovation has made a huge difference and birthed a new branch of marketing, Instagram AR Filter campaigns.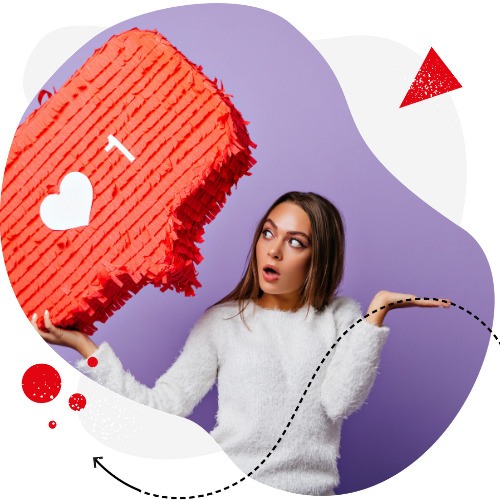 View Your Instagram Likes in 2023
Can't see likes on Instagram? Use NapoleonCat and check the number of likes under your posts and competitors' accounts as well – with an all-in-one social media tool.
Why launch an Instagram AR filter campaign in the first place?
It is understandable that even with the continuous growth of Instagram AR filter campaigns' popularity among different brands and companies, the concept is still new and can, therefore, be a bit challenging to get on board with. Quite a lot of companies that are not at the very frontier of social media marketing, may not yet feel ready to launch their own AR face filter campaign on Instagram. The reasons for this may vary, starting from lack of expertise and ending with a lack of understanding as to what results a successful Instagram AR filter campaign could bring.
Therefore, before getting deeper into the steps brands need to take in order to launch and run a successful Instagram AR filter campaign, we will look into the benefits of doing so.
AR filters are an incredible way to increase engagement
The first thing that needs to be said about AR filters is that they help attract a lot of attention to your brand. If you launch a filter that will be interesting to your target audience, and will somehow reflect on your brand (i.e. incorporate elements of your branding), you will create an opportunity to raise brand awareness among Instagram users.
One of the things that help brands prosper on Instagram and turn their AR filter campaigns into a high-yielding accessory to their social media marketing campaign is that it shows the author of the filter. That way, every time someone uses your filter on their Instagram stories, your name pops up at the top of the screen, inviting everyone who is interested in your business or can potentially become your customer to visit your profile in a fun and organic way.
At the same time, the people who use AR filters themselves instantly build a closer connection with your brand. Before, the only way users could save an Instagram filter created by another user was by following them. A lot of people are still convinced that this is the only way in which you can get your hands on a fun and pretty filter. While this could be a little unfair, you could still gain some new followers from these clueless souls.
Yet even those who are aware of the new way of saving a filter (which is by simply clicking 'save effect' on a pop-up screen) will still see your brand name in their catalog of available effects. If your brand falls into their areas of interest, your company's name constantly being visible in the AR effects gallery will guarantee you increased levels of brand awareness.
By launching a successful AR filter, you will instantly get free brand ambassadors
Getting people to promote your brand and cooperate with you in order to reinforce your brand image can be quite expensive. Moreover, if you are approaching it the traditional way, you can only have so many brand ambassadors before it completely loses its point. Branded Instagram AR filters, however, are a total game-changer.
If you launch a filter that is well-received by the general public and has your brand in it, you will instantly receive somewhat of an endorsement whenever someone uses it.
The only downside is that your filter might get abused and subsequently bring you bad publicity if someone who does not share your brand values interacts with it in ways that you did not intend your filter to be used. This, however, is not very likely, since Instagram has pretty strict guidelines and monitors all content posted by users.
The reach is limitless, the cost is minimal
At last but not at least, you can grow your audience immensely using AR filters. Unlike traditional marketing methods that can only secure limited reach, the reach Instagram AR filter campaigns provide is near limitless. At the same time, it also requires minimal investment, especially if compared to other ways of promoting your brand.
A great example to illustrate this point would be Taco Bell's Snapchat success. Back in 2016, one of America's best known Mexican chain restaurants partnered with Snapchat to create a custom Instagram filter that allowed Snapchat users to turn into a taco. The lens was only available for one day to celebrate Cinco de Mayo, yet it still yielded an impressive number of uses. According to the official statistics, over 100 million people viewed the filter and snapped a picture of themselves with their head replaced with a giant taco, but most importantly with a small Taco Bell logo at the bottom of the picture.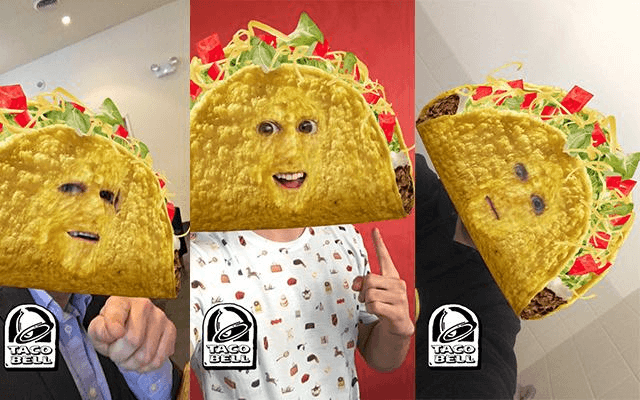 AR filters are different from the other ways of promoting your brand in many other ways. When investing in an advertisement campaign, you can never really expect your customer's full and undivided attention. With filters, however, the situation is different. Going back to the famous Taco Bell example, on average, users played the filter for 24 seconds before snapping the result of their shenanigans to their followers and friends. While that might not seem like much, in reality, that is 24 seconds of complete and utter concentration on your brand!
It might seem like a far stretch at first, considering the fact that the campaign was launched on a rival platform, Snapchat, and not Instagram that is being discussed in the article, as well as that it happened a while ago. In reality, however, it only further supports the point — AR filters work wonders for businesses both small and large!
Moreover, being a pioneer of sorts, Taco Bell had to pay a considerable amount of money for the sponsorship. With Instagram partnering up with Spark AR and giving all creators an opportunity to develop a filter at no cost, it is particularly beneficial for businesses to do.
In addition to that, Instagram is proven to currently be more successful than Snapchat. According to recent research, more users prefer Instagram with its Insta-stories over Snapchat, who initially introduced the concept of sharing content that disappears after 24 hours. Over 400 million users enjoy the feature every day, and a lot of them do so using AR filters!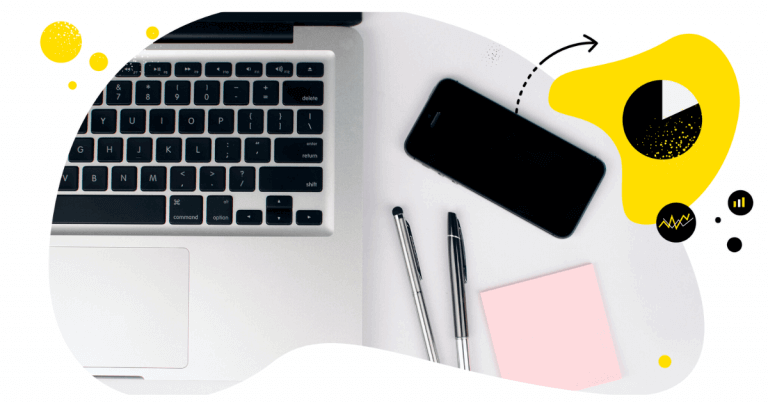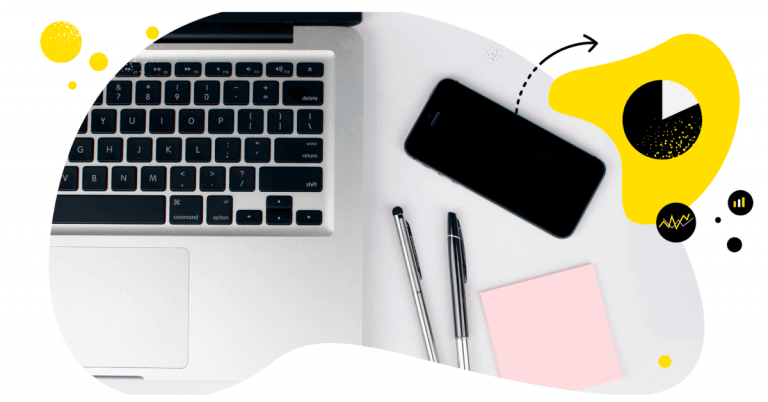 Take your Instagram marketing to a new level
Manage unlimited Instagram, Facebook, Twitter, and LinkedIn pages in a single inbox. Track competitors and improve performance – with an all-in-one social media tool.
How to run a successful Instagram AR filter campaign
Now that you have familiarized yourself with all the benefits your business could gain from launching an Instagram AR filter campaign, you might be wondering how to go about setting one up.
Think your campaign through and don't skimp on creativity
The first and most important step is to design an Instagram filter that will be both interesting and engaging to Instagram users, appeal to your target audience, tell your brand's story, and fit in well with your brand image. This means that your AR campaign has to nicely complete the overall grid of your marketing campaigns.
At the same time, playing it safe is a bad strategy when it comes to AR filter campaigns on Instagram. Ever since Instagram allowed users to upload their own filters, the number of options has continuously been on the rise. Every second a new filter is being uploaded, so it will be safe to say that pretty much every single basic idea that you can possibly think of has probably already been used multiple times.
However, if you manage to use your brand identity in your branded AR filter, you can make it truly unique. In order to do that, however, you need to have a solid plan for launching your campaign.
Before you get down to developing your next AR masterpiece, you need to consider the following questions and base your subsequent actions on the answers to them.
What's the objective? Before you do anything else, you need to set a clear goal and gain an understanding of why you want to create an AR filter in the first place. What are you trying to achieve? Is that your brand awareness that you want to boost, or do you want to generate more leads? Or, perhaps, you want to get more engagement through an increased number of interactions with your profile. Either way, it is helpful to decide on goals early on so that you can pass the guide on to your creative team. After all, your objectives should define the direction in which your filter will be developing.
Who is the audience? Just like with any other marketing activity, launching an Instagram AR filter requires you to know your audience. While you cannot really control the spreading of your filter, you can – and should – decide on your initial target audience. Think about who you're trying to appeal to through your campaign, create user personas, and try to imagine what would be interesting for them. Perhaps some styles and ideas are valued by them more than the others. If you manage to meet their needs, it is more likely that your final AR product will be more successful and receive a greater amount of shares.
What is the story behind your filter? Think about what the users will feel when they use your filter, what associations it will evoke in them, and what associations will stick with them. Those impressions will shape the image of your brand in the eyes of that audience. On top of that, you also need to decide on your call to action. What is your filter going to encourage the users to do? How will it increase their interactions with your brand?
Finally, you need to ensure that your Instagram AR filters are relevant and up to date. Perhaps you could take advantage of a recent trend. For instance, the beginning of 2020 saw an increasing interest in the filters that would let users 'see their future' or 'see which product they are'. Such interactive masks let you keep in touch with your audience and make them more interested in what you sell.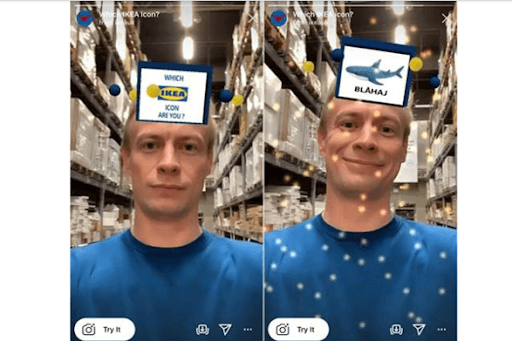 Focus on creating a high-quality, engaging experience
As has already been mentioned, you need to produce a high-quality filter in order for it to be well-received among Instagram users. There are several ways in which you can achieve that goal.
a) Get familiar with Spark AR
Ever since Instagram partnered up with Spark AR studio, creating AR filters for Instagram has become incredibly easy. All you need to do is to download Facebook's free program and start experimenting.
The app is rather user-friendly and has a library of pre-made templates that you can use to make your own filter.
b) Outsource the task to a talented Instagram filter creator
However, if you are interested in creating a more advanced AR filter that would definitely capture the minds of your customers and you are afraid you do not have the sufficient skills for that, you might want to outsource the task.
Obviously, outsourcing the creation of your filter to a third party designer will require more of an investment, but if the final product stands out among competitors, it might be worth it!
Besides, if you turn for help to a well-known Instagram AR filter creator who has their audience and a good follower base, you will receive additional promotion for your filter and subsequently your brand.
Promote your Instagram filter with the help of influencers
Speaking of promoting your Instagram AR filter campaign, there are several ways in which you can approach it. Just like any other marketing campaign, your Instagram filter requires most of your attention at the early stages of its existence before it goes viral and starts promoting itself.
Initial promotional measures can be divided into two categories — aided by your brand and aided by partners.
As for the first option, you can post stories with the filter and encourage your followers to try it out. In order to make it even more interactive and tempting for your followers, arrange two-sided communication. For instance, start reposting stories of the users who used your filter and tagged you. That way, both you and your followers will benefit from such an interaction. In addition to that, you can also pin your filter in your profile highlights, so that everyone who visits your profile immediately sees that you offer one.
On top of that, Instagram also allows users to share Instagram AR filters via a tappable link that can be shared across various platforms. It redirects users straight to the mask and gets them to try it out.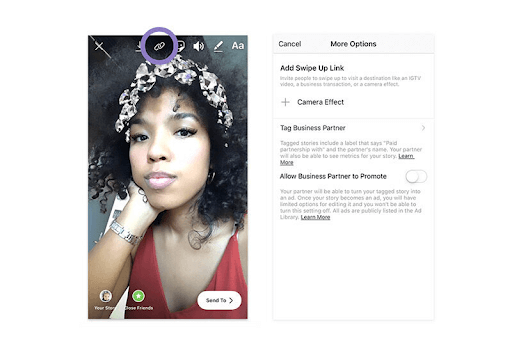 If you want your campaign to go viral much faster, you consider arranging a partnership with some Instagram influencers. Monitoring the people who are popular in your industry should be a part of your marketing plan, so you probably already know who they are. Reach out to them and see what it would take for them to post a story with your filter on.
You could also set up a paid promotion. This Instagram feature allows brands to partner with influencers by using the 'Tag business partner' setting. That way, they can share the metrics of the sponsored story with you.
Apart from that, Instagram also gives you an opportunity to allow your partners to promote your filter. That way, it turns into an ad and is shown as such every time your partner posts a tagged story. The only catch is that once you turn that setting on, you will not be able to go back, and you will have limited options for editing your filter.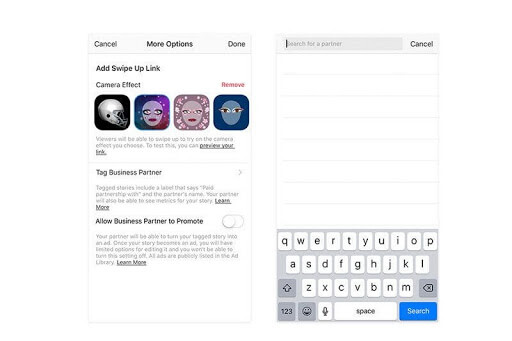 Measure your results and check for areas of improvement
As stated in the previous point, the best thing about partnering up with influencers through Instagram's built-in feature is that you will receive the metrics for their story. That is important because measuring the results of your Instagram AR filter campaign is a crucial step in the process.
Luckily, Instagram is extremely helpful when it comes to reporting results. The platform has a built-in analytics solution, Instagram Insights, that gives users (Business and Creator accounts) the opportunity to see all the metrics and make their judgments regarding the success of their filters.
The statistics you can access include the following: Total Impressions (the number of times your filter was shown on the screen), Total Captures (the number of times a story was captured with your filter), and Total Shares (the number of times a story with your filter on was either shared with followers or sent privately via direct messages). In addition to that, the platform allows you to compare the insights over a certain period of time, so you would instantly know whether your filter is doing well.

The bottom line
The world of social media marketing is rapidly developing with more and more new techniques and tools coming into the scene daily. This is exactly why you, as a business owner, need to keep a close eye on all the innovations: being an early adopter of new trends not only expands the range of the marketing tools available to you but also gives you a competitive advantage. The combination of two can boost your business performance and make your social media strategy significantly more successful!
Instagram is a perfect platform for launching new campaigns and attracting the attention of your target audience. This is because Instagram offers a wide variety of different tools such as filters that allow you to engage with your audience and make your campaigns more interactive.
Instagram AR filter campaigns have proven to be not only easy to set up (thanks to the AR Spark kit) but also highly effective. They are a great way to increase your brand awareness and keep in touch with the people who are already loyal to your brand.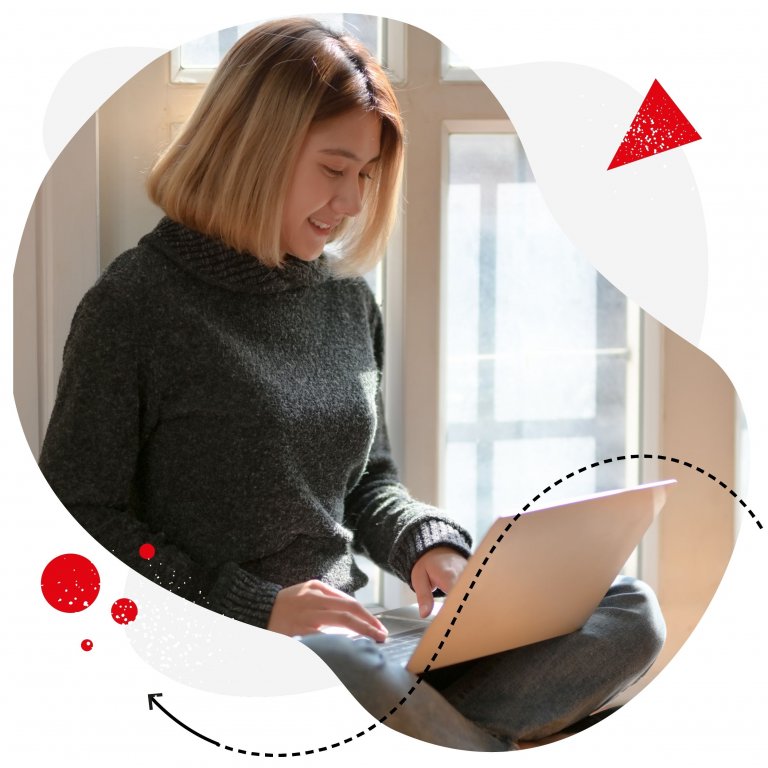 Instagram marketing made easier
Analyze, generate reports, schedule posts, automate comment moderation. Save time and boost your results – with an all-in-one social media tool.